Check Out All Of Our 2021 Gift Guides Here:
For The Home – For Him – For Teens – For Kids & Baby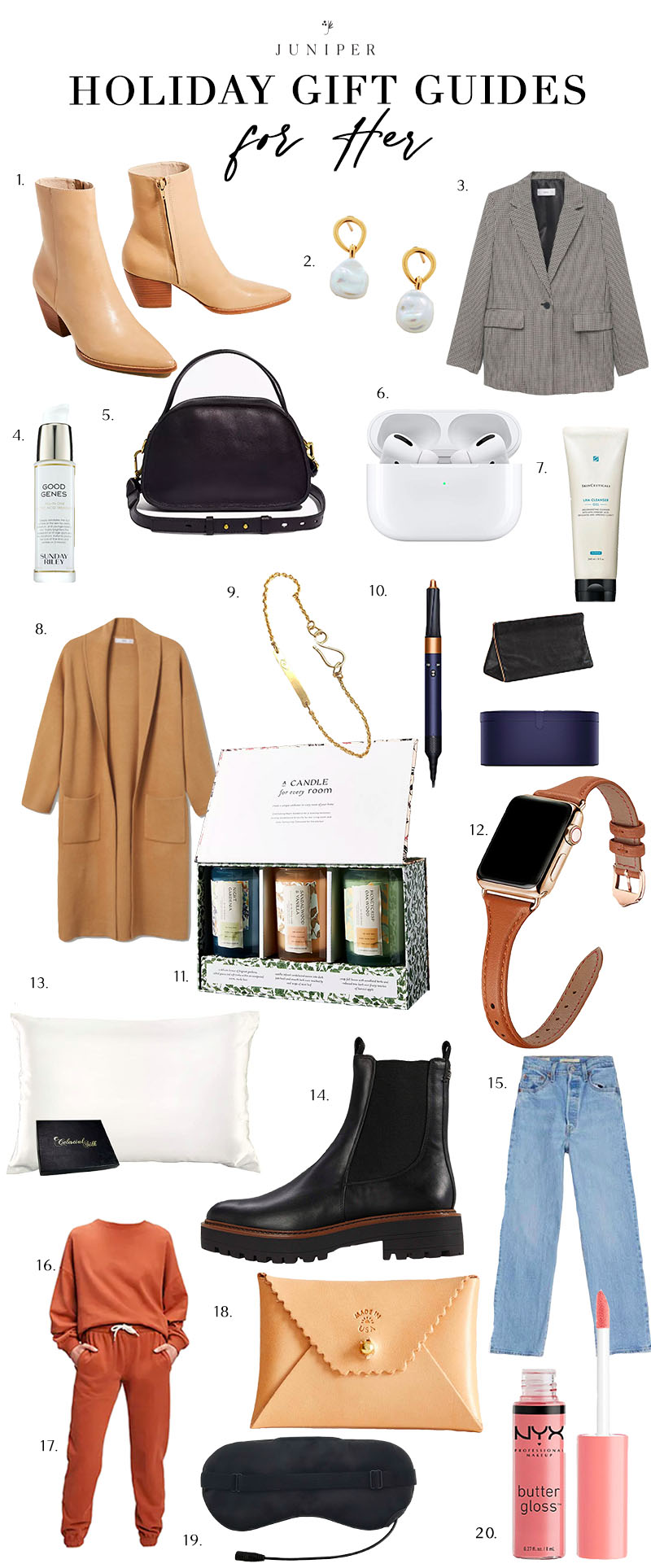 1  //  2  //  3  //  4  //  5  //  6  //  7  //  8  //  9  //  10
11  //  12  //  13  //  14  //  15  //  16  //  17  //  18  //  19  //  20
Western Boots – These boots hint at trendy western/cowgirl style that is all the rage right now, while still remaining classic and versatile. The color is a great neutral that could really work year-round!
Pearl Drop Earrings – You can wear these every day for the rest of your life. Pearls will NEVER go out of style!
Blazer – A slightly oversized blazer with a perfect pair of denim is all I want to wear this fall/winter season. The cut on this one is SO good!!
Good Genes Lactic Acid Serum – This is a skincare staple. It helps to smooth out fine lines and wrinkles while evening out your skin tone… and it really works!
Cross-body Bag – The perfect size bag with just the right amount of structure.
AirPod Pros – AirPods have been a long time favorite, but the noise cancelling feature on these AirPod Pros is next level. Whether you're relaxing, or trying to focus these are the ultimate companion and they're levels more comfortable that the originals!
Cleansing Gel – I've heard it said that you should change up your skin care products frequently, but I can't seem to kick this cleansing gel. It REALLY cleans, and gives your skin the most refreshing, tingly feeling.
Oversized Coat – Looks like a classy, expensive coat, but feels like pajamas. That's a win in my book.
Gold Bar Bracelet – You can have this bracelet engraved, and we love the unique clasp. Such a classic piece of jewelry.
Special Edition Dyson Airwrap – The Dyson Airwrap that we all know and love- but prettier. This set is a big splurge, but if you're in the market, I would go for this special edition!
Candle Set – There are very few people I trust wholeheartedly with candle scents- but Anthropologie is definitely on the list. This set looks amazing, and I'm willing to bet it smells even better.
Apple Watch Band – I've been wearing this same watch band for years- and I still love it! I like that it's a little on the slimmer side.
Silk Pillowcase – There's a reason our grandmas all slept on silk pillowcases. They're better for your skin and hair, and they don't get hot the way that linen bedding can!
Chelsea Boot – These boots are the perfect height, and I love the brown accent detail.
Levi Ribcage Jeans – I don't think I can emphasize this enough- Levi Ribcage Jeans are THE pinnacle of perfect denim. They hug in all the right places, perfectly high-waisted, and hit right where they should! It sounds like low-rise jeans are the next thing, but I have ZERO interest in giving my Ribcage jeans up any time soon!
Crewneck Sweatshirt – This last year has set a new standard for sweatsuits, and this top fits the bill! Soft, comfortable, and this color is the perfect transition through fall and winter.
Drawstring Joggers – When your sweatshirt and your sweats match, you can conquer anything. These drawstring pants will make you look like you tried a lot harder than you really did.
Leather Credit Card Envelope – Beautiful leather to hold all your important things. I love credit card envelopes, especially while I'm traveling and will only need a few cards! It's nice to keep it light!
Heated Eye Mask – This is the ultimate relaxation product. It forces you to turn off your phone, close your eyes and just breathe. Headaches? Gone. Stress? Gone. Puffy under eyes? Gone.
Butter Gloss Lipgloss – The perfect consistency, with just the right amount of color. And did you see the price?! One in every color, please!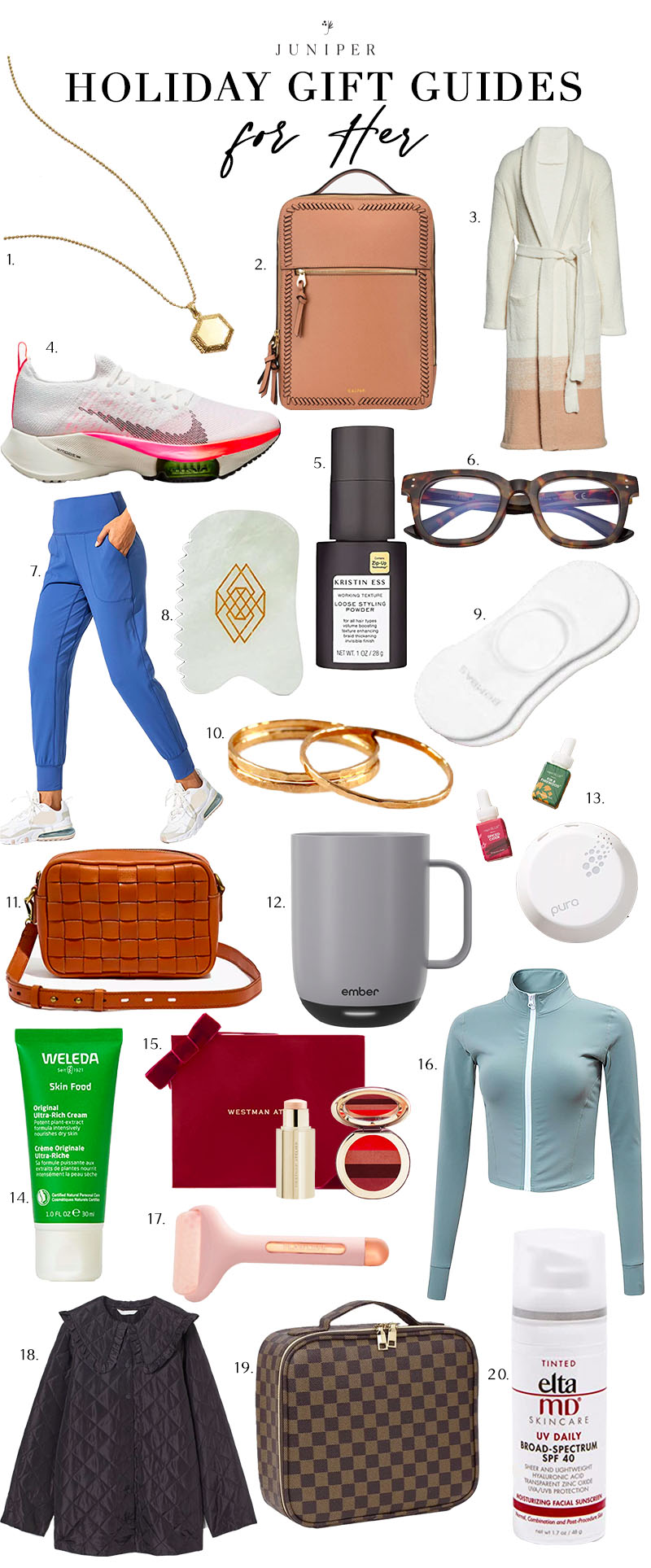 1  //  2  //  3  //  4  //  5  //  6  //  7  //  8  //  9  //  10
11  //  12  //  13  //  14  //  15  //  16  //  17  //  18  //  19  // 20
Gold Locket Necklace – This locket is made of recycled materials, and I love the idea of having a small keepsake inside. Such a great gift that looks more expensive than it is!
Calpak Backpack – This backpack has been my go-to laptop and travel bag for the last few years. The design is beautiful, minimal, and is such great quality. It keeps my laptop safe and I love the smaller size and structured shape.
Barefoot Dreams Robe – The softest robe you will ever wear- it truly lives up to the hype!
Nike Flyknit – I don't lean towards neon colors very often, but when it comes to workout gear the brighter the better. These shoes feel as comfortable as Hokas on long runs, but are WAY cuter and more flattering.
Kristen Ess Styling Powder – After the first time I used this, I knew there was no going back! It gives my finer hair the volume I need, and the grit to keep my curls in place.
Blue Light Glasses – These glasses have sold out every time I've posted about them- and for a reason! They've got a bigger frame, so they're definitely statement glasses!
Amazon Joggers – These name brand dupes are my go-to joggers. They are super flattering and come in lots of great colors! I get questions every time I where them, especially the bright blue and the maroon.
Gua Sha – If you haven't jumped on the Gua Sha train, now is your time! I have bad TMJ and keep one of these on my bedside table. I put some face oil or moisturizer on and then use the Gua Sha tool to massage my face for a few minutes. It helps with stiff muscles and totally reduces swelling/puffiness!
No-Show Socks – I never thought I could fall in love with a pair of socks, but these no-show socks are IT. They don't slip down, or dig into your heels.
Hammered Stacking Rings – The perfect basic rings for stacking. I love sourcing jewelry from smaller shops for a more 'one-of-a-kind' feel.
Woven Bag – This Transport Camera Bag is a classic, and this newer woven edition adds the perfect detail. It's a great size too if you want to carry a bit more but not a full size tote!
Ember Smart Mug – A mug that looks beautiful, and automatically warms your drink. This is the future we have all dreamed about!
Pura Diffuser – Have you heard about Pura diffusers yet? I am legitimately obsessed. They have amazing scents from big name brands like Archipelago and Capri Blue and Homesick. The scent diffuses evenly and at whatever intensity you want. You can control everything from an app on your phone! This is going to be my go-to gift this year!
Weleda Skin Food – The perfect skin cream – It's as good as La Mer I think! It moisturizers SO well without being greasy. I have a tube in every room at this point!
Westman Atelier Gift Set – Westman Atelier is hyped up online for great reason! It really is so luxe, and this gift set looks so amazing!
Amazon Jacket – I love the shorter fit of this zipped workout jacket. It's perfect for adding a layer without bulk. Size up at least two sizes though – these run very small!
Ice Roller – This is a super affordable ice roller that will make all of your de-puffing dreams come true! A great gift combo with a Gua Sha tool!
Oversize Collared Shacket – I'm still not sure how I feel about the word 'shacket', but anything thats quilted, and has a collar has been calling my name lately!
Toiletries Bag – This is a tried and true toiletries bag that make a quick job of packing for a weekend at our family cabin. Such a classic design!
Elta Tinted Sunscreen – This is the only foundation I wear. Great sun protection, Hyaluronic Acid for plumping and moisturizing and subtle coverage. It's the holy grail for me. My dermatologist recommended it years ago and I think I'm on the Elta train for life!