Check Out All Of Our 2021 Gift Guides Here:
For Her – For Him – For Teens – For Kids & Baby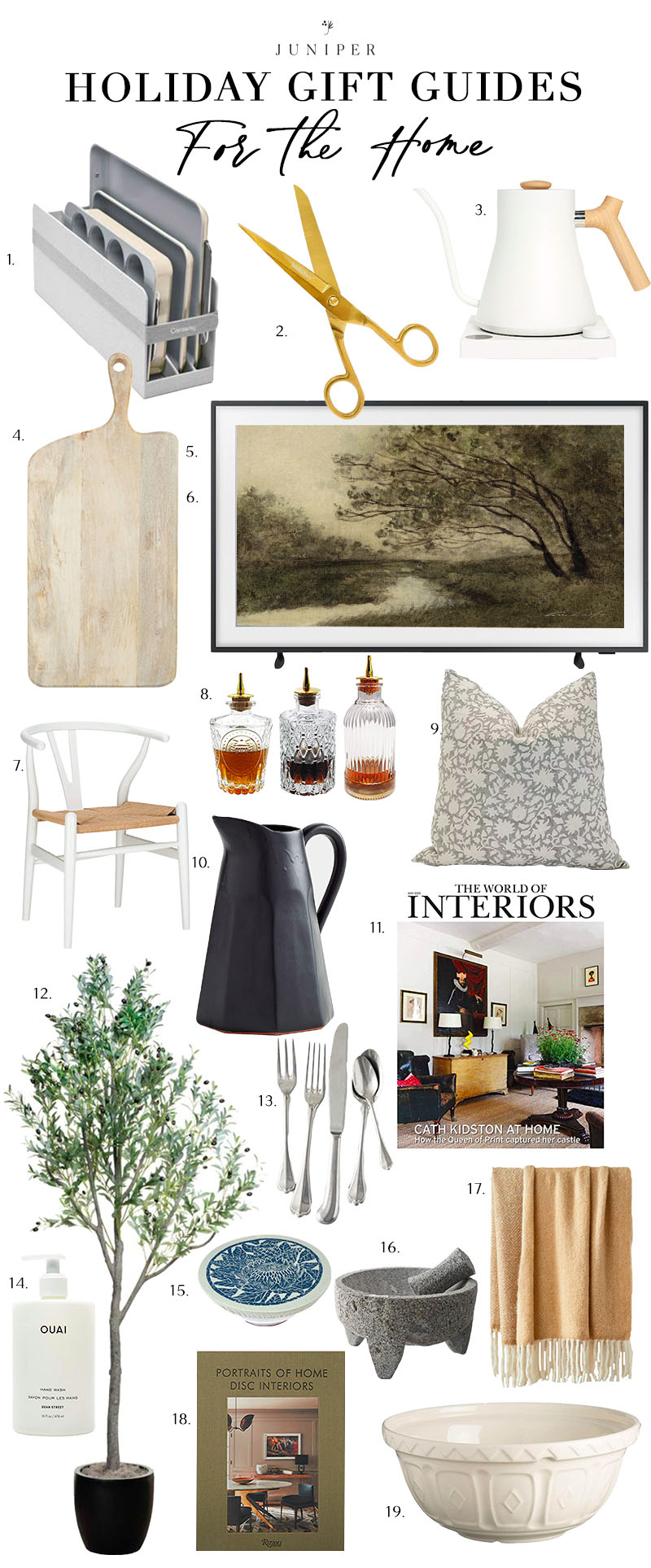 1 // 2 // 3 // 4 // 5 // 6 // 7 // 8 // 9 // 10
11 // 12 // 13 // 14 // 15 // 16 // 17 // 18 // 19
Bakeware Set – I love that this bakeware comes with a little rack to keep it all organized in your cupboards!
Gold Scissors – You know you're old when you start buying pretty scissors just for fun. This gold pair is beautiful and you cannot beat the price.
Electric Kettle – Hot water never looked so pretty!
Cutting Board – I love irregular shaped cutting boards, and this mango wood has the best tones.
Frame TV – I've been a huge fan of the Frame TV ever since it came out. Mixing functionality with beauty always wins!
Juniper Print Shop Heirloom Print – This is a print that we recently released titled 'Heirloom' by Hannah Winters, and it looks so good on the Frame TV! (We did a whole blog post about putting digital downloads on your TV, you can find that here!)
Dining Chairs – Wishbone dining chairs are such a classic shape that won't be going out anytime soon. These ones are on Amazon, and at a really great price point
Bottles – These bottles are beautiful. Use them for your bar cart, or fill them with your favorite vinegars, oild or syrups. I even think they're pretty left empty on a shelf.
Pillow – I love the pattern on this hand-blocked pillow, and the neutral tones will fit into any space
Pitcher – This black pitcher is a great size, and I love the handmade look of it
World of Interiors Subscription – A friend of mine gave me a subscription to AD as a birthday gift years ago and it was the coolest! Every month I thought of her as I enjoyed flipping through the beautiful pages!
Faux Olive Tree – This 8ft. faux olive tree is one of my favorites, and has been a go-to for so many projects recently!
Flatware Set – Some classic flatware is always a good idea, and this antiqued silver is so cool. It looks like pewter but is actually dishwasher-safe stainless steel! We have this set and LOVE it.
Hand Soap – An exfoliating and moisturizing hand wash is so important for these winters months as the air gets drier, and this one smells amazing!
Cloth Bowl Cover – These reusable cloth bowl covers are not only pretty, but good for the environment. I find them so much easier than dealing with plastic wrap.
Mortar & Pestle – A pretty mortar and pestle belongs on every kitchen shelf!
Throw Blanket – This blanket is SO soft, has the prettiest tassels, and comes in some really beautiful colors.
DISC Interiors Book – DISC Interiors creates the most beautiful, organic spaces. I love looking through this book for inspiration, and the olive linen cover makes for some really beautiful decor.
Mason Cache Mixing Bowl – If it's good enough for The Great British Bake Off, it's good enough for us! These mixing bowls are a kitchen staple.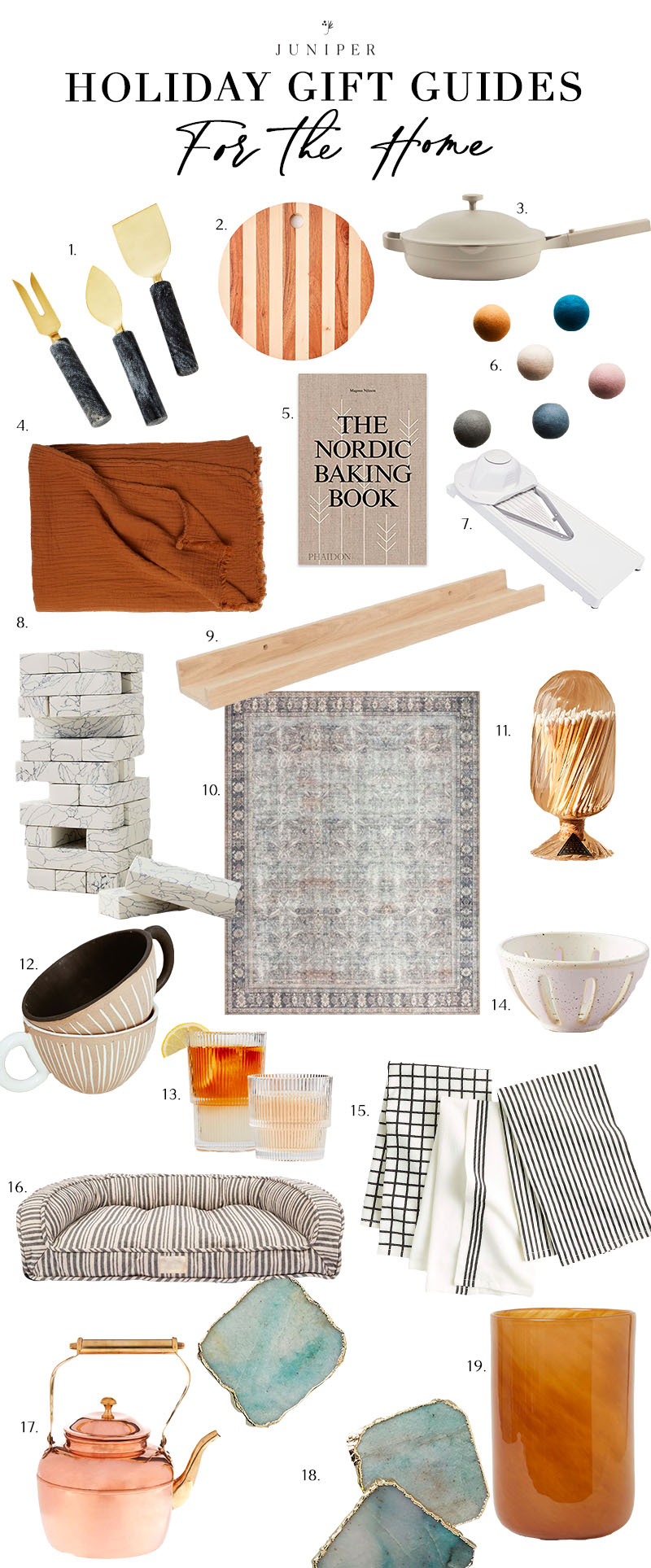 1 // 2 // 3 // 4 // 5 // 6 // 7 // 8 // 9 // 10 11 // 12 // 13 // 14 // 15 // 16 // 17 // 18 // 19