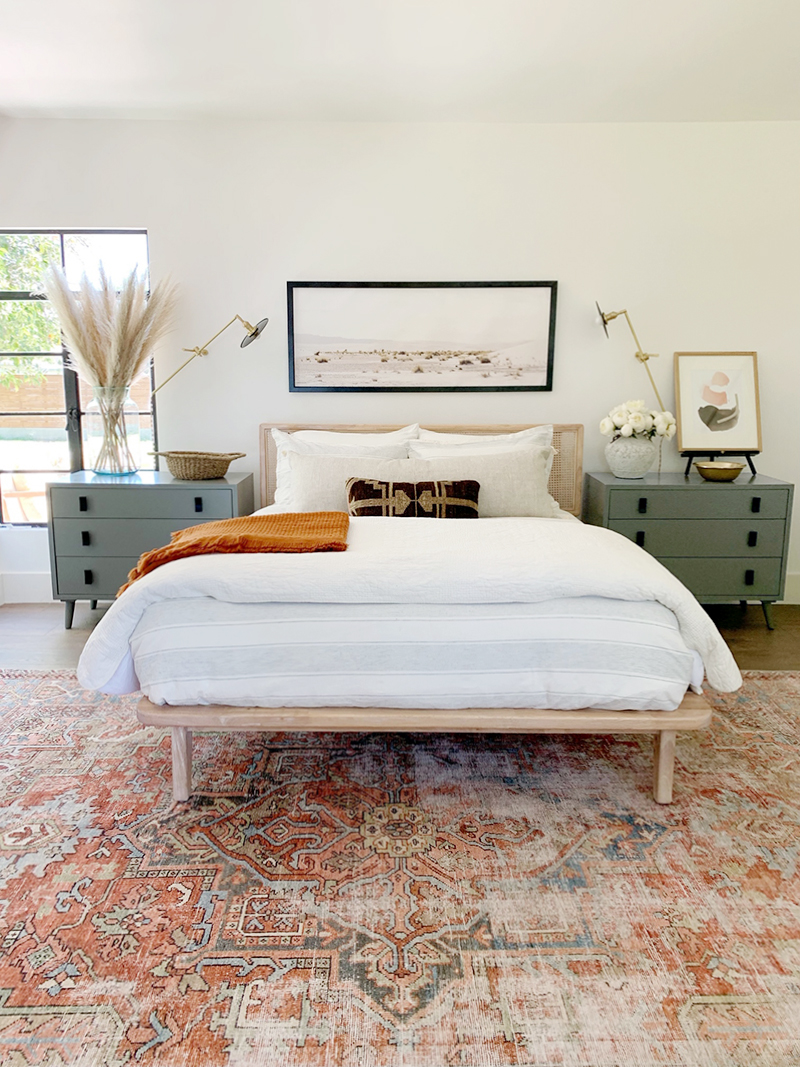 Amazon has truly changed the game with their delivery service and wide selection of goods- and did you know you can even find small shops on Amazon? It has become one of our favorite places to source home goods on a budget, and we want to share some of our favorite finds with you!
1 . Kitchen Scrub Brushes – Super useful and looks beautiful by your sink. A win-win!
2. Vintage Inspired Rug – This rug line is a Juniper favorite! Every vintage inspired pattern and design is as beautiful as the nest. We used this style in our Evergreen master bedroom.
3. Brass Bathroom Faucet – We used this in the guest bathroom of our Evergreen Project. It is such a beautiful piece and looks so much more expensive than it is!
4. iPhone Case – After a few years of paying to have my iPhone screen repaired semi-regularly so I could have a phone case that didn't look or feel clunky, I discovered this brand. It's slim but offers a lot of protection. And I love the classic tortoise shell design on the back.
5. Diffuser – This oil diffuser is beautiful! I have this terra cotta color in my office and the matte white one on my bedside table.
6. Flush Mount Light – We used these in our new Juniper offices and they look so great!
7. Blue Light Glasses – These affordable blue light blocking glasses are a bold, fun shape and look way more expensive than they are. I get a ton of compliments on these and I feel sassy when I wear them.
8. Fabric Shaver – If you have any pilling in your life – sweaters, jackets, upholstery – you NEED this fabric shaver. But you've been warned – once you start, it's hard to stop!
9. Art Easel – Little prints or paintings on pretty easels is one of my favorite styling tricks. You can see how we paired them with art and frames in this post!
10. Gold Flatware – The perfect simple, yet sculptural flatware.
11. Round Woven Purse – I used this bag last spring and can't wait to start using it again.
12. Striped Tea Towels – These woven cotton Turkish towels are my go-to for guest and powder spaces! They would be great for a housewarming gift.
13. Jute Rug – The perfect layering piece!
14. Dutch Oven – A kitchen must-have!
15. Apple Watch Band – This band is thinner and looks better on my wrist than the options from Apple. I have the black and brown leather options and switch them out every now and then to mix things up.
16. Brass Sconce – The shape of this sconce is so unique and pretty! It would look amazing in a powder room.
17. Baseball Cap – Perfect for dirty hair days.
18. Oversized Woven Basket Tray – Works great on your coffee table or on a kitchen island!
19. Tassel Pillow – I really like this pillow and have it in a few different colors. This olive green color is beautiful.
20. Seagrass Basket – The perfect basket for storing throw blankets, toys and other miscellaneous items. Comes in lots of sizes!