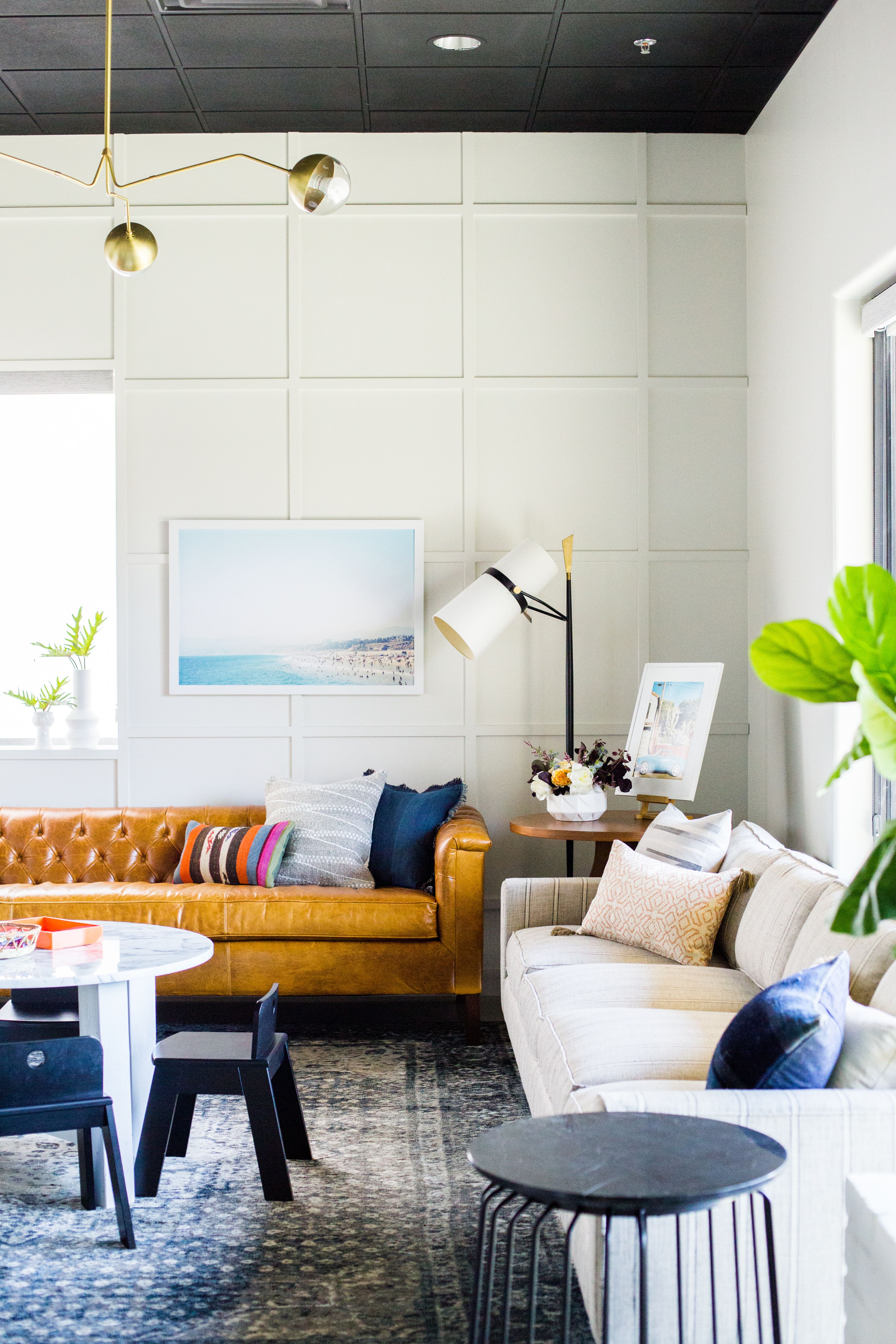 Are you ready for some crazy before and after photos?? Last year we started working with a local orthodontist practice to completely overhaul their dark and outdated Queen Creek office and now that we're finished, I'm just about ready to move in, office or not! It's such a pretty space and I'm so happy with how it all came together! :) Click through for the back story and all the photos and sources!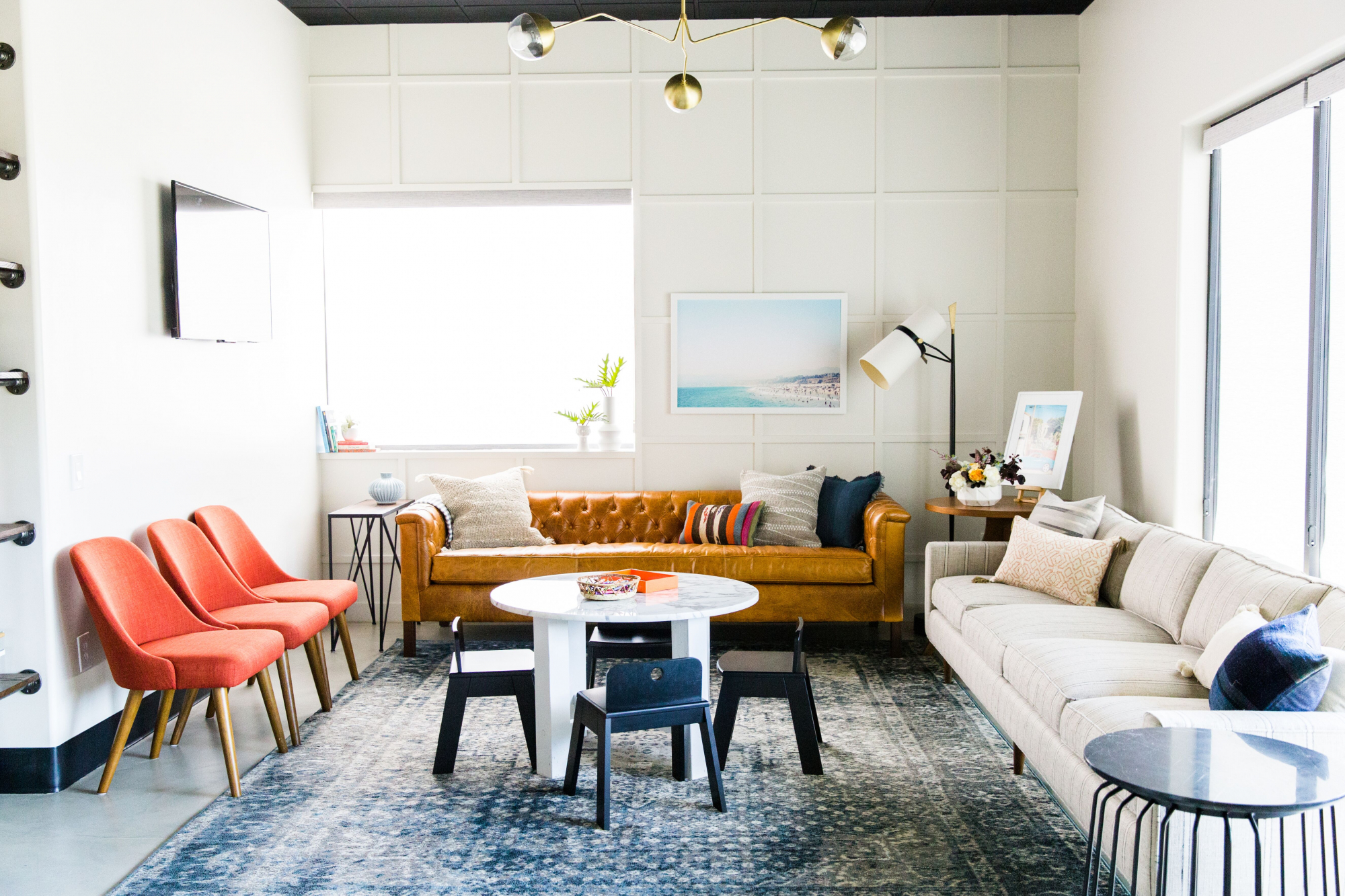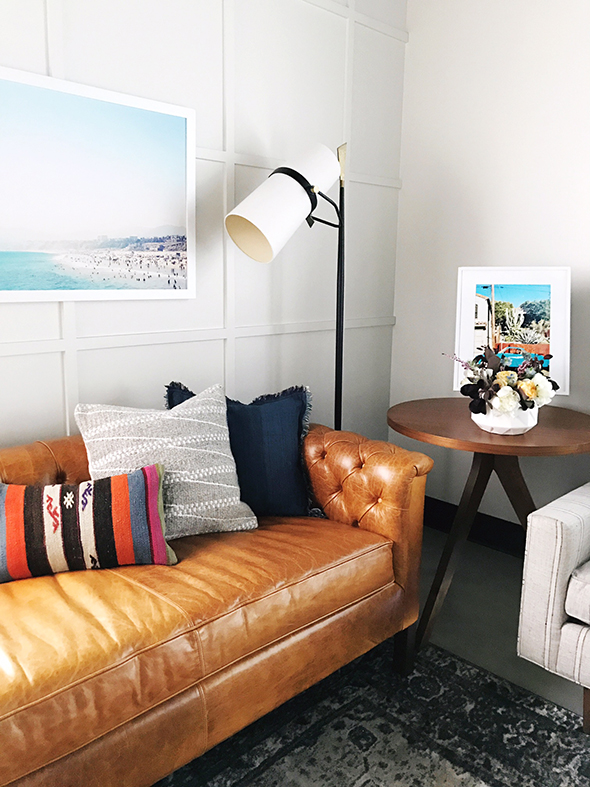 kilim pillow (similar)  //  rug  //  side table  //  floor lamp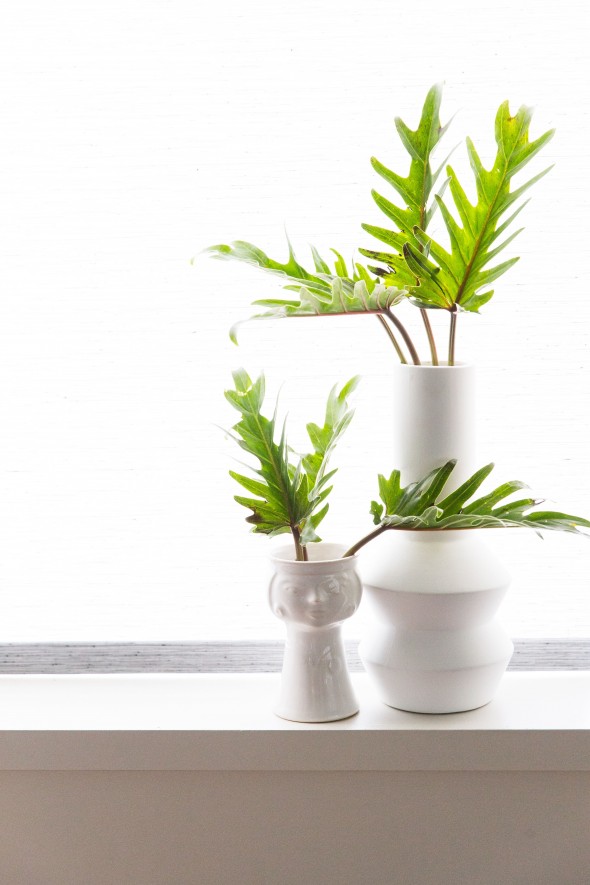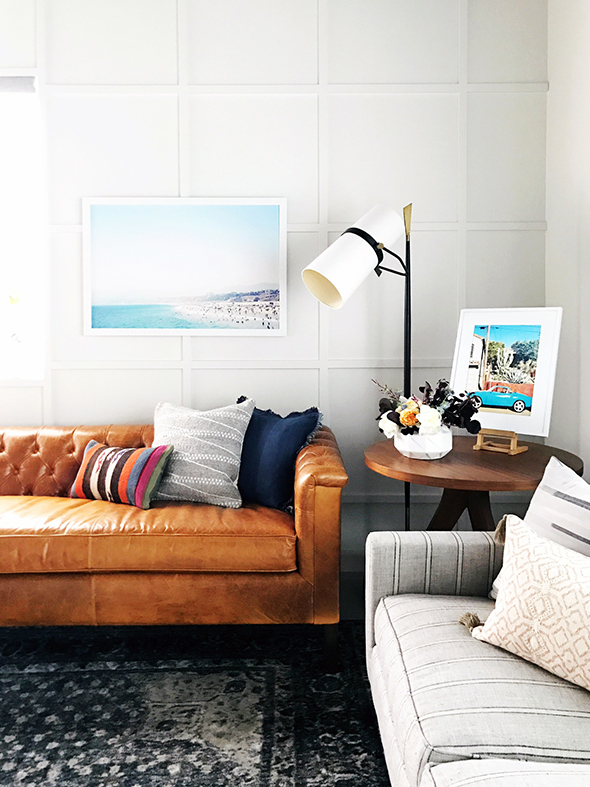 kilim pillow (similar)  //  rug  //  side table  //  floor lamp

Here are some of the before photos of the front reception area. It's insane to me that this is what we started with! What a huge difference, right?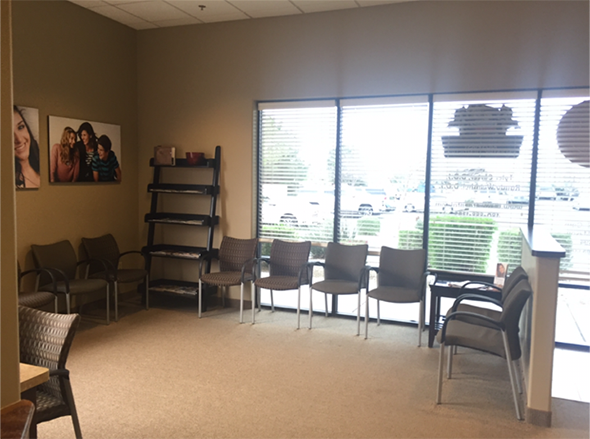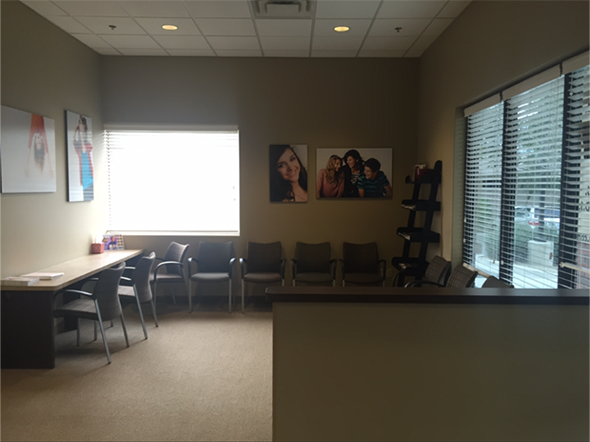 The old carpeting was removed and the concrete was resurfaced. We bought a lot of rugs for this project and the blue rug in the reception area is hands down my favorite. You guys, this rug is a 9×12 and it was SO AFFORDABLE!!! It is gorgeous, durable, and soft. The color is that perfect shade of blue-black that looks good with every other color you layer on, just like a pair of jeans. Two thumbs up for this amazing find! I've bought at least three more of these rugs since this project for my own home, friends homes and other projects. You just can't beat that price (and it looks like it's on extra sale today)!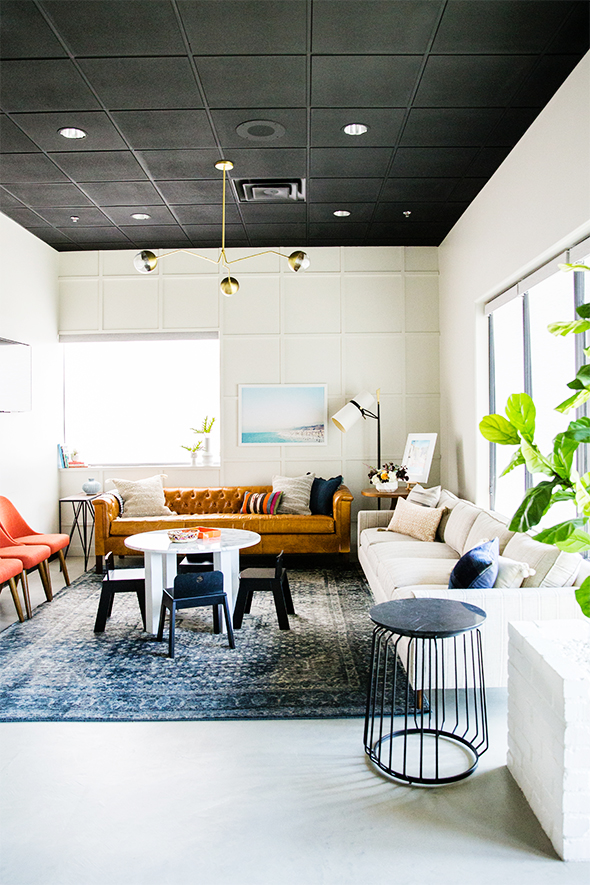 kilim pillow (similar)  //  rug  //  side table  //  floor lamp
red side chairs  //  fiddle leaf fig tree

The color on the walls is Benjamin Moore's Classic Gray, which is bright and light but not as stark as pure white. We painted the ceiling tiles black as an inexpensive fix and replaced all of the light fixtures with pieces from Lucent Lightshop.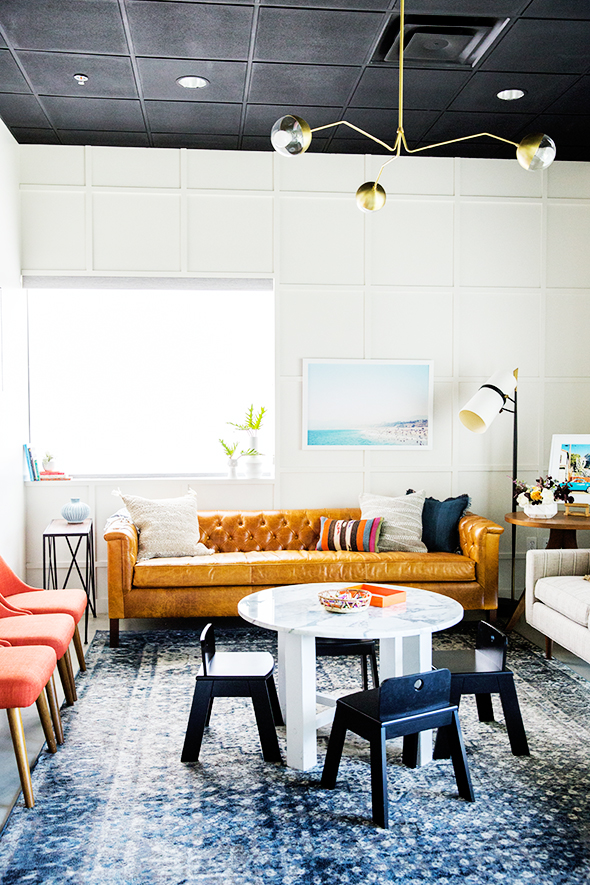 This beach print over the leather sofa is from our latest release on Juniper Print Shop. I found the vintage marble top at an antique store and had my carpenter build the base of the coffee table/kids table to perfectly fit those cute little kids chairs when they're pushed in all the way. I love how this kids table turned out!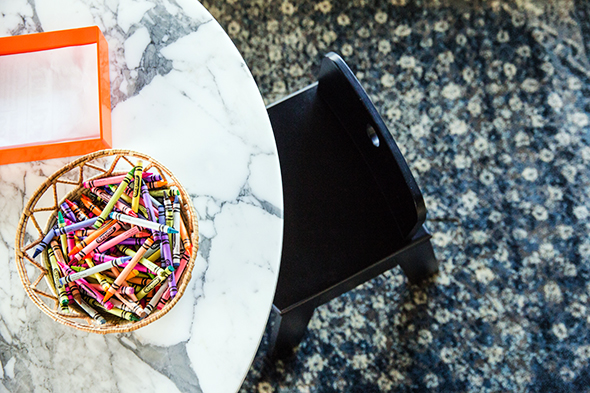 I had four sofas made for this project since we were working with tricky sizing and needed to use fabrics that could hold up to commercial use. The two 10′ long sofas in the reception area are my very favorite though! I used Monarch sofas to build these and they were SO great to work with. They have manufacturing facilities in Texas and in California but they ship their furniture everywhere! I sent them all of the fabrics to use for this project, but the leather is a color called Hampton Brandy and was selected from a sample they sent me. It is gorgeous in person.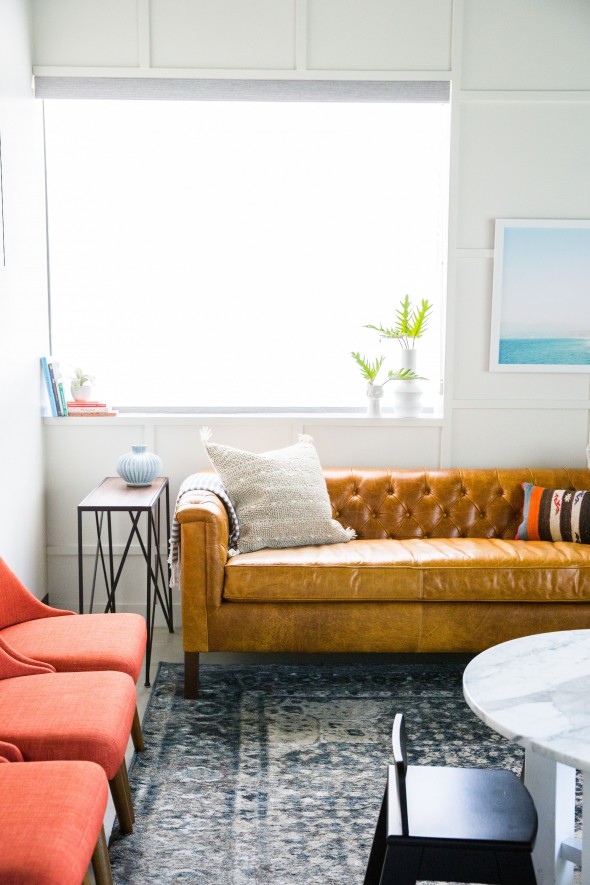 Everything they make is customizable, so I started with the Roxy frame and added a bench cushion and changed the leg style and the depth of the seat and the height of the back to fit under the window easily. Honestly, Monarch was a dream to work with and the sofas are lovely. (And they are not sponsoring this post! Just passing along in case you are looking for something semi-custom!) :)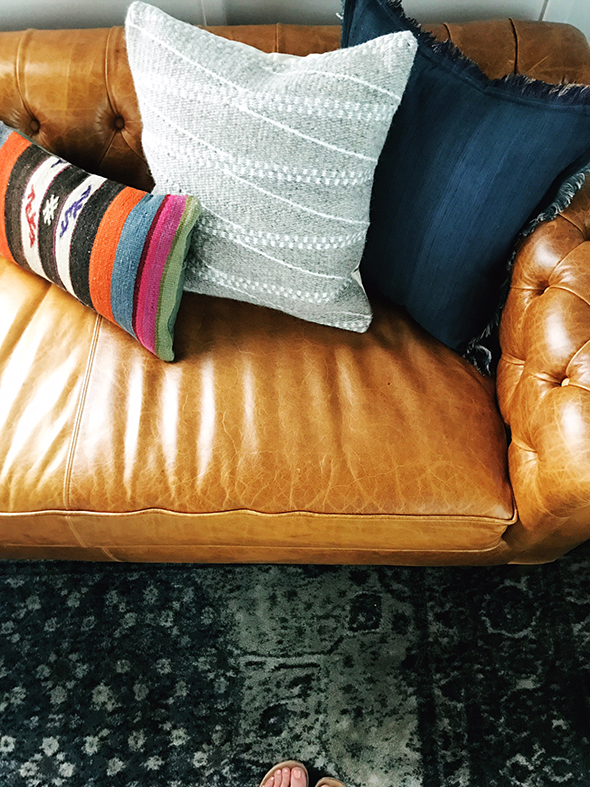 Just around the corner from this seating area is a little shelving unit we made out of gas pipe and wood from Home Depot! Super simple and completely customizable! Here is the before: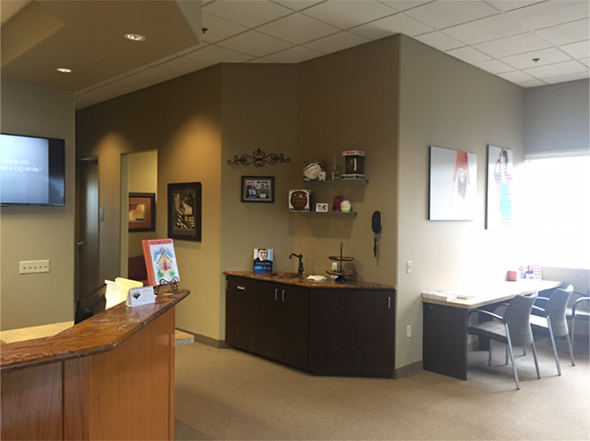 And after!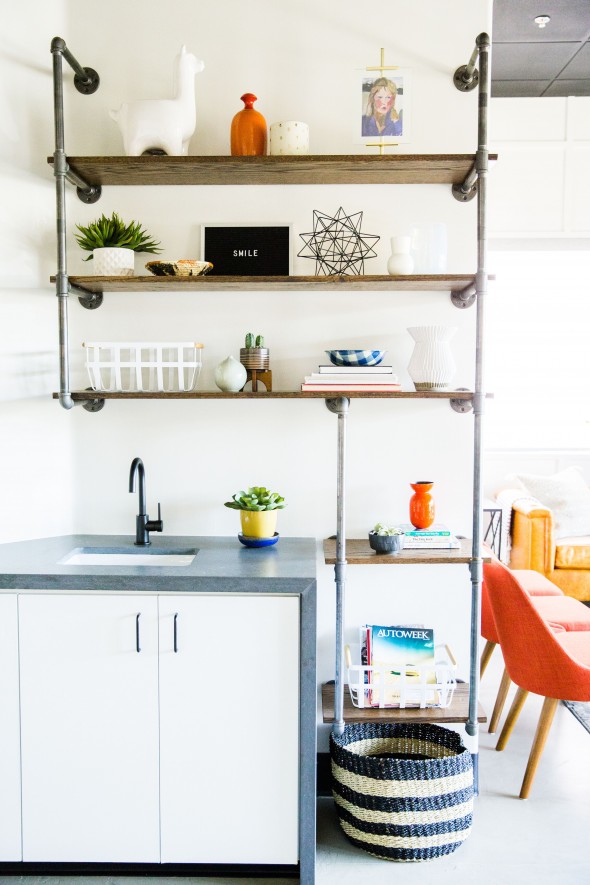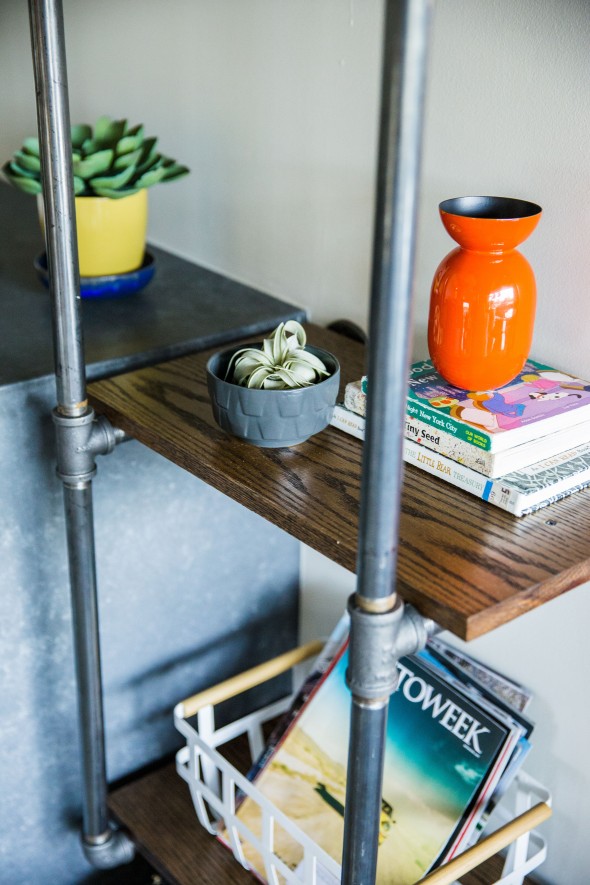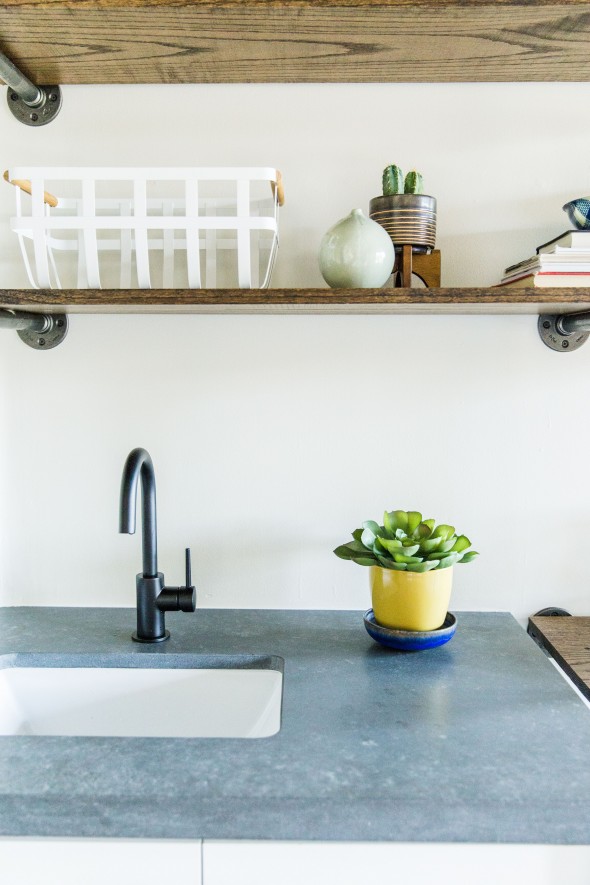 Here's what the reception desk looked like before: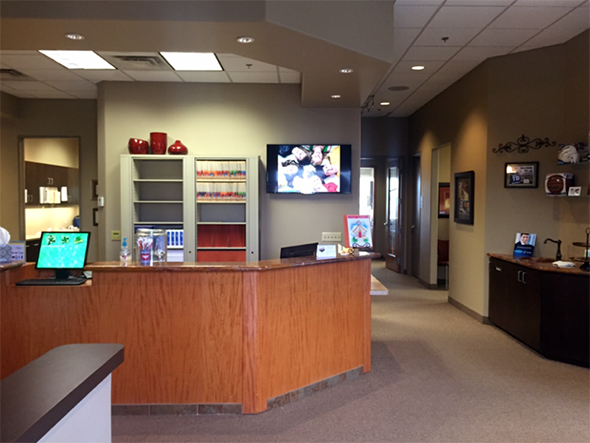 We planked the front desk with teak wood, changed the counter tops and tiled the wall with brick veneer and then painted it white before hanging the new sign. I love it! :) Lights are all from Lucent Lightshop!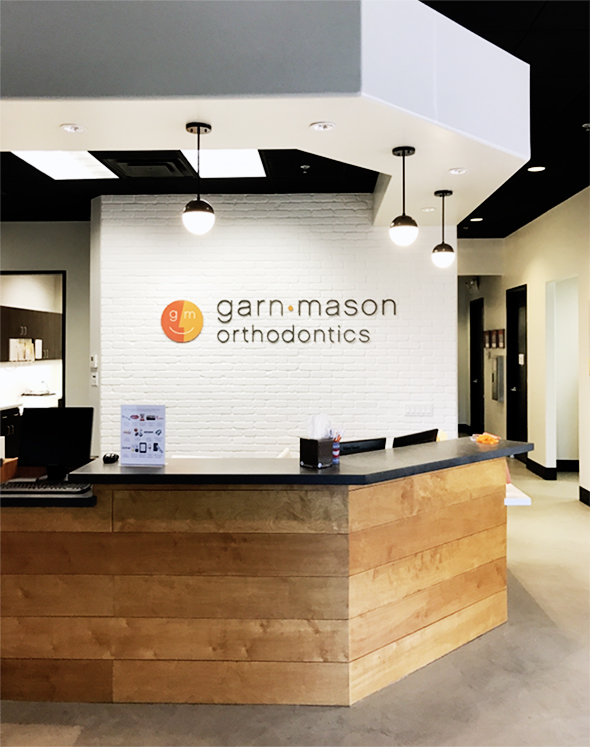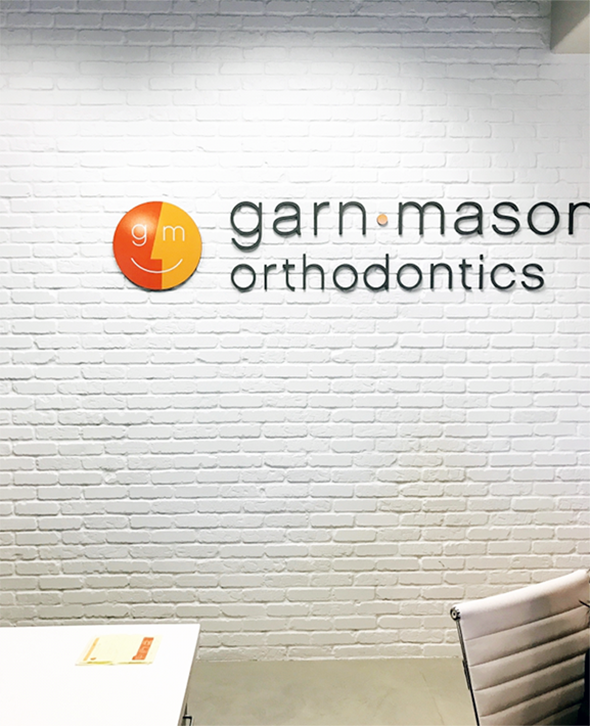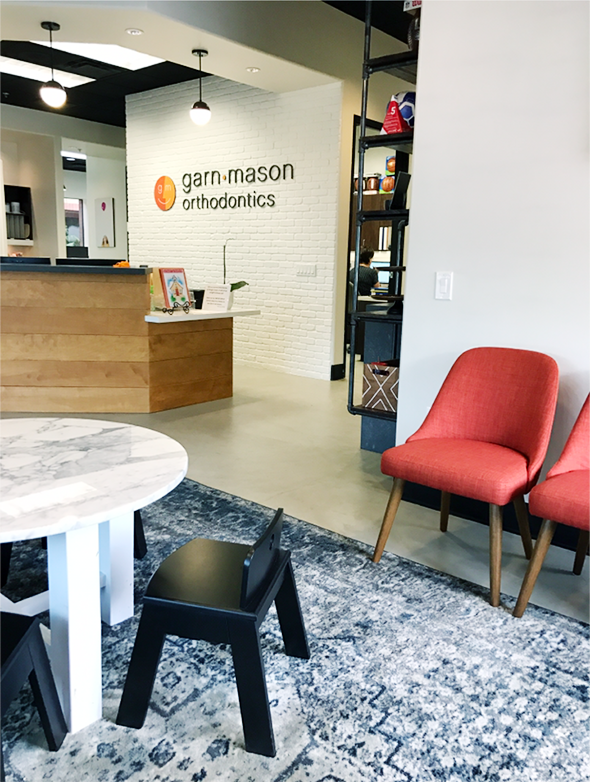 Here's what the other side of the reception area looked like before: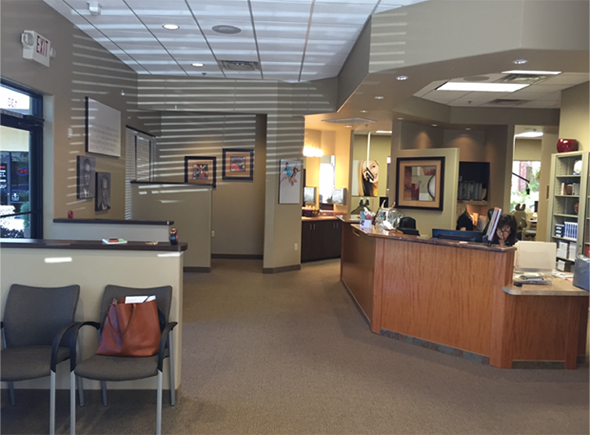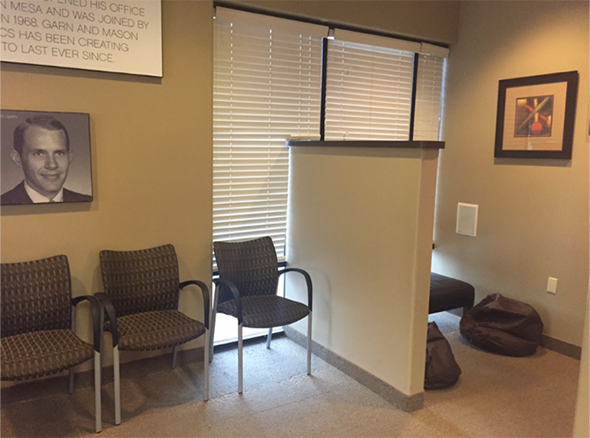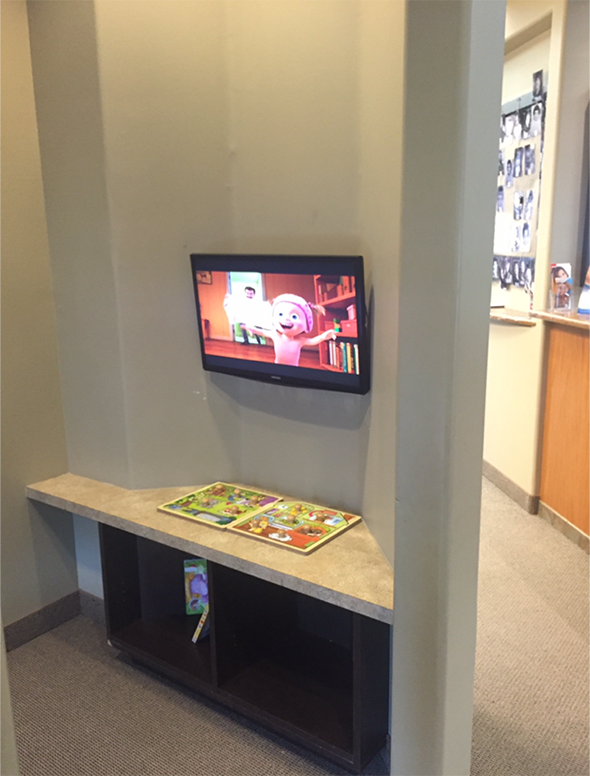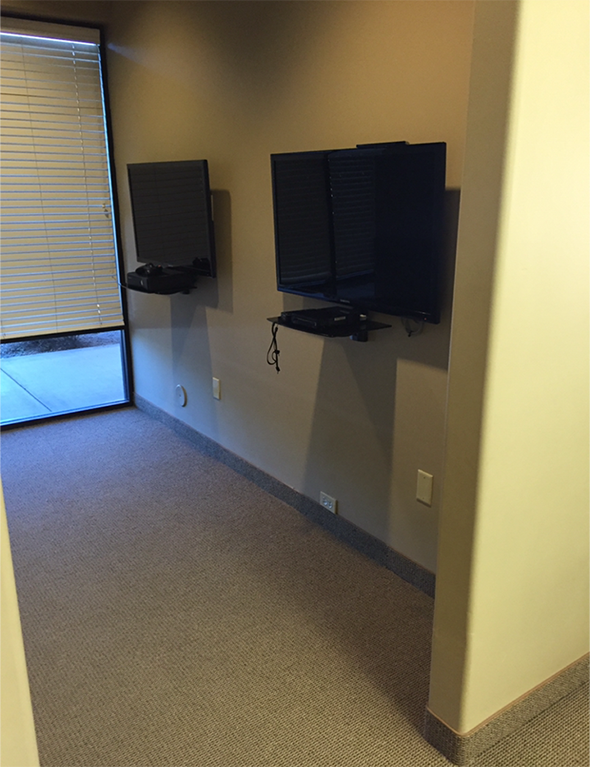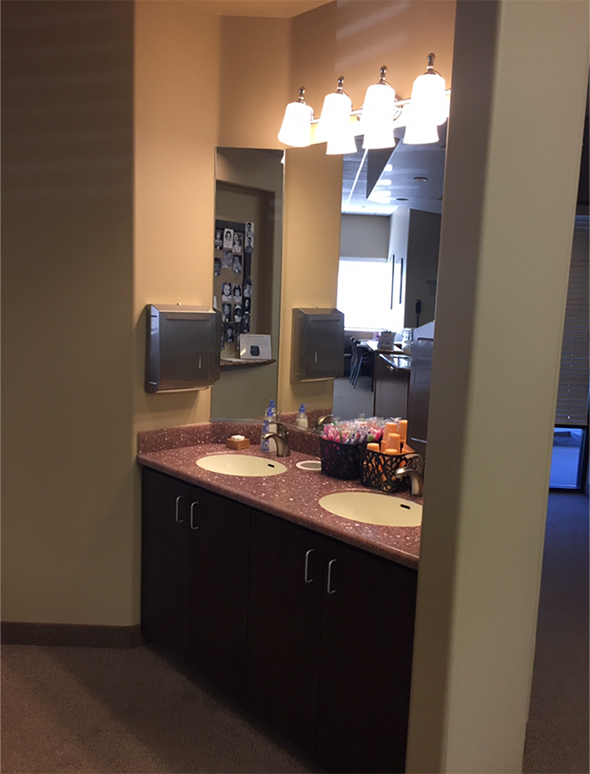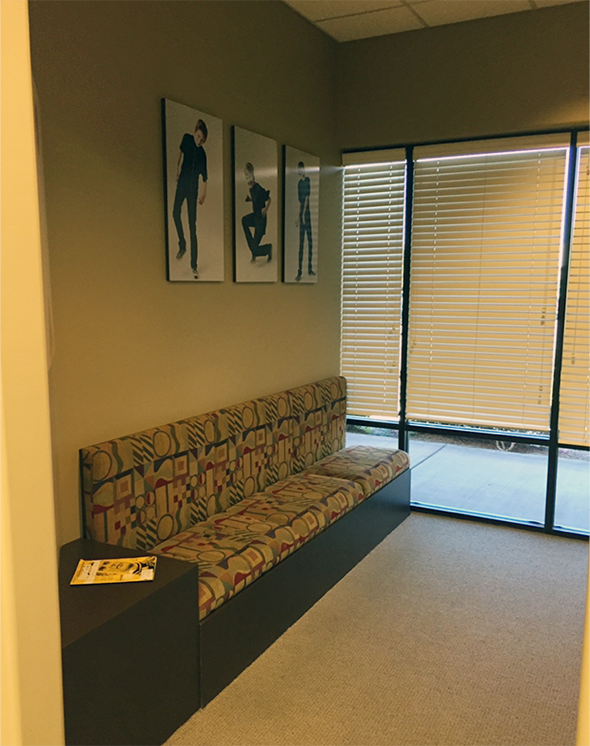 We used another Monarch Sofa base in a shortened size on the other side of the reception room. I love the white legs!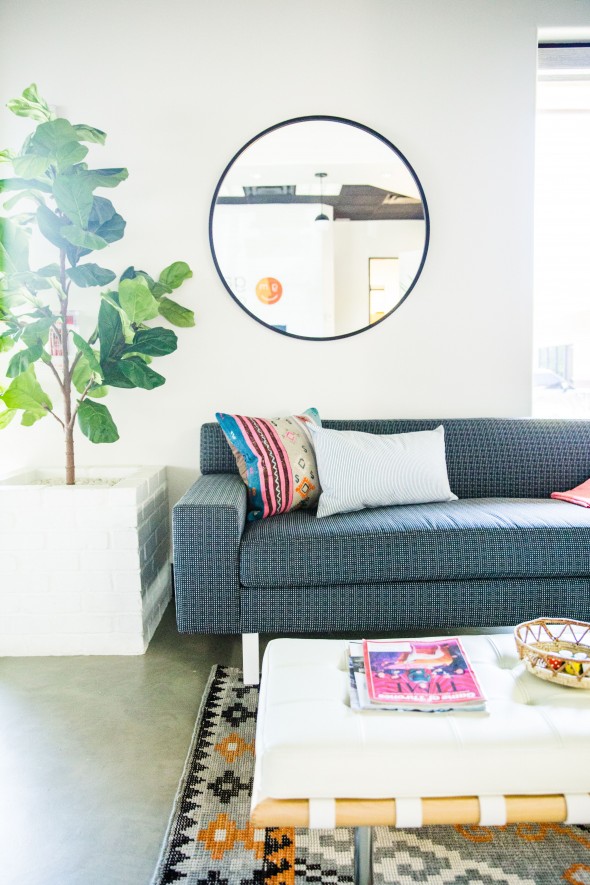 vintage rug (similar)  //  white ottoman bench  //  fiddle leaf fig  //  mirror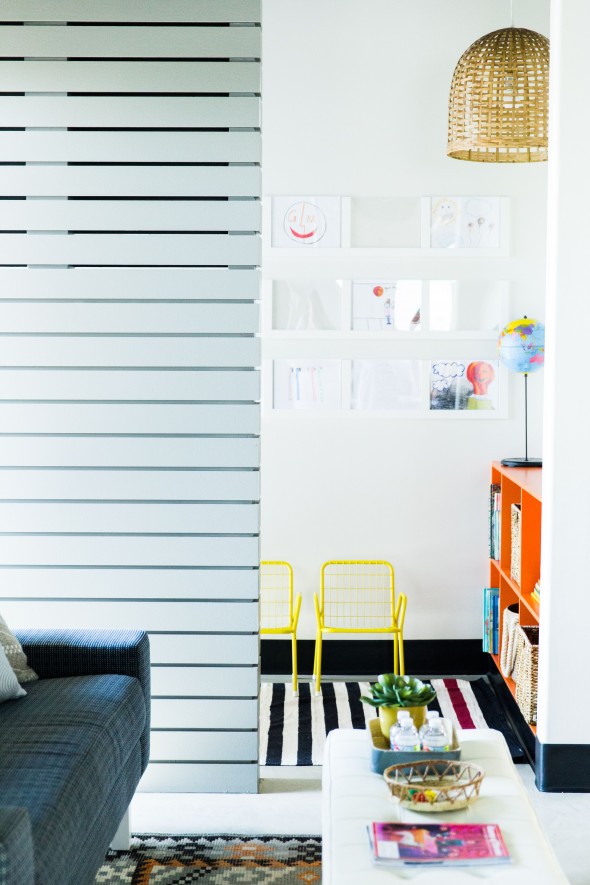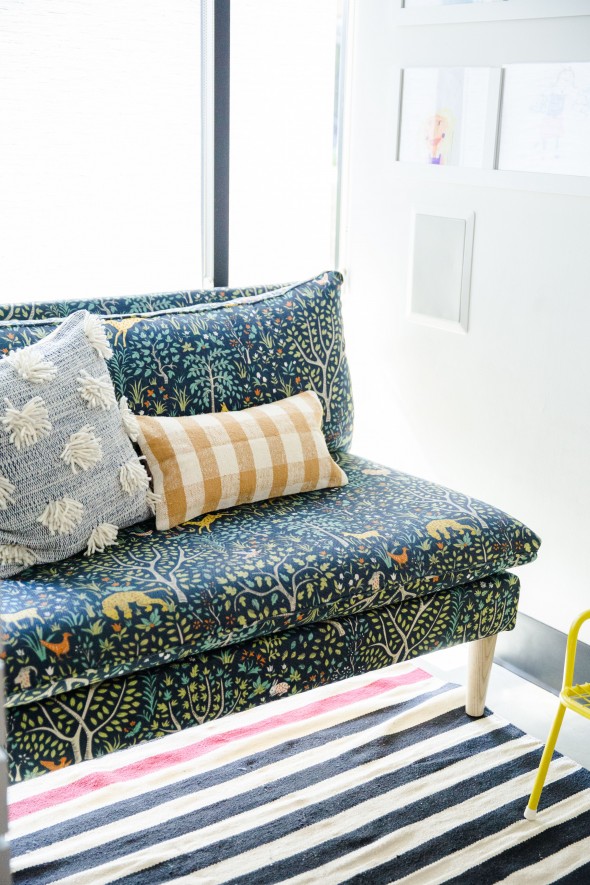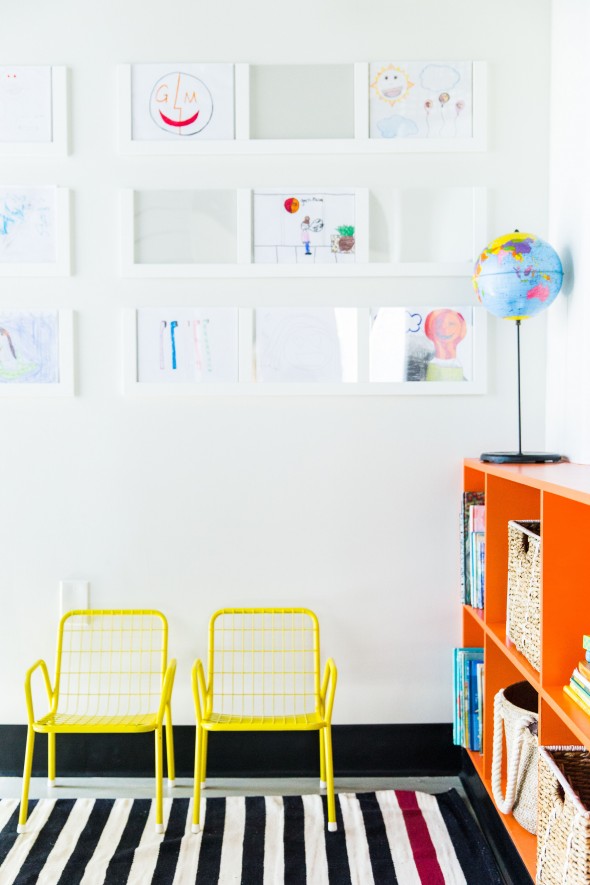 rug (similar)  //  picture ledges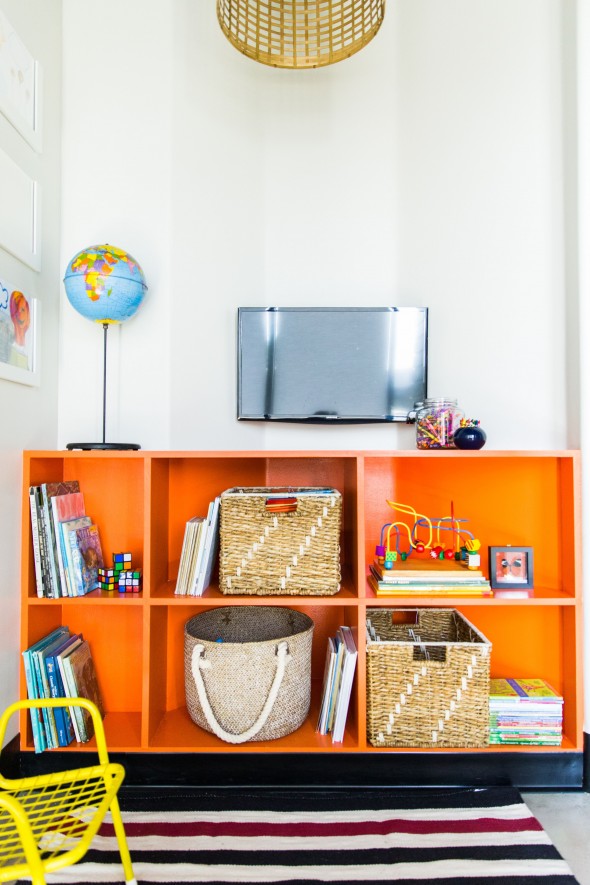 And here are some more photos of the rest of the office!  We tried to incorporate their orange and red colors as much as possible in a way that felt fun and fresh and appropriate for an orthodontist office.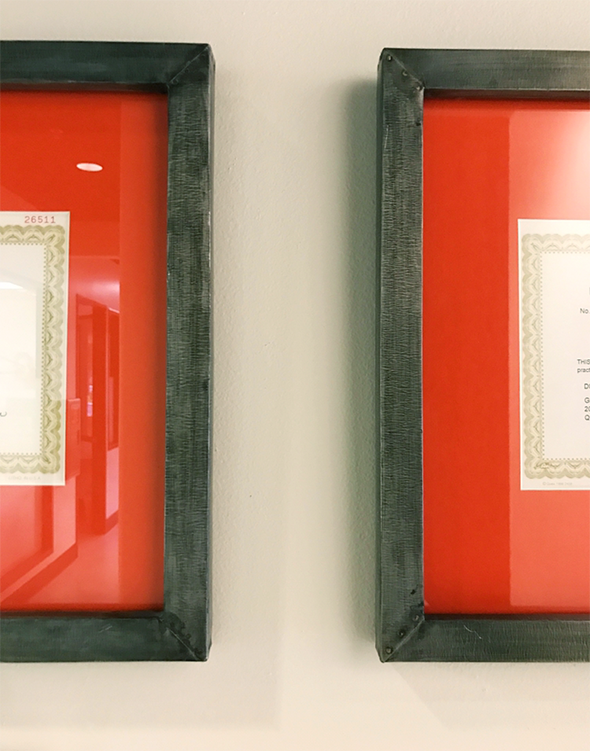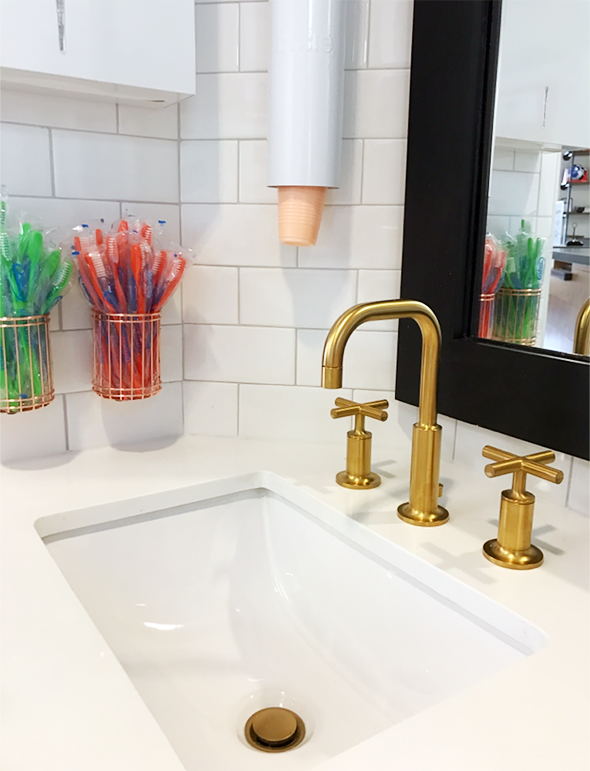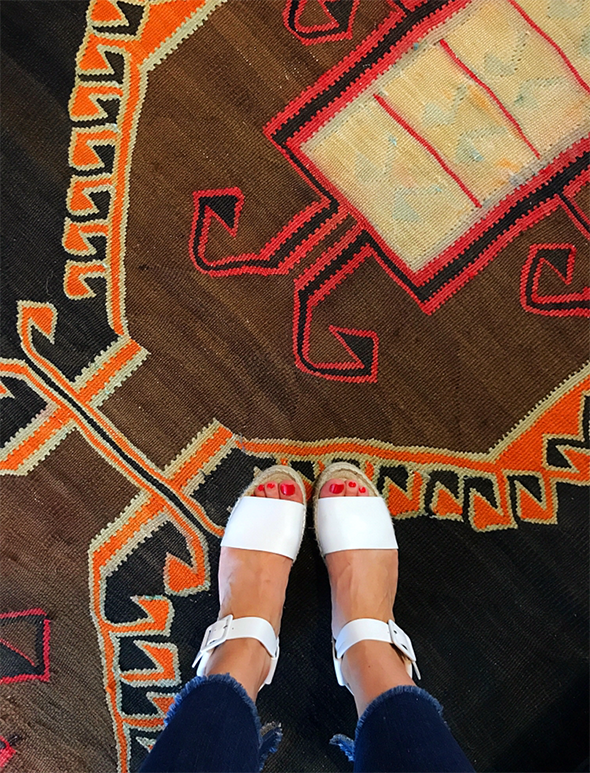 Vintage Turkish rug  //  sandals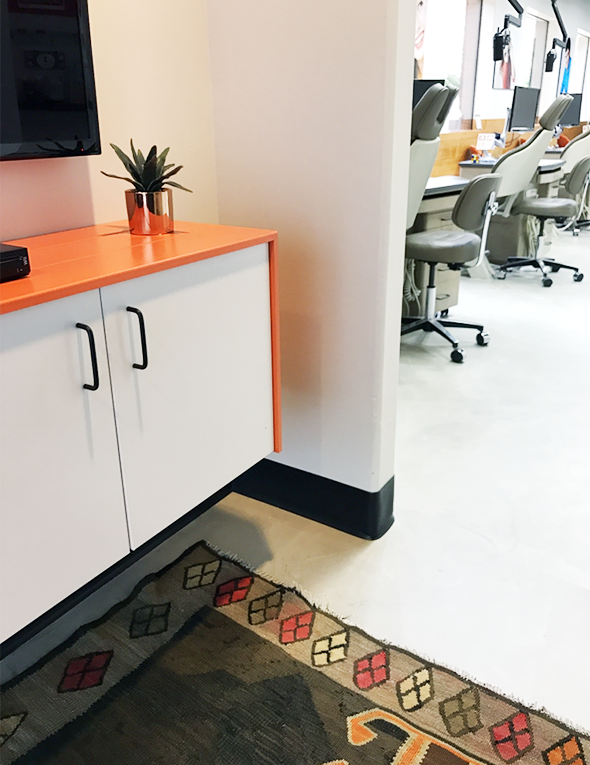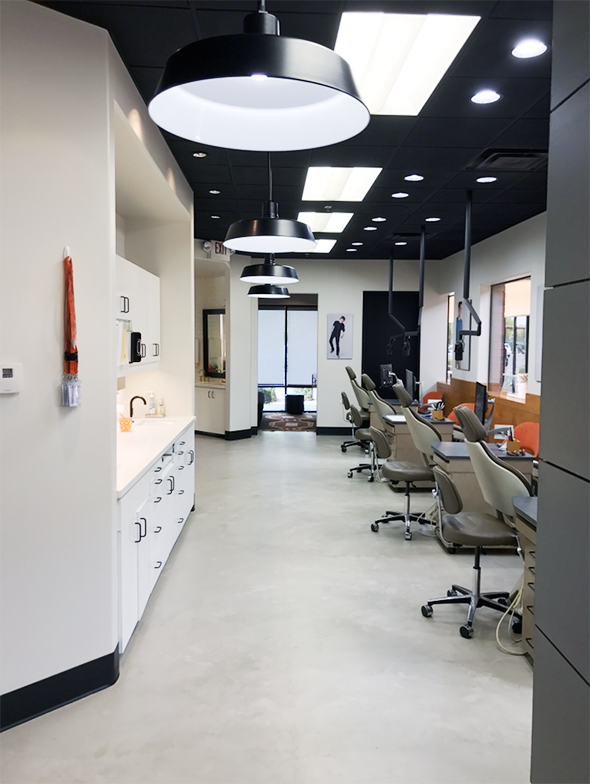 The patient bathroom is one of my favorite spaces! Here are the befores: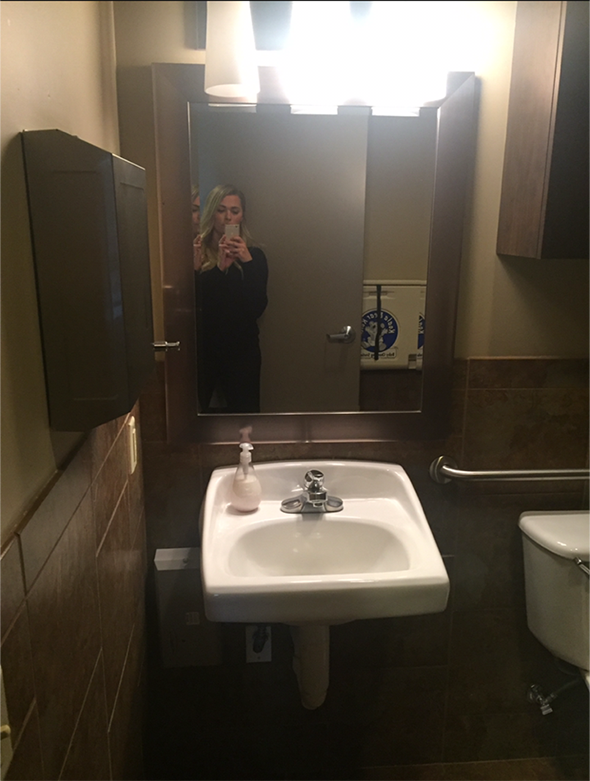 And the bright, happy afters!! I designed this metal sink base that we had powder coated in their signature orange company color. The walls are tiled in this cement tile.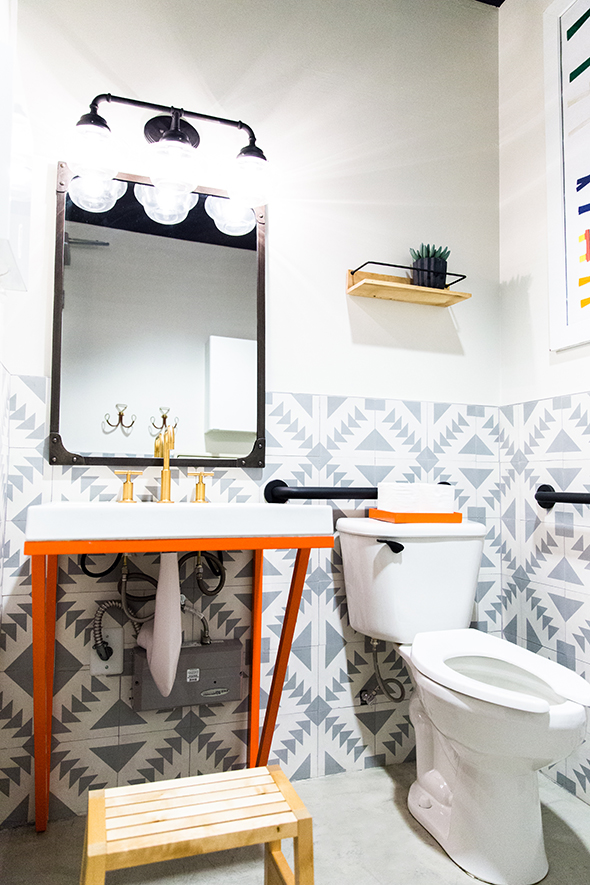 I think we're going to do a more in-depth post about the art in here since so many of you had questions on my instagram stories tours! We sourced dozens of vintage and new pennant flags from places the doctors lived and went to school. I love all the colors and the story behind this giant framed piece! :)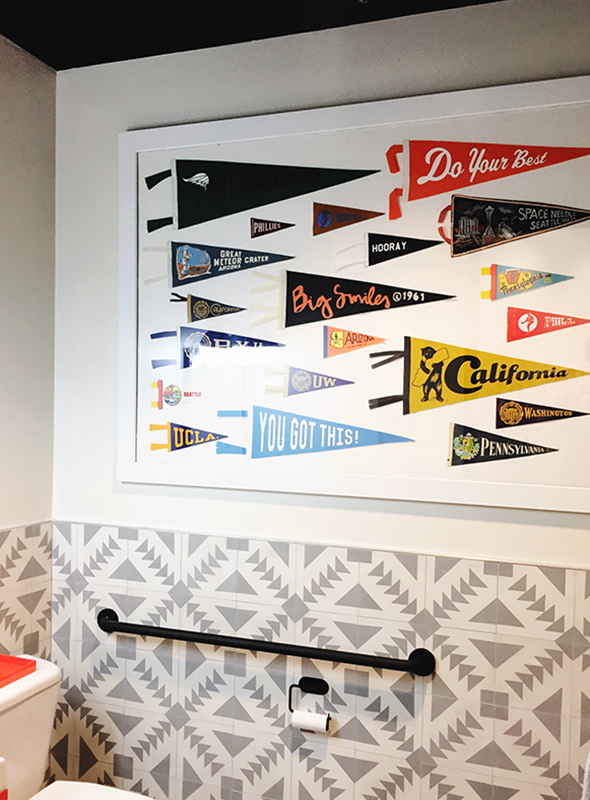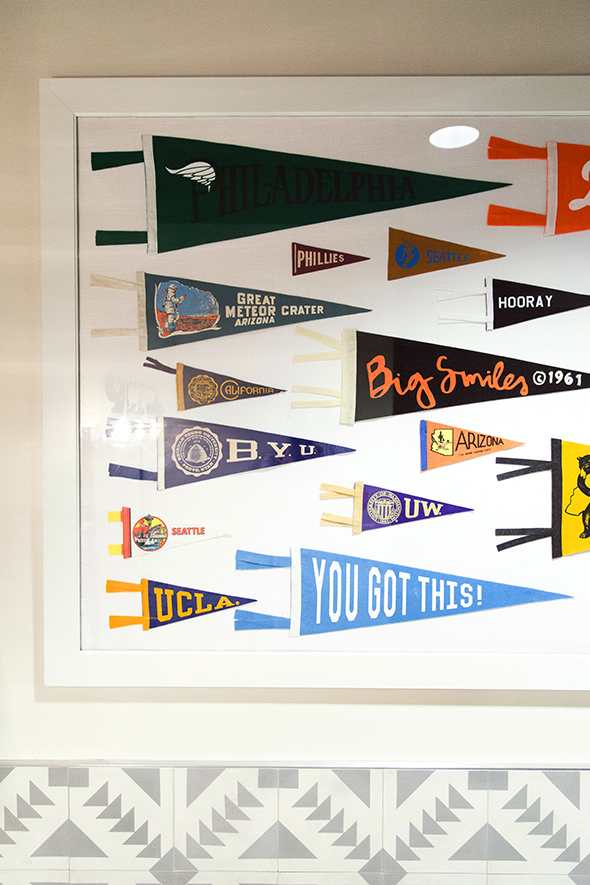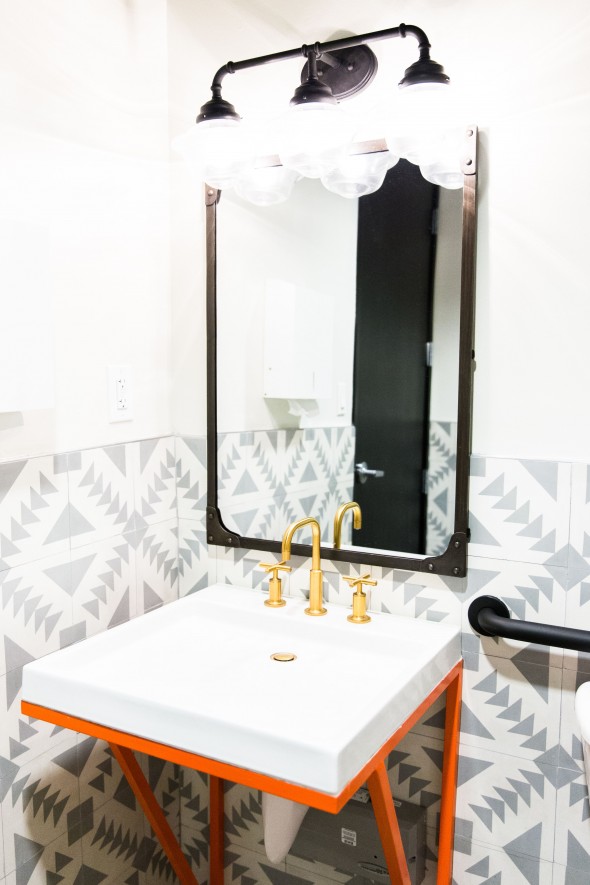 And those are the highlights!!! You get a gold star if you lasted this long!! :) :) Thanks for sticking around – this was a big project that took a long time to wrap up! It was SO fun to finally get to share all these photos with you! Here are links to the same or similar items that we used here, but as always if you have a question about an item, leave us a comment and we'll get back to you!