I'm sure you've seen all the tutorials for Fauxdenzas floating around the web the past few years. I love the concept of IKEA kitchen cabinet uppers being mounted directly to the wall at a traditional credenza height (30-36″ AFF). The no-leg look is clean and airy and perfect for small or awkward spaces that need a lot of storage but don't have much of a footprint to offer.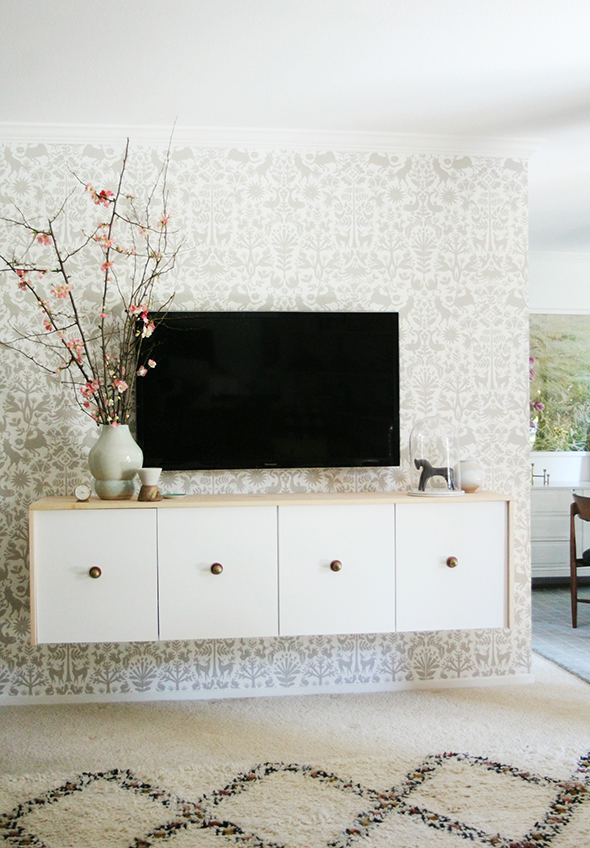 I made my first floating credenza for Lucy's living room. Ali and I loved the project so much, we came home and made one for her family room! Her credenza was a little longer and we did a darker stain on the waterfall surround, but the concept is the same.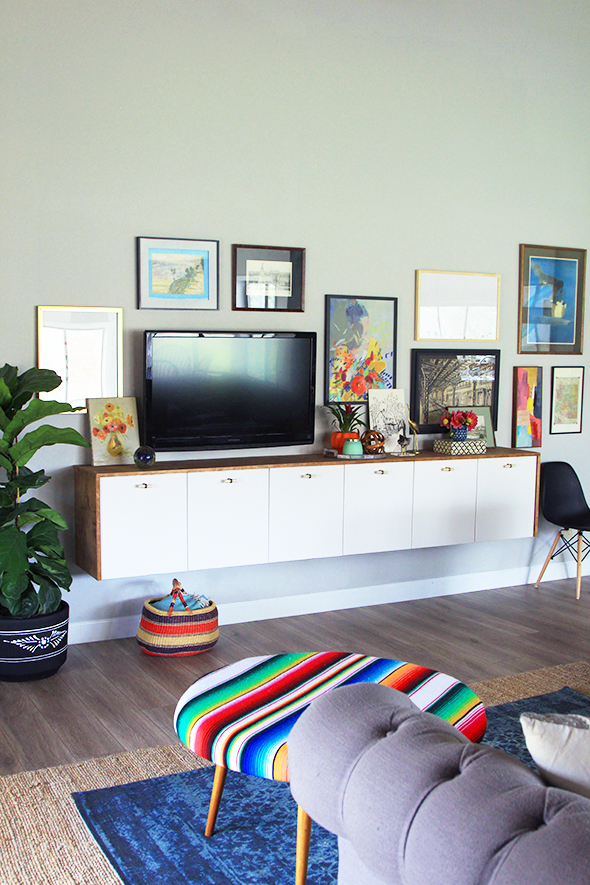 With both projects, I wanted the cabinet doors to be more of a square than a long rectangle, so we went with two 20″ high, 36″ wide cabinets and three for Ali's.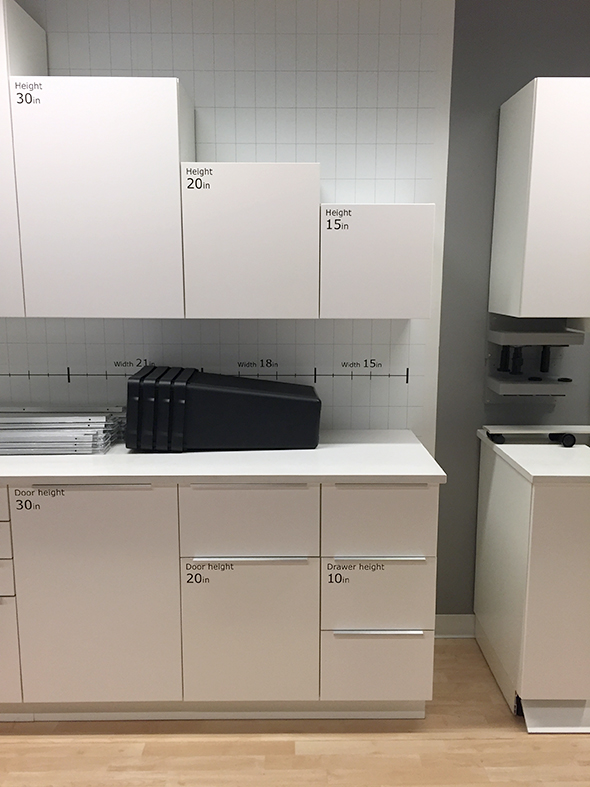 After building your cabinet frames using IKEA's instructions, the process is super easy to hang these floating credenzas. You start by using a level to make a long straight line on your wall about an inch below where you want the finished top of your credenza to sit. IKEA's Sektion upper cabinets come with a rail that the cabinets hang on. With a couple helpers, hold the rail up on the wall flush with your line and mark your screw placements that line up with the pre-drilled holes in the rail. It's a good idea to find your wall studs and line up the holes with the studs to make the rail extra secure and to save you the steps involved with hard core wall mollies! (PS I used painters tape here to mark out the rough dimensions of Ali's TV and some of her art before we chose a height for the credenza. Super easy and very helpful!)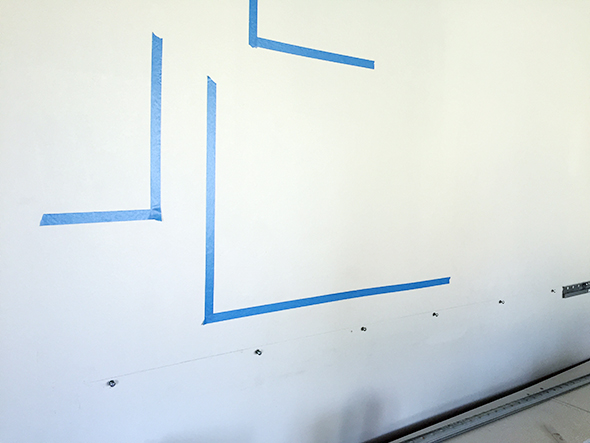 Once the rail is installed, the cabinets can get hung right on the rail and screwed into place.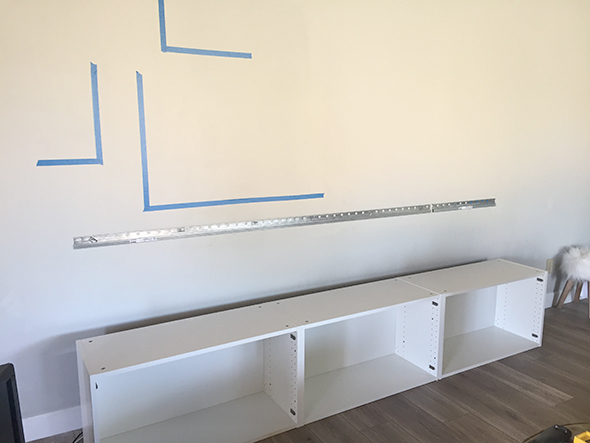 The tops of the cabinets are unfinished and you can sort of see the mounting rail from the side view so it's necessary to make a waterfall edge.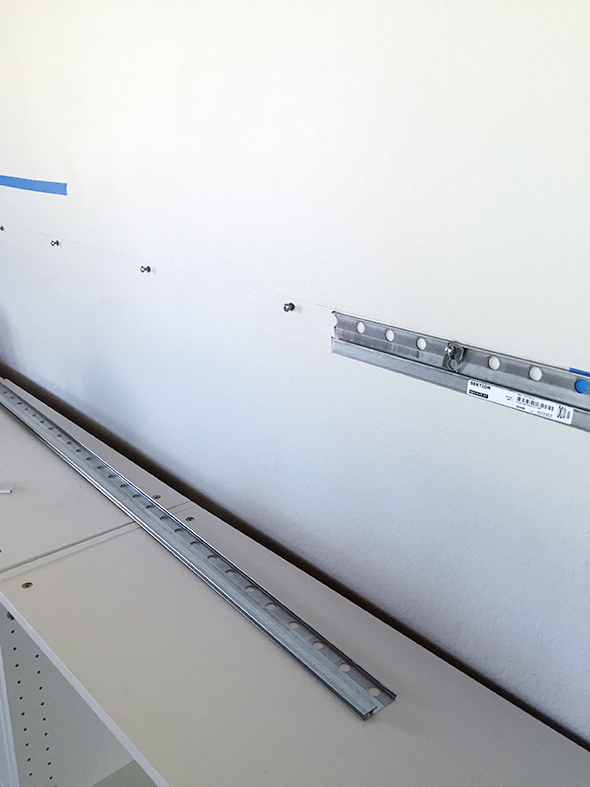 I had a piece of 3/4″ furniture grade plywood cut down to 16″ deep and 73.5″ long for Lucy's credenza (which is the two 36″ boxes with 1.5″ of overhang on the side panels). Before staining the plywood, I used an iron to glue on veneer to cover the plywood look of the edges.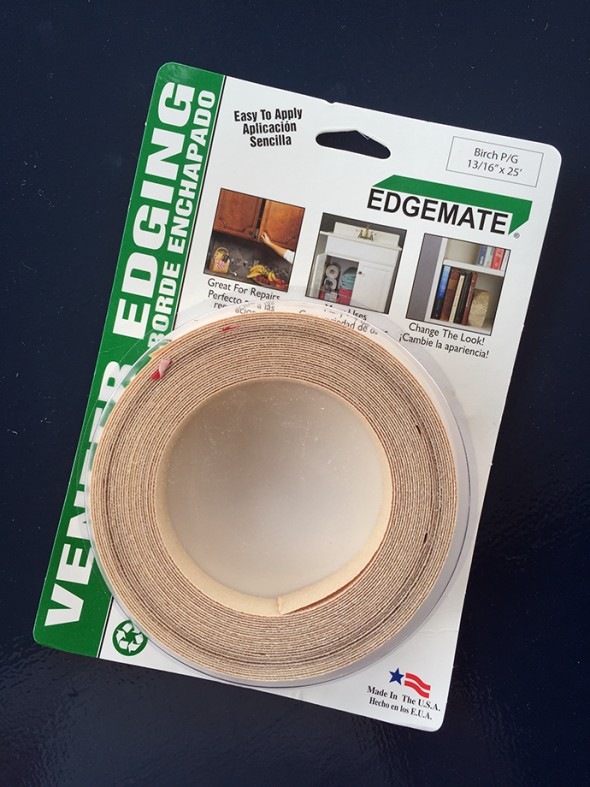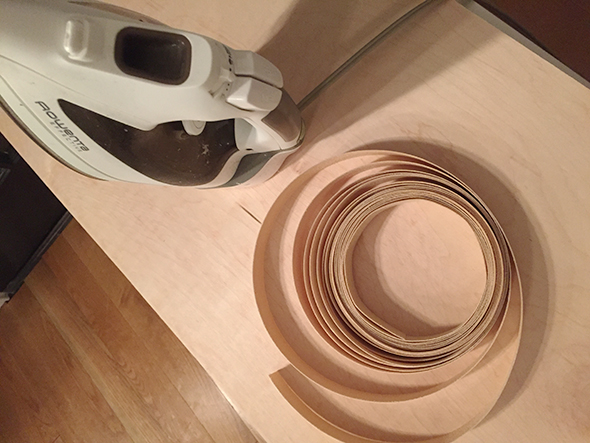 If your veneer needs to be trimmed, you can used a box cutter or razor blade after the veneer is glued down and cooled. Then it's time to stain the wood. We stained Lucy's credenza with Danish Oil and Ali's with Minwax in Special Walnut.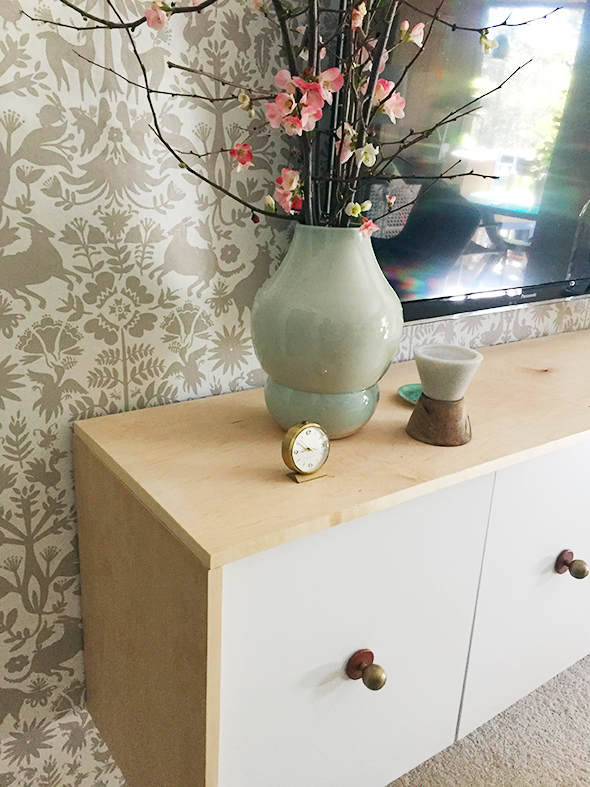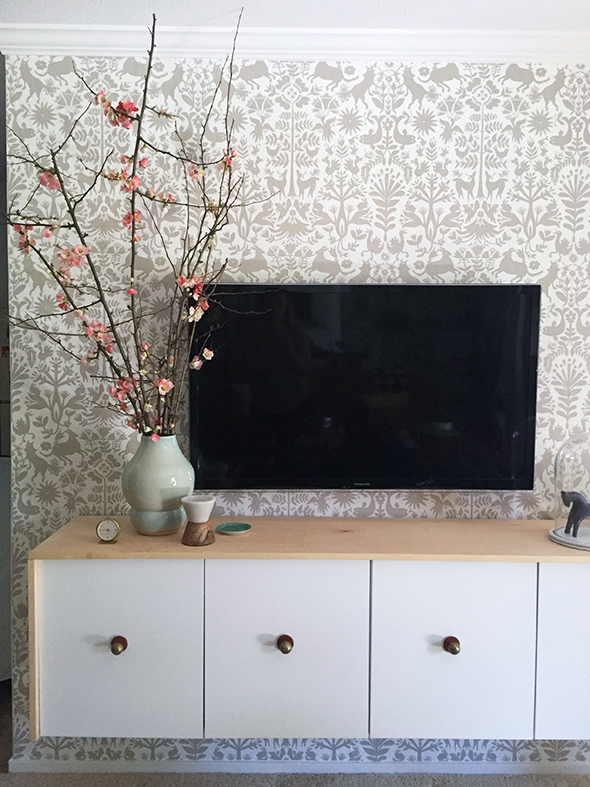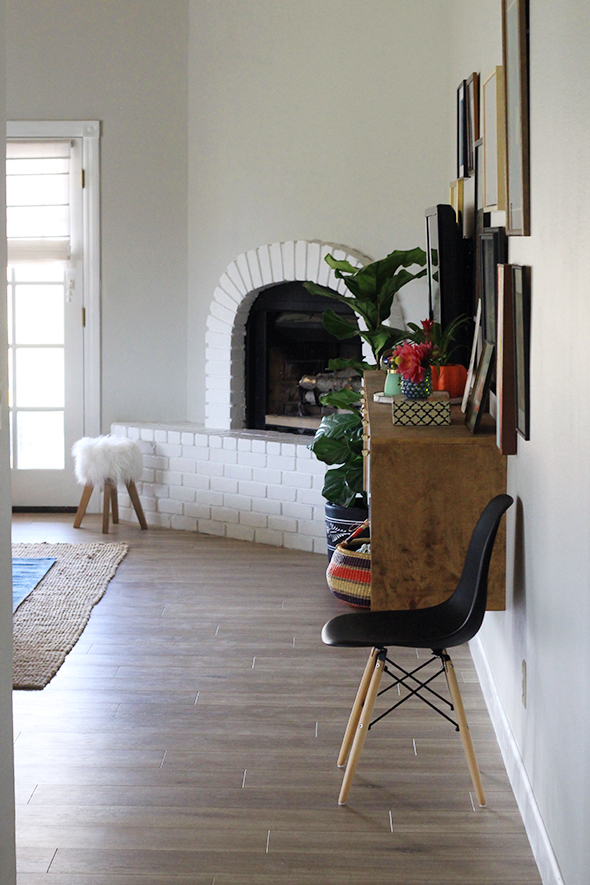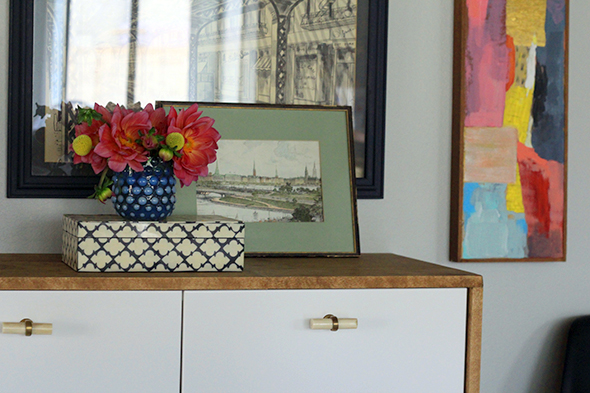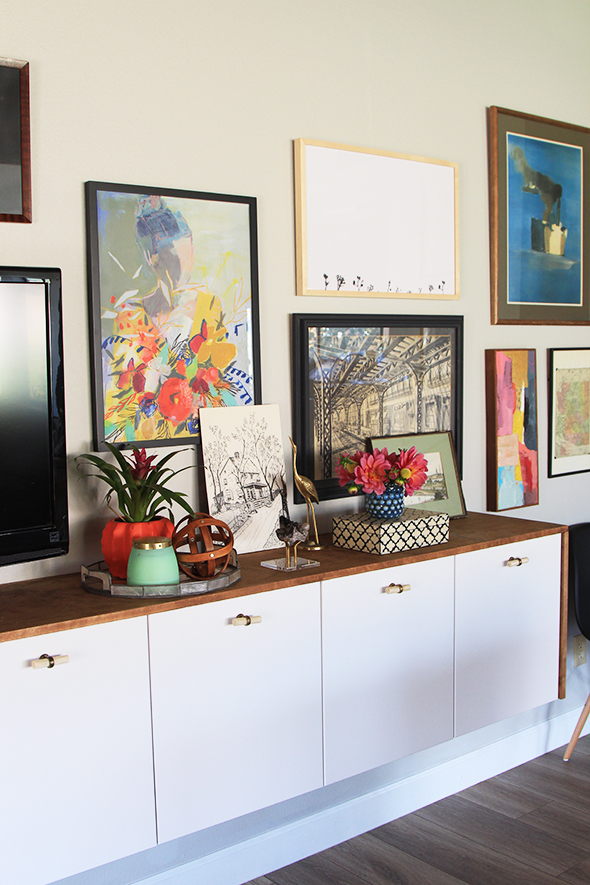 Pretty great, right? After the plywood is stained, you just run a few drywall screws (which are extra sharp and easy to use – I always have a few boxes in different sizes on hand) through the inside of the cabinet to hold the plywood top and sides in place.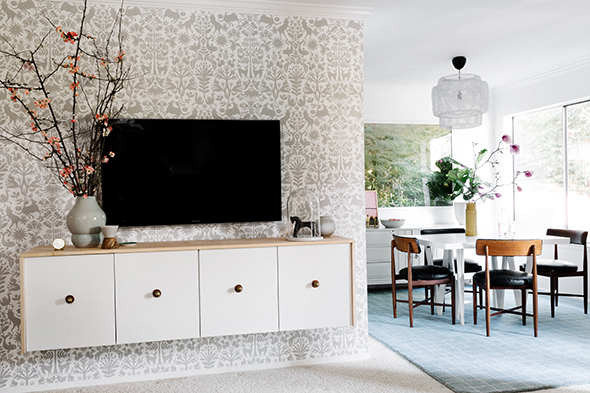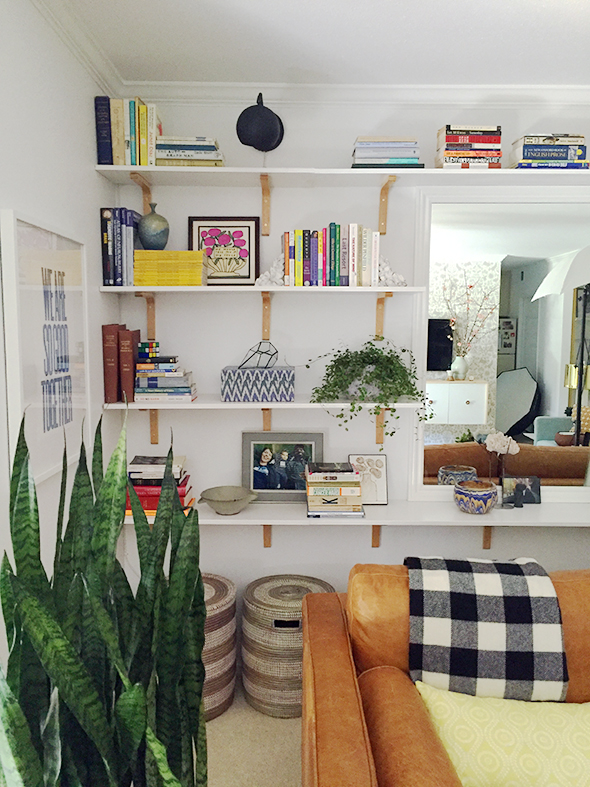 The cabinet frames cost about $150 I think and the plywood is about $40, so for less than $250 all in with hardware and miscellaneous expenses, you've got yourself a beautiful, functional, unique storage piece! You can hire an electrician to bury your TV wires or you can buy cheap cord covers and paint them your wall color. Both are pretty simple options!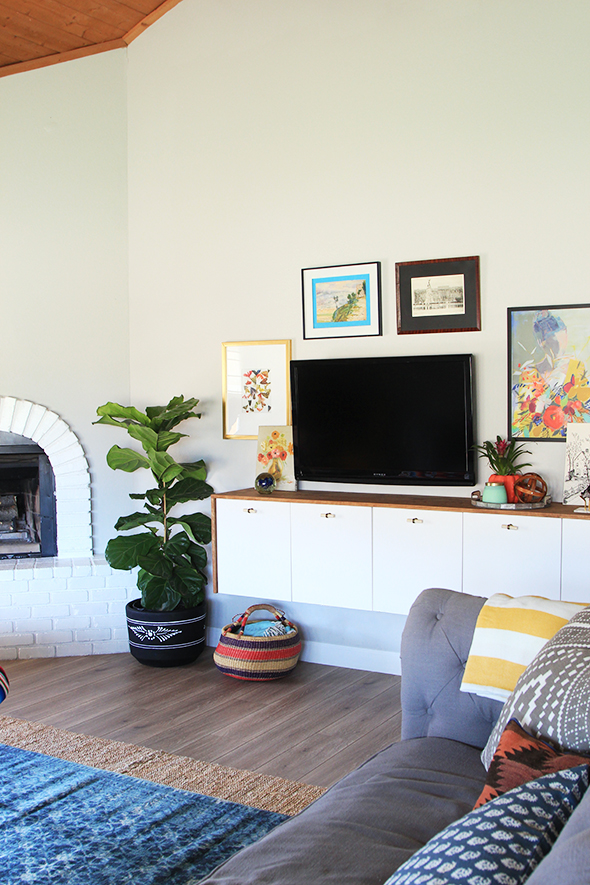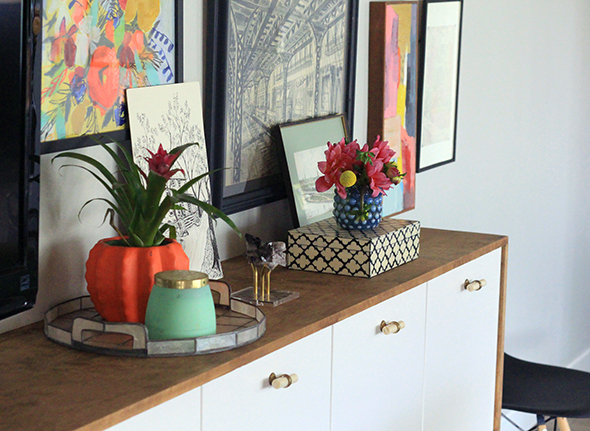 SOURCES AT A GLANCE:
IKEA Sektion Cabinets – 15″ deep – all sorts of width and height options!
Leather and Brass pulls (LUCY)