This post is sponsored by American Express Personal Loans.
If I could tally up all the questions I've received from readers over the years, I would bet you that a big majority of them are asking about kitchen design. I get it! Renovating a kitchen can be stressful, complicated and, not to mention, so expensive! It can often take you endless hours of research, shopping, meeting with designers, vendors and contractors to even get a sense of how much your kitchen renovation will end up costing you!
American Express invited me to put together a simple-to-use guide for kitchen renovation budgeting and I LOVED the idea! If you're considering tackling a big home project, and if you're an existing eligible consumer American Express Card Member American Express Personal Loans may be a good place to start.
     They offer loans of $3,500 – $40,000 with no origination fee and APRs starting as low as 6.98% to eligible consumer Card Members1
     Find out more about eligibility and the quick application process, plus the full terms and conditions here.
Now read on to estimate how much it will cost to renovate your kitchen! All estimates are my own.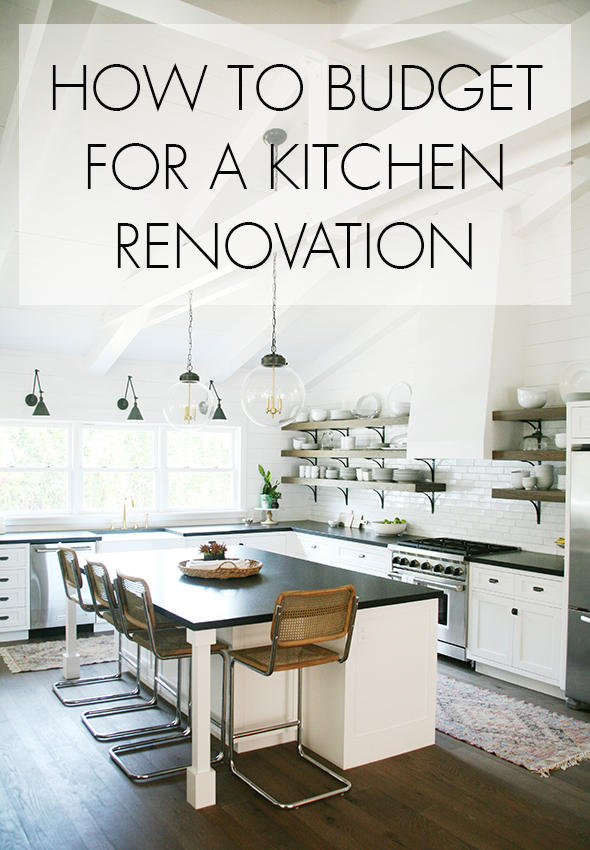 Since there are a million different ways to renovate a kitchen, it can be tricky to cover all the different options or directions you could go. In this post, my goal is simply to show you how I budget for my clients' kitchens, who more often than not have average sized kitchens and budgets. I literally pulled these numbers from our kitchen budgeting spreadsheet template! I will share the costs and sources that I use and leave out the options I have decided against for value and style purposes. I hope this information is helpful for you!  I am using these same reference tools for my own upcoming kitchen renovation and it has really helped me zero in on my costs!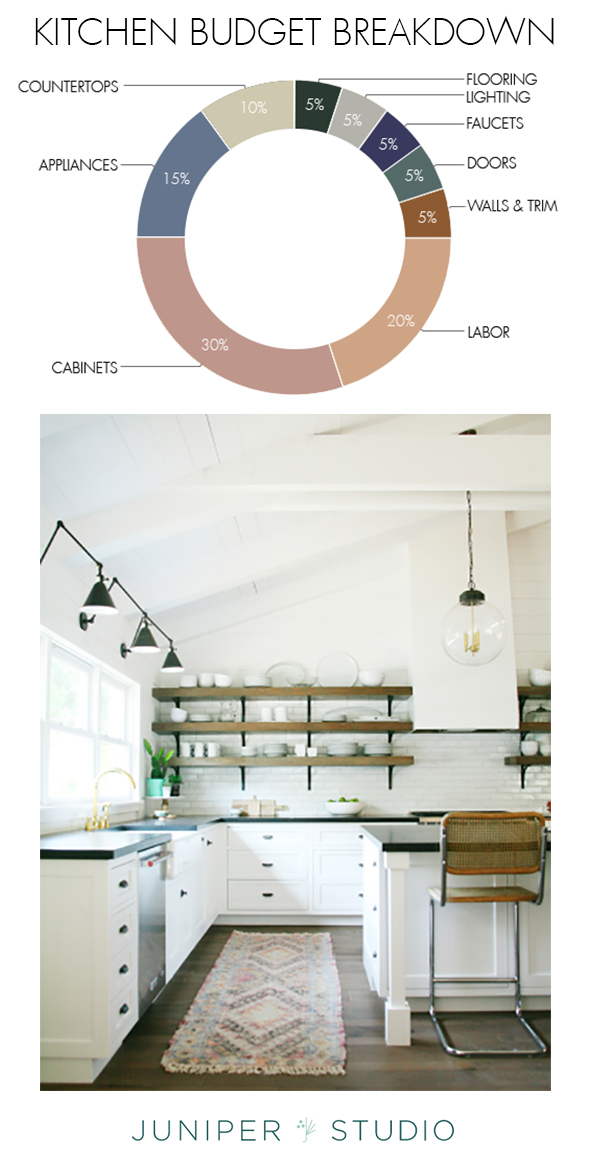 The pie chart above breaks down the percentages of where our budgets usually end up after installation. This can be helpful for you to compare when you start getting bids from contractors and vendors. I've found that labor ends up costing about 20% of the total budget, which is a significant chunk of change! You can lower that number if you are a DIYer and willing to get your hands dirty by doing the demo yourself or building IKEA cabinets before an installer comes, or if you're feeling really ambitious, tiling a backsplash is pretty easy work!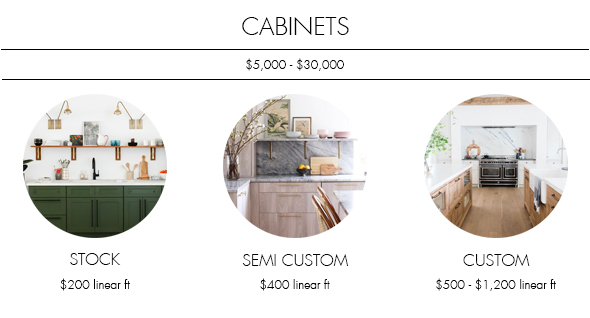 Cabinets are almost ALWAYS the most expensive part of a kitchen remodel. I usually allocate about 30% of the total budget to cabinetry. Cabinets are priced by the linear foot, so before you start shopping around, you'll want to have a rough measurement of how many linear feet of cabinets you'll be looking to order (don't forget to measure the uppers separately!). As a reference point, an average size kitchen in my experience will need between 20 and 30 linear feet of cabinetry.  This means nicer $200/ft stock cabinets from a hardware store in an average sized kitchen will cost about $5000 for materials and installation. The obvious downside to stock cabinetry is it is not highly customizable. The benefit of stock cabinetry is, well, it's usually in stock and you can get your order in about a week. I went in to Lowes recently to check out their stock selection and was shocked at all the on-trend color options in the stocked lines! There was a green color I feel in love with and a driftwoody/cerused oak that were both about $200/ft and looked AMAZING!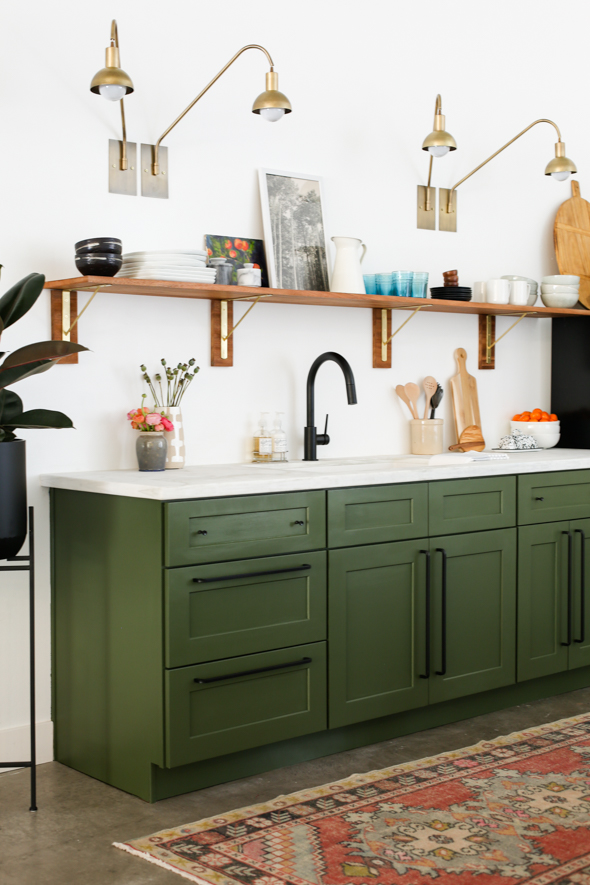 Semi-custom cabinets, where you can buy IKEA boxes (or sometimes reuse your existing boxes) and have beautiful custom doors and drawer-fronts made by a local cabinet maker or ordered through Semihandmade, can be a really great option for detail oriented design-lovers on a budget.  It's sort of like wearing a really beautiful designer coat with a Target dress. It can feel like the best of both worlds, but my word of warning is this – the semi-custom cabinetry route usually ends up taking a lot of time (at IKEA especially! Ugh!) and a lot of coordination. At best, it will eat up a ton of your own time, but sort of the worst case scenario is it can really add up if you're paying a designer by the hour. BUT the results are beautiful and often look more custom than stock cabinetry. I've found that going this route usually ends up costing about $10,000, plus or minus $2000, depending on the size of the kitchen and the upgrades you are looking for. It's a great option if you're not loving the stock cabinet options you've found, but can't afford to go full custom!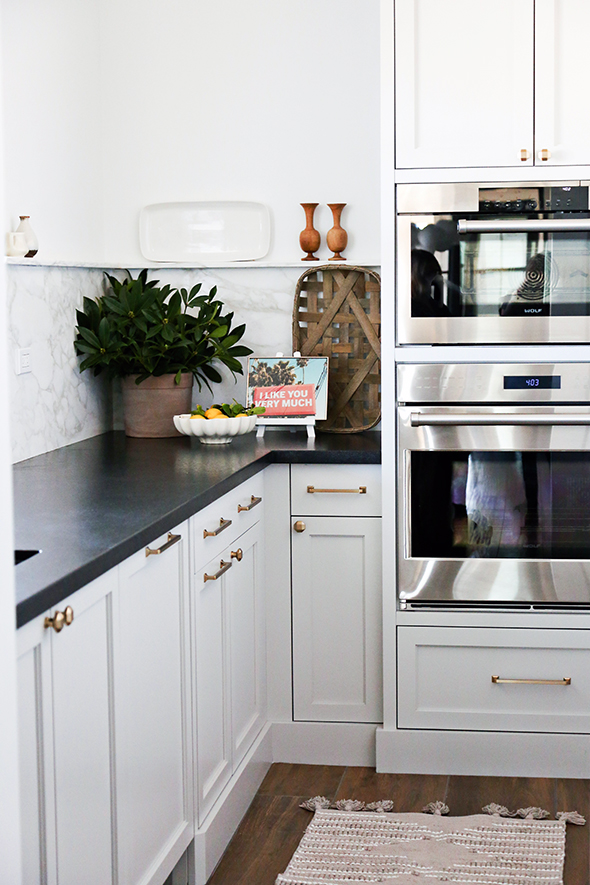 Custom cabinets are not cheap and I've seen some VERY expensive jobs go south. If your budget allows for custom cabinetry, go with a very experienced local company that has a ton of great reviews. The best bet would be if you could see and touch one of their kitchens in person before committing (even better if it's a kitchen that's been in use for a couple years! That's the real test!). You get what you pay for when it comes to custom cabinetry and if you're in a position to do it, go with the best. I'd honestly rather have a client use IKEA + Semihandmade rather than spend $25,000 on custom inset cabinets that never quite line up right and with paint that starts to flake in the first year. (I've never had that happen btw – just stories from friends that went with a middle of the road cabinetry bid!)
As a style note, I almost always select full overlay door and drawer cabinets, where you can't see the face frame of the cabinet. It's a clean, seamless look and maximizes interior storage space. If you have a giant kitchen (and a budget to match), custom inset cabinets are a beautiful, timeless look. You'll spend about 30% more for the look and lose a couple of inches of interior storage, and you might have some problems with the wood expanding and contracting if you live in areas with extreme changes in humidity, but they are really, truly gorgeous!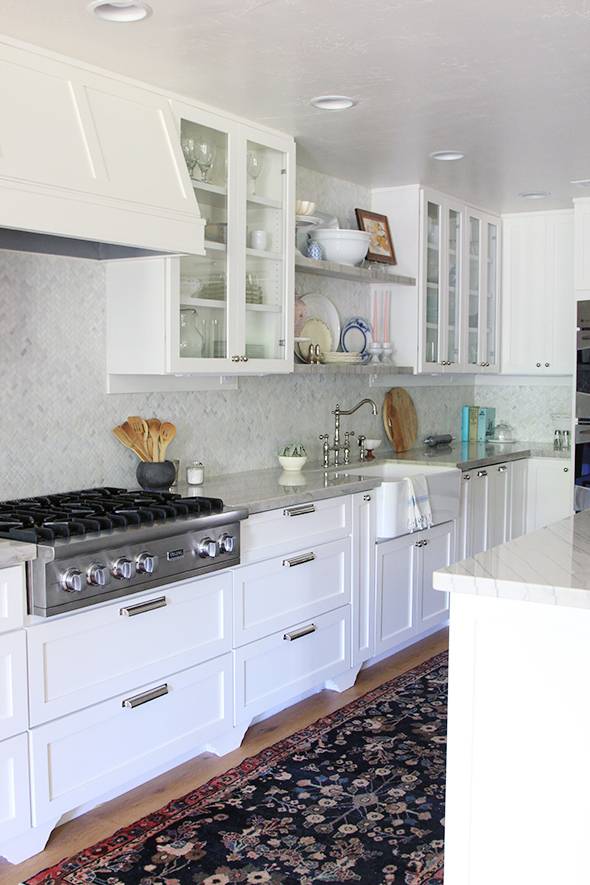 It's also worth mentioning, if you're not planning to replace your cabinetry, you can expect to pay $2500+ (depending on where you live) to have an average-sized kitchen's cabinets professionally painted.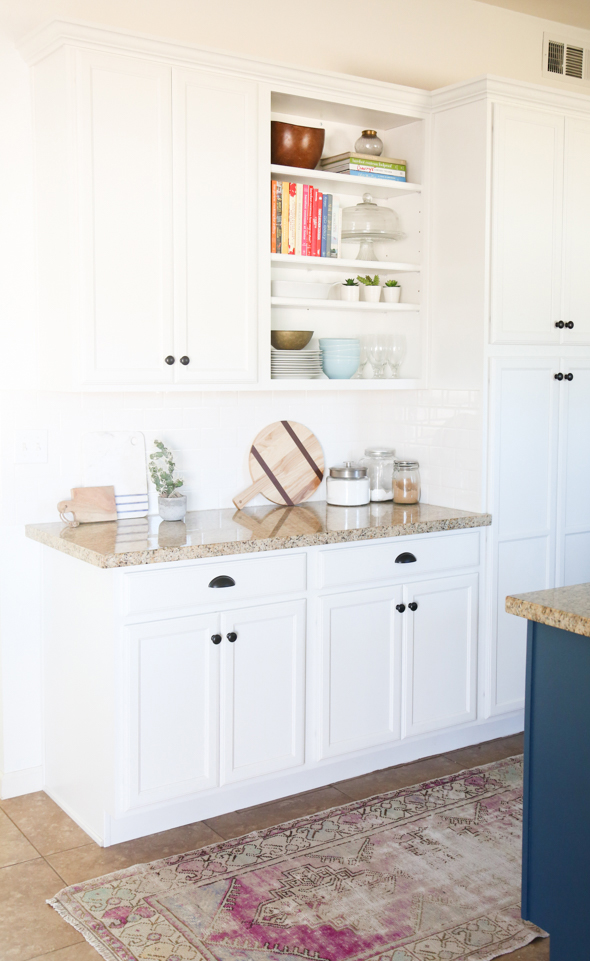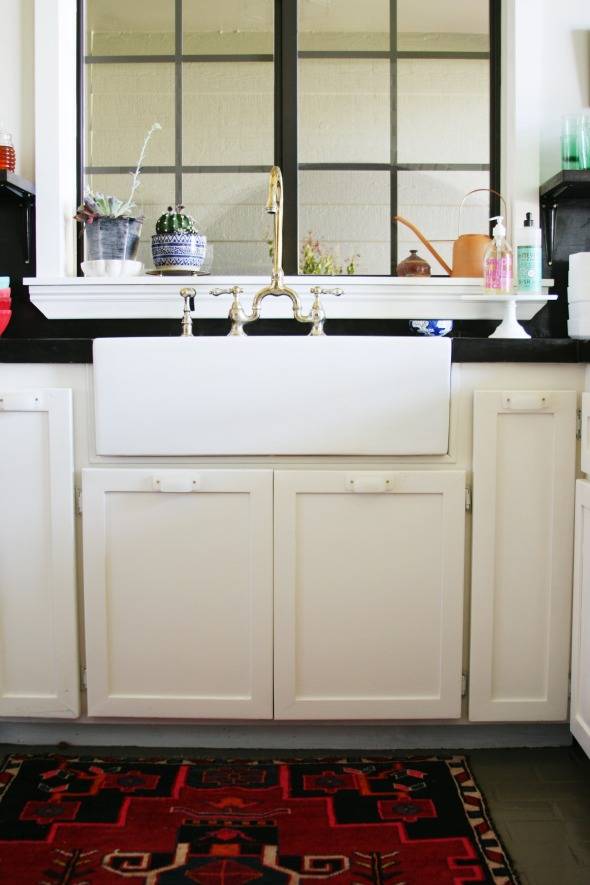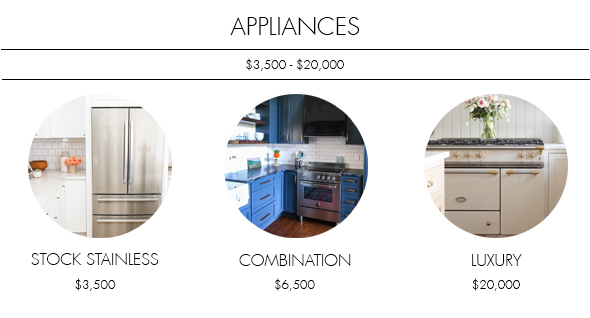 Appliances are another big ticket item and the costs can vary greatly. If given the choice, I'd go with nicer appliances over custom cabinets. I think a beautiful range especially can really elevate the feel of a kitchen! French gas ranges (like Le Cornue or Lacanche are STUNNING, but can easily cost as much as a small car. I've had good luck finding very gently used Viking and La Cornue ranges on Craigslist and eBay (they usually from vacation homes, where the appliances were used only a few times a year). You'll likely need to have a technician tune them up, but it can be a great way to save thousands of dollars. These ranges are meant to last decades, so it's worth considering finding a second hand or scratch-and-dent sale version if a new range is not in the budget or the timeline. Ordering a new one can take MONTHS and the shipping charges are not fun.
Gas ranges are wonderful and beautiful, but many homes don't have gas or propane lines. It costs several thousand dollars to install a propane tank and line and several hundred dollars a year for filling and leasing the tank. So if a gas or propane range is not in the cards for you, I've used and LOVED this beautiful electric range.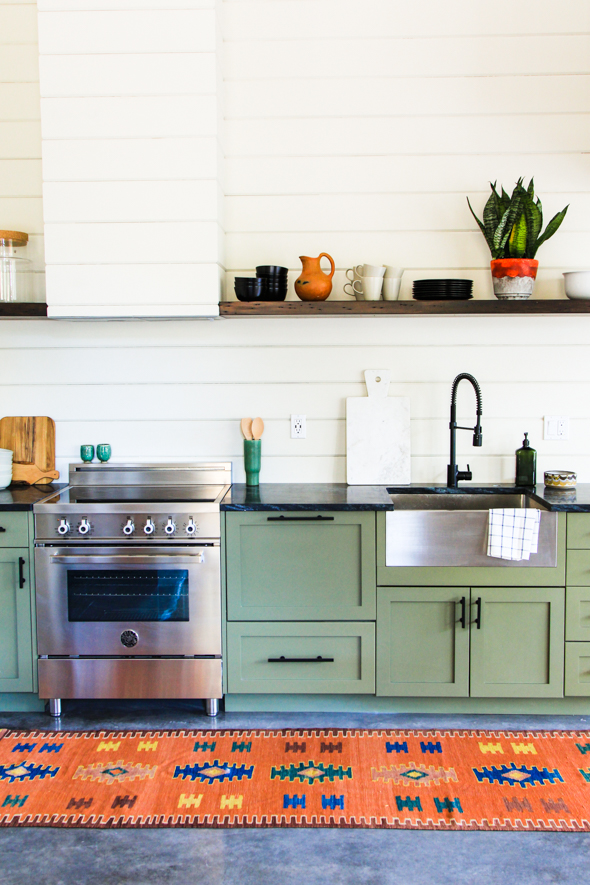 If your kitchen is on the smaller side and you need a 30″ range, there are many beautiful options available online at through hardware stores. I prefer a slide-in range (so the operating panel is in the front and you can see the backsplash). Stainless steel ranges are easy to find at lots of price points, but I've been really drawn to black appliances lately! This line looks a lot like Viking at a fraction of the cost and is better suited to smaller kitchens.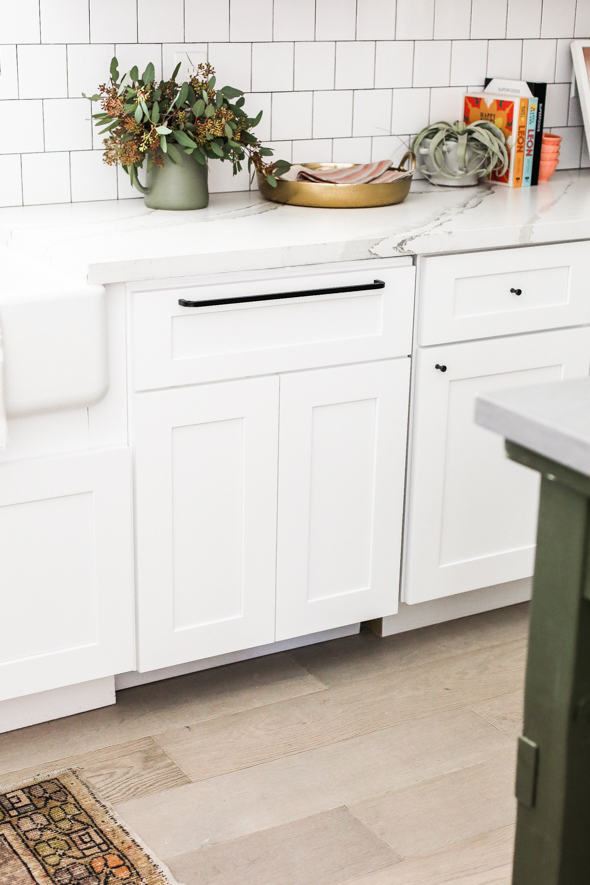 Fridges and dishwashers on the other hand should be as simple and inconspicuous as possible. If you can spring for a panel-ready version that blends in with the cabinetry, that's really the best of all worlds! I prefer water and ice dispensers to be inside the fridge and freezer (just for looks) but I get that it's less convenient. My preference, if it's in-budget, is an under counter pebble ice maker and a filtered water faucet or in-fridge water dispenser.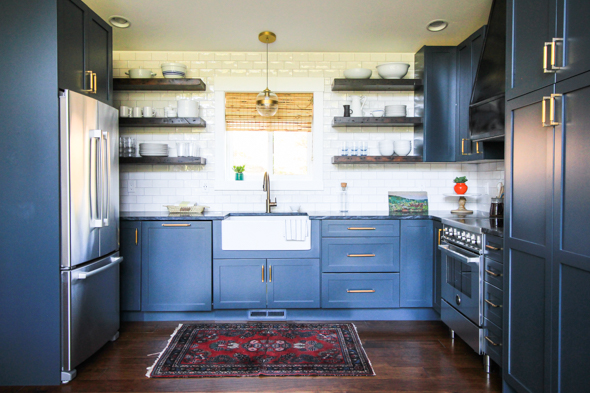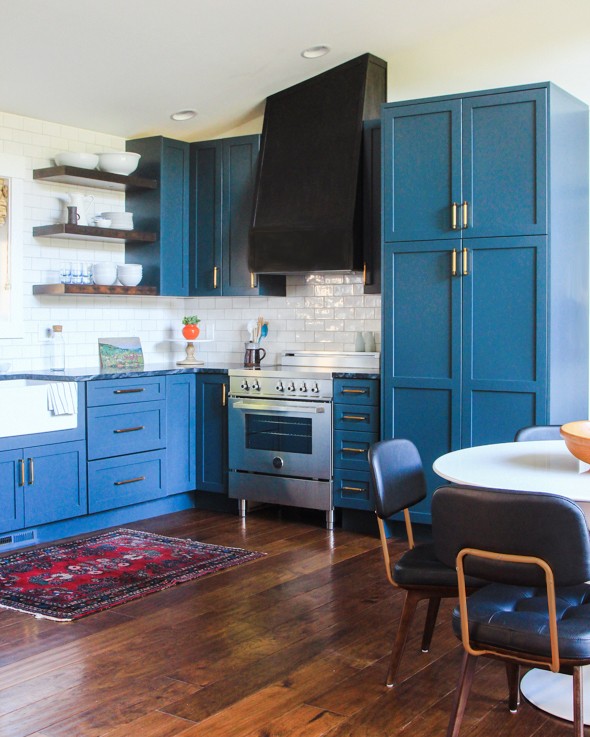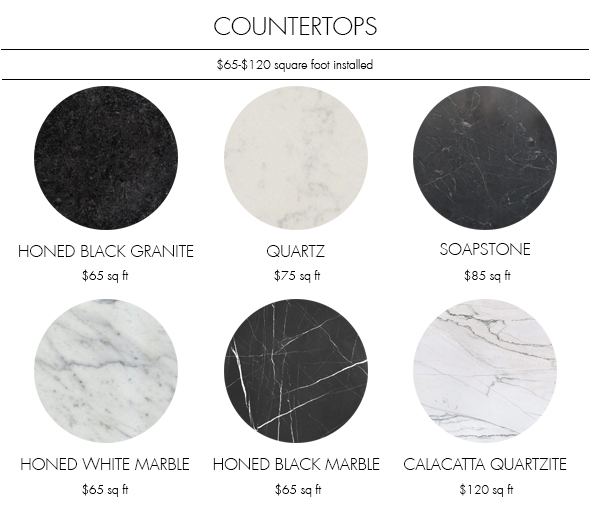 I love the look and feel of stone countertops and these are the materials I come back to over and over again. The pricing here includes fabrication and installation costs. As a general rule of thumb fab and install should be about $35/sf, again depending on the material and the design details. You'll want to ask about additional costs for cutouts for sinks, plumbing and outlets.
I wrote a long post about countertop materials here, but in short, if you're up for a little bit of upkeep and down for inevitable "character" that will come as natural stone slightly stains and etches, marble might be your best option. Upkeep with regular cleaning and sealing is going to be a reality with all of these choices. This is my favorite cleaner for removing etching.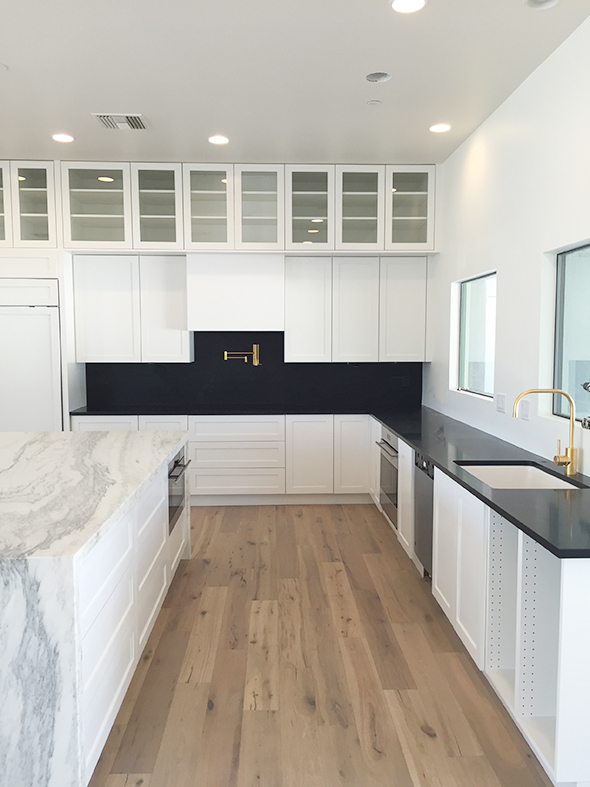 I prefer honed finishes to polished because the wear better and have a softer, more matte look. Honed or even leathered black granite is an amazing option for homeowners on a budget that want real stone and really low levels of upkeep. Make sure you have a lot of natural light in your kitchen if you go with any black or dark stone tops though! They are beautiful and dramatic, but really drop the light and bright factor of a kitchen, even with white cabinets.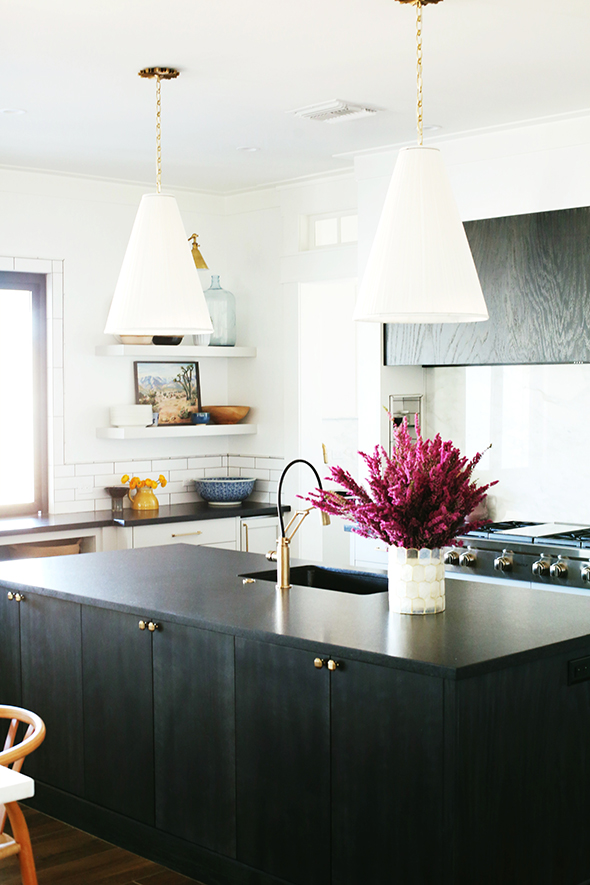 Quartz is an amazing countertop material option and has come SO far in the last couple of years. I loved the honed quartz we installed at our Gentry Project flip. Take extra care when choosing quartz products – the lower priced ones stain easily and are porous (which is a nightmare anywhere near a range!) Quartzite is a miracle stone, with a price tag to match, that acts like a granite (basically indestructible) but looks more like a marble. Lower quality quartzites can crack and crumble, so make sure you're getting a good quality slab series. Black soapstone has the most beautiful chalky finish and really pretty, subtle veining. It is not as durable as granite, but it's prettier. It does require less upkeep than marble, but not much.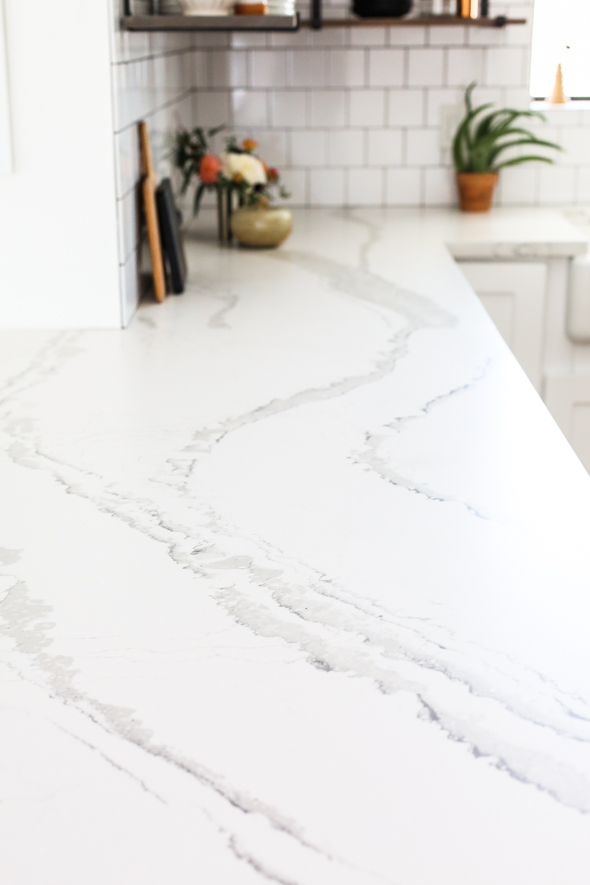 I didn't include poured concrete countertops here, because they usually end up costing as much or more than stone at around $75/sf installed. I also left off butcher block and wood counters, because I haven't used these in my own kitchen designs, just in laundry rooms. They also seem expensive to me compared to the longevity of stone at around $55/sf installed. That said, I love the warmth of wood materials in kitchens and prefer to add that through floors, cabinets, shelving material or accessories like large bread boards.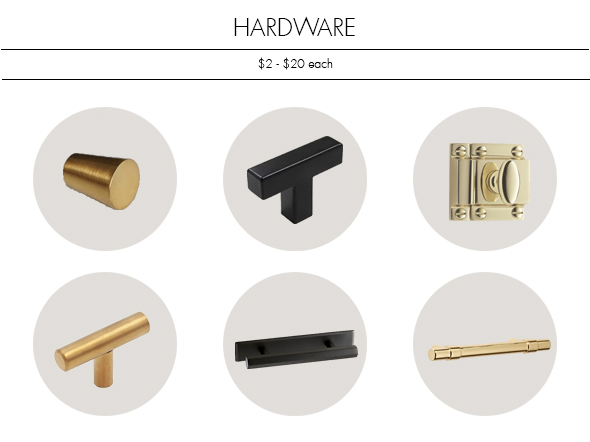 In my experience, hardware for a full kitchen will usually cost a few hundred dollars and it's money well spent! Even super old and dated cabinets look good with a paint job and new hardware! I love the warmth of brass tones and usually start there for kitchen design, but if we are looking for a modern spin, I like using matte black hardware. I like to use polished nickel for more traditional or formal kitchens. Lately I've been drawn to painted or stained round wood knobs too.
Mixing metals is ALWAYS a good idea to make a space feel layered and balanced. Just remember you should try to stick with just two finishes in the installed fixtures, but you can add one more finish in the accessories if you feel like it!
I usually select pulls for drawers and only use knobs for top drawers and upper cabinet doors. You can install longer pulls for a more modern look, or double up the knobs on the top drawers for more function.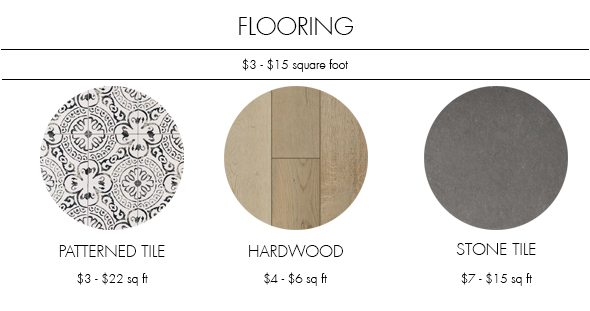 Flooring in a kitchen space is a lot like countertop selection. Hardwood is GORGEOUS in a kitchen, but just like marble, it is a little more risky and has the potential to end in disaster if your fridge, sink or ice maker starts to leak. If you can accept the fact that you might have some minor or major repairs to make in the future, buy a couple extra boxes of your hardwood and cross your fingers and toes.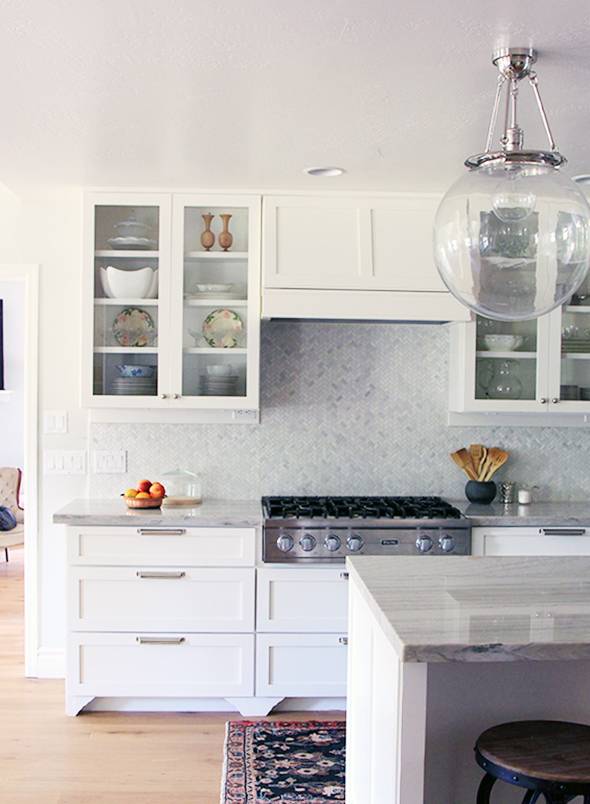 If you're a little less adventurous (or if it's impossible to match the rest of the flooring in your house), you might want to go for a patterned tile floor. I've heard concerns about it being trendy, but people have been installing colorful patterned tiles for hundreds of years (cement tile specifically has been around since the 1850s!), so I think you'll be safe for the next 10-20 years. :) Just go for something in a traditional pattern and maybe even more neutral tones and I think you'll be happy for years to come. Cement tile options are not cheap at usually $18-25/sq ft, but if you are will to look around a little you can find better deals at the under $10/ft range. Also there are new ceramic patterned tile options every day it feels like and they usually cost between $3 and $8/sf and require less maintenance than real cement tiles, which need to be sealed every year.
Slate or other stone tile options are pricier and can feel a little cold underfoot, but they are beautiful and a completely classic choice. They'll look as good as new for decades to come and I think you'll love them for as long.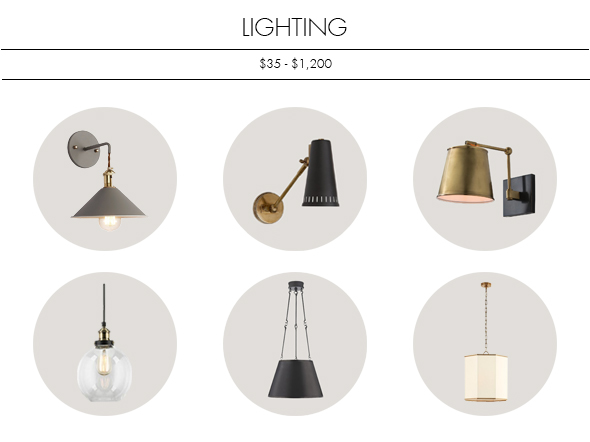 Prices for decorative light fixtures can vary wildly, from $35 for a sconce to several thousands of dollars for a single chandelier or pendant. I usually budget about $2500 total for all decorative lighting purchases, which usually ends up being three or four sconces over open shelving and two or three pendants over the island. Under-cabinet lighting is an option that I don't always go with, but if my client loves it, we usually spend about $1500 in lights and installation.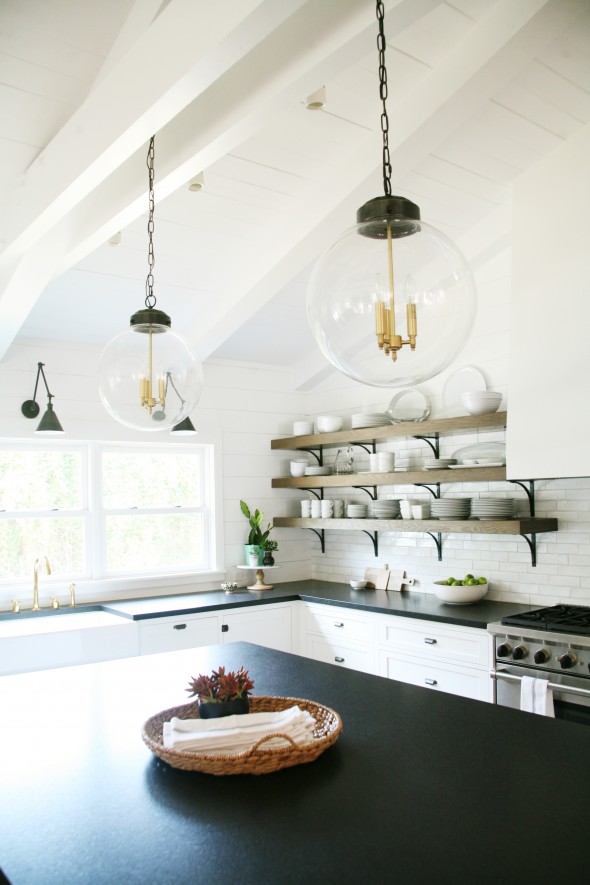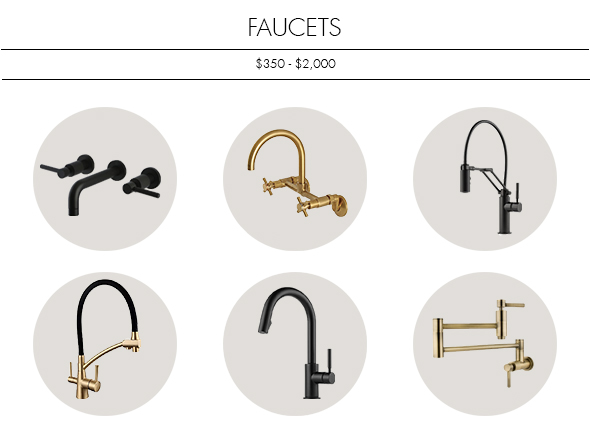 Faucets are one of my favorite places to splurge in a kitchen design. A great French range and a beautiful brass faucet can make IKEA cabinets look downright luxe! I love all types of faucet designs, and usually focus on the style of the space when we make our selection. Though I love installing both, single hole faucets are easier to use and to clean around than bridge faucets. I usually stick with deck-mounted faucets for my primary sink and use wall-mounted for my prep sinks or pot fillers.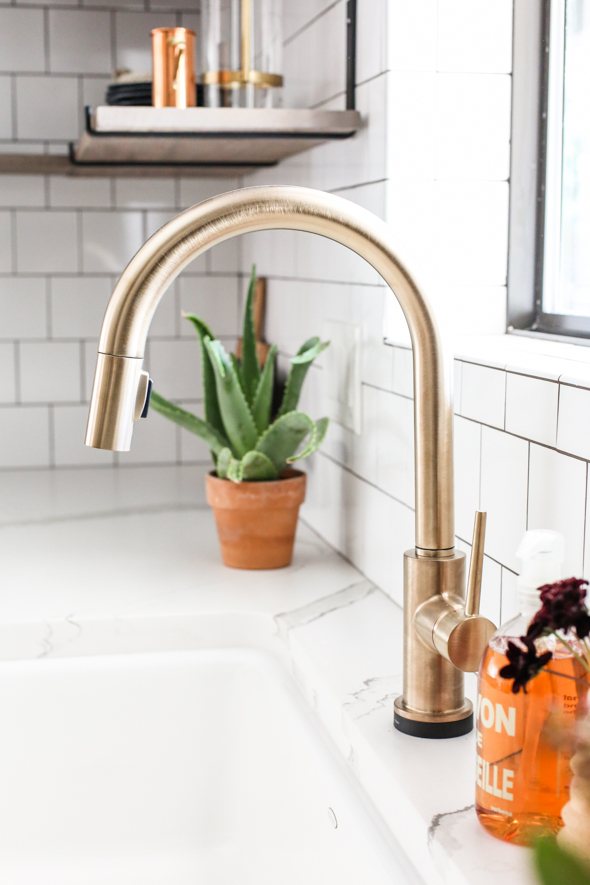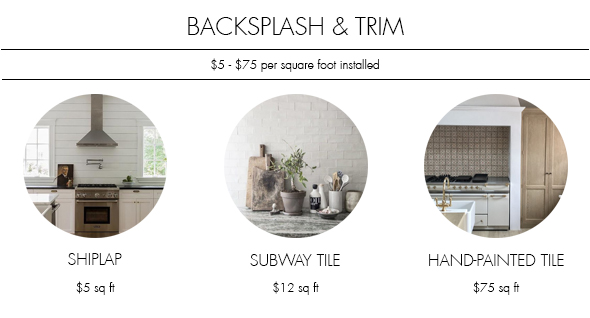 I included only tile options here, but one of my favorite and more modern backsplash treatments is to run the countertop stone up the wall. Even if it's just 12 or 18″ of stone, the look will be custom and seamless and you'll love how easy it is to wipe down!
Shiplap can be a great option for a backsplash. Your contractor can help you choose a material (I recommend Hardiplank) that is safe for behind a range. Just make sure you use a semi-gloss paint so it can be wiped! Consider doing a vertical installation for an updated look too!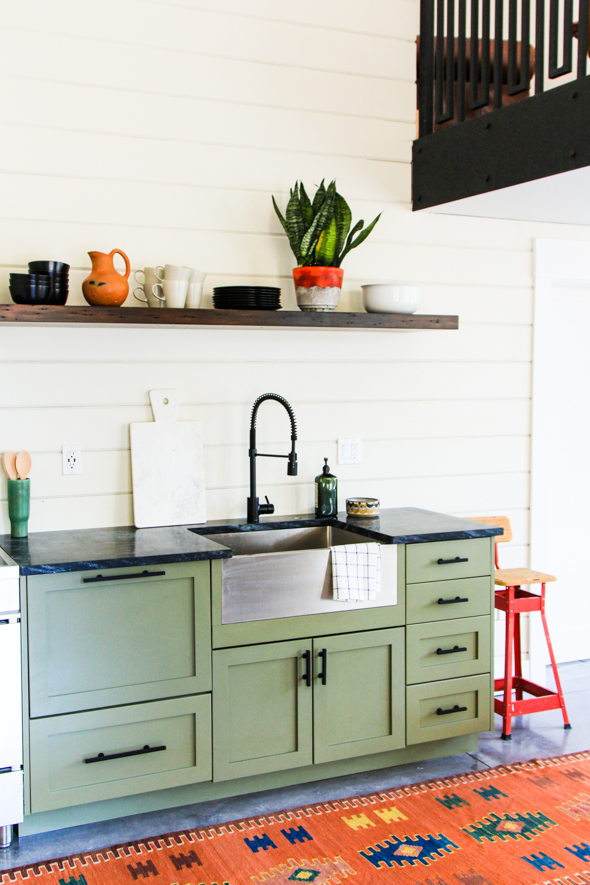 Handmade subway tile is one of my go-to backsplash selections! It has a traditional, organic texture that reminds me of painted brick (which is also one of my favorite backsplash materials if the budget allows!). You can find options at under $10/ft that make it usually a pretty small investment for something you'll look at and enjoy every single day! If you're budget doesn't allow for that splurge, stick with standard subway tile, which ends up being only about $1.20/sf.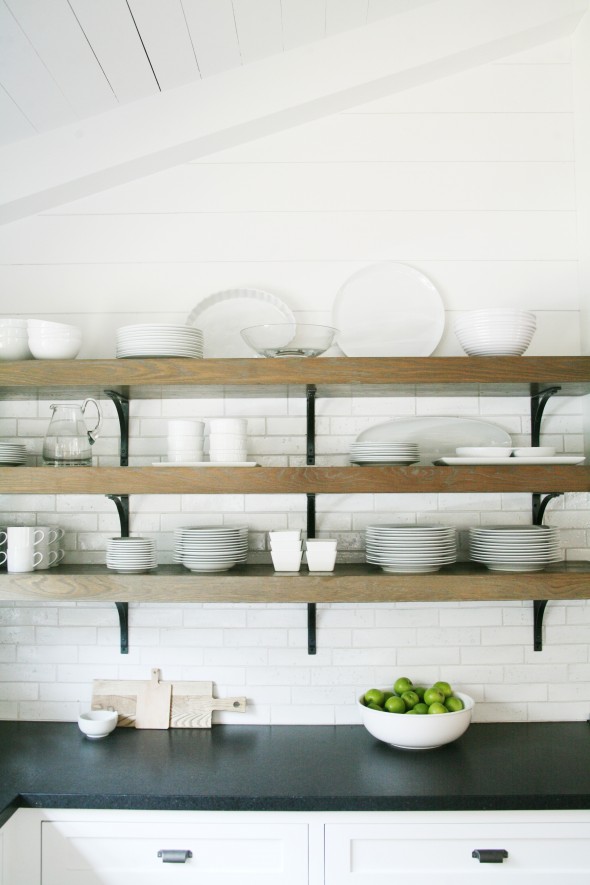 Hand-painted tiles are INSANELY expensive. Most of the really good ones are $50-100+/sf. They are little works of art though and if you can scrape together an extra $800-1500, that would be my choice every time for a range surround backsplash! I like the tiles in a smaller application anyway!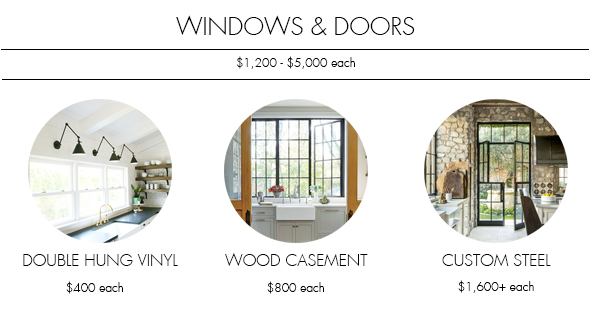 I love a good casement window for quickly sending the perfect fresh breeze through a kitchen! Double hung windows work fine too, though even sliders are slightly easier to move while leaning over a countertop. The cost of windows has a lot to do with the material of the frame. Vinyl is a good budget open, though I prefer wood or wood-clad (which is wood on the interior and fiberglass on the exterior), though the cost jumps up a bit for this elevated look. The most expensive version of all, but the most beautiful by far, is custom steel windows. A wall of these thin framed beauties can easily cost more than $10,000, but what a feature!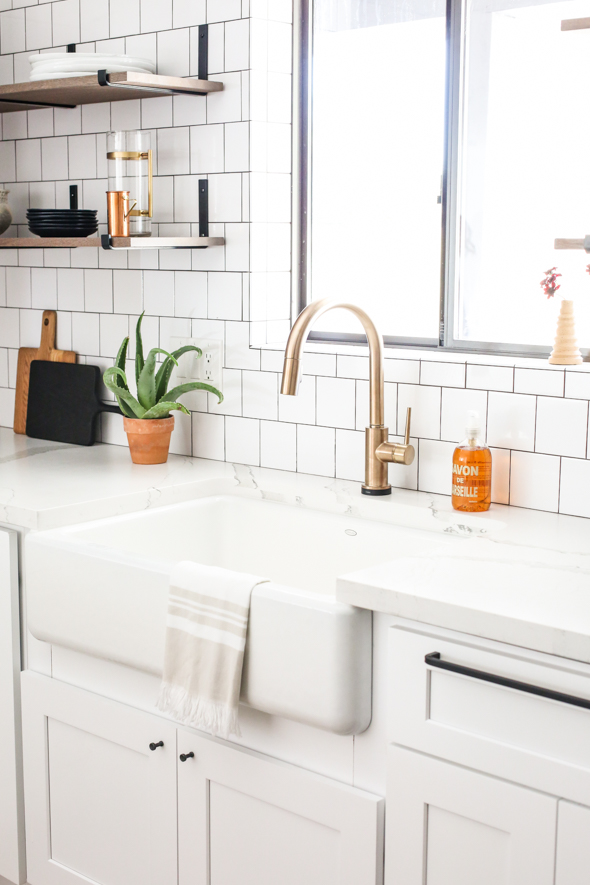 For doors, I love to source antique doors for pantries at salvage yards or on Craigslist for less than $300. Good exterior doors (if you have one in your kitchen -or two like I weirdly do??) run about $900 for a single door or $1200 for a more basic fiberglass French door set. A gorgeous custom iron or steel door will easily cost $5000+ for even the most simple designs in a standard 8′ size.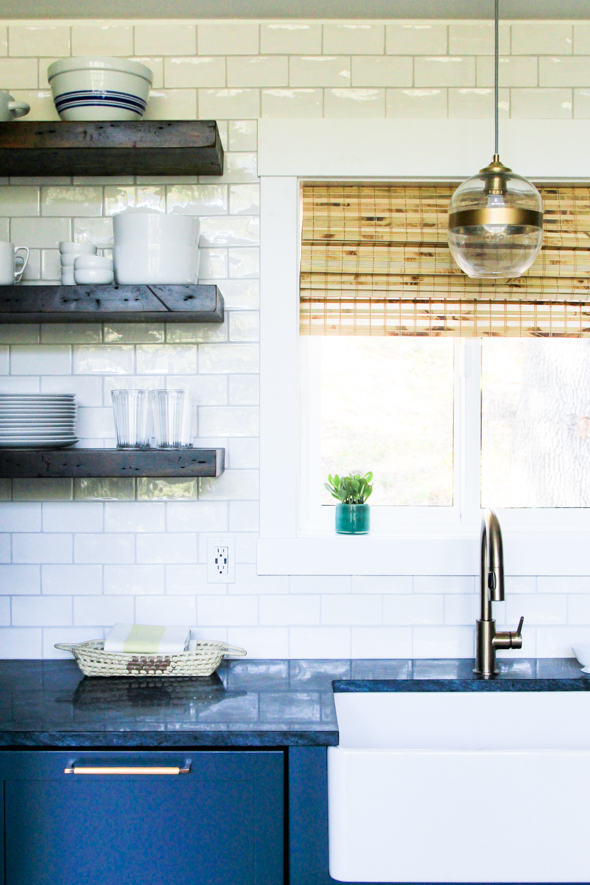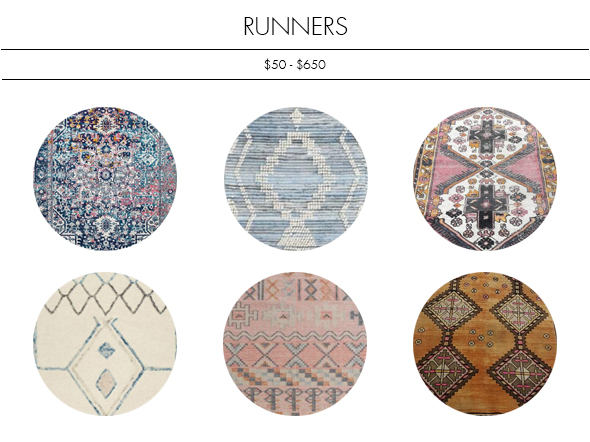 I know runners aren't exactly a necessary item in a kitchen renovation, but we always plan for one or two in any kitchen reno budget, because they add SO much warmth and character to space that can easily feel harsh and cold otherwise! Vintage or vintage looking is my rule of thumb when shopping for kitchen rugs and these are a few of my favorites here. I try to keep the price under $350, but sometime you find a runner worth splurging on!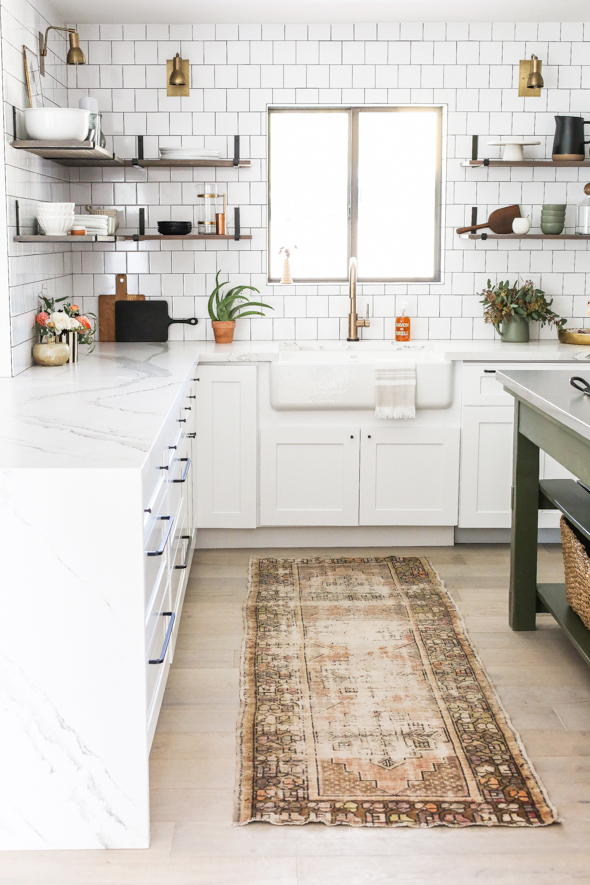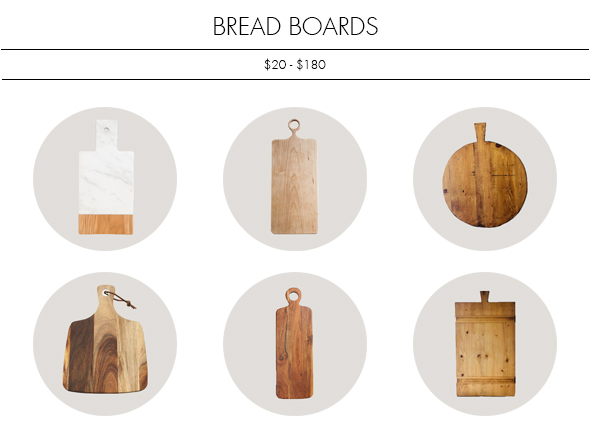 Bread boards also fit into that category of "not necessary, but necessary." Not only are they actually functional, but they can be gorgeous works of sculptural art – my favorite type of home accessory! The warm tones of the wood can really help soften a kitchen.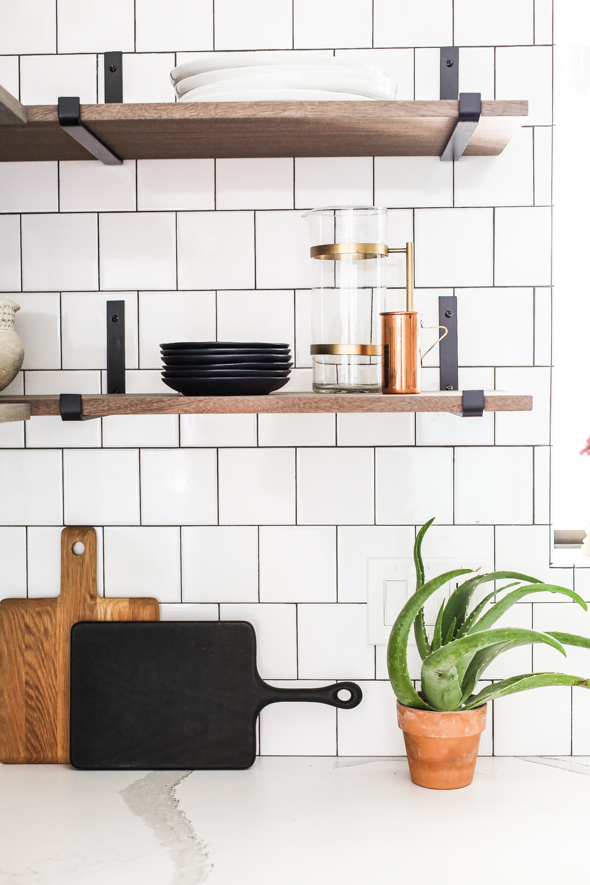 That's it for my EPIC KITCHEN BUDGETING POST!! Five stars for you if you managed to make it this far! Like I mentioned before, this is absolutely not meant to be a universal guide for every person on the planet. This is just me, sharing what I do and what I spend for my kitchen projects – it is highly subjective material! Please feel free to ask questions in the comments and I'll do my best to keep on top of the answers.
And of course, a HUGE thank you to American Express for sponsoring this novel of a post! Don't forget to head on over to their site to learn more about their Personal Loans, available to existing eligible consumer American Express Card Members. It could be a great place to start for Card Members who are looking to tackle a kitchen remodel.
1 American Express Card Members must be pre-approved for a loan offer in order to apply. Pre-approved APRs and loan amounts are based on the Card Member's creditworthiness and other factors. Pre-approved APRs will be between 6.90% and 18.97%, as of 3/2/2018. Not all Card Members will be pre-approved or receive the lowest APR or the highest loan amount.