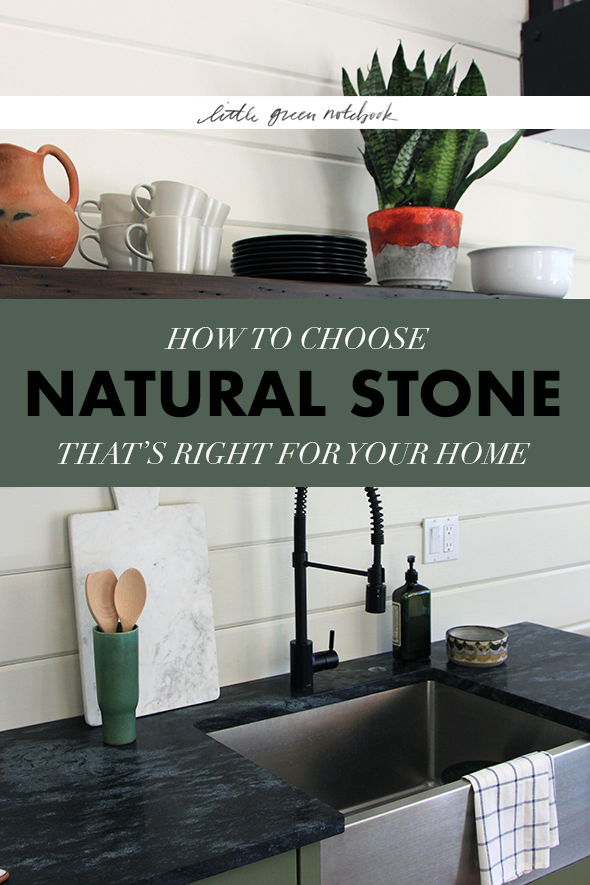 I get asked so often about my favorite materials to use for countertops. I love using natural stone whenever possible! It's so great to have something one of a kind and unique in the way only mother nature can produce!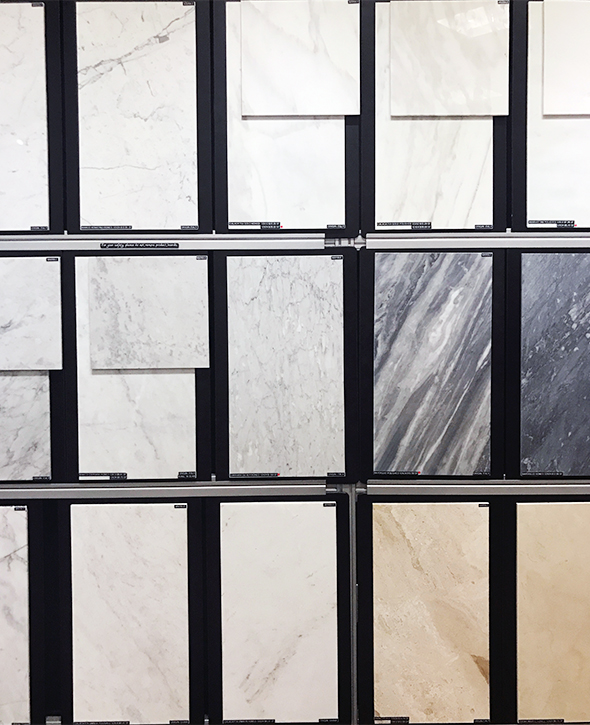 I know it can be overwhelming to show up to a slab yard and have no idea what you REALLY want. Stone is an investment, yes, but it's one that can last a lifetime so it's a great idea to make a classic choice. I find myself drawn to using a few natural stone favorites over and over again, so I thought I'd share with you the stones I love the most and how to best care for your natural stone!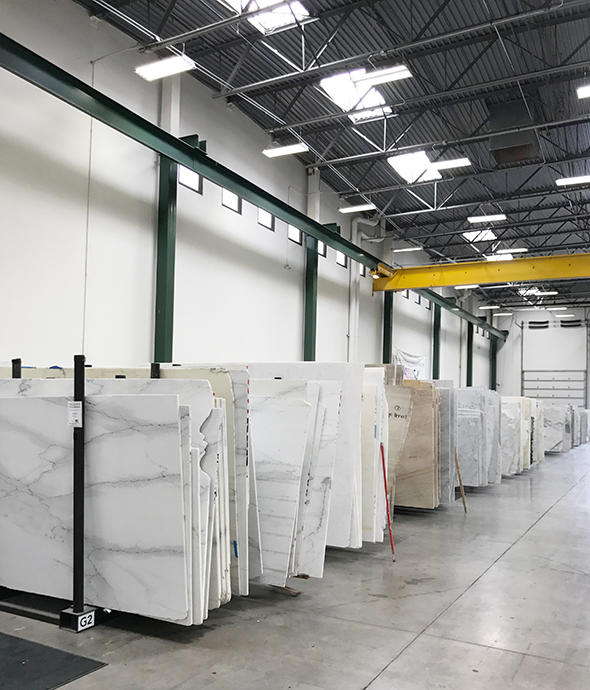 I partnered with usenaturalstone.com on this post and their site has been a HUGE source of information for me over the years as I've branched out and selected new types of stone for projects in my own home and in client's homes. Their articles and the information they share about the pros and cons of each type of stone have helped me feel confident in my purchases and recommendations!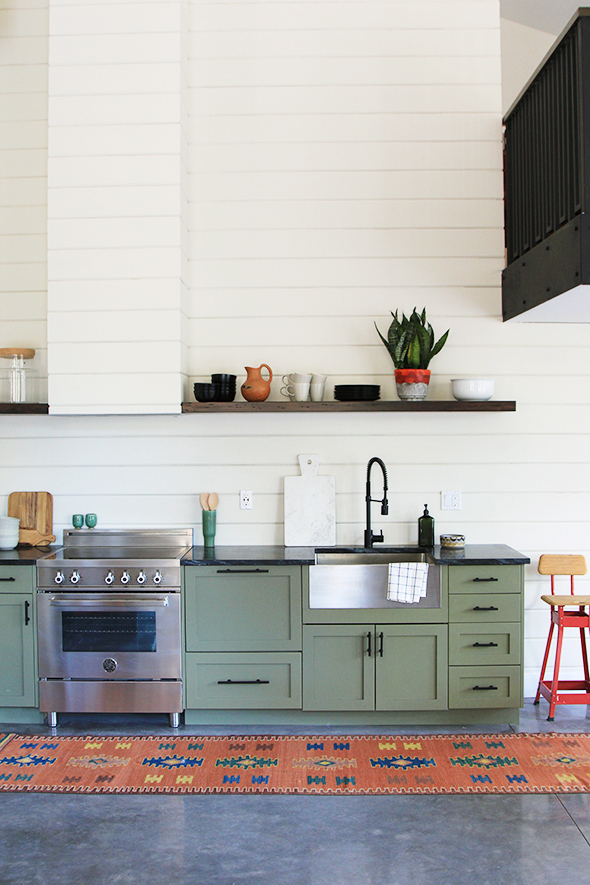 (we used a gray soapstone in this client's cabin kitchen)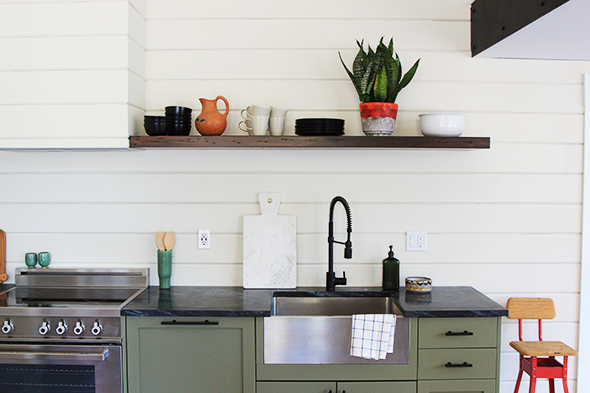 Here are my top four favorite specific stones to use and some great ways to use them. If you're thinking of a stone not listed here though, check out this AWESOME chart from UseNaturalStone.com that gives a highlight reel of all the pros and cons of every countertop material out there!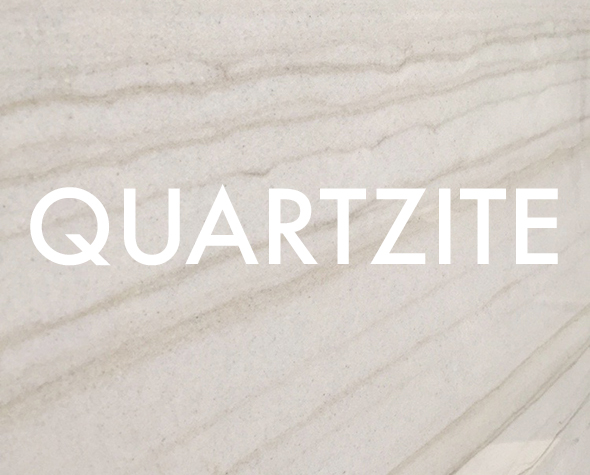 Quartzite, which is different than Quartz composite (a man-made material), is definitely having a moment. It looks more like a marble and acts like a granite. It doesn't stain, etch or scratch the way marble can and you can place hot items directly on the surface of the stone! It's a great marriage of practical and pretty, though it is on the pricier side compared to some of the marble and granite options.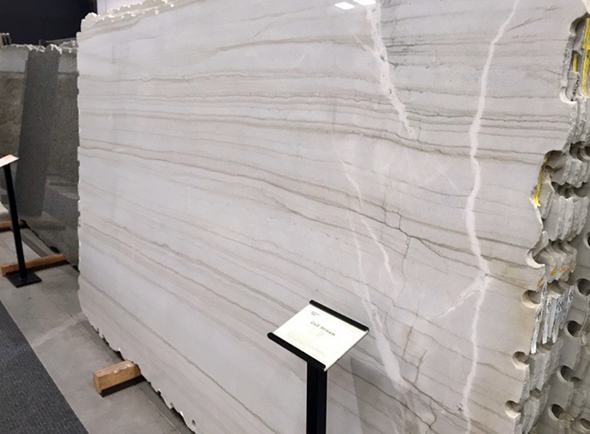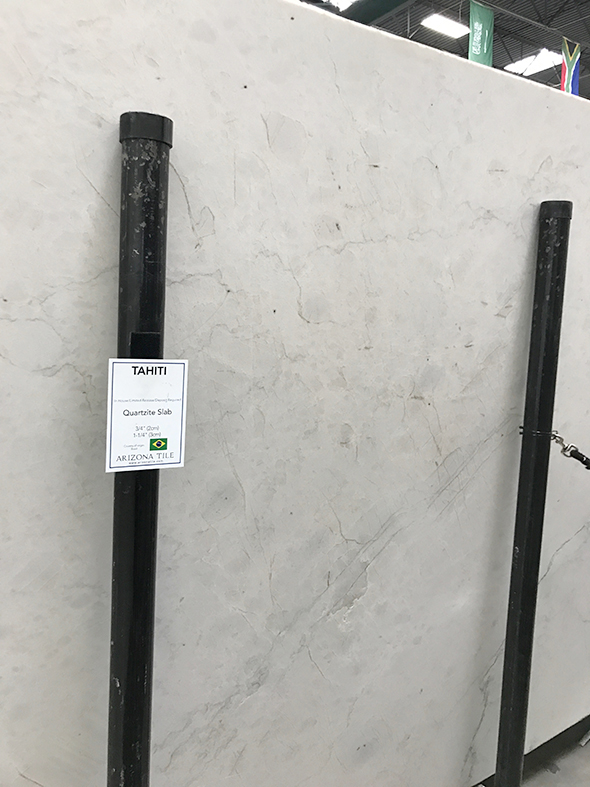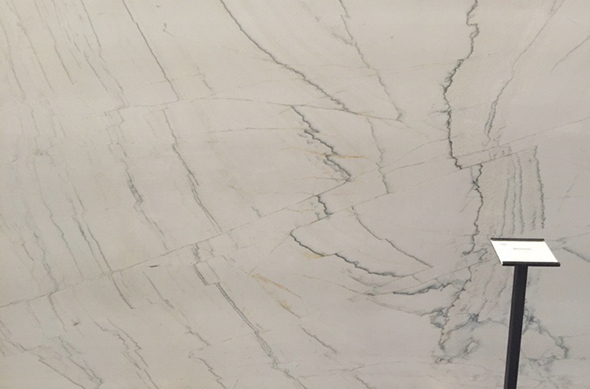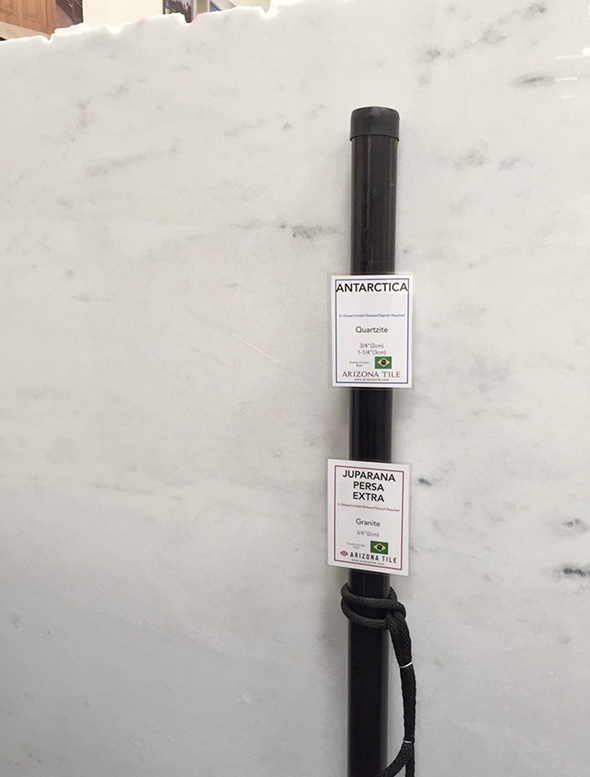 Just like other stones, there are MANY variations of quartzite. The ones I use most often have a light gray background (quartzite doesn't really come in a pure, bright white) and veining in other tones of grays, golds and greens. Calacatta Quartzite has the most marble-like veining.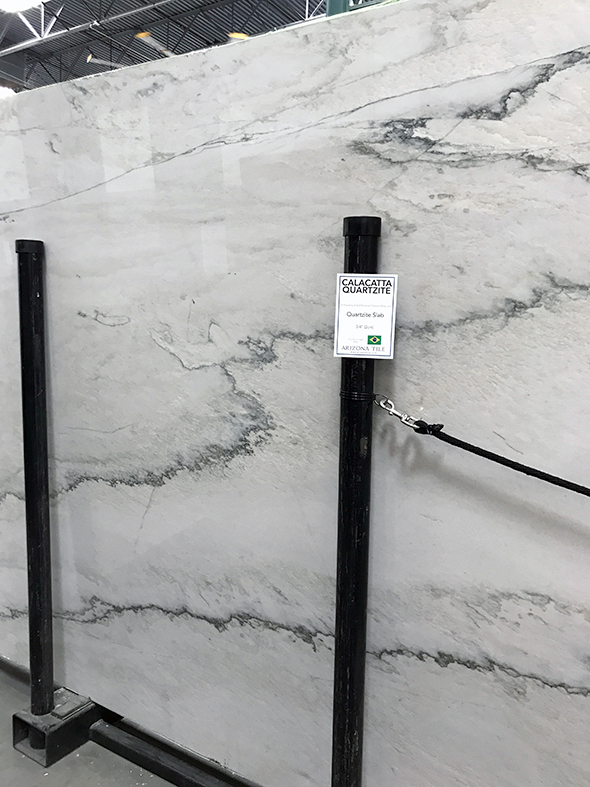 Macaubus and Sea Pearl quartzite can have more jagged veining that almost looks like a chevron pattern sometimes, but these slabs are usually a little less expensive.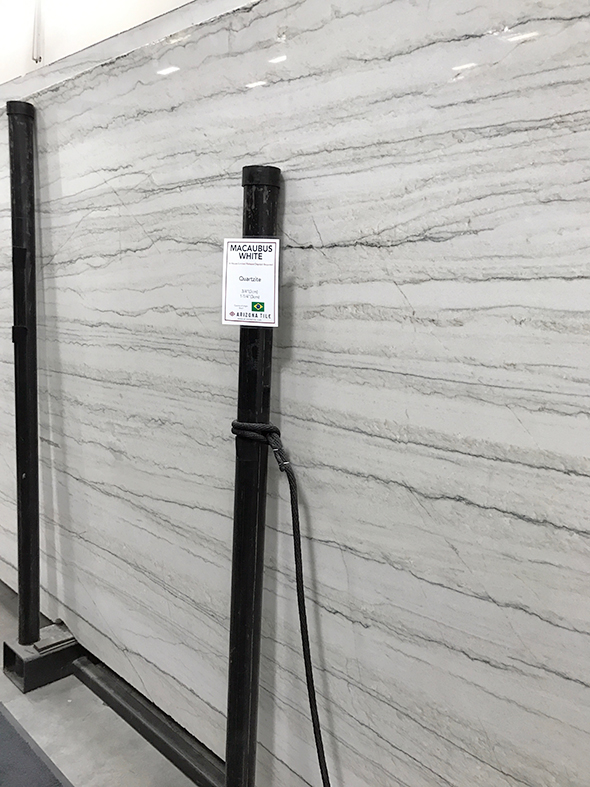 We found a really pretty Macaubus quartzite for my parents' kitchen that had softer veins and a lighter gray background that looks so pretty against the white cabinets.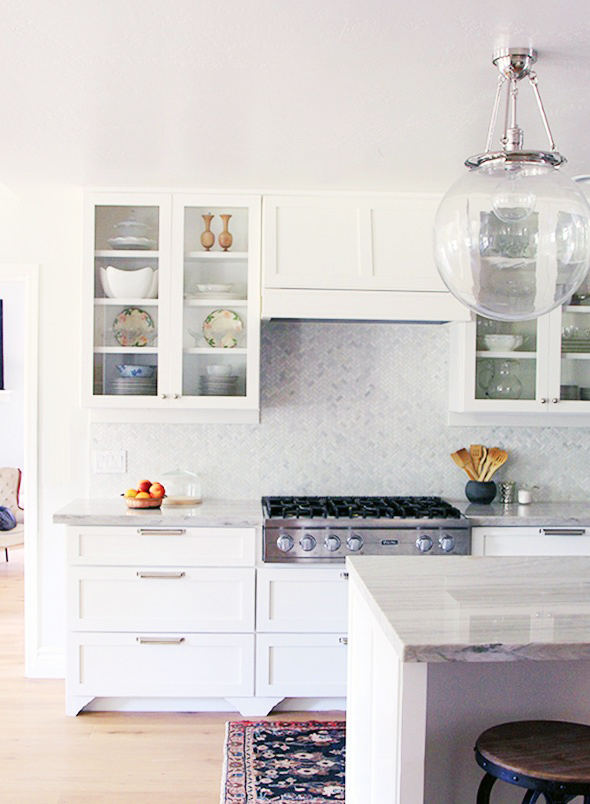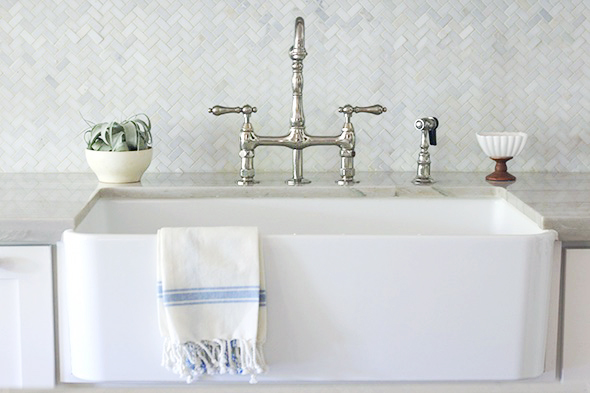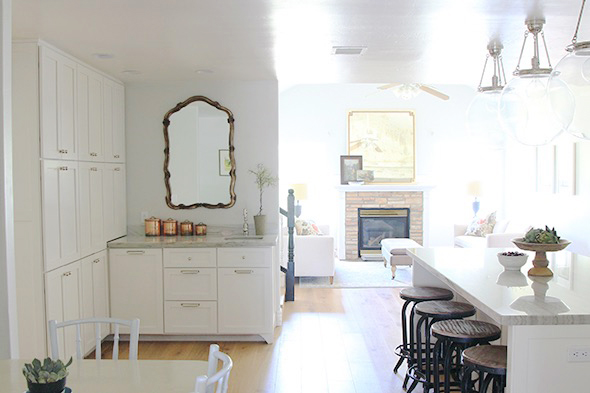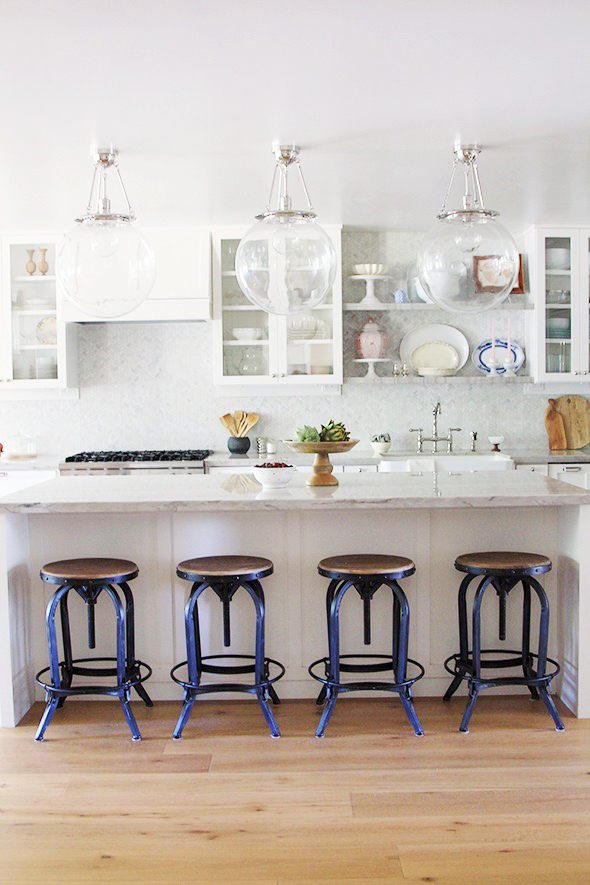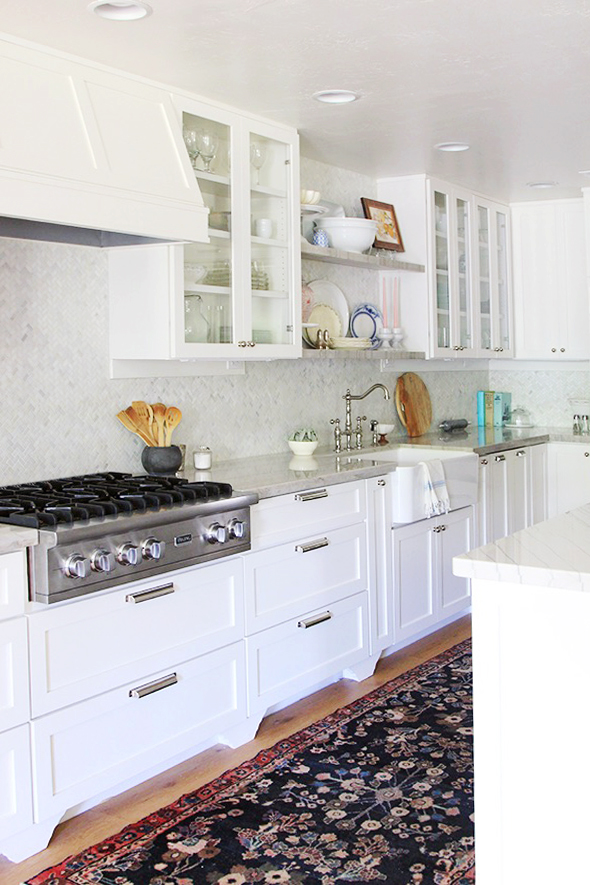 Next up –
Remember the kitchen from the Something's Gotta Give movie set? The kitchen had soapstone counters and everyone has been talking about soapstone since. And for good reason! Soapstone is warm and chalky and beautiful! It can't scorch or etch, but because it's a little softer, it can scratch. Though the scratches can be buffed out using 0000 steel wool without a problem, and just like with marble, some of the appeal of soapstone is that it will wear and soften and have a sort of lived in, antiqued look. I love the softness of worn down marbles and soapstones!! Allllll the heart eyes!!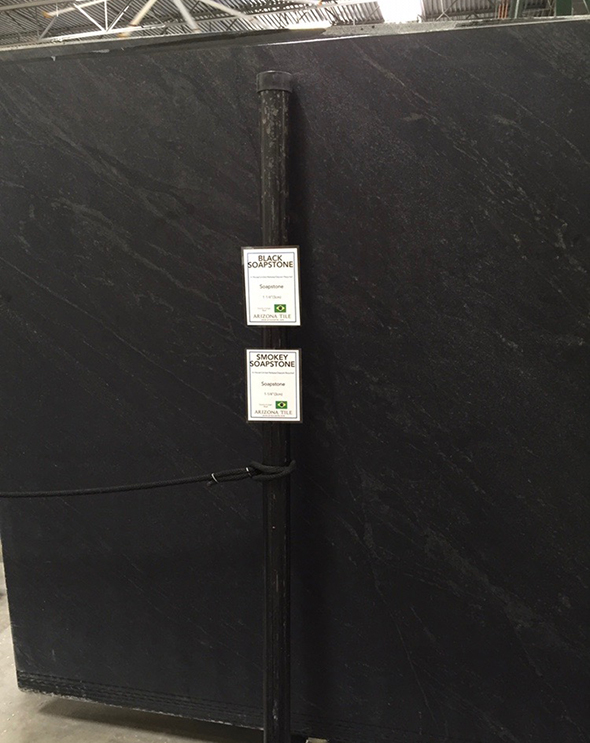 Soapstone comes in green, gray and black and if you use a mineral oil on the stone the color will sharpen and darken. The dark black with soft white veining is probably my favorite!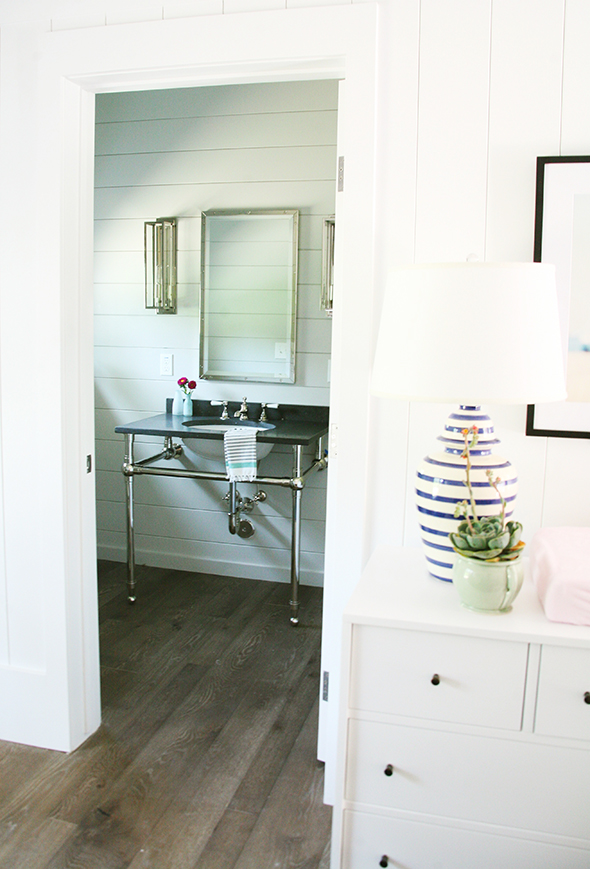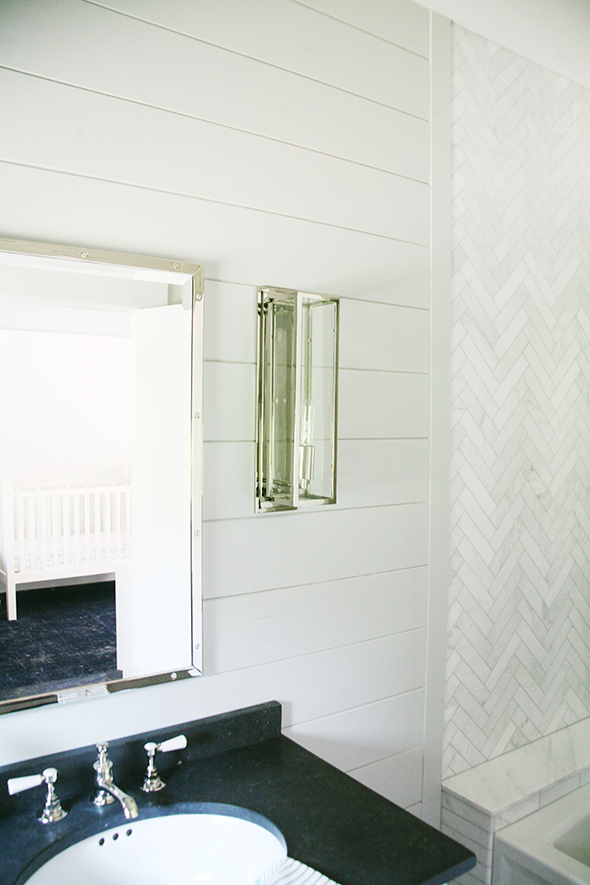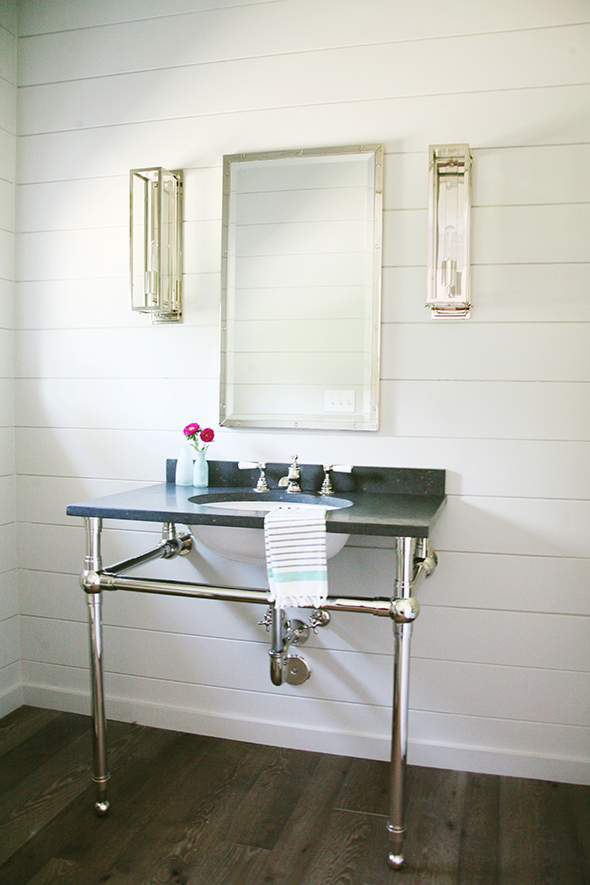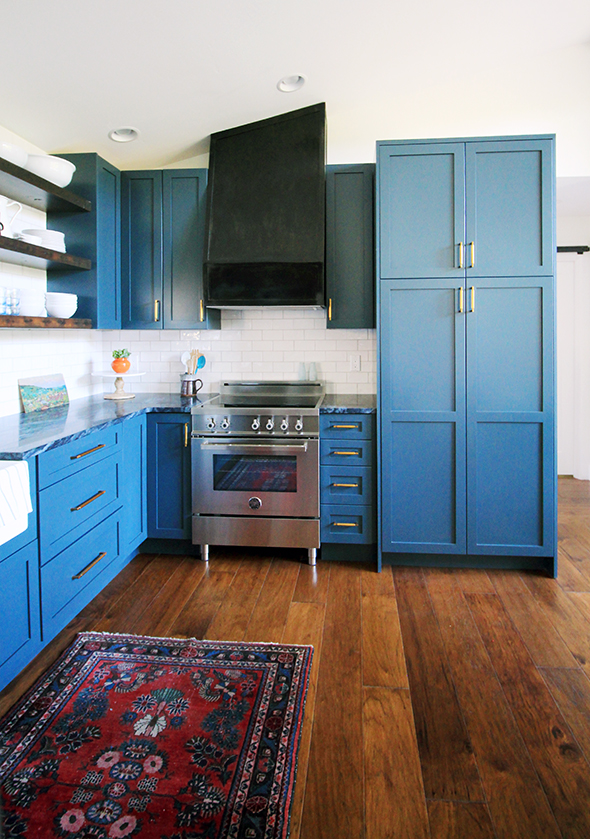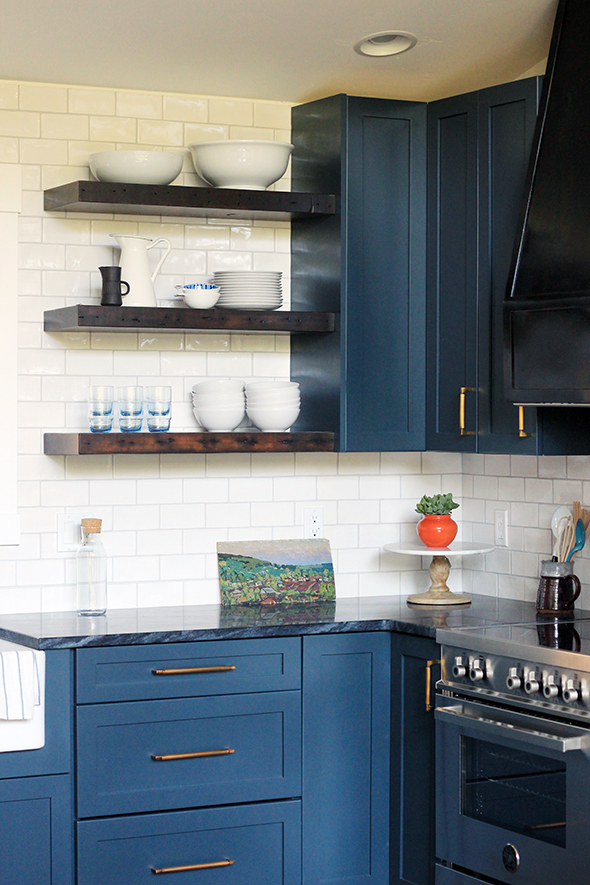 Because soapstone only has a bit of veining, it plays really well with other stones like marble and quartzite. I love this combo here in this (unfinished!) client's kitchen.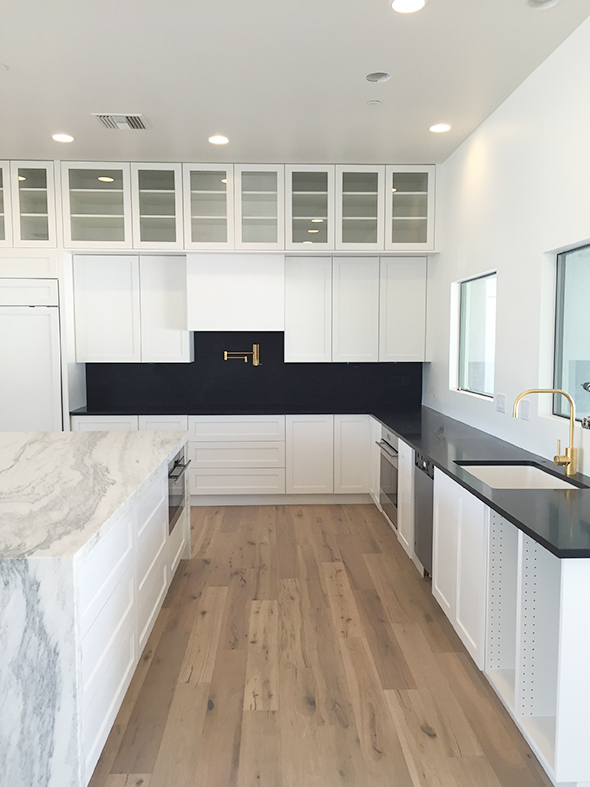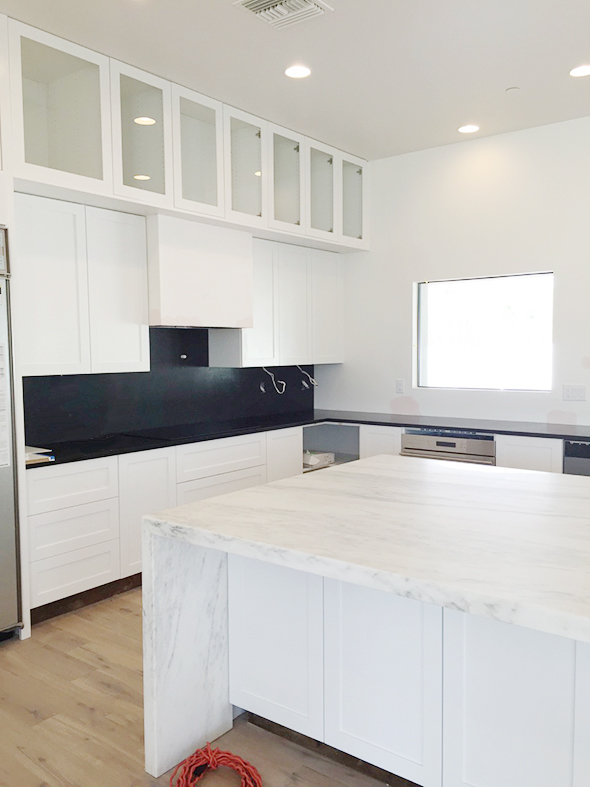 Up next is –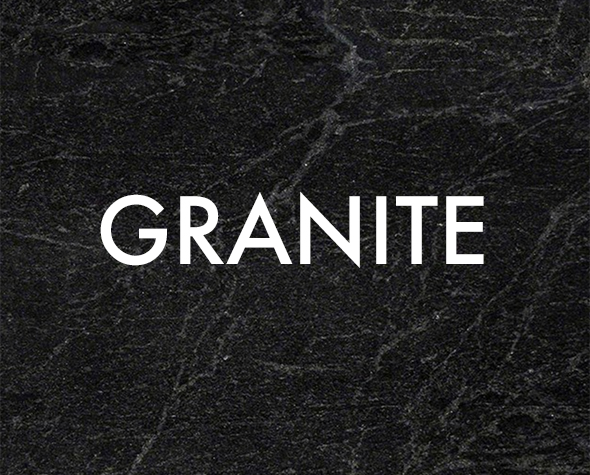 Granite is INCREDIBLY durable and hard-wearing! It won't easily etch or scratch and it won't scorch. Also it is generally the most affordable of the natural stone counter top options. And while most granites are not anywhere near my first choice, I have to admit that honed black granite is quickly becoming one of my go-to stone selections! It is super affordable and the satin or leathered slabs like quite a bit like soapstone for about 1/3 the price!!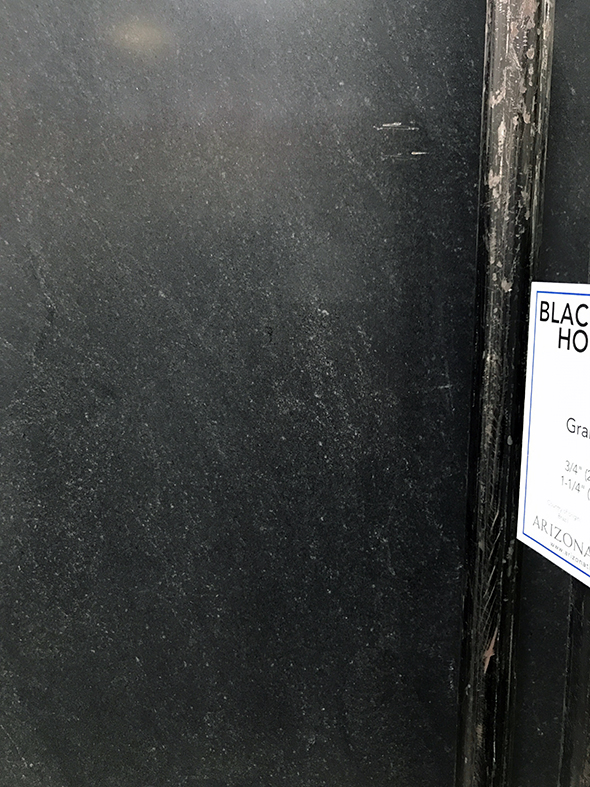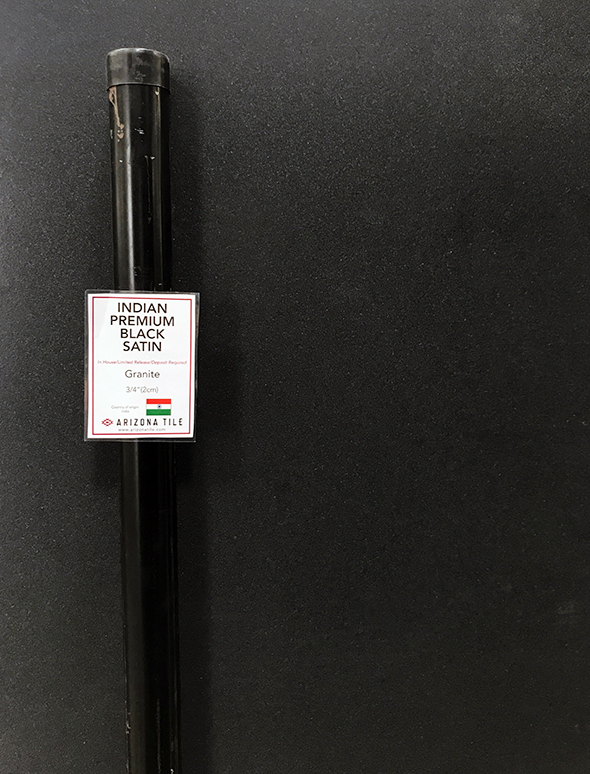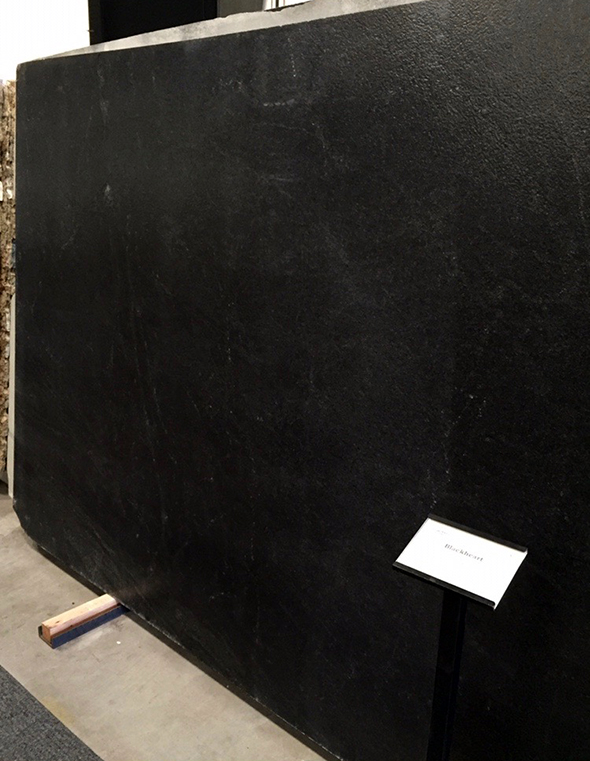 This photo here shows what a HUGE difference there is in the way the exact same stone looks in a polished finish vs a honed finish. I always choose honed, satin or leathered over polished if at all possible. It makes no difference in the durability of a stone, but makes a very big impact on the overall look and feel of a space.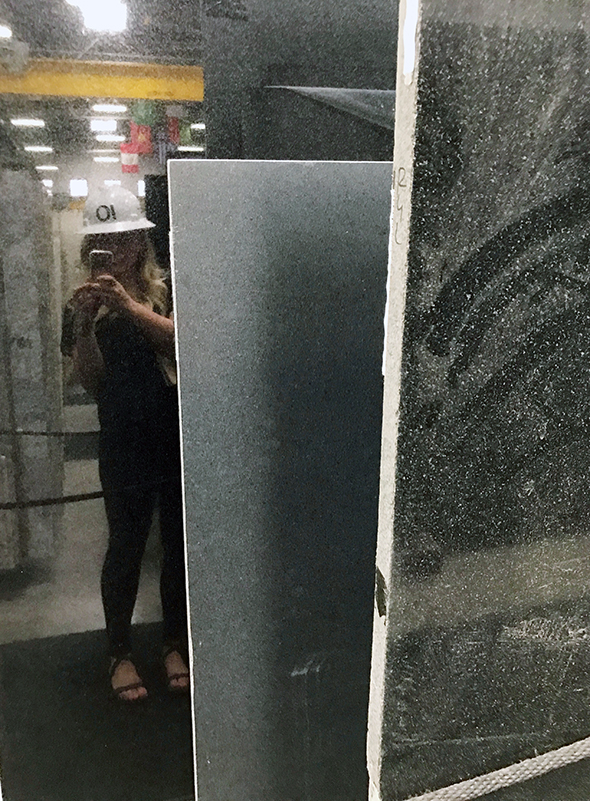 We used satin absolute black granite in this client's kitchen and wouldn't you guess it was soapstone? I LOVE IT.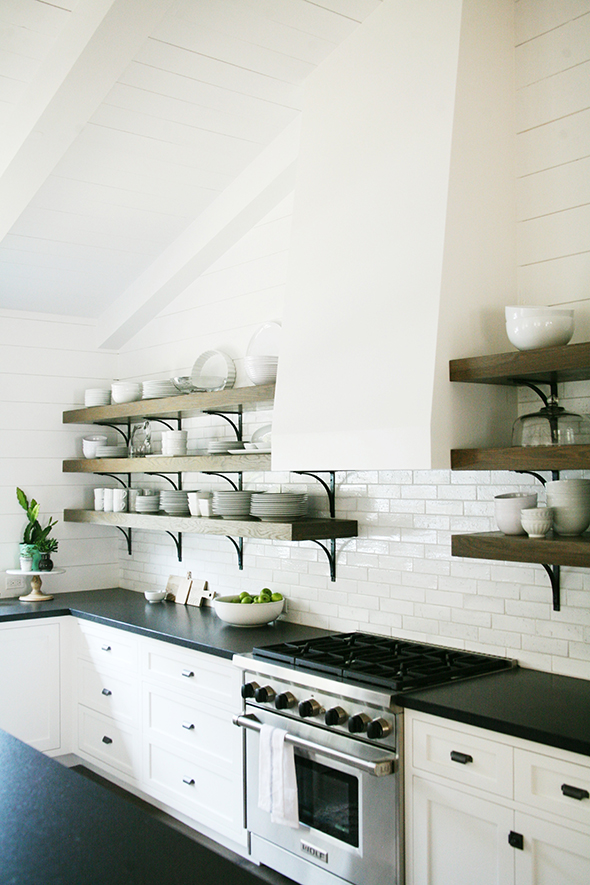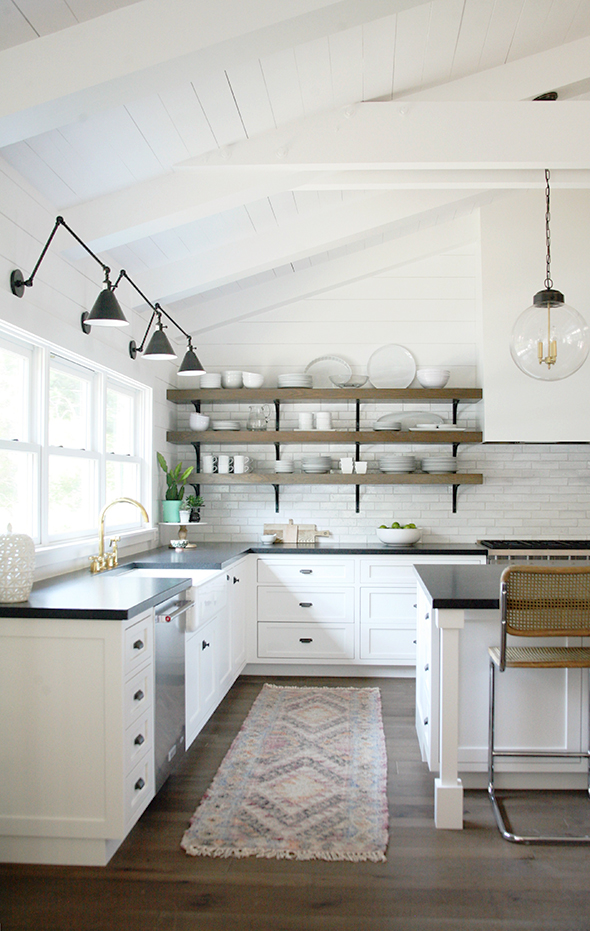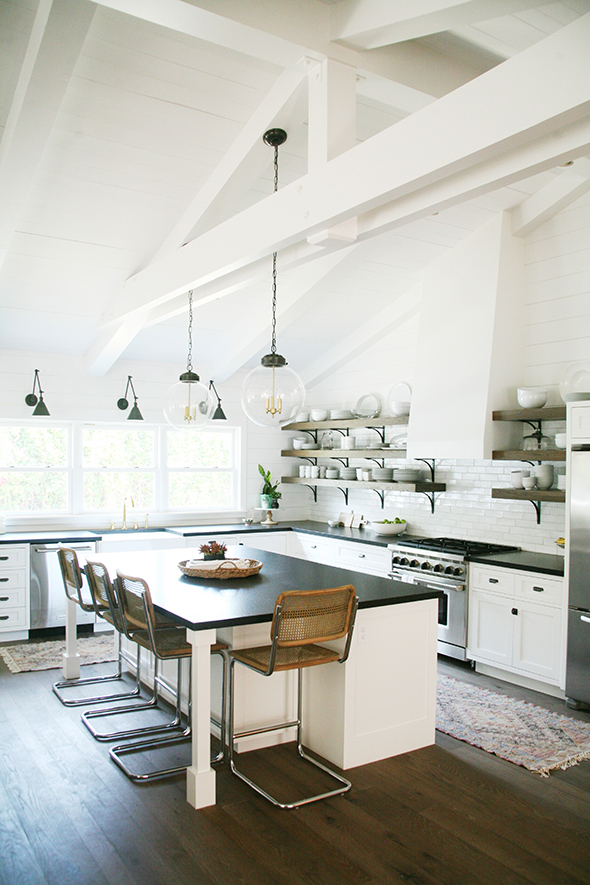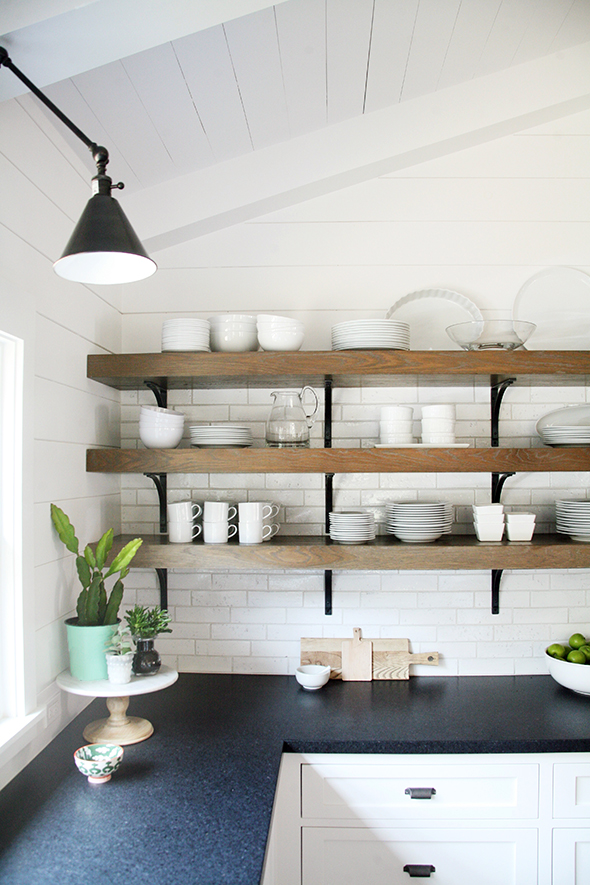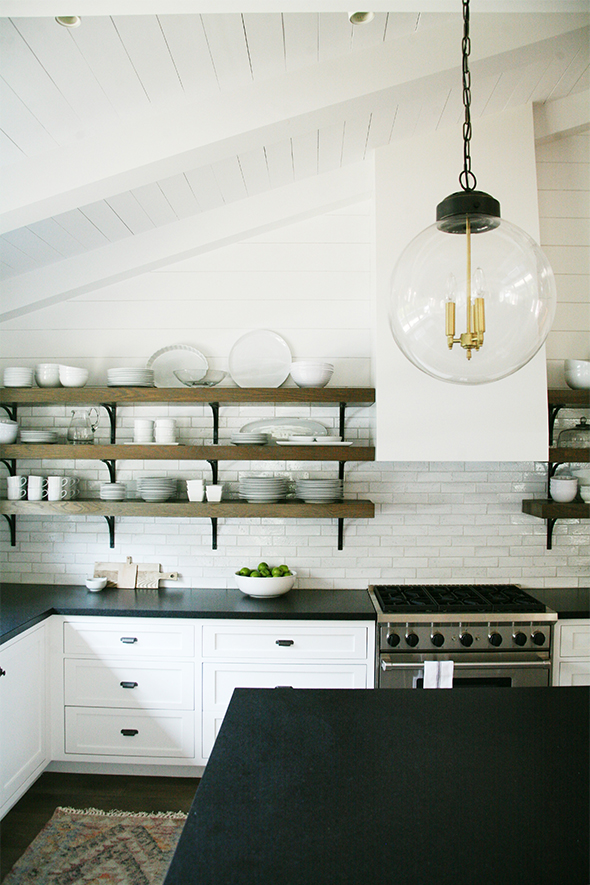 And last, but DEFINITELY not least! –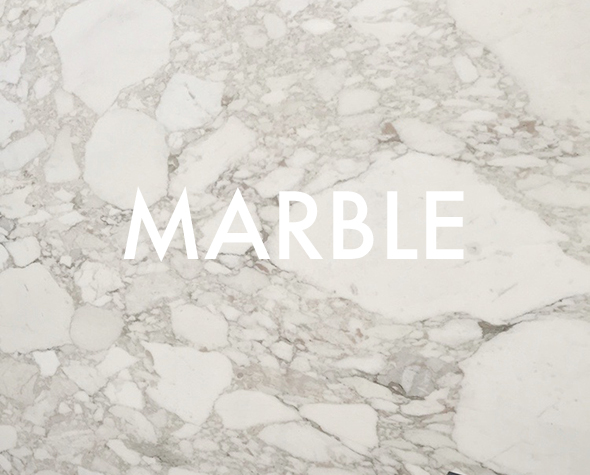 Marble will always and forever be my favorite natural stone. It's just SO BEAUTIFUL. I love the bright white color and the striking, organic pattern of the veining. It's just such a classic choice! I know it's not for every homeowner, though I maintain that everyone should be fine with marble for bathroom counters (if not in the kitchen!). Marble is more porous than granite, but it gets a bad reputation for being hard to keep up. I disagree! Marble is very hard-wearing and durable!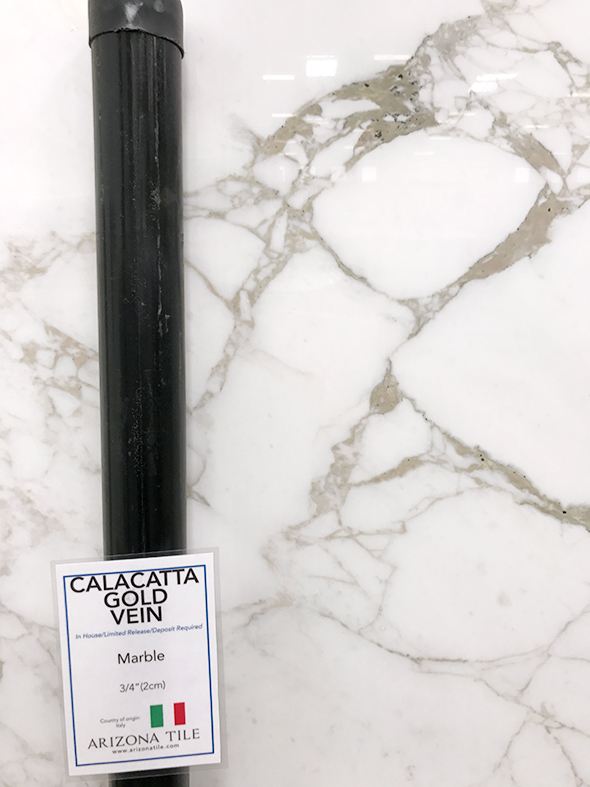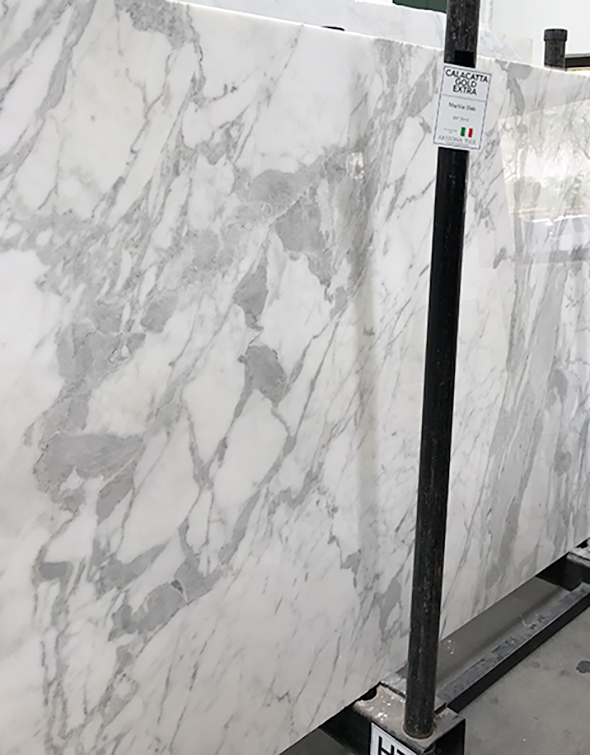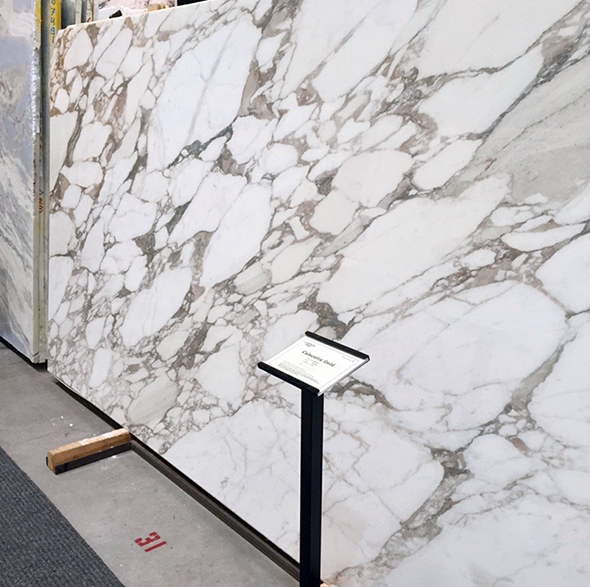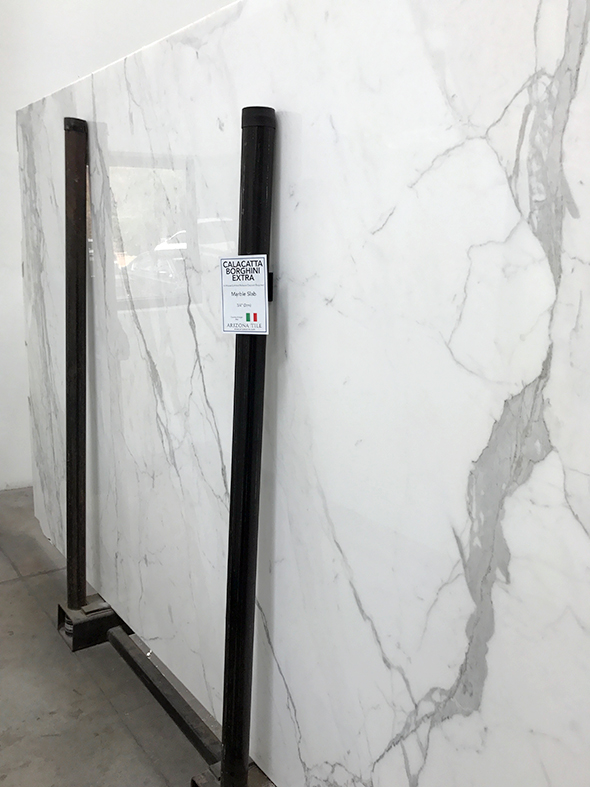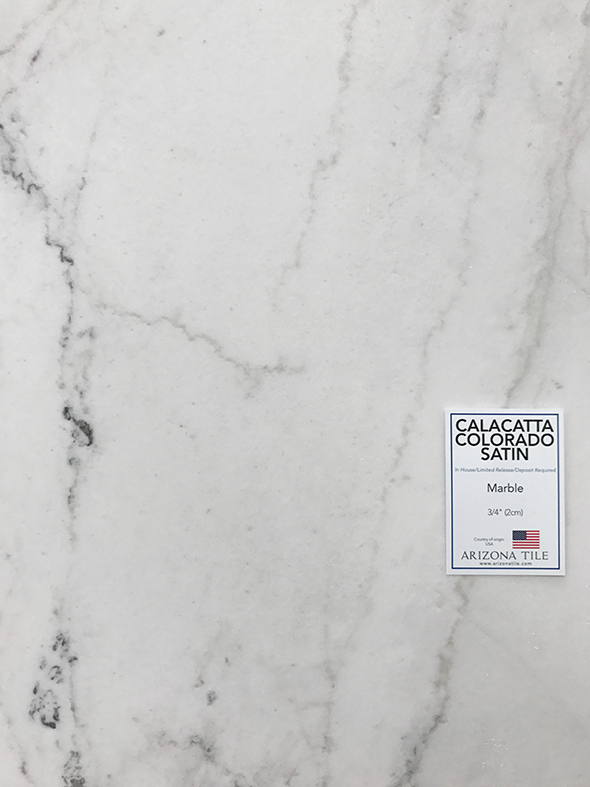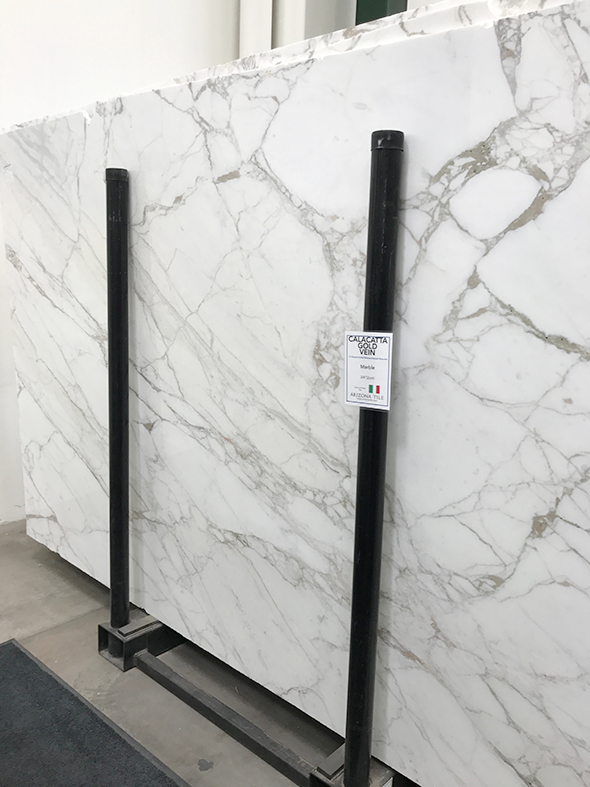 Again, I strongly prefer a honed finish in any stone, but especially with marble, and I think the honed finish helps any scratches that will happen over the years to be less noticeable. If you choose to go with marble in your home, it's a good idea to get in the habit of wiping up spills and stains as they happen. If you don't let you spills sit for hours and hours on end, and you use a cleaner with a built-in sealer, there won't be issues with stains or bad etching.
I would honestly be happy with most any type of white marble, but the ones I'm usually drawn to are pictured here. If a client has a big budget, I always pitch Calacatta Gold or a Borghese marble. But if a client would like to keep the budget down, I usually recommend Mountain White or  Montclair or sometimes an extra honed Cararra (those swing more gray though). Some of the white marbles are as cheap as black granite!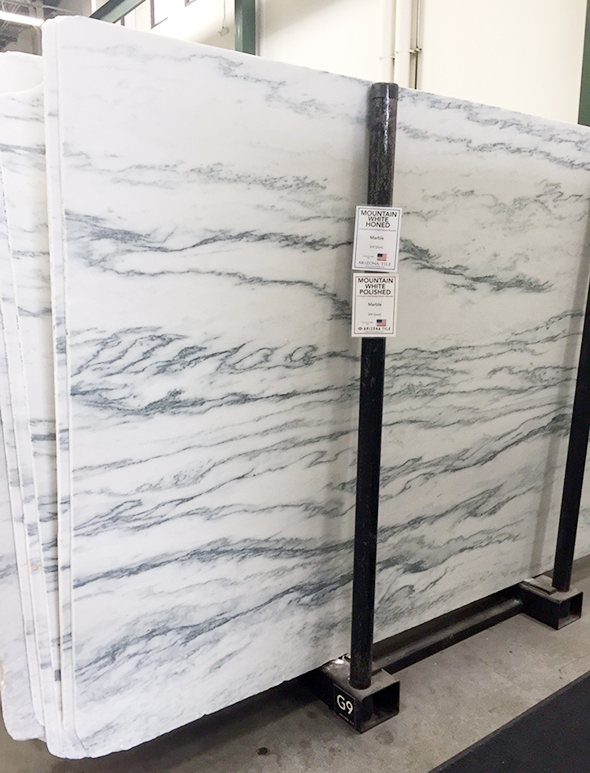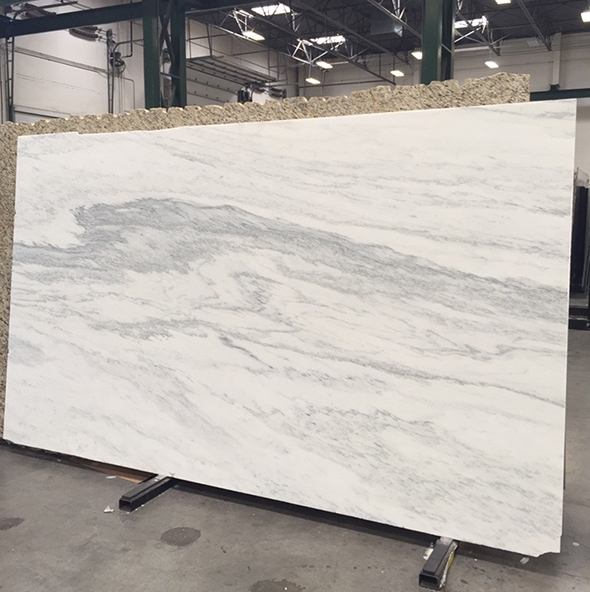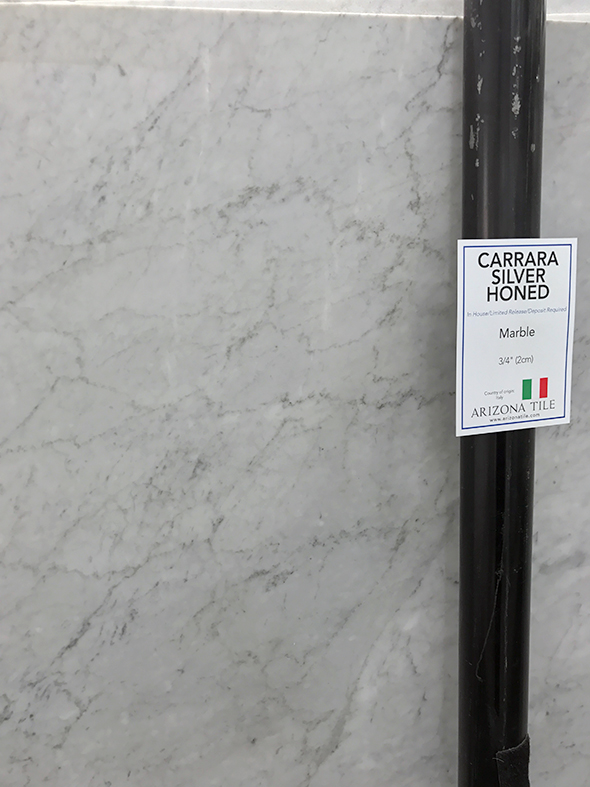 There's just NOTHING like the beautiful veining of a great white marble! I found a piece of polished Mountain White in a fabricators remnant yard for a really great price and had it made into a sink I designed. They sanded the stone down to a honed finish and now the stone has that fuzzy, warm glow that only honed stones have!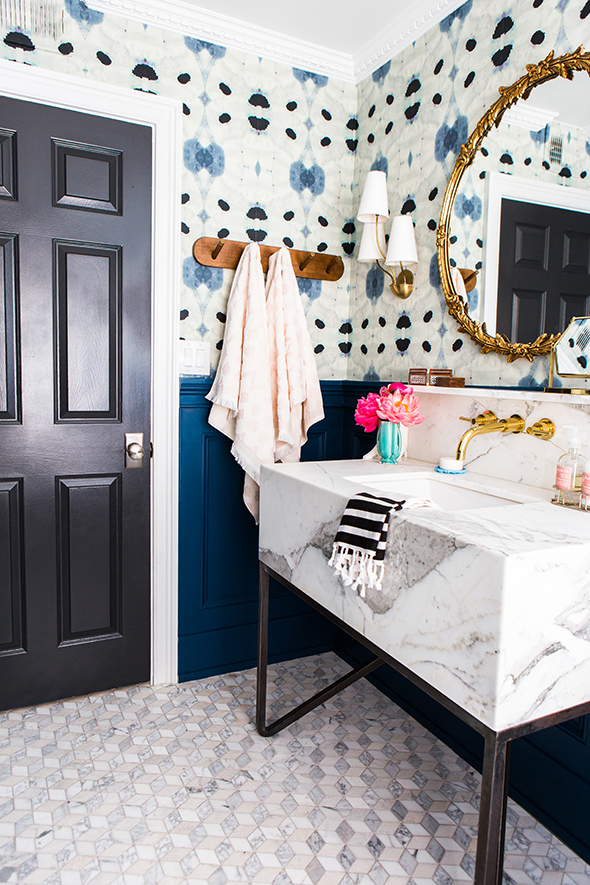 Marble is my favorite stone to use in bathrooms!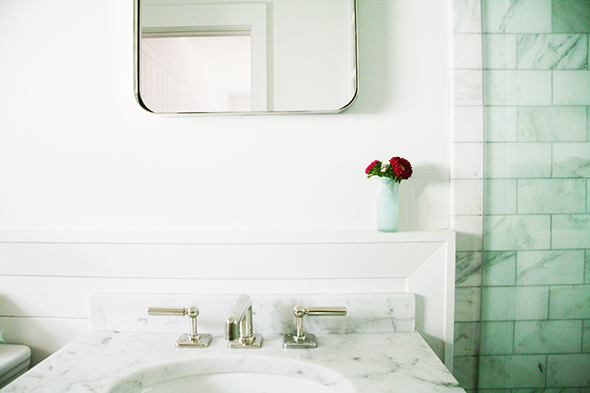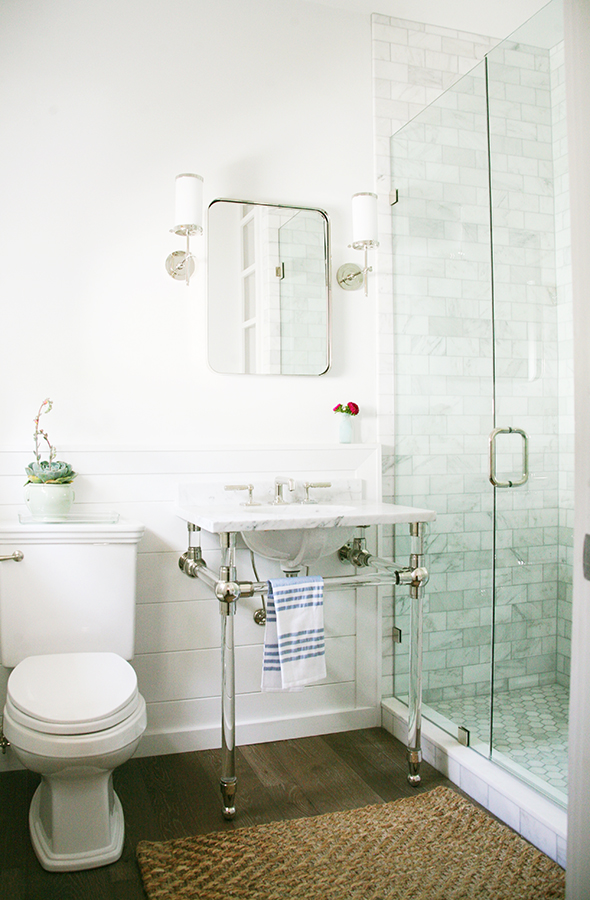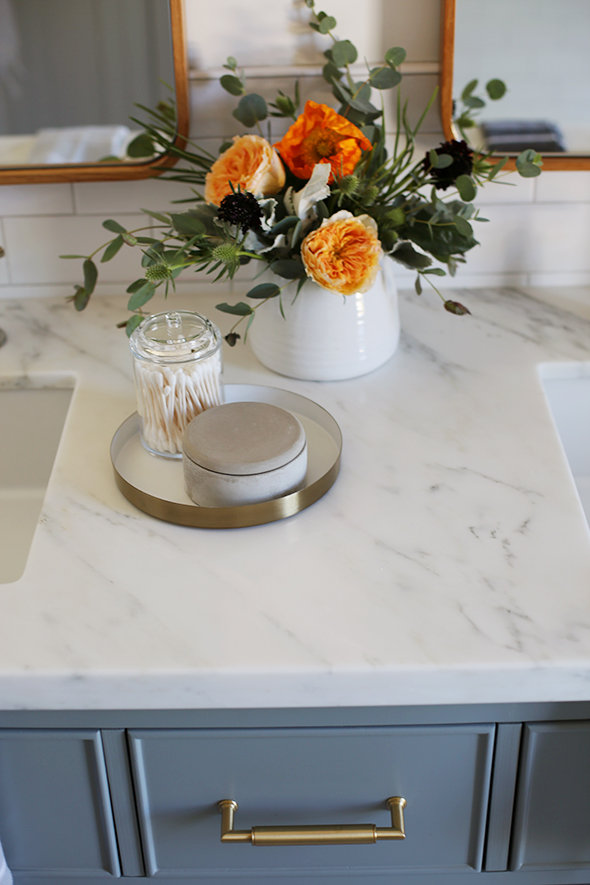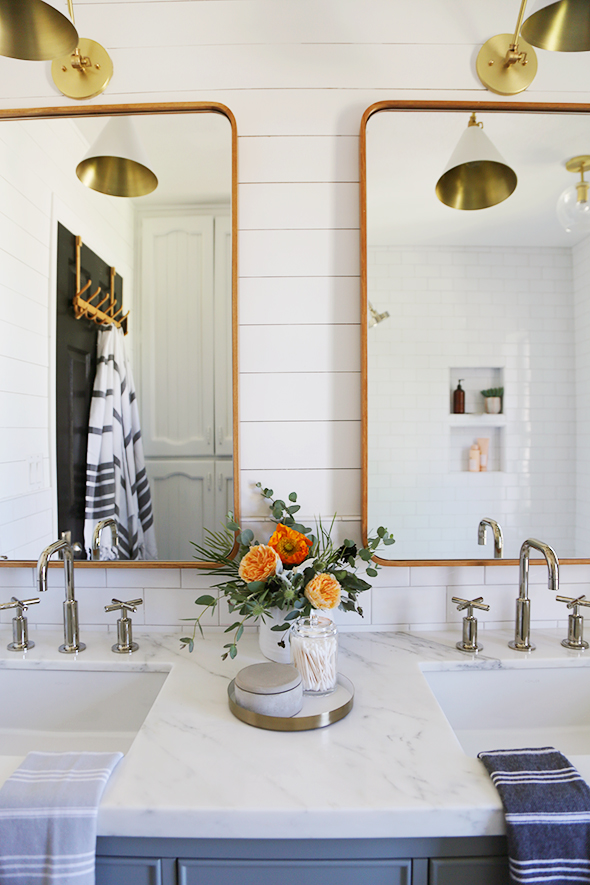 I usually use darker marbles on fireplace surrounds (which I love!), but we're working on a bathroom project using black marble right now too that I'm super excited about!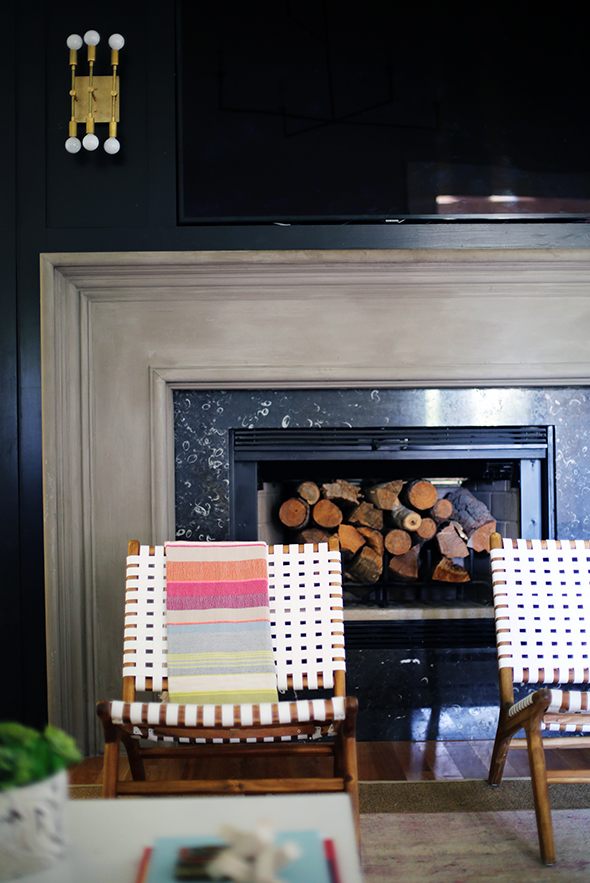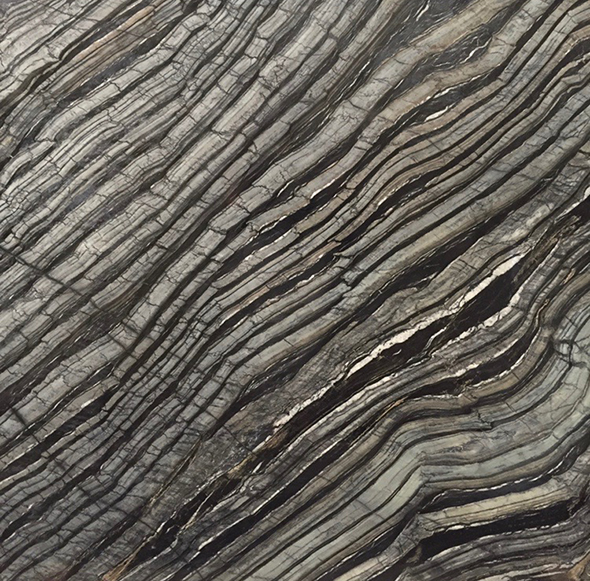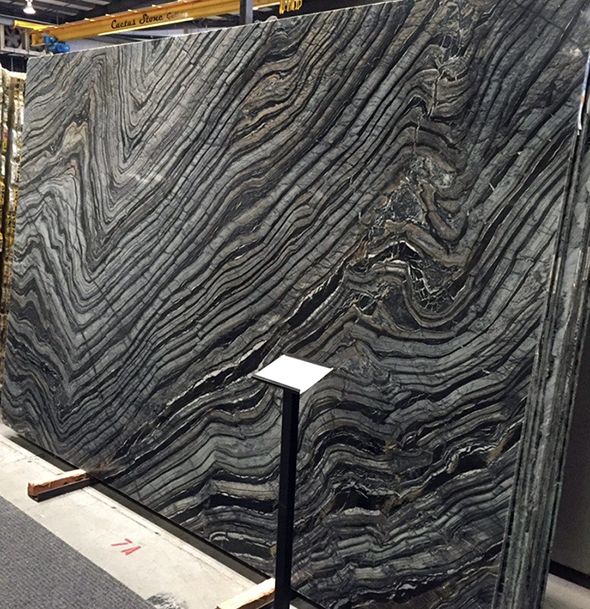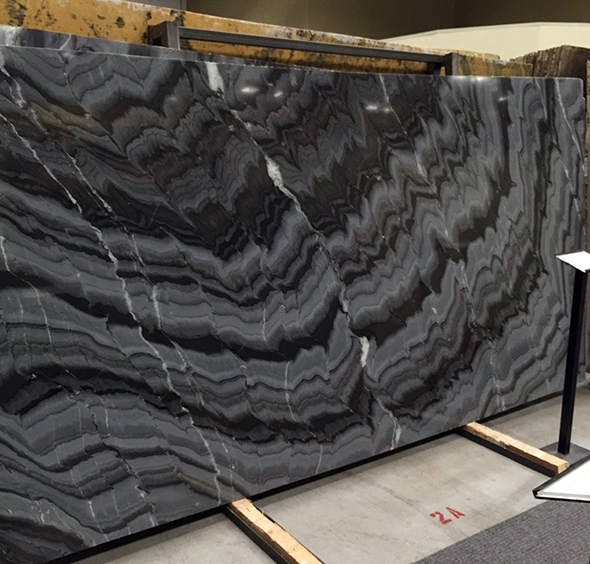 I'd LOVE to hear all about your favorite stones to use for your counter tops! What have you used and loved? Are you a marble person? And if so, what are you favorite ways to care for your stone?
This post was in partnership with usenaturalstone.com. Don't forget to check out all the resources on usenaturalstone.com if you're in the market for any project using stone!