Sponsored by Mixtiles.
After years of saving, and now weeks of meeting with contractors and trades, we are getting VERY close to starting a big remodel at my house. I've got a big post coming up that shares the details of the plans now that they are almost final! In the meantime, we are spending our recent nights and weekends shuffling rooms around, preparing for months and months of half the living space (and no kitchen or laundry room!).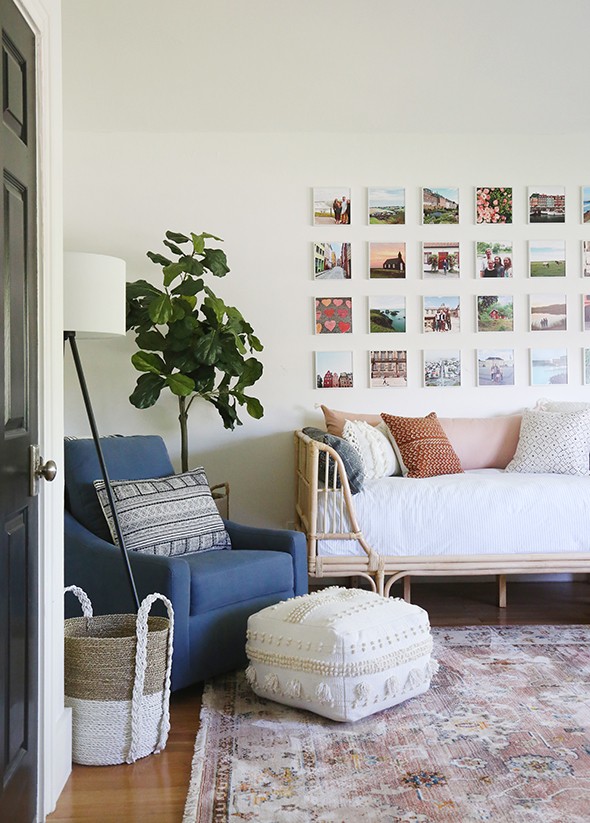 blue chair  //  rug  //  rattan daybed  //  pouf  //  basket

Last week we moved Evie in with Grace and turned her bedroom into a playroom and I think with just a couple quick changes and additions, we've got ourselves an adorable, comfortable kids space! I'm the hugest fan of playrooms if you can manage to squeeze a space into your square footage. I love having a dedicated place for toys and games to live – it really helps the rest of the house stay more tidy – and the girls love having a space of their own for arts and crafts, legos, watching movies and hanging out with their neighborhood friends.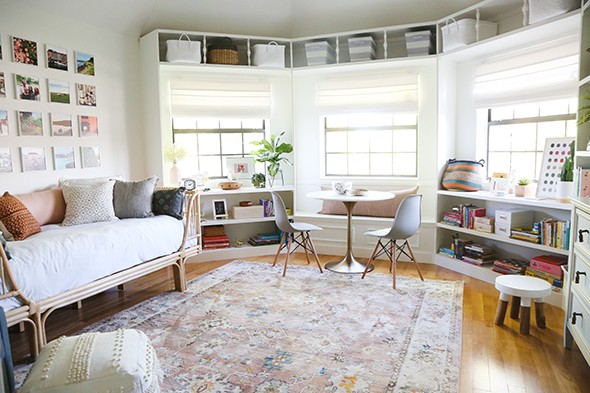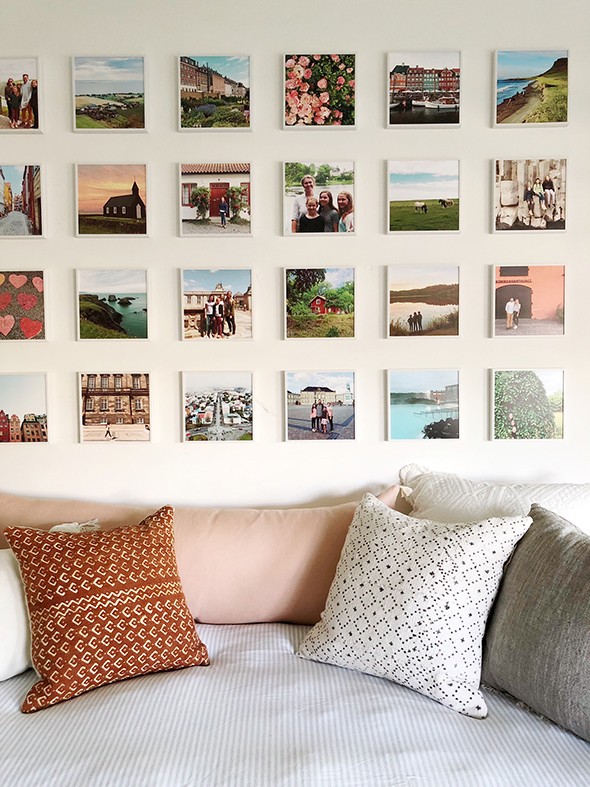 I knew I wanted to do a gallery wall above the daybed in here, and when I heard about the Mixtiles app, I got SO excited about the idea of using all trip photos from our recent family vacation to Scandinavia! Mixtiles syncs directly with your phone's camera roll to quickly and easily order high-quality prints that come in less than a week. And they always have free shipping!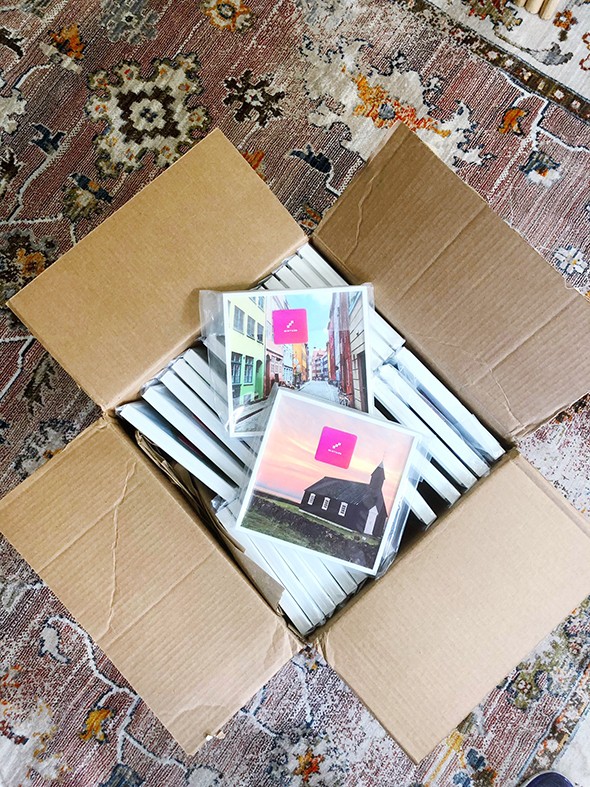 The Mixtiles are really easy to hang – no hammer and nails required here! They have a sticky adhesive strip on the back of the frames that allows you to place and move the tiles anywhere without damaging your walls. Perfect for renters or people like me who don't want to put a million holes in their walls for a big gallery wall arrangement like this one!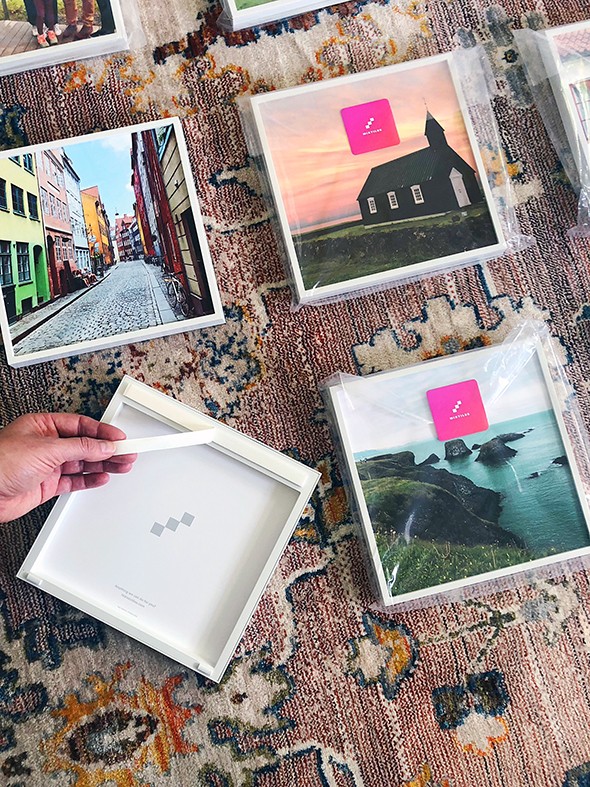 Since I ordered a lot of Mixtiles for the wall, I had the idea to use some scraps of packaging materials from the new furniture as a guide for hanging all my new wall decor. It wasn't necessary since the adhesive is reusable and you can pull off and readjust quickly, but it made a simple process even simpler for me! I used a piece of styrofoam as my spacer for the bottom row and a 3″ piece of wood for the rest of my grid.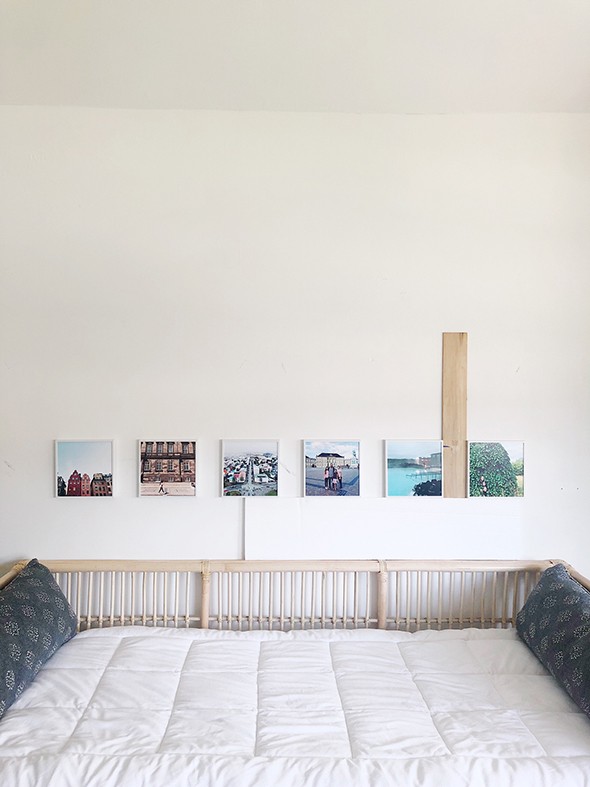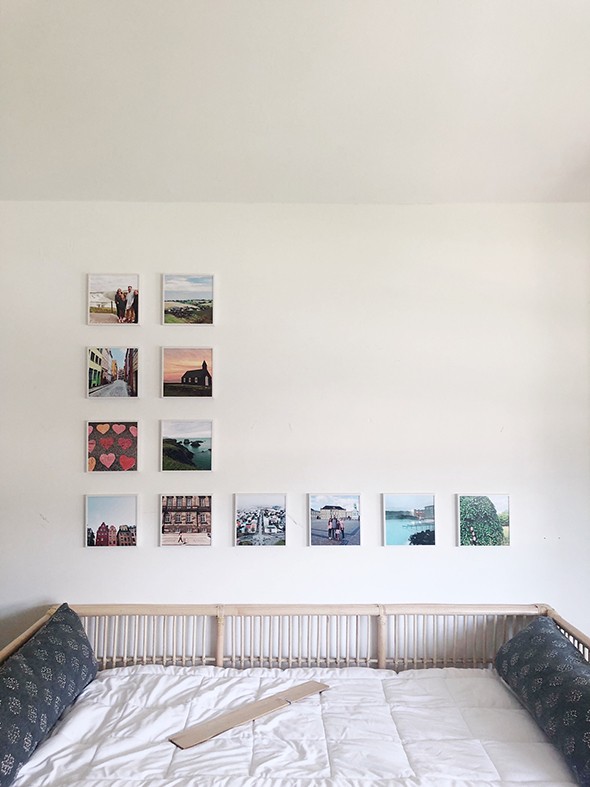 The gallery wall was up and perfect in about five minutes! EASIEST GALLERY WALL EVER. (PS make sure you don't miss the discount code at the end of the post!)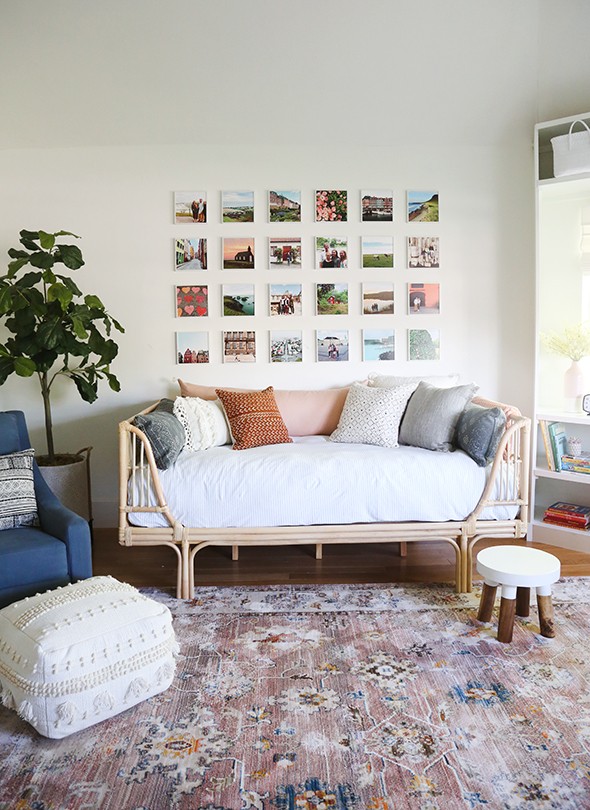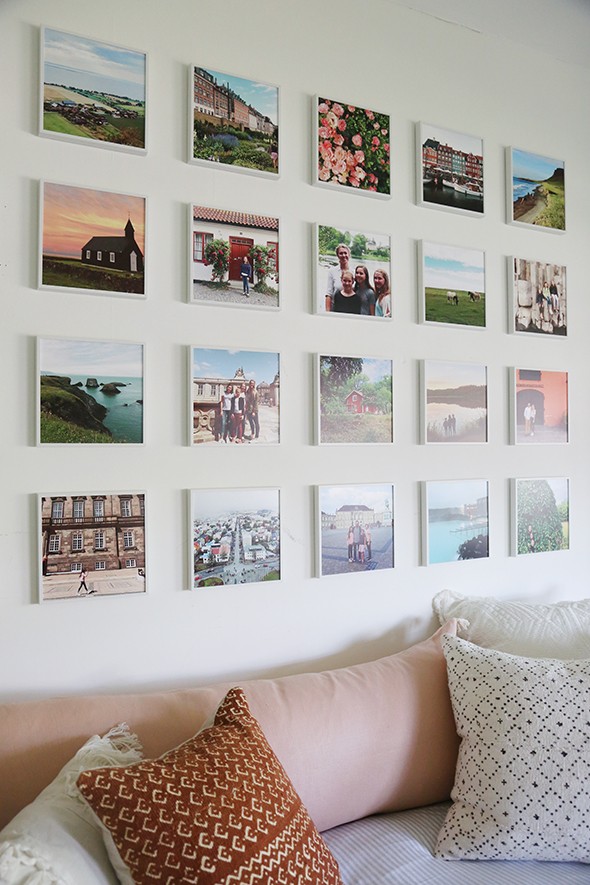 The walls were already painted Chantilly Lace, my favorite bright white, so we definitely needed some colorful art and accessories in here to make things a little more playful. (PS To see the room transform in real time, don't miss my Insta Story highlights called 'playroom'!)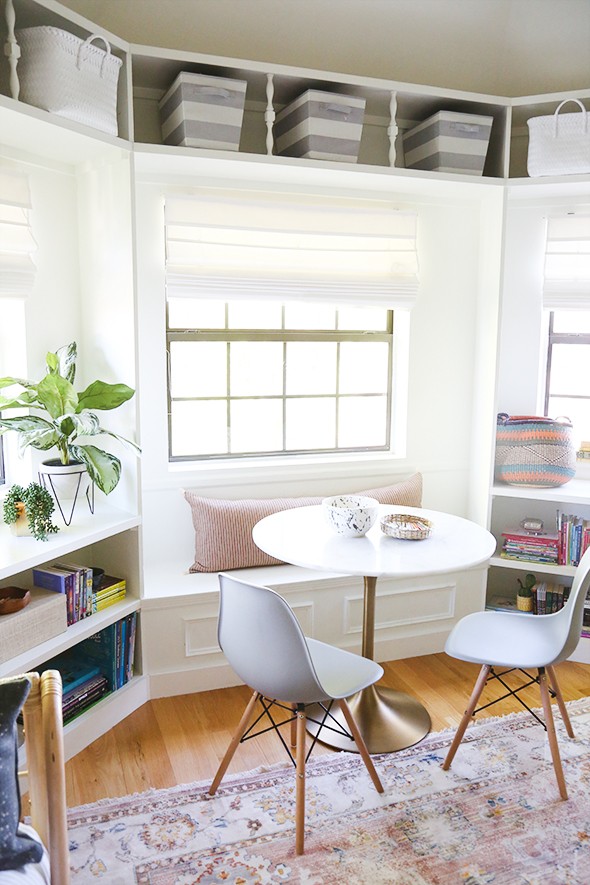 marble and brass table  //  gray shell chairs  //  rug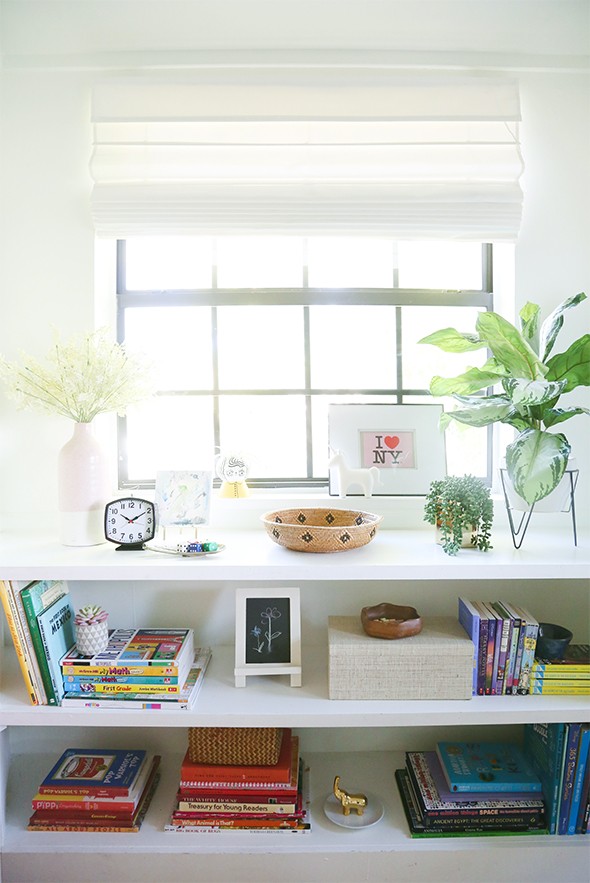 black alarm clock  //  faux string of pearls plant  //  gold elephant trinket dish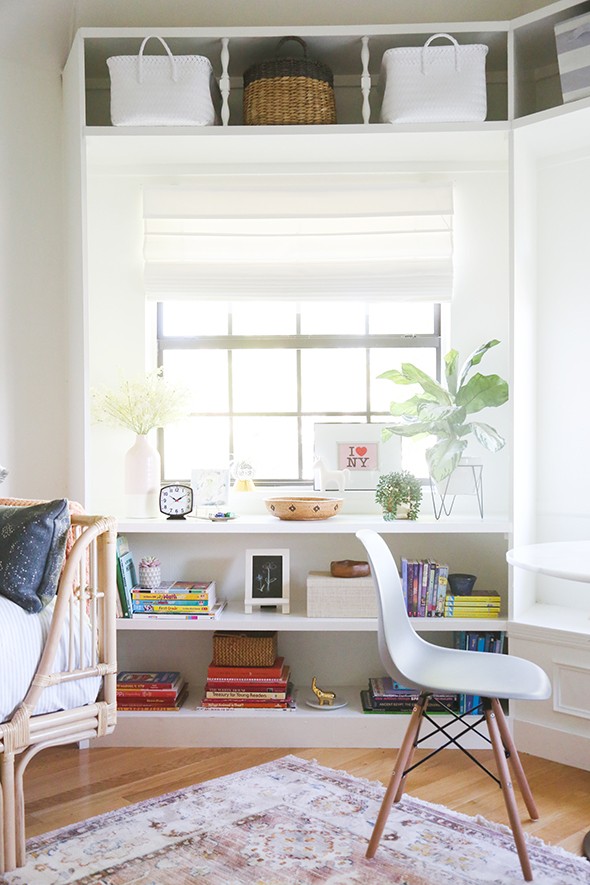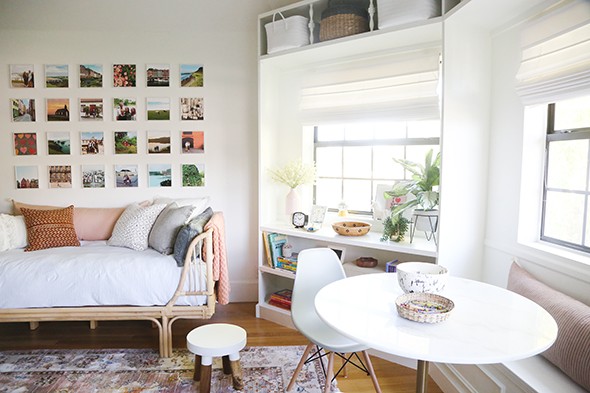 rattan daybed  //  rug  //  marble and brass table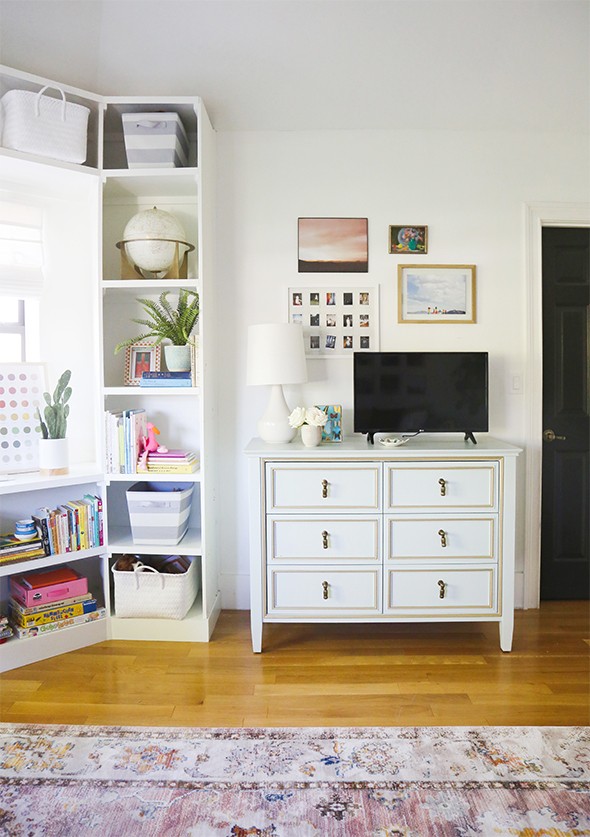 rug  //  lamp  //  white and brass globe  //  faux cactus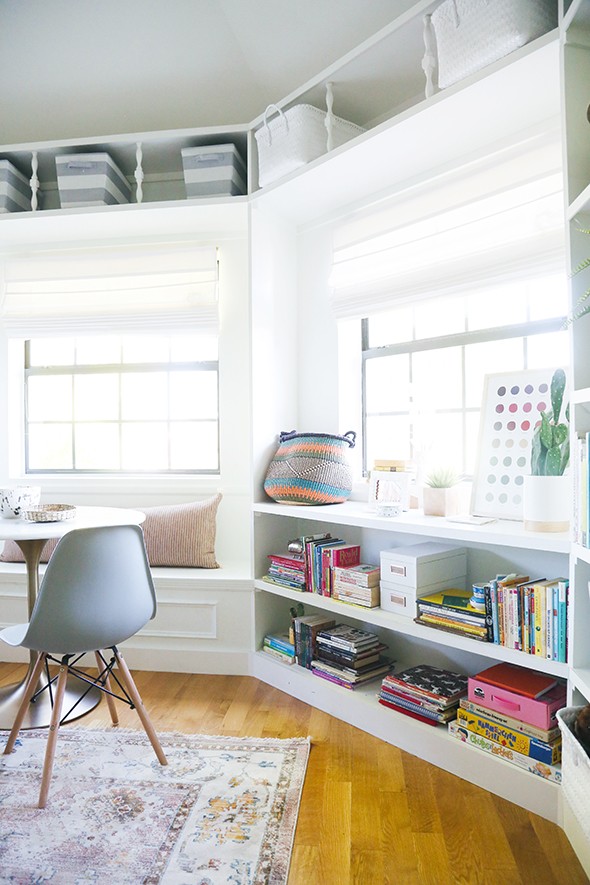 This rattan daybed was my first purchase for this new space. It is SUCH a great deal already and I got it with an extra 30% off coupon!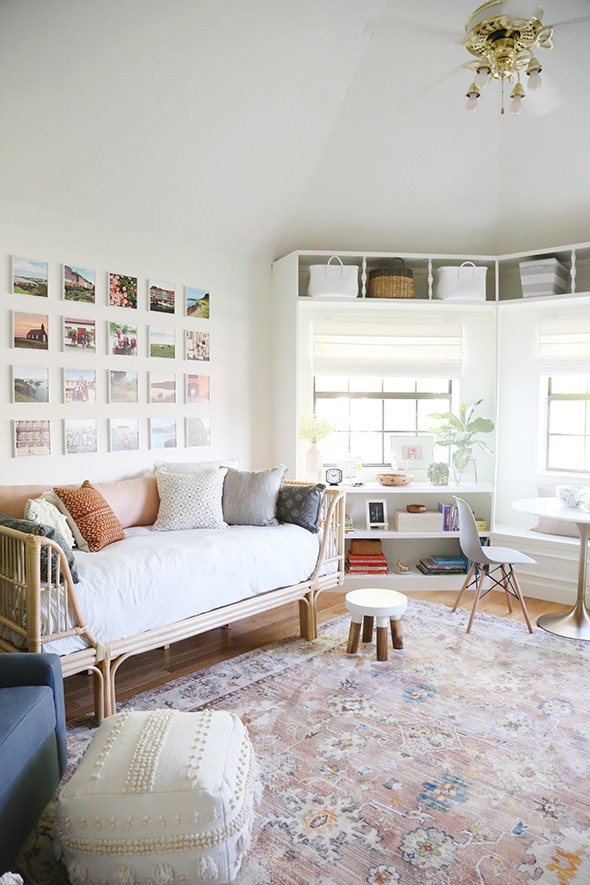 rattan daybed  //  rug  //  pouf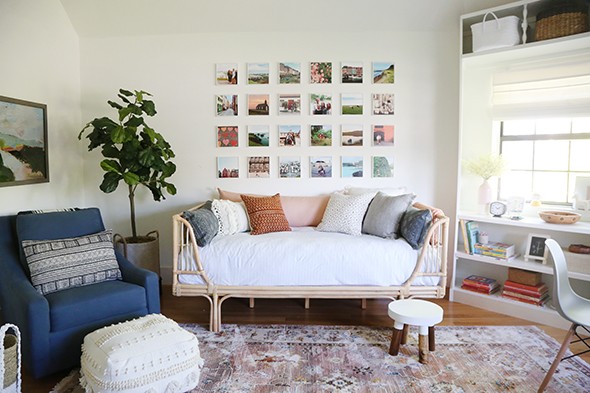 The blue chair was a lucky PB Outlet find and the warm denim-y blue upholstery was the start of my color inspiration for this space. I found the perfect inexpensive rug that was colorful but not crazy, and I think really compliments the art and accessories in here!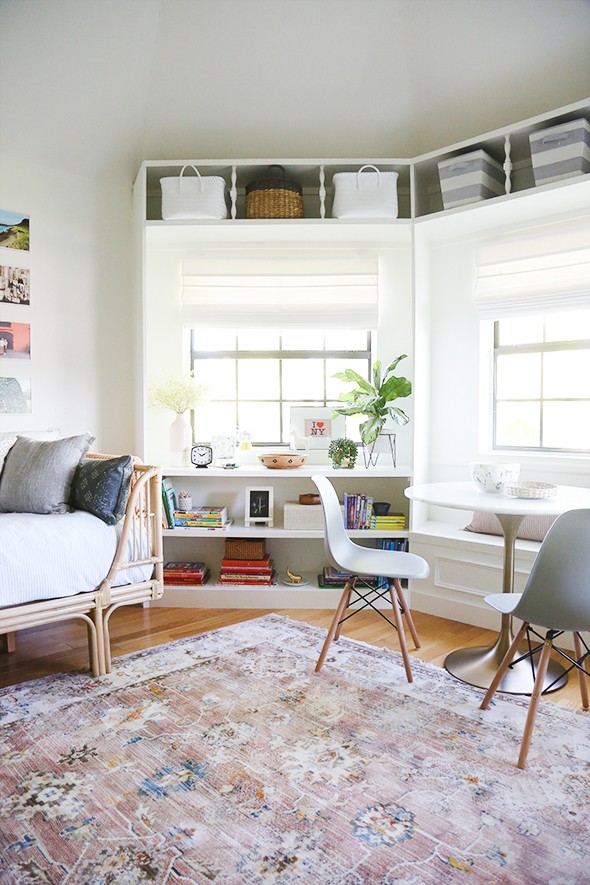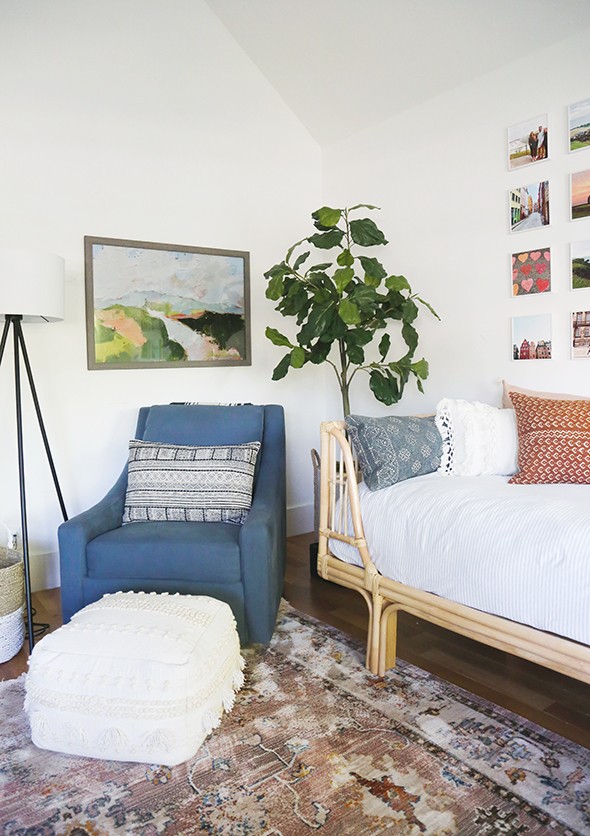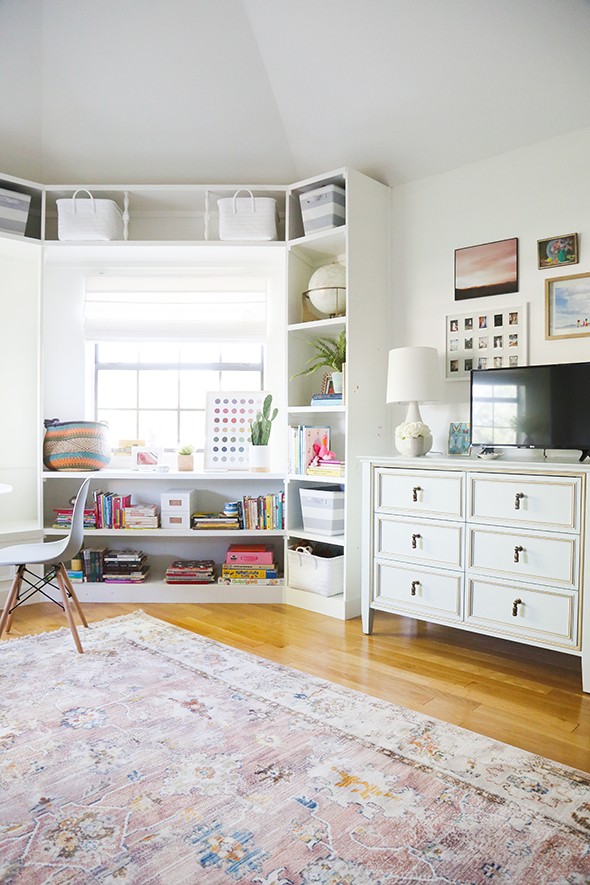 I can't tell you how much I love this new space and especially that wall of memories! Our trip to Denmark, Sweden and Iceland this summer was nothing short of life-changing, especially getting to see where my grandma grew up in Sweden (check out my story highlights for more!). Having these special photos up on the wall, reminding us of those magical two weeks, has been SO COOL.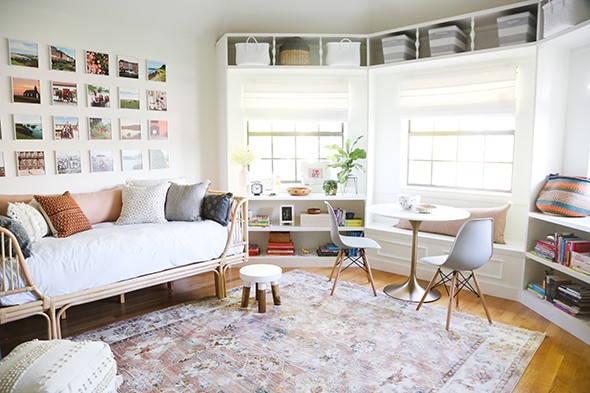 And I love that when our reno is finished in a few months and Evie moves back into her room, I can move the Mixtiles back down to our regular playroom quickly and simply, with no damage to our walls!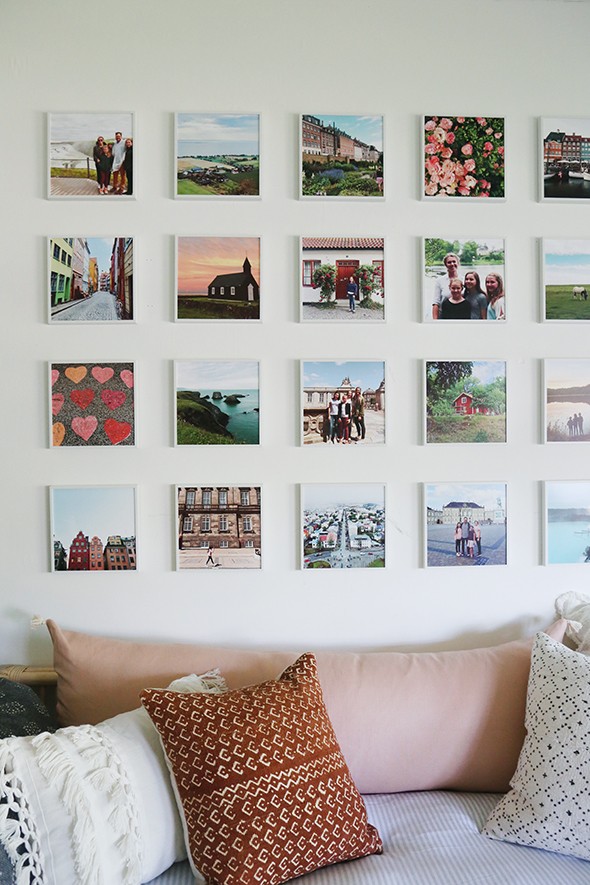 Juniper Home Collection Lumbar in Rose

Thank you to Mixtiles for sponsoring this room makeover! For 15% of your first order (and free shipping, of course!), use the code NOTEBOOK15 at checkout on the Mixtiles app. The promotion runs only for a limited time, so hurry fast! :)