This summer, Michael and I took our three oldest girls (ages 8, 11 and 12) on a two week adventure to Scandinavia. Many of you followed along on Instagram (I've saved a lot of the stories in my highlights) and I got about a million messages asking for details on how we traveled with only our backpacks and questions about what we saw, ate and loved the most. So here it is – an epic brain dump all about our life-changing trip! I hope you love it, and enjoy the photos I'm sharing here, which are all now listed on Jenny's Print Shop! Yay! :)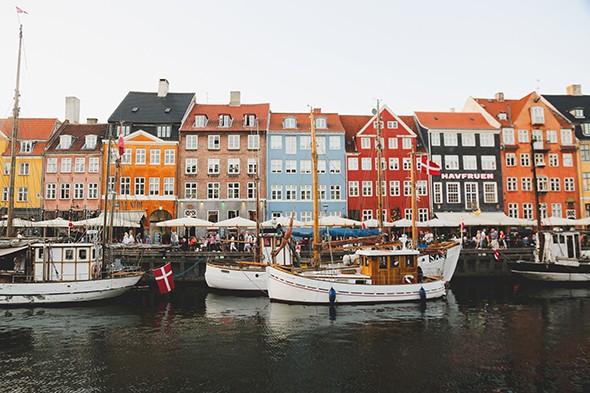 COPENHAGEN print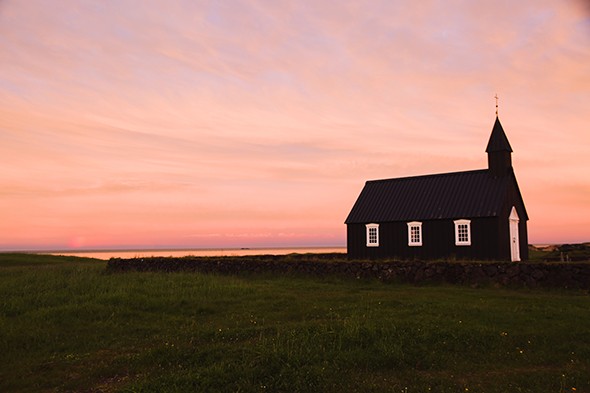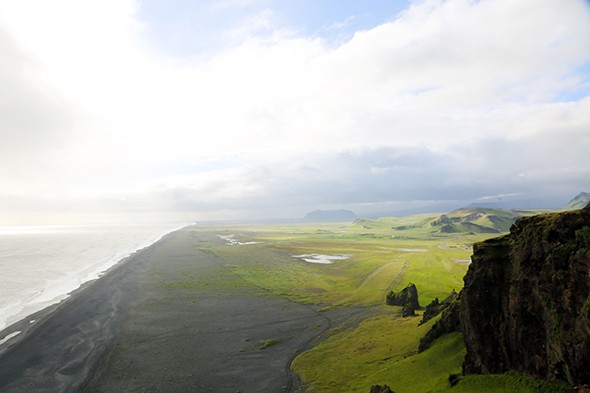 In general, if you book either six months in advance, or sometimes at the very last minute, you can get insane deals on airfare. Using Google Flights, we booked a different airline for each leg and saved thousands by adding an extra layover in the states and, most importantly, by bringing only one carry-on backpack each. Checking luggage on European flights can get really pricey (like $300 per bag, per leg!). We lived in Brussels for a few months years ago and I famously overpacked for our time there and paid almost $1000 just to get our luggage home. Yikes! Ever since then I've been a committed light packer for trips. I might not be the most glamorous one on the trip, but I'll be the least stressed out and the first one out the door! Packing light is the only way to go, especially with kids in tow.
Here is a list of what we packed! We did laundry only once while we were in Stockholm, which ended up being sort of a joke. We thought it would be easy to find a laundromat in such a big city, but the government provides laundry machines in every apartment building, so there is literally only ONE laundromat in all of Stockholm! Ha! Luckily the service was quick and great and we were thrilled to have all clean clothes again before leaving for Iceland!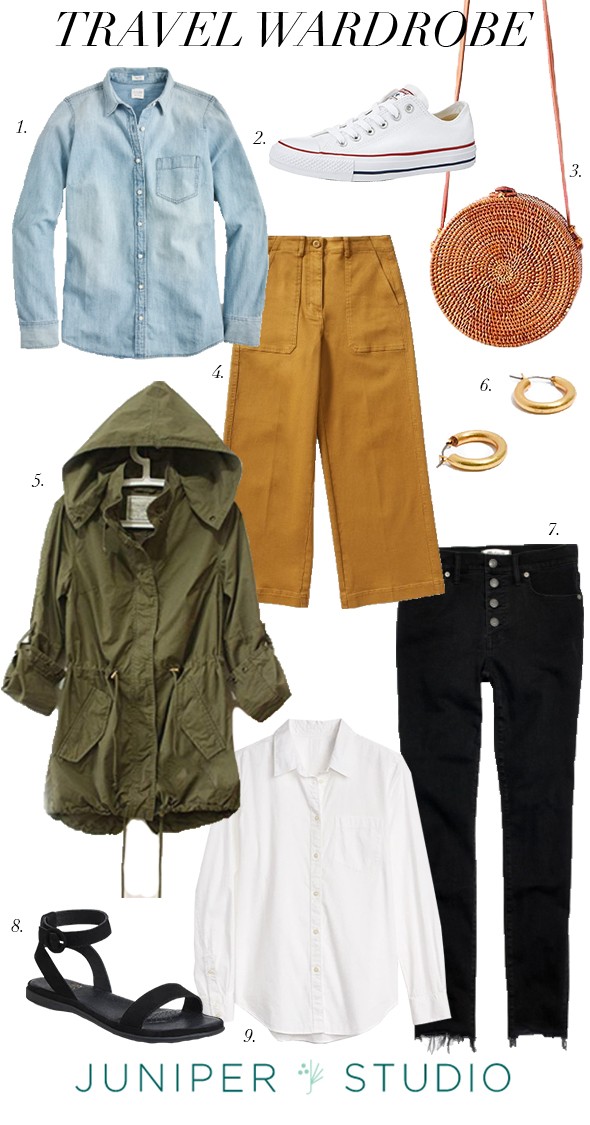 1  //  2  //  3  //  4  //  5  //  6  //  7  //  8  //  9
1. Chambray Shirt – My goal while packing was to have one shirt for every day of one week and three pairs of pants. This chambray button up is my absolute favorite and goes with everything.
2. White Converse – There is a major trend for wearing white tennies with dresses, so I felt like my comfotable white converse were a good packing choice (and they were great!) I felt cute, but still really comfortable while clocking about 15 miles of walking every day!
3. Straw Bag – I got this bag at the beginning of the summer and it has been my most complimented purse I think, ever! I love that its light and small but roomy. It was perfect for this trip and I'm still using it now at home.
4. Wide Leg Pant – I have these cropped wide leg pants in literally every color they sell. They're so affordable and they wash well. I feel cute and put together in them and they look great with tennies and sandals!
5. Military Parka – This parka is less than $30 and is the perfect layering piece!
6. Gold Hoops – My tried and true favorites. I've been wearing these for almost a year now and feel special wearing them, which is funny because they are NOT expensive!
7. Black High-Rise Jeans – High-waisted but not too high, these are my favorite jeans and my favorite cut! Black jeans are so versatile and I was glad to have them on this trip!
8. Black Sandals – I normally reach for brown leather sandals, but I found a pair of these EXTREMELY COMFORTABLE walking sandals at a local store and bought them specifically for the trip and they were an absolute dream to wear. It felt like I was wearing crocs! Ha!
9. White Oxford Shirt – Just like my chambray button up, a white oxford is hard to mess up. It's classic and looks so cute tucked in or out or tied in a little knot!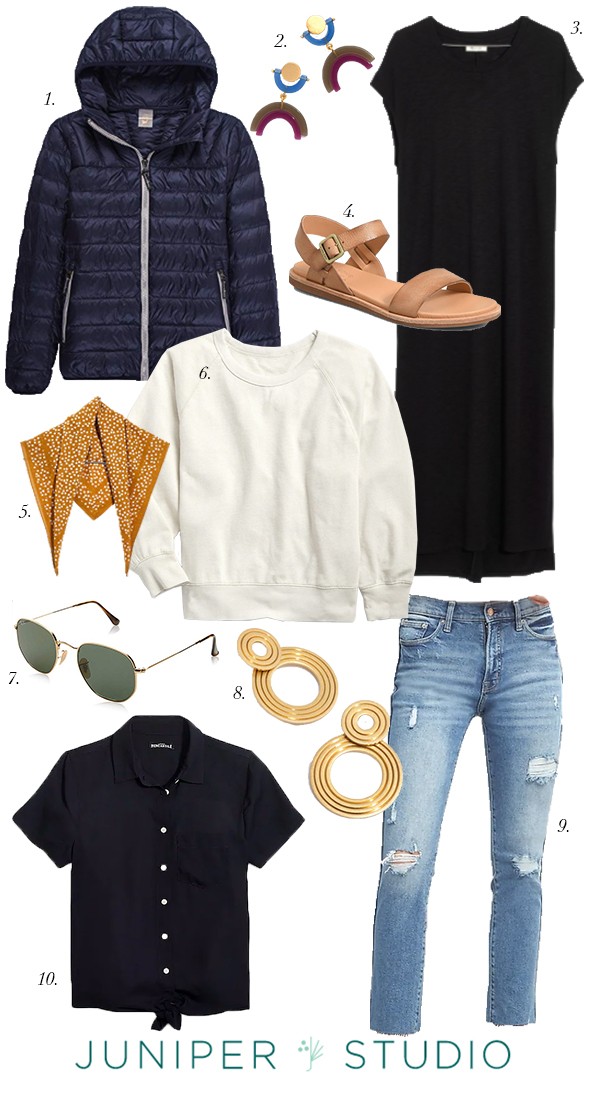 1  //  2  //  3  //  4  //  5  //  6  //  7  //  8  //  9  //  10
1. Navy Parka – Guys, this puffer was my best purchase for this trip! We only really needed jackets in Iceland so this one was a great purchase because it comes with a little storage bag you can cram the whole jacket into and then hook on our backpacks! I got one for every member of the family at this price!
2. Arc Earrings – Since I was wearing mostly solid color and neutral tops, I wanted to have a few fun jewelry pieces to dress up my wardrobe. These statement earrings made my casual outfits feel dressier!
3. Black Midi Dress – It doesn't look like it much here, but this midi dress is MAGICAL. Every woman should have one! The fabric is light but not sheer and the cut is extremely flattering! I LOVED this for hotter days in Copenhagen and for layering in Iceland when we went to church!
4. Nude Sandals – These sandals look like my beloved Madewell sandals that are comfortable but not for walking alllllll day. I picked these up and was so glad I had them! They were insanely comfortable!
5. Bandana – I didn't bring a curling iron with me, so I wore my hair up in a top knot or in a braid for much of the trip. I brought a bandana with me last minute and I ended up wearing it in my hair or around my neck most days. Fun!
6. White Pullover – This sweater is a WINNER. I bought it in ivory, black and lilac. It is the perfect fit and the perfect weight! I brought my ivory one for the trip and wore it every travel day (I freeze on planes!). It is so comfortable.
7. Ray Ban Sunglasses – These are my forever favorite sunnies. They are classic but the shape is not instantly recognizable the way Aviators and Wayfarers are. They are not too big and the gold frames look luxe but understated. I love them to the moon and back.
8. Etched Earrings –  Another pair of statement earrings!
9. High-Rise Jeans – This is the other pair of jeans I brought. I have THREE pairs of these jeans!! They are SO flattering and they are on sale for less than $30! The vintage-looking side seam is the best! They're like vintage 501s but tailored to fit a woman's body perfectly. LOVE!
10. Tie-Waist Button Down – I brought six tops with me and the goal with all of them was comfort, ease and no need for ironing or steaming. (it's harder to come by ironing boards in European bnbs and hotels!) This top is wrinkle resistant and oh-so-cute with that perfect sleeve length! I have the olive version too!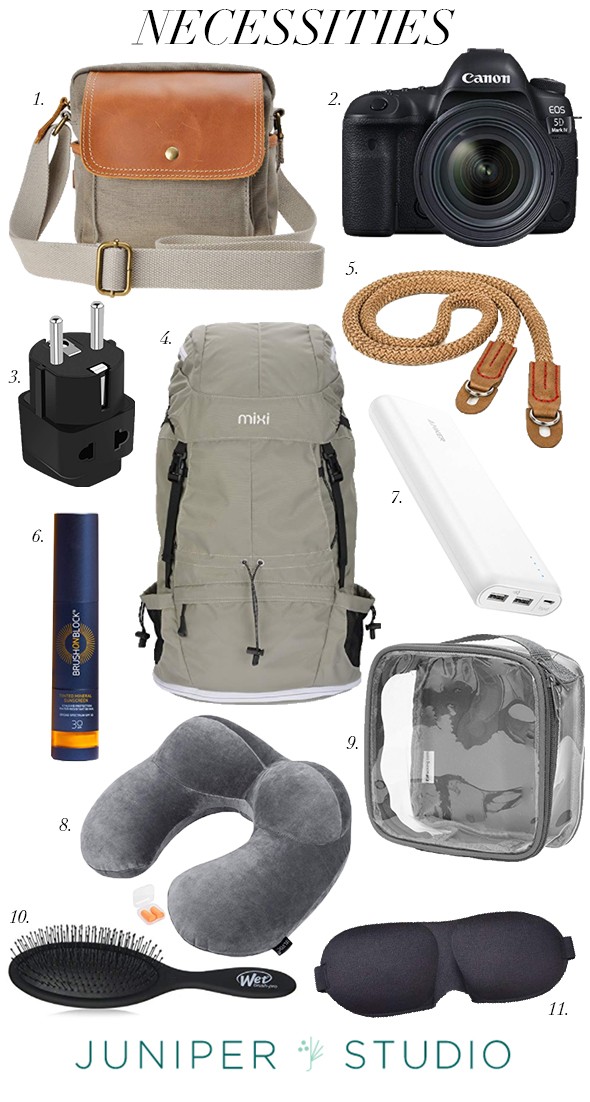 1  //  2  //  3  //  4  //  5  //  6  //  7  //  8  //  9  //  10  //  11
1. Camera Bag – I packed my camera bag inside my backpack and Michael packed my toiletries for me. We didn't have a lot of extra space, but it really ended up working well for us! This little camera bag was perfect for holding my Canon DSLR and two smaller lenses.
2. Canon Camera – I get asked a lot about what camera I shoot my print shop images on and this is the one with this lens usually (or a 50 mm).
3 . Power Adapter – We had four of these adaptors with us and I wish we would have brought at least six so the girls could charge their tablets at night. Don't leave home without these!
4. Backpack – This backpack is the perfect size for traveling. It's big but not too big and there are tons of great compartments. Michael and I each had one of these. The girls just brought their school backpacks (below).
5. Camera Strap – Cheap and cute!
6. Brush-On Sunblock – I am intense about sunscreen and this brush-on powder is so handy and doesn't ruin makeup!
7. Portable Charger – This charger ended up being a lifesaver! It can fully charge an iPhone SEVEN TIMES before needing to be plugged back in. We were on our phones a lot (navigating, taking photos and researching places to visit), so we were so happy how reliable this little guy was for us!
8. Neck Pillows with Ear Plugs – I almost didn't pack a neck pillow, but this one is inflatable and ended up being really great for those suuuuuuper long flights and car trips!
9. Toiletry Bag – When you have eight flights with a carry on, a TSA approved clear toiletries bag is a big time saver. We breezed through every security check point quickly!
10. Hair Brush – The best hairbrush on the market. Ask any of my four daughters! I love the price point too!
11. Eye Mask – Another must for long travel days and for the never ending arctic days! When the sun is only set for about an hour each night, these masks are wonderful!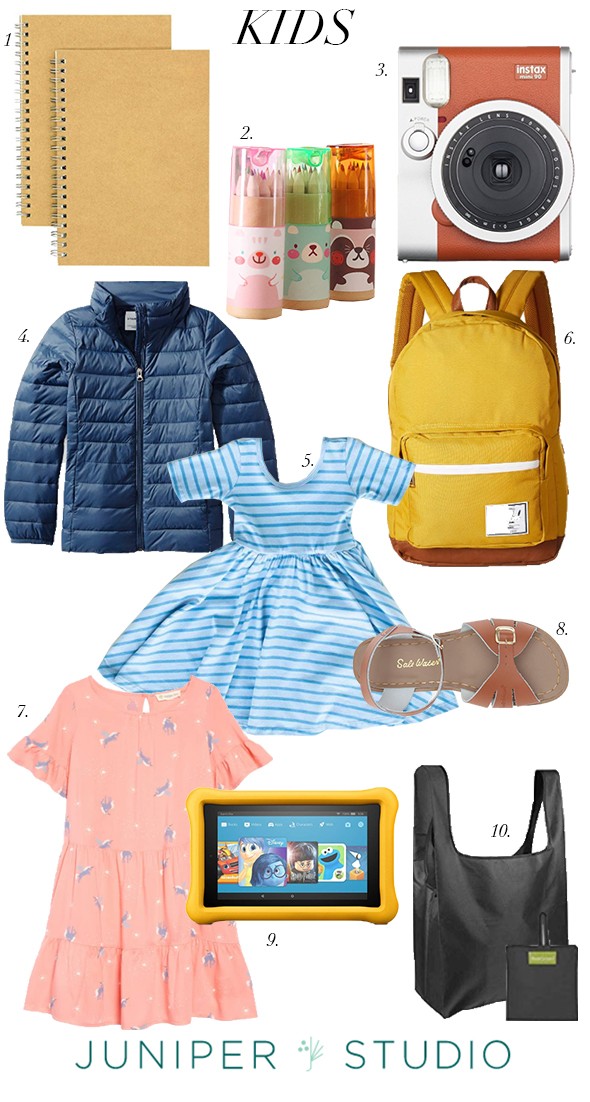 1  //  2  //  3  //  4  //  5  //  6  //  7  //  8  //  9  //  10
1. Kraft Notebooks – Everytime we go on a big trip with the girls, I get them one of these unlined spiral kraft notebooks to use as a travel journal. During long travel days or downtime, they sketch and journal trip highlights and later we paste in Instax polaroids and little pressed flowers and leaves. These notebooks are absolute TREASURES to us.
2. Colored Pencils – These coloring pencils are small but mighty and the case has a built-in sharpener! Perfect for journaling.
3. Instax Mini Camera – We bought one pack of film for each daughter and it was fun to let them pick where they want their pictures taken to put in their journals.
4. Lightweight Waterproof Jacket – The kid-size version of the packable puffer jacket I mentioned above! So good!
5. Blue Stripe Ballet Dress – The girls and I each packed one dress and I'm so glad we did! We were comfortable on the warmer days in Copenhagen and had options for dressing up when going to nicer dinners! I love anything from my friend's clothing line Alice and Ames.
6. Herschel Backpack – We get Herschel backpacks for school because they are cute and so well-made. They ended up being great for this trip too!
7. Coral Dress – Another cute dress!
8. Sandals – My girls have all grown up wearing these brown Saltwaters. I literally have a pair in every size from a toddle 5 up to a Kids size 3. They are comfortable, look nice and wear so well.
9. Amazon Fire Kids Tablet – Since we were low on space and there wasn't room to bring books and other forms of entertainment, we let the girls bring their Kindles on the trip so they could read and play games during the travel time. It ended up being a good move, because we were in the car a lot!
10. Reusable Folding Tote – We didn't have a lot of extra space in our backpacks when we left to go to Europe, so I was so glad I had brought these reusable collapsable grocery totes with me. Each of us had one to fill with souvenirs and keepsakes and snacks for the planes. We each filled our totes and backpacks to capacity by the end of the trip!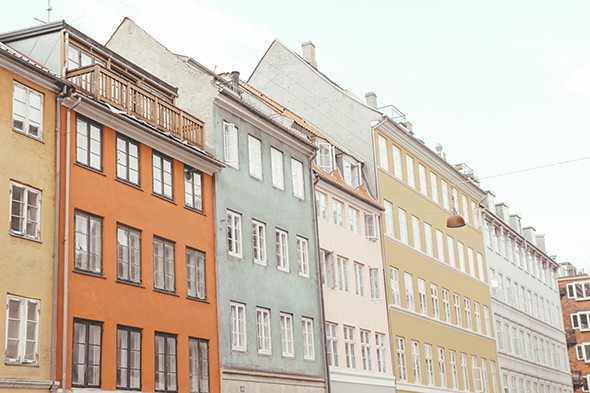 Okay, on to the actual trip! Here was our exact trip itinerary. I honestly wish we would have stayed another week to see Finland and Norway, but almost two weeks was perfect to see Copenhagen, all of southern Sweden and the western half of Iceland.
Some of these places we only had time to look at from the street, others we wandered around for hours and hours. We like to structure our trips with lots of flexibility, but we really try to pack it in! We go to bed late and exhausted and wake up early, eager to see more. Our girls were champs and didn't need as much down time as I maybe guessed.
July 7th — Arrive in Copenhagen (props to the Copenhagen Card! Buy one for free public transportation and entrance into museums and parks!)
Four hours at Tivoli Gardens, which is like the ultimate Central Park meets Disneyland. Open air ballet performances, legit roller coaster rides, beautiful gardens, great food!
July 8th — Copenhagen Day 2
Town Hall and Hans Christian Andersen statue
Ny Carlsberg Glyptotek – check out my stories for peeks into the most beautiful museum I've ever been to! It was PERFECTION.
Jazz at the Church of Our Lady cathedral with Christus and apostles statues by Thorvaldsen
Cool red brick buildings at Copenhagen University
Lunch at Paludan – an adorable cafe with a bookstore!
Round Tower – A really beautiful, tall tower with a spiral ramp up to one of the oldest astronomical observatories! It's a fun little hike to the top and the 360 view of Copenhagen is worth it!
Rosenborg Castle and grounds
Danish Museum of Art & Design – do NOT miss the Danish chair exhibit! Swoon!
Relaxing/napping at Kastellet park
Amalienborg Palace (don't be startled like we were by the running soldiers during the changing of the guard!)
Nyhavn is a bit touristy with its colorful buildings lining the waterfront, but the waffles and ice cream make up for the extra people everwhere! This is the neighborhood where Hans Christian Andersen once lived.
Dinner at Gasoline Grill and an open market across the canal from Nyhavn
Charlottenborg Palace
Royal Danish Theater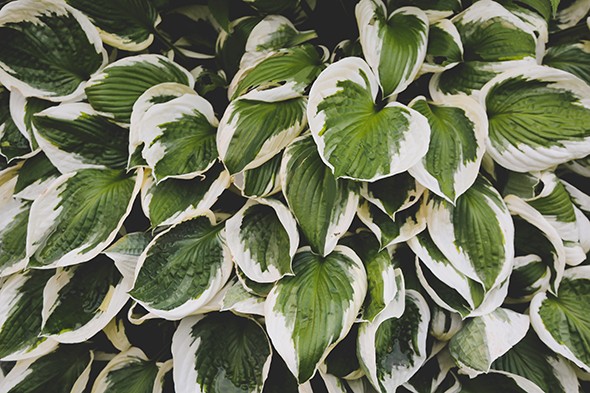 July 9th — Copenhagen Day 3
Stroget (giant pedestrian street)
Orstedsparken (waiting for Somods)
Somods Bolcher  – a charming candy making "factory" though it's really more of a room, where generations of family together make candy the old way, completely by hand. Every day they let the public come in and watch the process. Only a few other people (locals!) were there watching with us and we were able to ask a million questions as the family worked. It was completely charming and intimate.
Christiansborg Palace, Ruins, Royal Kitchen and Royal Stables – this palace is a can't-miss for me! The design of the royal kitchens and even the horse stables was absolutely jaw-dropping! I left inspired to make some changes to my kitchen reno plan!
Train to Malmo – it's only a few dollars and a short 45 minute train ride to Malmo Sweden from Copenhagen's main train station near Tivoli Gardens. It was nice to take a little rest in the comfortable chairs and see the amazing view from the rail above the North Sea.
Kommendanthuset – Malmo is a charming seaside town with lovely architecture and a fun mix of the old and the new(er). We grabbed a rental car just a few hundred feet from the rail station and hit the road! One of the first buildings we saw while exploring Malmo had a big sign saying Kommendathuset which means Commander's House but looked way to close to our last name to not stop and take some silly pics. The girls were into it. :)
Malmo Castle
Traditional Swedish Dinner at Bullen – Tva Krogare. These were the best mashed potatoes I've ever eaten and the meatballs put IKEA's to shame!!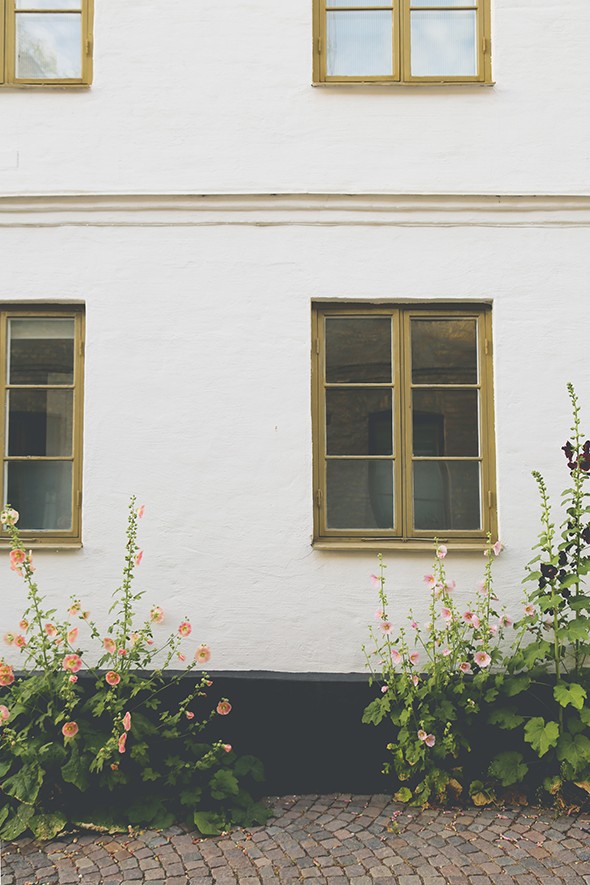 Lund – This little university town was another trip highlight for me. We stayed here WAY longer than we expected, wandering around the charming homes in the historic town center and then lingering until almost midnight at the Lund Botanical Gardens.
IKEA museum in Almhult (in the state of Smaland)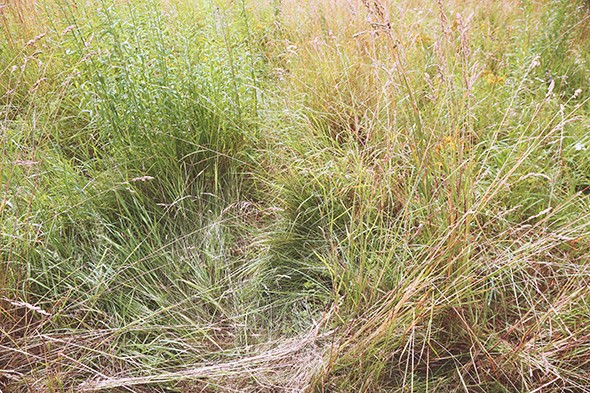 GRASS print
July 10th — Driving in Sweden
See Kronborg Castle (Hamlet castle) on the other side of the sea
Sofiero Gardens – The Swedish Royal family used to summer at Sofiero for decades. It is a beautiful large estate with lush grounds (don't miss the rose gardens!) and ponds with beautiful lilypads. I loved touring the inside of the house too – the Swedes really love a good wallpaper! :)
Jonkoping to stretch our legs and walk around the base of Sweden's largest lake. The water was crystal clear blue!
Rosenlunds Rosarium – More amazing rose gardens!!
Granna for lunch of the traditional open face sandwich that we all came to love and crave! Rye bread with fresh shrimp, lettuce, cheese, and summer tomatoes! YUM.
Brahehus – Near a literal gas station on the side of the highway, you can see the ruins of an old fortress castle built in the 1600s for a Count. You can pull over and anyone can hike around the ruins and explore. It's SO COOL. The best part is when you look out over the cliffs, you are surprised by a view of the prettiest lakeside farmland down far below!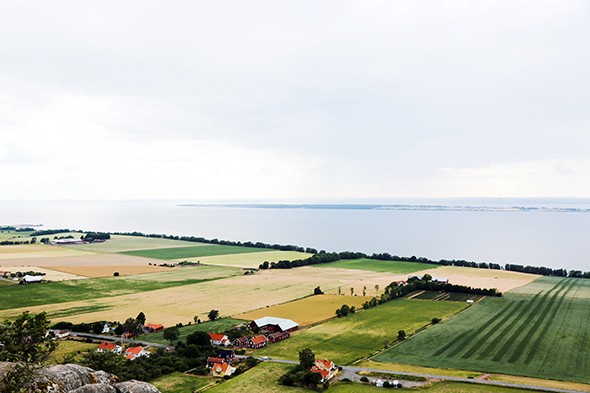 Dusk at Sparreholm – You'll have to watch my SWEDEN story highlights to see all the family photos, but my great grandma, Edith Johnson, was born and raised in Sparreholm, Sweden, a small town in the Swedish countryside, about two hours from Stockholm. I grew up hearing wonderful stories about this place and couldn't wait to finally see it all for myself. Edith's dad was the head caretaker for the Sparreholm palace grounds. We arrived at Sparreholm palace, the only address we knew for sure, at about 10pm. It was soooo quiet, and the sunset was incredible over the lake my grandmother used to play in and where she was baptized as a young child. I took photos of this beautiful place and face-timed my mom and cried as I felt my grandma near. The next morning we discovered her childhood home was right under these trees just on the other side of the lake in this photo! I love that I have this beautiful image to remember the kismet of that night.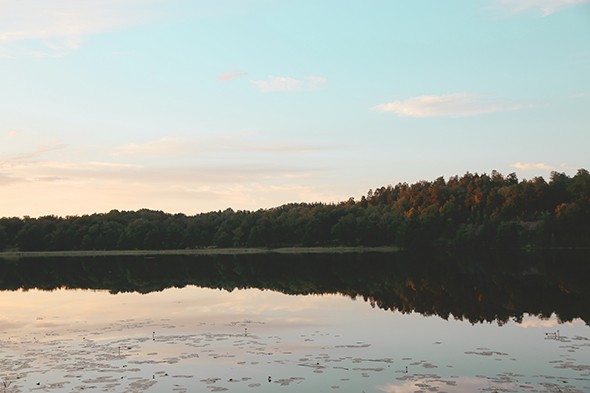 Watch deer bounding through the fields and nearly ruin our Volvo rental car as we pull off the side of the road to explore. :)
Stay with the kindest Swedes ever,  Johann and Johanna at Ekeby Farm near Gnesta. Their farmhouse cottage was charming and perfect in every way! If you ask Johann nicely, he'll give a tour of his vegetable cellar, horse stables and even show you his outdoor bathtub that he dug into the ground at the top of hill, where he has a view of the fields and forest below. I mean, guys, we're seriously in the market for Swedish farmland if you know of any! I can't wait to go back!
July 11th — Sparreholm and Stockholm
Hike to Parkstugen – the small farmhouse my Grandma grew up in! There is no formal street address, so it took some work to figure it out, but we stumbled across her farmhouse and it happened to be under renovation! The workers were so kind and let us come inside to see the old farmhouse. I choked up seeing the original wood-burning stove that Grandma, who was a very accomplished chef, grew up learning to cook on. It was MAGICAL.
Back to Sparreholm grounds, where there are a series of museums and beautiful gardens on the grounds.
Lunch at Sparreholm (more open faced sandwiches!) and visit to jukebox museum, which was surprisingly cool!
Arrive in Stockholm in the evening
Miles and miles of walking around Stockholm. Dinner and sites and pictures of doors and buildings in Gamla Stan (Old Town)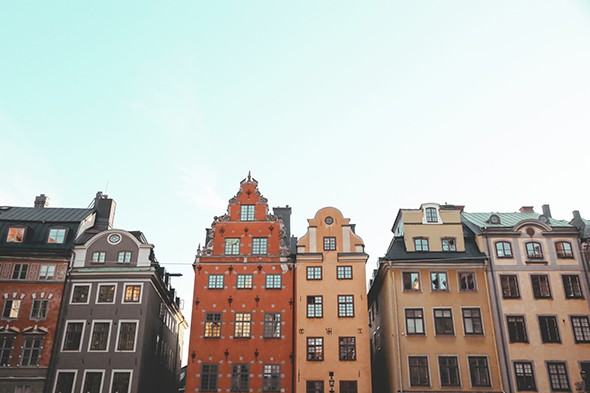 July 12th — Stockholm
Michael did laundry at the one laundromat in all of Stockholm and saw Gustaf Vasa Kyrka
July 13th — Stockholm and Reykjavik
Michael and kids to go back to Skansen and Jenny goes thrifting and shopping in Stockholm's hipster district, Sodermalm. I found some treasures that made me sliiiightly regretful about not having any luggage. I got a few small things though and can't wait to come back.
Flight to Reykjavik – We flew on the new budget airline, WOW Air, for three of the eight total flights of our journey and it was awesome! The planes are brand new and the staff is all amazingly helpful and friendly. It felt like Jetblue back in the day, you know? I just saw a special for like $200 round trip tickets from a few of their US hubs (the closest to us is Dallas) to Reykjavik for September and October and you'd better believe I'm tempted to go back and explore the east coast of the island this time!
Dinner at Jamie's Italian – Don't judge. I'm usually a very strict believer in eating as the locals eat when traveling, but we got in to Reykjavik late and we were starving and suddenly freezing. Jamie's Italian was a lovely restaurant (like, really, the interior design was stunning!) and the food was delicious. But I definitely felt like we were cheating. :)
Checking out downtown stores and getting settled into our suite at A Townhouse hotel. (HIGHLY recommend!) Our Airbnb got cancelled last minute, so this was a big change in plans, but staying right in downtown Reykjavik ended up being so perfect!
Also, I have to throw a big, huge shout out to  Brian Patrick Flynn, who lives part time in Iceland, part time in the states, and part time everywhere and practically anywhere chic in this wide world. BPF knows Iceland inside and out and was an amazing resource as we planned our time here.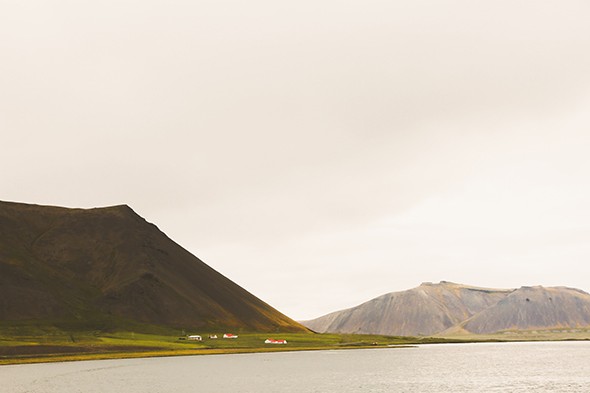 July 14th — Reykjavik and Western Iceland
Hallgrimskirkja Church – We listened to a beautiful organ recital and then took the loooong elevator up to the top of the church tower to see a 360 view of Reykjavik, which translates to 'smoky harbor' in English. After watching the fog roll in an out in a matter of minutes over the colorful rooftops, I could definitely see why it earned that name!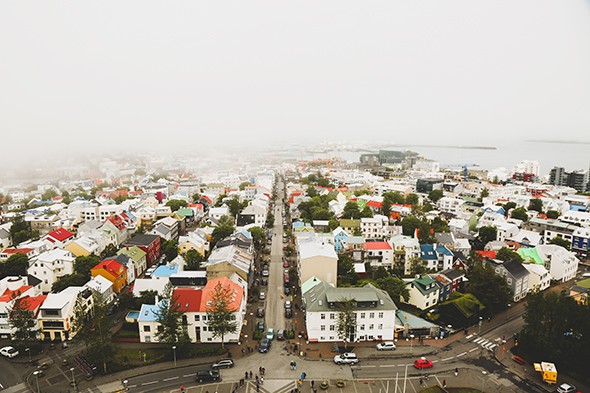 Shopping in downtown Reykjavik – Icelanders take a lot of pride in design and simplicity. Downtown Reykjavik is beautiful and so fun to wander around!
Driving to Snaefellsnes peninsula, where the lime green rocks in places look other-worldly!
Kirkjufell mountain, the most iconic of Iceland's 130+ volcanos, and the first up close encounter of one of it's 10,000+ waterfalls!
Black church at Budir – we made it to the remote black church at around 8pm and the sun was high and bright, so we went on an adventure to the little town in the North where they filmed Walter Mitty. By the time we made it back down to the Black Church, it was after midnight and the sky was COMPLETELY PINK. It was perfection and I got this shot for the print shop.
Stykkisholmur (place from Walter Mitty)
Arnarstapi – and amazing seaside town full of gorges, giant rock statues and the only unfriendly animals we encountered in all of Scandinavia – the Arctic Tern bird. We accidentally walked near a colony (they make their nests in fields, though we were on a clearly marked path for hikers) and we had to run for our lives in a scene that looked WAY too much like something from The Birds. Ha! Looking back, I think this was the only time in the whole trip something went wrong or weird! How lucky are we!? Plus the photos from this little hike along the coast were absolutely worth the little scare!  :)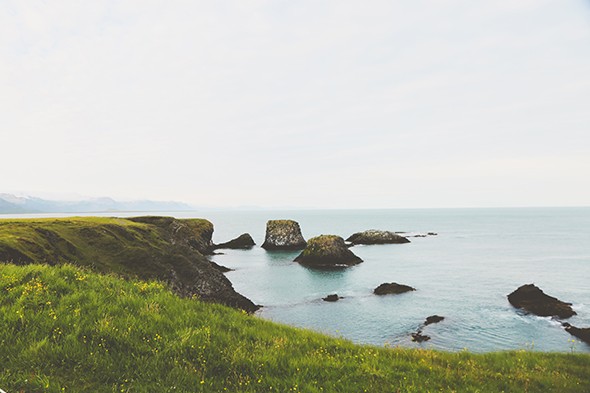 July 15th — Southern Iceland
Seljalandsfoss – You can walk behind this enormous waterfall and live out your Last of the Mohicans dreams like I did. I was one of my favorite things we did in Iceland! The wind that blows off of waterfalls is INTENSE!
Horse riding at any of the farms advertising this along the road. We kept this short and sweet, but I'm glad we did it.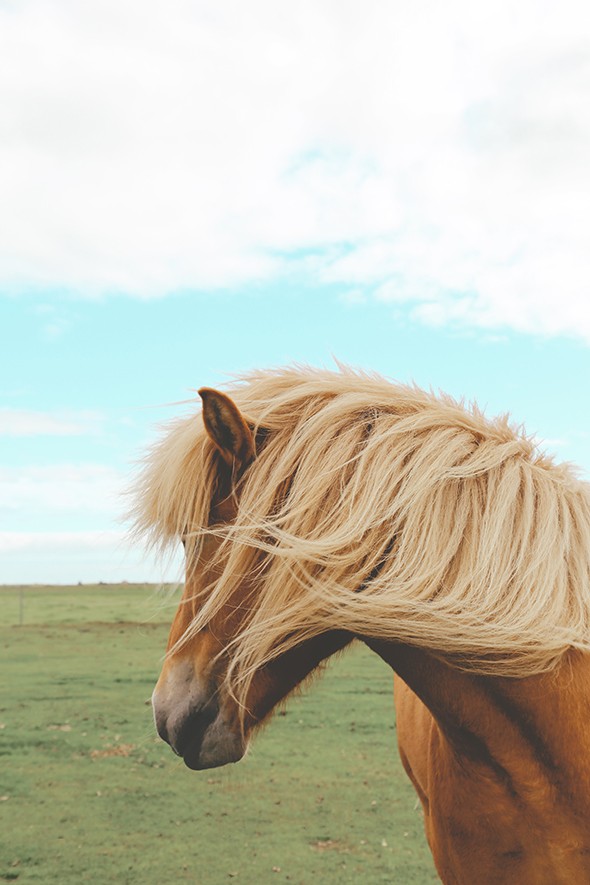 Dyrholaey Nature Preserve – Birdwatchers from all over come to these cliffs in Iceland for a few specific weeks in the summer to watch the Puffins nesting. I am not a particular fan of birds generally, but Puffins are STUNNING. I can see why they are so celebrated in Iceland!
Reynisfjara  – the Black Sand Beaches at Vik were surreal. The cliffs are giant columns of basalt, the sand is truly jet black and the water was a bright, frothy white. So much high contrast and so different than any place on earth.
Blue Lagoon – On our last night in Iceland, near midnight, we bought a two-hour session at the famous Blue Lagoon. The geothermal silica mud water spa was even more beautiful, relaxing and rejuvenating than expected. Our girls came too and they loved it as much as Michael and I did. It was basically the perfect almost-end to our epic trip.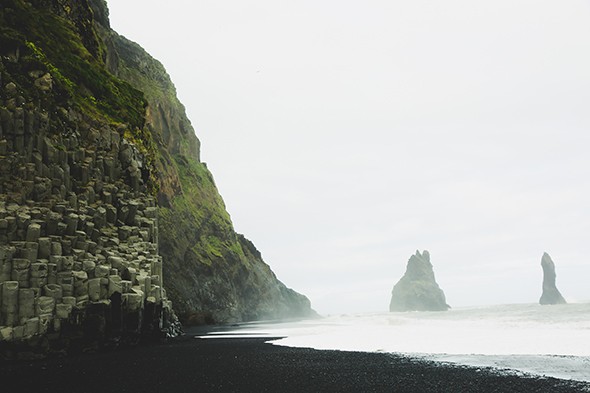 July 16th — Golden Circle
Harpa opera house – We got an early start to our last day so we could cram in as many adventures and sites as possible before our late afternoon flight home. We stopped by the beautiful Harpa Opera House – a stained glass modern structure, inspired by the gorgeous basalt column formations in Vik that we had seen just the day before.
Geysir and Haukadalur Geothermal Valley – The namesake of geysers everywhere, we saw the mama Geysir, which spouts every 10 minutes. Super cool!
Thingvellir National Park (tectonic plates and UNESCO site) – Iceland remarkably straddles the Mid-Atlantic Ridge between the Eurasia and North American tectonic plates. In Thingvellir, you can walk between the two plates and touch Europe in one hand and North America in the other!
Gullfoss (Golden Waterfall) – Gullfoss is a HUGE waterfall on the Golden Circle, fed by one of Iceland's largest glaciers. We loved the little hike out to edge of the falls. The wind was so powerful and there were rainbows everywhere in the mist! Iceland gave us a great send off with this last adventure!
Flight home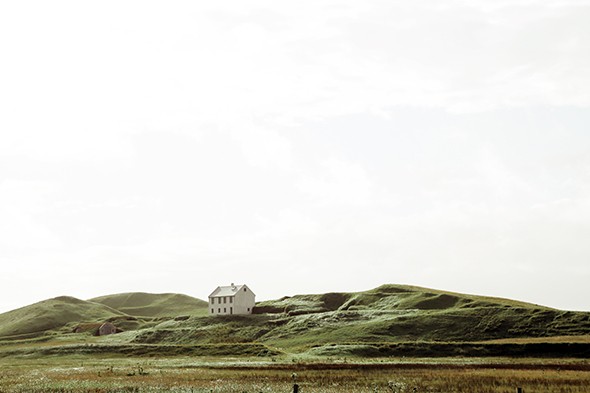 Have you been to any of these places? What did you love and what would you add to our list here? I know we'll be going back again to these places. We had an amazing time!
PS We are offering a limited time discount on prints from my Scandinavian collection. Buy two, get one free with the code JENNYSTRIP at checkout. Enjoy!