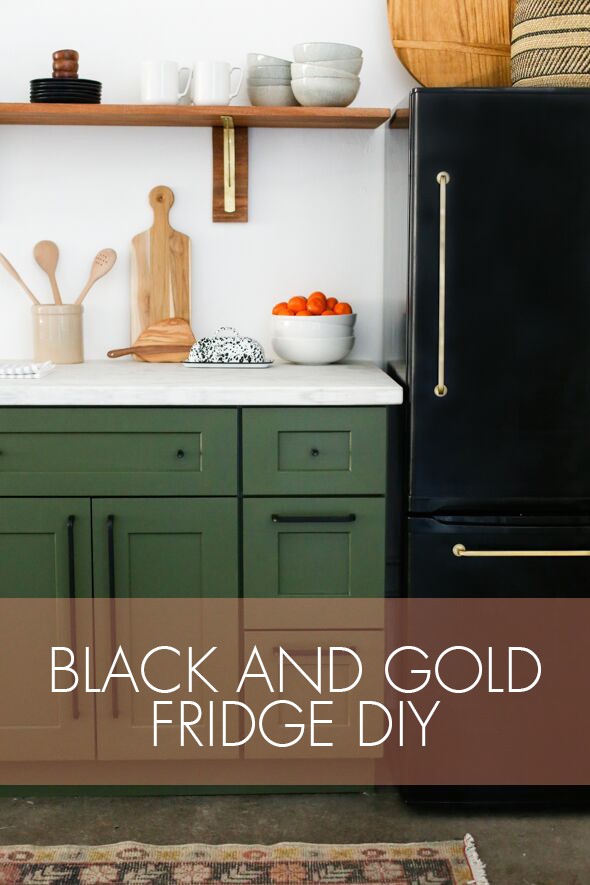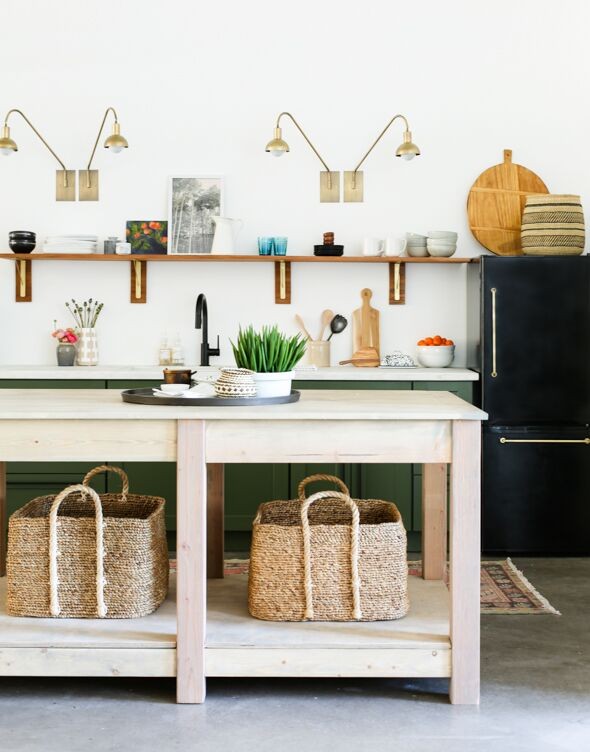 Last week we posted our studio kitchenette reveal and everyone had so many questions about our DIY black fridge with the brass pulls!!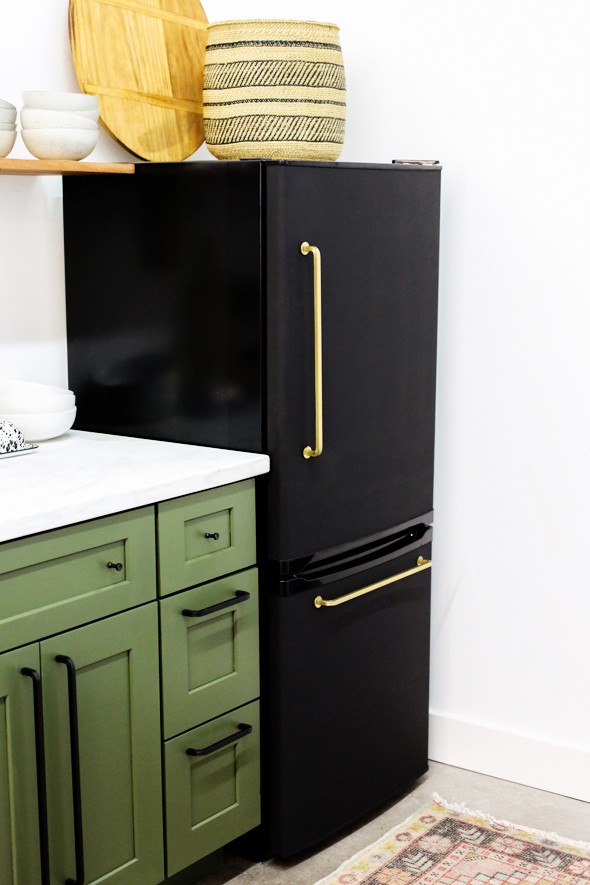 When we started planning out our studio kitchen design we fell in love with the idea of this SMEG fridge, but not only is it unavailable in the US, it was way, way out of our budget. We went on a mad hunt trying to find something similar, but there's not much in the way of matte black appliances that cost less than a car.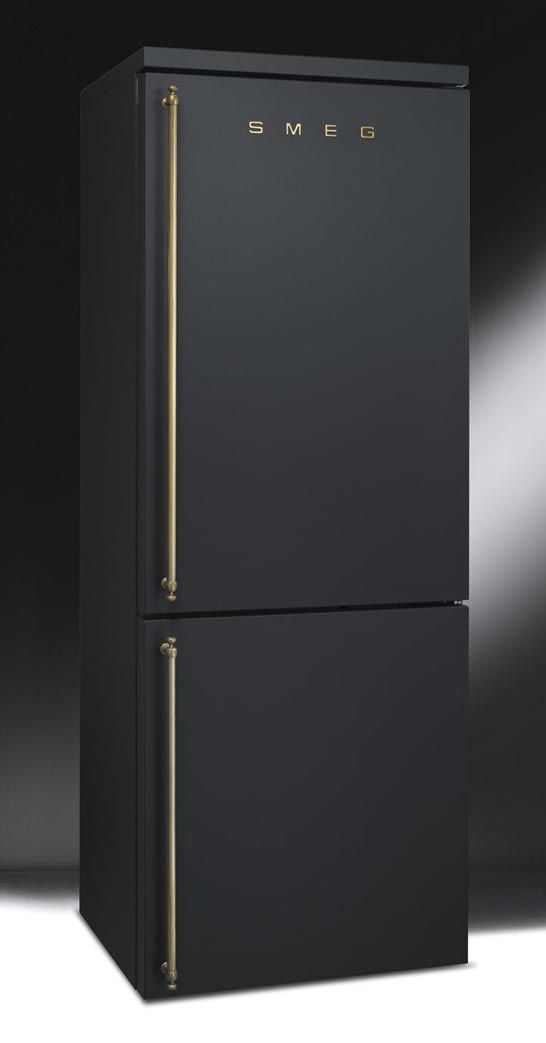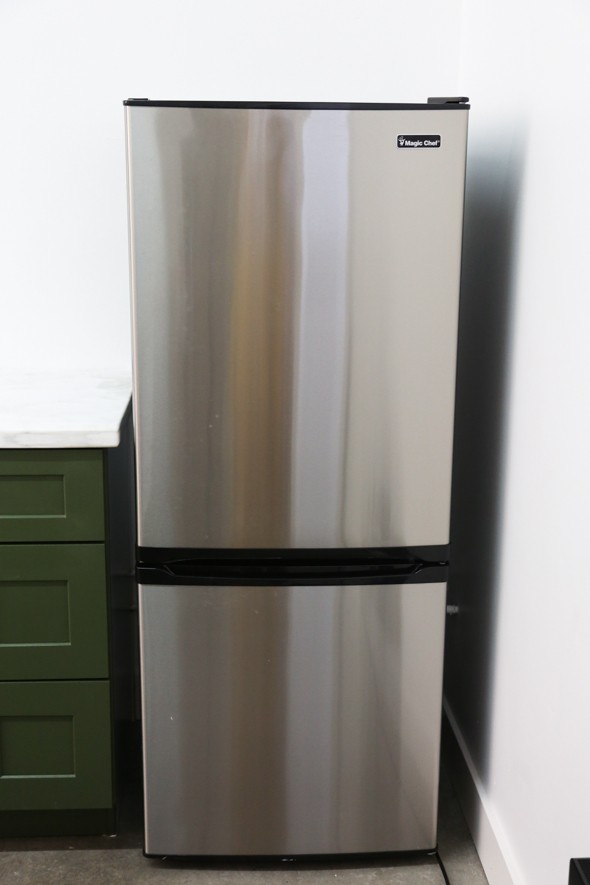 To make this project super budget friendly, we went with this apartment size fridge in stainless steel. We started by removing the logo in the top corner. Did you know you can just pull these off with a putty knife? Super simple and makes for a much more clean look!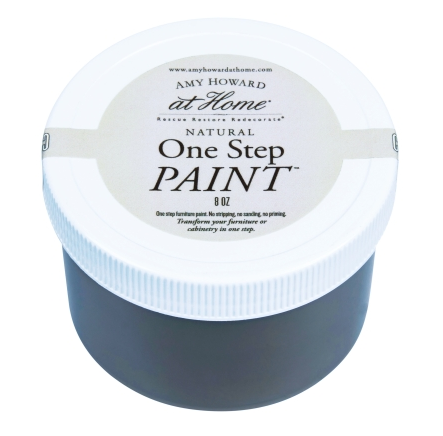 We first painted the fridge with an enamel paint, but the finish dried a little uneven. We ended up trying a coat of this chalk paint over the enamel and the finish was perfect! Smooth and completely matte – exactly what we had in mind. We used a foam roller to apply the paint, letting it dry between coats.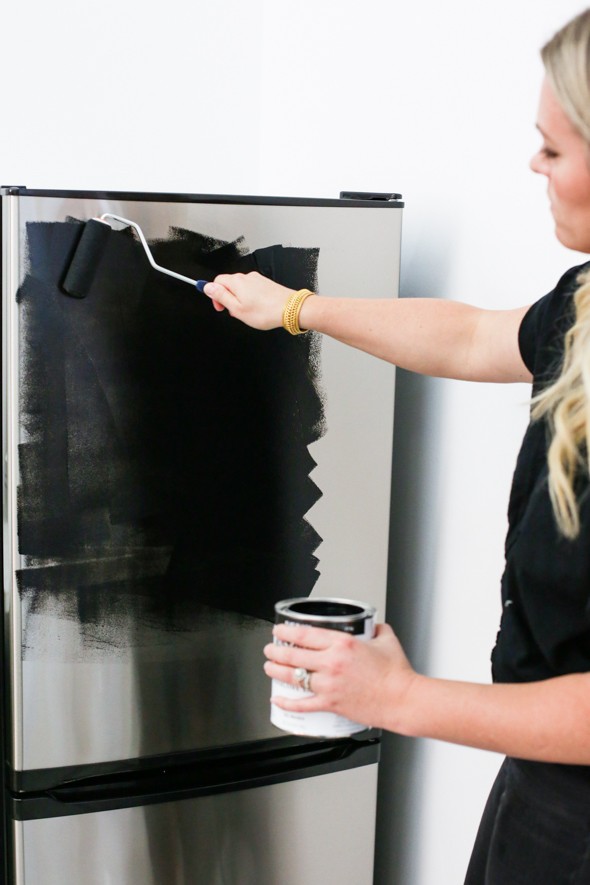 I really wanted big brass pulls but I also wanted to keep this fridge as budget friendly as possible. IKEA came to the rescue with these pulls (we also used them on our cabinets!). You will also need four washers and four short flat top machine screws for this project. Make sure that your screws fit flush into whatever pull you choose for this project. Pro tip – take the screws that come with your handles to the hardware store with you to ensure you get the right fit and length – you'll need metric sized screws with the IKEA pulls!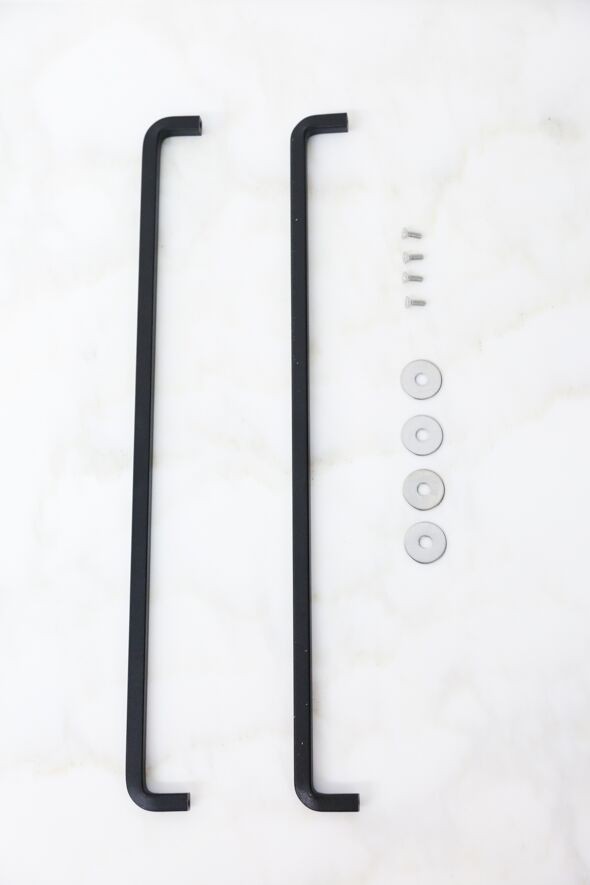 We tested out a bunch of gold spray paints (stay tuned for a post on that sometime soon!) to see what would look right for the space and this one was the perfect color and finish for our handles.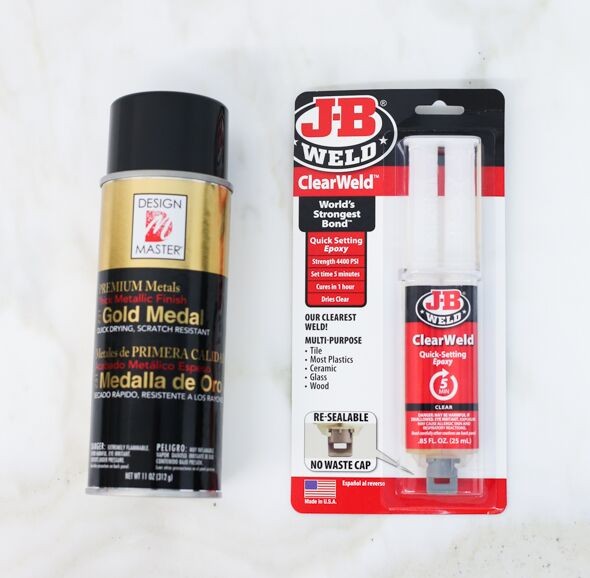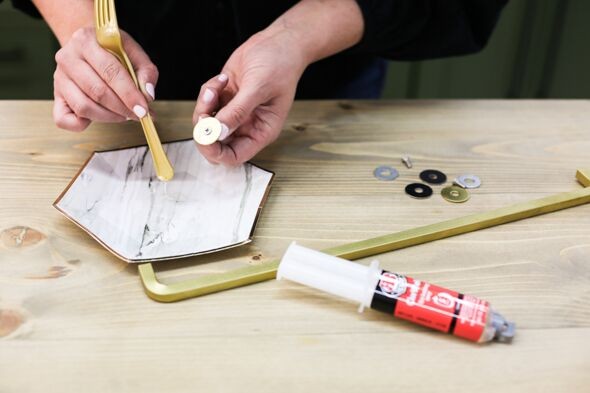 We used this super heavy duty epoxy to glue the washer and the screw to the fridge where we wanted the top of the pull to sit.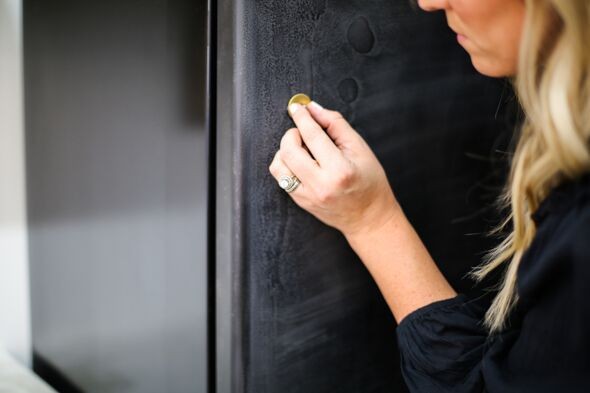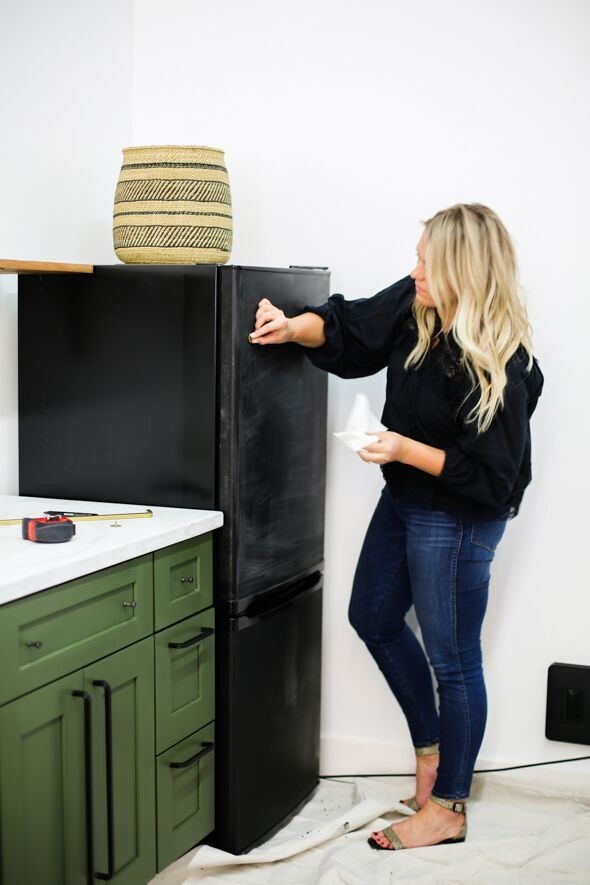 After letting the epoxied washer + screw set up overnight, I twisted on the IKEA pull with the other washer and screw already screwed in flush and then epoxied that loose end in place. It should hold right from the get-go, but if you want some extra security you can use a few pieces of duct tape to hold the pull in place while the epoxy sets overnight.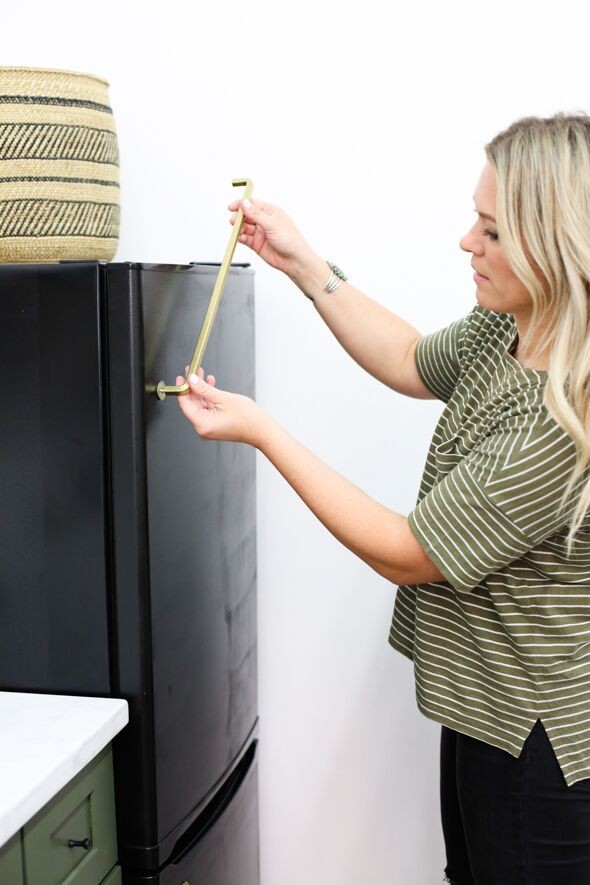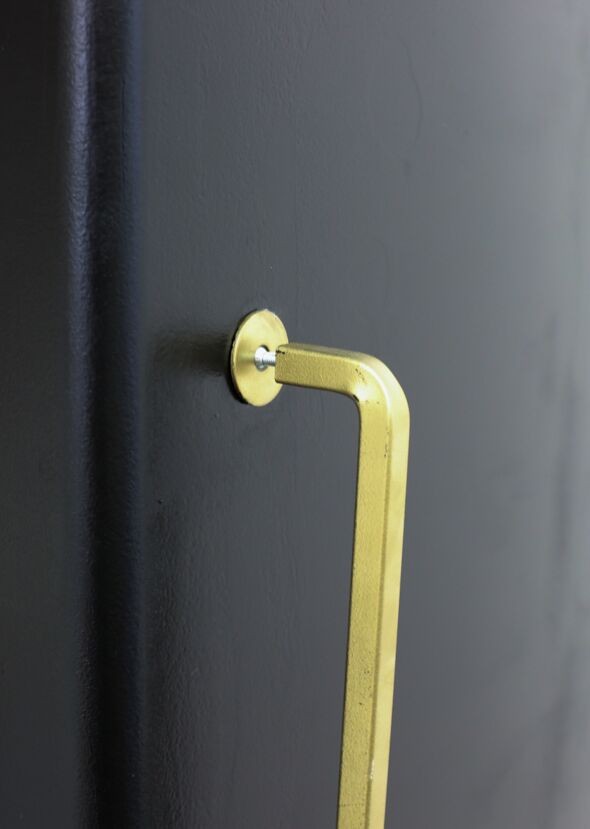 Make sure you don't twist it too far. Once you feel it starting to tighten up, stop there.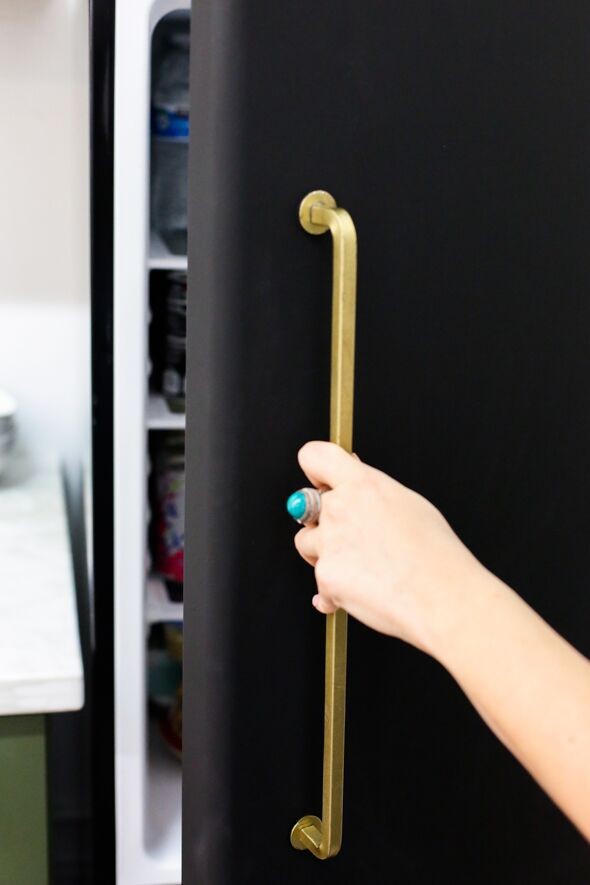 For the freezer, you just repeat the same steps of epoxying on a washer + screw and then screwing on the pull and epoxying the other side in place! It sounds a million times more complicated than it is! The trick really is to letting the epoxy set up 100%. We did this project about a month ago and the handles are holding up wonderfully to our Diet Coke habits! :)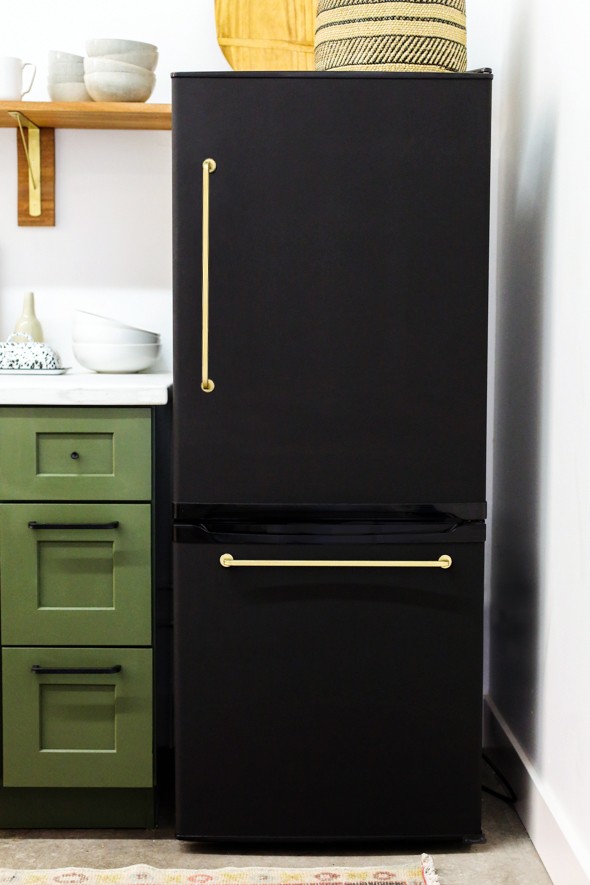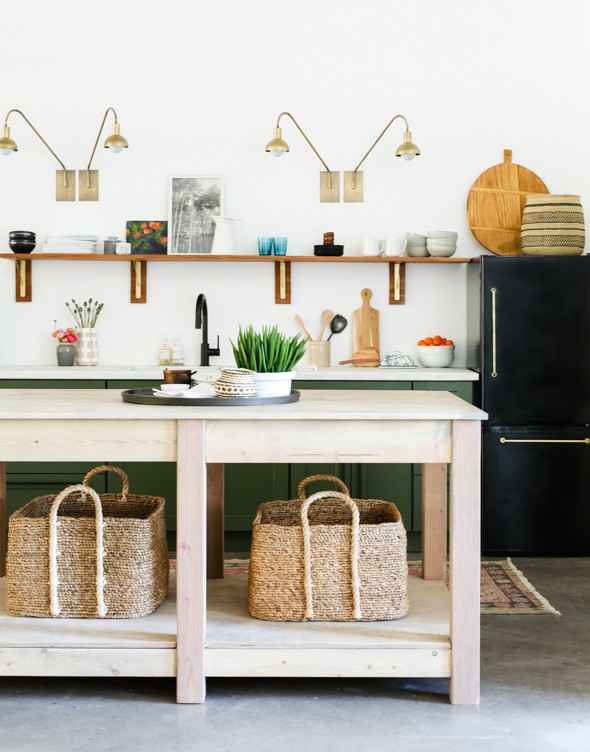 I don't think this is a project I would necessarily do on a brand new expensive fridge, but if you have an old fridge that you are trying to love again, I think this is a great project for you! :)