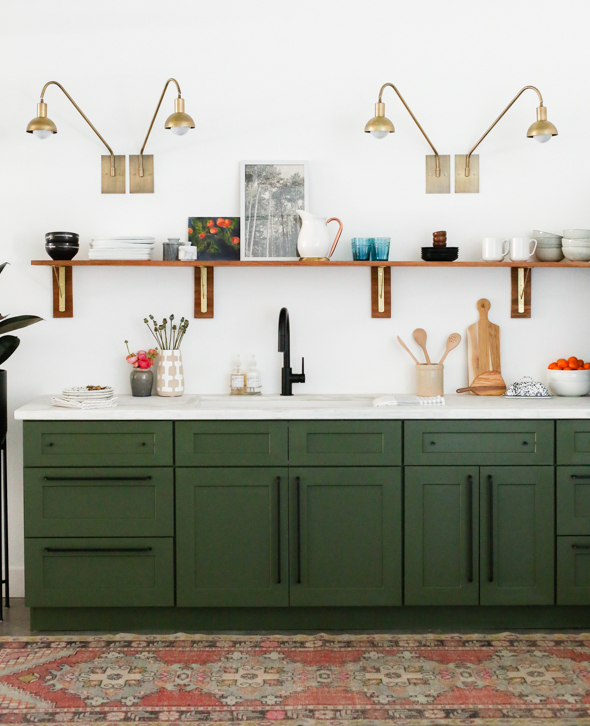 You guys! We just finished our little studio kitchenette last week and I COULD NOT LOVE IT MORE!!!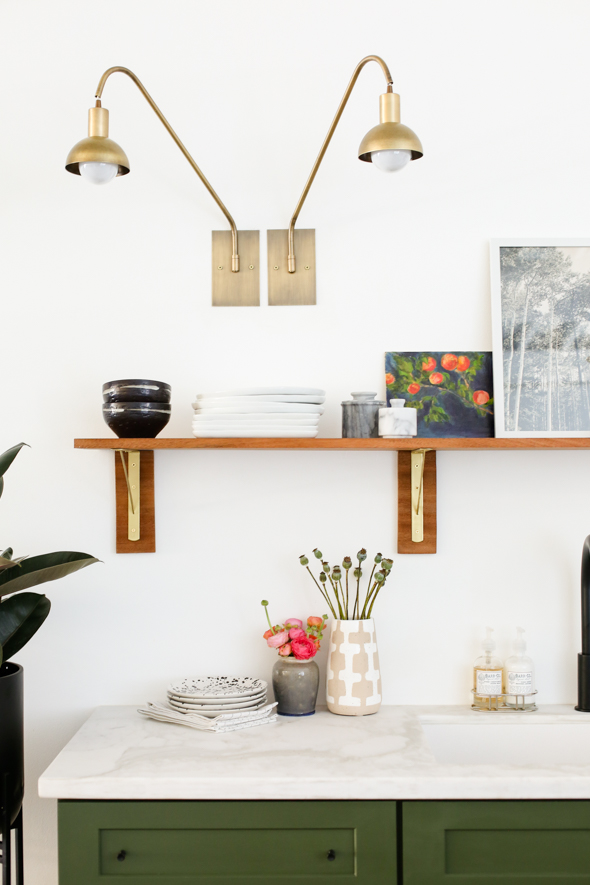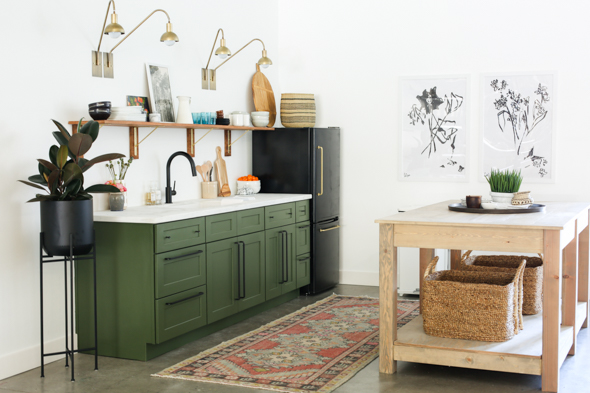 When we moved in to our new studio we knew we wanted to put in a small kitchenette – mostly just a small row of cabinets with a sink and a fridge.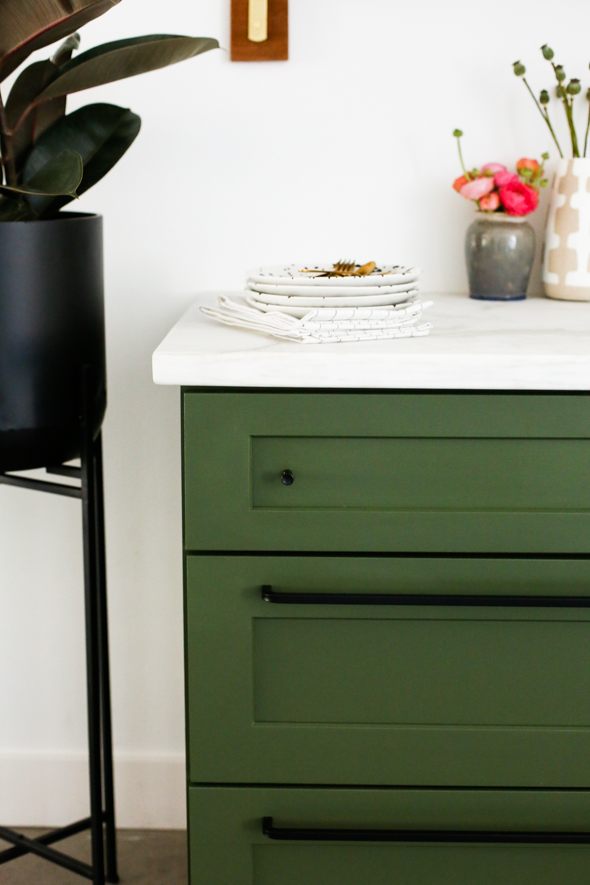 You probably remember when we got this space, the walls were yellowy cream and brown. Not totally my style :)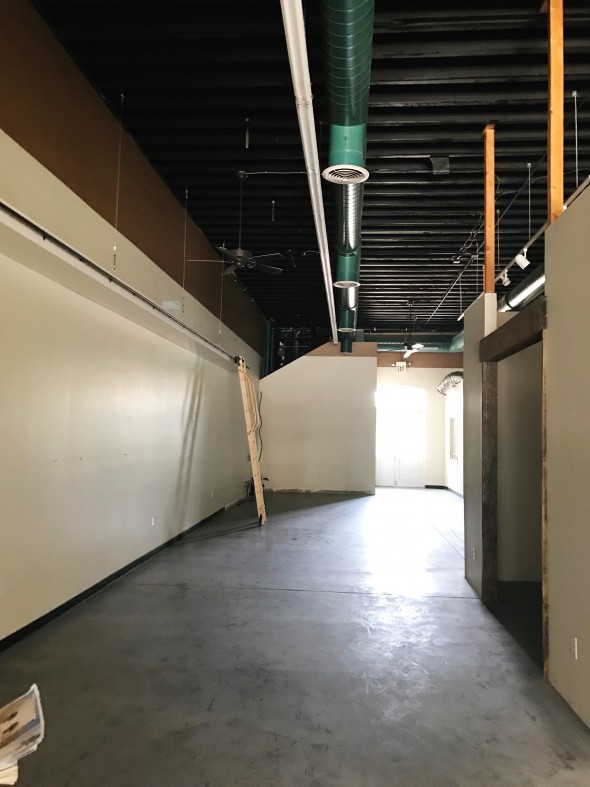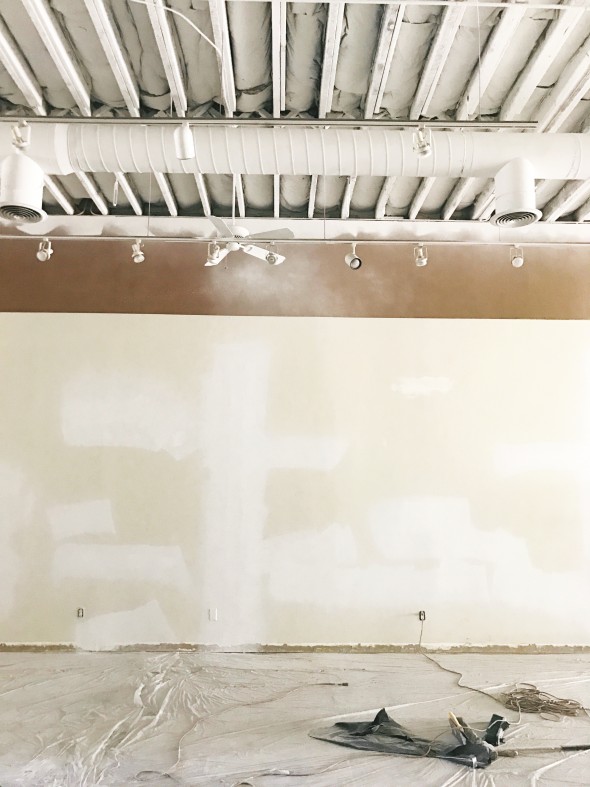 We started by white washing everything in here – the walls and even the ceilings got painted the perfect clean, sunny white hue, called Designer White (33-1). from Pratt & Lambert®. It is beautiful and so bright!! I was so impressed with the coverage of their Accolade® Interior Premium Paint & Primer. One coat of this paint and all that brown was covered!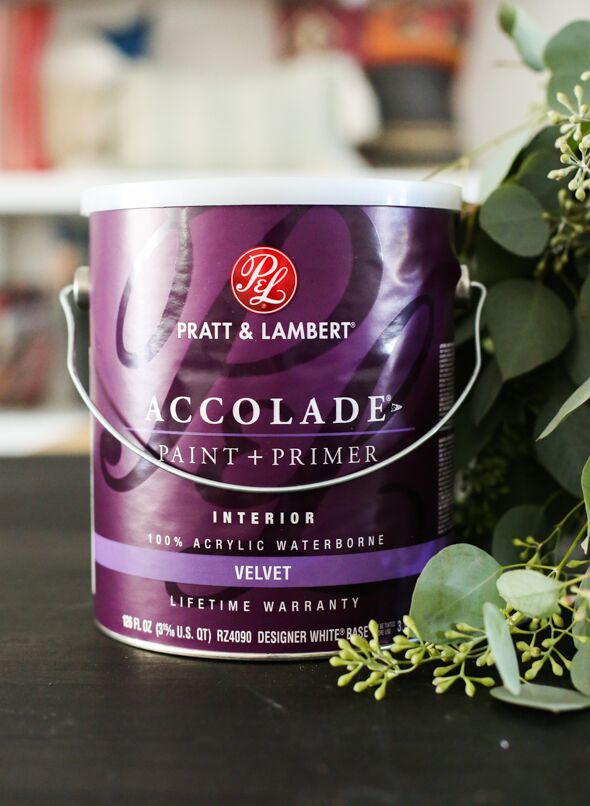 Once all the walls were a bright white, we started to feel adventurous! It seemed like a great opportunity to go a little bold with our cabinet color and green was the OBVIOUS choice!! :)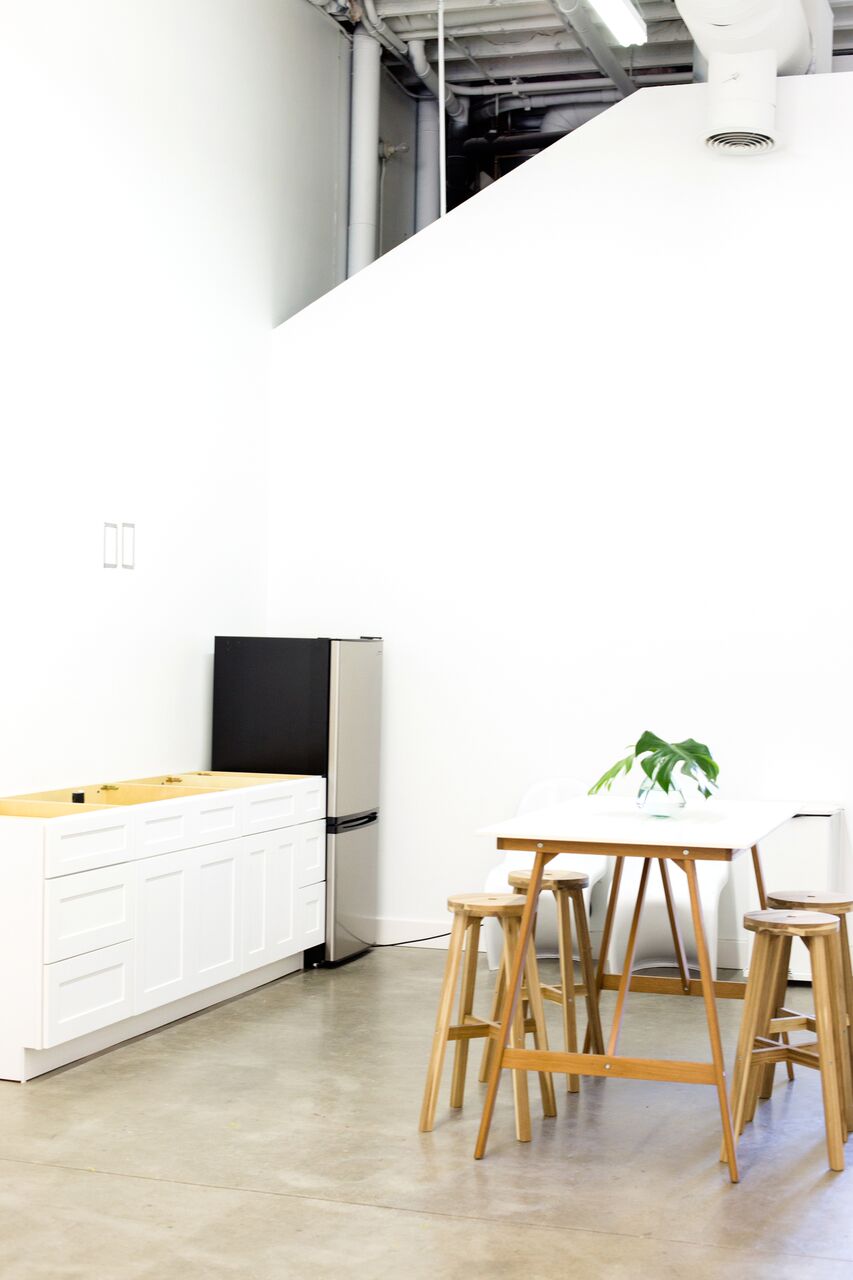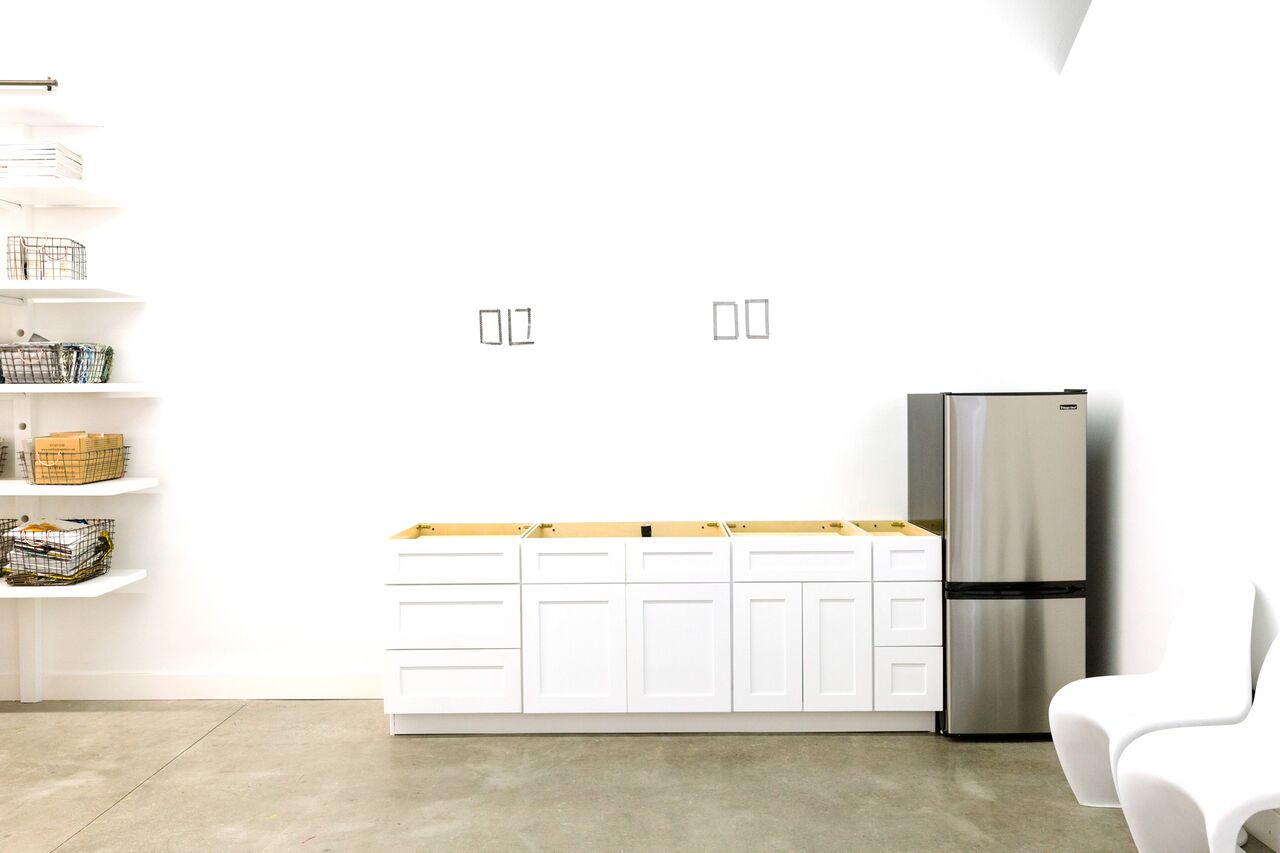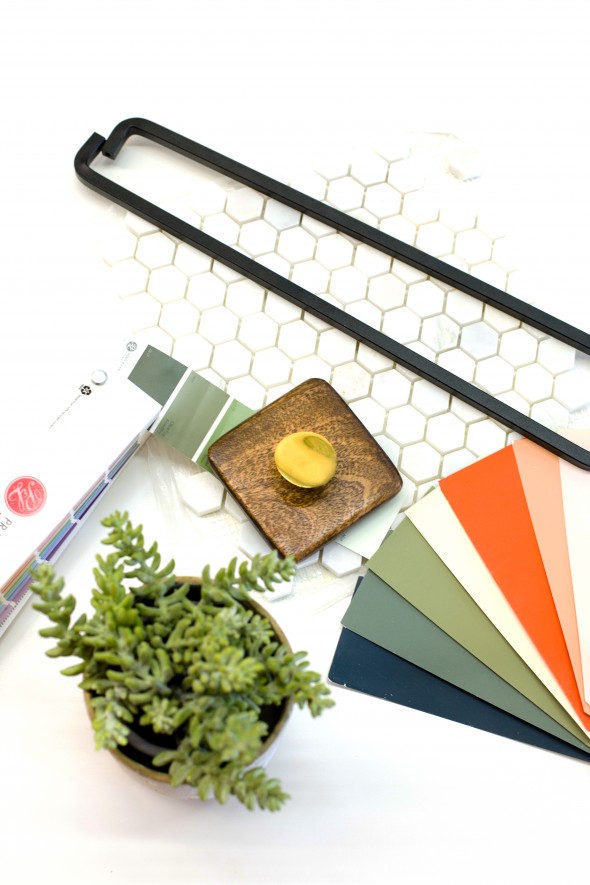 We used the amazing (and new)  Aquanamel™ Waterborne Alkyd Enamel paint from Pratt & Lambert for our white shaker cabinets and I couldn't be happier with the results! If you are thinking of painting your cabinets, this low VOC paint, made specifically for use on cabinets, doors and trim, is a really great option and I will definitely be using it again! It is self-leveling, which means it will give you a super even and uniform finish.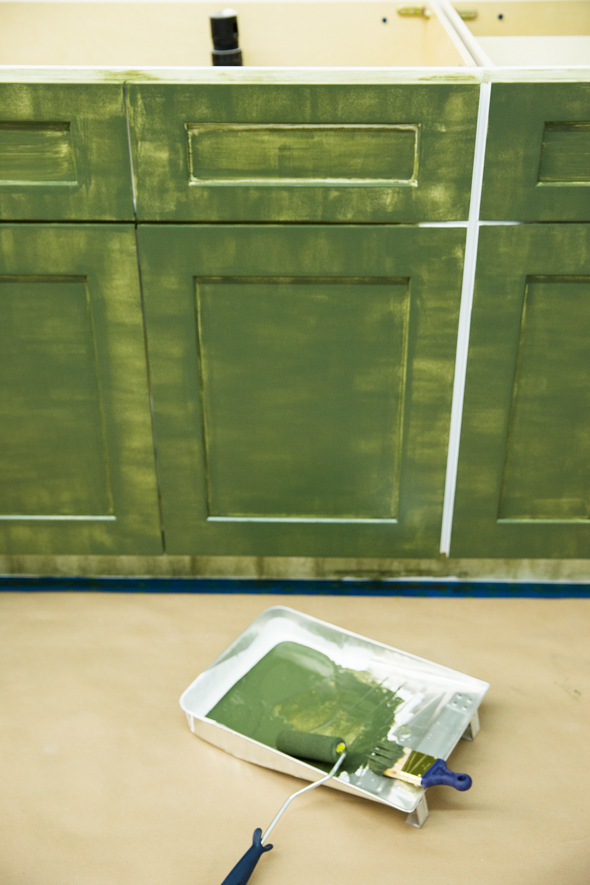 We started out with white ready-made shaker cabinets from a local company called Madera. We didn't even need to sand or prime these before painting because Aquanamel has a primer built in!!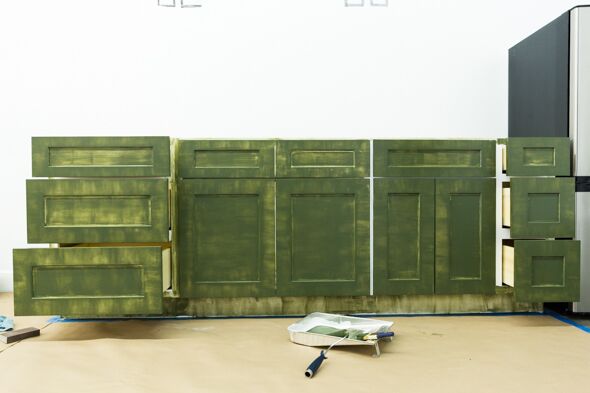 The trick to painting your own cabinets is to apply super thin, light coats with a 4″ foam roller, letting the layers dry before starting the next. This will ensure you get a really even coat without drips or streaks!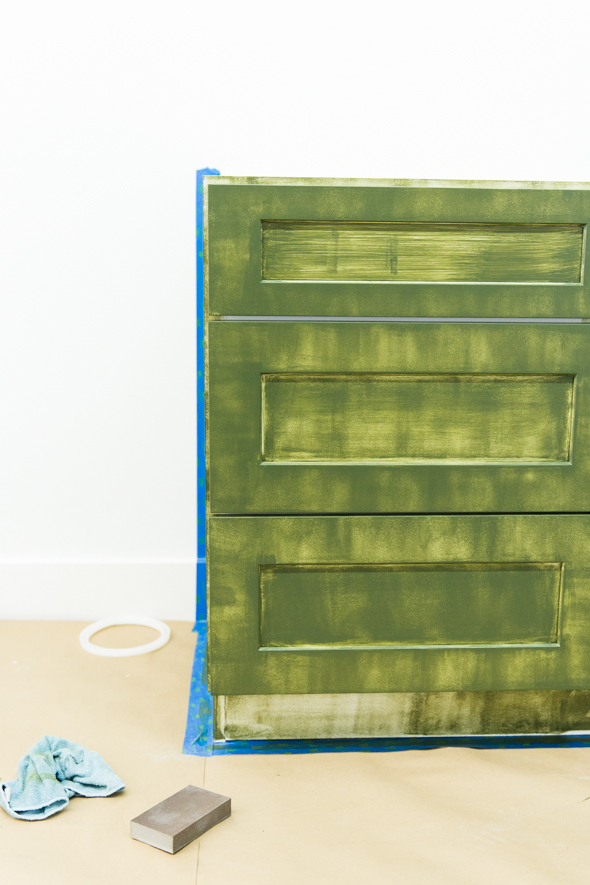 If you are thinking of using this paint on older cabinets, we recommend giving your cabinets a thorough cleaning and sand with a sanding block or a liquid sander before starting. Here's what our cabinets looked like after one coat, but I knew the color was going to look amazing after another coat!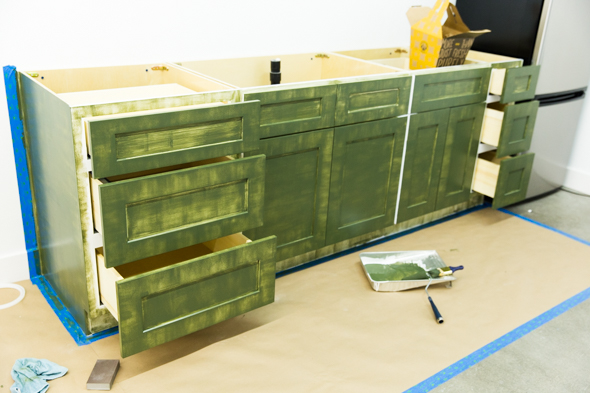 The self-leveling paint makes it so you won't really have brush marks – it really is so amazing! If you get a little heavy handed though and you end up having some drips, you can just use a sanding block to smooth any of that out!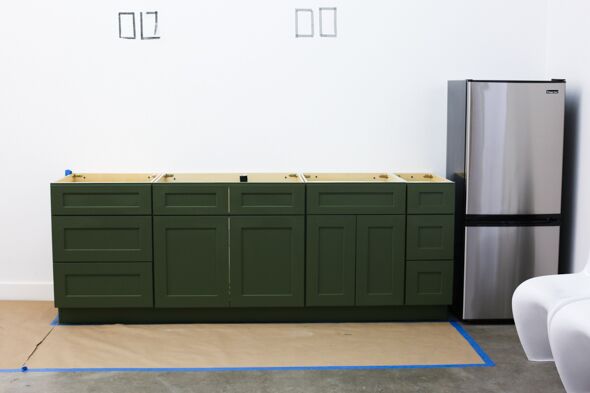 Here's what the cabinets looked like after two coats of Pratt & Lambert's Aquanamel Waterborne Alkyd Enamel. SO pretty! The color we chose was Sierra Night (18-17). It's the absolute perfect dark olive color!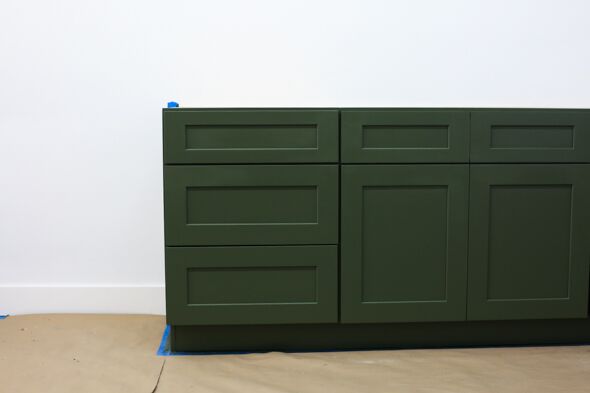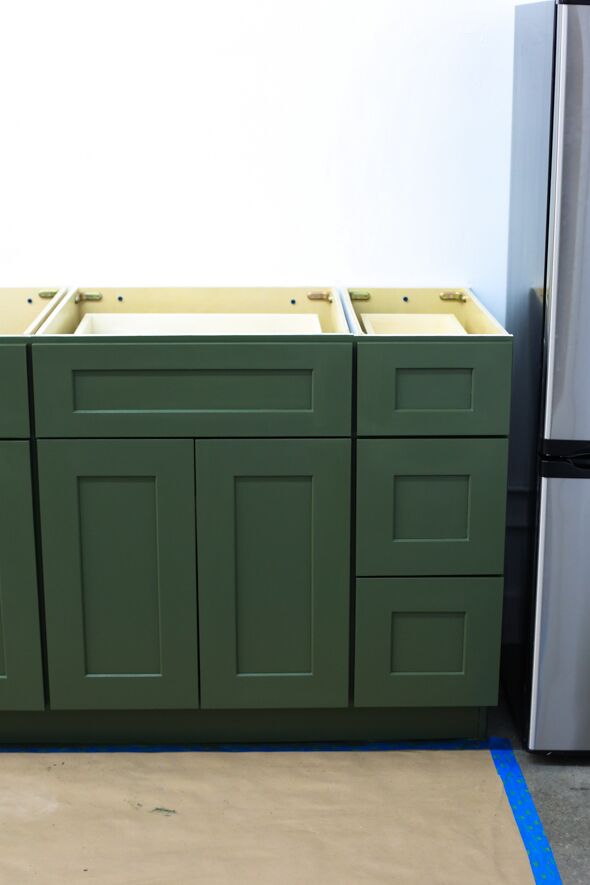 We have a few separate posts coming later about our countertops, the DIY open shelving and how we made over our fridge so stay tuned for those posts! I love the contrast of colors here with the soft white honed marble counters and our matte black fixtures and fridge!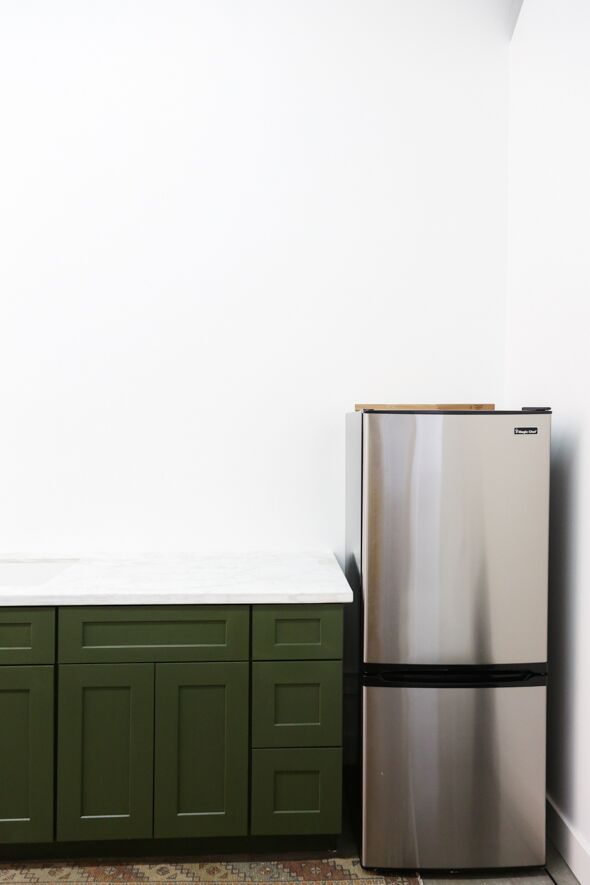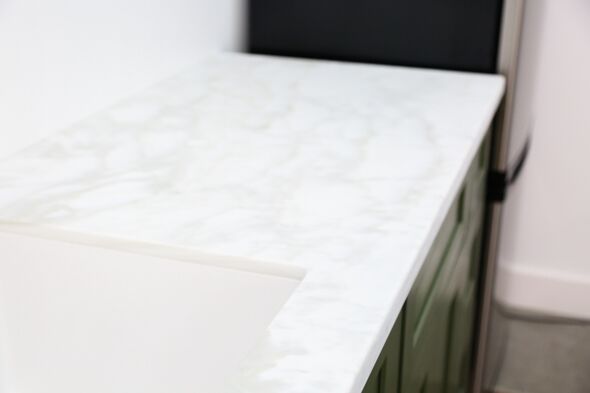 And here she is!! Our beautiful new kitchen!!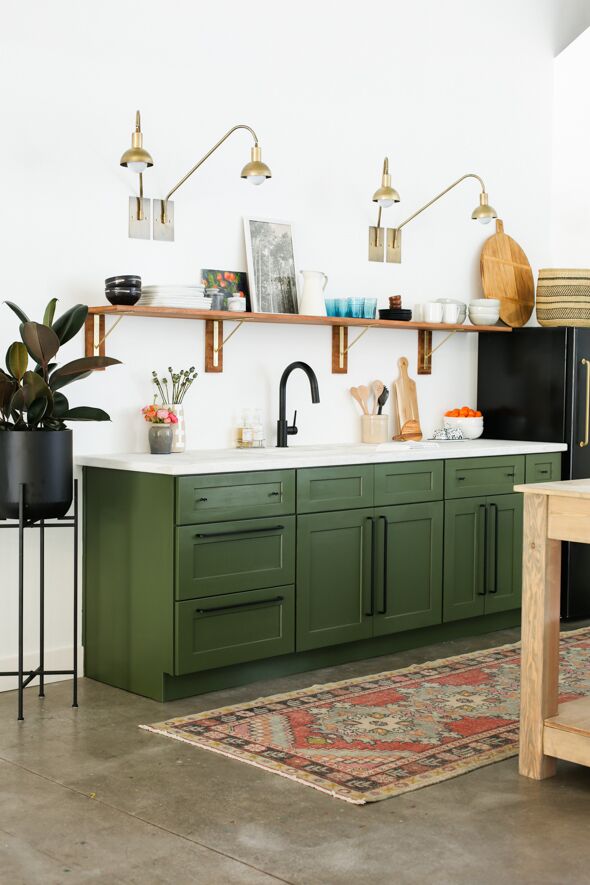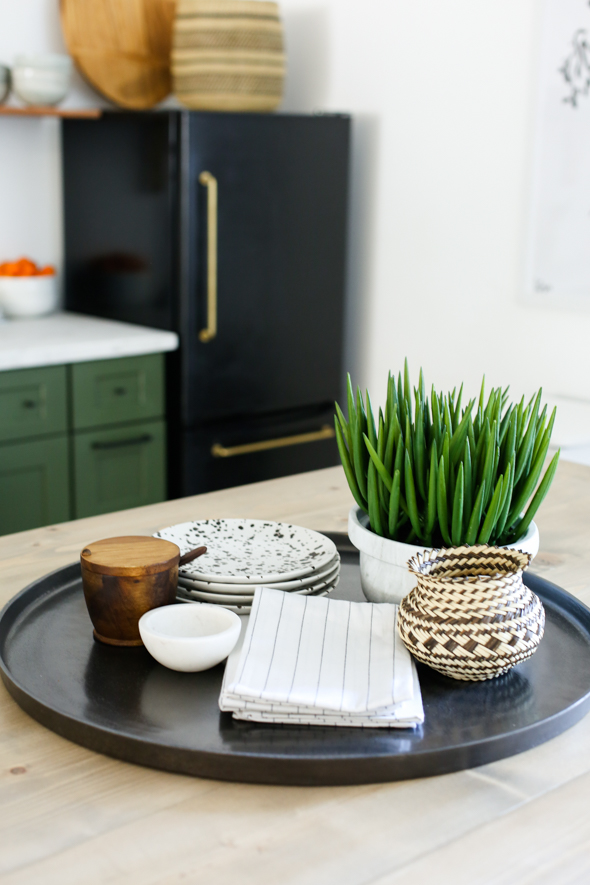 We had Lucent Light Shop make us these amazing wall sconces called the Studio Sconce!! They are exactly what we wanted for this space and we couldn't be happier with how they turned out.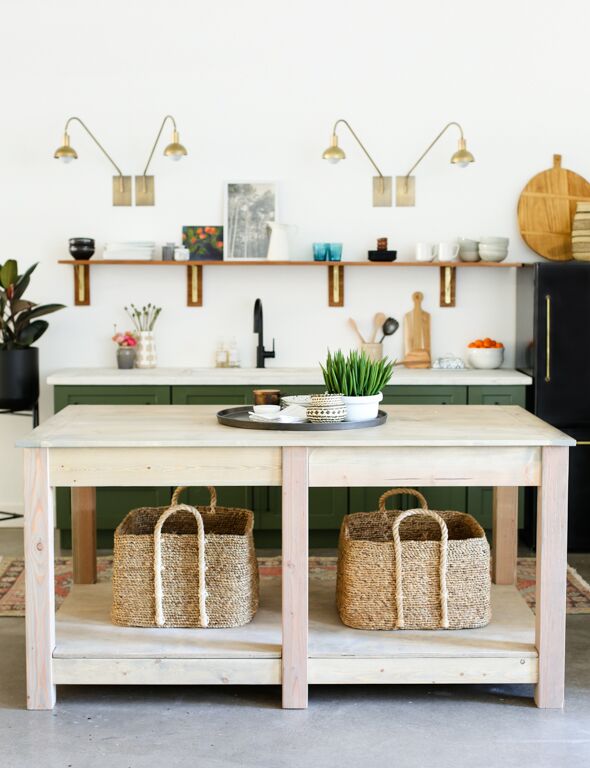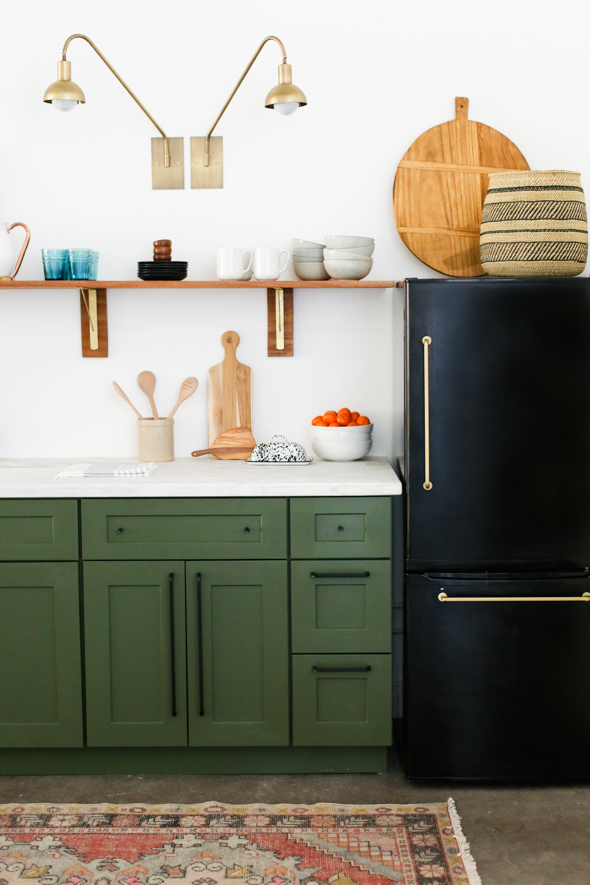 round cutting board  //  black plates  //  cabinet hardware 
I just can't get enough of these new paint colors! That gorgeous, bright white paired with that perfect shade of green makes my heart skip a beat! It was so easy to make these simple cabinets look and feel so much more custom and expensive with the new paint job and hardware!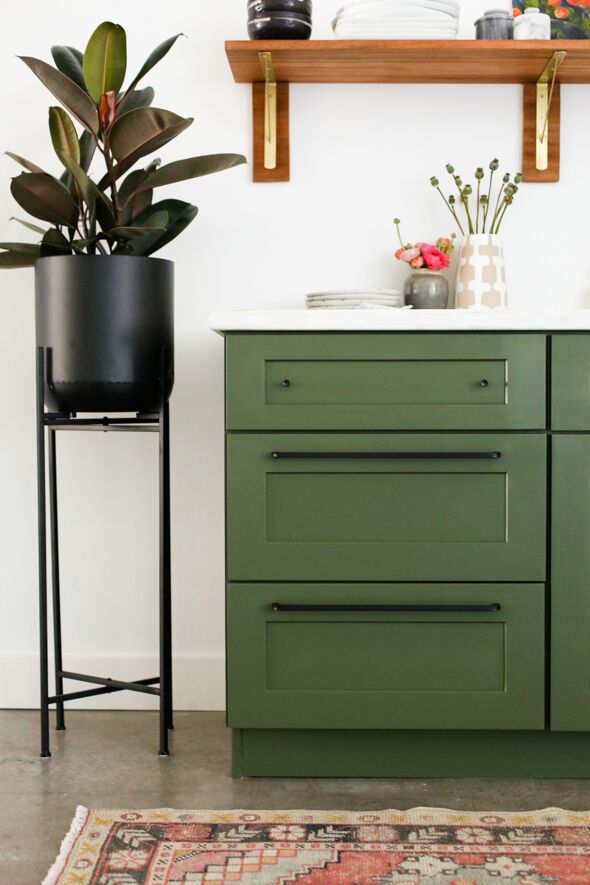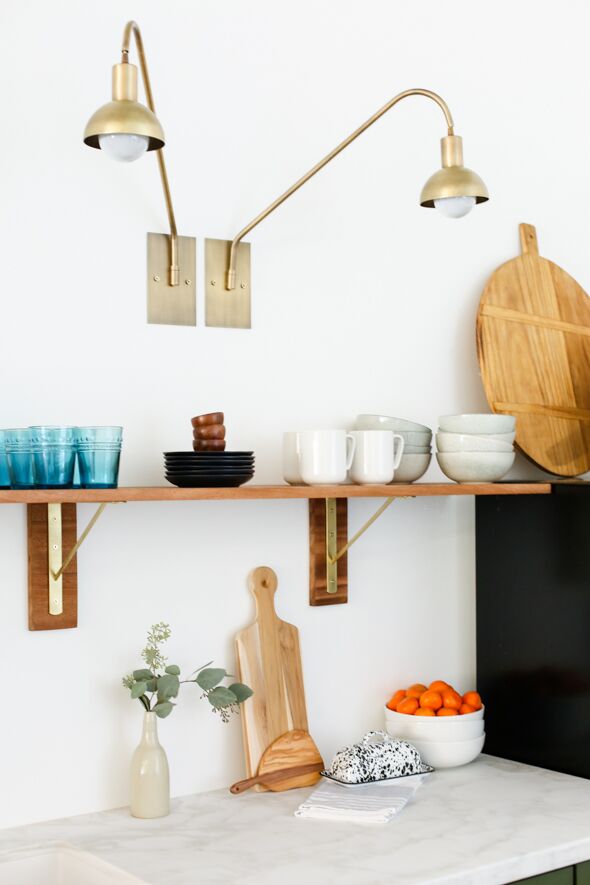 white mugs  //  bowls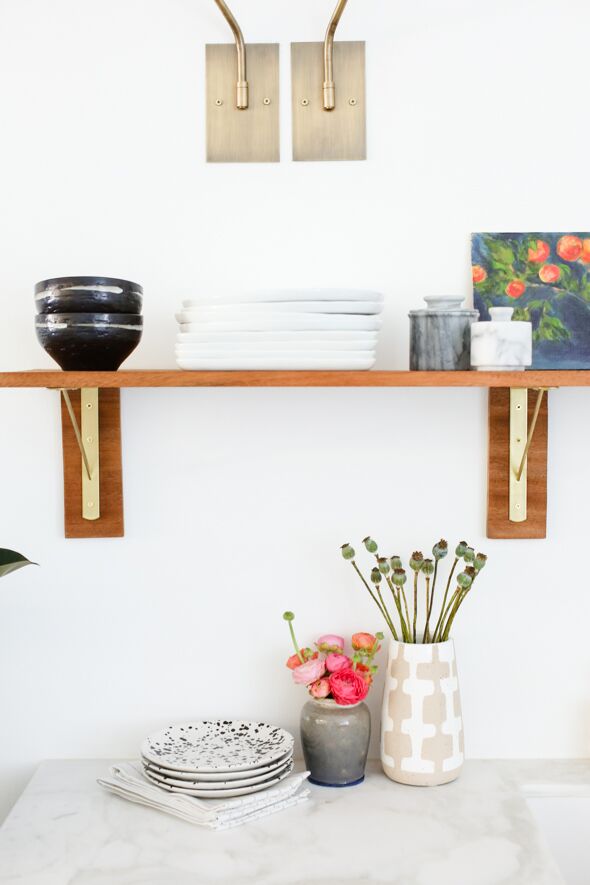 salt cellar  //  butter keeper  //  white plates  //  splatter plates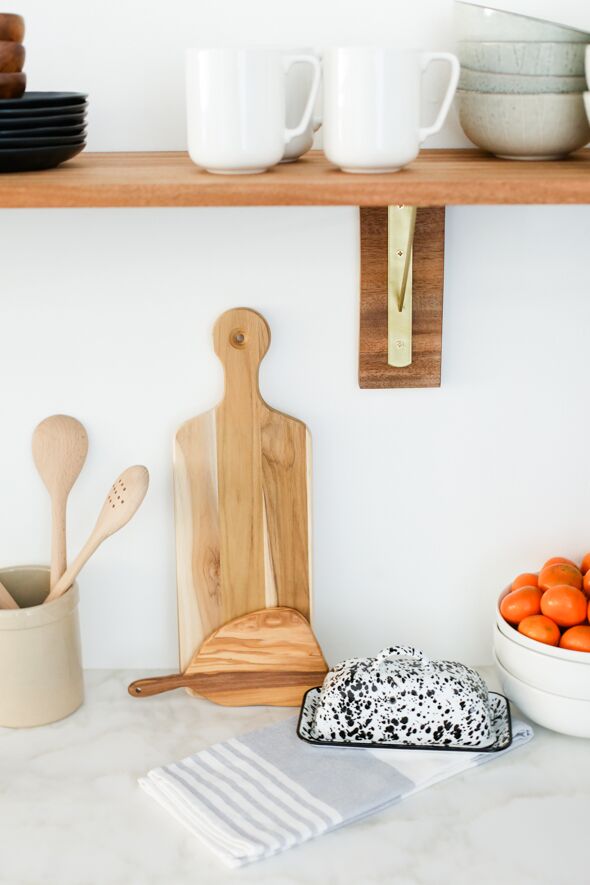 I hope you guys love this little makeover as much as we do! Do you have any questions about how to paint your own? It's SO easy! :)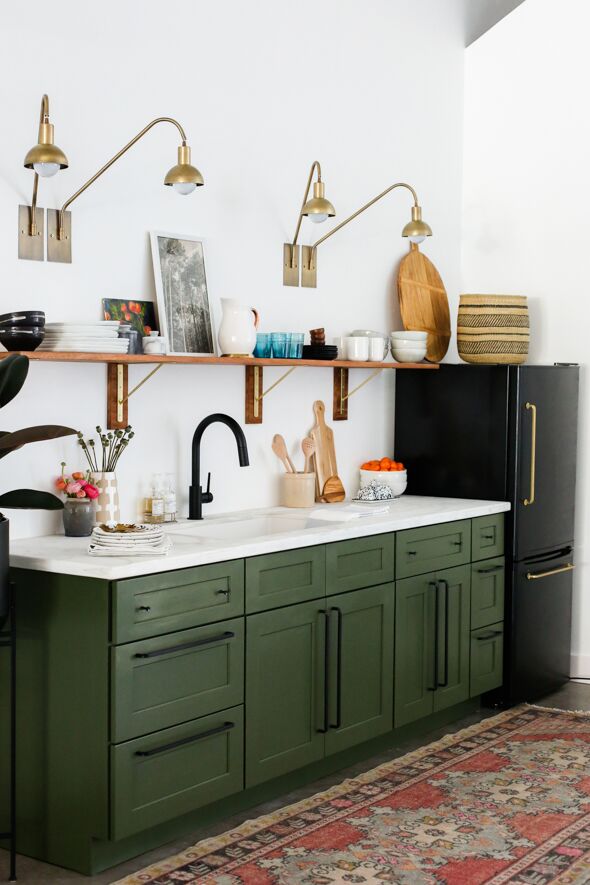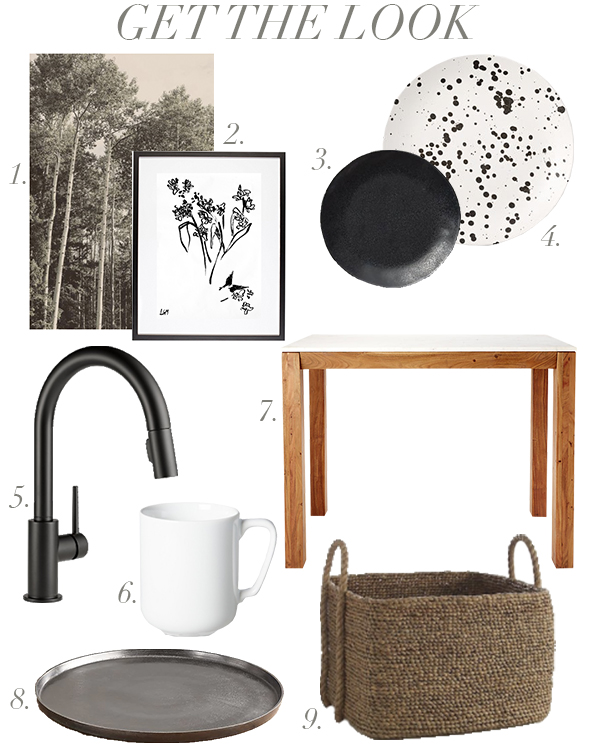 1  //  2  //  3  //  4  //  5  //  6  //  7  //  8  //  9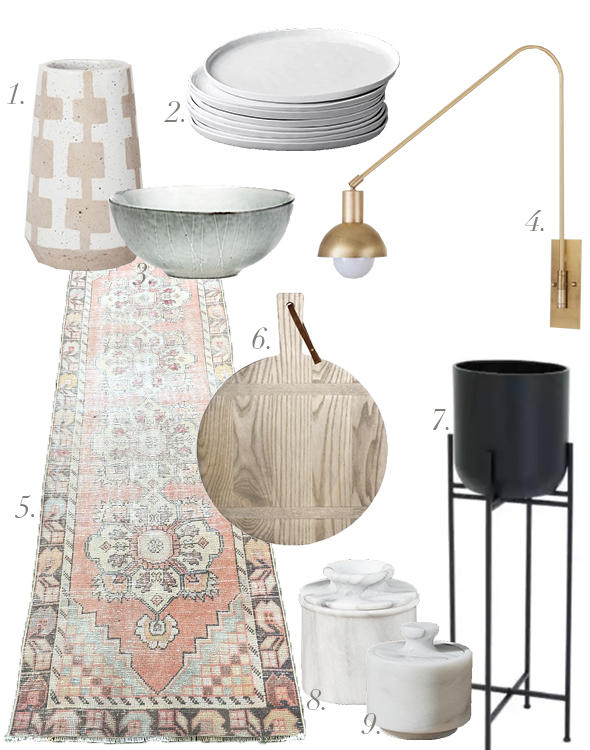 1  //  2  //  3  //  4  //  5  //  6  //  7  //  8  //  9
SOURCE LIST!
Cabinet Paint: Pratt & Lambert Aquanamel™ Waterborne Alkyd Enamel. Color is Sierra Night (33-1).
Wall Paint: Pratt & Lambert Accolade® Interior Premium Paint & Primer. Color is Designer White (33-1).
Cabinets: Madera
Counter tops: Honed Calacatta Marble from G3 Granite and Glass
Sconces: Lucent Lightshop
Island: Design by me and made by our carpenter
Shelf and brackets: DIY (post coming soon!)
Rug: Vintage, similar here
This post was brought to you in partnership with Pratt & Lambert® Paints! Thank you for supporting our sponsors!