The entry on our parlor level is pretty small. There's a coat closet across from the powder bath and a teeny tiny little bump out next to the front door and that's about it. Here's what the space looked like on move in day.
Not pretty, I know. We've since had all the walls painted Farrow and Ball's Cabbage White, which is bright and fresh, and the doors were painted Pitch Black. We still need to do all the trim work in here, but we had the small floor boards painted BM Decorators White.
When I was trying to figure out how to best use this space, I sort of fell in love with the idea of a secretary (a really narrow one), so there would be a place to throw mail down, but we'd also have lots of hidden storage. The issue was finding a secretary that was less than 23″ wide so that the door could open all the way. Not easy!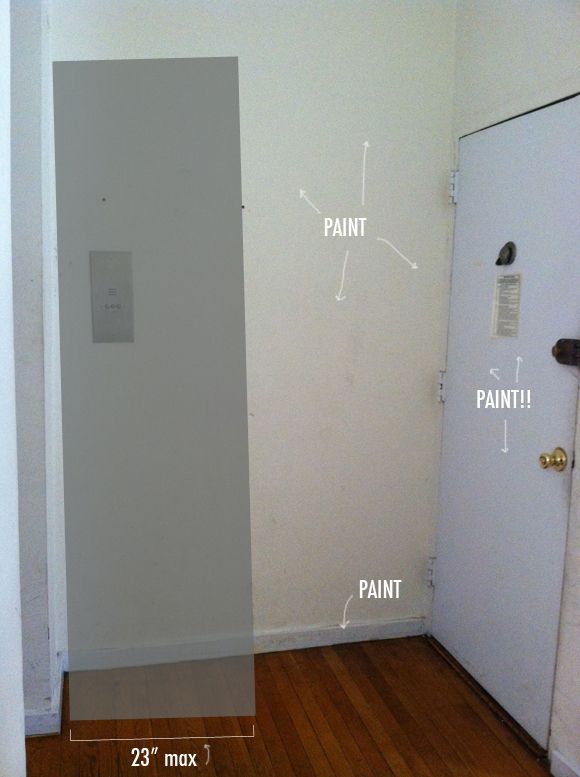 For a while we kept the
vintage vanity desk
from this post in this spot because it fit and it was a place to put things down (you can see it peeking out
in this post
), but I definitely was left wanting something taller with storage after a couple months of that. Then one day at an antiques store in the burbs, a vintage Thomasville beauty presented itself. It wasn't in perfect shape and the dated-looking fruitwood needed to be painted out, but the size was exactly perfect and the price was right at $175. (Especially compared to the inspiration pieces I was eying on 1st dibs! yikes!)
I knew I wanted to paint the secretary a fun color (aren't you surprised!?) because the entry is pretty bland and it needed some cheer. I went to Home Depot to get a color mixed and I stumbled across and ENTIRE GALLON of my beloved Safety Red, formally known to me as only-available-in-spray-can-form-Safety-Red. It's been a
four year love affair
, so I couldn't
not
try it, right?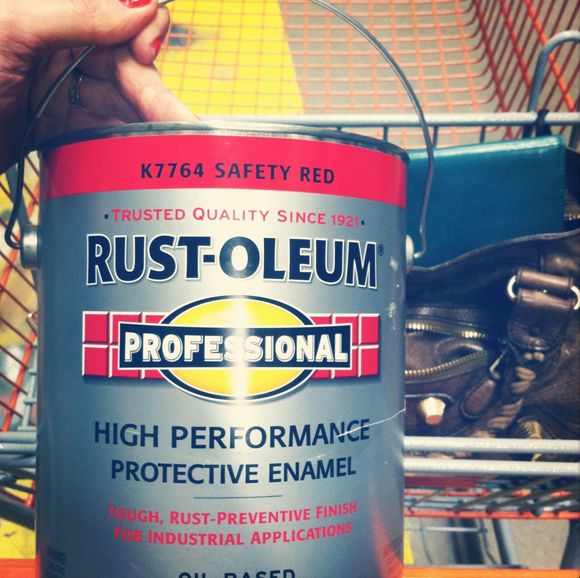 I expected it to smell as horrible as the other Rustoleum oil-based paints (like
this one
), but this paint smelled more like linseed oil and less like fumes. Sort of like the Ben Moore Advanced line. It had an interesting, very thick consistency too. The finish was great though (smooth as glass), so I can't complain.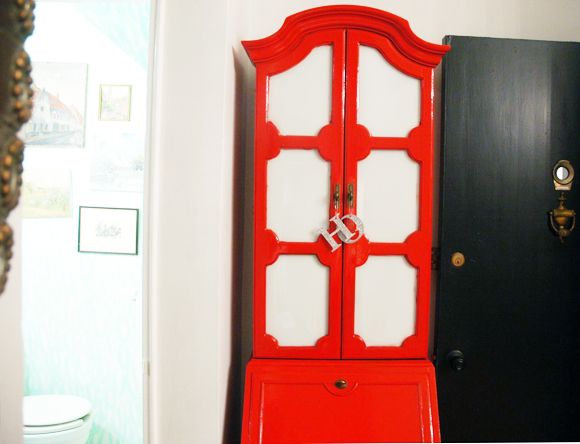 You're probably wondering what happened to the glass here. I have plans to get mirror cut, but I decided to paint out the glass from the inside so no one could see the things I have stored inside. (it's a whole bunch of vases and it looks really sloppy). I'm not completely minding the white actually, but I think the mirror will help to brighten up the space. (I was going for
this
and
this
look.)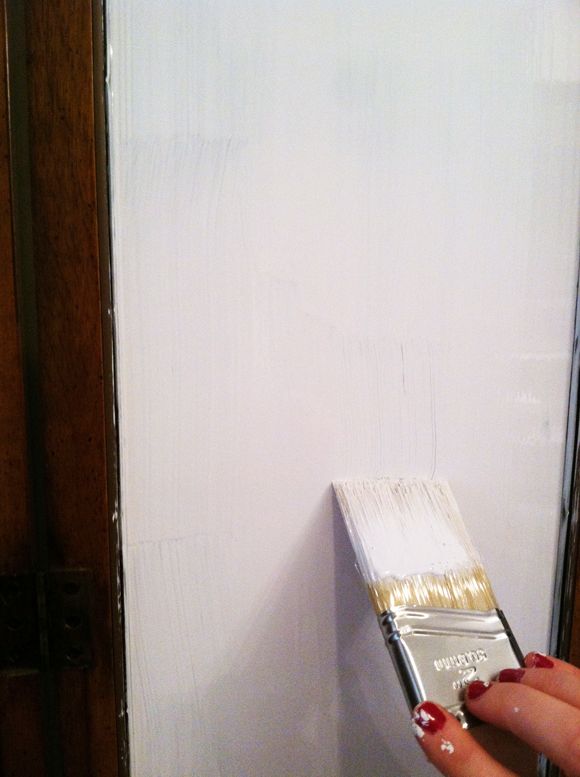 I'm really loving it and am just aching to get that moulding up now!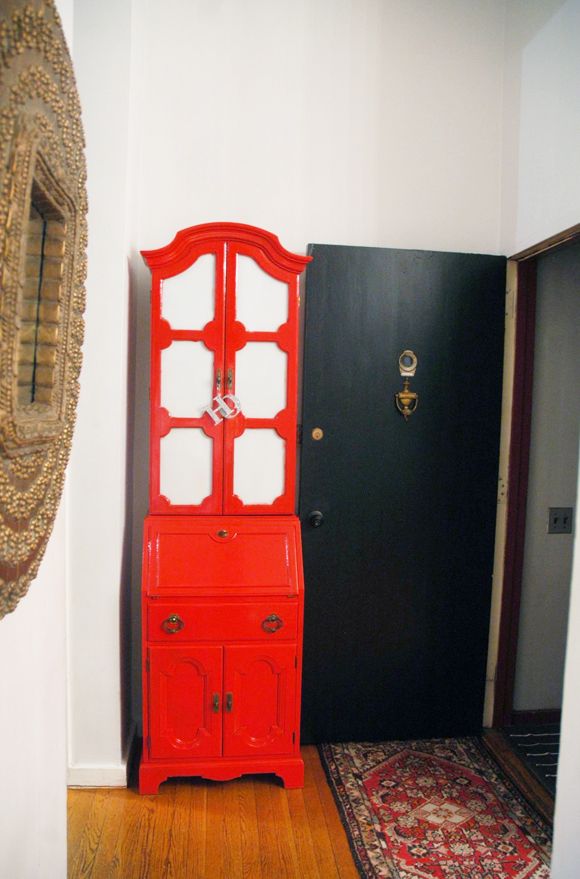 I did put down a small rug and that helped too (seen
here
formerly),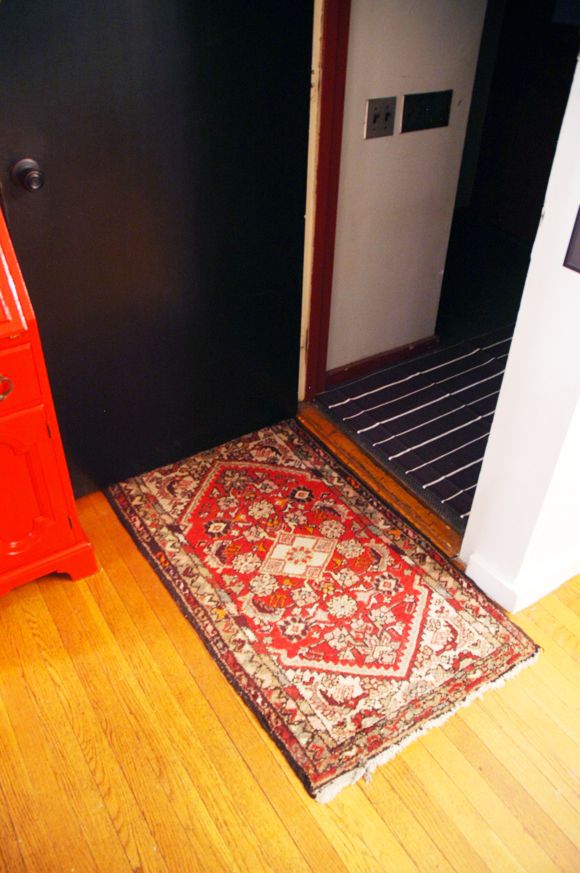 And I hung the
peacock mirror
on the wall next to the kitchen. I need to put art on the wall to the left of
the kitchen
though and I think that will help even more.
But, it's progress! And just in time for
holiday dinner parties
(thank you so much for your votes, by the way! If you haven't had a chance to pop over,
the $500 contest
will go through the 23rd. xx)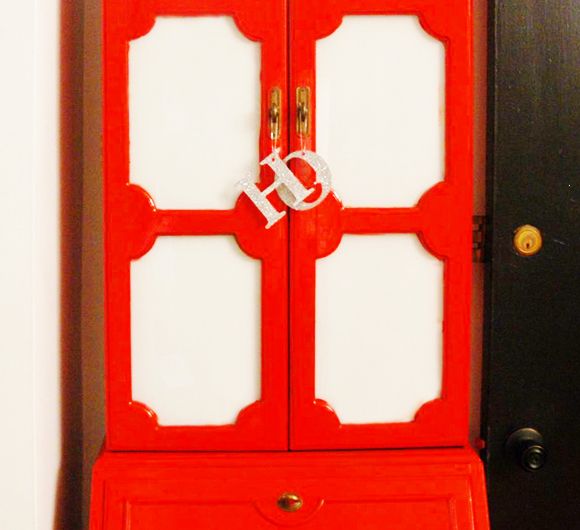 PS
A little tip
about painting mirrors or cabinets with glass panes
without
using painter's tape.