Brought to you by the Brita Bottle for Kids: Help teach your kids to learn to love water. Learn more.
When I was growing up in Arizona, we got an orange at the bottom of our Christmas stocking every year. There are lots of great traditional stories about giving and receiving fruit for Christmas and I love the simple, sweet sentiment behind it. Last year, I was fed up of having candy in the house (I was still trying to get rid of the Halloween candy stash), so the only treats I put in the girls' stockings were nuts and an orange. I thought I was being sneaking and figured they were still too young to know what they were missing. Not so! "MOM. Santa forgot to put candy in our stockings!" and "Why did he put Fuh-RUIT in there?" Busted.
This year, I'll put a just a little bit of candy in the stockings, but I think I'll keep the oranges and nuts in too. We're not doing a ton of big presents this year (feels like lots of people are moving toward this model – are you?), just a handful of carefully chosen gifts and some fun stocking items. Here are some kid items that I'm thinking about giving or that we already have and love.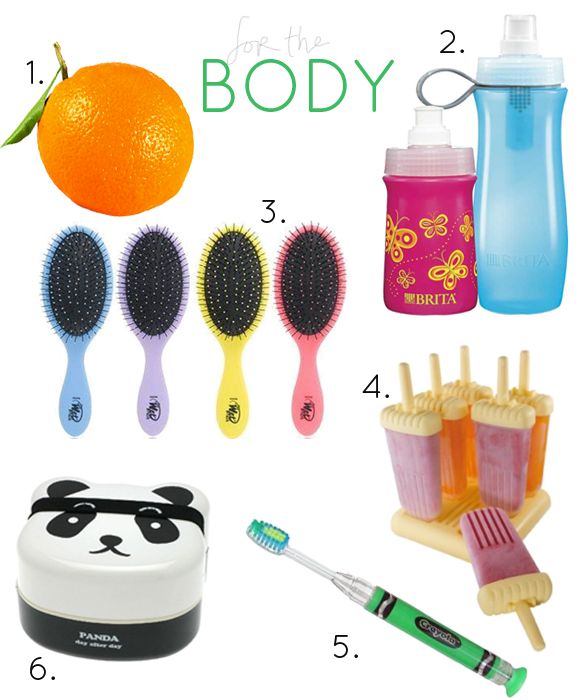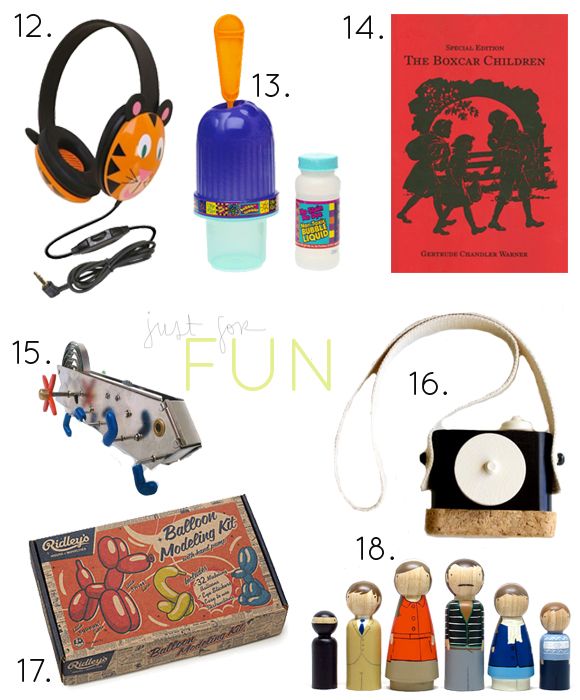 12. These headphones are parent and kid life-savers on flights and long car rides. They have a soft padding around the ear, and they seem to be comfortable for little ones. And they're pretty darn cute too.
13. Bubbles that are guarenteed to not drip or spill or make a mess are my kind of bubbles!
14. We've been reading the Boxcar Children books at night (we're starting book five this week), and Grace and Claire are as in love with the story as I was. I used to have dreams about finding perfect little pink teacups and dishes in the dump with Jessie and Violet. Guess I liked vintage china and bargain finds even back then. :)
15. This series of simple mechanical machine toys from Kikkerland is all the rage at parks in Brooklyn. They're super cool, and cool-looking too. Shelf-friendly toys, for sure.
16. Evelyn needs a camera of her own I think so she can photograph my projects with me.
17. This balloon-making kit might be more for me than my kids. I've always wanted to have this talent in my arsenal. You never know when a situation calls for a balloon animal!
18. How cool is this family of wooden peg dolls? The dolls come to you completely blank and you customize them to match your family. So fun if you're giving your child a dollhouse this year.
What are you giving the littles in your life for the holidays this year?