Gallery walls are one of our favorite way to display art in the home! They are perfect for someone who can't decide on one image or style of art and can add a ton of personality to your space.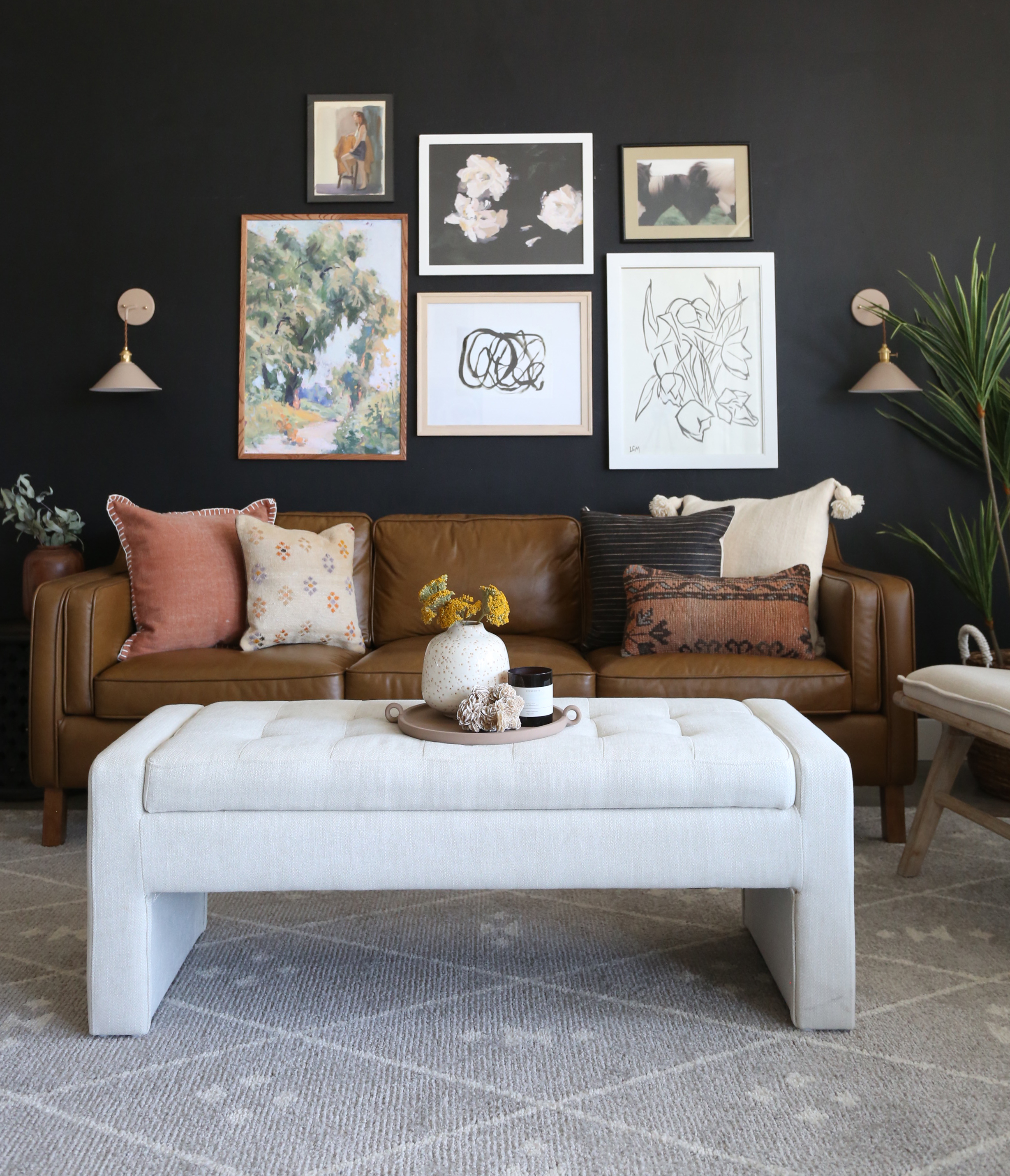 WILD OAK print  //  ALICE print  //  KNOTS I print
GARDEN ROSES II print  //  HUDDLE print  //  TULIPS print
leather sofa (similar)  //  ottoman  //  rug  //  sconces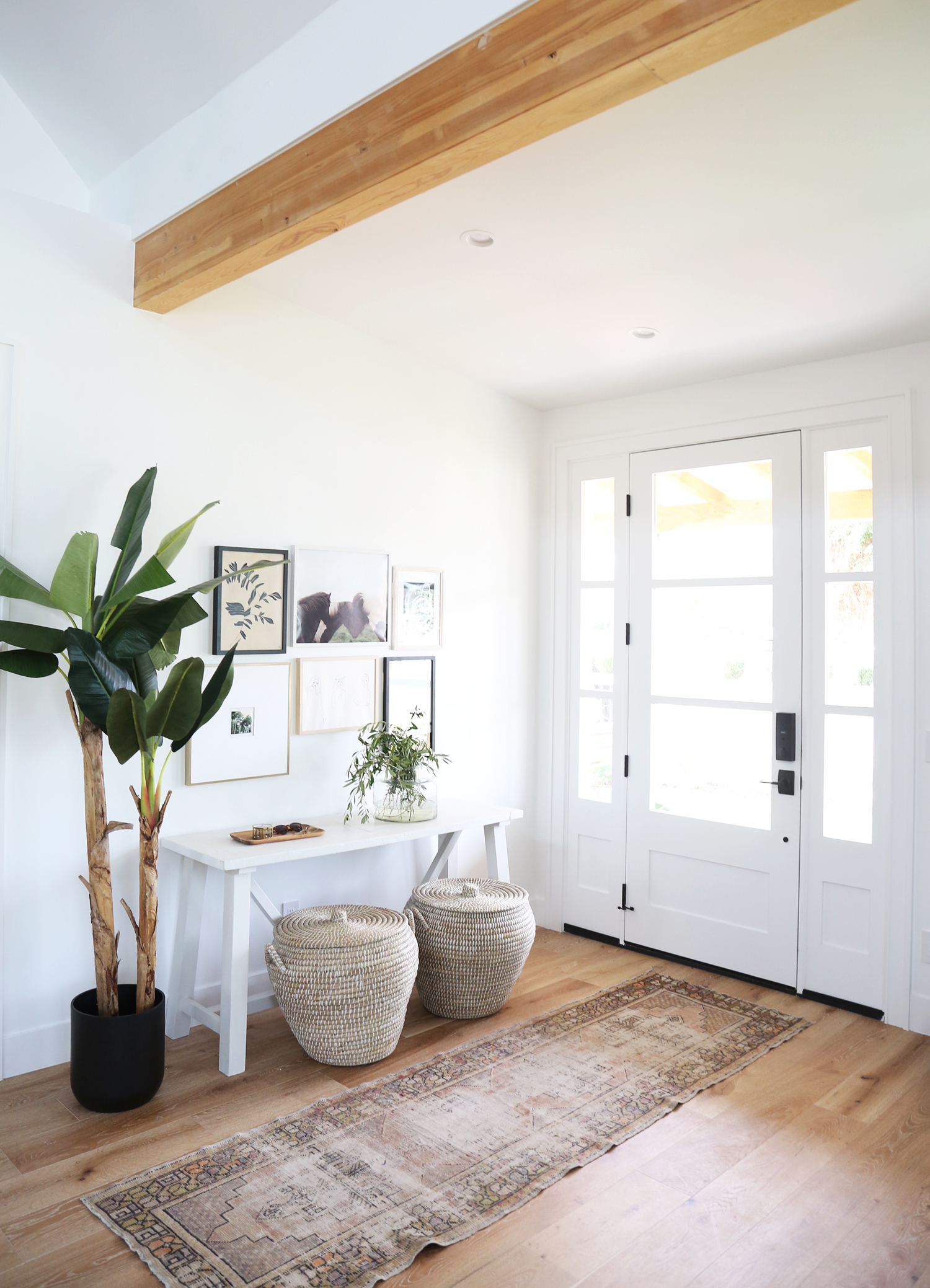 BOTANICAL II print  //  HUDDLE print  //  KNOTS II print
rug (similar)  //  basket with lid  //  faux tree (similar)
Putting together a gallery wall doesn't have to be intimidating! Just follow our easy steps below!
Step 1: Clear space on the floor to lay out your gallery wall. This ensures that your gallery wall is the correct width for the area you intend to hang it in.
Step 2: Start with your biggest/visually heaviest piece. You will want to put this piece at the bottom, usually on the opposite side of the room that has something tall in it, like a lamp or tree.
Step 3: Select a mix of art subjects – portrait, abstract, floral, photograph and landscapes, etc.
Step 4: Make sure the tones move across your arrangement so their is visual balance.
Step 5: The center of your gallery wall arrangement should be at eye level.
Step 6: Frames should be hung 2-3″ apart. Vary the heights slightly for interest and movement.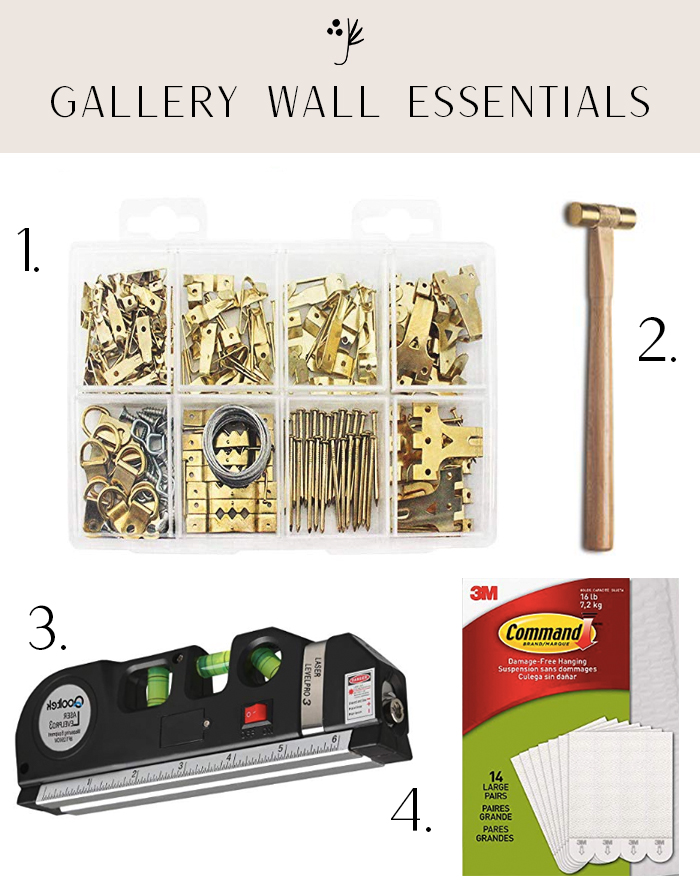 1. Picture Hanging Kit – We always have a few of these on had at the Studio. Perfect for hanging heavier art with glass frames.
2. Brass Hammer – Who says essential tools can't be cute?!
3. Laser Level – So helpful, especially for the perfectionists out there! It gives you a perfectly straight line to work off of!
4. Command 3M Strips – Our go to product for picture hanging! They are so easy to hang up, adjust, and to remove! Just make sure you don't exceed the suggested weight limit. Use the picture hanging kit for heavier items.
Here are some of our go to frames for using in a gallery wall. Don't be afraid to mix and match frame color and mat size!

1. MESA print  //  2. Graywash Frame  //  3. ASPENS print  //  4. Black Frame  //  5. NIGHTFALL print  //  6. Gold Frame
7. OIA print  //  8. Light Wood Frame  //  9. FOREST print  //  10. White Frame  //  11. GARDEN ROSES I print
12.  Unfinished Wood Frame  //  13. HILLS II print  //  14. Wood Frame With Mat  //  15. BOSSEN print  //  16. Gold Frame With Mat
17. MEADOW FLOWERS II print  //  18. Wood Frame  //  19. BIXBY print  //  20. Black Frame
21. PARK CITY print  //  22. White Frame With Mat