We have a REALLY fun house tour for you all today! Our friends, Haleigh and Scott, the owners of the Park Haus in downtown Gilbert, have remodeled and now live in a total gem of a midcentury modern home here in Arizona. They made SO many wonderful choices with the design of this home and the exterior selections are especially spot-on! The powder blue paint color was a bit of a risky choice, but I think it's unique and completely architecturally appropriate!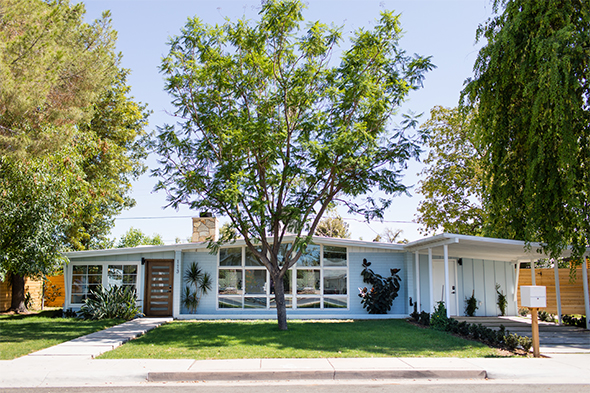 Inside, the homeowners really played up all the light they get from their amazing windows by installing unstained white oak floors and creamy white walls. We hung one of our newest prints Counting Sheep from Jenny's Print Shop. The photo was taken by Cami Parker and we're all obsessed with the soft colors and beautiful texture!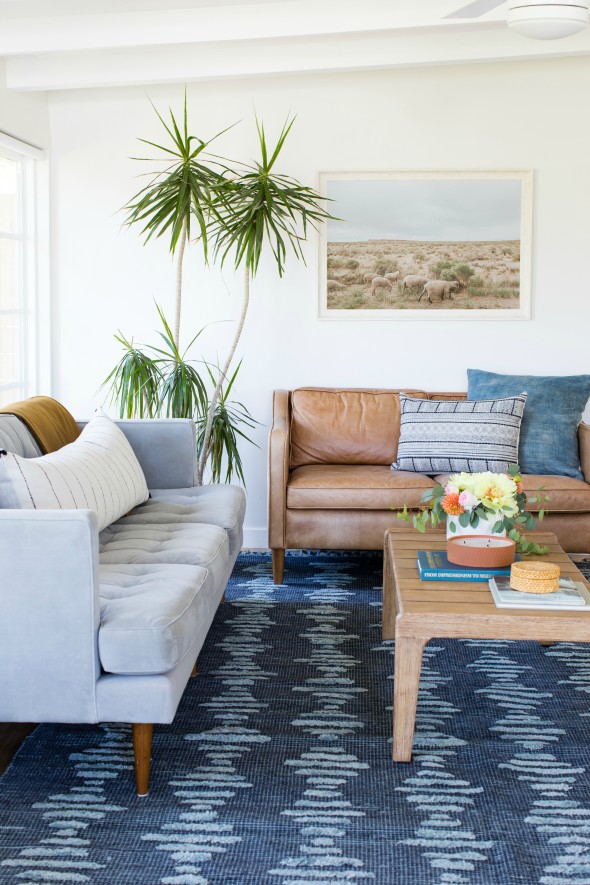 COUNTING SHEEP print  //  ONXY STRIPE lumbar
leather sofa  //  indigo rug  //  blue & white pillow  //  blue pillow

We just launched our Summer Lumbar Collection over at Juniper Home and although we keep selling out, we are doing our best to stay on top of inventory. We are consistently adding pillows to the shop, so if the pattern you love is sold out, don't give up! :) Also, Jenna and I went to NYC this week to install a really cute bedroom for Real Simple's Idea House and while we were there, we found a TON of new linen fabric patterns that we're excited about, but I'd love to hear from you in the comments here or on our Juniper instagram feed what kind of patterns you'd love to see in our next collections!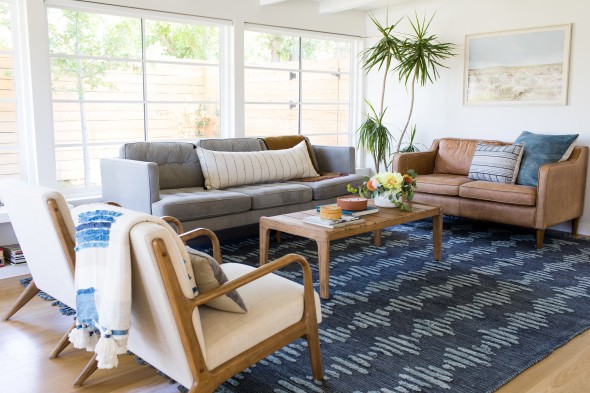 gray sofa  //  arm chairs  //  blue and white tassel throw

I love this textured indigo rug. It's only available in a 5×7 right now, but at this price, you could layer it with a jute rug and it would still be a steal!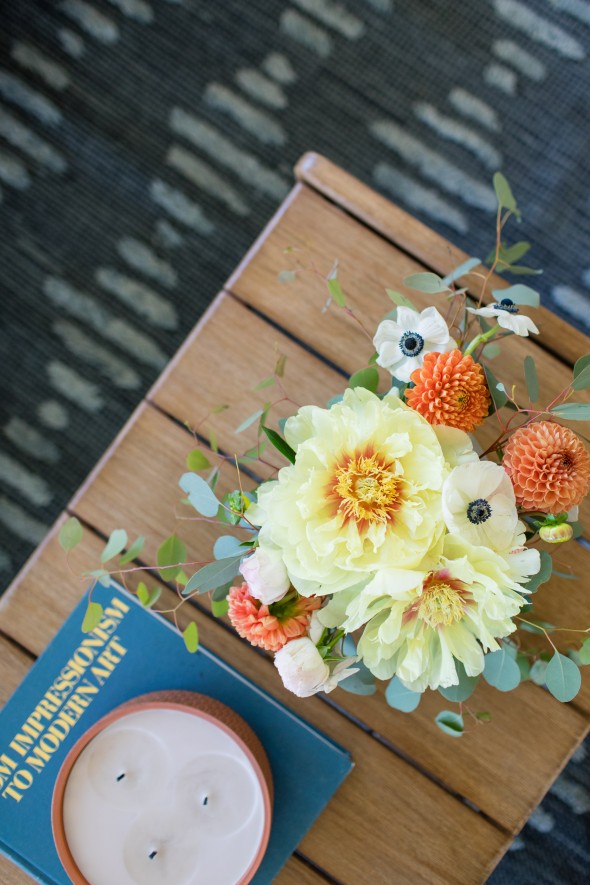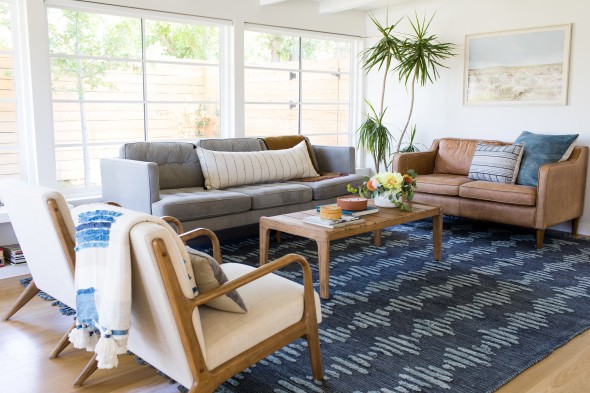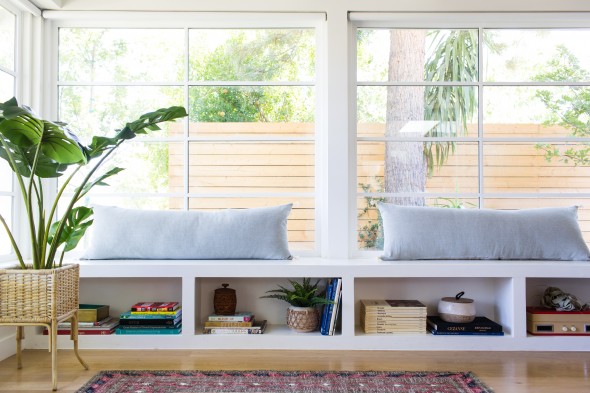 FOG lumbar  //  faux monstera plant  //  rug 

We used two of our Fog lumbars on the entry benches. I wish you could better see the pretty color and texture of this nubby linen! It's a stunner!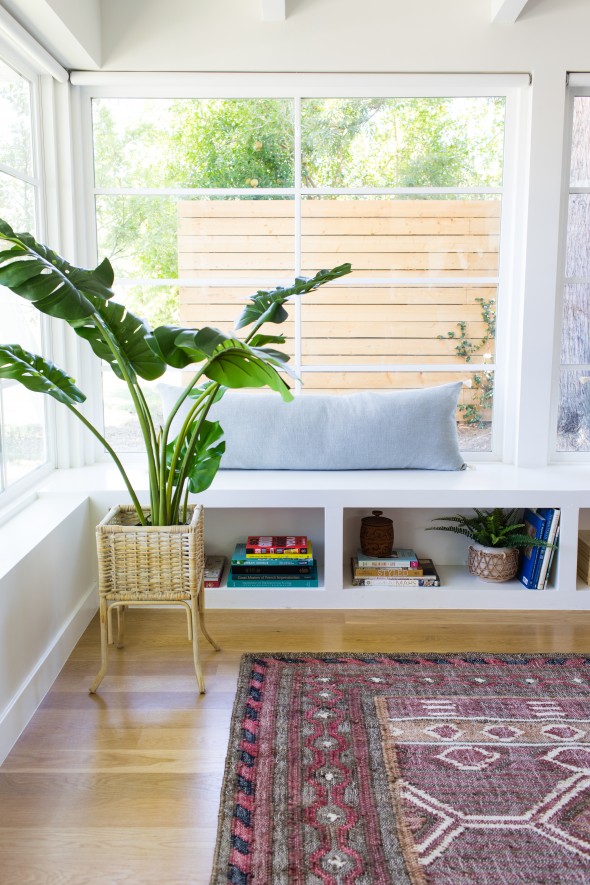 The dining room is another great space filled with light and texture! Aren't the white beams everywhere amazing?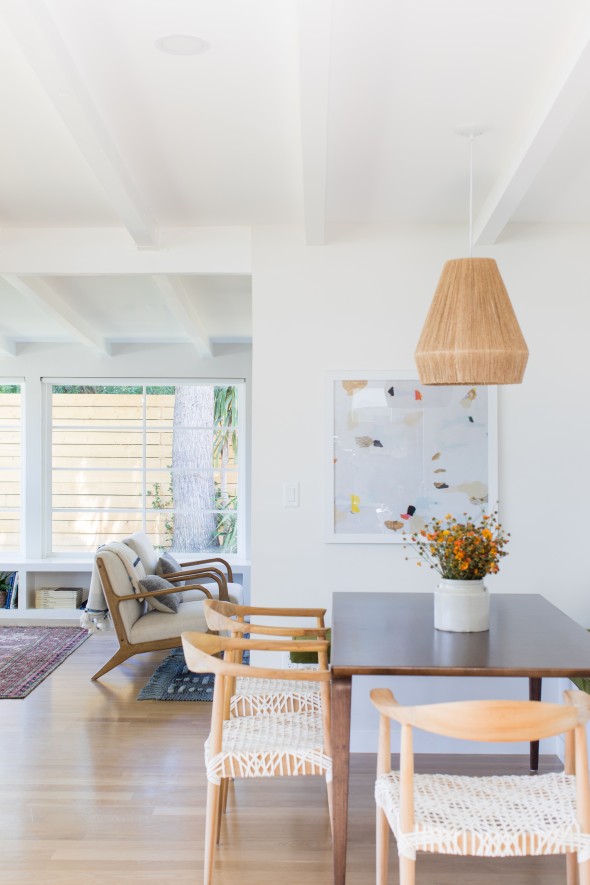 PIECES print  //  chairs  //  dining table  //  pendant light

We hung another new print here called Pieces by Kristina Akers. I love that it is subtle, but still has fun pops of color!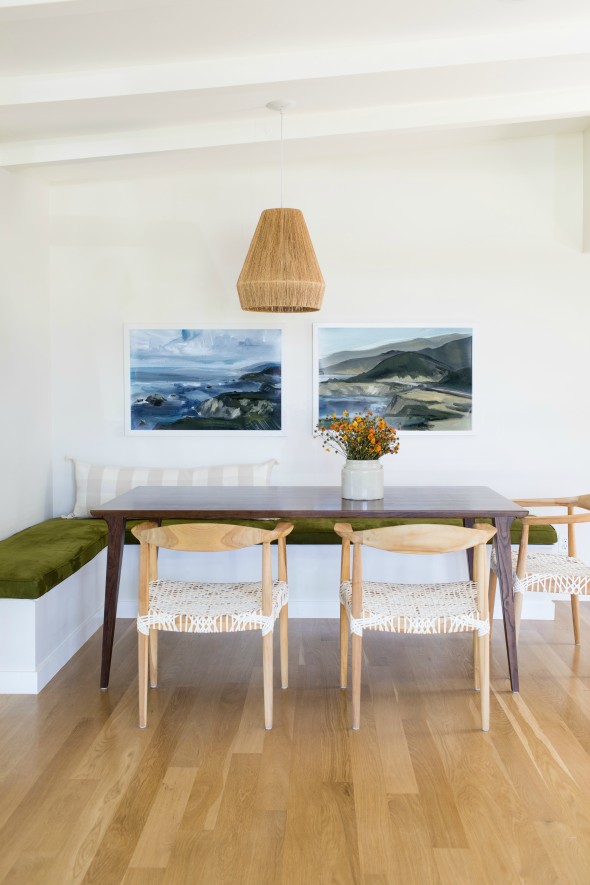 SEASCAPE I print  //  SEASCAPE II print  //  OATMEAL CHECK lumbar

We hung Seascape I and Seascape II by LaurieAnne Gonzalez on the other wall. SOOO many of you have been asking for paintings of the sea landscapes and LaurieAnne really delivered for us (and you!). I am really loving the moody blue and green colors!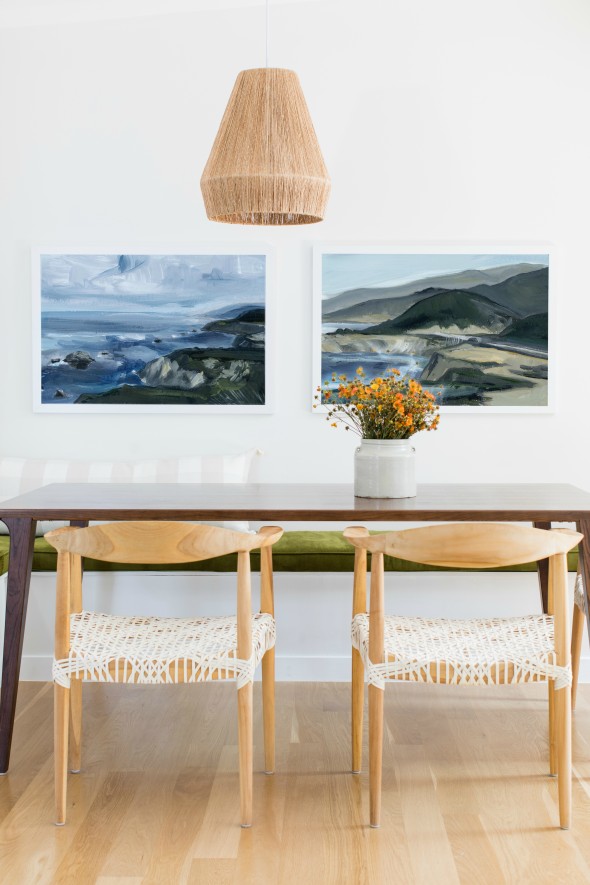 SEASCAPE I print  //  SEASCAPE II print  //  OATMEAL CHECK lumbar
PIECES print  //  chairs  //  dining table  //  pendant light

I love that Haleigh and Scott chose white appliancesin their new kitchen. They are perfect for this modern home!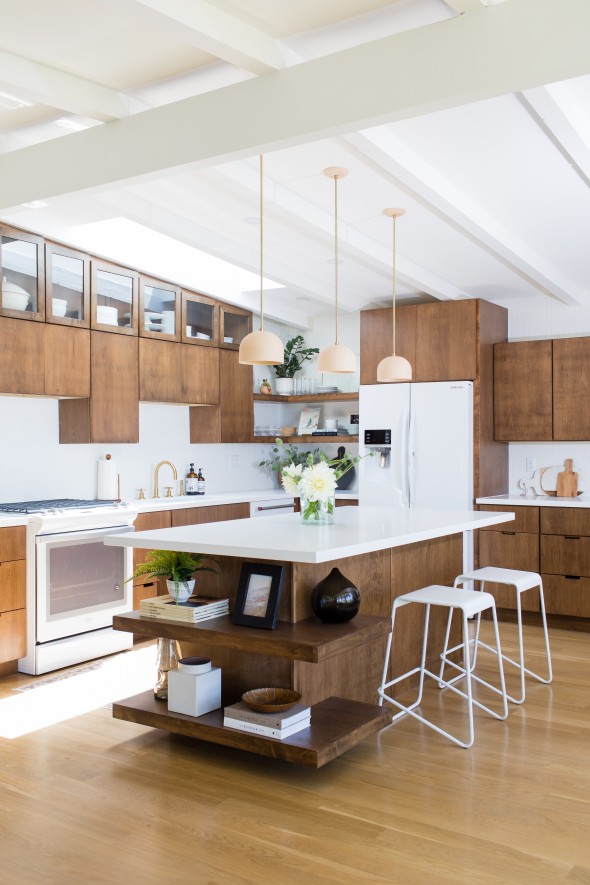 counter stools  //  Terra Cotta Pendants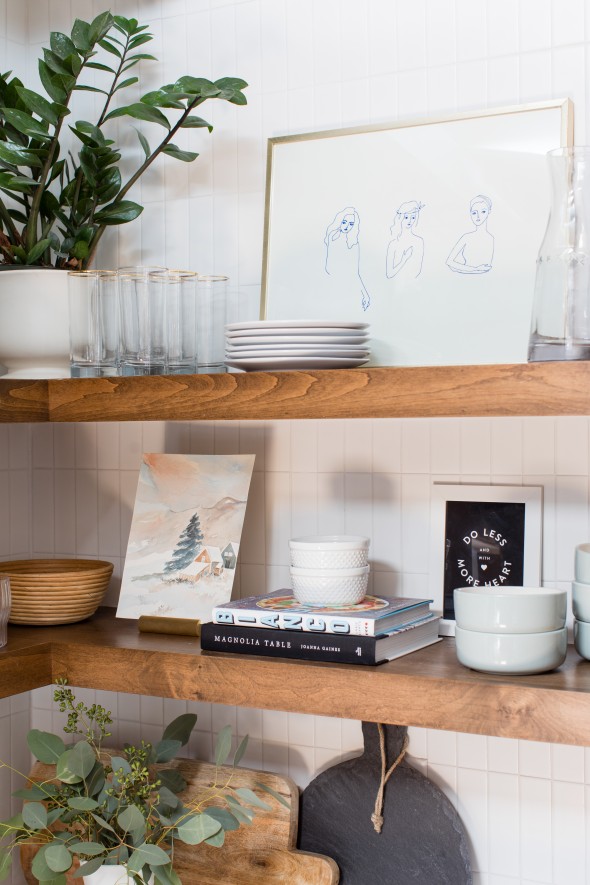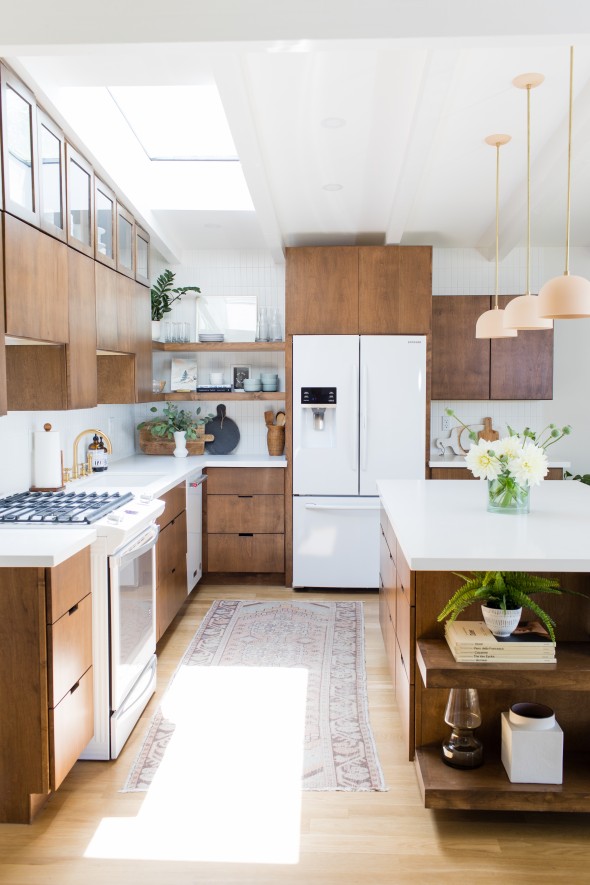 runner – vintage (similar here)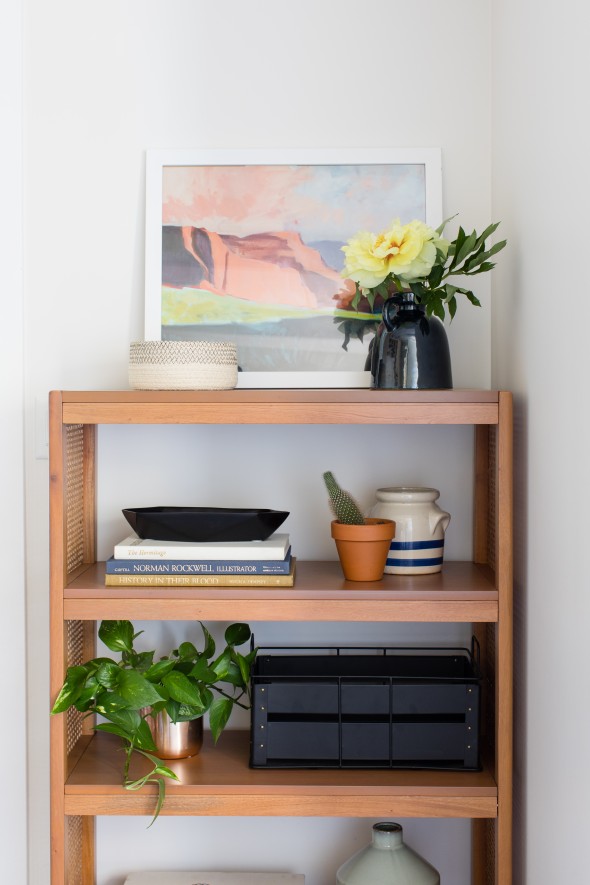 CAPITOL REEF print  //  caned bookshelf  //  black metal basket

We wanted to add a fun pop of color to the laundry room and WINK and our Marigold lumbar do just the trick! So many of you ask about where we buy our frames for our print shop prints (and you can check out this post for more info on printing and framing!), but we are working on an updated post of where to buy our favorite easy-to-source frames.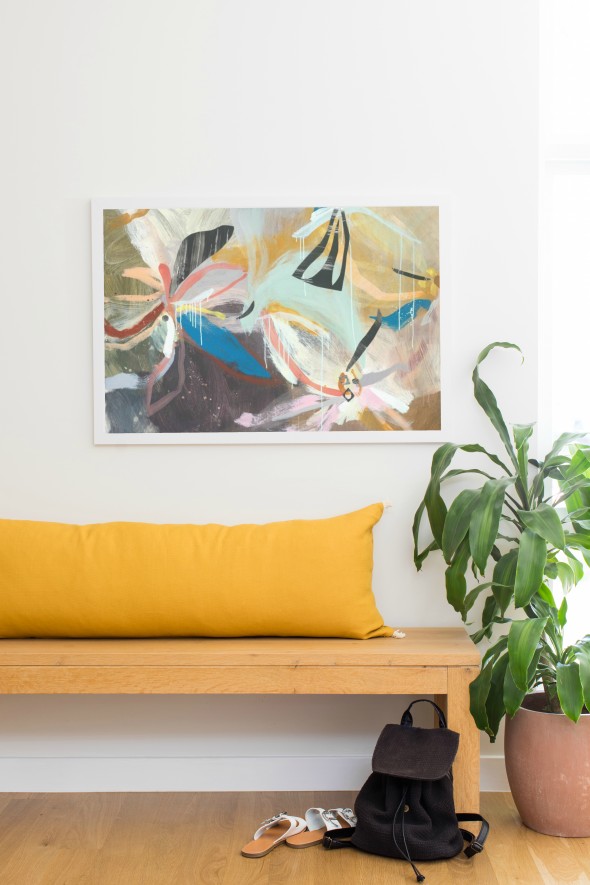 The master bedroom with that amazing black wall and those beams is one of my favorite spaces in the house! I love that Haleigh has our favorite platform bed!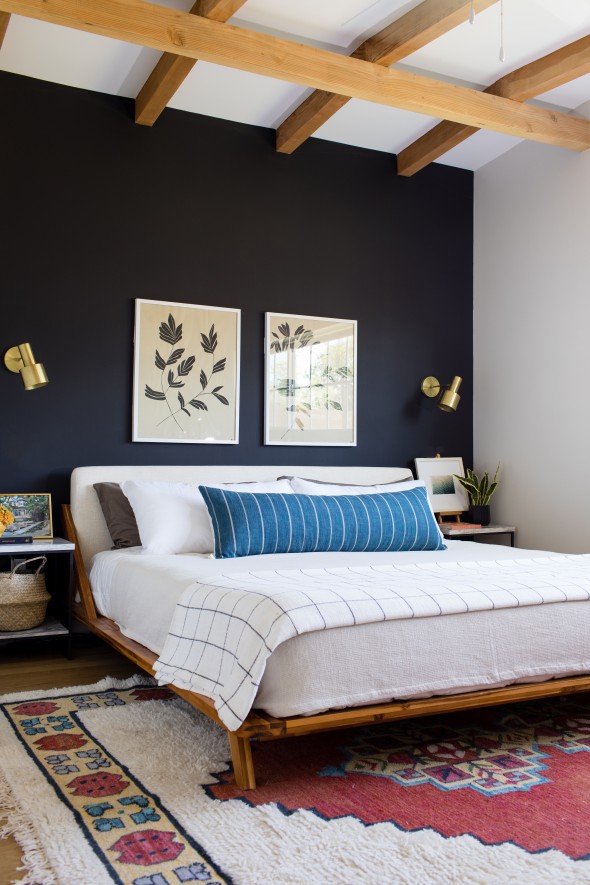 BOTANICAL I  //  BOTANICAL II  //  INDIGO STRIPE lumbar
bed frame  //  rug  //  nightstands  //  brass wall sconces 
black and white grid bedding (similar)  //  gray grid throw blanket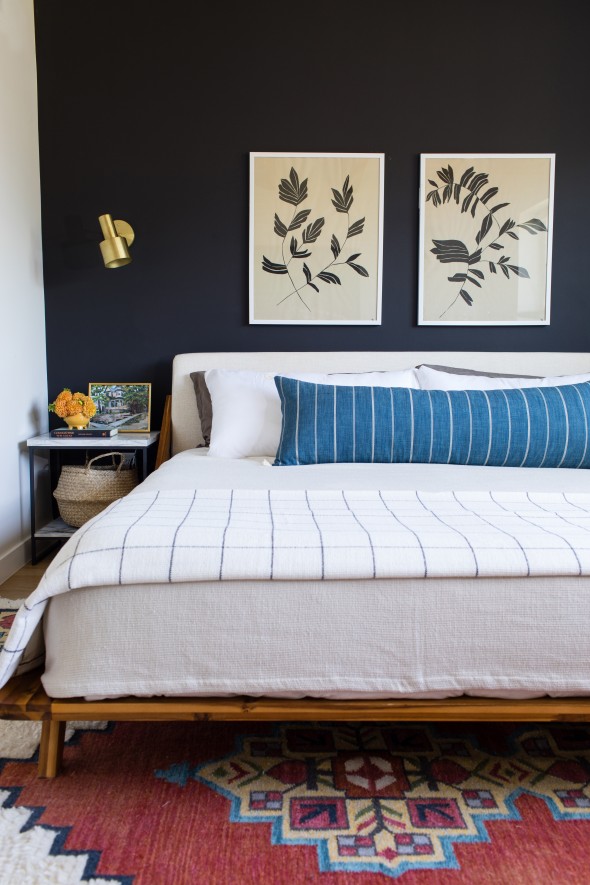 bed frame  //  rug  //  nightstands  //  black and white grid bedding (similar)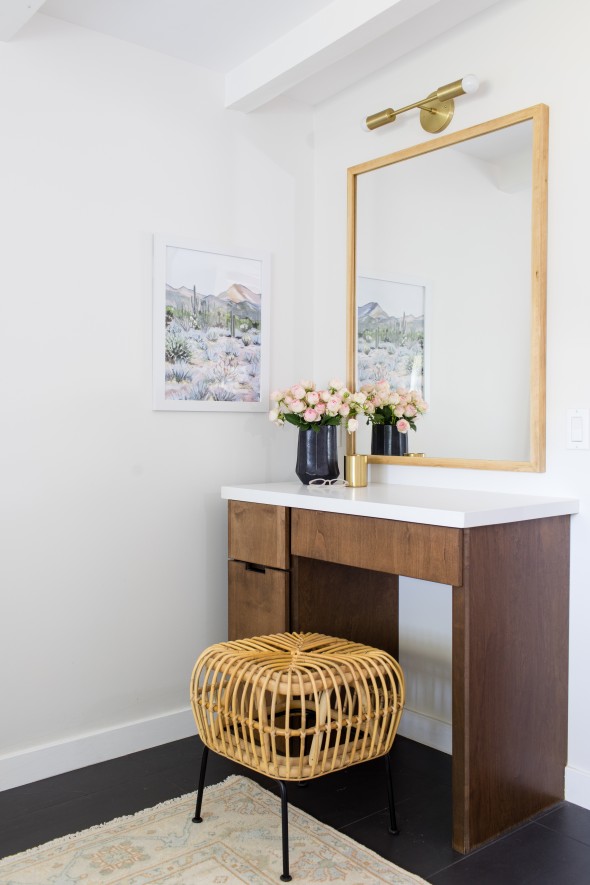 LIVING DESERT print  //  rattan stool  //  sconce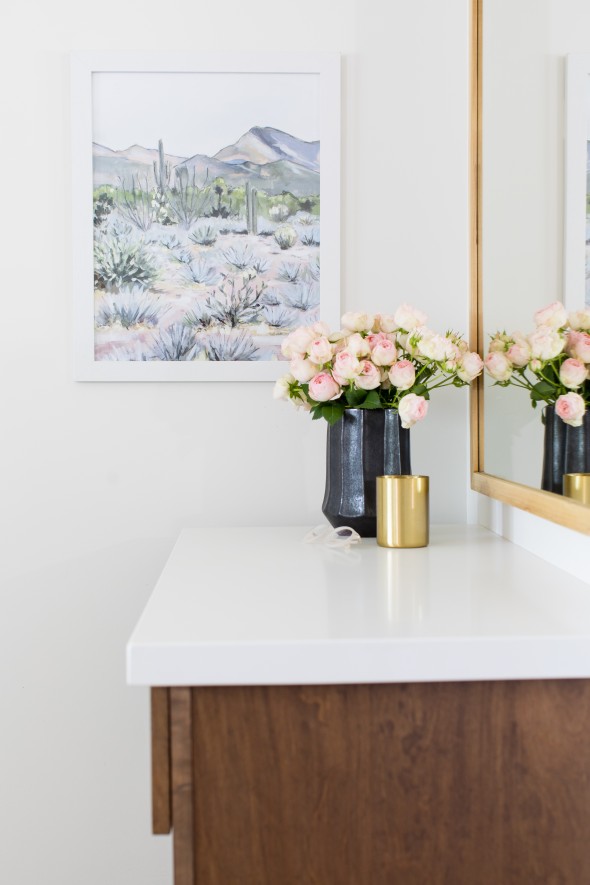 Our new Living Desert print is also by LaurieAnne Gonzalez (who painted the seascapes) and I love the soft colors in the master bathroom vanity area.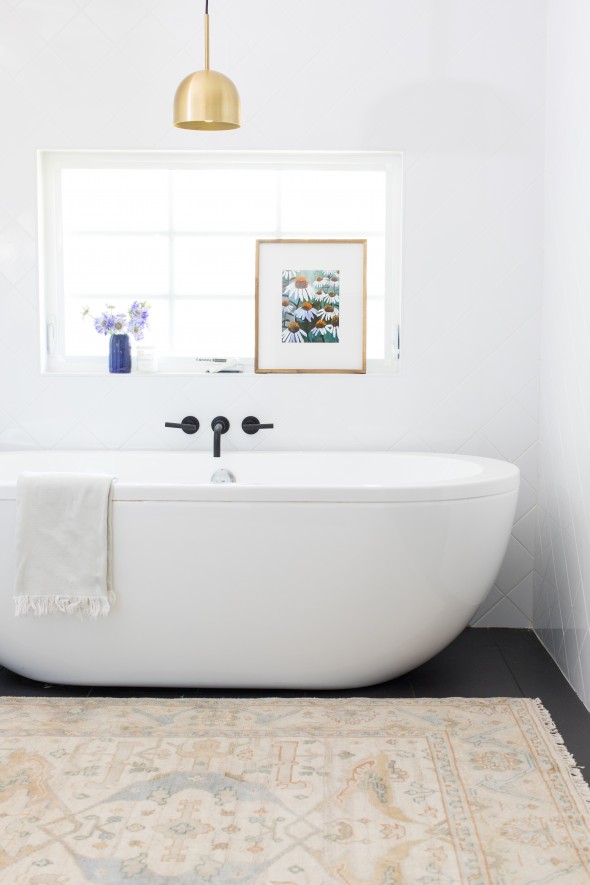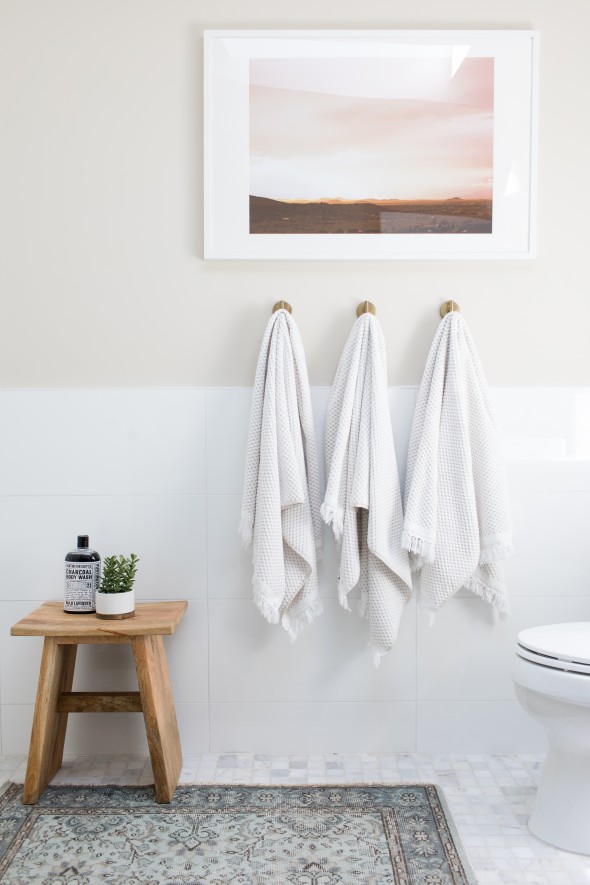 VALLEY print  //  turkish towels  //  brass towel hooks

How AMAZING is this green paint color in the baby's nursery!? The color is Benjamin Moore's Caldwell Green (one of my personal favorites!) because it pairs SO well with light mid-tone wood stains. Also, how great is her rug? Get this – it's machine washable!! Perfect for any space, but especially a kids room!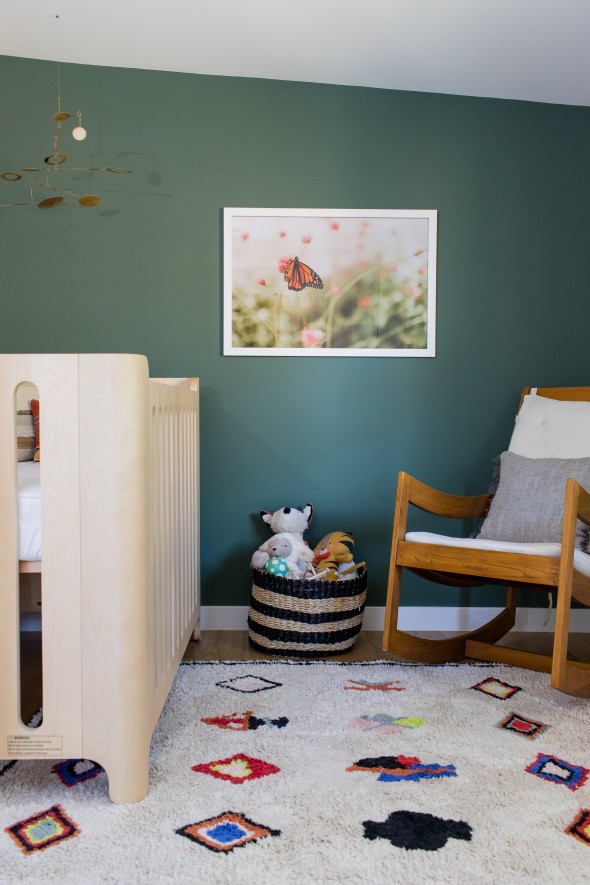 rug  //  brass mobile  //  rocker
A HUGE thanks to Haleigh and Scott for letting us shoot their beautiful home! If you're looking for a great Airbnb in downtown Gilbert, be sure to check out the Park Haus!
Photos by Nick Sorensen.