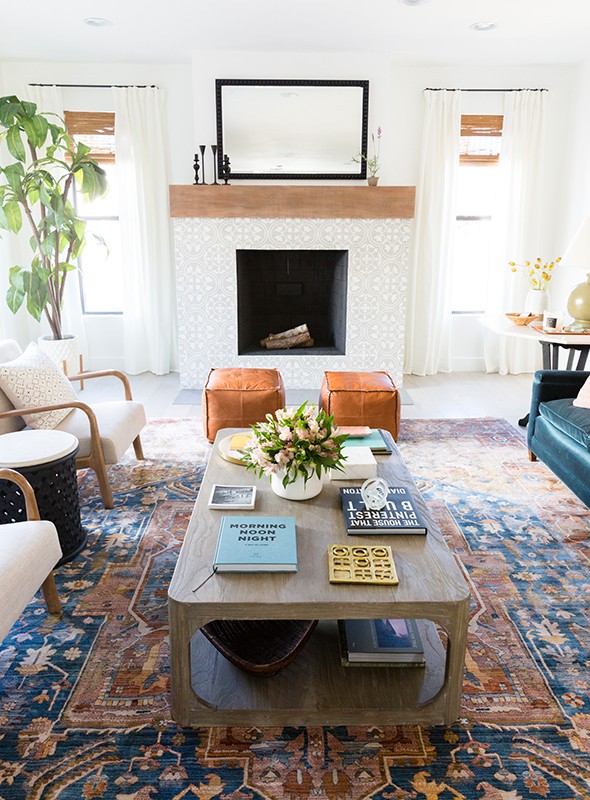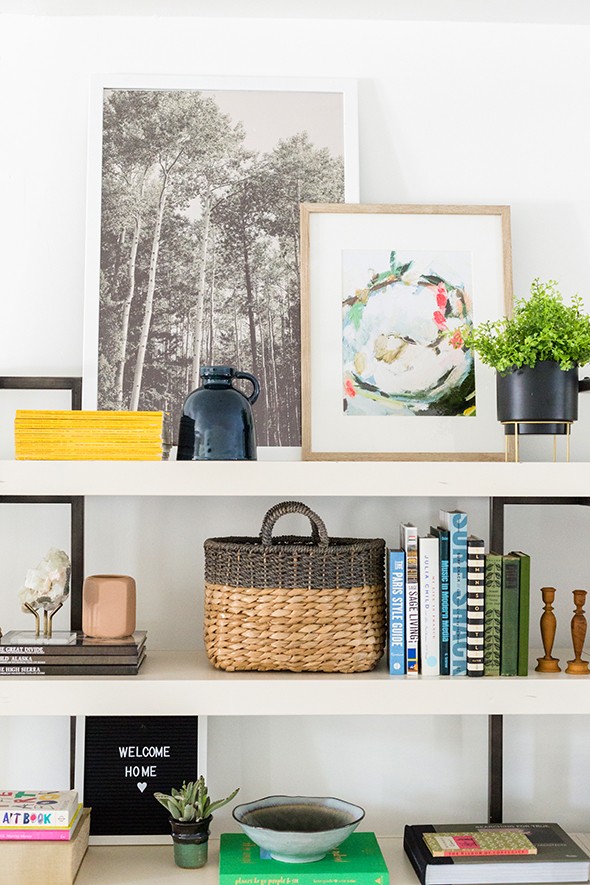 ASPENS print  //  AUGUST print  //  black planter //  letter board
I'm SO excited to show you the #gentryproject living and dining rooms today! To see before photos of this space, check out my first post about the Gentry project here. Many of you followed along while we were staging this house and doing these decorating and DIY projects on my insta stories (they're still saved in my highlights if you'd like to see more details on my process). We figured out a lot of these furniture pieces and DIYs on the fly, but I think it all worked out in the end and I'm so happy with these pretty rooms!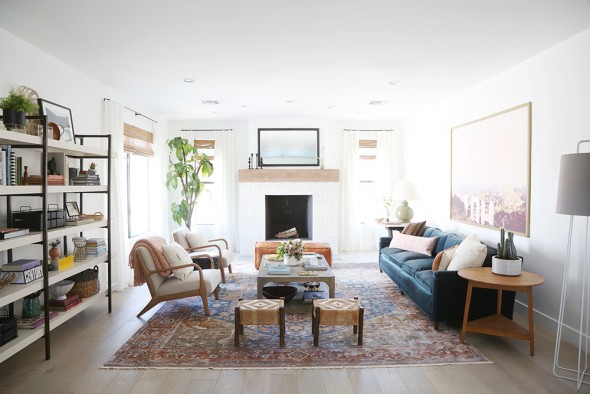 armchairs  //  sofa, vintage (similar)  //  rug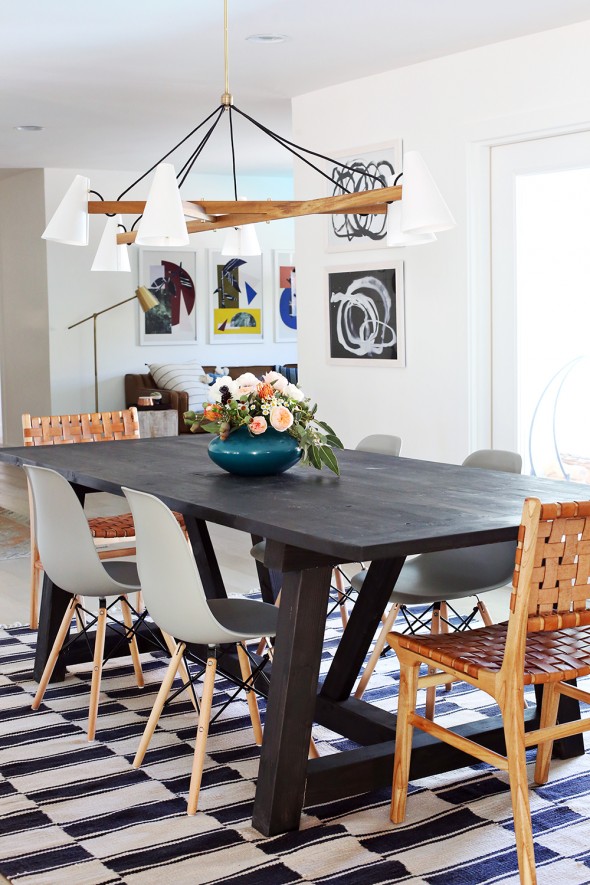 dining table (similar) //  gray shell chairs  //  woven leather chairs  //  rug (similar)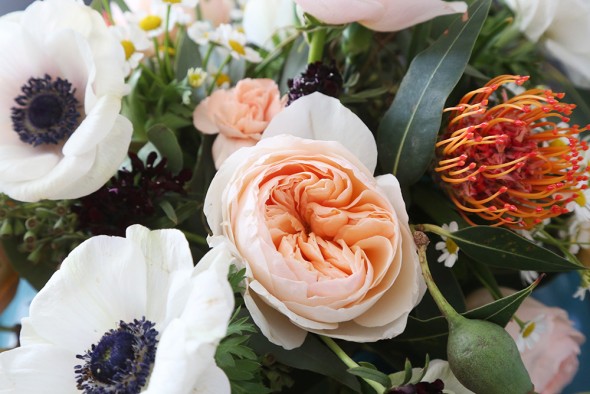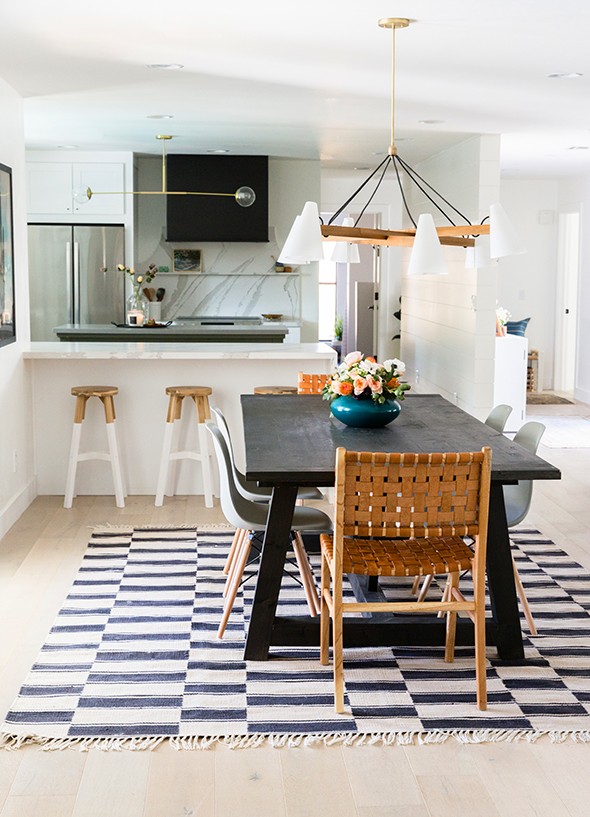 The starting point in the living room was this AMAZING RUG.  It checked all the boxes for me – soft, beautiful colors and totally affordable!! If you're looking for a new living room or bedroom rug, you really should check this one out! I especially love how it looks on our new engineered wood floors from Lumber Liquidators. I got so many questions about this flooring and I'm honestly obsessed with it! I wish I could go back in time and put these in my house.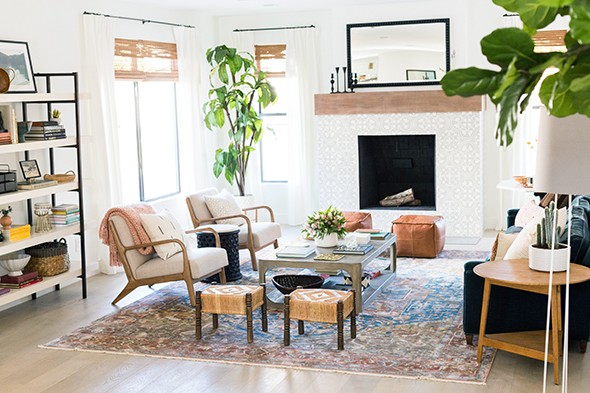 rug  //  curtains  //  roman shades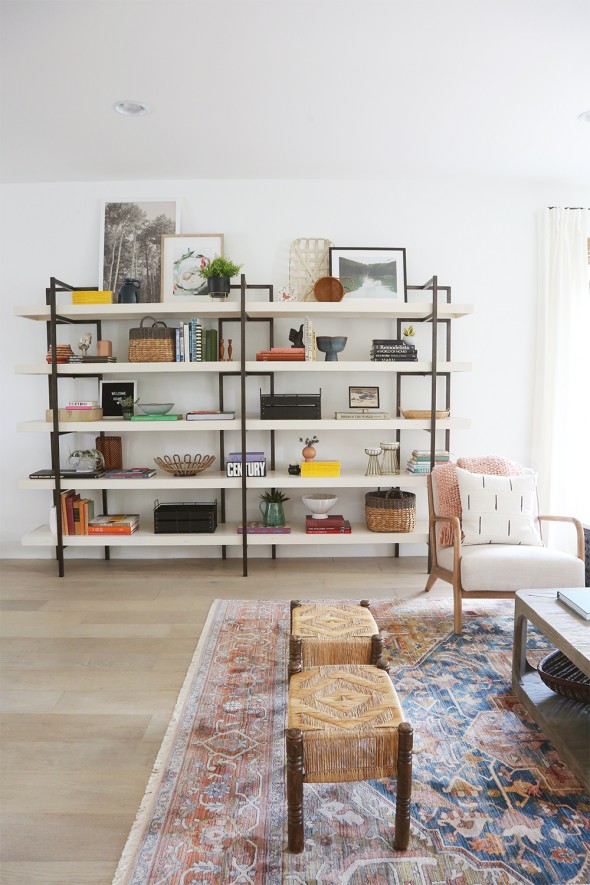 rug  //  woven stools, vintage (similar)  //  bookshelf (similar)
The bookshelf in the living room was one of my favorite projects of the install. We turned this unfortunate but affordable piece from a big box furniture store into something modern and unique and perfectly suited to this space. You can see the whole process in my stories but the basic idea is I bought two units but only used three of the four metal stands. The shelves are actually more like trays, so I screwed them together end to end, spray painted them Heirloom White and installed the shelves upside down so they looked more like planks than trays!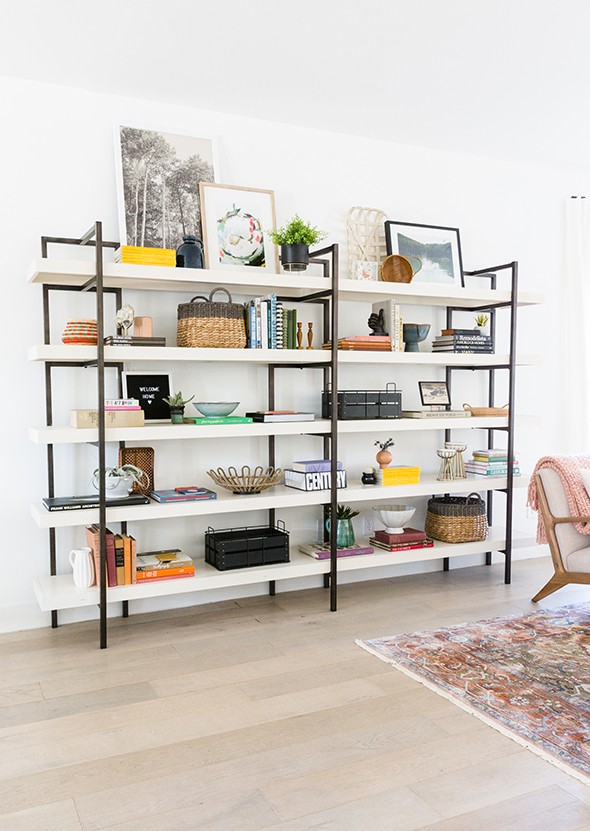 ASPENS print  //  AUGUST print  //  SPLASH print  //  black metal bins (similar)

I shared lots of styling tips in my stories too, so be sure to check out those highlights!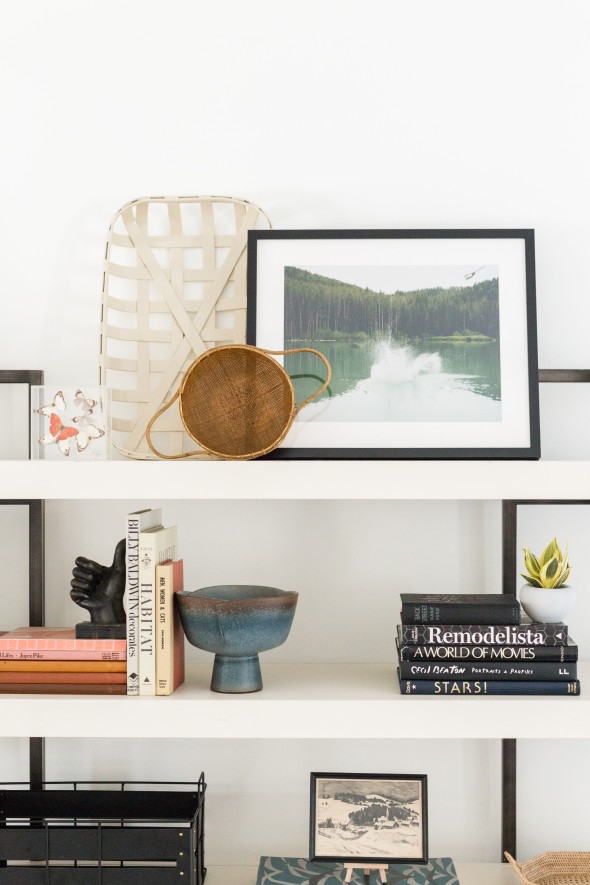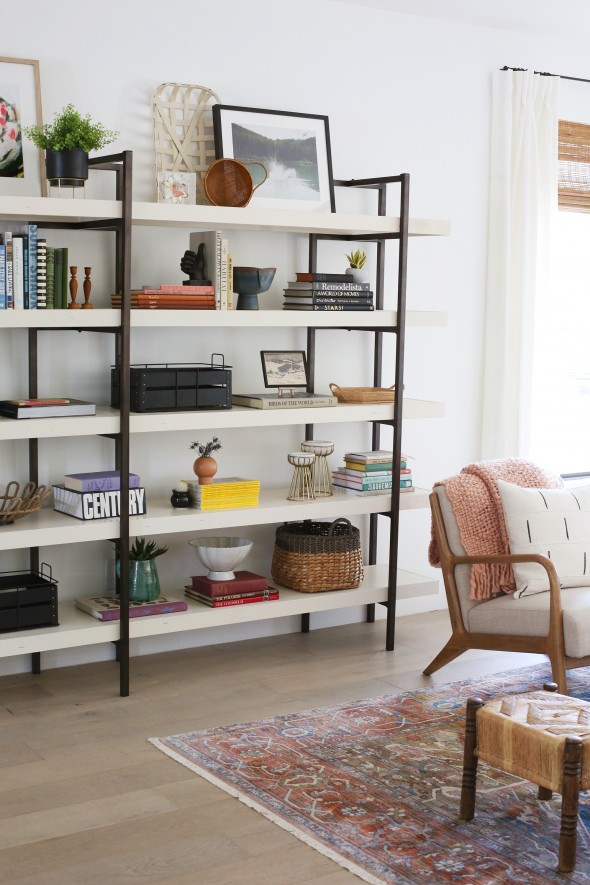 The rest of the room came together easily with a vintage blue sofa I had in storage and two of these comfortable and insanely affordable arm chairs! I love them with our rug!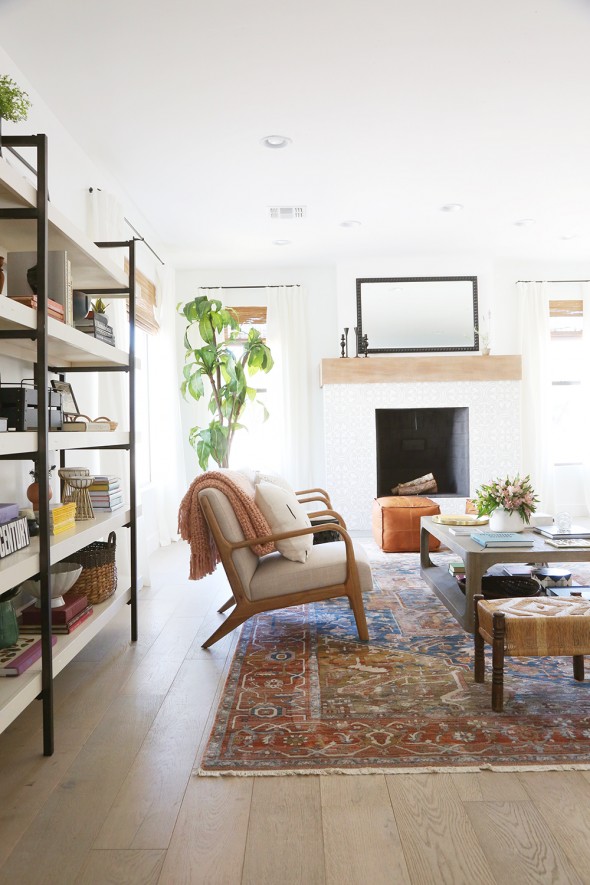 The leather poufs are from CB2, the coffee table was a Restoration Hardware outlet find and the little woven stools are from a local antiques store. I love all the texture and warmth they provide to the room!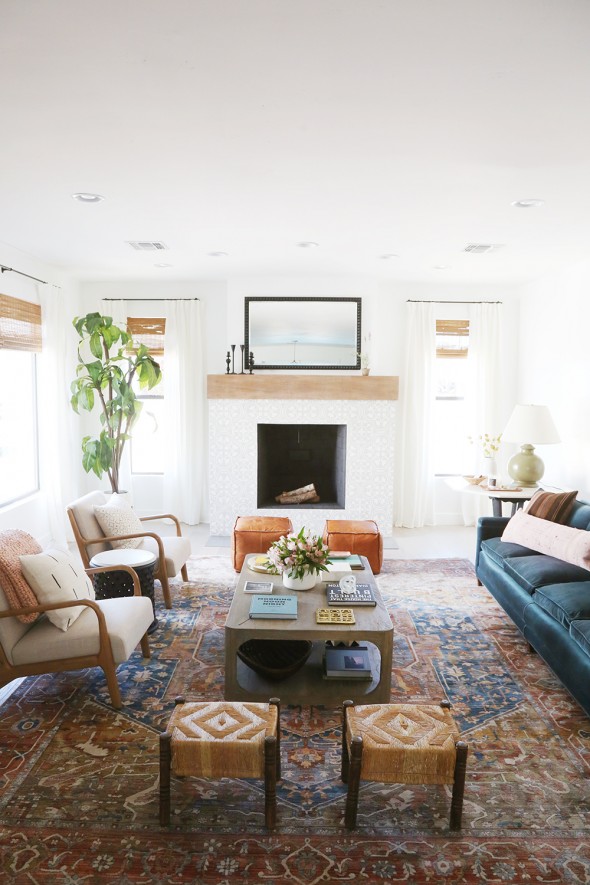 black and white dash pillow  //  pink pillow (similar)  //  striped pillow (similar)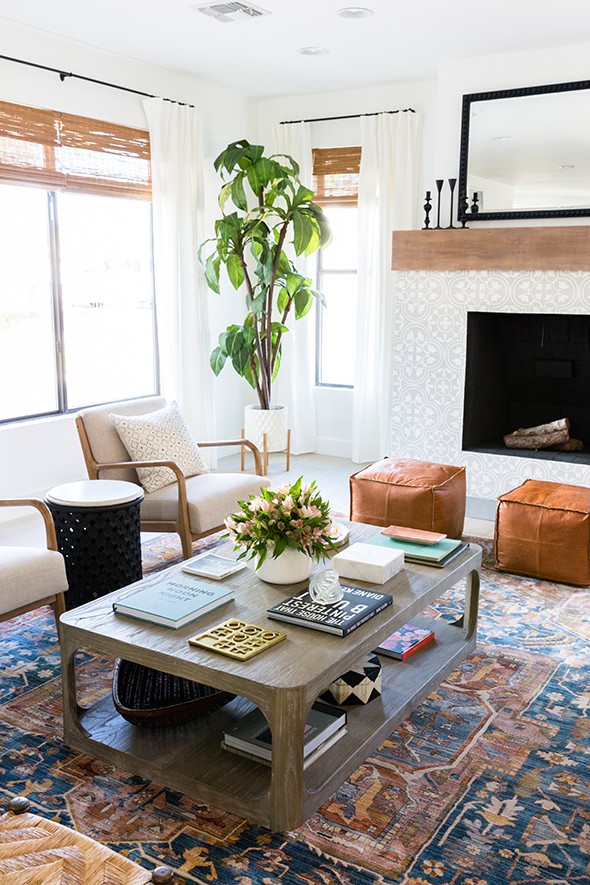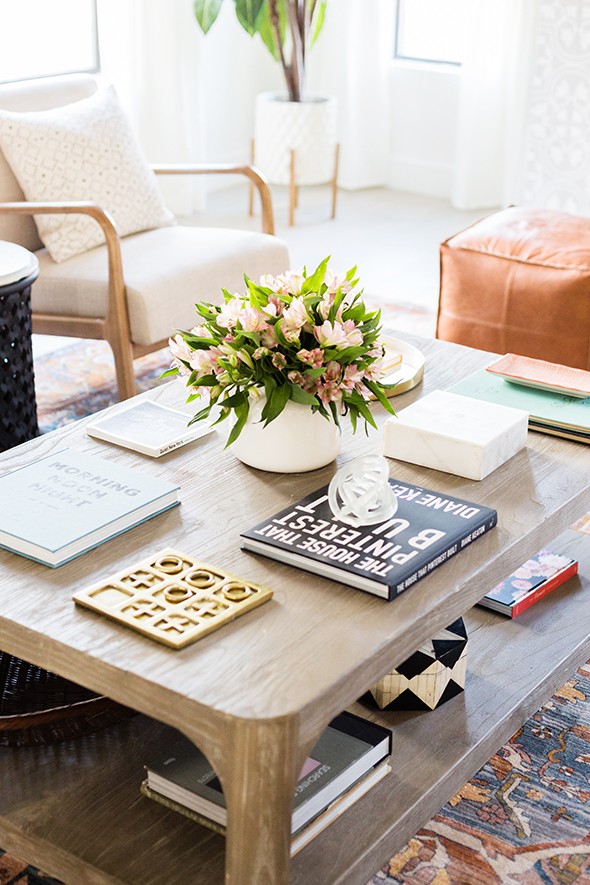 coffee table  //  brass tic-tac-toe, vintage (similar)  //  glass knot 

I'm obsessed with the new fireplace and have zero regrets about removing the oversized beehive fireplace. The subtle pattern and color of the cement tiles combined with the warm wood mantle feel right at home in this new space! We opted to keep the styling pretty simple here since there's so much going on in the rest of the room. We just layered an old thrift store mirror we painted matte black with some simple vintage candlesticks.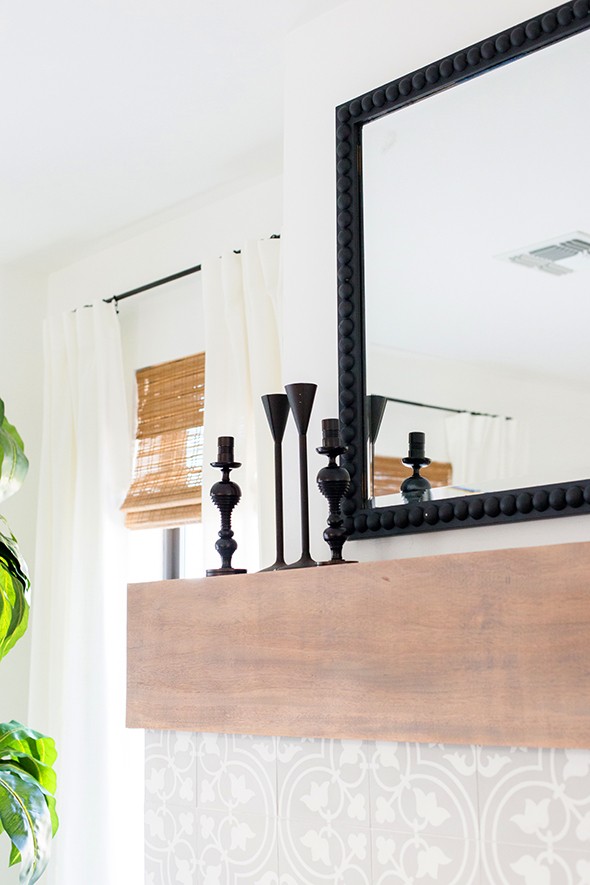 curtains  //  roman shades (similar) //  rods  //  rings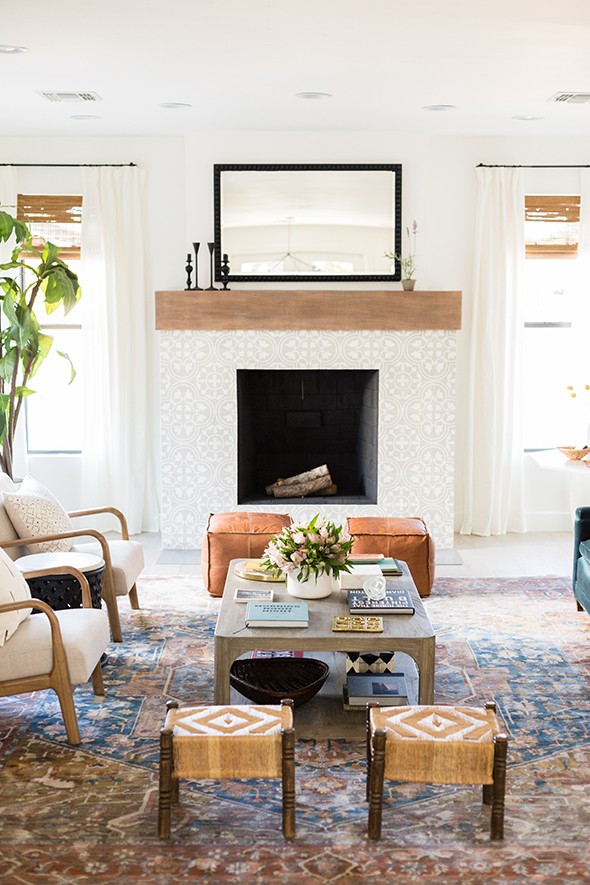 That tall table in the corner of the room is one of my go-to designer tricks. I like my sofa tables to be different and I usually like one to be extra tall with an extra large lamp on it. I found this hex shaped marble piece at thrift store and the table base separately at an antique mall. I painted the base black and it looks like they were always meant to be together!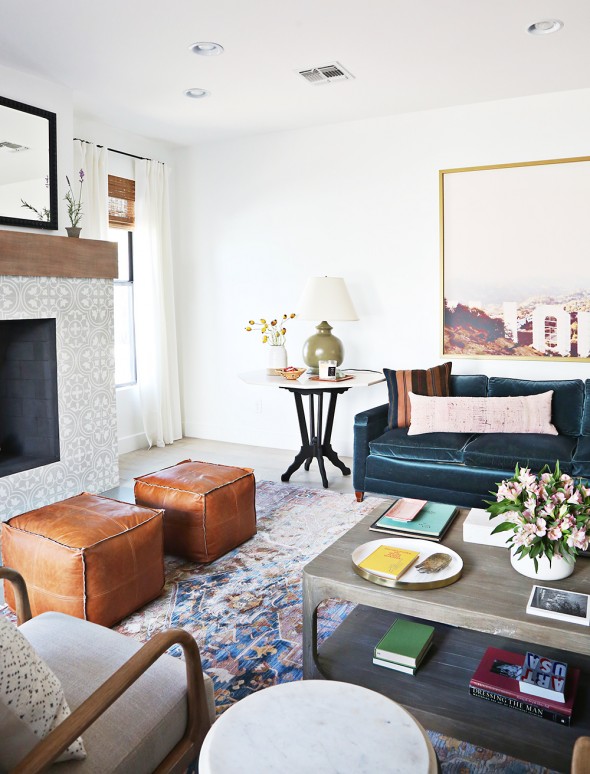 sofa, vintage – similar  //  leather poufs  //  HOLLYWOOD print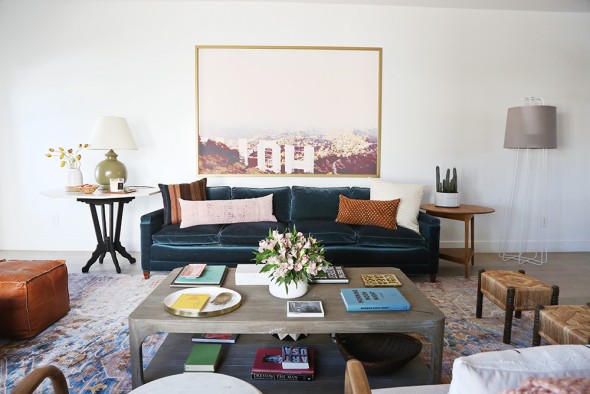 The lamp was a thrift store find that I spray painted a satin olive green. I love it now!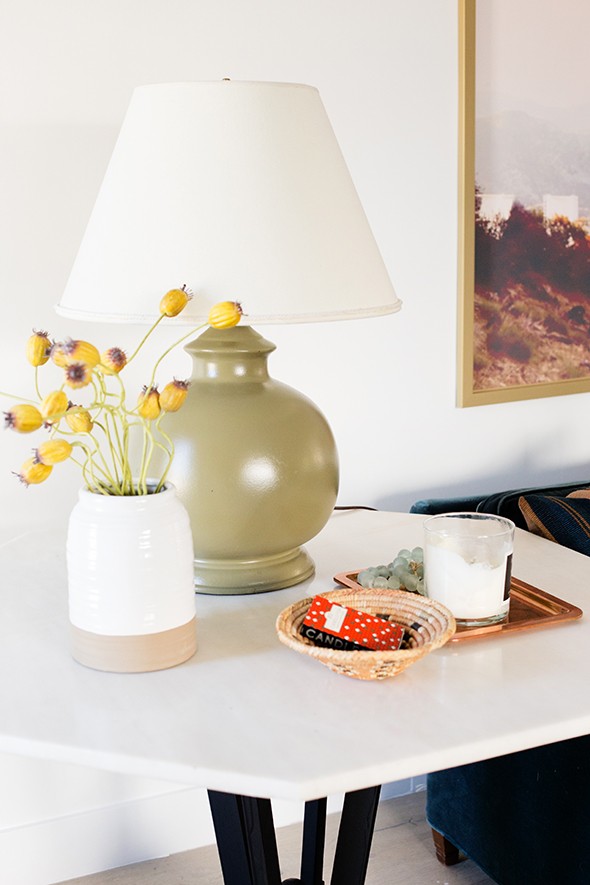 white ceramic vase (similar) //  small basket, vintage (similar)  //  sea glass beads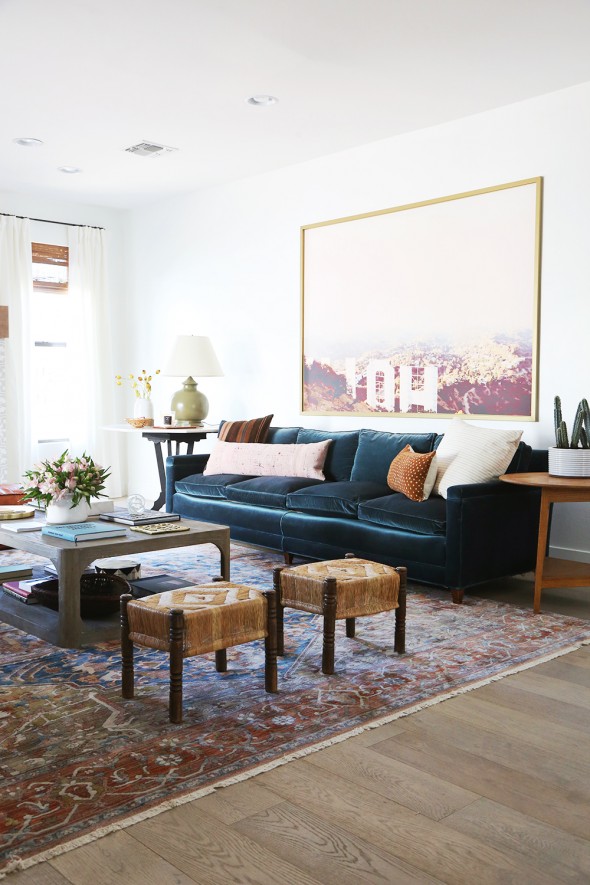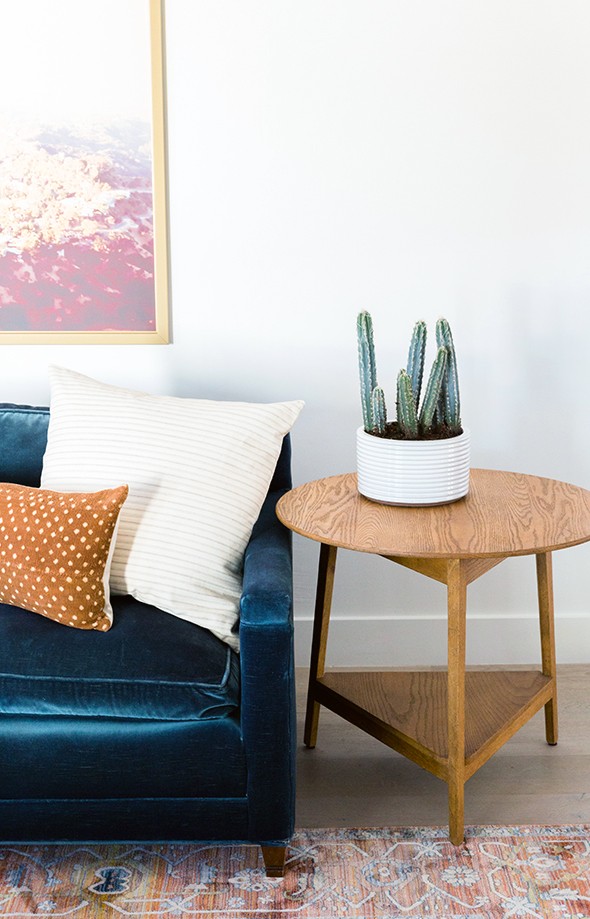 We're working on a full post just about the huge canvas art hack we did above the sofa here, so stay tuned for that! The general idea is we had a local print shop (Cox Printing in Mesa) print our HOLLYWOOD from Jenny's Print Shop on 10 mm premium indoor vinyl. It cost $130 for this HUGE 79×55″ print. We also bought just the frame and not the canvas of this IKEA art. The brass finish is being discontinued and people have been sending us DMs saying they are getting the frames for $5 in stores! We might just go and stock up! To mount the vinyl in the frame you just follow the (actually very easy) instructions from IKEA and that's it! Super simple, incredibly affordable and such a statement piece in this huge, long living room!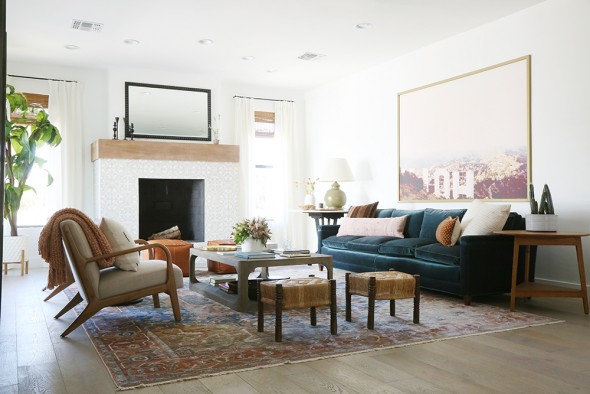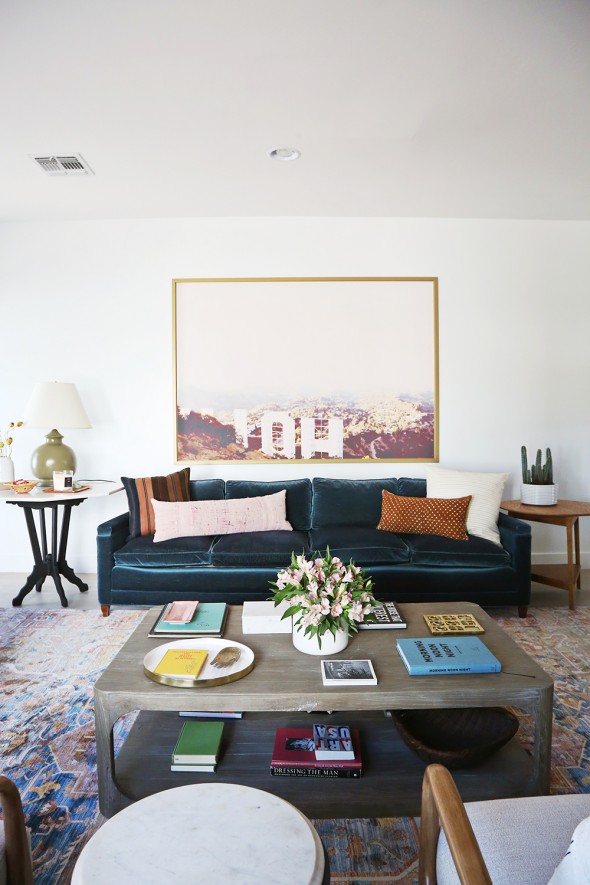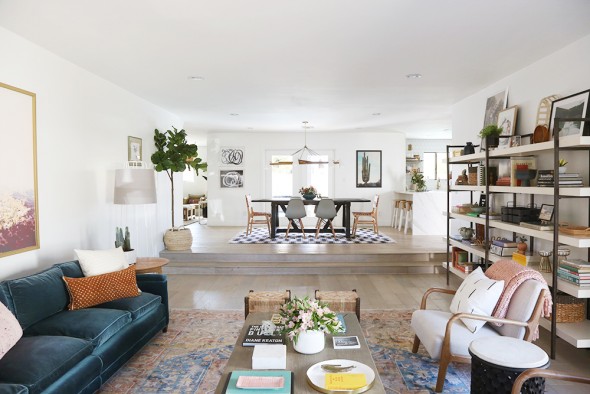 The dining room is open to the living and I'm equally as obsessed with this space! The knock-out piece for me is this STUNNING chandelier we designed and made with Lucent Lightshop. CAN YOU EVEN WITH THIS LIGHT??? Brass down rod, black cotton cording, birch bracing, white paper shades!!! Be still my hear! Lucent delivers perfection every single time.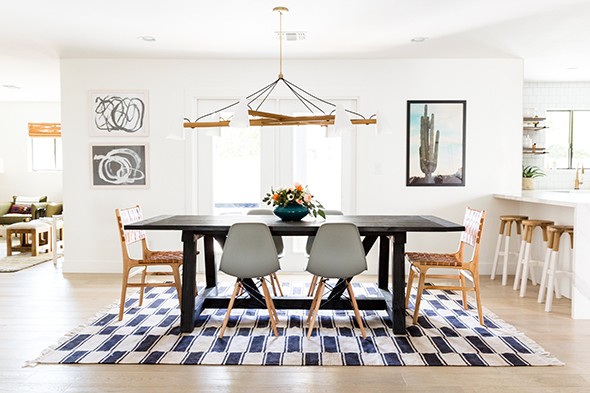 KNOTS I print  //  KNOTS II print  //  BLUE DESERT print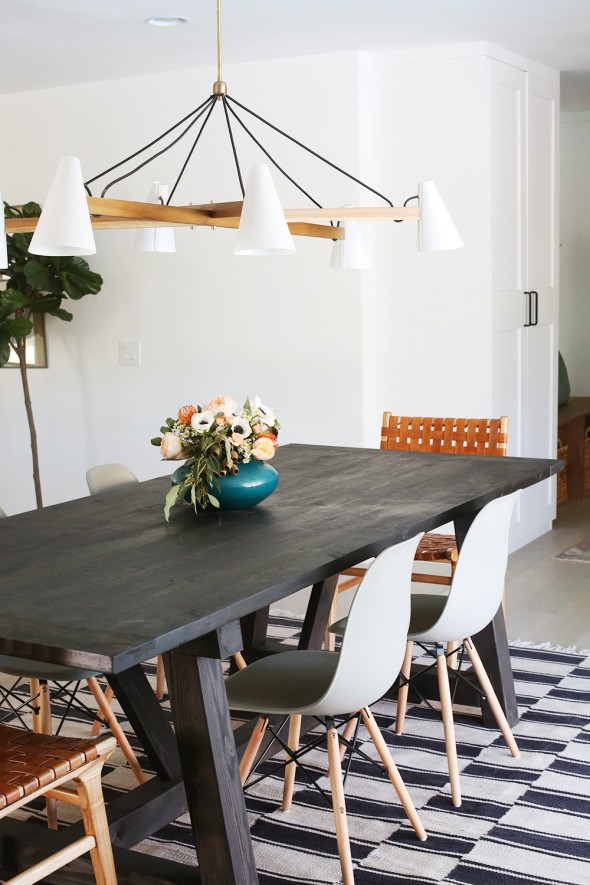 woven leather chairs  //  gray shell chairs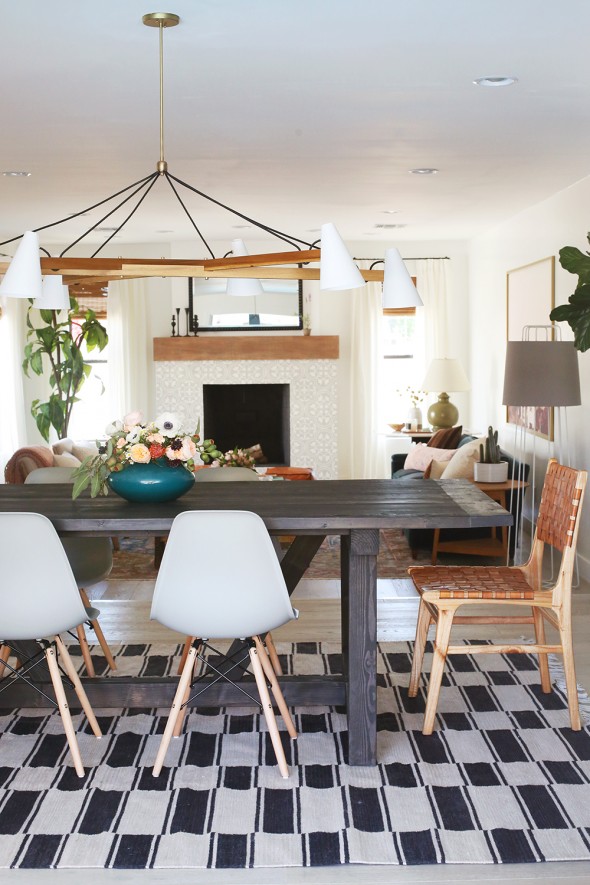 dining table (similar)  //  rug (similar)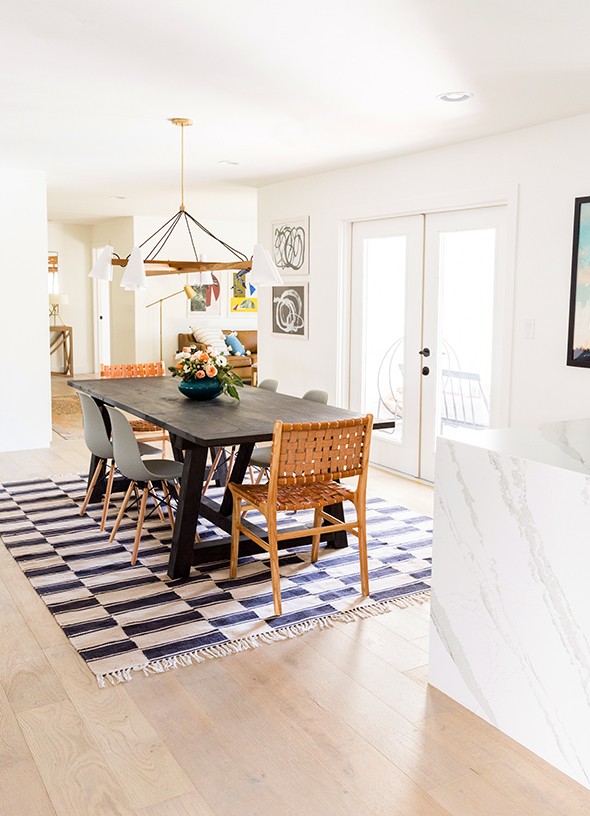 These woven leather dining chairs are also my favorite! We will be carrying these in our shop but you can find the same exact ones now here! They are comfortable and so unique! I got a million questions about them on Instagram and at our open house.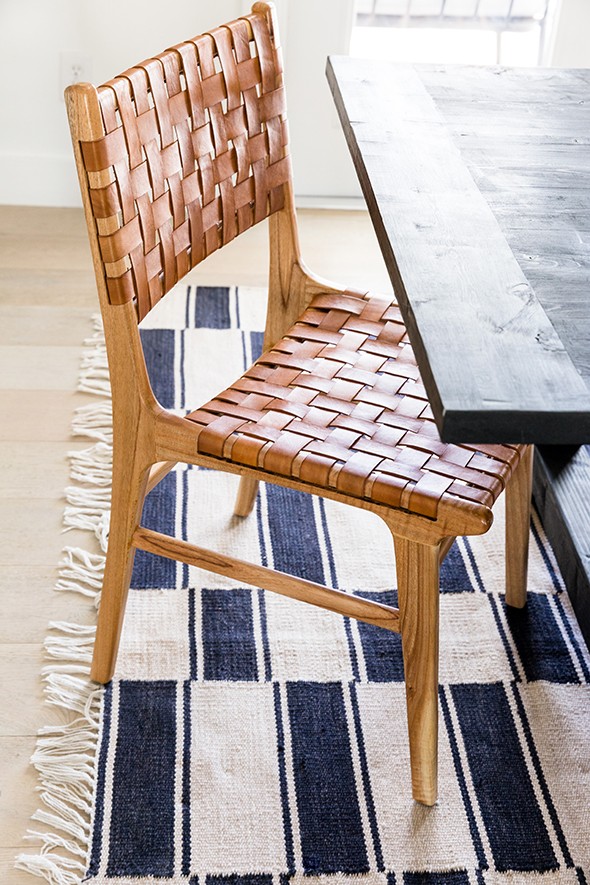 woven leather chairs  //  rug (similar)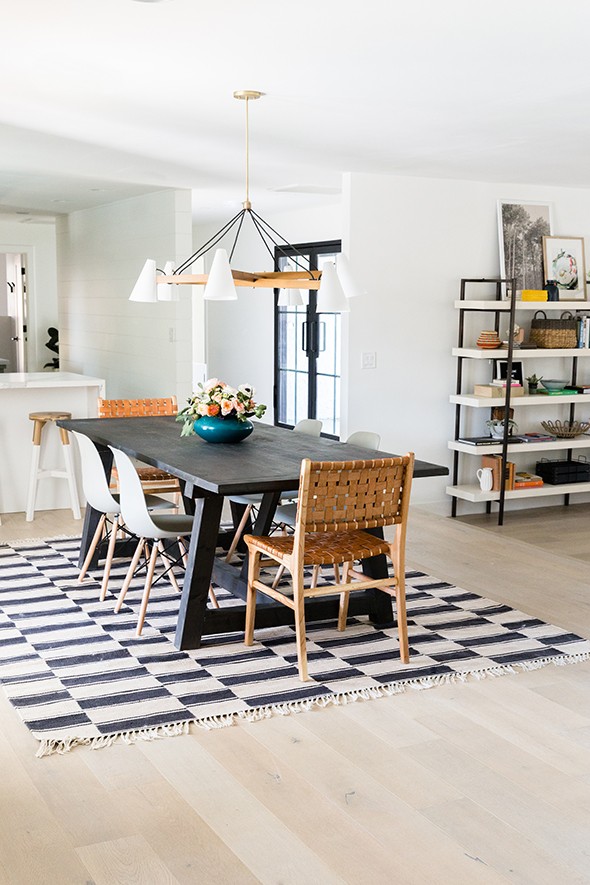 I love how perfectly they pair with our super affordable gray shell chairs. These were only $180 for all four!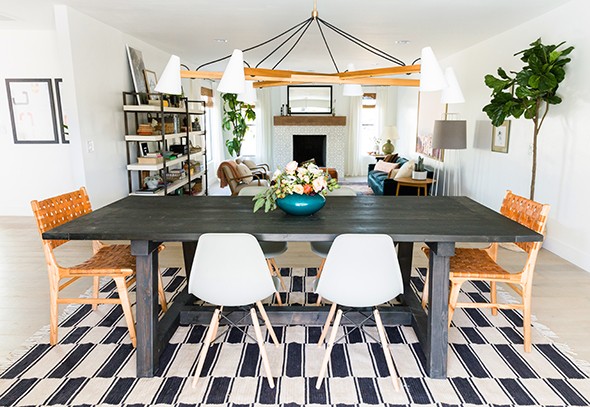 The rug was a steal (just $99 from Pottery Barn!) but it's sold out now. Here is a very similar one. I love how the graphic stripe pairs with the more traditional pattern of the living room rug.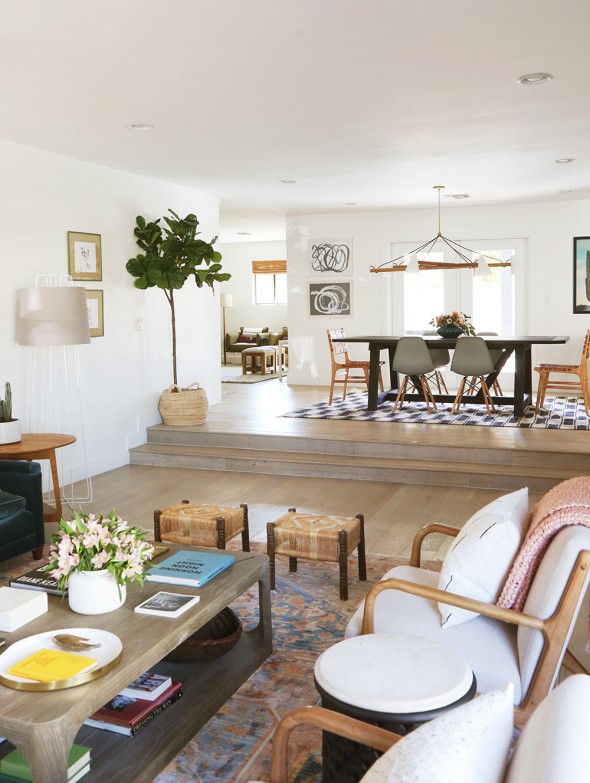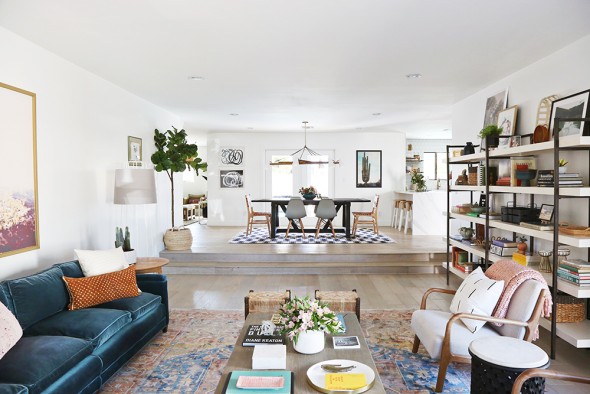 I hope you love these spaces as much as I do! Here's a list of all our sources below, but please feel free to ask any questions in the comments!

LIVING ROOM SOURCES
Rug – 10×14 size shown in this space
Sofa – vintage, similar here
Wood floors – Lumber Liquidators Delaware Driftwood
Wall, trim, ceiling color – Benjamin Moore Chantilly Lace
Fireplace tile – Cement Tile Shop
Mantle – Mahogany with Classic Gray stain
DINING ROOM SOURCES
Chandelier – Lucent Lightshop
Counter top material – Cambria Matte Britannicca quartz