Well, the Gentry Project has finally wrapped up and I'm so excited to start sharing more of the finished spaces in this house with you! (In case you missed them, you can see the kitchen here and the master bedroom here.) We listed the house just a few days ago and we are already under contract! So exciting!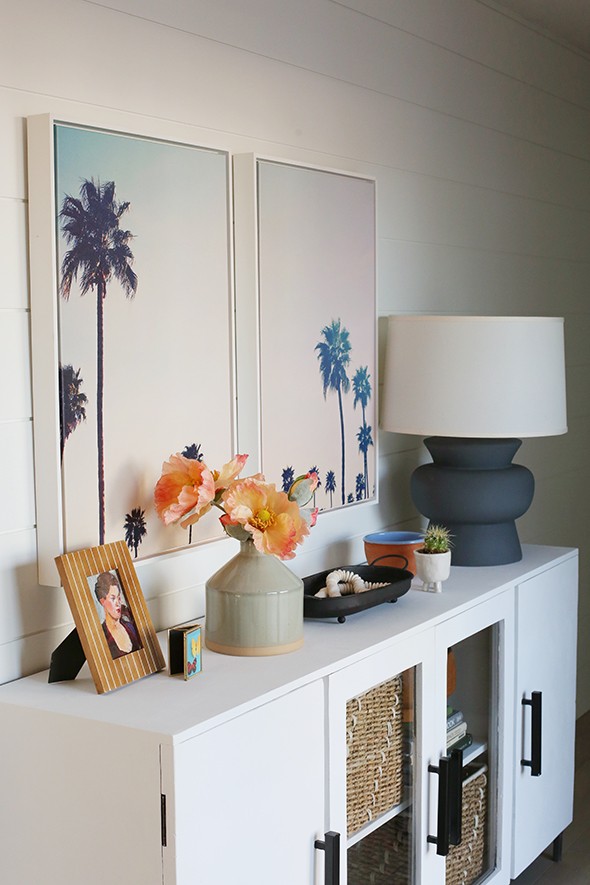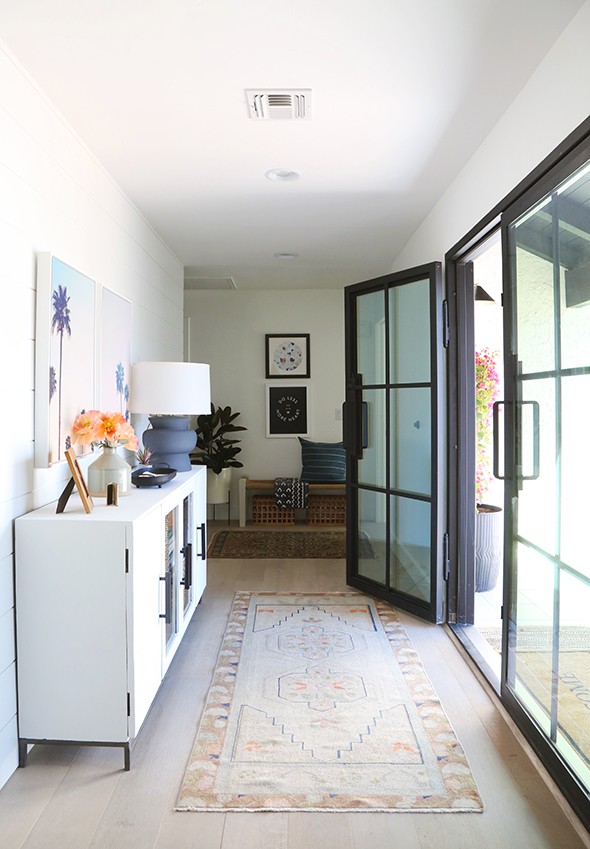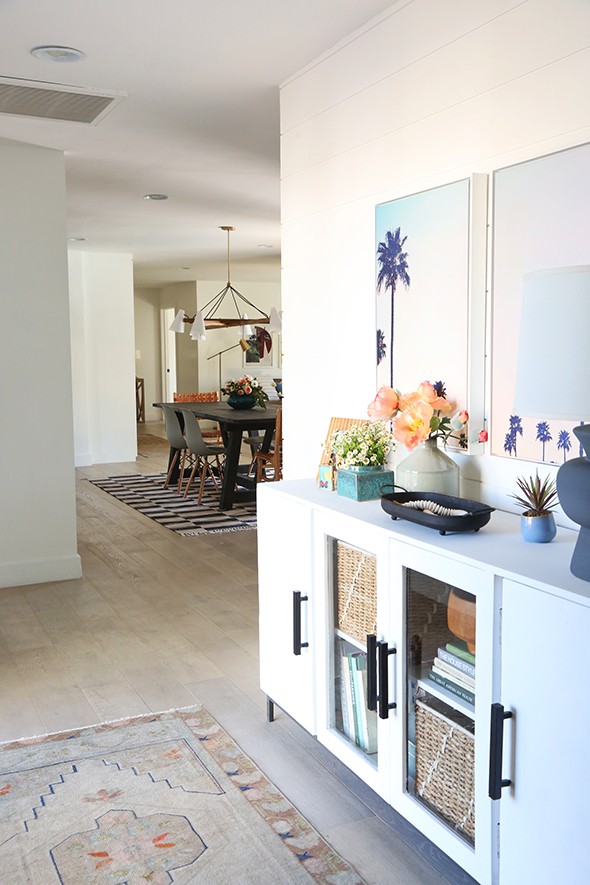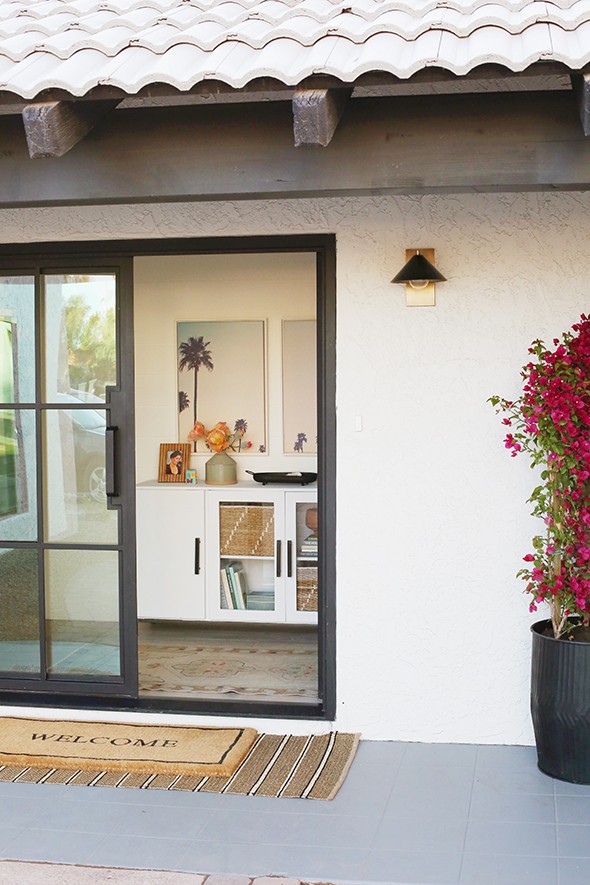 I really wanted the entry space of this home to feel colorful and welcoming, especially for the open house we held this last weekend! Our amazing iron front door that we had made locally from Signature Iron Doors, lets in the most beautiful light into our entry.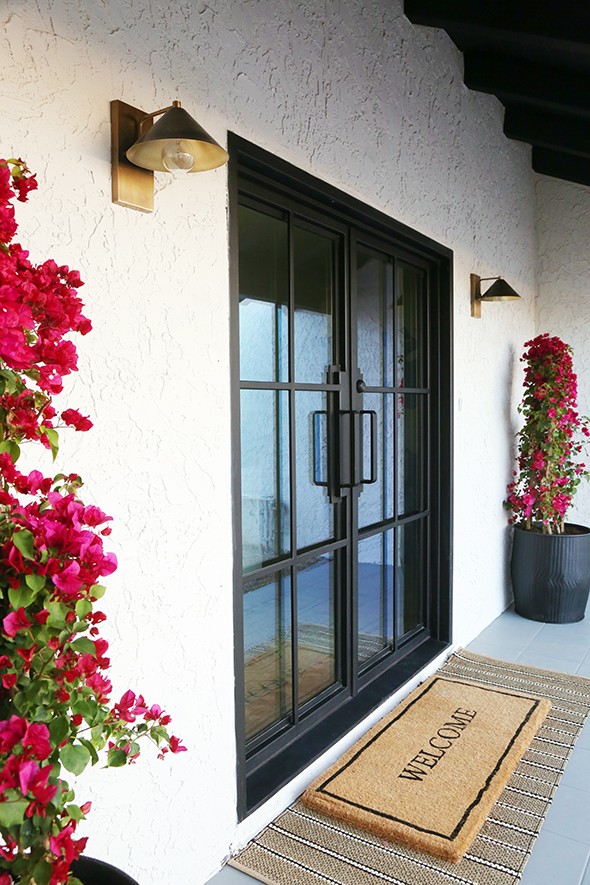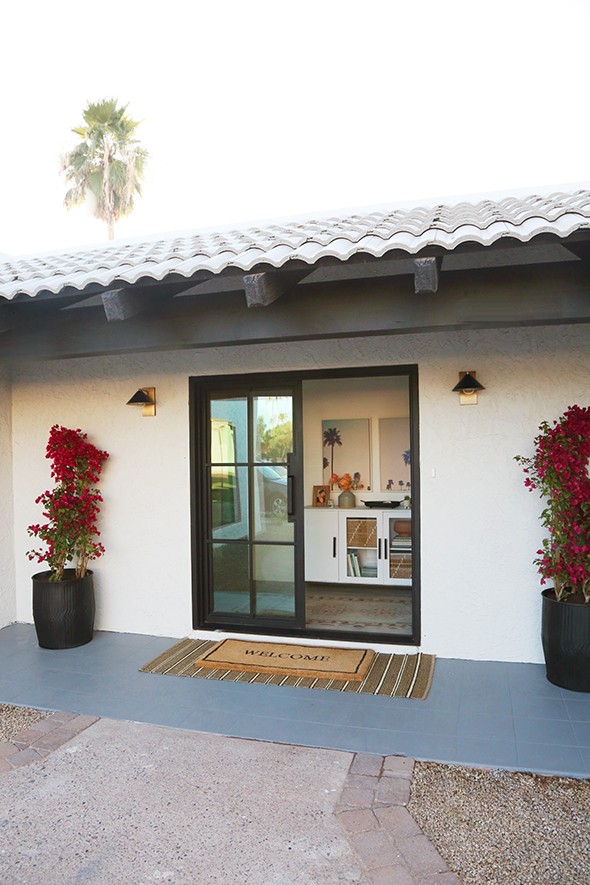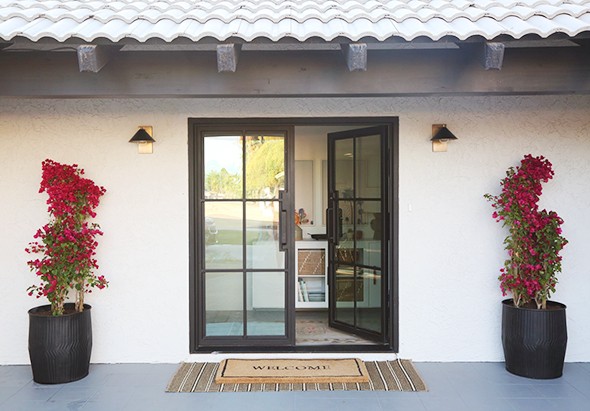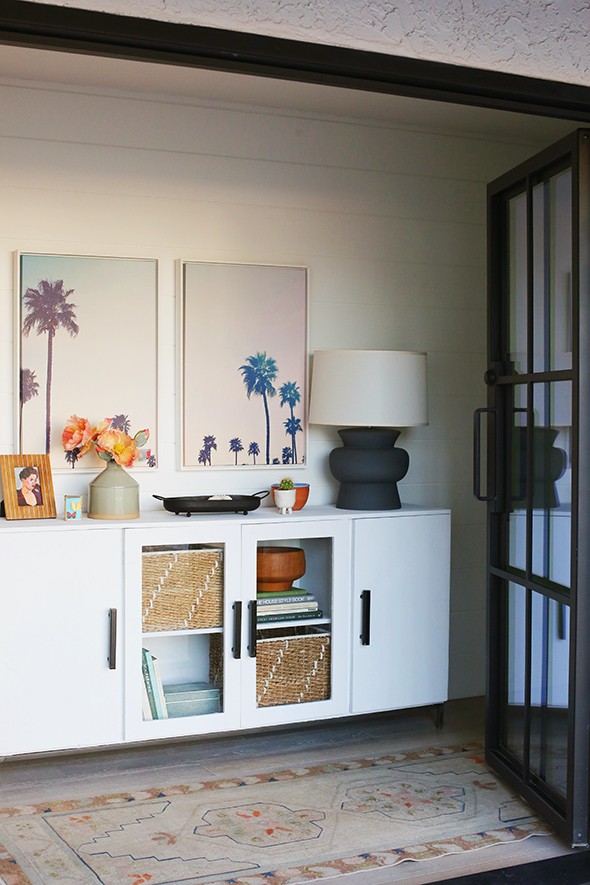 vintage rug (similar)
I knew I wanted to have some really pretty art hanging on our shiplap wall since you can see through the glass doors from the front of the house. I love the look of diptyque or triptyque canvases, where the image is split up into two or three separate frames, and I thought something like that would be perfect in here. When Shutterfly reached out to see if I wanted to have any of our prints from Jenny's Print Shop framed for the Gentry project, I jumped at the chance to do a framed canvas series of BOARDWALK over the console table for the front door. I love all the palm trees we have in Arizona and this print felt like the perfect choice for this Spanish modern home.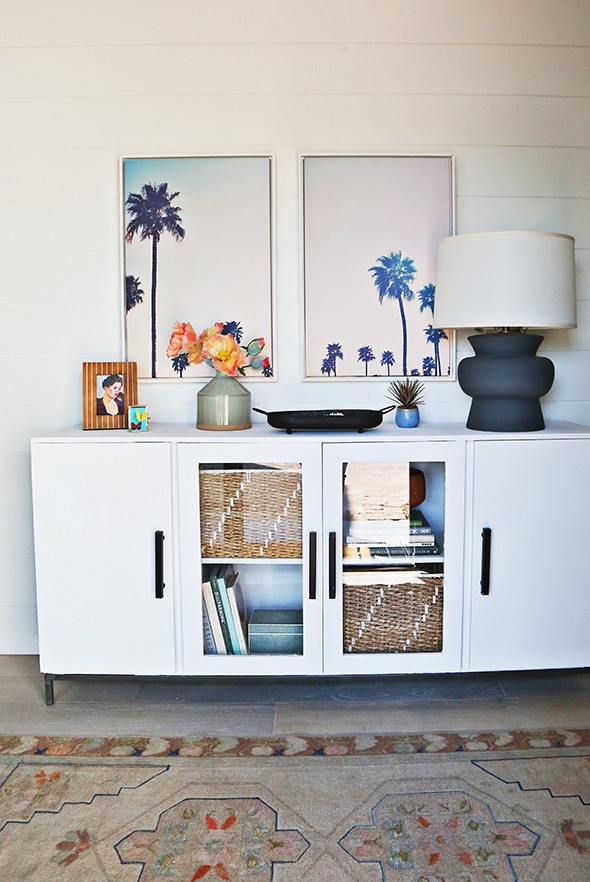 I know based on your emails that a lot of you have wanted to do something similar in your homes with print shop images, but the editing required to crop and edit the image was intimidating to you. Good news! Shutterfly does all the hard work here in splitting up the image and cropping to the right size. You simply upload the image file and that's it! No prior editing required on your part. It's super easy.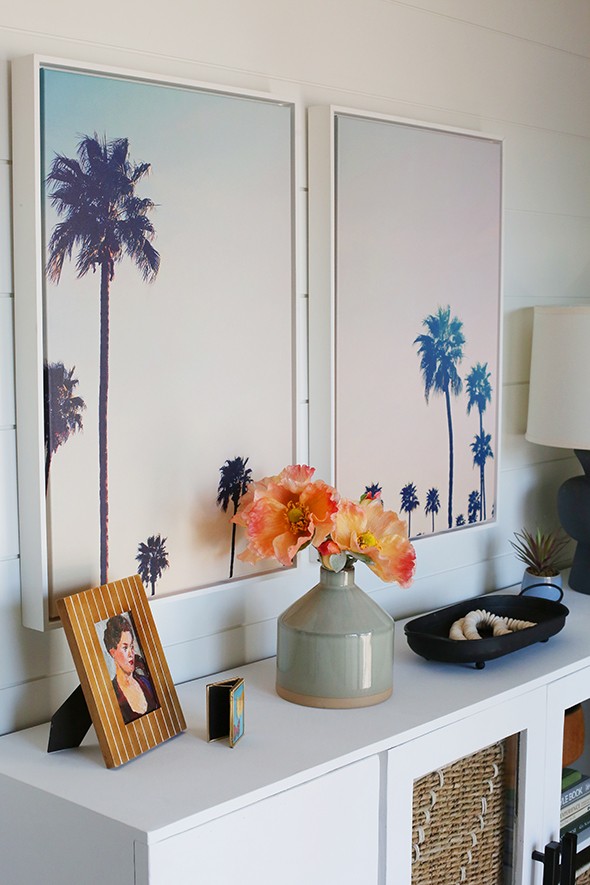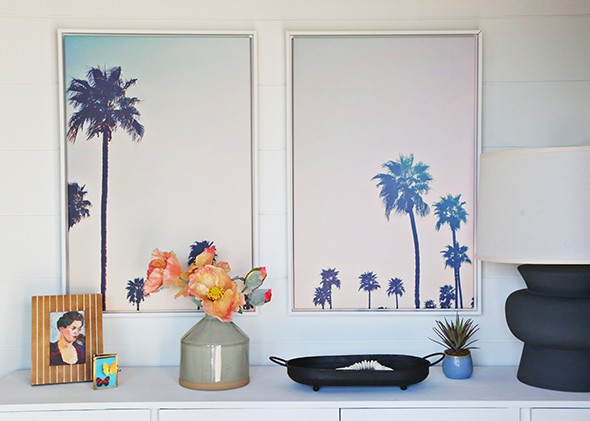 I loved shopping on Shutterfly's site for other ways to use our print shop images at Gentry. I'm pretty much obsessed with circle mats right now and I was so excited to see they have this mat and frame option! I love that Shutterfly has black, white and cream matting options as well as a great selection of frame options. I love how our two newest prints HEARTS and DO LESS look stacked together here at the end of the hall. I used this frame for DO LESS and this one for HEARTS with the cream circle mat option.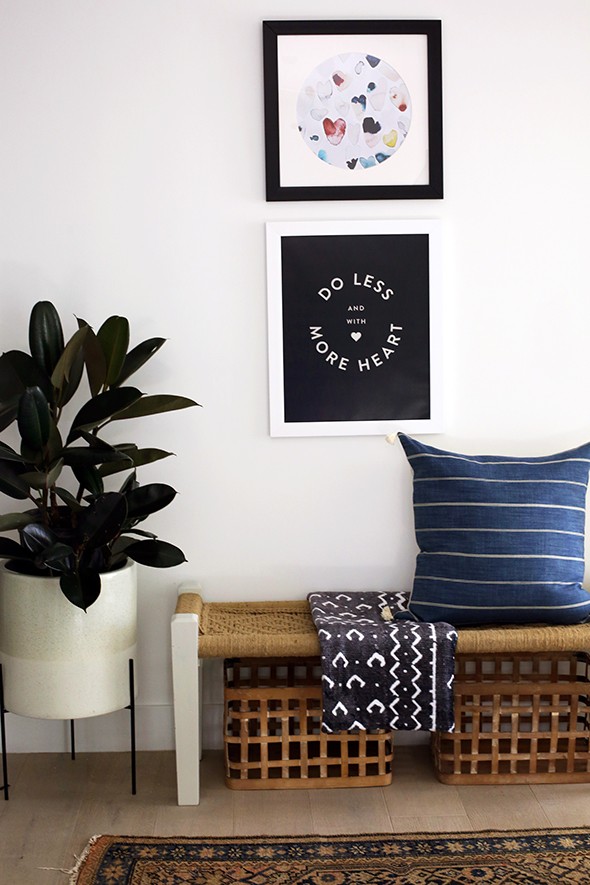 woven bench (similar)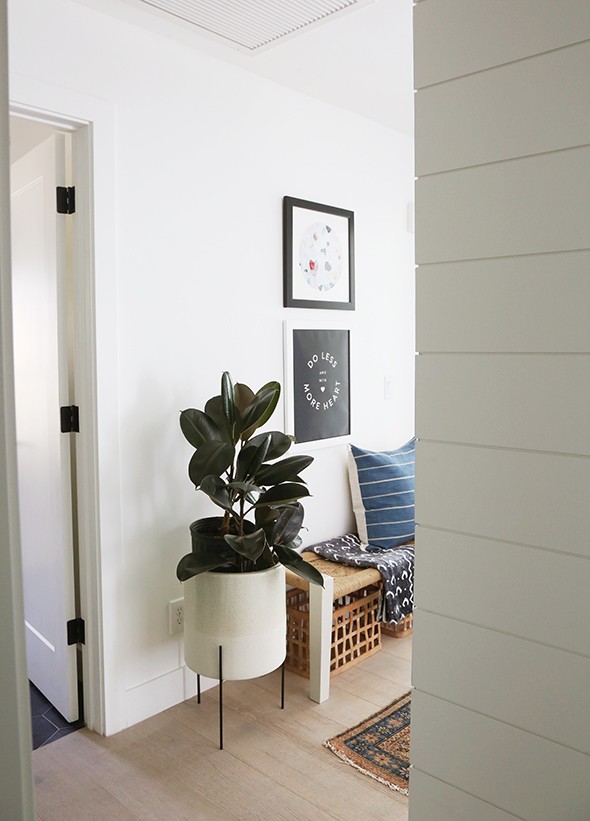 Did you know Shutterfly offers all sorts of home decor pieces beyond just wall art? All of which you can personalize with your own images or files (like from Jenny's Print Shop) or you can choose from Shutterfly's extensive art library. I uploaded this photo of a mudcloth pattern to have them make this super cozy throw! Isn't it cute in here? I love how these little touches made our Gentry entry space feel warm and welcoming to our guests and potential future home owners during our listing open house this last weekend.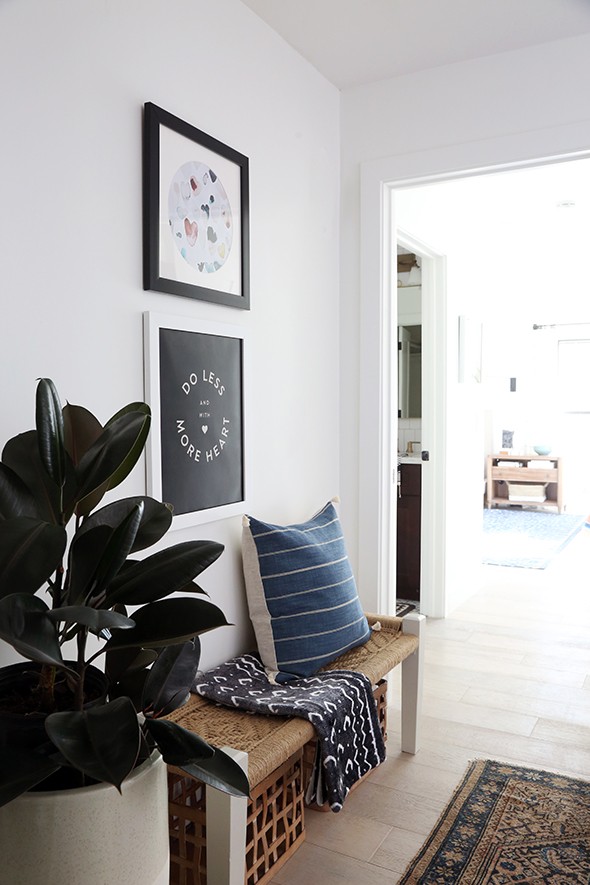 woven bench (similar)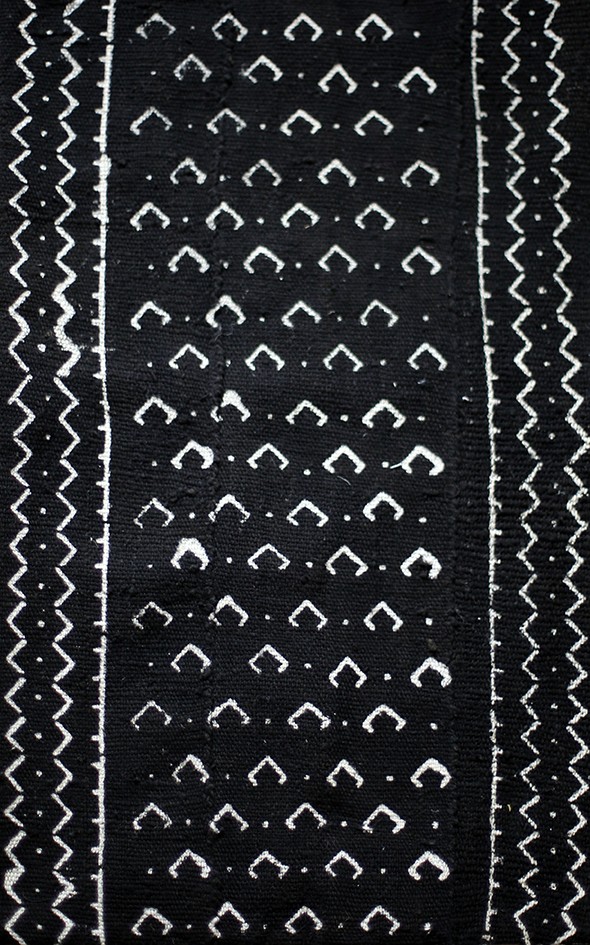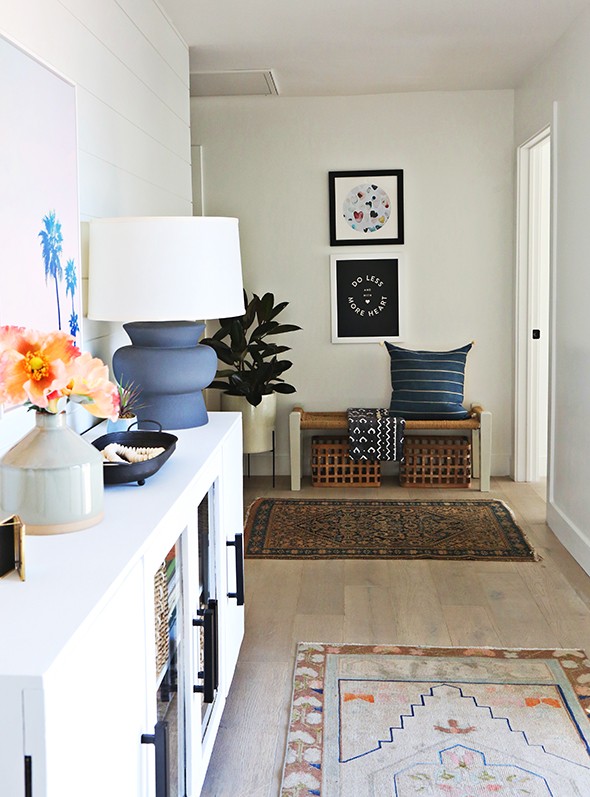 SOURCES
BOARDWALK print and framed canvases
DO LESS print and frame
HEARTS print and frame
Front Door – Signature Iron Doors
Exterior color Benjamin Moore Classic Gray
Exterior Sconces – Lucent Lightshop
Black planters on front porch with bougainvillea
Console table – Downeast Home
Lamp – Juniper Studio (coming soon!)
Woven bench (similar)
Mudcloth throw blanket (similar)
This post was brought to you by Shutterfly. All opinions are my own. Thank you for supporting our sponsors! :)