One of my obsessions is really great bedding. I'm the person that checks tags on sheets in guest rooms and at hotels – I'm constantly on the hunt for the perfect cotton sheets that are soft, cool and that wash well!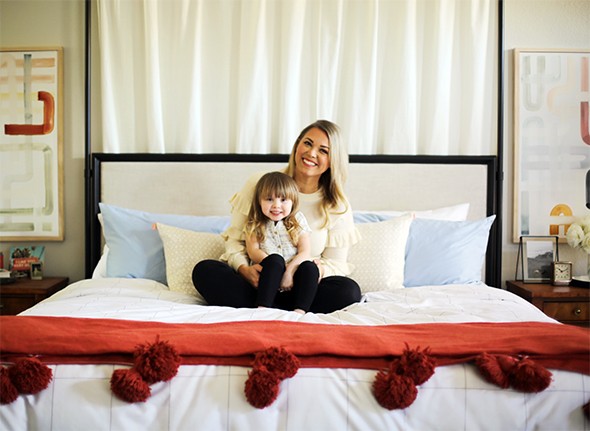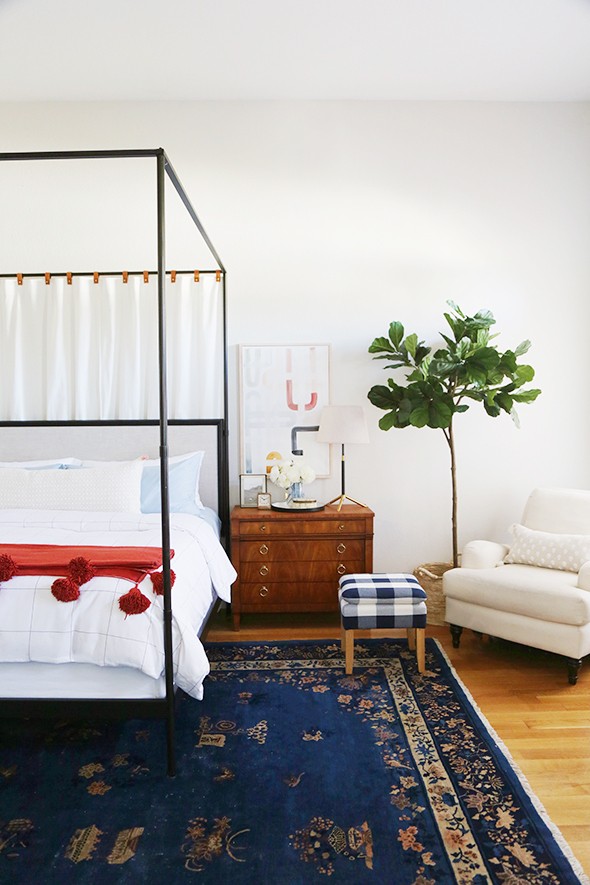 canopy bed  //  rug (similar)  //  blue plaid ottoman  //  pom pom throw
armchair  //  pillow on chair  //  fiddle leaf fig  //  lamps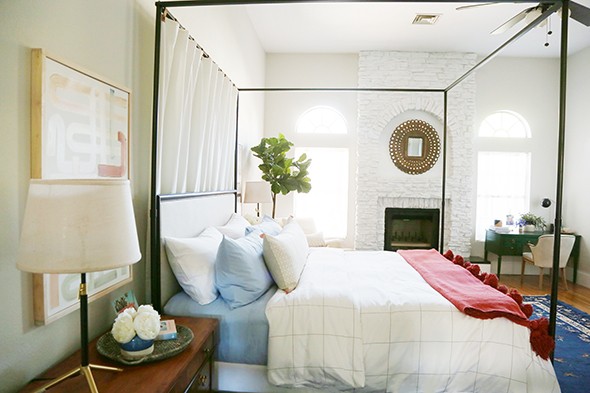 canopy bed  //  lamps  //  vase
I've heard a lot of great things about Brooklinen bedding (over 12,000 five-star reviews on Google speak for themselves!) so when Brooklinen reached out, I jumped at the chance to try their luxurious bedding and to do a mini makeover of our bedroom!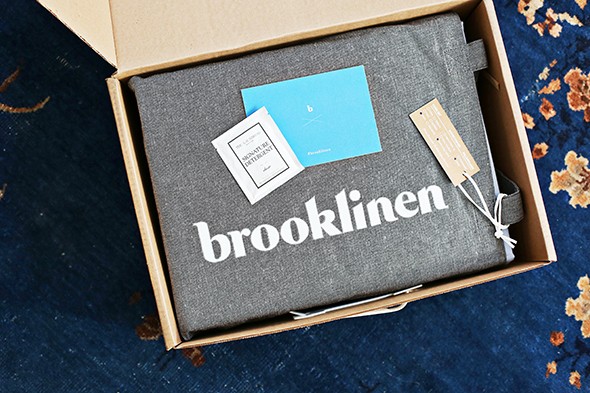 Brooklinen helps you save money by skipping the middle man and selling exclusively through their website to people all over the globe. Brooklinen bedding is made with five core qualities in mind: long staple fibers, single ply yarn, 80 and 60 yarn threads, quality thread count, and unique finishing, all explained here for those of us that really love these details!! :)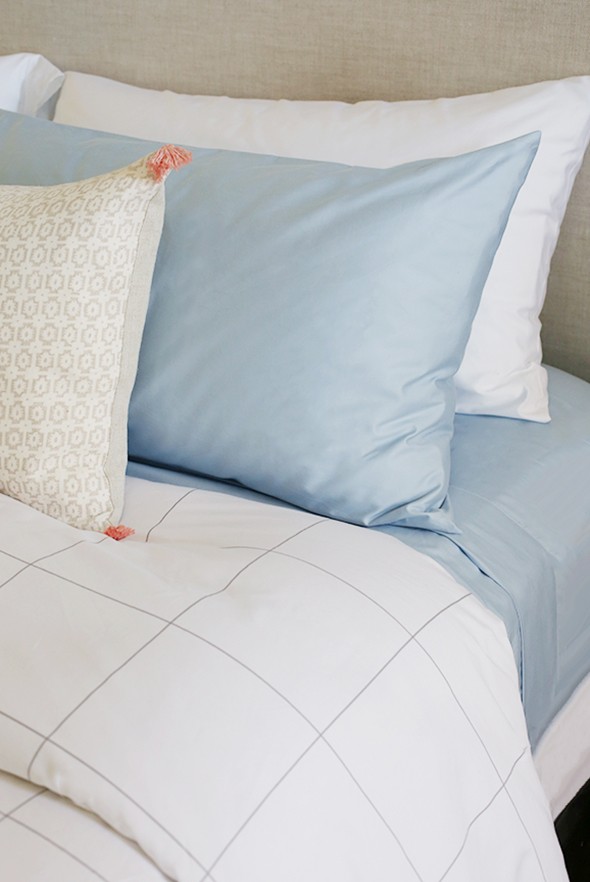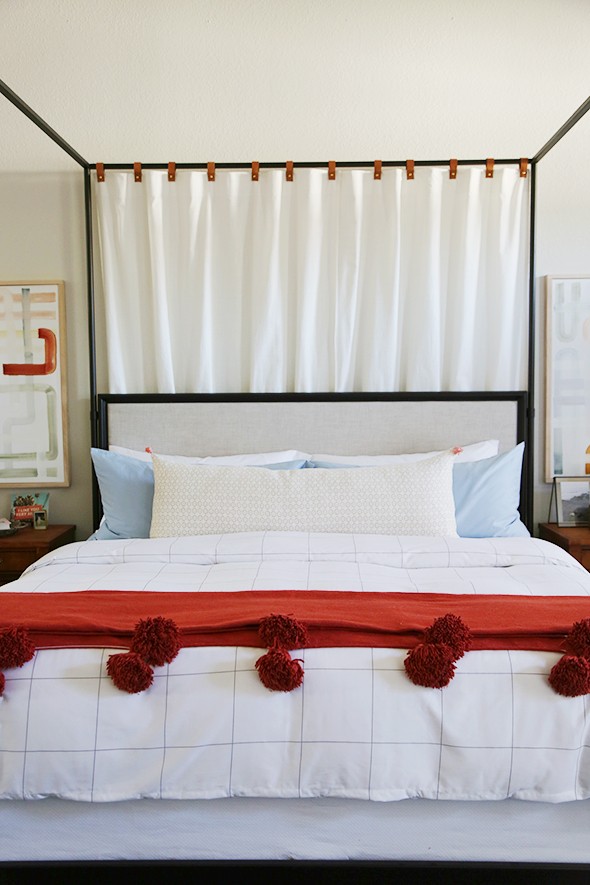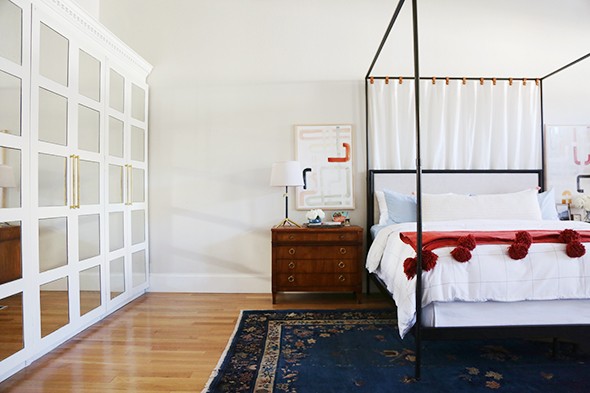 You can buy Brooklinen bedding pieces separately, but you can save more by buying bundled sets. I chose the Luxe Hardcore Bundle which has a sheet set with a fitted and flat sheet and two pillow cases and also a duvet cover that comes with two additional pillow shams. The Luxe bedding is just that – incredibly luxurious, and at an accessible price point.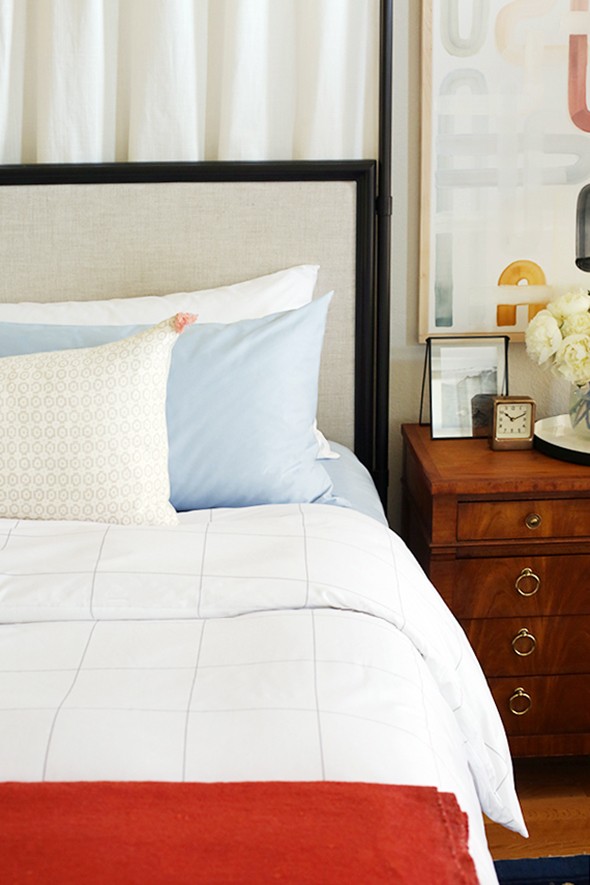 picture frame  //  black & white tray 
One of the things I love the most about the bundled sets is you can mix and match colors and patterns. We have a dark blue Chinese rug in our bedroom and I thought the powder blue sheets would be such a pretty combo and a fun change from all white bedding!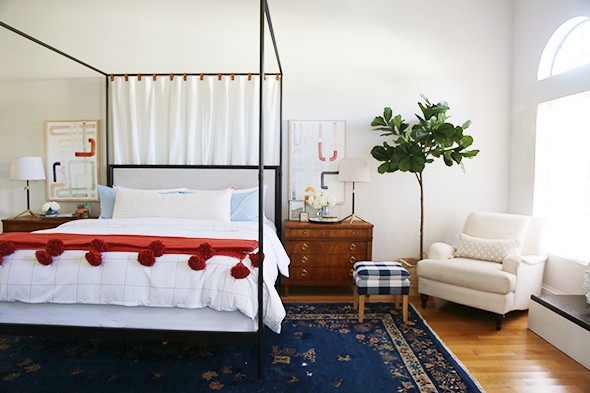 PATHS I and PATHS II – NOW IN THE SHOP!!
The SUPER cool grid pattern duvet was love at first sight and reminded me of the curtains we did in the One Room Challenge reveal! I love how perfectly this pattern mixes with other bedding like the vintage throw on the foot of the bed that I dyed that rusty red color and the long lumbar pillow that we'll be selling soon at Juniper Studio!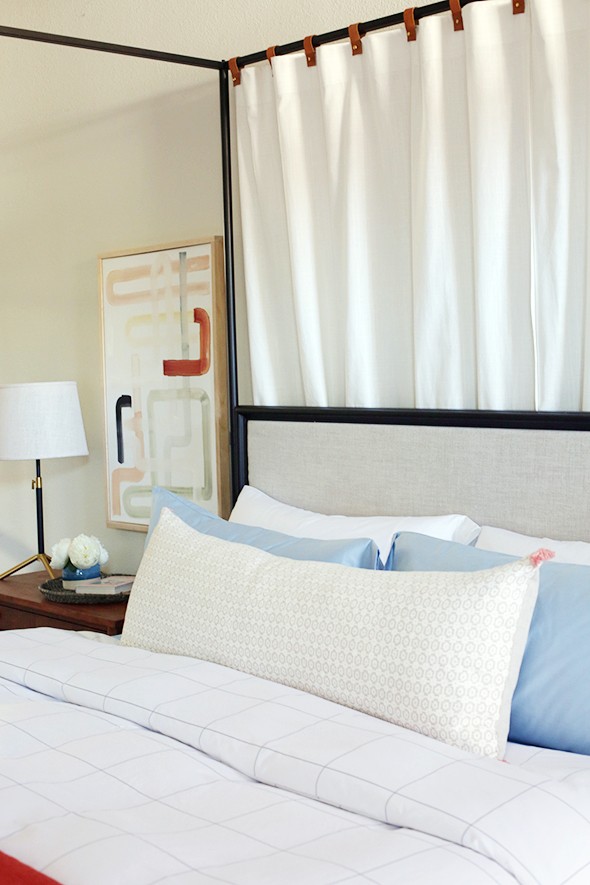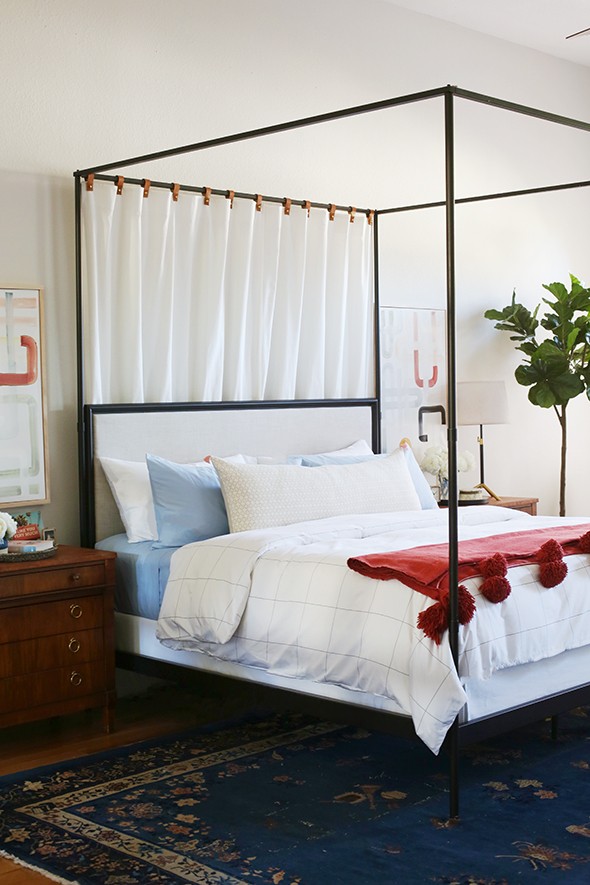 For this little makeover I also sewed these leather straps onto the linen curtain panels and hung them from our canopy bed. You can see more of this tutorial on my Instagram story highlights. I love the softened look and how it helps fill in that blank space above the headboard!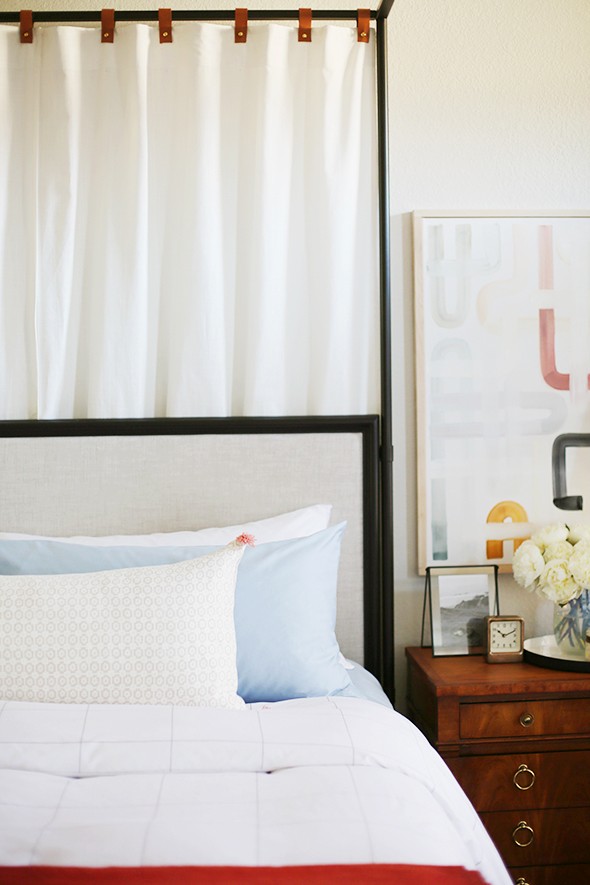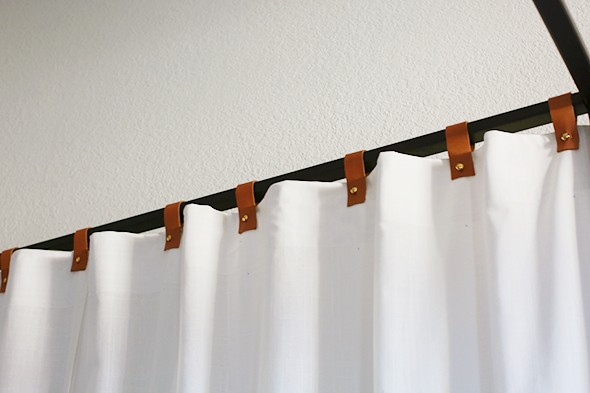 I also painted those abstracts for this makeover and I love how the hints of blue in the paintings looks with the new Brooklinen sheets! So soothing and peaceful! They are now available in Jenny's Print Shop!! I hope you love them as much as I do!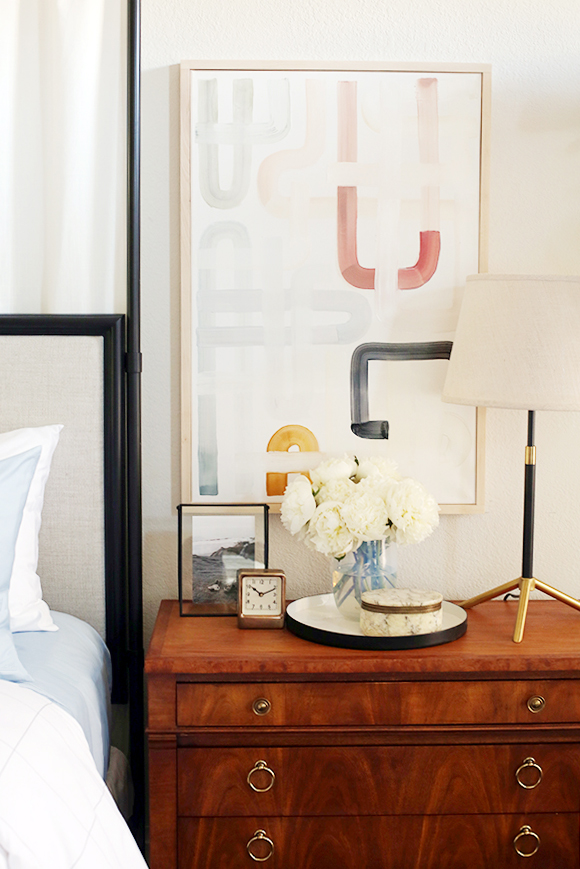 picture frame  //  black & white tray  //  lamp  //  clock (similar)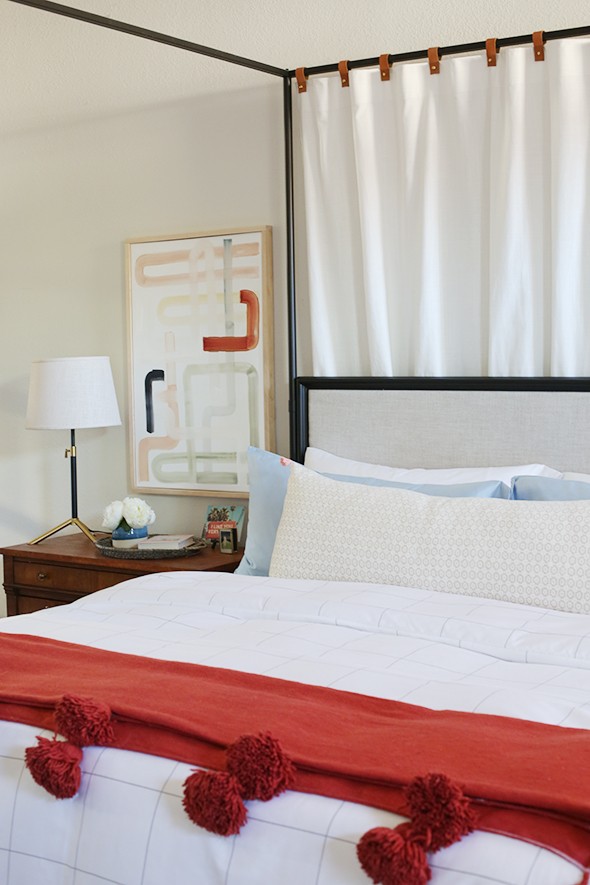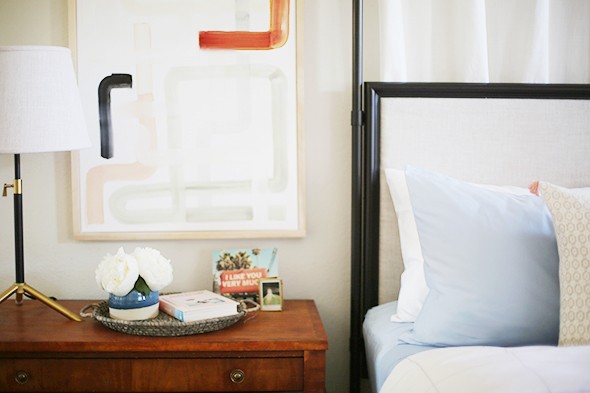 I LIKE YOU VERY MUCH print  //  mini gold frame 
So, I'd love to know, which bedding pattern is your favorite? I almost picked the small stripe for our room. I love our new bedding so much I'm going to grab a set for our guest bedroom! The great news for me and for you is Brooklinen is kindly offering $20 off and free shipping with the code LGN! Just click here to redeem your discount!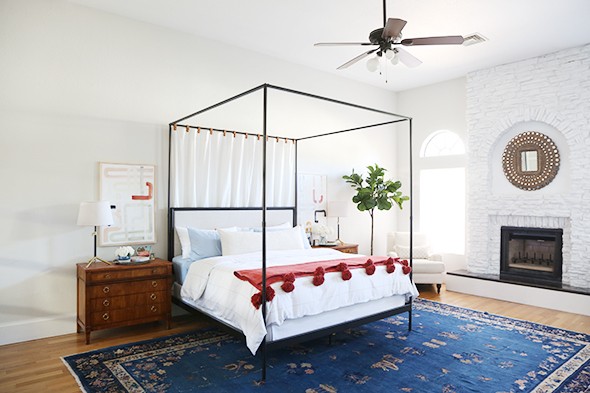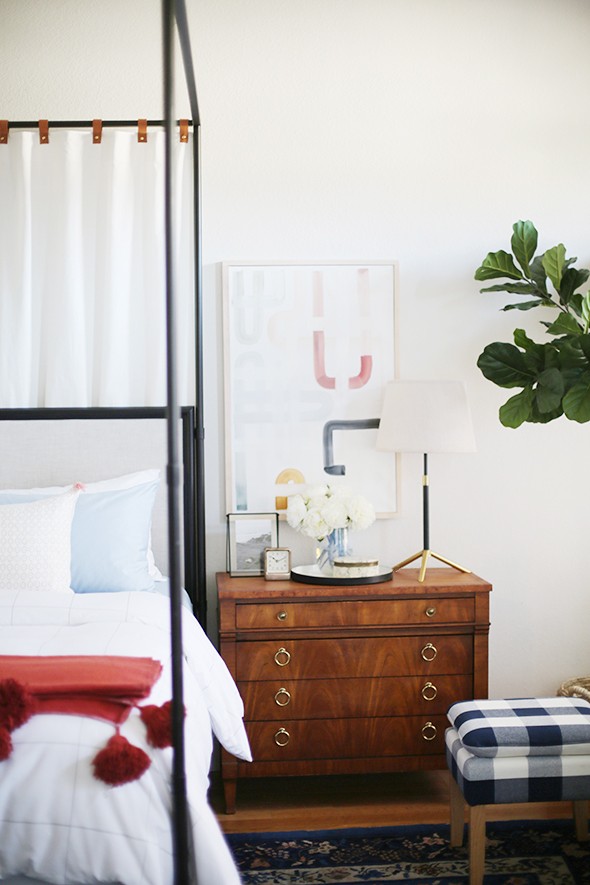 I hope you loved this little makeover! As always, please leave a comment in you have any questions about what I did here in the bedroom or the sources! I had a blast making all these small but mighty changes and I'm blown away at how it feels like we have a completely new bedroom by mostly just changing the bedding!
A HUGE thanks to Brooklinen for sponsoring this post! As always, all opinions are my own. :)