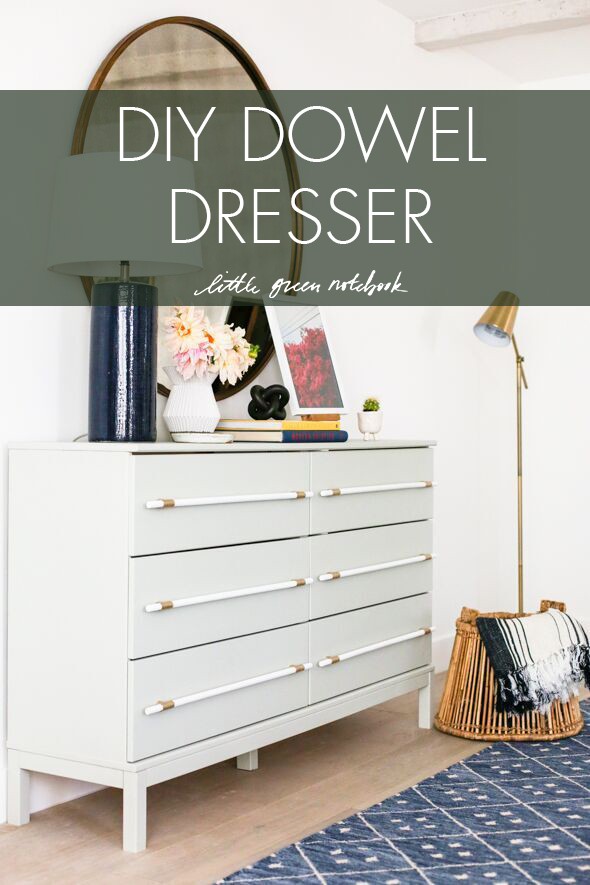 This is the last week of the One Room Challenge and we are kicking it in to high gear over here! We are picking up a few final items and plan to install over the weekend! We are so excited to see this room finally come together!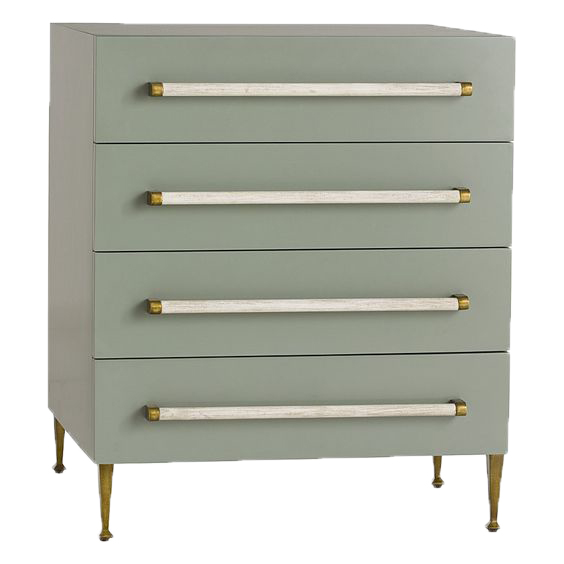 If you can remember back to our design plan, we had this Arteriors dresser as our inspiration. We fell in love with the color and and lines, but unfortunately it is no longer available.. not to mention it was super pricey. We had seen a few dowel pull dresser DIY's floating around, but none of them totally fit the bill of what we were trying to do, so we came up with our own version!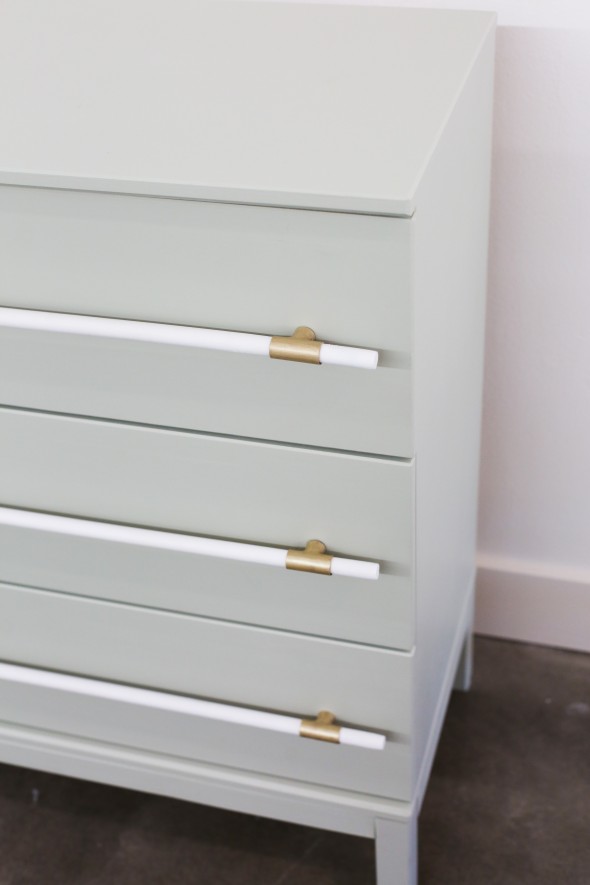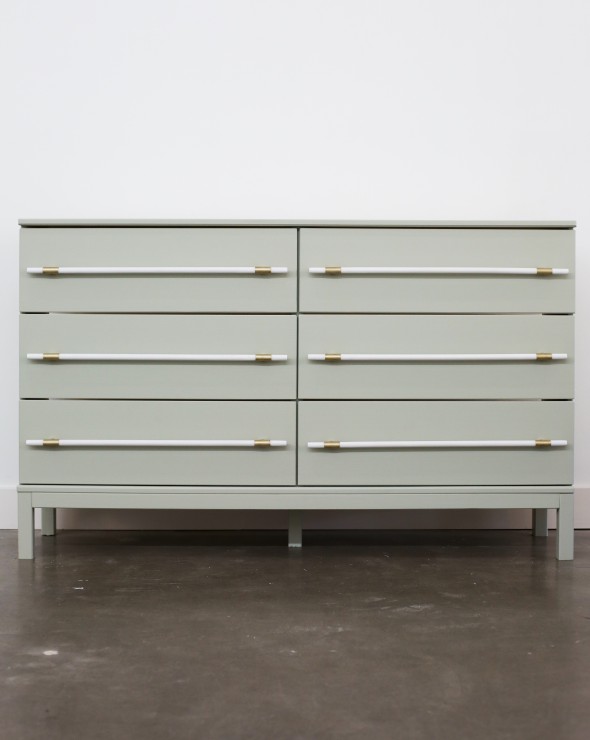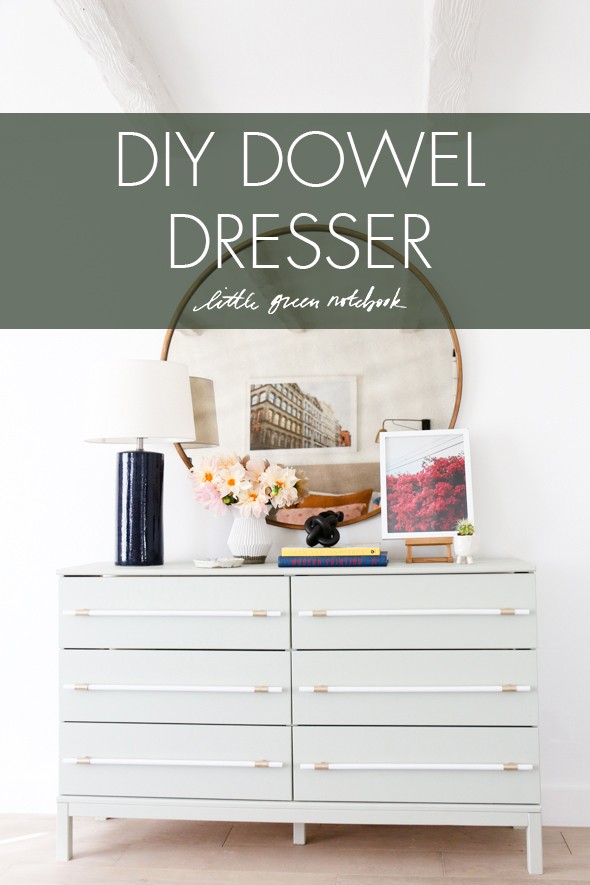 We picked up one of these dressers and built it to the specifications, leaving the knobs off. Since this is a natural wood piece, we primed over all of the knots to keep them from bleeding through the paint (make sure you use a primer that is says "stain blocker" on the can!). We also filled all of the pre-drilled knob holes. After priming, we painted the entire dresser the most beautiful shade of gray-green, Mizzle by Farrow & Ball.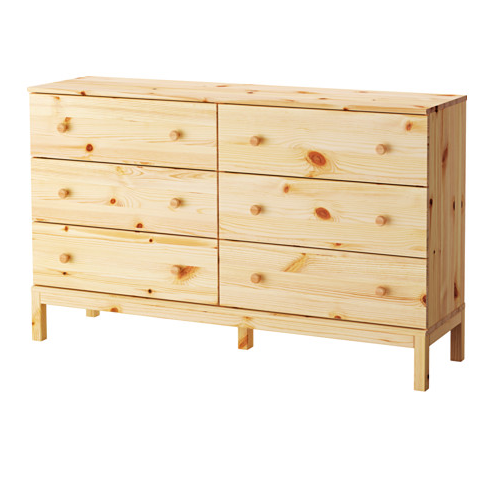 We wanted to keep the profile of the brackets super simple and and delicate, but we were struggling to find something that could work for this design. We searched literally every local hardware store for something that would work and we finally stumbled upon these 3/4″ copper connector pieces. We loved the profile, we just had to come up with a creative way to attach them to the drawer fronts.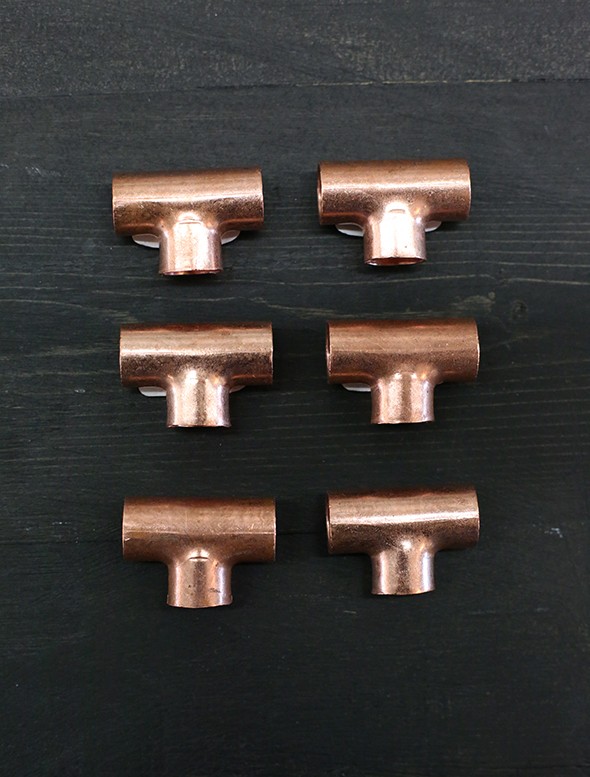 We got six wood dowels that fit perfectly into the copper pieces.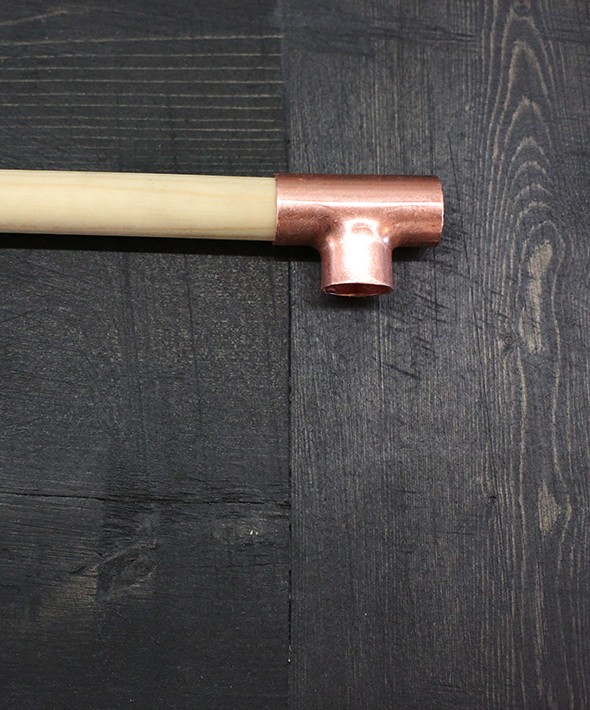 I thought about keeping the brackets copper, but I just love how the brass hardware works with the green color! So warm, so pretty! We just brushed on this metallic craft paint.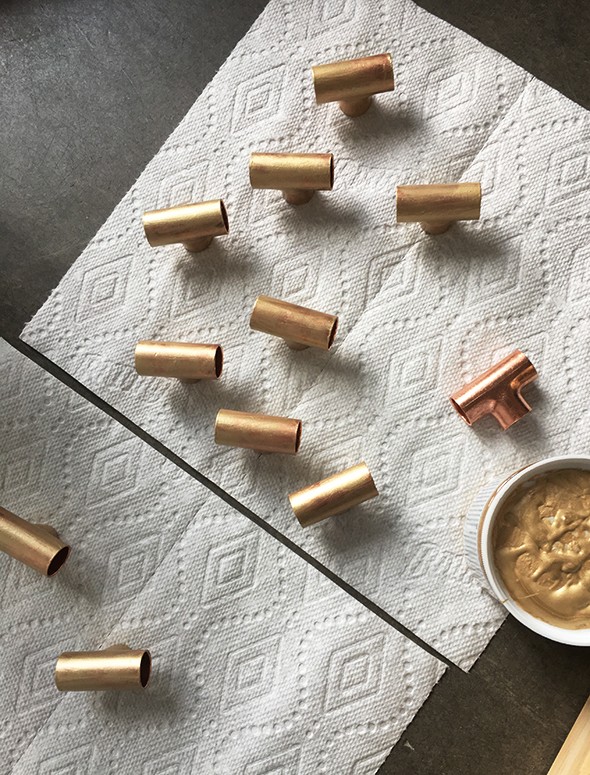 We cut the dowels 4 inches shorter than the length of each drawer and spray painted them white.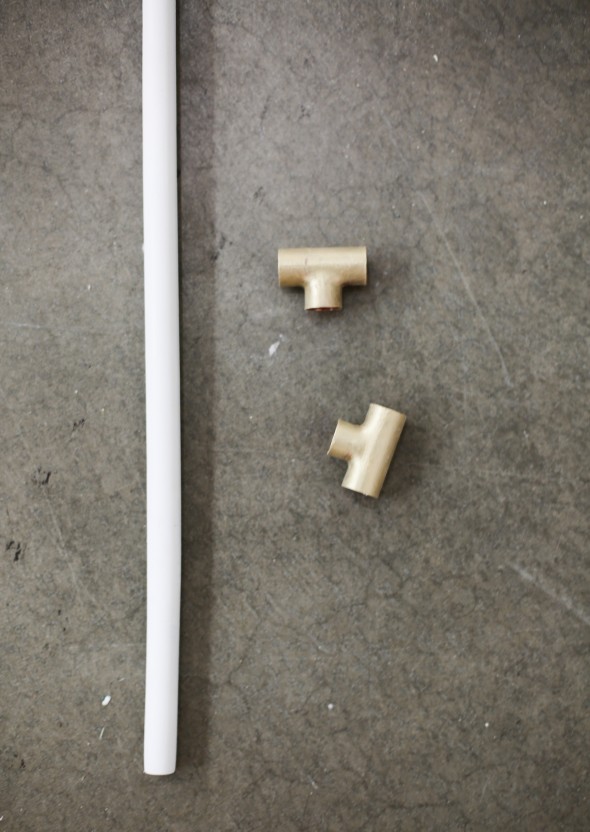 Once the dowels dried, we inserted them into the brackets. We measured two inches from the end of the dowel and made a mark in the hole so we could drill a pilot hole.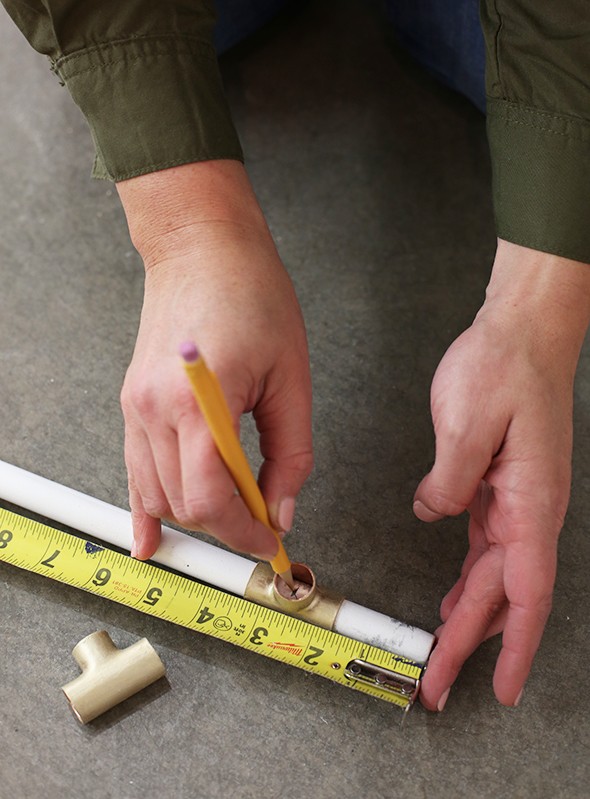 Once we had our pilot hole drilled, we lined up the dowels and screwed them in from the back side of the dresser.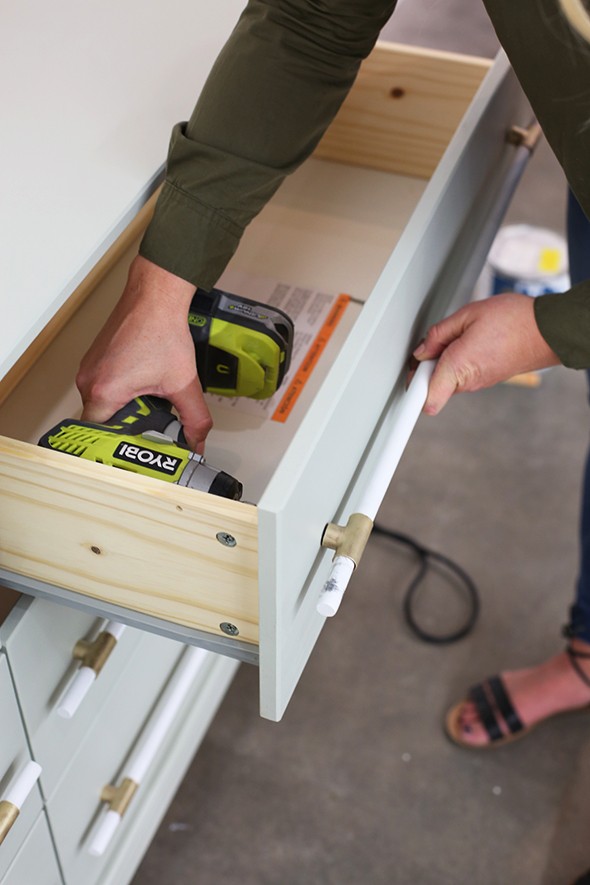 We still need to put the back on the IKEA dresser so you can't see through to the wall! But otherwise, I think this little DIY turned out great!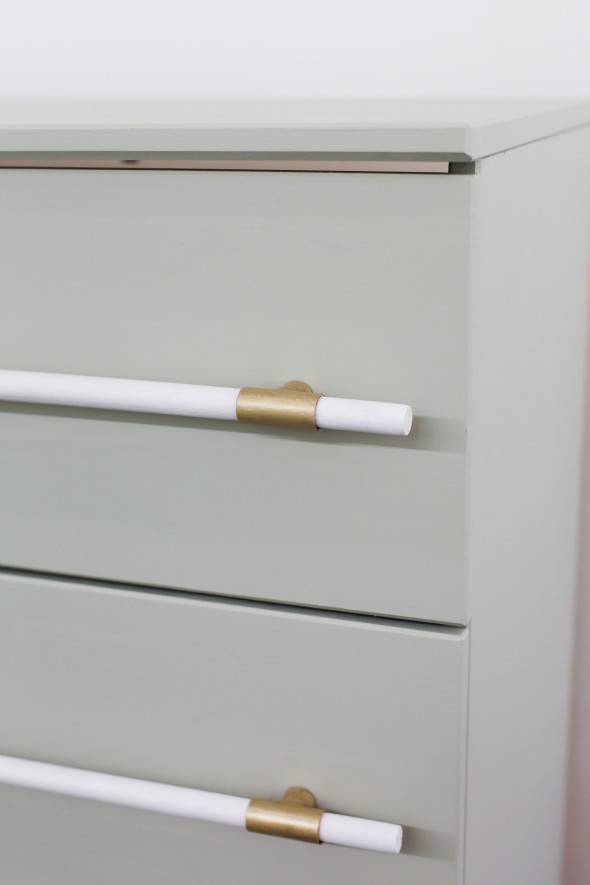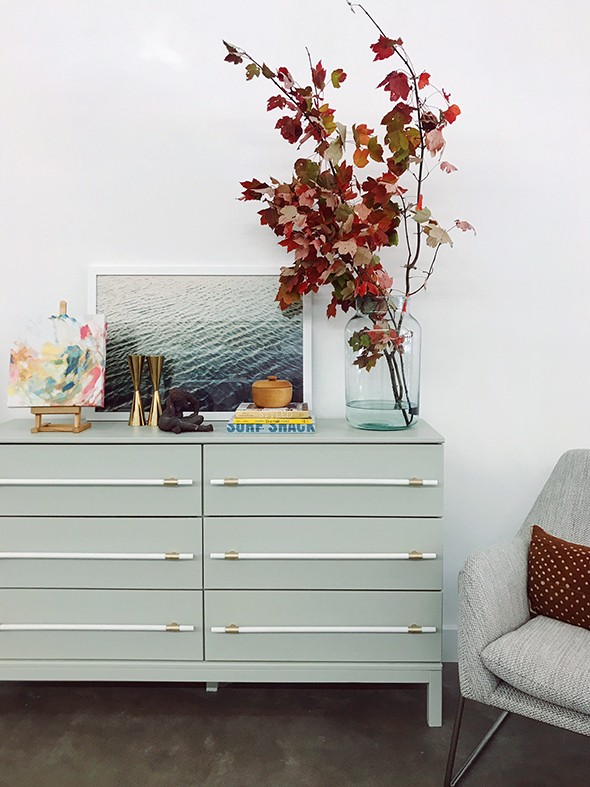 Check back next week to see this our final room reveal!! It's going to be so pretty!
Did you miss out on any of our other One Room Challenge posts? Click the links below to catch up!
Week 1  //  Week 2  //  Week 3  //  Week 4  //  Week 5
————————————————————–
Boxwood Avenue  //  Coco & Jack  //  Shay Geyer  //  Design Manifest
Dwell with Dignity  //  The Makerista  //  Making it Lovely  //  Dabito
Old Home Love  //  The Painted House  //  Megan Pflug  //  The Pink Pagoda
Erica Reitman  //  Sacramento Street  //  Simply Grove  //  Jill Sorensen
Sugar & Cloth  //  BrittanyMakes  //  Waiting on Martha //  The House that Lars Built