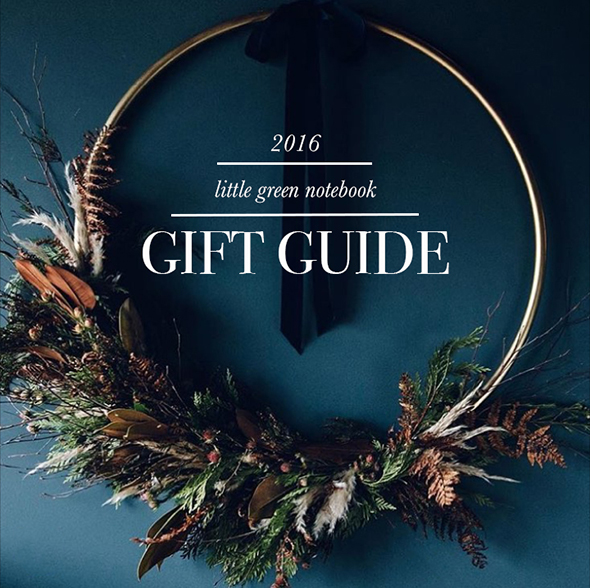 diy hula hoop (!) wreath via Food 52
Here it is! A monster list of everything I've bought and LOVED this year and some items that I have on my own holiday wish list. (Here's last year's list if you're looking for even more ideas!) As always, it would be great to hear from you about the things you are loving too!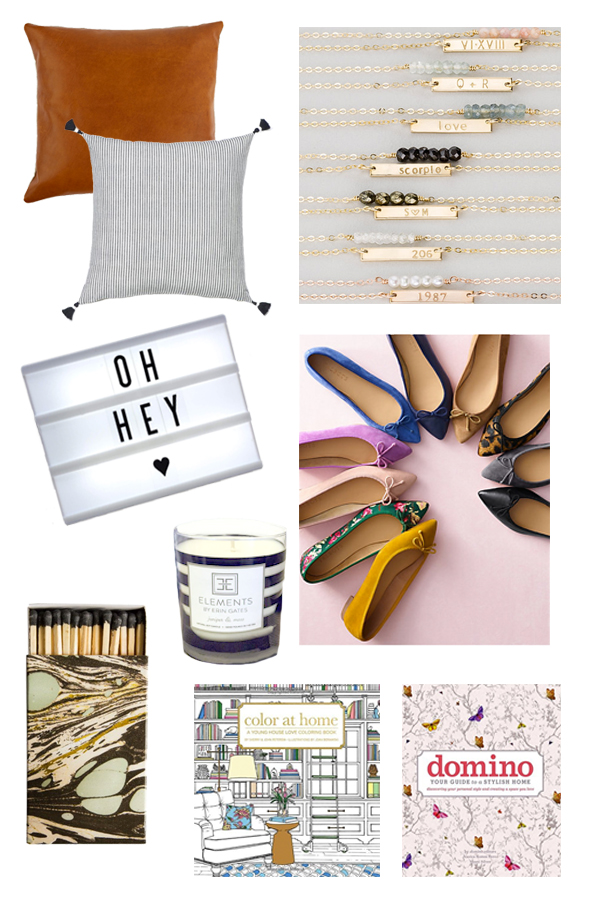 Leather pillow – I've seen a few designers lately using these gorgeous camel leather pillows mixed in with patterned fabric pillows and the layering and texture is BEAUTIFUL.
Black & white striped tassel pillow – I'm still obsessed with black and white, and stripes, and tassels so this pillow scratches all those itches for me! :)
Dainty Birthstone Bracelets – I love either really chunky bracelets or really dainty bracelets. This etsy seller makes affordable gold-fill bracelets and necklaces with really lovely, more organic and raw versions of birthstone gems (as well as super cute personalized bar pieces). I would love one stacked on my arm for each of my girls!
Letter Light Box – I bought the XL size for a commercial client a few months ago and loved the font and size so much I bought one for our house. It's super fun for holiday and birthday decorating especially!
Pointed-Toe Ballet Flats – Every now and then I check in at Talbots for shoes on super clearance. I like that some of their shoes, like these suede pointed ballet flats, come in classic shapes but have granny shoe support. :) These are amazingly comfortable and supportive and look adorable with a black sweater and jeans. (see below)
Elements by Erin Gates Rose Candle – Erin sent me one of her candles from her new line and I'm obsessed with the amazing scent! We have it in our bedroom and I feel like the scent lingers for days after burning. I love it!
Marbled Match Boxes – This match box is pretty much just everything I want in life.
Young House Love Coloring Book – I'm still loving the coloring book trend and this one featuring beautiful interior spaces from John and Sherry is *right* up my alley! I will not be sharing this one with the kids though. :)
Domino's 2nd Book – My Domino editors put out a new book and it's GORGEOUS. Seeing a couple photos of my house projects grace a few of the pages made me blush! Thanks ladies!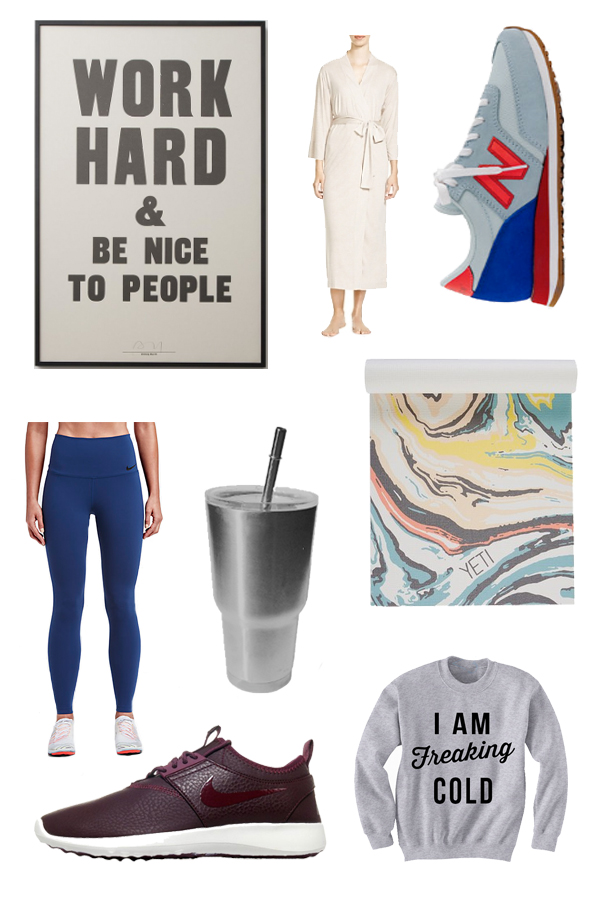 Work Hard and Be Nice to People print – We have this print hanging in the hallway by our mudroom and pantry so we get to see it all day, everyday. It's pretty popular for good reason. I love the look and I love the sentiment even more. We have made it our family motto.
World's softest robe – I've had this suuuuuuuper soft jersey robe for a few years now and I'm still obsessed with it. It is the perfect weight for a robe if you ask me – it keeps you warm, but it never gets hot the way fluffly robes can.
New Balance Tennies – Love them, wear them a couple times a week and still constantly get compliments.
Most Flattering High-waisted workout leggings – So about a year ago I randomly found a pair of these high-waisted compression leggings at the Nike outlet on crazy clearance by the checkout counter. I can't remember the exact price but they were cheap enough that I bought them without trying them on at the store! #lazy :) I COMPLETELY lucked out though and they have turned out to be my most favorite leggings of all time. They are SO flattering. I've bought two more pairs (on sale, but more than my first pair for sure) and they are worth every single penny!
32 oz Stainless Steel straw and cup – This cup is a MIRACLE if you're like me and only want ice, ice, ice cold beverages! It somehow keeps ice frozen for at least 24 hours in the middle of the Arizona summers?! And the stainless steel straw is my absolute favorite and makes my water taste better and chillier! There are a few versions of cups like this, but this one is on the more affordable side and I like that it can hold a lot of water.
Marbled Yoga Mat – I have a dear friend and yoga buddy that will be getting this beauty of a mat on the 25th!
Burgundy Leather Nikes – I don't have these yet, but I've seen them floating around on the internet and insta and I had to finally cave before they sell out again. I love dressed up tennies for busy days of running errands and site visits. FYI – It seems like from reading the reviews that the right move is to order a half size up.
I am Freaking Cold sweatshirt – Hahaha.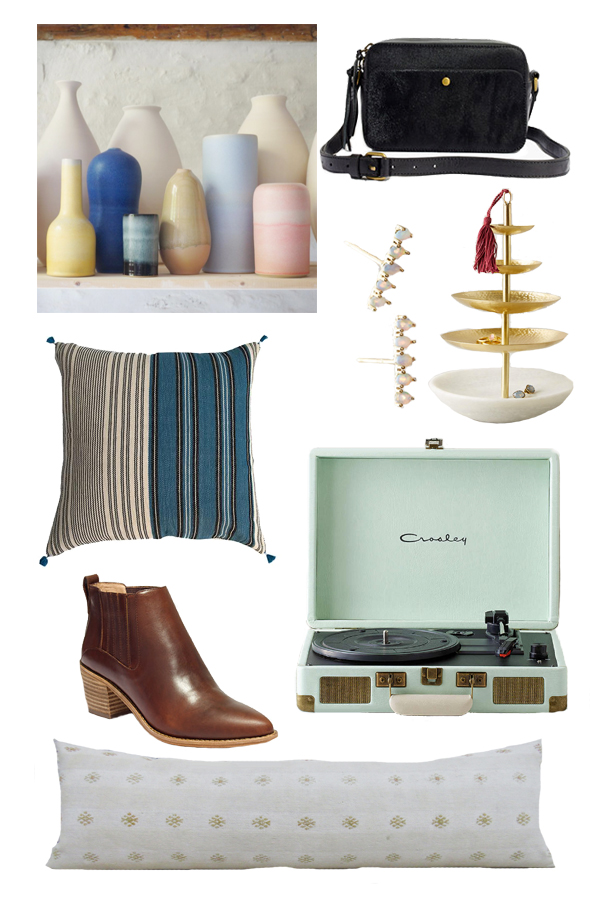 Gift Certificate for a ceramics class – My mom and sister both have fall birthdays so for their presents this year, I got them a once-a-week ceramics course at our local arts center. We just finished our last class of throwing and glazing for the semester and we decided to start again next session because we all loved it SO much! I feel like the best presents are experiences and I hope to do more things like this in the future, especially with my girls. (PS these beautiful vessels are made by the hugely inspiring ceramics studio, Tortus Copenhagen)
Hair-on Hide Black Crossbody Bag – I have the red version of this bag and I love it's small size. I usually have a big tote with me for work, so I can keep my every day bag edited down to the essentials – phone and wallet and keys. FREEDOM!
Opal Bar Earrings – I have the diamonds and now the opal version of these earrings and I find myself wearing one pair or the other most days! They are easy but feel special and a tiny bit fancy.
Brass and Marble Jewelry Stand – I have all my jewelry organized in our Pax wardrobes in our bedroom, but I wear some mix of a few of the same 15 or 20 pieces of small and simple jewelry most of the time. I got this marble and brass stand as a gift and I love being able to keep all my heavy-rotation pieces right by the sink in my bathroom! The top mini bowl is perfect for wedding rings and the bottom marble bowl camouflages my retainers. :)
Blue Striped mini tassel Pillow – I LOVE this color in the blue stripe and those mini tassels are A+++++!
Record Player – I got Michael a record player for his birthday (this bluetooth one has been super nice) and its really fun for both of us to add albums to our collection! Michael will find really great (super random) albums online and there are a couple of local record stores that sell used albums for only a couple of dollars. We've been finding some gems together on date night. The girls LOVE putting on Sound of Music and Wizard of Oz …and Taylor Swift :)
Pointed Toe Boot – I bought these beauties at full price like a sucker, but no regrets! They are gorgeous and comfortable and a fun, different shape with the flattering pointed toe. They are on super sale now, lucky you!
Kilim Body Pillow – Here's the etsy shop where I bought the long lumbar for our bed in my last post. They have lots of patterns and colors in the same size. I love the way it looks on a king sized bed! (PS This down body pillow it the perfect size insert.)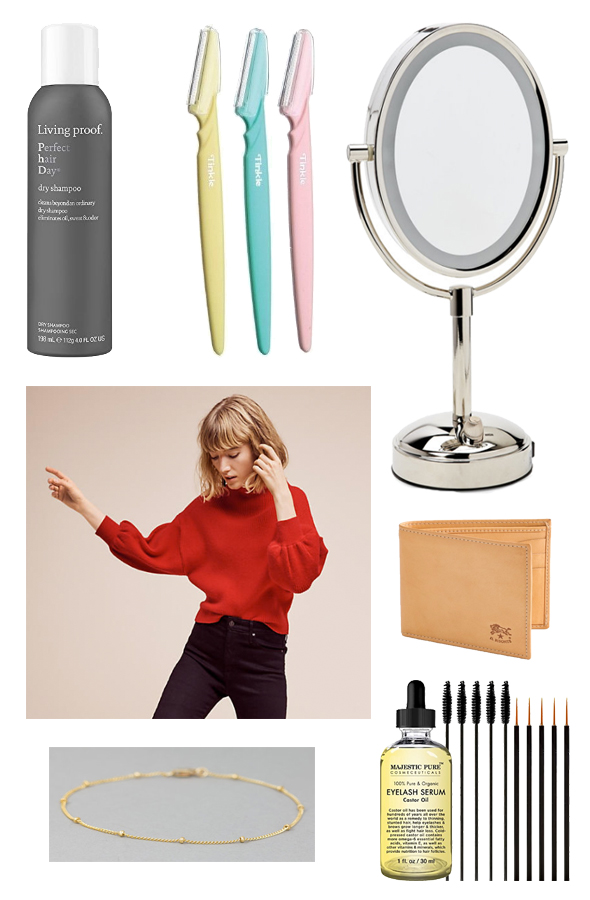 Best-smelling Dry Shampoo – Okay, for every day (like, even the days I actually wash my hair) I use this miracle powder dry shampoo. It gives my fine Swedish hair some body and life! But if I'm on day 3 or 4 of not washing my hair, I also spray in this dry shampoo from Living Proof because it SMELLS AMAZING. It's like febreeze for your dirty hair.
Tinkle Face Razors – So a few months ago a friend was raving about these little razors and when I finally bought them I realized instantly I would never pay for a facial again. These little babies are about 75 cents each and they, combined with the mirror below, will carefully and easily take off all your dry skin and peach fuzz without any irritation. You're welcome.
Polished Nickel 10x magnifying light-up mirror – I don't have great lighting in my bathroom, but this little mirror has become my saving grace for putting on makeup and doing my nightly mini facials (see above).
Balloon sleeve sweater – I have the red and black version of this flattering sweater and I'm eying the ivory now that it's on super-sale. Runs true to size, but I would probably order a little smaller than you normally do because of the sleeves? It's sort of a cropped fit so I love it paired with pencil skirts or high-waisted jeans.
Natural leather wallet – I'm so drawn to natural leather anything – the color is phenomenal after a good oiling and a few months of wear! Michael needs a new wallet and I've had my eye set on this one.
Super-dainty gold bracelet – Perfect for layering!
Eyelash and brow serum – I got my eyebrows microbladed this month (SO HAPPY WITH THE RESULTS) but if you're not wanting to go to extremes like me for lush brows, this super affordable all-natural serum works wonders for filling in thin eyebrows and lashes!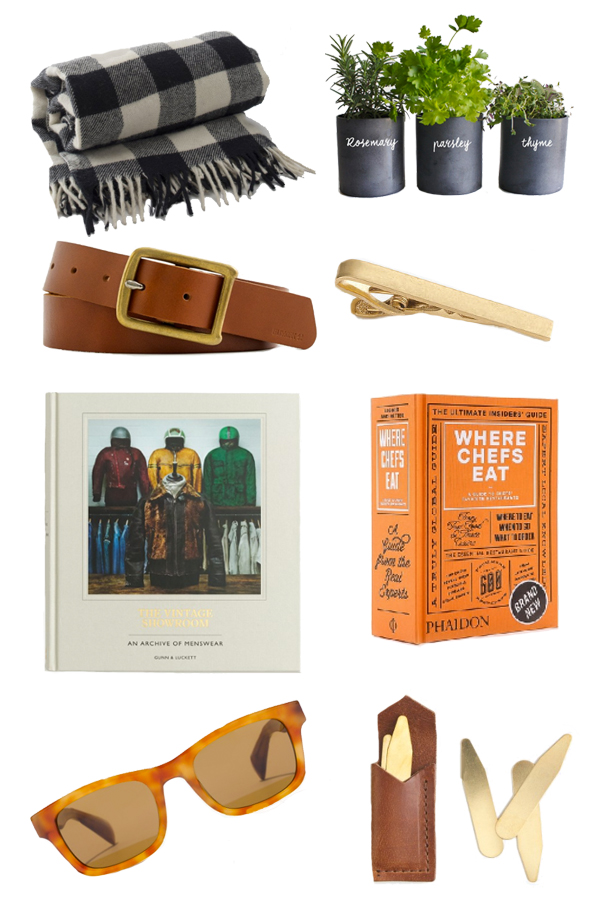 Buffalo check throw – We used this throw for Lucy's apartment redo – remember that one? I still love the pattern and texture on that beautiful Article sofa! I'd love one of both for my own home!
Chalkboard planters – How fun and different would it be to give these great chalkboard planters and some fresh herbs for Christmas!? I know my mom or sisters would love this!
Mens leather and brass belt – This leather and brass combo is a CLASSIC. He will love it.
Brushed brass tie clip – Michael asked for a tie clip this year and I'm loving the subtle brushed brass finish on this one. I like giving fun ties as a gift to the men in my life, but a tie AND a tie clip takes it next level! I've seen a some great vintage ones at local antique stores too that would be really cool.
The Vintage Showroom: An Archive of Menswear – I'm dying to get this book that shows beautiful photos of a huge archival space where all the fashion icons (like Karl Lagerfeld) apparently go to get inspiration. The photos show details on the construction of really, really old and special pieces of menswear, so you can geek out like I did over the amazing craftsmanship from years gone by.
Where Chefs Eat – I can't wait to get my hands on this book that acts like a directory of restaurant recs from the best chefs in the world. Such an amazing concept!
Blonde tortoiseshell sunglasses – Cool shades for your cool dude.
Brass collar stays – We lose collar stays semi-often around here, but maybe if they were golden and had a special leather pouch…??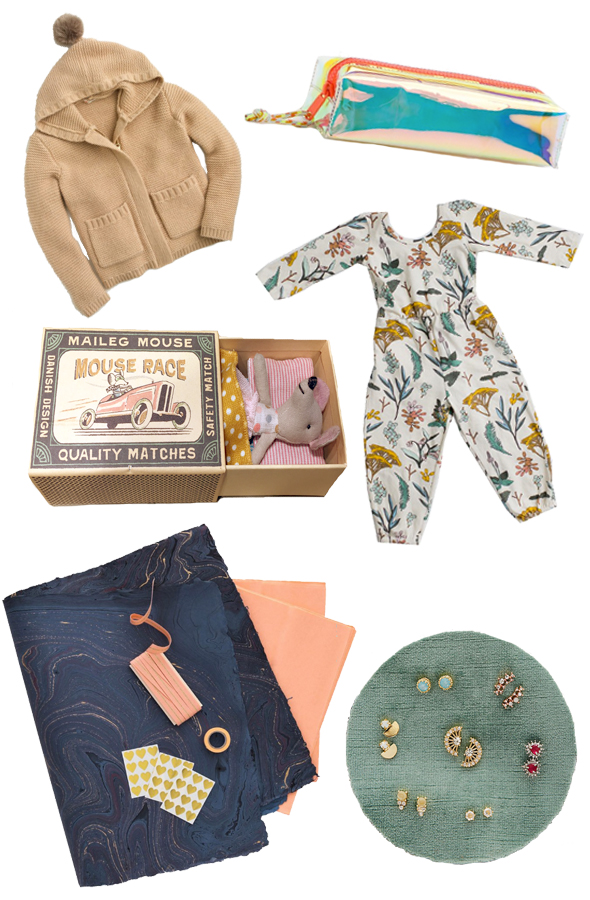 Camel Sweater – The pom pom on the hood sold me.
Hologram pencil case – My girls love having their own pencil pouches in the car (filled with the best crayons around) and in their backpacks. This case would make an extra-cute stocking stuffer.
Mouse in a Match Box – This sweet little doll comes with it's own travel case – the cutest little match box you ever did see. You know how some toys just speak to kids of all ages? Every single one of my girls from Grace, age 11, down to Margot, almost 2, LOVES this little mouse toy for some reason. It's pretty dang cute.
Floral Jumpsuit – My friends started Alice and Ames only a few years ago and I am in awe of the wonderful company they have built! Their dresses and jumpsuits, with the signature scoop back, are beautiful and wash amazingly well. A favorite of mine and my girls!
Extra Special Gift Wrap – Jordan knocked it out of the park with her Oh Happy Day party shop, but I have my eyes locked on her gorgeous gift wrap sets! For those special gifts that need something better than the standard Target or Homegoods paper!
Earring Set – This set is the PERFECT gift for that suddenly fashion-conscious pre-teen in your life. The earrings are beautiful and you will catch yourself borrowing pairs often!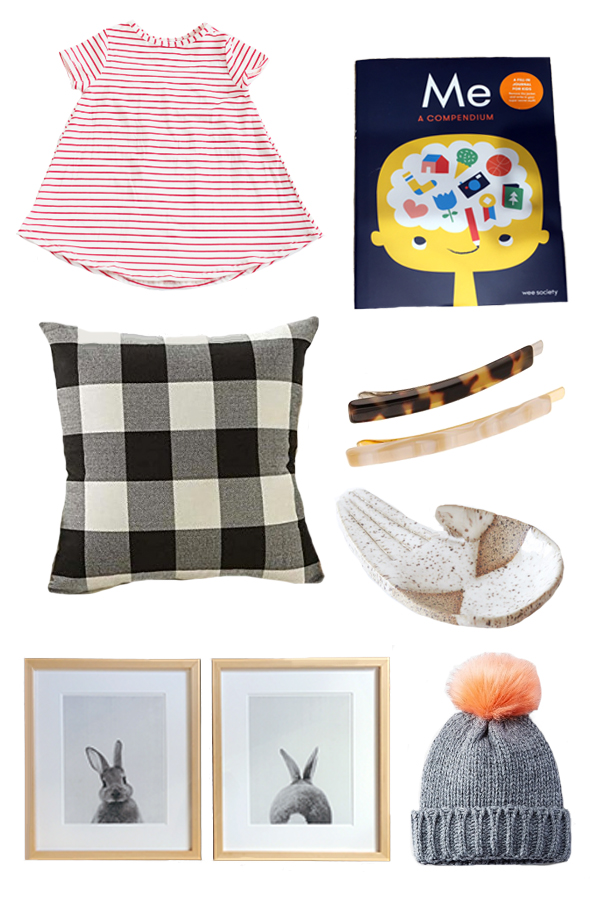 Striped Jersey Jammies Dress – Another local friend started this cutest pajama line for little girls and mommas called Plain Jane. Trust me when I say these dresses are nice enough to be worn out and about! The stripes and check patterns are my most favorite!
All about Me workbook – I originally bought one of these for one of my daughters at Anthropologie, but the price on Amazon was so good, I bought two more for my other older daughters. I did an insta story showing some of the amazingly imaginative pages. It's like a scrapbook/workbook for kids that asks hilarious questions and drawing prompts, like, if you had a castle, what would the flag look like? And, what's inside your fridge right now? What do you WISH was in your fridge right now? :) I selfishly can't wait for my kids to finish their books so I can confiscate them and put them away forever and ever.
Least expensive buffalo check pillow on the earth – Like, really, with that $6 price tag?! Amazon, you have my heart.
Tortoiseshell resin clips – You know I love them if they make the gift guide two years in a row. This size is my new favorite for when I do a far side part and want to keep the smaller side pinned back.
Ceramic hand dish – A really cool handmade object from a really cool lady.
Bunny Art in my most favorite Framebridge frame – You guys know how much I LOVE digital downloads (pssssst – I'm opening up a shop very, very soon!) and these bunny prints in my favorite natural frame are going under the tree for our bunny, Margot.
Pompom beanie – You know when you're on like day 5 or 6 of not washing your hair (sounds gross, but I swear I have double the hair that I used to when I was washing my hair every day in the shower!) and no amount of dry shampoo will salvage your look? HATS are the answer. And beanies in particular. Pom pom beanies are just the cherry on top.
_____________
MERRY CHRISTMAS and happy shopping!!!