The last days of online Christmas shopping are upon us! Are you ready?? Here are a few things for her, him and the kids that I either have and love or would love to have!
FOR HER
Standard Wax black marbled candle
– I LOVE this local AZ company, and this candle in particular. It's a GREAT wintery scent with the added bonus of being able to reuse the beautiful container after burning (a planter! pen holder! keys coraller!).
Byredo Gypsy Water Perfume
– Complex. Different. She'll get a million compliments every time she wears this scent with notes of sandalwood, juniper berries, citrus and amber.
Brass Bracelet
– My favorite everyday bracelet because it pairs so well with watches without being too fussy. And it's on crazy sale!
Rails button-down top
– Have you heard of these cult favorite shirts? The fit is nothing short of miraculous. You'll feel like a rock star wearing this plaid top! I'd love one in every pattern, please.
Cut-out Booties
– Speaking of a million compliments! These are my favorite shoes to wear lately.
State necklaces
– The perfect layering piece and a way to keep home close to your heart.
Monogrammed Pouch with Built-in Wallet
– This zippered pouch (which they monogram for you for just a bit extra) is a lifesaver for those of us that switch bags semi-regularly. I keep all the essentials in here (there is a built-in wallet) and often just use the pouch as my purse when I'm running into a store. It's down-right liberating.
Hologram Nail Polish
– SUCH a great color. Subtle from afar. Packs a mean punch up close though. Another compliment-getter, for sure!
Agate Lucite Box
– The perfect gift that looks super expensive but (shhhh!) is really not! Toss one of the above state necklaces and the nail polish inside the box and you're all set! :)
The Perfect Leather Bag
– I don't use the word perfect lightly. Okay, actually I use it all the time, but I mean it here. This is a GREAT bag. It's big enough to hold my wallet pouch and another pouch that I use to carry diapers/wipes, etc for Margot, plus all the other random design stuff that I end up stupidly hauling around, like 30′ tape measures and three or four paint decks. But it truly looks like a completely appropriate-sized bag that normal people who clean out their bags regularly would buy! Also looks about twice as expensive as it actually is. Bonus points for no logos in sight and the cross-body strap.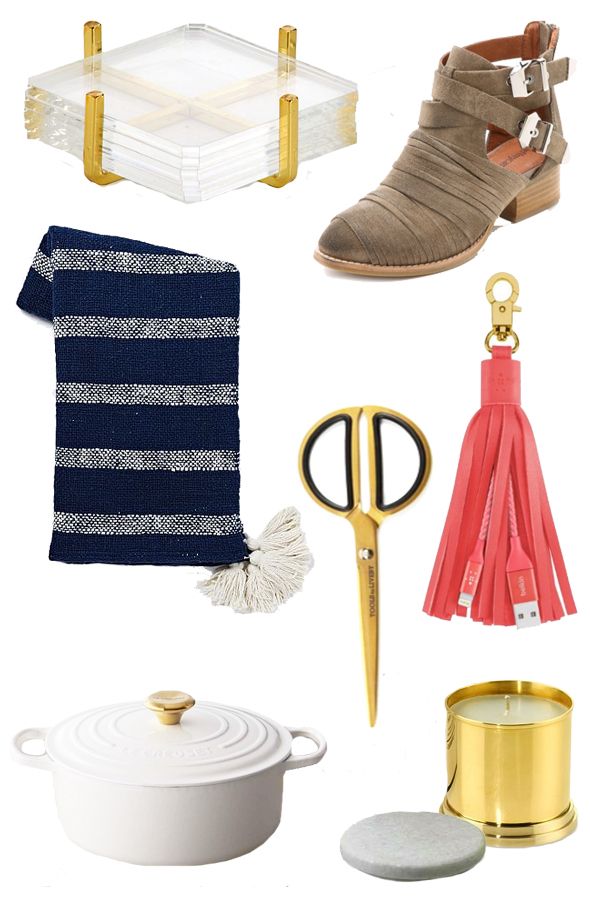 Lucite and Brass coasters
– Z Gallerie FTW! These are the coolest coasters I've seen in a while. They're even better in person. They'd be
even better
sitting on my coffee table…
Booties
– My second favorite shoes to wear right now. Super cute.
Tassel throw
– on MAJOR sale and so, so great in the navy color especially! There are some really cute pillows in this line that are sold out online, but tons are in stores for like $19 ea. Recommend!
Gold Scissors
– Nothing says 'I understand you' like a pair of special gold scissors. Unless it doesn't, and then we are very different people.
Secret Charger Tassel
– It's a cute tassel key chain, but SURPRISE! With a secret charging cord hidden inside!
Brass-knob Le Creuset Dutch Oven
– As if Le Creuset needed to get fancier. Now the white dutch ovens come with a brass knob. I mean!
Gold and Marble Candle
– Like the Tom Dixon ones, but a million times less expensive.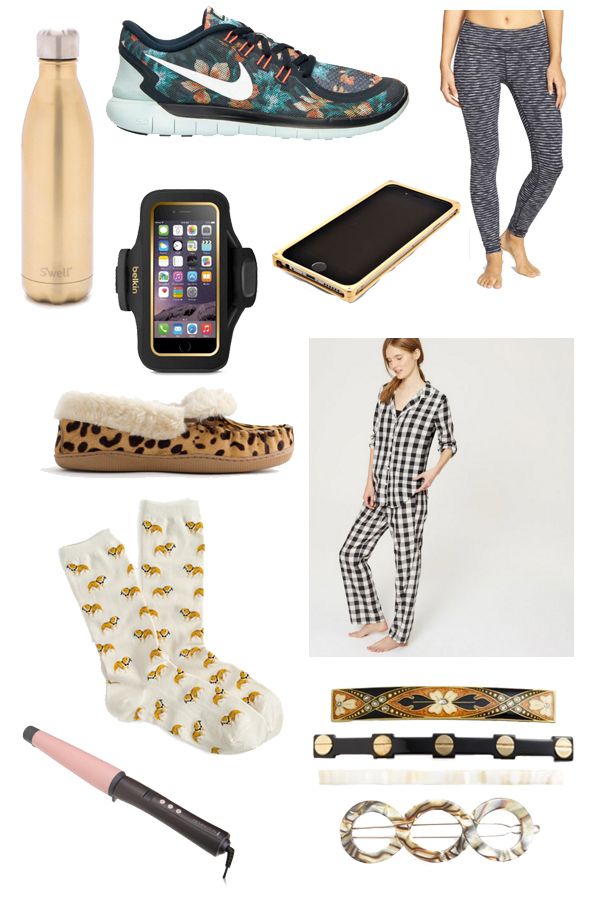 Gold S'well water bottle
– if any water bottle is going to pull me away from my Diet Coke, this one has a sporting chance.
Floral Nike Free
– These are on my wish list in such a major way.
Amazing Leggings
– Forget Lululemon. Zella leggings cost less and fit SO WELL.
Phone Arm Band
– I would love to run a marathon this year (having trouble finding the time for those long runs though…) and this armband is making it easier to get out the door. Works great and looks cool.
Brass Phone Case
– I got this one for my birthday a couple months ago and it's my favorite thing! It's made out of cast brass and you literally have to screw your phone inside. It's so cool and protects my screen really well.
Leopard Slippers
– I got these same amazingly comfy slippers for Christmas last year, but they didn't have the leopard then. Bummer for me, great news for you! (get them 30% off now too)
Buffalo Check Jammies
– These are a great weight that will still be comfortable in the warmer months.
Bulldog Socks
– If Wes Anderson made a sock…
Curl Stick
– There is absolutely NO REASON to spend $300 on a fancy curl stick. Get those super loose beachy waves for $30 and buy yourself the Gypsy Water perfume with what's leftover!
Jewelry Barrettes
(
1
,
2
,
3
,
4
) – One of my favorite ways to wear my hair is in a far side part held back with a long barrette. I treat these special barrettes like jewelry. French Luxe makes my favorite pieces, though I also like the Italian look of some of the L. Erickson clips.
________________
FOR HIM

Wooden Macbook Case – I love the marble version of these cases too! Super cool.
Buffalo Check Tie – Cause there is nothing better than a guy in a suit and tie.
Daniel Wellington watch – I want to get Michael this watch so I can steal it from him. Every day.
Shaving Set – A little old school, but easier than safety blades.
Leather phone case – I love the way this case looks with a black iPhone. Super masculine, but I would also totally love one for myself.
Southwest-meets-Frozen Socks – Michael has to wear a suit to work every day so I love to find him fun socks to help mix things up. He will think these are too crazy, but I'll break him down before January's over. :)
Vintage Style Nikes – For your cool, but understated dude. Give him the Frozen socks too, just to push his limits a little.
Sriracha 2 Go – the name says it all. #yolo
Kiehl's
– His favorite and yours too. The holiday gift sets are always a great deal!
Monogrammed robe
– I'd love a his and hers set of these!
Black Leather Money Clip
– Slim, but still enough room for five credit cards.
Shoe Shining Kit
– My dad had a big wooden shoe shining box when I was a kid (I think he still does). I loved watching him shine his shoes on Sunday mornings. The smell of the polish and the sound of the brush on the leather. Good times.
Herschel Toiletry Case
– Anyone else think of Walking Dead every time they see a Herschel bag? (I quit after season 2!)
Taco Socks
– In case your man is (much) braver than mine.
Shoe-Boots
– Love the red laces.
_______________
FOR KIDS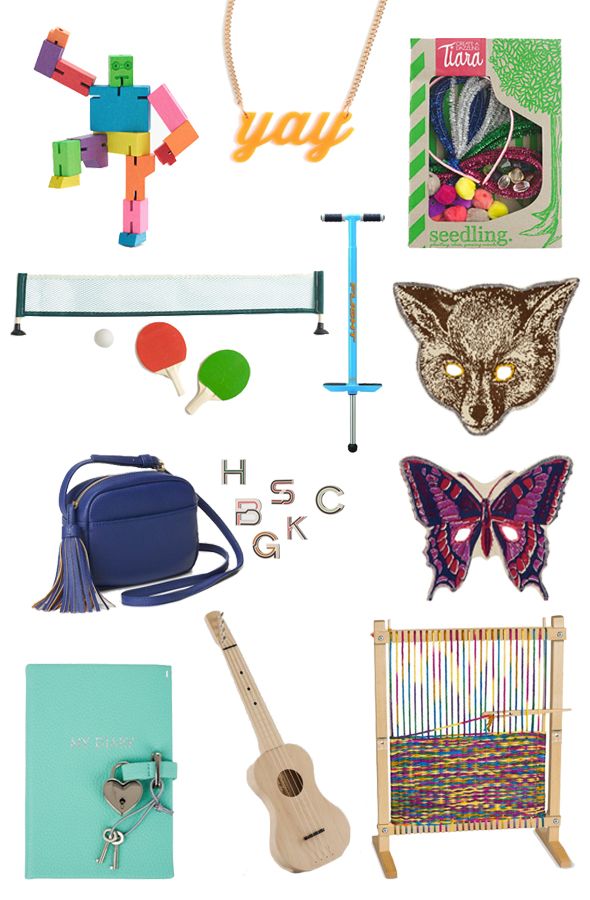 Cubebot
– addicting for kids and parents alike! And I love a good toy that also looks cute on a shelf!
Yay Necklace
– My Claire is always looking on the bright side and celebrates even the smallest of her and her sisters' wins. This sweet necklace reminds me of her.
Tiara Kit
– There's definitely a DIY version, but this cute tiara kit is on sale and makes things easy for you and your kids! A super-fun NYE activity.
Ping-Pong set
– any table is a ping-pong table with this gift! We has something similar to this at our family cabin vacation this summer and it was
hours
of entertainment! Take it to the next level with a bracketed championship competition.
Pogo stick
– Hard for adults. Easy for kids. Which makes it the best present ever.
Fox
and
Butterfly Fabric Masks
– Two great additions to your dress-up bin! And they're on sale for just a few dollars!
Mini Purse
and
Brass Letter Pins
– All three of my big girls asked for a purse for Christmas. Something small to keep their allowance money in for Target trips. :) I found these mini purses with the cute tassles and got them in three different colors (on sale!) and then I bought a bunch of random pins on
this site
for a personalized, sort of charm bracelet quality. Cute, right?
Locking diary
– Fact: Every pre-teen girl wants a Tiffany blue leather diary with a heart-shaped lock.
Ukelele
– In case your husband has an expensive ukelele hanging on the wall of your music room.
Loom
– HOURS AND HOURS of QUIET FUN. The gift that gives so much back.
Llama
– A must-have if your daughter's favorite movie is
Emperor's New Groove
. (I'll be needing three then)
Cute Headphones
– for the car or the plane! Never lose them again in these cute colors!
Fjallraven backpack
– Everyone's favorite for a reason. They are a great size, come in the best colors and are incredibly sturdy.
Easy Needlepoint Projects
– (see: Loom)
Snap Circuits
– Teach your kids about electronics in a super creative way. My girls LOVE these.
Baby Walker
– Margot will be zooming around the house with this cute walker on the 25th!
Star Wars Doodles Book
– All the cool kids on the bus have this doodle book apparently?
No-Tie Kids Apron
– For your favorite little chef (or dish-washer!)
Tee Pee
– Santa brought this teepee to our house last year and it has been in heavy rotation every day since. It goes inside and out, upstairs in the girls bedrooms and down in the playroom. They read to each other inside. They sit it in front of the TV for popcorn and a movie. It's homework central even. And now Margot pretty much wants to sit inside the teepee for most of the waking hours of her day. I would say it was a great investment…for Santa.
Flamingo
– Pretty much the cutest stuffed animal that one could purchase.
Neon Tennies
– Parents raise your hand if you save up clothes and other "boring" purchases for your kids from pretty much October on, so it can be another thing for them to unwrap on Christmas day? Yeah, me too.
_____
HAPPY SHOPPING!!!