I love that we have a fireplace in our bedroom! Such a treat, but the faux stone wasn't really working for me. We almost took it all off in the same way we removed the fireplace surround in our living room.
Before going to all that trouble though, I thought it was worth it to try painting the stone first. At the very least I thought it would buy me some time. So Ali and I tackled the big, dusty thing. We just used white primer and small two-inch angled brushes. It took quite a few hours to get in all those nooks and crannies! I probably should have just sprayed the thing with my Critter, but I didn't want to move all our stuff out and do all the prep work (lazy).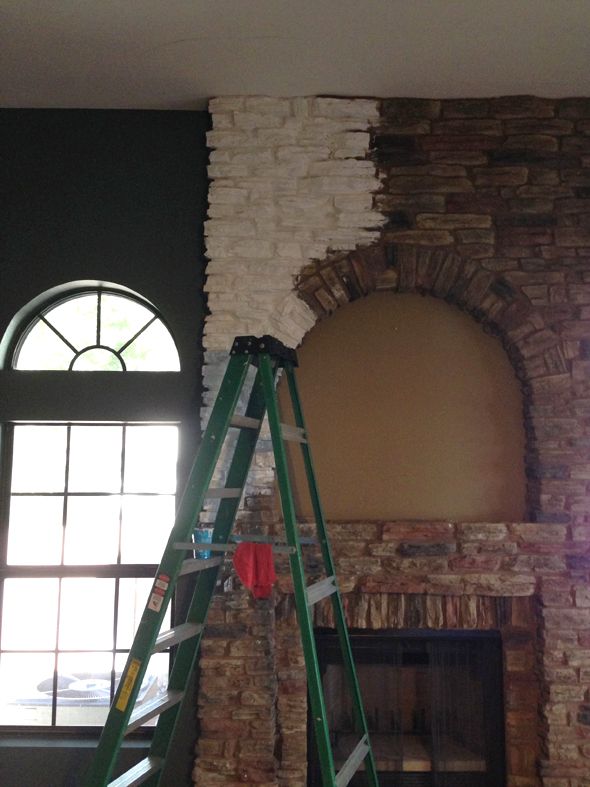 We got to about this point and I felt hopeful about the way the white would look in the room.

Then in the morning, the light streamed in through the windows and suddenly I LOVED our faux stone fireplace! With the white paint, suddenly the fireplace looked interesting and kind of cool! And I think the contrast against the dark walls (Benjamin Moore's Knoxville Gray) is so pretty. I'm even liking the 80s palladian arch windows more now.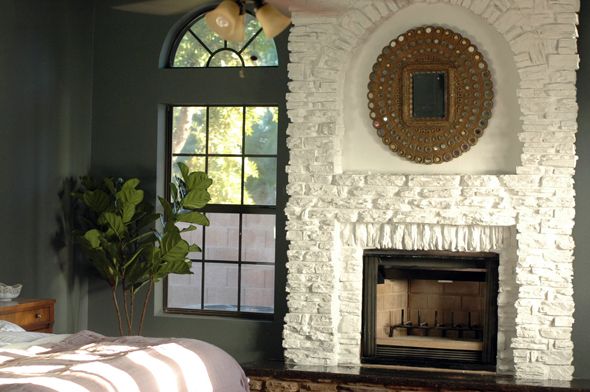 Originally the plan was to hang that giant carved mirror we had in the brownstone living room on the fireplace. It is just barely big enough to cover up the arch. I tried as hard as I could to get a nail or a screw into that faux stone but the masonry drill bit I had on hand just wasn't cutting it. Then I thought to try the old peacock mirror, which was sitting on the floor in our office just down the hall. Admittedly I was in an 'oh, just screw it' mood, but I was actually pretty happy with how it looks inside the arch.
I spy quite a few things in these images that need to happen next – I need to finish baseboards (the other side of the room is done) and I desperately need to change out the ceiling fan (or maybe paint this one too? And just shorten the hanging rod).
I also still need to add panel board to the front of the stone on the hearth. The wood floors didn't quite fit underneath the stone, so there are gaps on the floor that need to be covered. Plus I just think it would look good to have paneling here.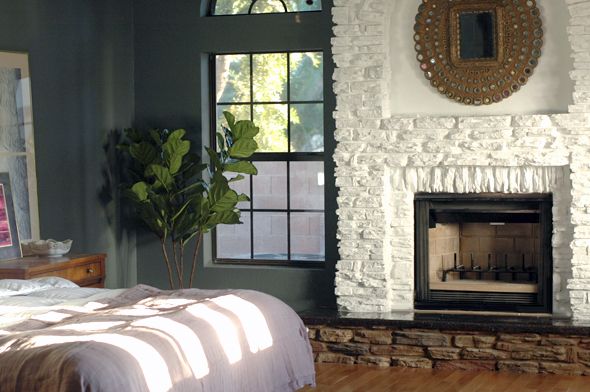 I think black paint would look really good actually with the dark granite.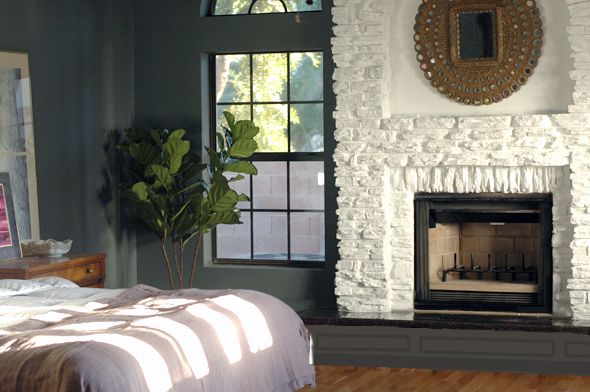 So what do you think of the peacock mirror in here? Should I still plan to cover up the arch with the big carved mirror after buying a new masonry bit? I'm leaning toward keeping this one up for now.