I'm sharing part of my room redo for my first work as a contributing editor for Domino (the piece will go live next week – yay!). I'm so happy with the way this space is coming together. The Knoxville Gray wall color is moody and cozy, and I love the way it looks with the color of the new floors.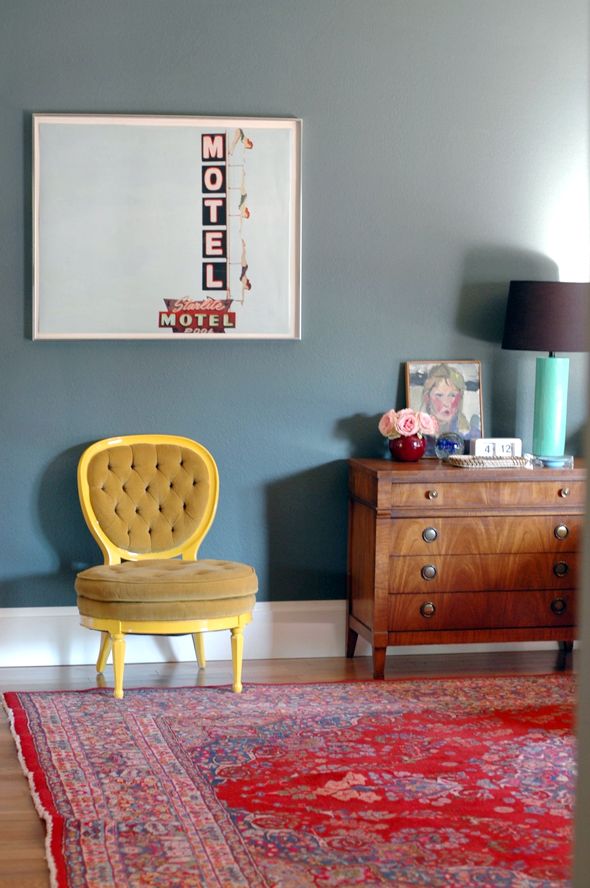 I'm also liking the red rug with the wall color. The rug is just a hair too small for the space, but I think it works great for now.
There was a spot next to my nightstand that was just begging for a cute little chair. I thought to myself that if I could find an interesting yellow chair that was bright, but not too obnoxiously bright, that would be perfect. Since I knew I wanted that specific color, I poked around a little online and in my catalogs, but kept feeling like I didn't want to spend that kind of money on just a little chair in my bedroom.
Then a lightbulb went off and I remembered a little vintage slipper chair in the garage that I bought right after we moved here from a consignment store in Scottsdale. I loved the shape of the chair, but the mustard velvet and the ecru-colored frame looked bad-vintage instead of good-vintage.

In the end I was won over by the cool combo of small, deep tufts and wider-spaced shallow tufts and thought it was worth having/hoarding.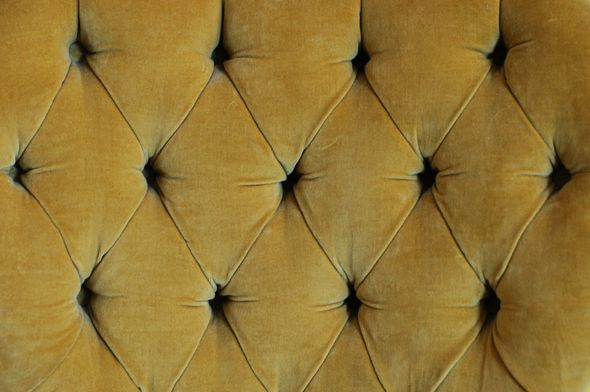 To make the colors work for my room, I pulled out a quart of Rustoleum's Sunshine Yellow oil-based paint and a small 1″ angled brush. I carefully worked around the velvet and brushed on the bright yellow paint. You can tape off the fabric if you don't have a steady hand, but the nice thing (also the annoying thing) about oil-based paint is it takes forever to dry. I had one or two small brush-ups against the velvet and I just quickly wiped them away. No biggie.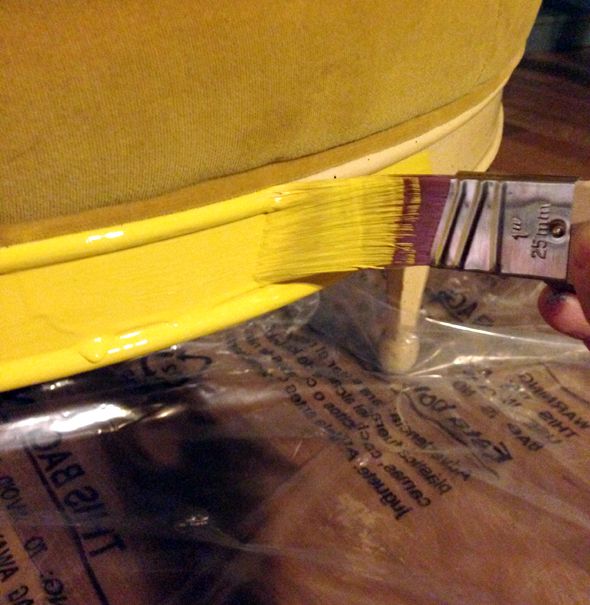 I still use
this approach
for painting oil-based paints with a brush, except on side or vertical applications it takes a little more finesse to figure out how much paint to use. With practice you get a sense of this better. I usually do a good one or two inch dip into the paint and then wipe off one whole side of the brush and use the paint-side to brush on the piece.  There will be some drips (like shown above) but you can usually move the paint around fast enough to get an even distribution while everything is still very wet. Don't mess with it too much though. It's better to go back and sand the drips down after everything is dry then to ruin the whole finish of an entire section.
I let the paint dry overnight outside (oil-based paint is pretty fume-y) and in the morning I had the perfect chair for our room! It was exactly what I wanted – a muted yellow with a small punch of bright color. I'm so glad I bought that chair on a whim. :)