A couple weeks ago when we were in Phoenix and it was (seriously) 112 degrees, I thought to myself, "Your long hair must go. Like, now."
I have been growing my hair out for a couple years, but I've been bored with it lately. I'm not one to get attached to my hair, and it seems like lots of people are going short lately? I thought it would be a fun change for our big move. Plus, you know, hair grows back usually. No biggie. :)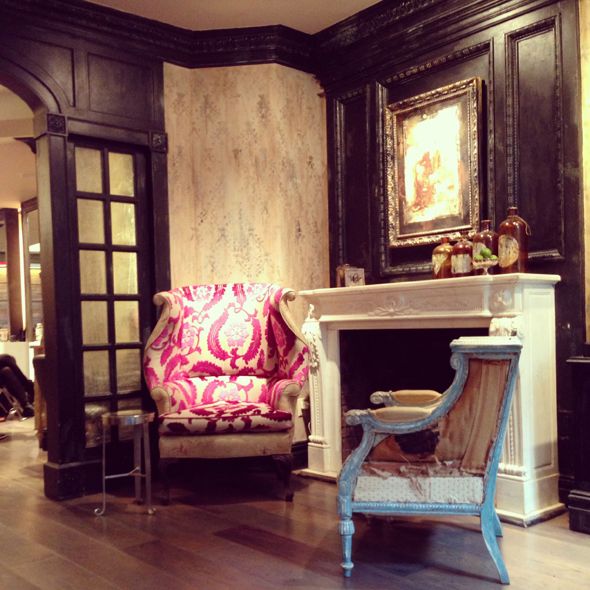 I made an appointment at fancy Whittemore House for a cut and color (they are famous for their "hair painting" technique – not a foil in sight there).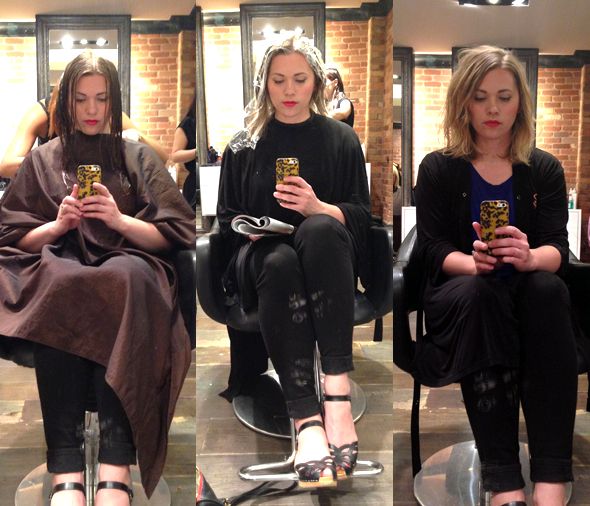 (ha – just now I was like, what is all over my pants here?! #mirrorsmudges)
I love having short hair again. It takes half as long for my hair to dry and to curl it. But it's still long enough to pull up in a bun or a pony. I think it's fun to switch things up every now and then. This was right after my appointment (and after running through the rain to the subway).
I usually shower at night and wash my hair every two or three days with a volumizing shampoo and conditioner. Out of the shower, I comb in a styling cream in my damp hair. My friends at Pantene sent me their newest product – the
Ultimate 10 BB Creme
– about a month ago and I've been loving it on both my long hair and my new short cut. It combines ten hair products into one and really does a great job smoothing without weighing down my fine Swedish hair (seriously – check out
the reviews
).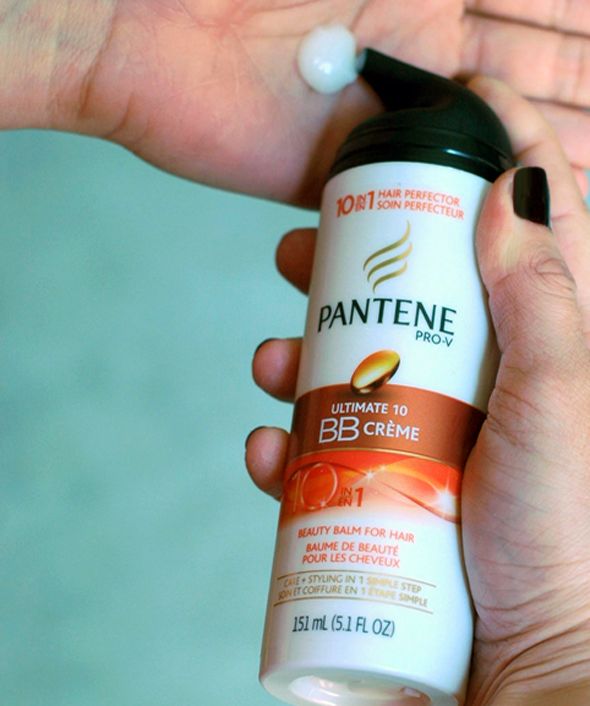 After combing in the Pantene BB creme, I sort of toussel and scrunch up my hair to activate a bit of the natural wave I have. Then I go to bed! When I wake up if it needs it, I might selectively curl parts of my hair for a little more wave and bounce. In the summertime especially, I don't try to get "perfect hair" with loose, smooth curls just-so. The curls will end up falling down and my hair will frizz out about five steps out the door anyway, so why not try for that mussed up look from the get-go?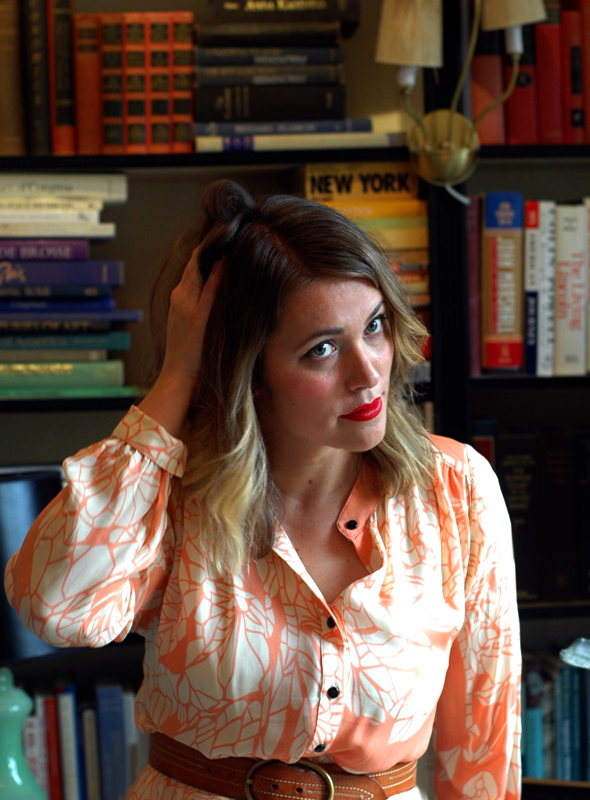 I sometimes also use a little bit of the salt water spray in my hair to get that beachy wave and then a little more of the BB creme on my dry hair to smooth out the ends and fly-aways.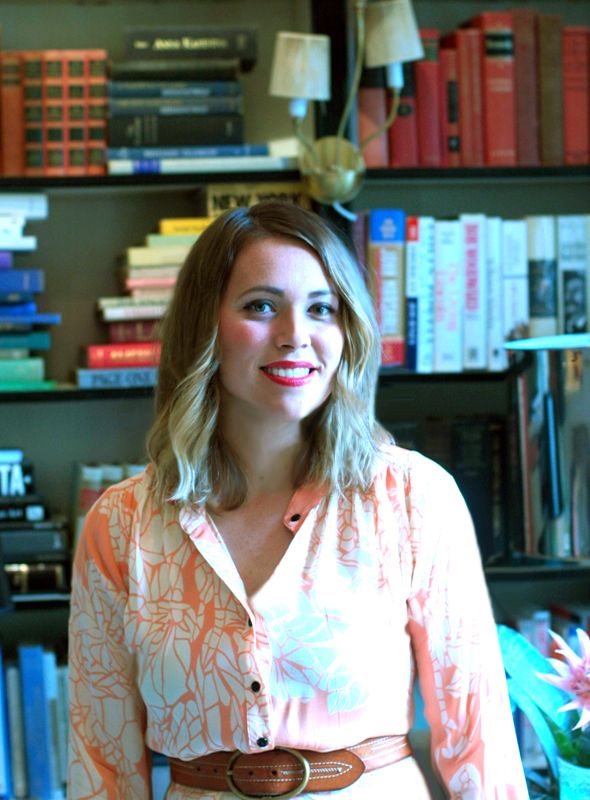 And that's it! It takes about five minutes maybe? A huge deal for this busy mom (in fact these photos were taken right before a big video shoot we had at the brownstone yesterday – excited to share in the next month or two). Plus, my very favorite part of all is how many hair products I've been able to eliminate. Lately I've been using the BB creme, the beach spray and dry shampoo on the days I don't wash my hair – and that's it. You guys, I won't even show you how many hair products I've collected over the years. Such a waste of money and space! I'm getting rid of most all of it when we move. There's not all that much closed storage to speak of in our new master bathroom, so my new hair routine is happily working out for me on all fronts.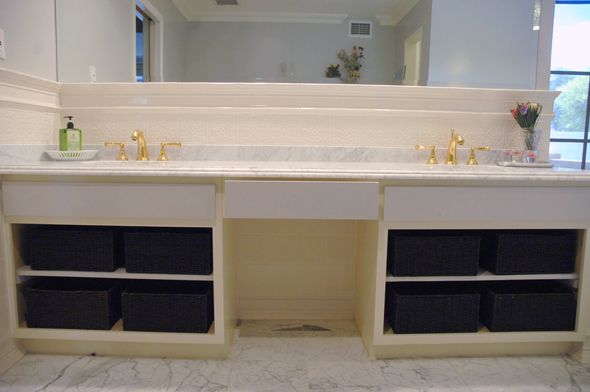 What do you think of my new do? I'm already excited for it to be a little longer (and maybe it will be more healthy now that I'm not ever blow-drying and rarely curling it?). Also, it's fun to be a blond again. :) ALSO! That bathtub is going, stat.
This post brought to you by Pantene Pro-V Ultimate 10 BB Creme. Thanks for supporting LGN's sponsors!