Oh, the kitchen.
Ever since moving to our little townhouse in Cambridge almost a decade ago, I've dealt with cooking in tiny kitchens. I cooked a Thanksgiving dinner for 20 in a mini oven the size of one cookie sheet exactly. Only one rack! That goes on my list of proudest accomplishments. :)
Our kitchen in Brooklyn is pretty tiny too. Hardly any counter space and awkwardly laid out (at least I loved our range!). So as we were looking for a new house, I thought it would be completely fantastic to have a nice – like really nice – kitchen for once in my adult life.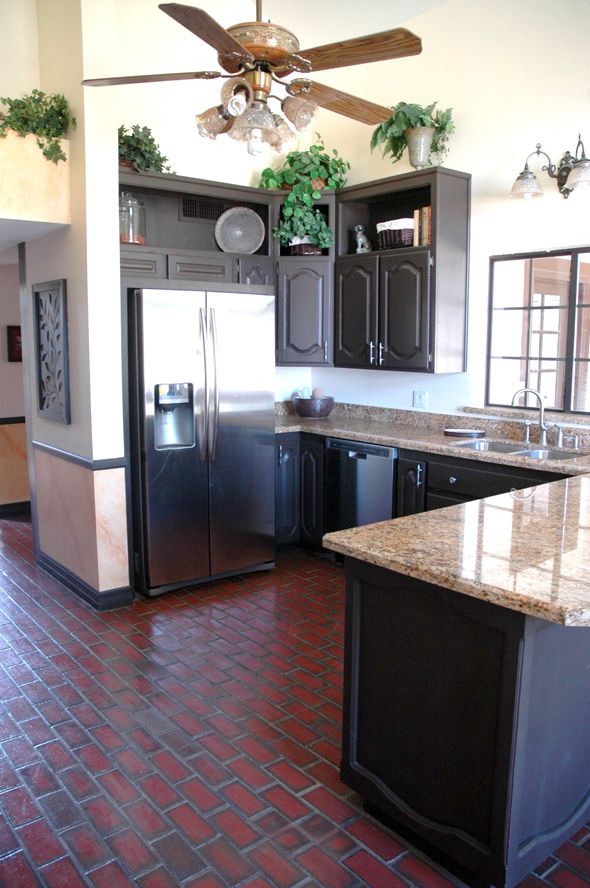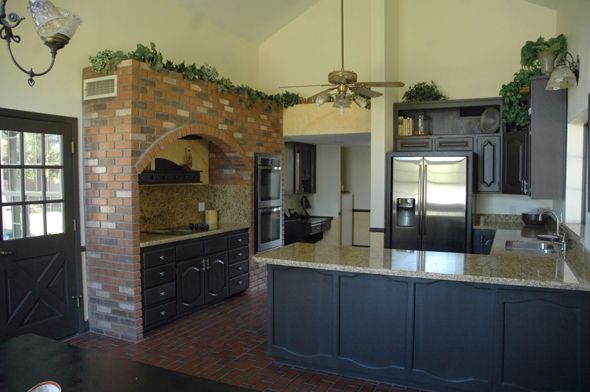 Well, what I got with the Valley house is the hope for a 'someday-nice' kitchen. While we're saving up for the day (six months? a year from now?) where I can move plumbing and walls, I'll be DIYing the heck out of this kitchen to make it more "me" on the surface. Here are a million photos and my plans…
So, when you enter the kitchen from the music room, there's a little nook space for a separate freezer. My sister in law suggested putting a beverage fridge there, which sounds a bit like heaven for me and my Diet Coke habit. :) Although, I do love freezing summer produce to use the rest of the year, so a deep freeze might beat out a soda/juice/water fridge.
Next to the freezer nook is a little built-in desk space. I'll probably take the cabinet doors off – at least those two middle doors. And maybe put mirror in the paned doors? Or antique the backs of the existing glass. Something fun. The whole thing would be painted and there'd be a cute little chair, too.
The desk is at the end of a hallway that connects to the mudroom, which connects (sort of) to the garage, so the desk here would probably act as mail/school paperwork command central.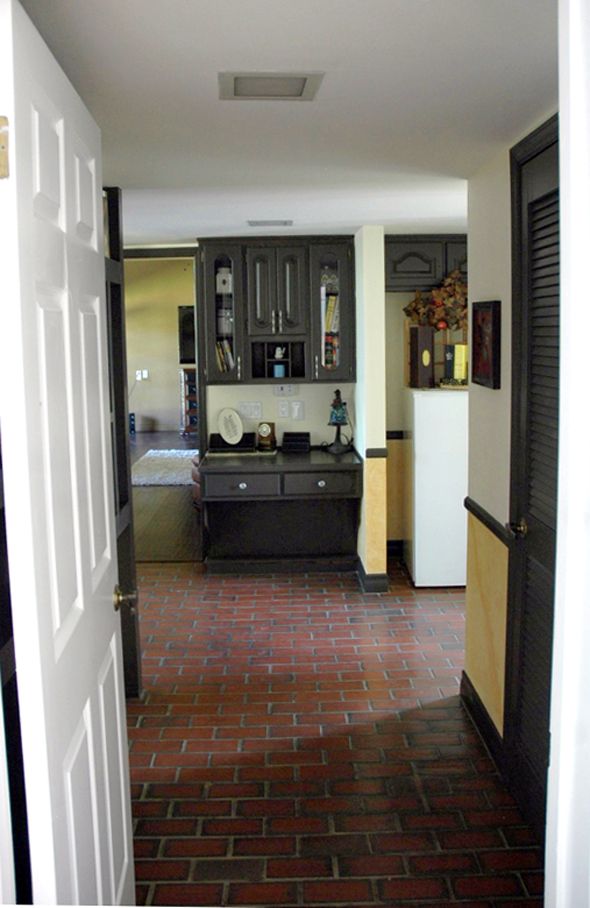 Also in that little hallway is a small pantry. It's not huge, but I'll take it!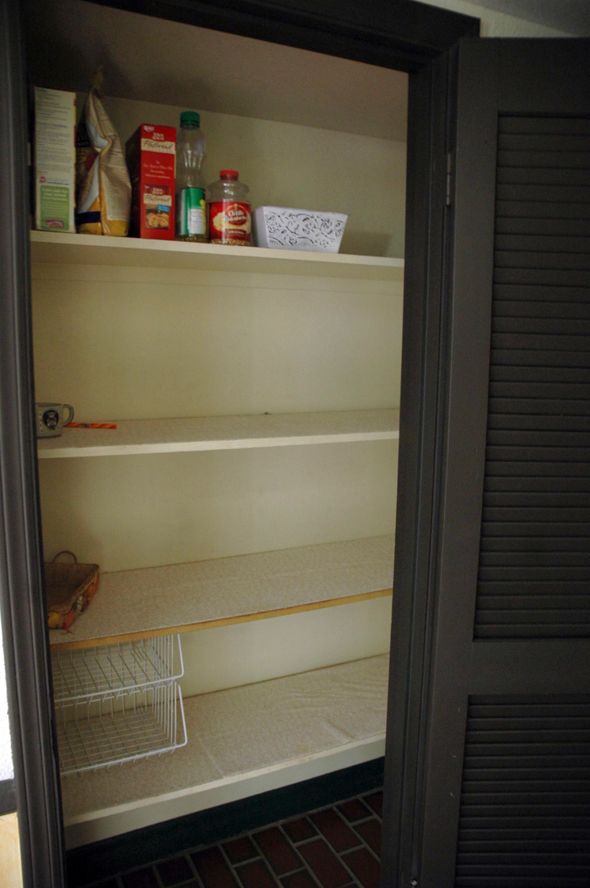 Across from the pantry are these funny little shelves. I'm not so sure about the execution here, but I like the idea of having dry good stored on open shelving. I even think the thick wood planks could be cool looking if they were lined up and more symmetrical. I have to think about this one some more.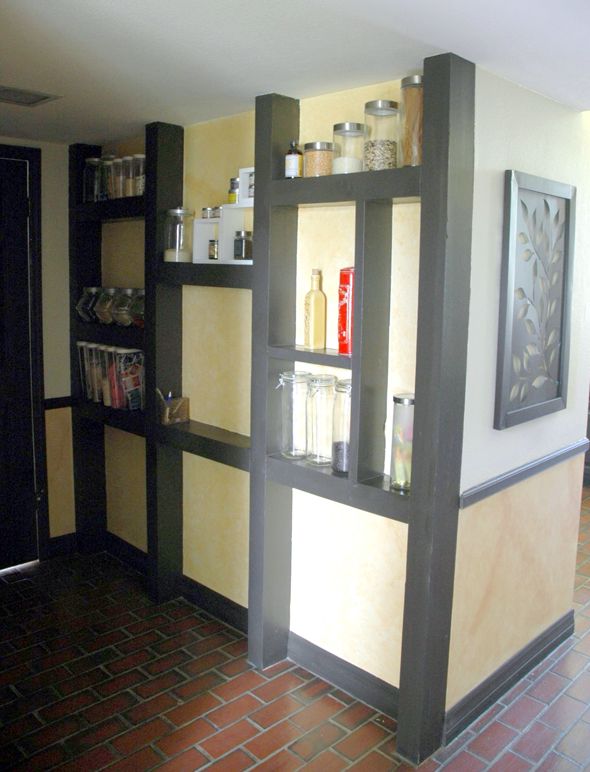 Around the corner from the pantry area, is where the kitchen starts.
To the right is a brand new glass cooktop and a pair of ovens.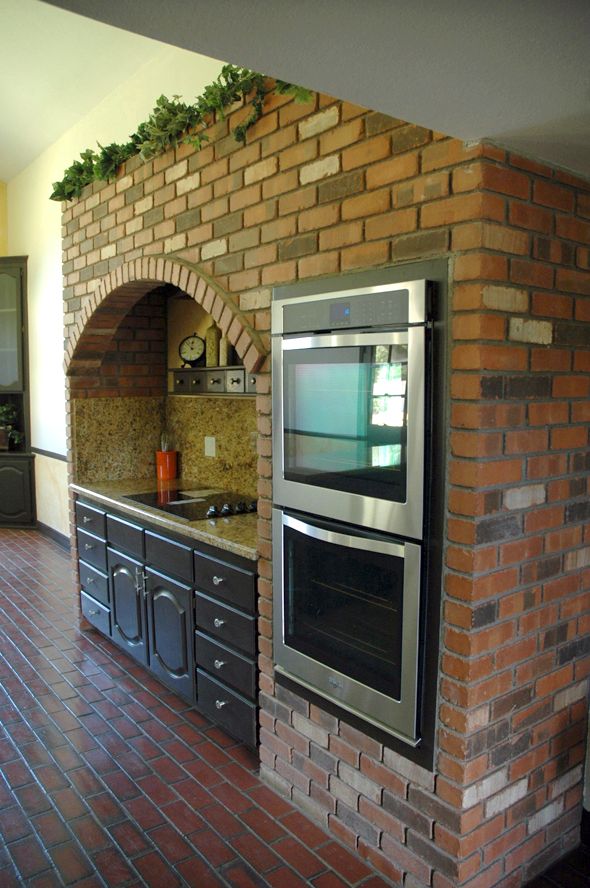 Here's where I start to cry a little tear and sigh a little sigh. How will I live without my gas range? ;) I'm sure I'll survive, but oh how I wish I could go back in time and beg the seller to not change or add anything to the house. I'll be donating or selling everything that we take out eventually, but still. It all feels so wasteful.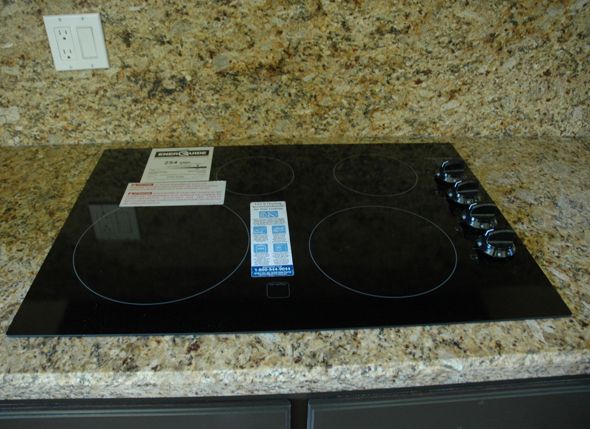 Another little sigh: no vent hood (again – we haven't had one in I don't know how long). But that's a pretty easy fix.
I'm trying to figure out this brick situation. I think if it was painted white, it could be really cool, right?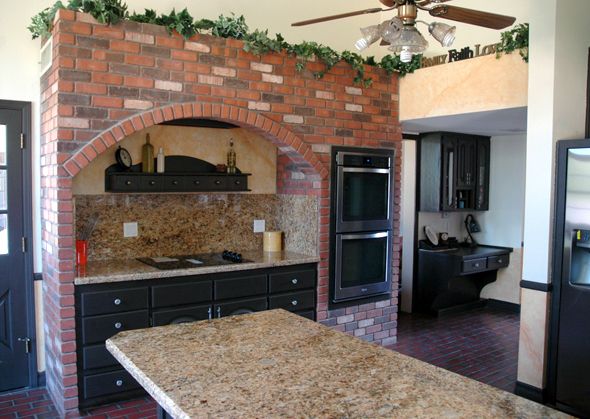 A speaking of brick, welcome to what I like to call the paver situation: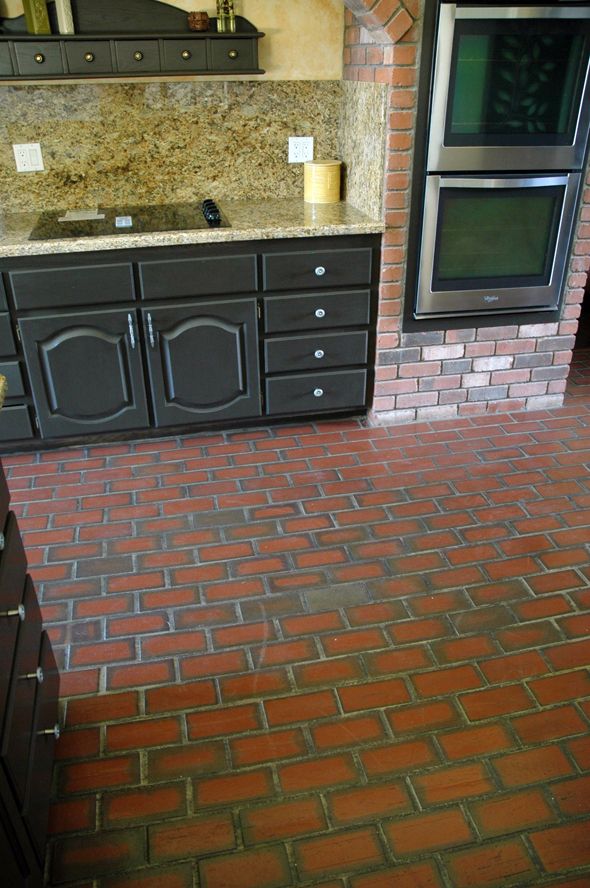 They're tiles made to look like brick, laid in the kitchen, mudroom, two of the bathrooms and the laundry room. That's a lot of red pavers. I ended up painting the ones in the laundry room already for that project I mentioned and it turned out really great. So I'll probably just end up doing that again in here. Part of me was tempted to pull these out while we're doing the wood floors and lay a tile down temporarily while save up for the big reno. After two seconds of thinking about that though, I decided I can live with the pavers, especially if they're painted. It's mostly that I hate that there's a brick pattern on the floor and on the range surround. It's like offset brick pattern overload and it hurts my eyes so much. But I know paint will help differentiate the two.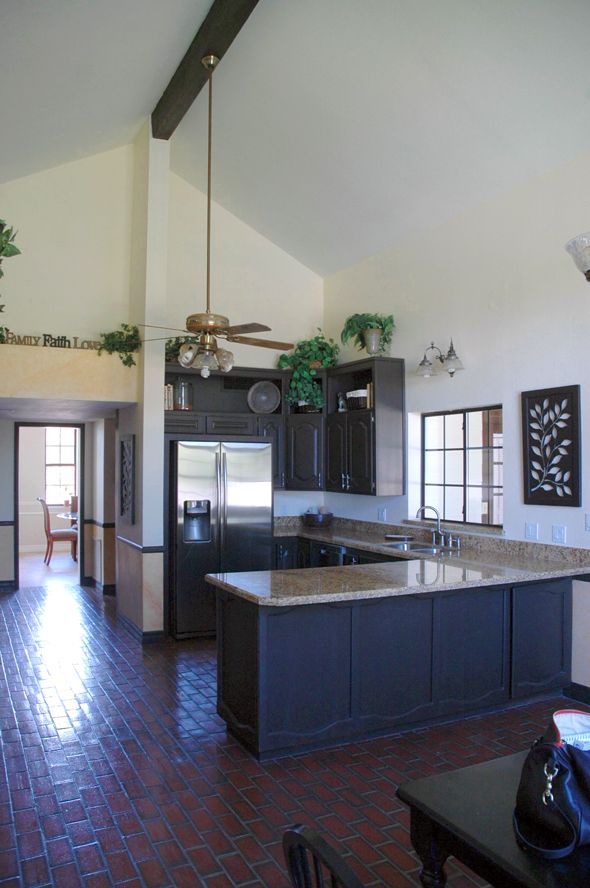 Opposite from the range is the prep area. The sellers put in a new fridge and a new dishwasher before listing the house. They also recently had the cabinets painted and put in the granite countertops.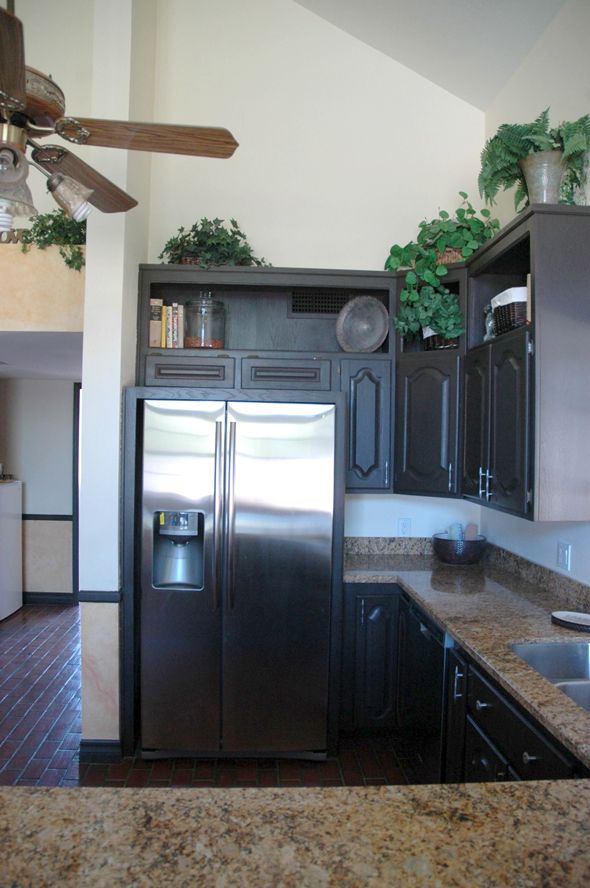 I think the space is totally fine – definitely workable. With a few tweaks I think it can actually look a lot more like my style.
I'll be keeping the granite for now, since countertops are so expensive. I'm planning on painting the cabinets a really pale gray, which might actually look really pretty with the golden tones in the granite. I might be ordering new doors and drawer fronts, depending on the cost. Something very simple would help a lot I think.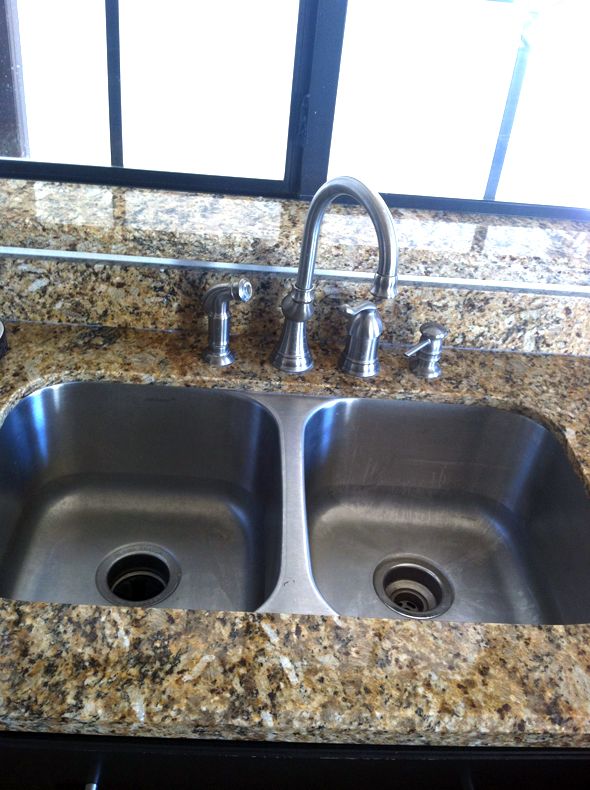 I'd love to pull down all or some of the upper cabinets to the left of the sink and put up open shelving, which I think will draw attention to the extra high ceilings rather than shorten the room, the way these uppers do now.
New lighting is a must in here. Probably a shade over the window (hung extra high).
The floors will probably be a mid-tone gray (again – the color of dirt!). (New and chunkier) bright white trim. Black gloss on the doors.
Four bar stools will go here. (post to come on that – I think I found some winners!)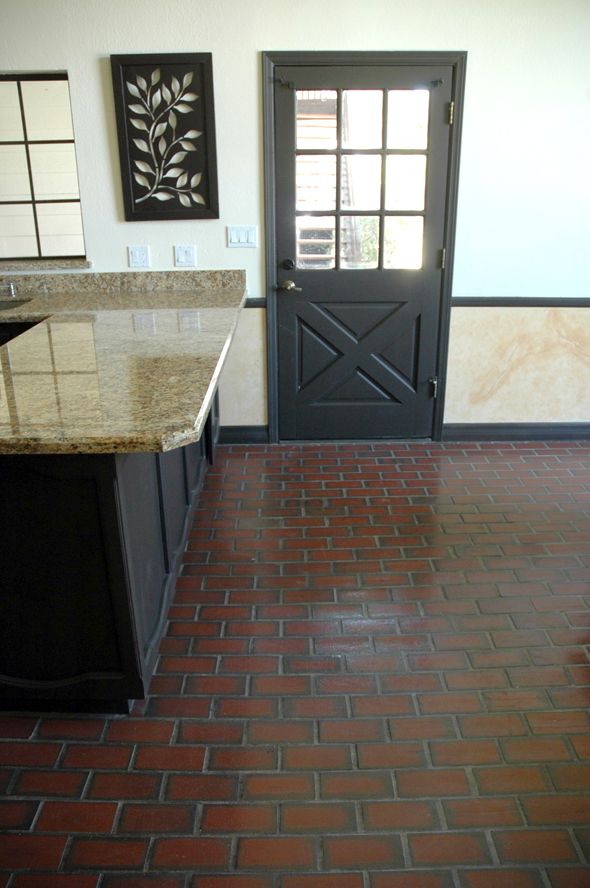 On the other side of the room is the dining area.
There are two built-in corner hutches flanking the window that are just begging to be painted and given a little love. Maybe a wallpaper or grasscloth on the shelf backs? New doors and hardware too.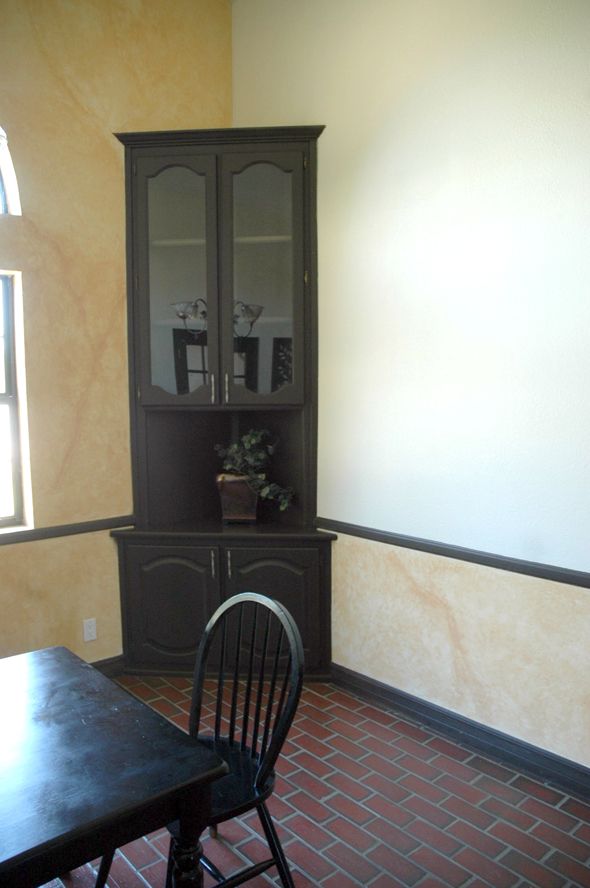 And (hooray!) I was able to find two more lanterns that
I posted about here
. I think a pair would look pretty amazing over
our old dining table
(also getting a paint job). I'll need to fashion some sort of cross bar situation so that both of the fixtures can hang from the center beam. I think plumbing pipes would probably work great.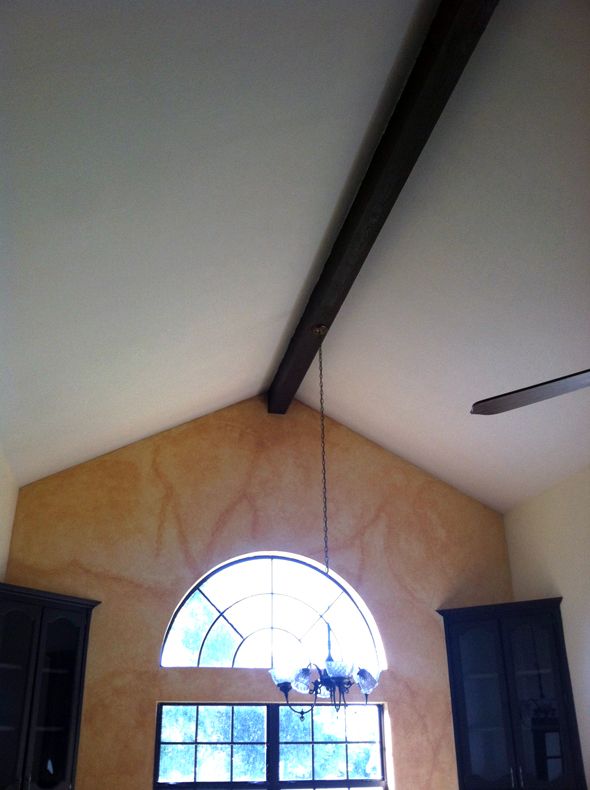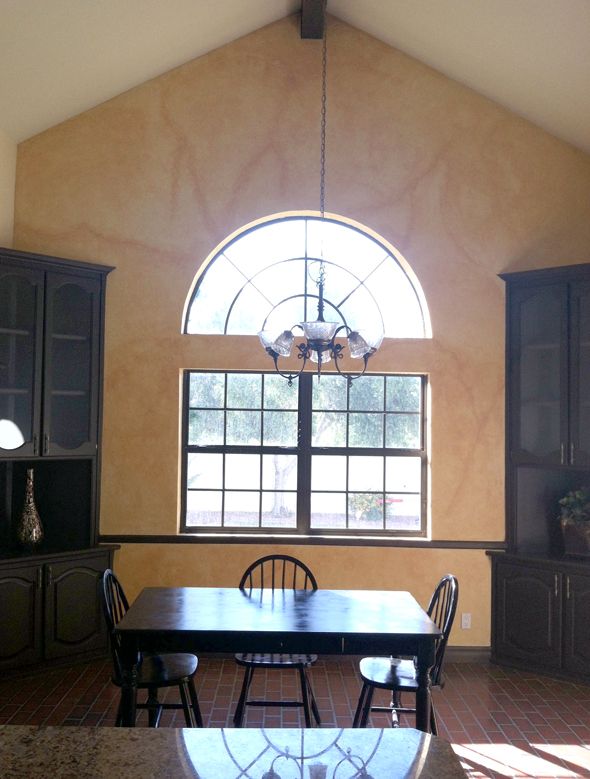 And there's our cozy kitchen/dining area! I'll have to save the full story for another post, but there are two porches on either side of the dining area here. The porch to the right of this photo below is an ideal candidate for expanding the kitchen onto so we can completely re-work this space. I might have to sell an organ to finance it though, so we might be waiting a while there. TBD! And in the meantime, every surface in this space will be getting a paint job. Clean, bright and more modern is the look I'll be going after.