Christmas is a week from today! Are you ready? I have a few little projects left to finish before the shipping deadline on Thursday. I know – right under the wire! I was determined to be totally prepared for the holiday season this year, but it snuck up on me again. If you're scrambling for some last minute gift ideas that have a little personality, here are some easy (and usually inexpensive) DIY ideas from LGN days of yore.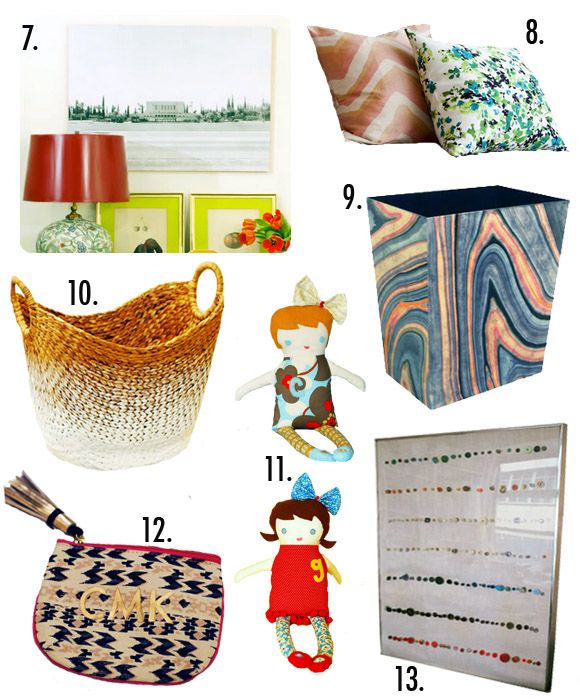 7. Spend $4 blowing up the image of your choice in black and white (maybe your parent's wedding photo? Or a portrait of a special relative?). I mounted
my print
on foam core board and painted the sides bright orange.
8. I call these my
ten-minute pillows
. If you know how to sew a straight line, you can make a pair of pillows for your friend.
9.
Decoupage a dollar-store trash bin
with a pretty marbleized paper. It's too late to order the paper online now, but stationary stores carry these a lot of times (I know Paper Source has tons). If you're in a pinch, look for scrapbook or wrapping paper in a special pattern.
11. Whip up a couple of these quick,
easy-sew dolls
for your kids. My girls are still sleeping with theirs and they've held up really well after all these years.
13. I inherited a bunch of buttons from my grandmothers so I sewed them onto a piece of linen and framed the fabric.
Something like this
would be great to give to moms. If you only have a few buttons, try something like
this look
.
Here's hoping we all get done in time! :)