Here are some pictures of my girls' nursery. They are really old pictures that some of you have already seen before on our family blog. I decorated the room about two years ago and my taste has changed since then, but I still think it's pretty cute and there are some good ideas here for cheap decorating that I was hoping to share with you all.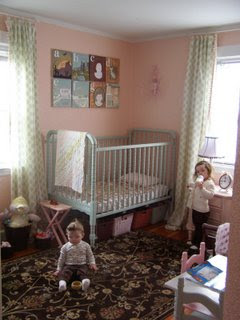 I got the color inspiration for this room from a package of scrapbooking paper, oddly enough. It was great because I made a little reference notecard with samples of all the papers and colors to carry around with me when I went shopping for the room. It was especially helpful for choosing my paint colors.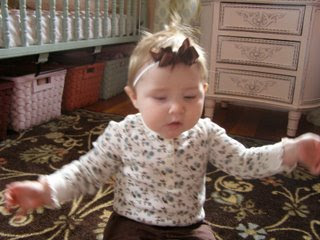 I bought the rug on sale at Kmart for less than $50. It's obviously not the highest quality rug out there, but the colors were dead-on and I like the pattern. The baskets under the crib hold shoes and extra blankets. I bought them at Target for around $8 each (although I think you can get something similar at Michael's for even cheaper with your 40% off coupon). I painted them different colors, which has been helpful in organizing. Grace knows that her shoes are in the pale pink basket.
The curtains are from K-Mart also. Well, actually, I should say the sheets are also from KMart. I bought two patterned flat sheets, split them in two, and sewed some pink pom-pom trim onto the leading edge. So easy. And cheap (less than $20 for everything). The white rods and clip rings are from Bed Bath and Beyond.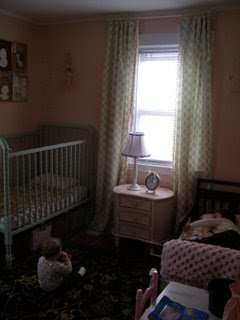 I bought the kid-sized pink night stand at TJ Maxx HomeGoods in the kids section. The full price was $49 but I asked for a discount because it was a little beat up on one side (that, to be honest, wasn't even that noticeable, but it never hurts to ask, right?). They gave me an additional 20% off.
The lamp is from Target. I hot-glued some ribbon and trims to the cheap, white shade to fancy it up a bit.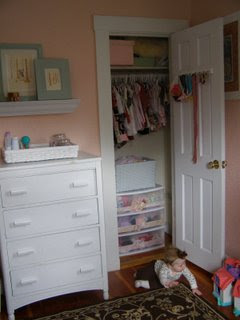 We found that white dresser on the street. We cleaned and painted it white and lined the drawers with fresh paper. Good as new.
For additional storage in the closet, I bought one of those cheap tupperware towers. I hot-glued coordinating ribbons to the drawer fronts to make it feel a little less like what it is – plastic.
I found the art (above) from the etsy seller belle and boo (I bought the "Lost" and "Found" prints). The artist, Mandy, is so incredibly nice – check out her stuff!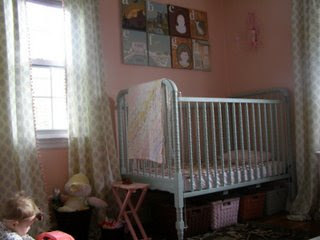 It's hard to see here, but I found two matching crystal chandelier sconces at Z Gallerie on clearance for $6 each. Steal of the century. I spray-painted them pink.
Other steal of the century: the little wooden pink ironing board seen above. I bought it at Baby Style for, get ready: $0.99! Later, I found an old metal vintage toy iron at an antique store that I cleaned and then sealed for safety reasons, but they look adorable together.
The other accessories in the room (like the buckets, the hooks, the clock) were purchased here and there when I saw good deals. A little paint helps things look like they belong together even if they don't.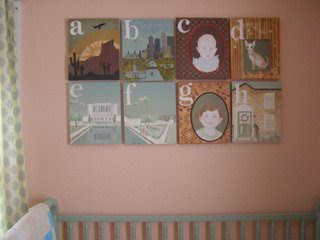 For artwork over the crib, I bought a ton of canvases at Michael's, two for $3. They were already painted with sad little flowers and that's why they were so cheap. Normally blank canvas is pretty pricey. Anyway, using scrapbooking cardboard letters, some of the paper I was inspired by, acrylic paint and some ric rac, I did a little ABC series.
A- Arizona (where we're from)
B – Boston (where we live)
C – Claire (my daughter)
D – Dog (portrait of our old dog, Gus)
E – Eternal…
F – Family (portrait of our family looking in the reflecting pool at the AZ temple)
G – Grace (my other daughter)
H – Home (ours)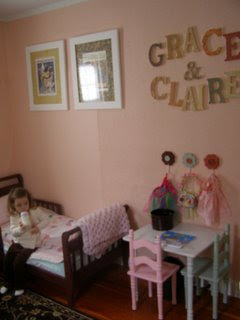 At a used book store, I picked up a great book of Maurice Sendak posters. I framed three of these posters that advocate reading books and supporting the arts. I created my own matting with some of the scrapbook paper.
I also used the paper to decoupage those wood letters that I got at Target.
The children's table set was purchased at Bed, Bath and Beyond with a 20% off coupon that I got in the mail. I think I paid about $20-$25 for the table and two chairs, which I spray-painted.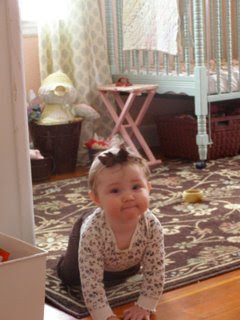 Claire's Jenny Lind style crib was a total steal on Craig's List. I bought the crib and a matching changing table for $30 total. I painted the crib and have the changing table in storage for later. Grace's toddler bed was originally white. I ordered it on walmart.com for about $40 and had it shipped (for free) to the nearest store, where I picked it up. I painted it a dark purpley-brown that I really love.
Like I said, I doubt I would decorate my girls' nursery the same way today, but it has served its purpose the past few years. And because I did it all for so cheap, I won't feel guilty when I want to paint everything and start again when we move this summer! :)
What are your ideas for decorating a child's room on the cheap?