I always love Easter because it means spring is finally here! The wildflower blooms in the desert are always at their peak right around Easter Sunday, and it makes me want to spend as much time outside with my girls as I can.  I try to keep our easter baskets simple, and focus the gifts around spring/summer activities that will get us outside, and things we can do as a family. This usually means swimsuits, sandals, lawn games, and arts & crafts for the days it's too hot to be outside. Of course, I top it all off with candy!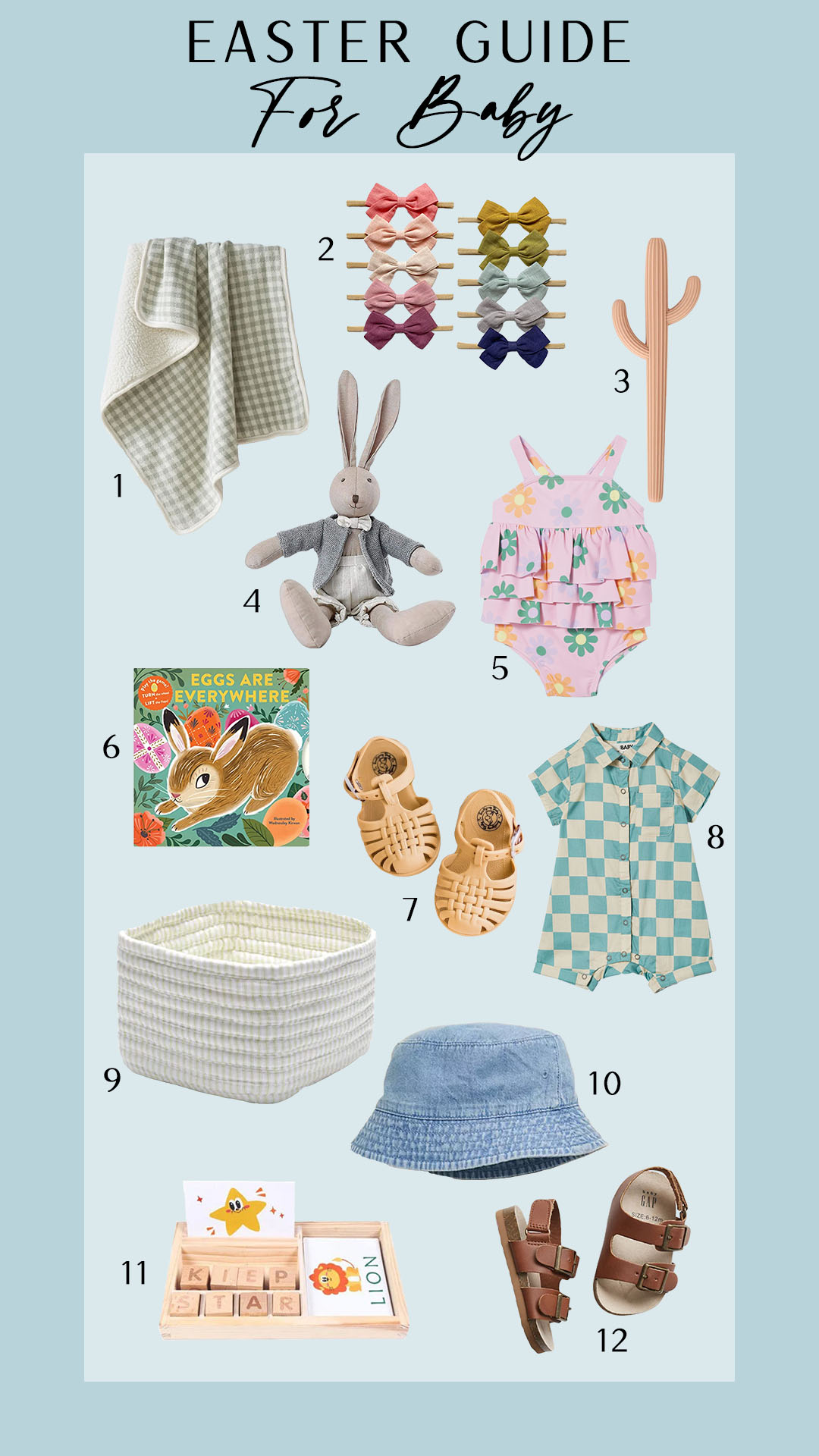 1  //  2  //  3  //  4  //  5  //  6  //  7  //  8  //  9  //  10  //  11  //  12
1. Gingham Stroller Blanket– I love gingham for spring, and I don't think it's ever possible to have too many blankets!
2. Baby Bows– These linen bows come in the cutest colors.
3. Cactus Teether– This teether toy is so easy for baby to hold, and comes in some pretty pastel shades.
4. Cloth Bunny– I'm not a big fan of stuffed animals, but this cloth bunny was too cute to leave out!
5. Ruffle Swim Suit– There is absolutely nothing cuter than a baby in a swimsuit!
6. Easter Book– I always love to gift a book for every holiday, its such a fun way to build a collection over the years.
7. Jelly Sandals– I wish they made these in my size!
8. Checkered Play Suit- This playsuit is gender neutral, and the colors are perfect for the season.
9. Ticking Stripe Basket- I love using an easter basket that my kids can turn around and use for storage in their bedrooms. This one comes in a few different colors!
10. Denim Bucket Hat– Keeping the sun off of your little ones face is so important. This hat will keep them covered without skimping out on style!
11. Wooden Spelling Game- This seems like such an easy and fun way to help your little one learn letters and sounds, plus it's pretty cute!
12. Brown Sandals- We love baby shoes, and we really love baby shoes that show off baby toes!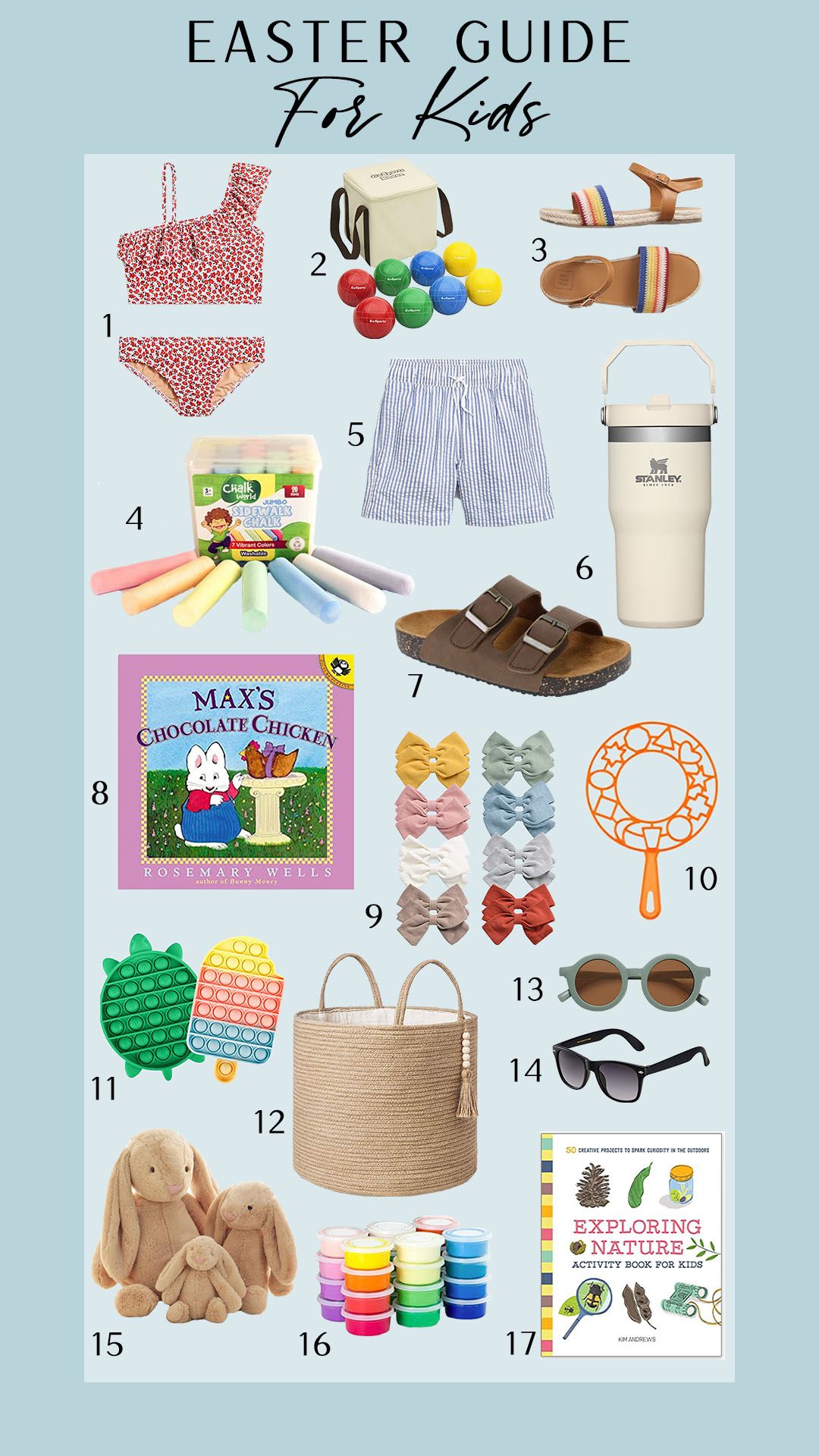 1  //  2  //  3  //  4  //  5  // 6   //  7  //  8  //  9  //  10
11  //  12  //  13  //  14  //  15  //  16  //  17
1. Floral Ruffle Swimsuit– I always love J Crew for swimsuits (for me & the kids) and a lot of them are on sale right now!
2. Bocce Ball- This is one of my favorite lawn games, and is so great for kids of all ages!
3. Girls Rainbow Sandals- I always try to stock up on cute sandals for my girls in the spring because it is all they wear all summer long!
4. Sidewalk Chalk– Sidewalk chalk is the perfect fun, low-key activity that still gets the kids outside.
5. Seersucker Swim Trunks- I love classic swim trunks like these that you can keep buying year after year!
6. Stanley Flip-Straw Tumbler- No more of your kids stealing your beloved Stanley cup! These flip-straw tumblers are the perfect size and come in some really great colors.
7. Brown Sandals- These Birkenstock look-a-likes are the perfect option for kids that won't break the bank!
8. Max's Chocolate Chicken- Such a cute Easter book, I love all of the Max and Ruby series!
9. Alligator Clip Bows- So many good colors in this bow pack!
10. Bubble Wand Set- I've never met a little kid that said no to playing with bubbles.
11. Pop Its- These pop it toys are still all the rage!
12. Woven Basket- Love the cute tassel on this basket, and it will be so great even after Easter is over!
13. Round Sunglasses- My girls are always stealing my sunglasses, these are such a cute option for them!
14. Black Sunglasses- These sunglasses are just a mini version of a classic shape.
15. Bunny Stuffed Animal- As far as stuffed animals go, these are pretty neutral and cute!
16. Modeling Clay- Modeling clay is a favorite in our house, and these containers make it so easy to store, and mess free!
17. Nature Activity Book- This looks like such a fun activity book for nice weather days!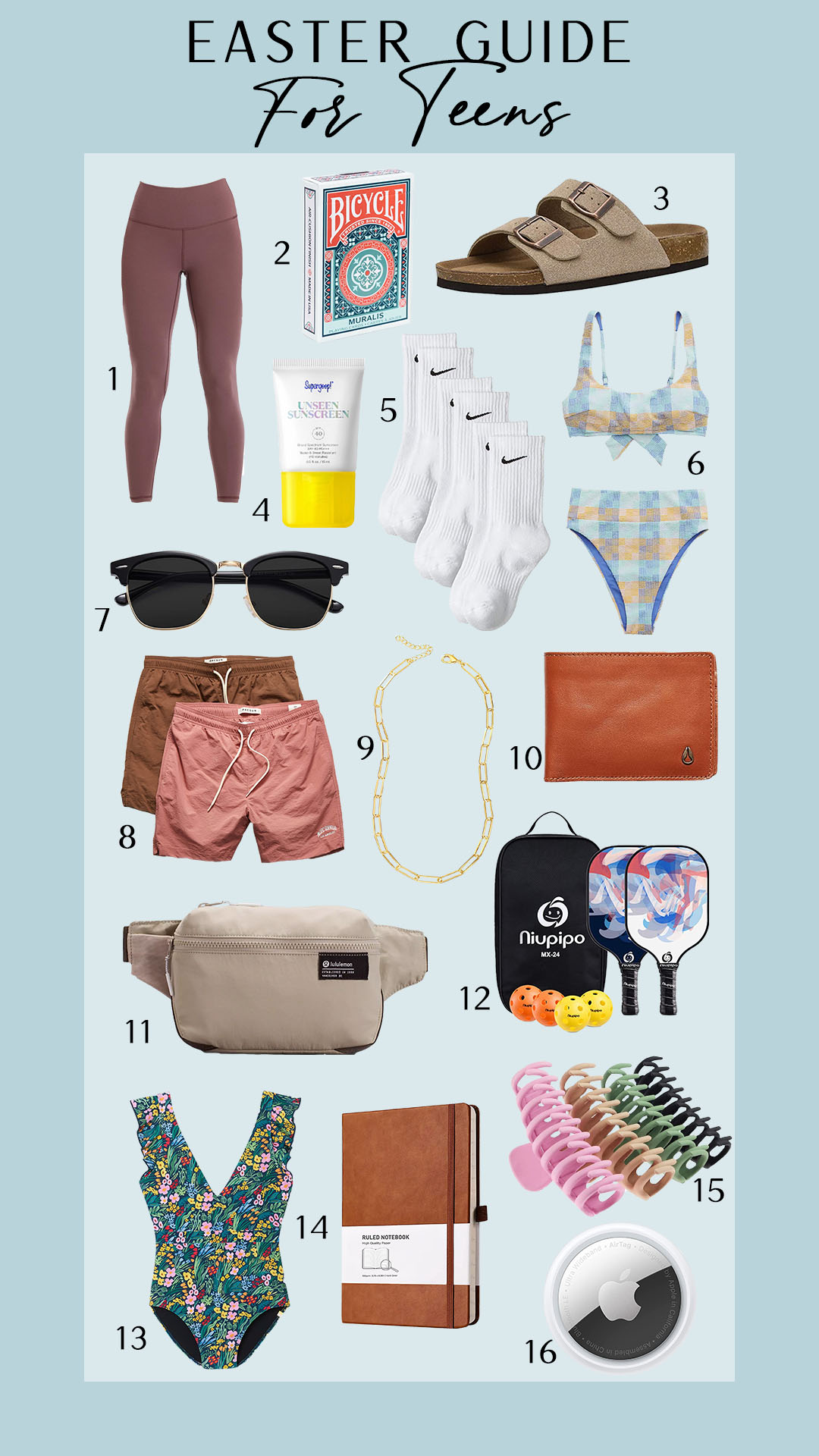 1  //  2  //  3  //  4  //  5  //  6  //  7  //  8  //  9  //  10
11  //  12  //  13  //  14  //  15  //  16
1. Leggings- These Amazon leggings are my all time favorites, and they come in so many different colors.
2. Playing Cards- We love playing card games as a family, and you can never have too many decks!
3. Sandals- These Birkenstock look-a-like sandals have so many good reviews- I love this sand color.
4. Unseen Sunscreen- I love giving my girls good quality skin care products, there are so many more options than when I was a teenager!
5. Nike Crew Socks- Everybody needs new socks!
6. Aerie Bikini- Aerie has some super cute swimsuits this year- I loved the pattern of this one.
7. Sunglasses- My girls are always losing their sunglasses, so I love gifting them a pair when I can!
8. Swim Trunks- I love the colors of these swim trunks, and they come in a pack of 2!
9. Paperclip Necklace- This necklace is such a cute length, and for a great price.
10. Leather Wallet- The prettiest color of leather, and it's super slim!
11. Lululemon Belt Bag- This tan color is pretty and neutral, perfect for the warmer weather.
12. Pickleball Set- Has your family jumped on the pickleball trend yet? We are obsessed!
13. Ruffle Swimsuit- I LOVE this swimsuit. Debating if I should buy it for my girls, or myself!
14. Leather Notebook- Love a good leather notebook, and it comes in several colors!
15. Claw Clips- These are perfect to throw your hair up as the weather starts warming up.
16. Apple AirTag- AirTags are perfect for keeping track of keys, wallets, purses, etc! Everything that I know your kids are constantly losing.