This post is sponsored by Wayfair.
I was shocked when the Evergreen house sold before it even had a chance to go to market. We only had a couple weeks to stage the house for photos, which we use for marketing for the print shop. I wanted the rooms to look homey, cozy and collected, but I had a REALLY tight timeline and budget. We used a lot of Wayfair purchases throughout the house, so I was excited when they reached out to ask me to share some of my favorite purchases – there are a LOT. :)
I'm always after a higher quality look for less and Wayfair and their partner sites like All Modern (I'm obsessed with their Scandinavian pieces!) make it easy with always super fast and free shipping over $49 and super helpful user reviews (with PHOTOS! YES!). My fave.
Wayfair has over $10 million products (!) but their site search function is so dialed in. Remember this hallway table(similar)? I wanted something that was exactly 42″, which I could specifically search for on the Wayfair site! (I just saw the table(similar) is on sale for Labor Day too!)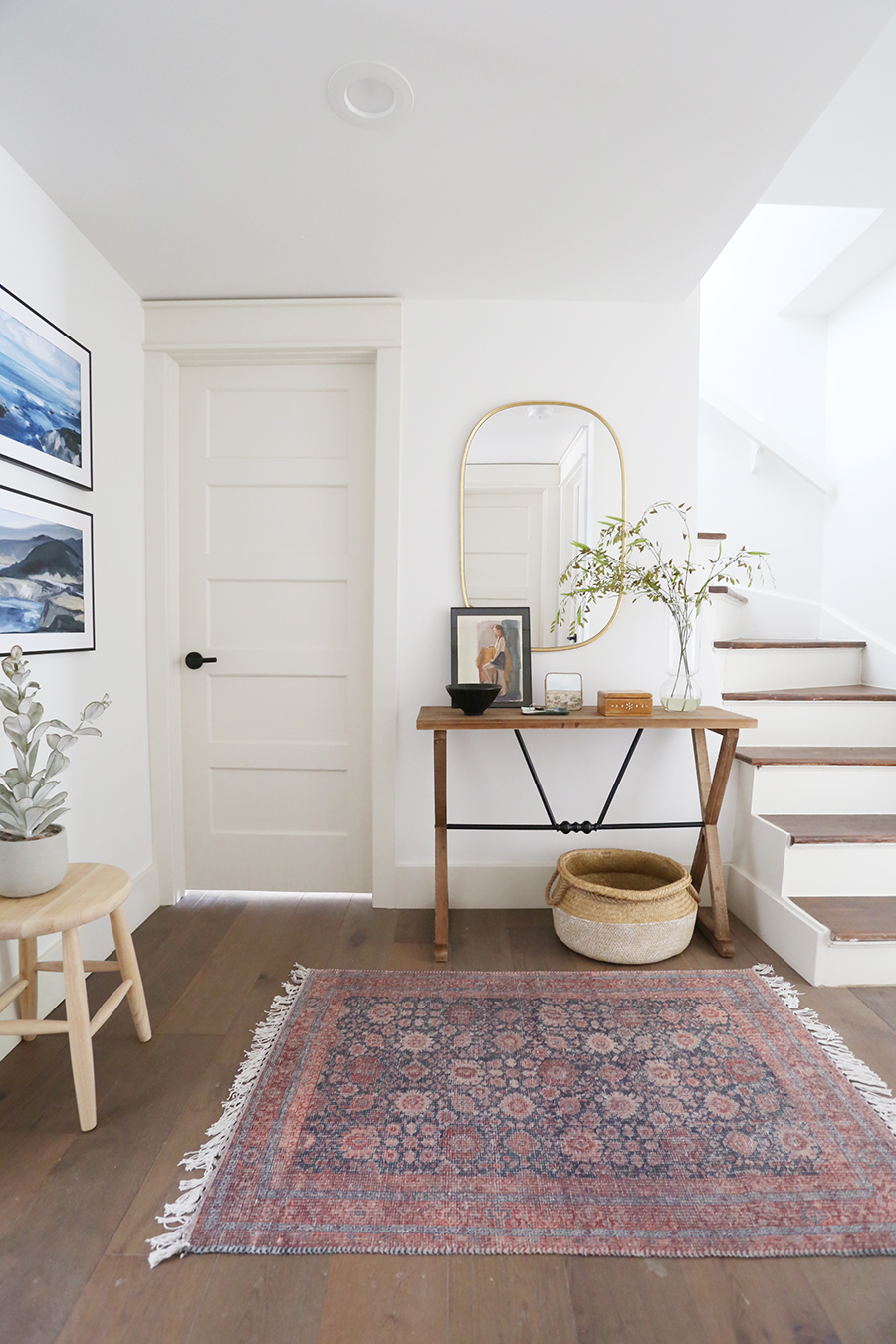 Console Table(similar) //  Throw Rug(similar)  //  Brass Mirror(similar)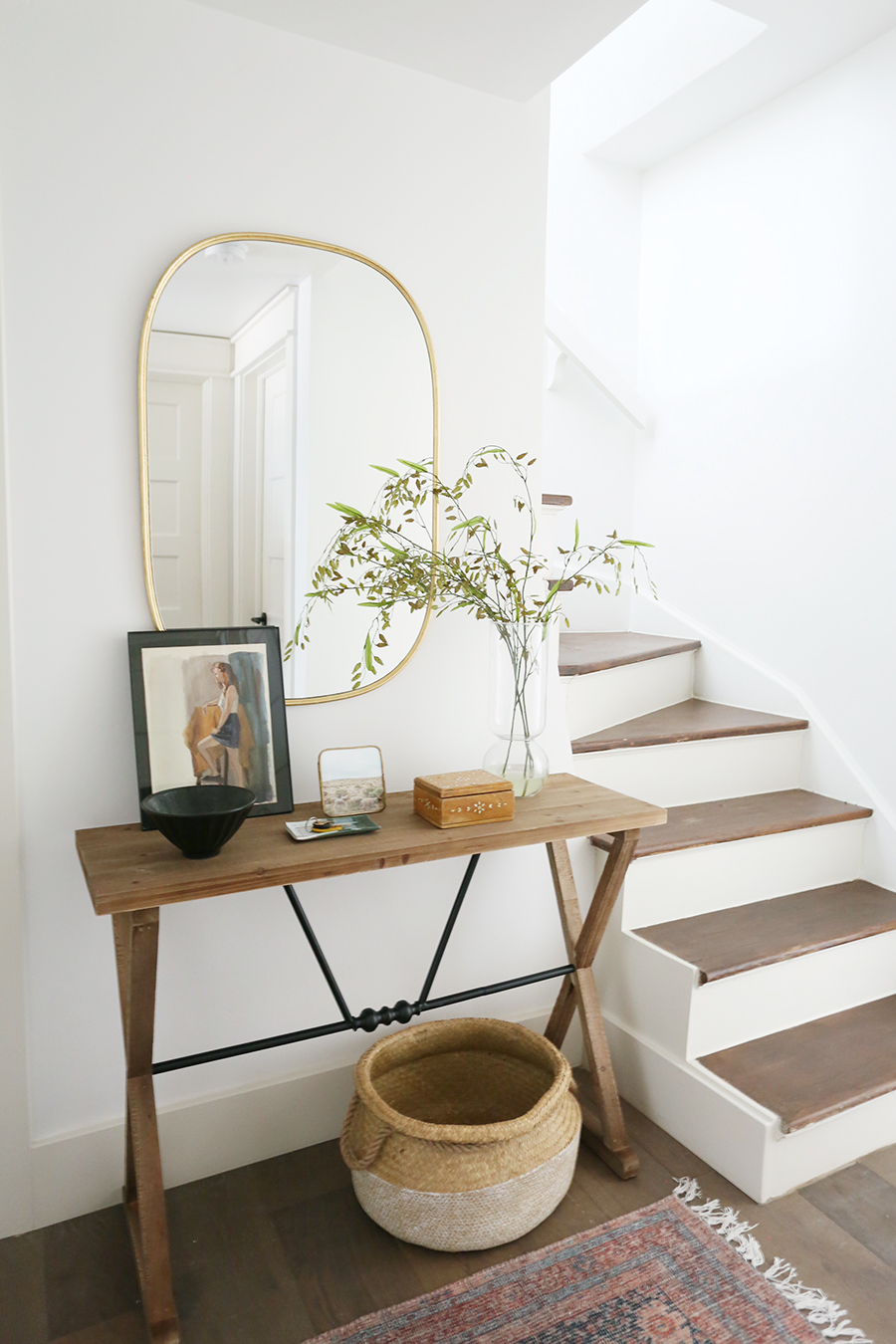 Glass Vase(similar)  //  Faux Branches(similar)  //  Brass Mirror(similar)
The Evergreen living room rug is still my favorite! I've had SO many questions about this rug line in general, I'm thinking of doing a whole post to dig a little deeper – what do you think? In a nutshell, I don't think you can come close to getting a rug this size, that is this pretty, for anywhere near this price. TOTAL RECOMMEND.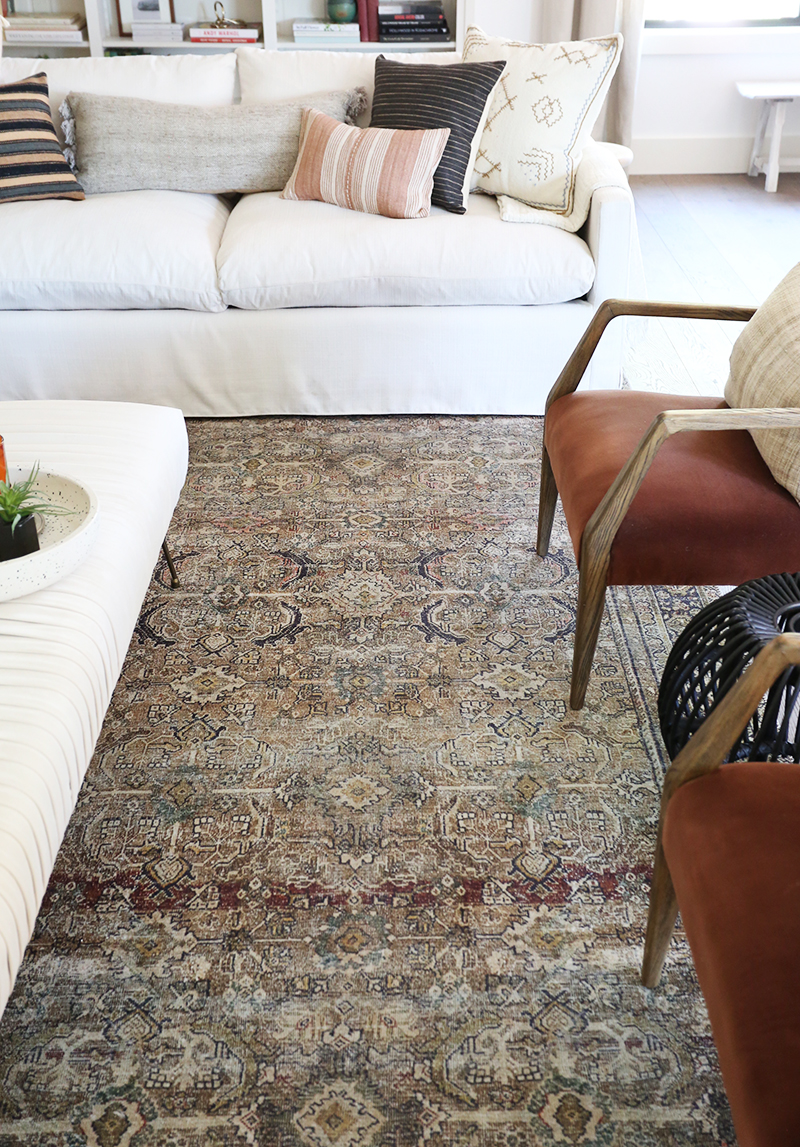 Living Room Vintage Inspired Rug
We talked a little bit about this idea in the Living Room reveal post, but I LOVE using an ottoman or bench as a coffee table! It works especially well in more narrow spaces. We had two large side tables and with a big tray on the bench, there's still plenty of places to put down a drink. I love the pleated upholstery detail on our bench(similar) in here. And those gorgeous metal legs are KILLER!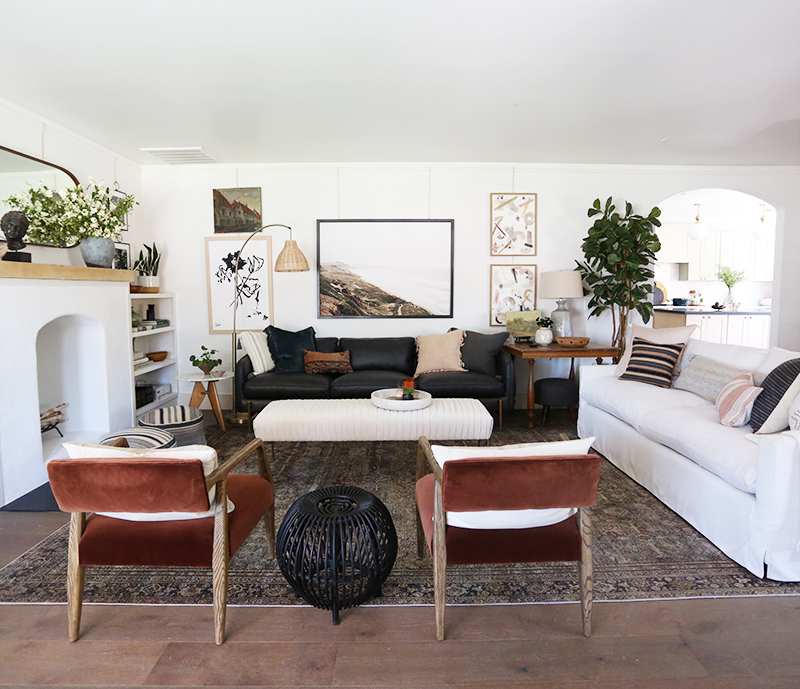 The marble and wood side table(similar) is also from Wayfair. I kept this one for using in my own house! :)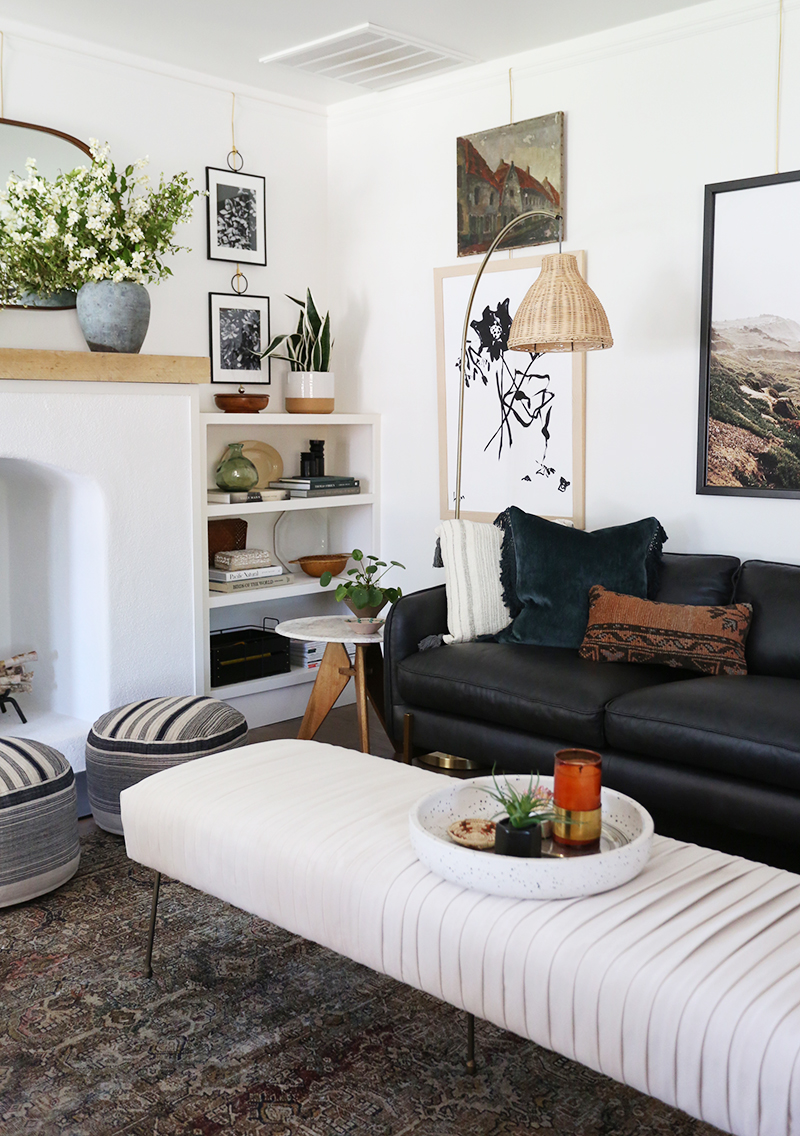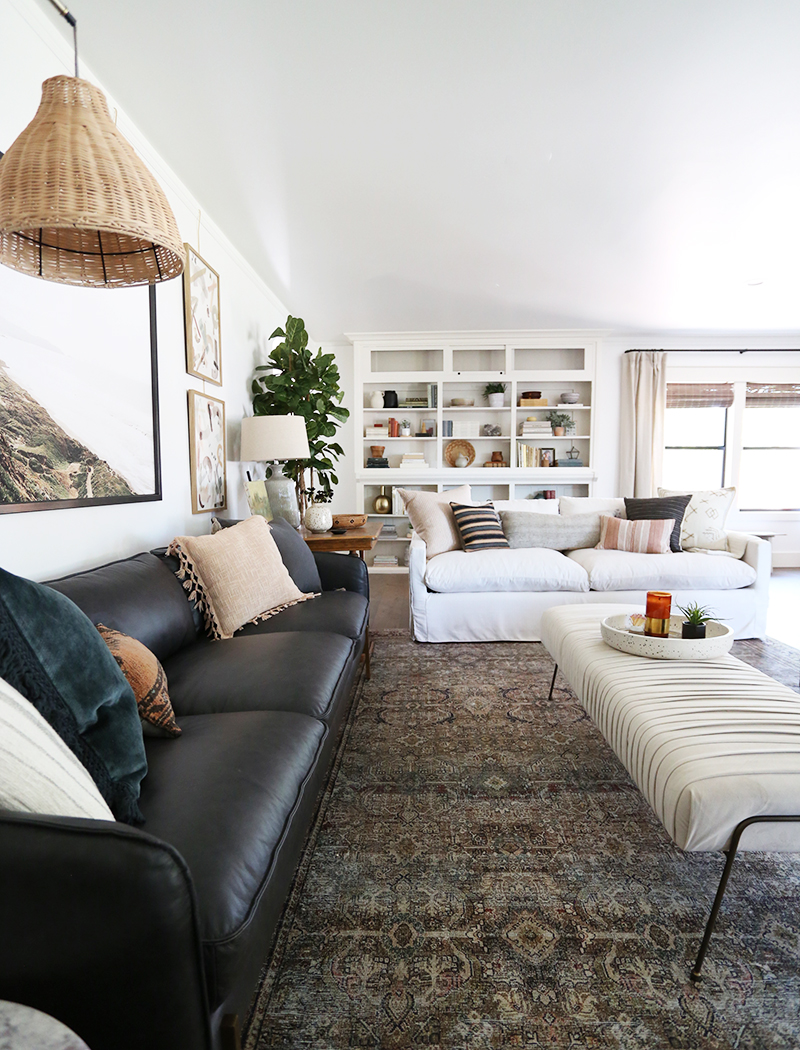 This rug was another lucky Wayfair find that really helped to pull our sunroom together. I always suggest starting with a rug when you're decorating a room from scratch. The rug colors and pattern helped me decide the direction for everything else in the space!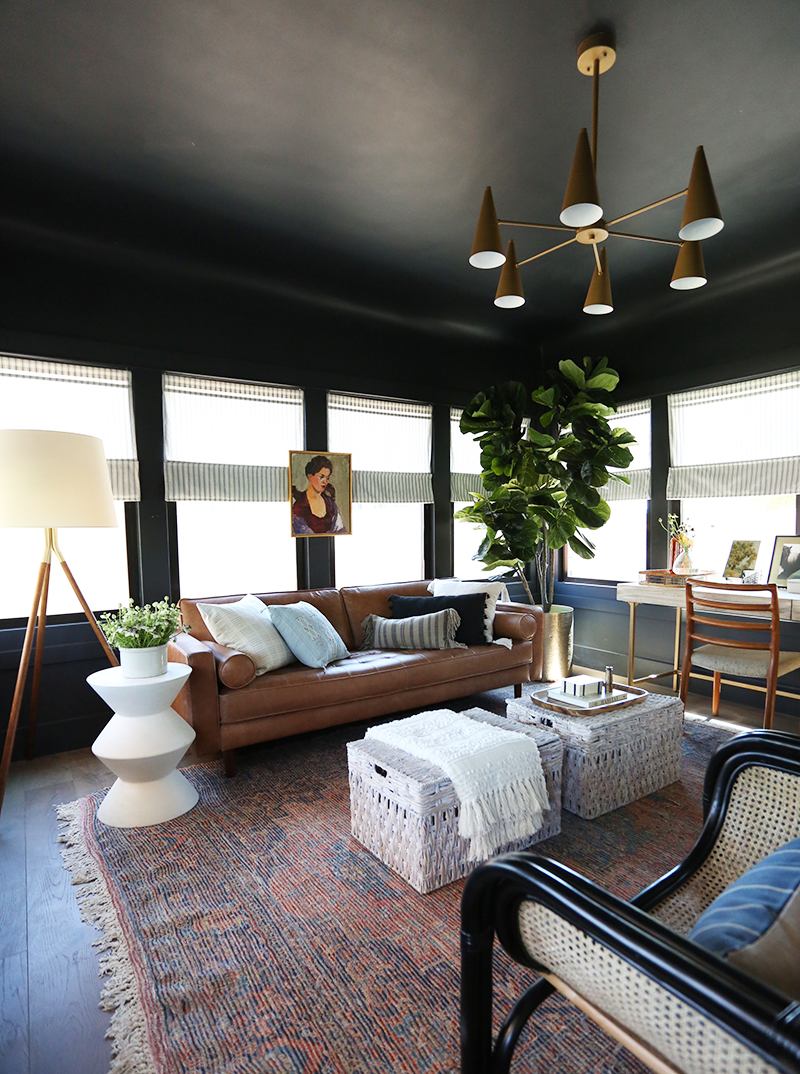 Flat Weave Vintage Inspired Rug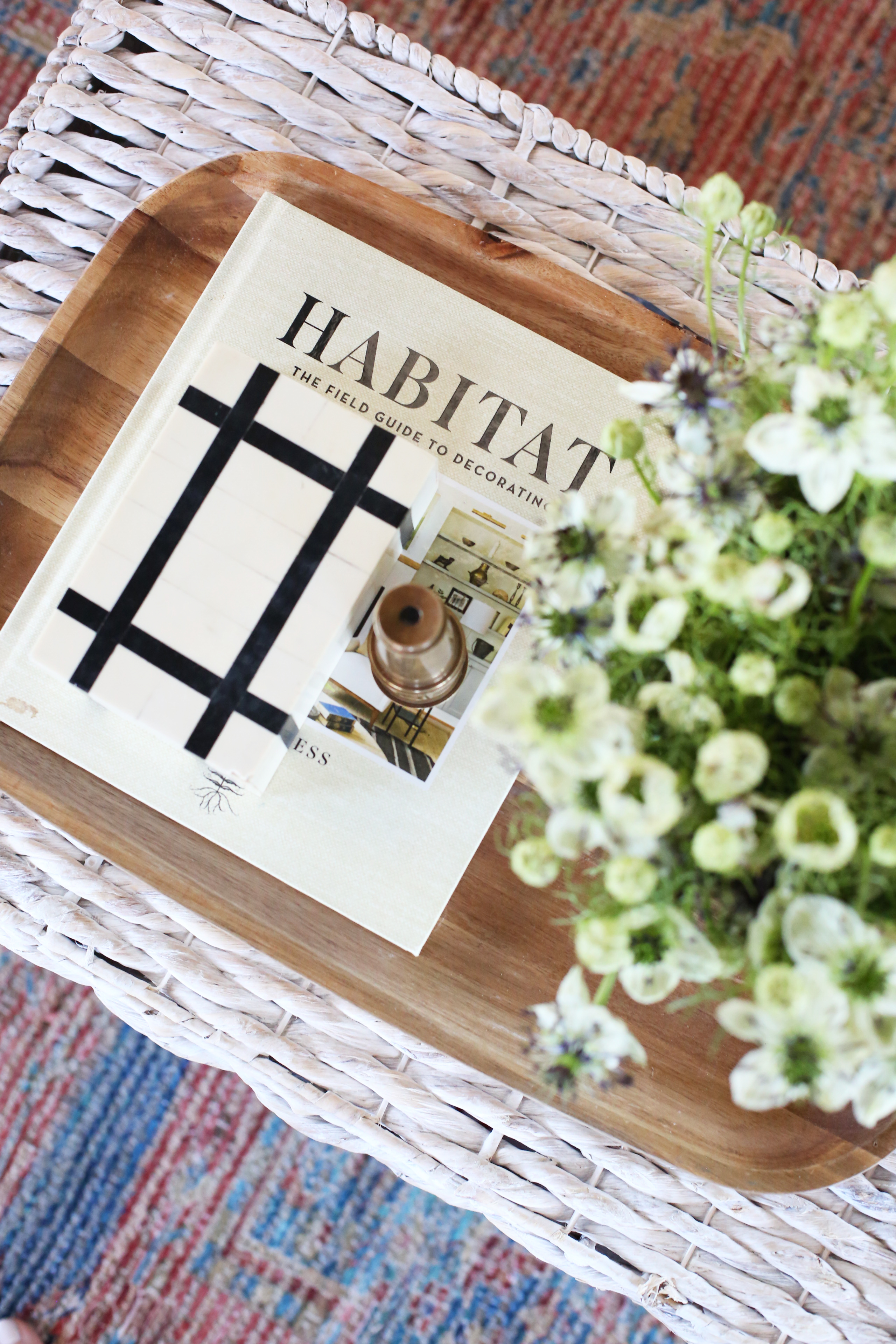 We also bought a lot of our plumbing hardware on Wayfair! I wanted to use warm satin brass fixtures in the house for a traditional look, but I wanted cleaner lines. But also not too modern! Ha! Tall order, right? But I found this line on Wayfair(similar) and it was PERFECT for the house.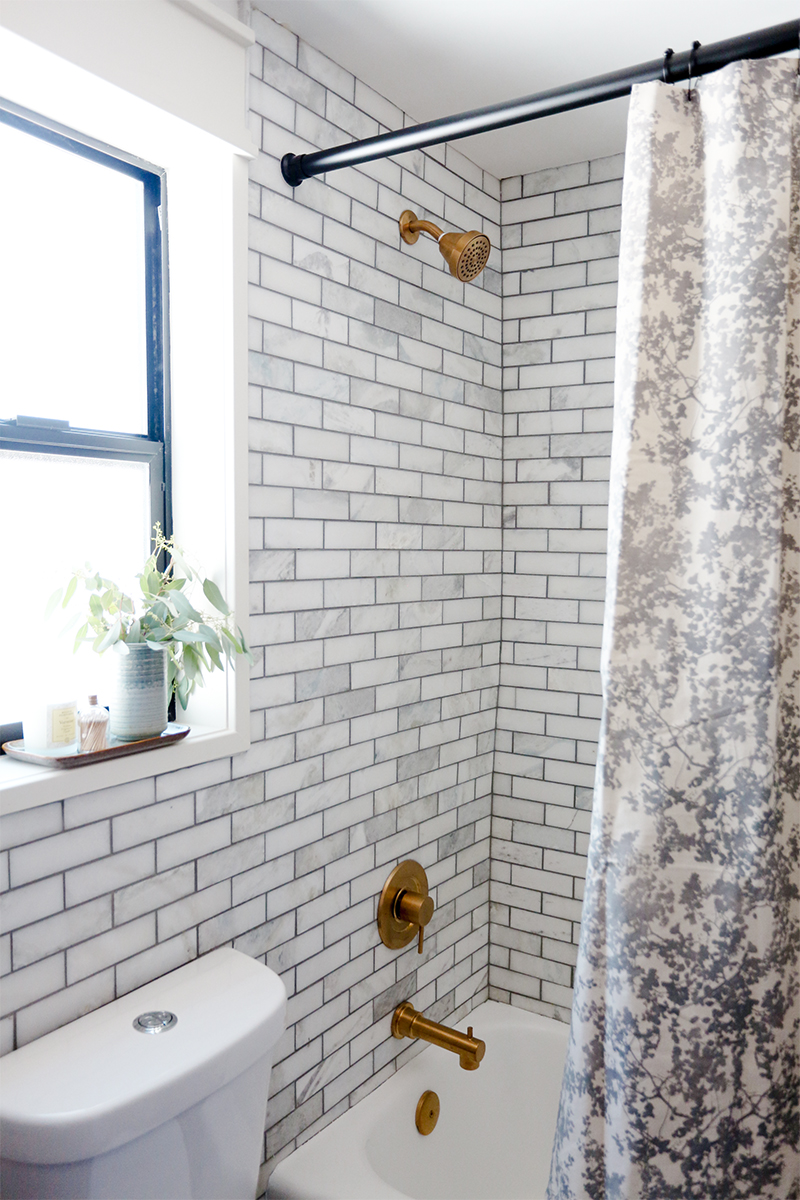 So many of you asked about the nightstands in the Main bedroom and if we had painted them. Nope! They come in this greeny gray color. It is beautiful together with the colors in the rug! You can find them on the All Modern site.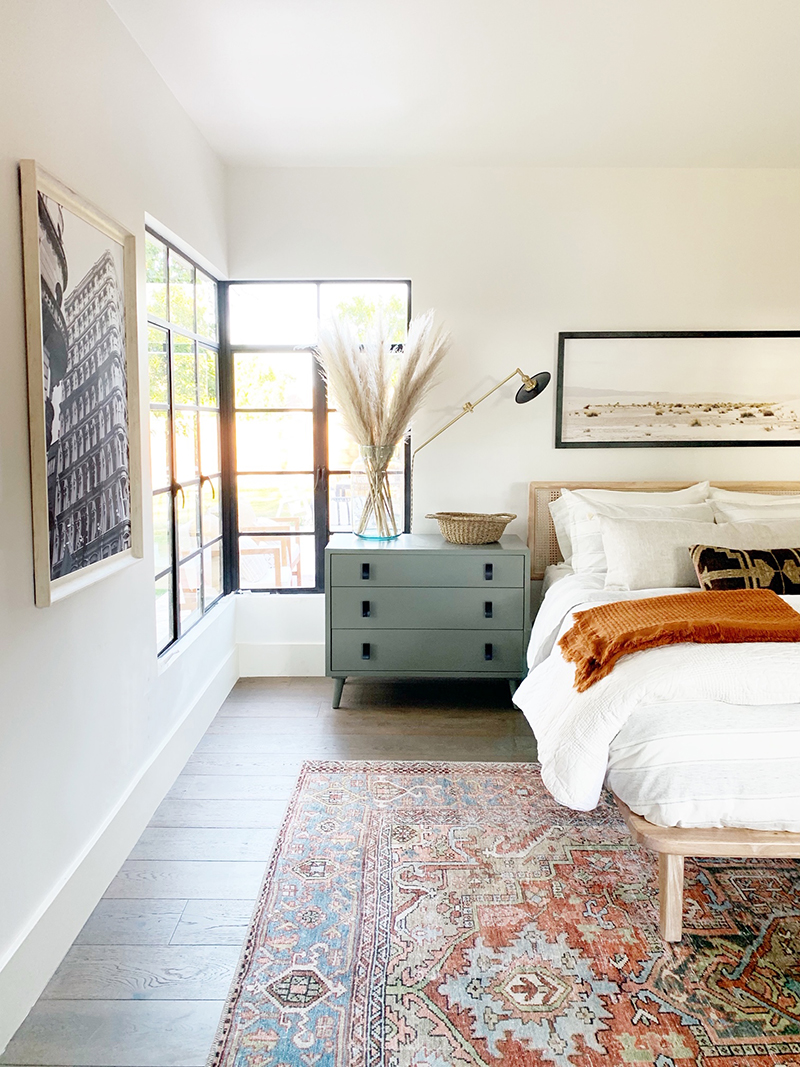 Green Gray Nightstand // Vintage Inspired Rug
Here are some additional product picks we are loving from the Wayfair and All Modern sites. Many of these are on sale for the holiday weekend, too!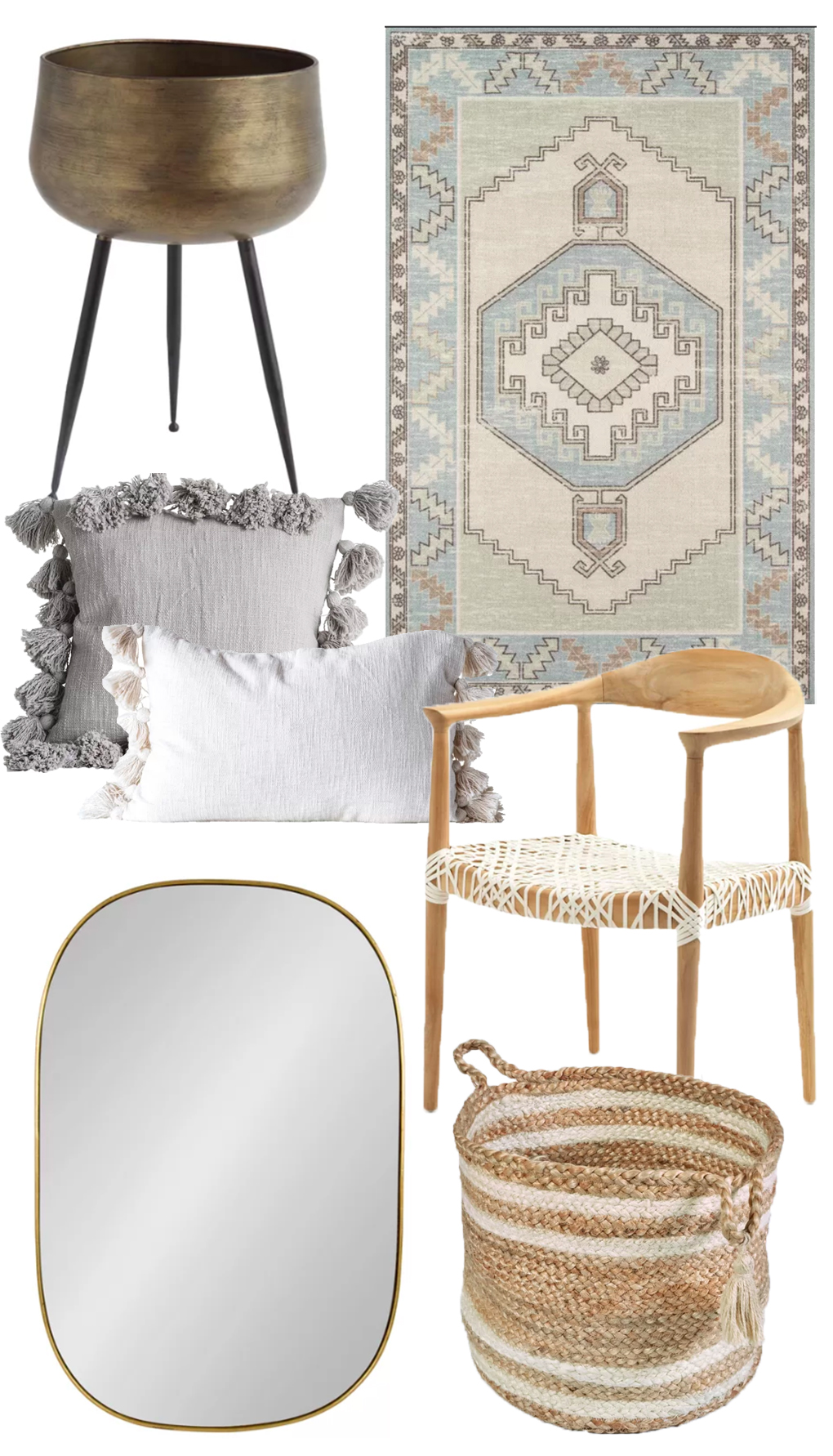 brass footed planter(similar)  //  rug  //  gray tassel pillow
white tassel pillow  //  woven wood chair  //  brass mirror  //  basket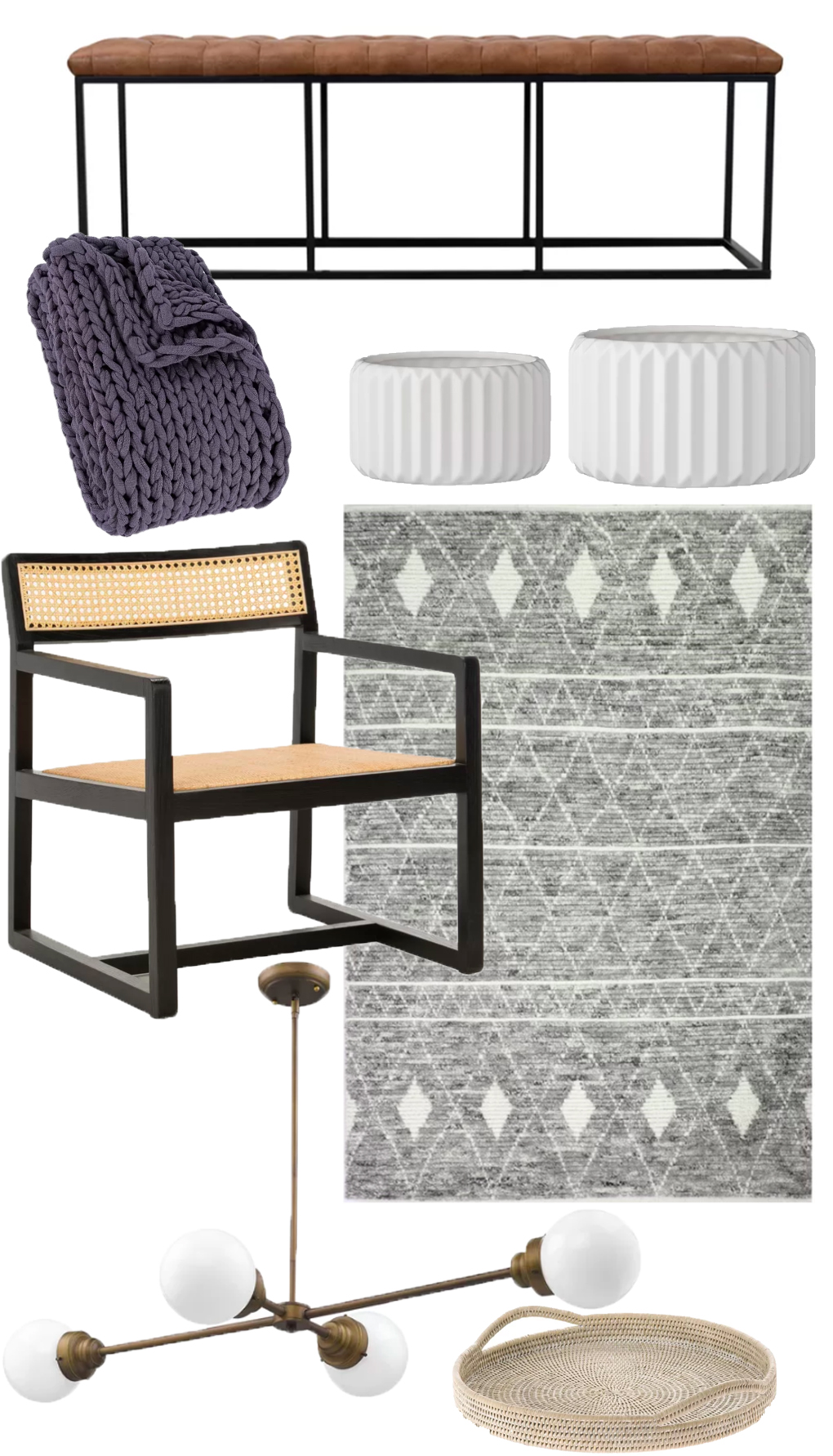 leather bench  //  knit throw(similar)  //  planter set(similar)  //  black caned chair(similar) 
gray patterned rug(similar)  //  chandelier(similar) //  woven tray