One of my friends mentioned that she was using this cabin project we finished up last year as inspiration for her new house. She had some questions about some of the sources and asked if she had missed the full reveal post. And I realized we somehow we completely skipped posting about this project on the blog! Which is CRAZY because I love, love, love how it turned out! We've posted bits and pieces of some of the spaces, but I thought you might like to see all the rooms in one post with all of the sources. As always, if I'm missing anything, leave a comment!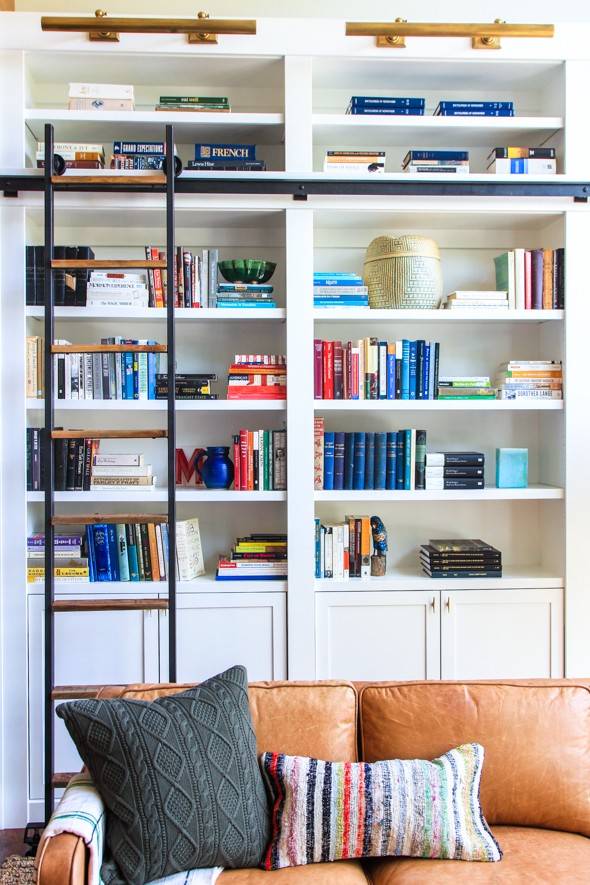 This client used Sustain Interiors out of Hood River, Oregon as the contractor on this job and I have to add my plug for Heith and his team at Sustain. They are AMAZING to work with and pretty much the nicest, most down to earth people on the planet. Couldn't recommend them enough if you are renovating or building a vacation property outside of Portland! I also have to throw in HUGE props to Megan Evans, who was working with me when we designed and installed this project. Since we are doing a lot less client work these days, Megan is growing her own design business now and it has been SO cool to see all the great projects she is pumping out lately. I'm obsessed with this bathroom! Go Megan, go!!
This project was two-structures on the same property (here's a tour of the other cabin!). Both are modest in size, but they pack a big design punch! :) Here's the great room area.  We used the Hamilton sofa for this space and I loved it in here! (PS if you're looking for a new leather sofa, check out this epic round up post!)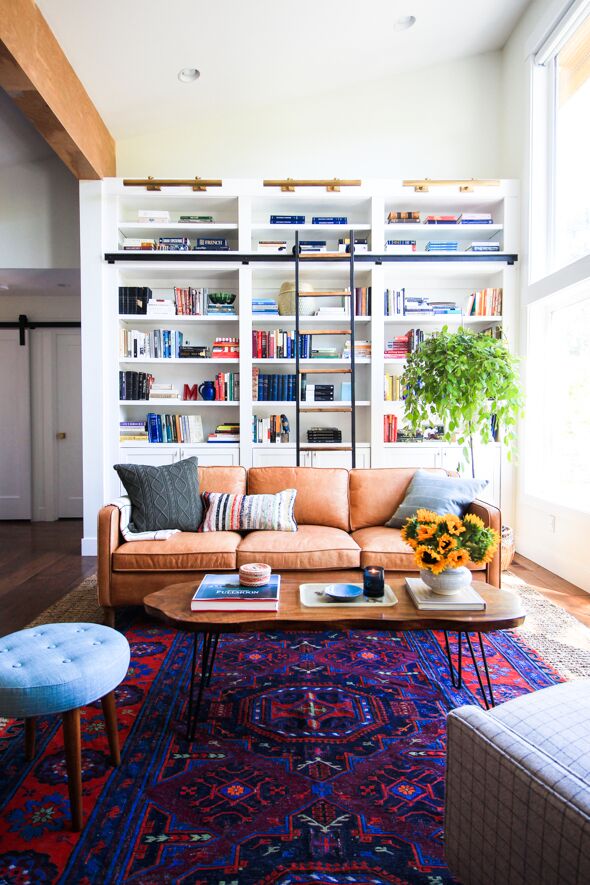 sofa  //  rug (similar)  //  coffee table (similar)
We designed the bookshelves and Sustain built them on site. They used a local shop Future Folk Supply Co to make the ladder and the barn door hardware in the space and these guys knocked it out of the park! I've found that finding local craftsman to make special items like this for your home usually doesn't cost any or much more than buying readymade stuff online. And the bonus is you get to meet and support great people and you get to have EXACTLY what you want and need for your space. Like, for example, we designed the treads of the ladder to be stained wood and I love the hit of warmth against the bright white cabinetry and the black metal rails. The brass sconces are just the icing on the cake, don't you think?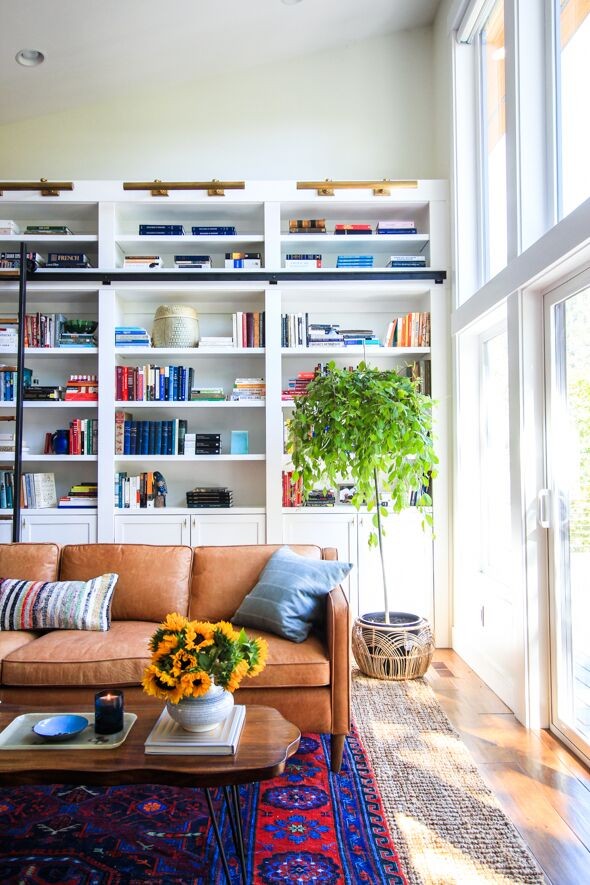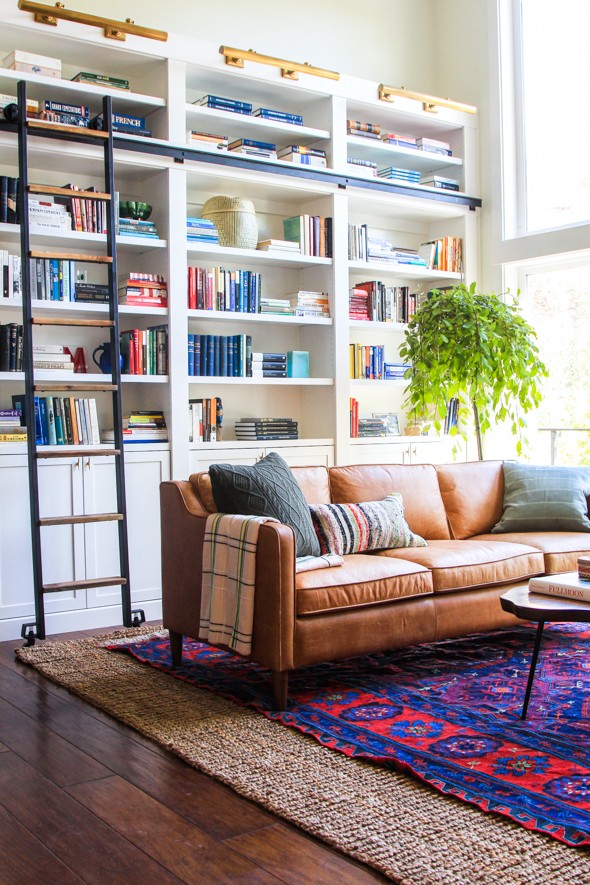 Our clients have lived all over the world and they have a really cool collection of art and rugs. This bright Turkish rug was a little too narrow for the room on its own, but pairing it with our favorite jute that has a bit of a lower profile makes it fit the space perfectly!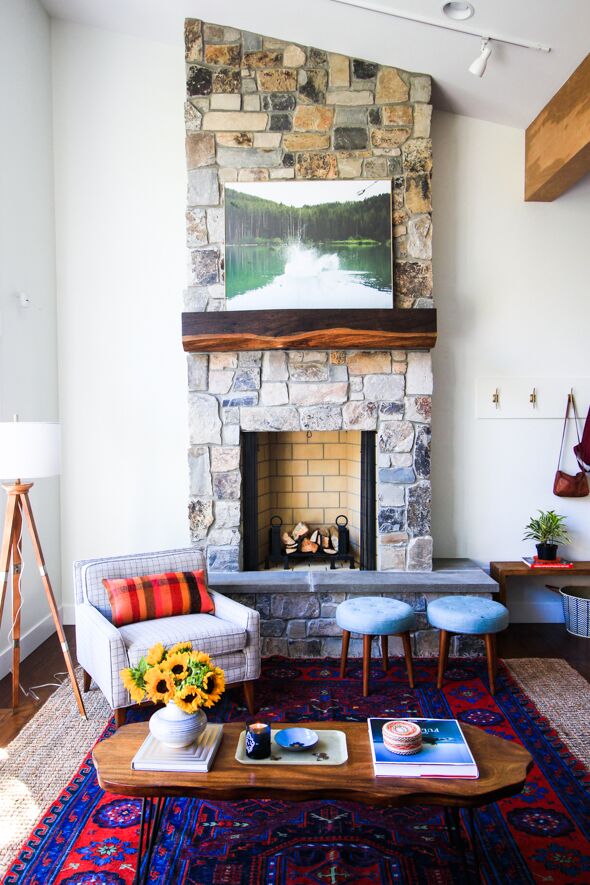 SPLASH print  //  lamp  //  ottoman  //  jute rug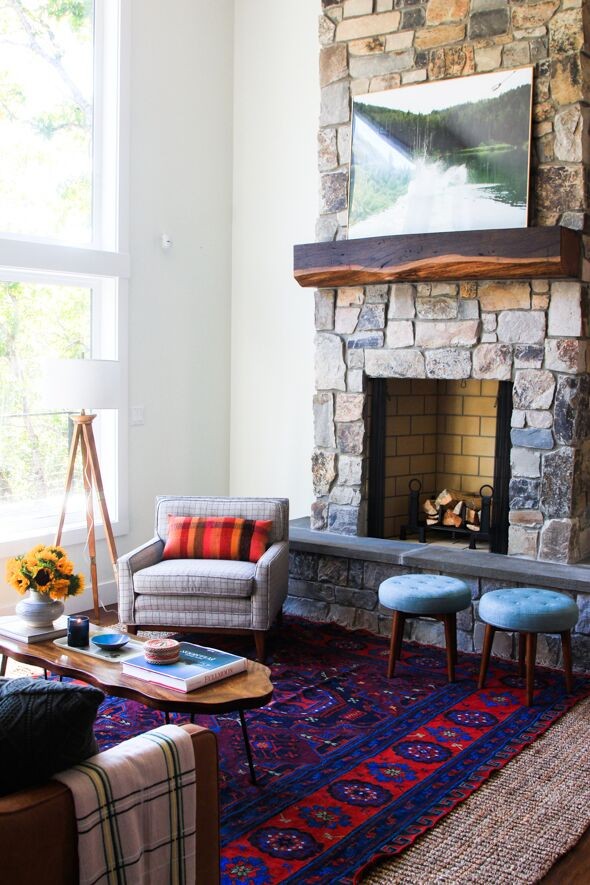 That amazing plaid chair was a vintage find that we had recovered in a kid-friendly tartan pattern fabric from Pindler. I love it for basically any room, but plaid just seems right for a cabin, don't you think?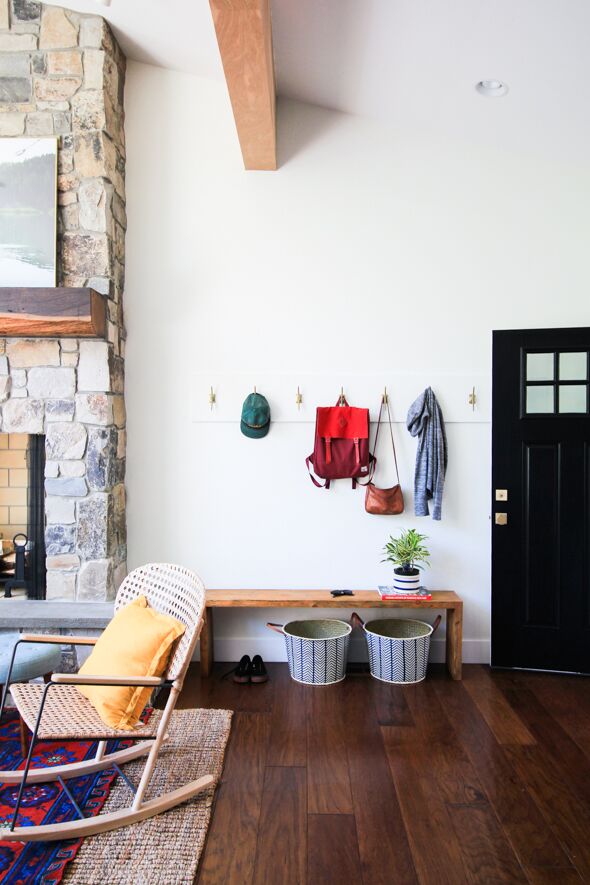 rocking chair  //  yellow pillow  //  brass door hardware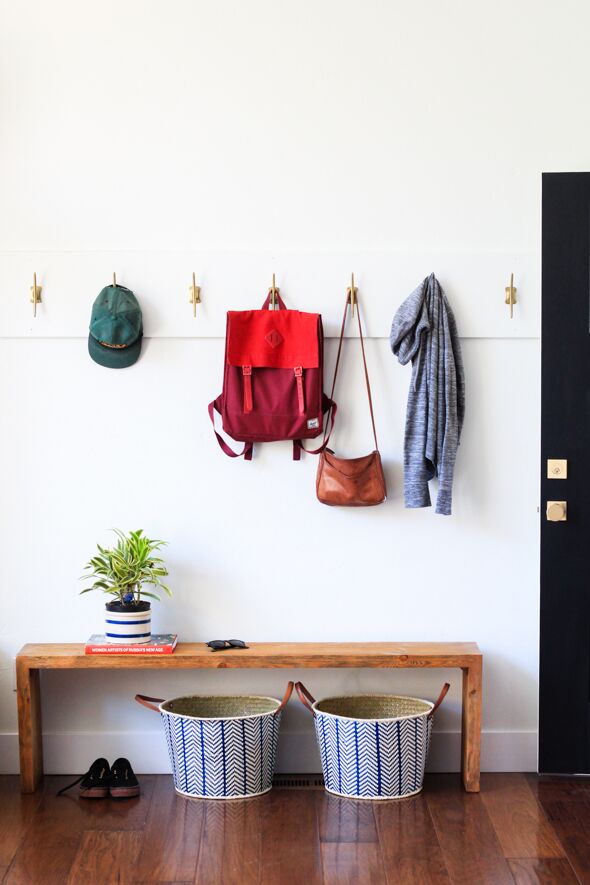 bench  //  wall hooks
If you have a small entry, the trick to maximizing space is hooks and shelves that help get things up off the floor. In this cabin's small entry we used a cute wooden bench and baskets combo for shoes and a simple series of wall hooks for jackets and bags. We picked up a simple primed pine board from the hardware store and had them cut it to fit the width of the wall. Then we hung it up by screwing right through the front of the board into wall studs in a few places and we caulked and painted it to match our wall and installed the hooks after everything was dry. So easy!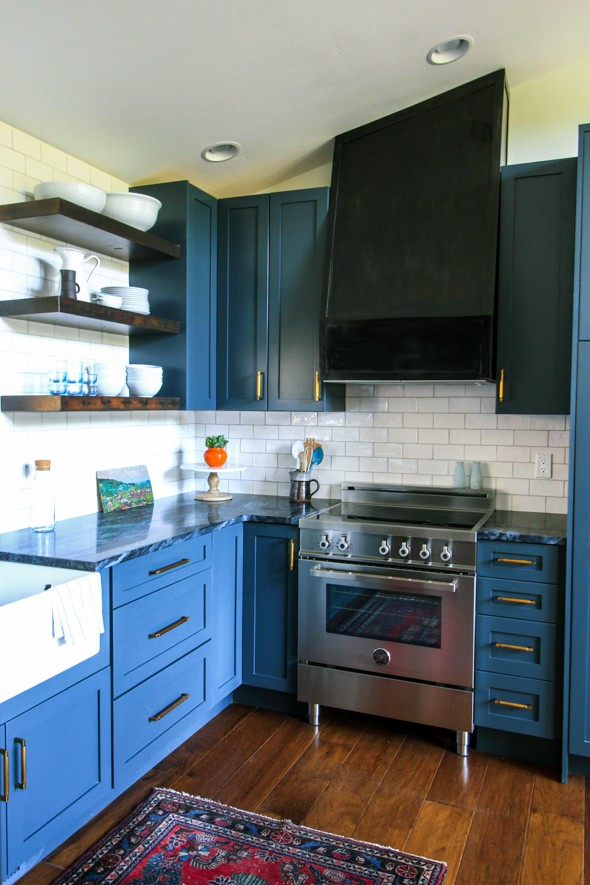 The kitchen is in the great room too and we really wanted to go bold with the cabinet color! We picked Narrangansett Green from Benjamin Moore and it's crazy how the color changes from blue to green at different times of the day! I love it paired with the bright brass pulls and the strong punch of black in the hood we also had made locally.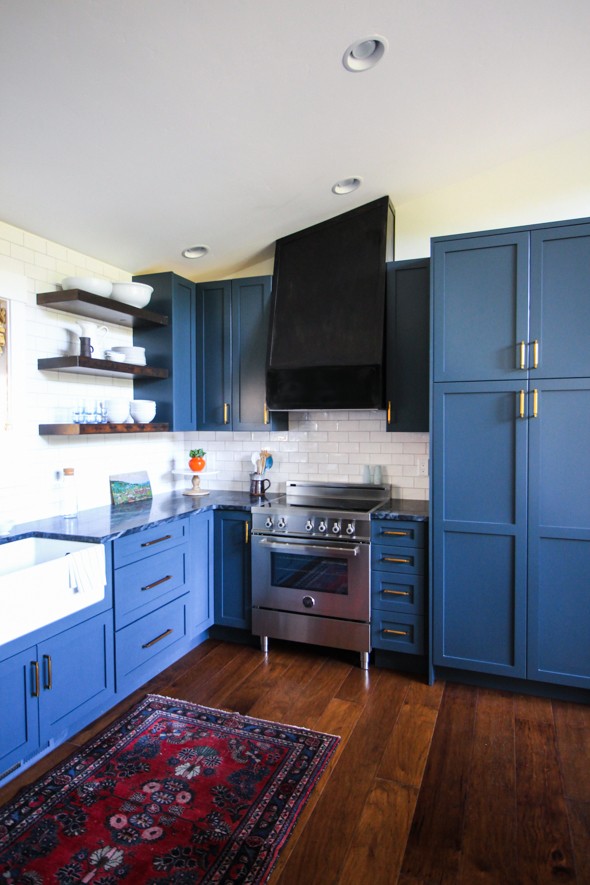 range  //  brass pulls  //  sink  //  faucet  //  rug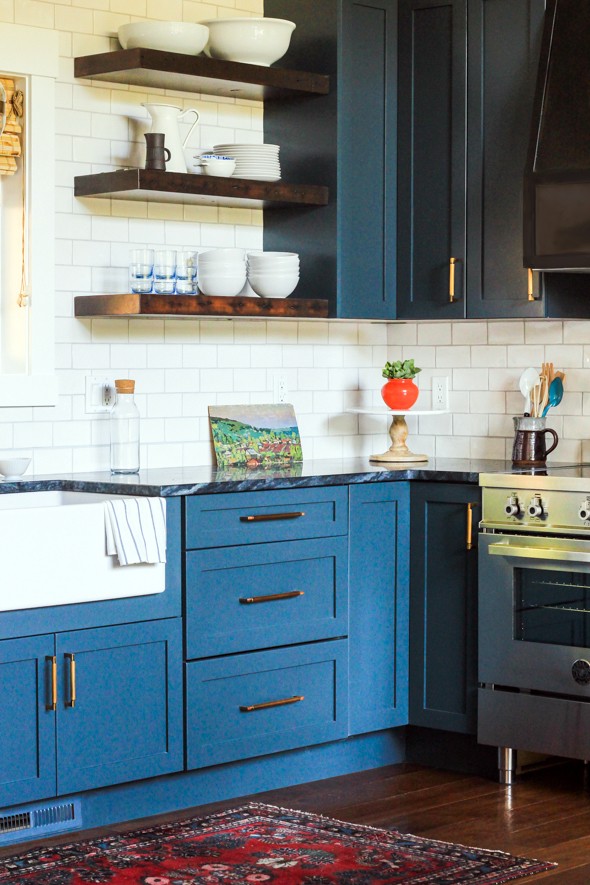 counter tops are gray soapstone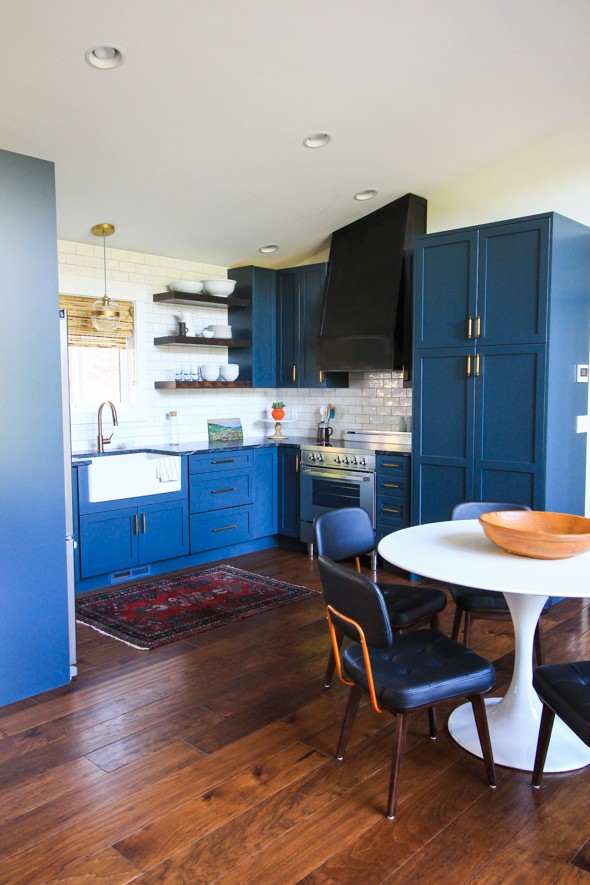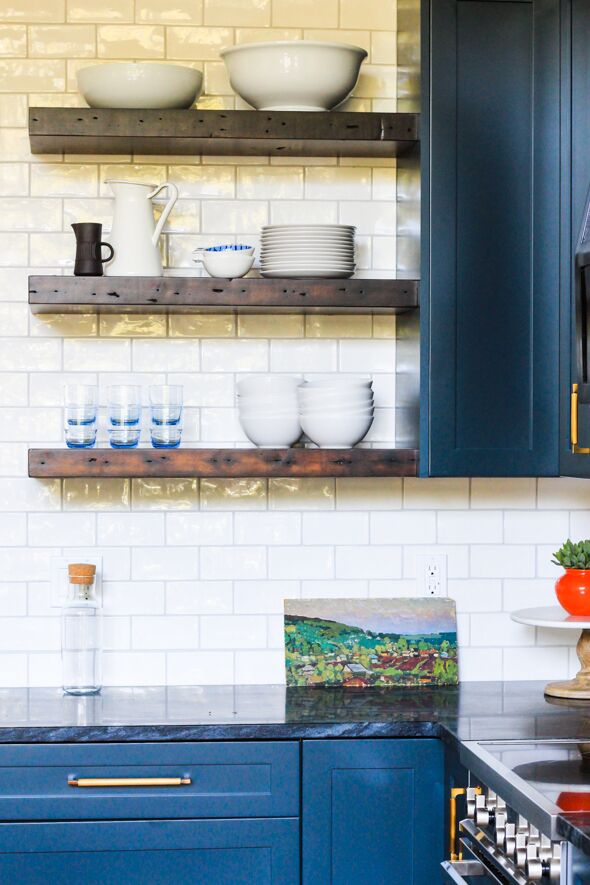 pitcher  //  serving bowl  //  brass pulls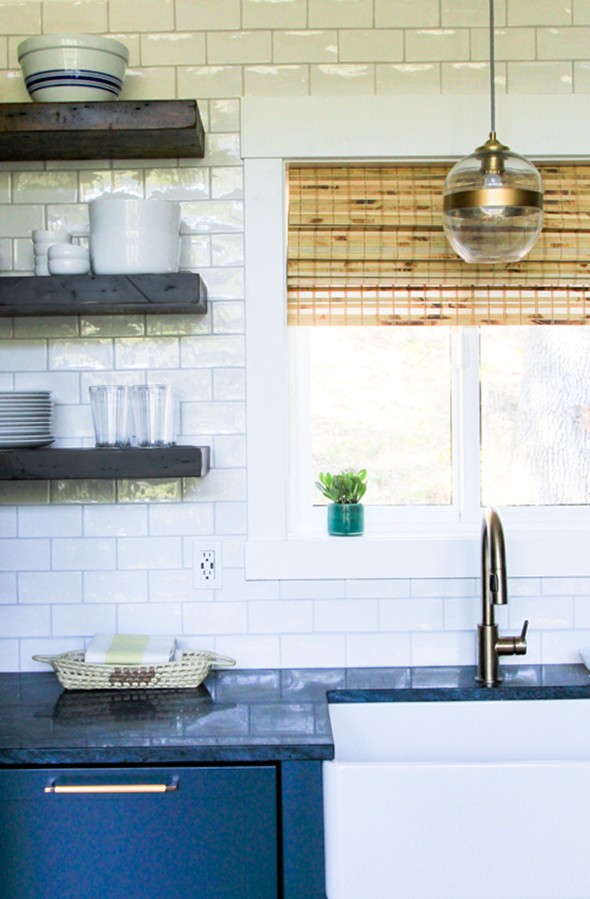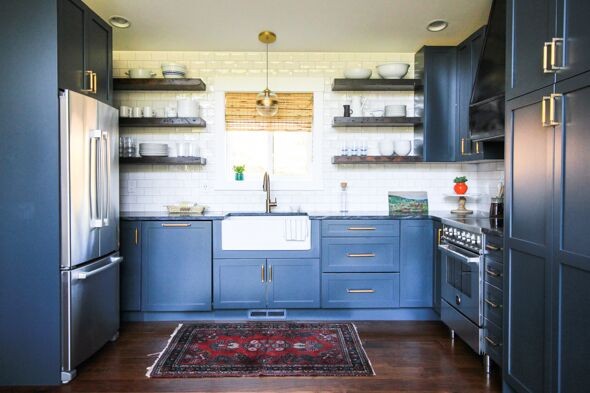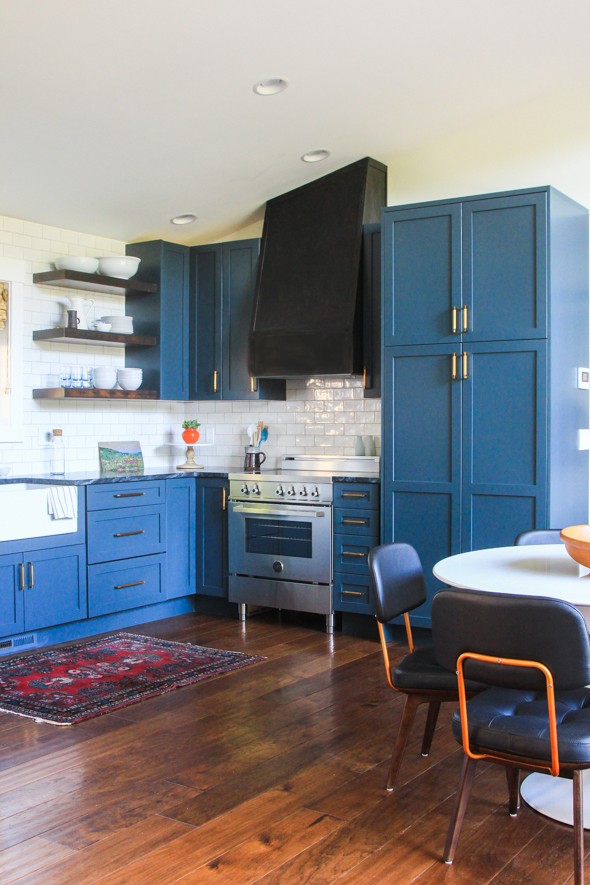 Our clients really wanted a classic clawfoot tub in here and I LOVE the oval shower curtain rod! Such a cute look with the floor to ceiling white subway tile (the exact opposite of the other cabin's bathroom that had floor to ceiling black subway tile!). The black ceramic hex floor tile is super practical with kids and is a great way to bring in a modern element here.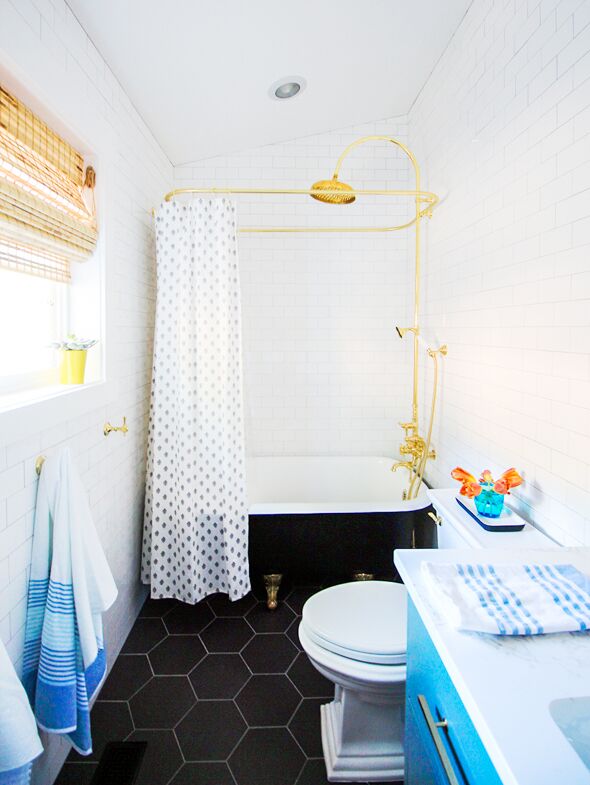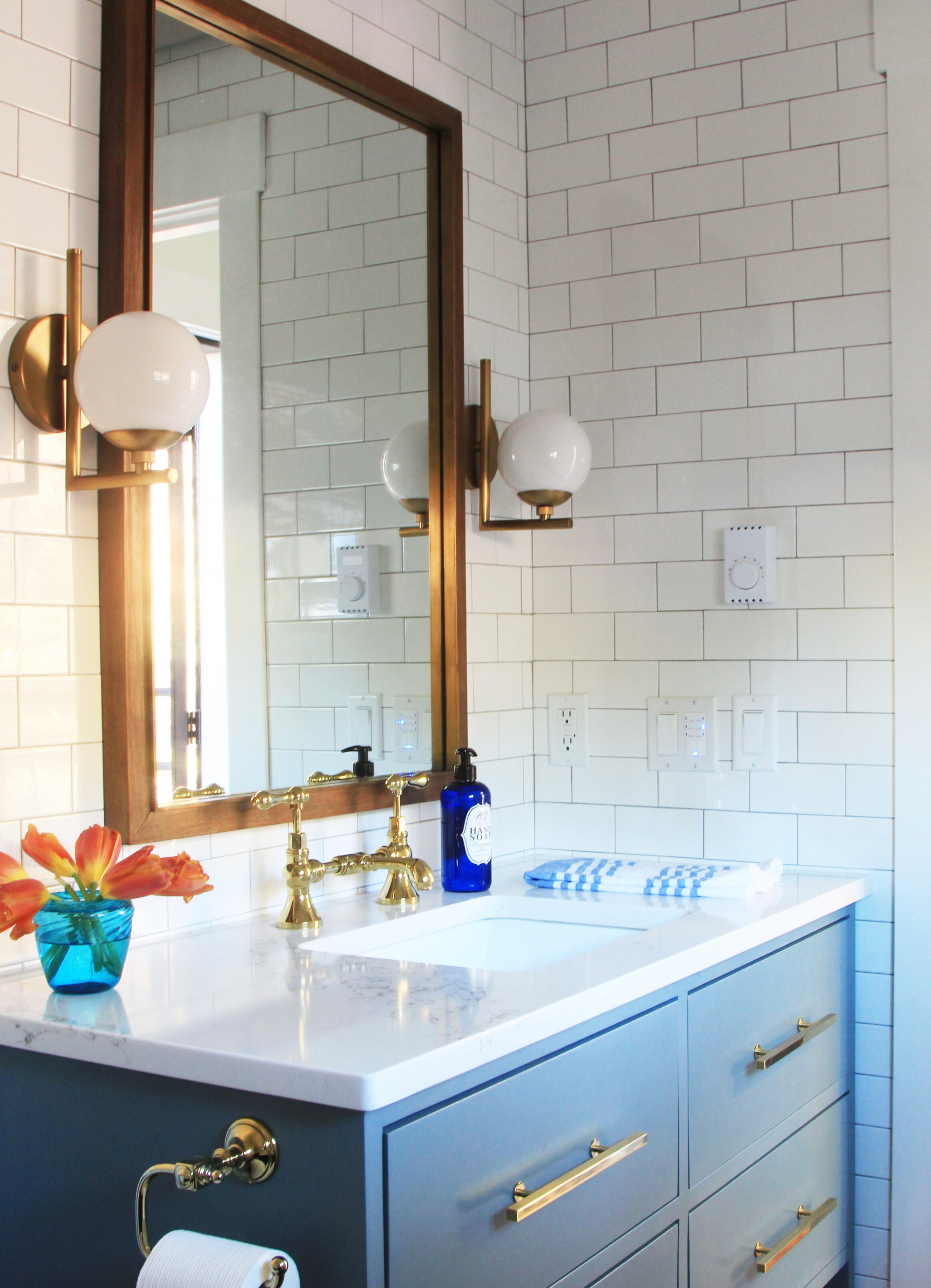 wood and brass mirror  //  sconces  //  brass pulls
We figured out a way to make six twin beds fit in this tiny bunk room! Isn't it SO cute with all that white shiplap and those cute little red sconces? I love this sweet space!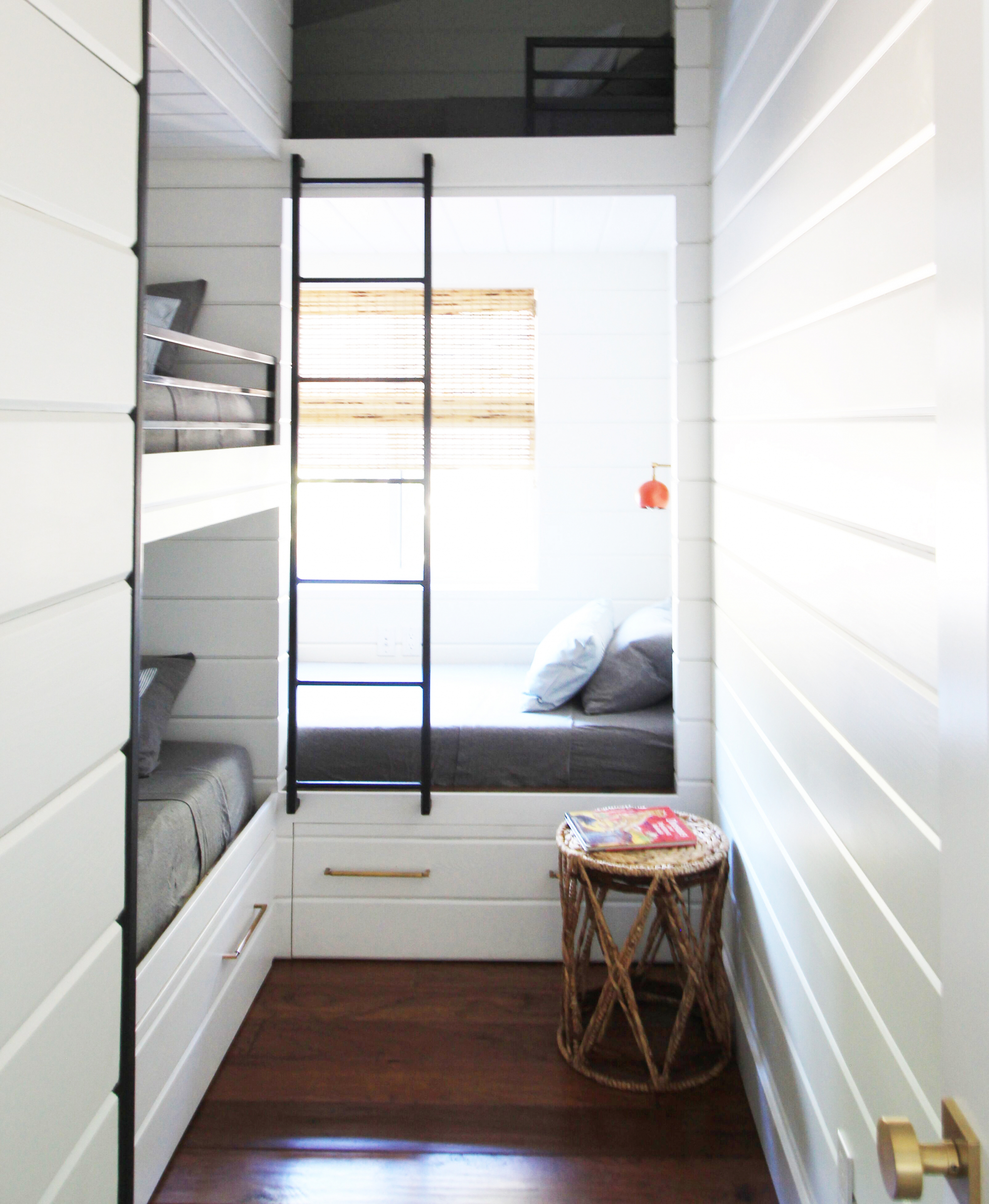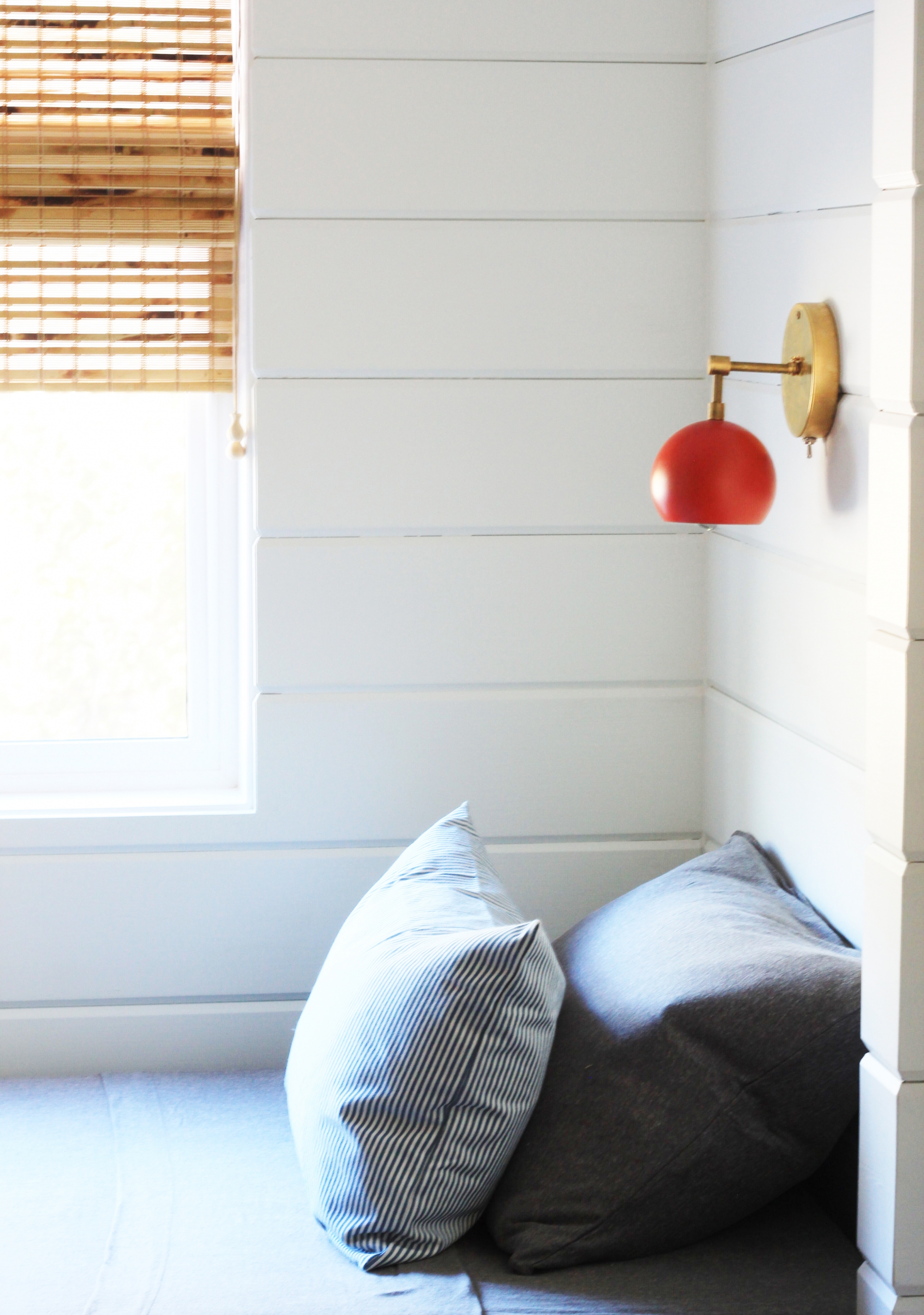 ticking stripe lumbar  //  red sconce 
We were even able to incorporate some shelving at the foot of the beds for books and toys. :)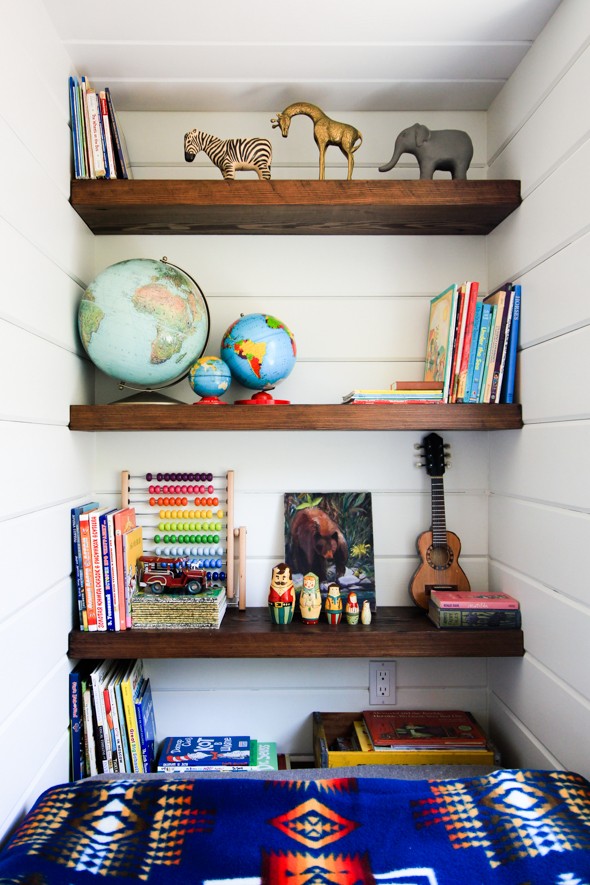 abacus  //  globe  // Pendleton blanket
I love the dark color of the master bedroom walls (it's Knoxville Gray from Benjamin Moore). We used a lot of the client's furniture in here and just layered on some new bedding and lighting.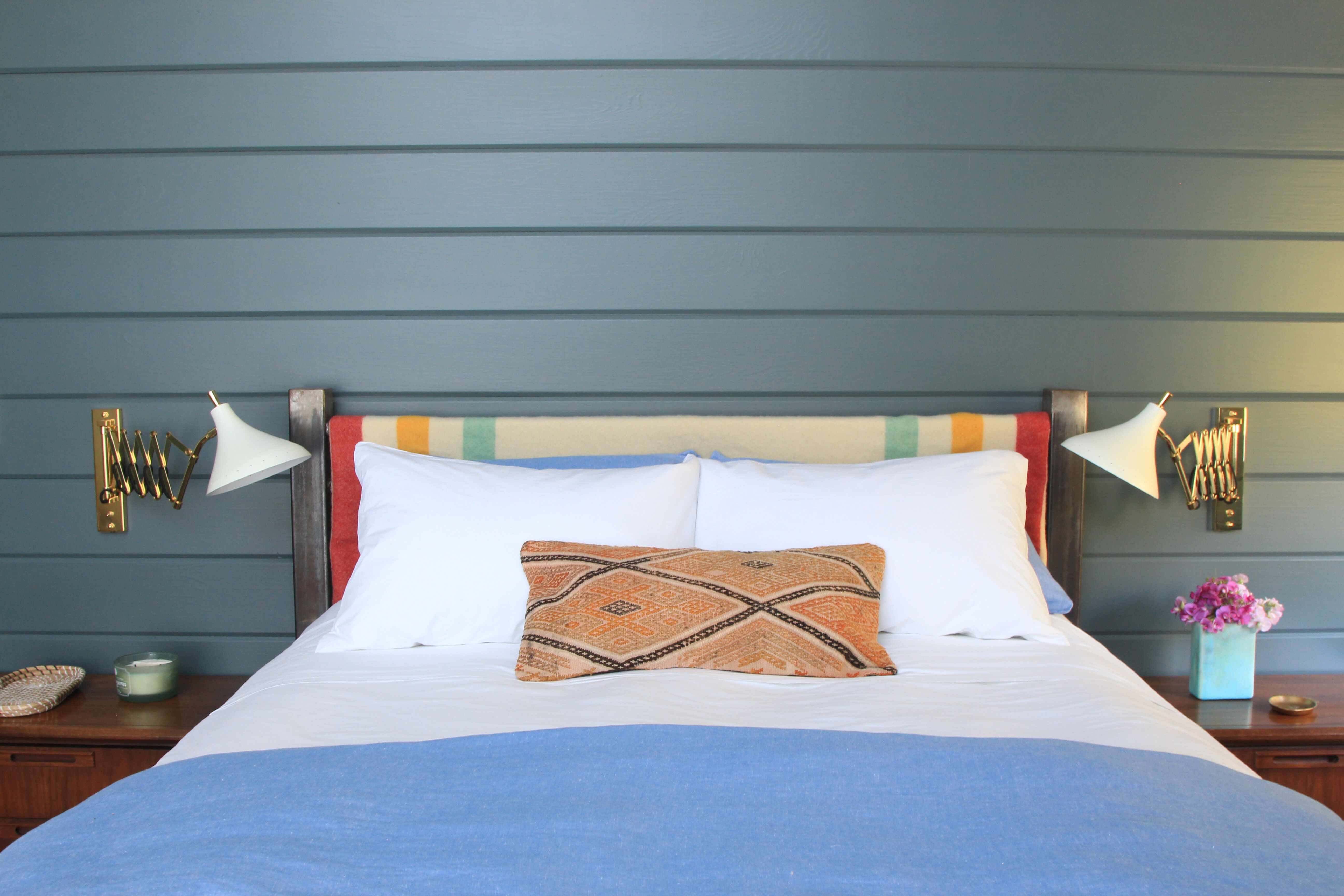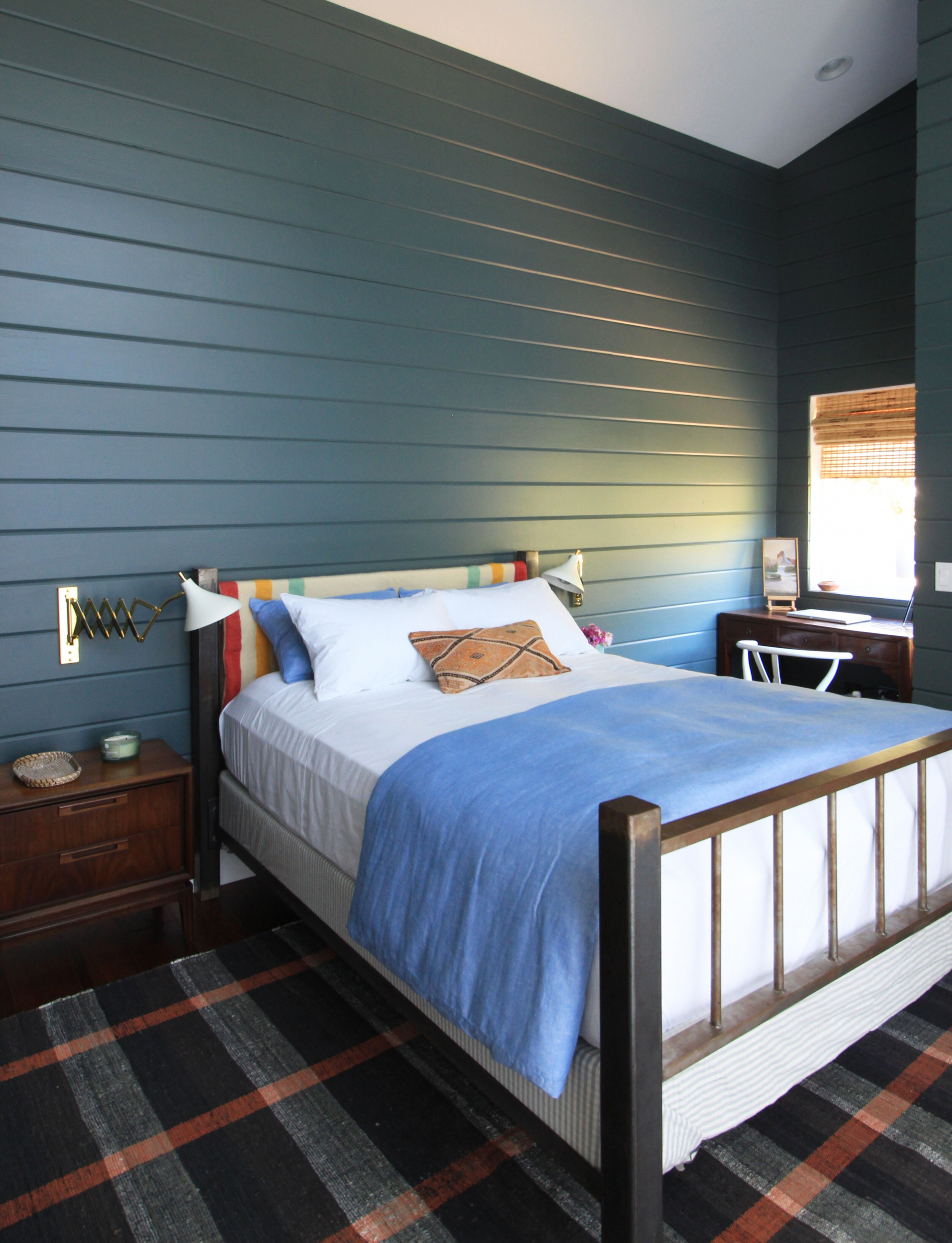 plaid rug  //  chambray bedding  //  white wishbone chair
And that's it! Small but mighty, right?! Loved this project, and loved working with so many sweet friends to get it done! :)
PS GREAT NEWS!!! We love Kate Lines' Splash print that we used over the mantle so much, we were THRILLED when she let us add it to the Print Shop!!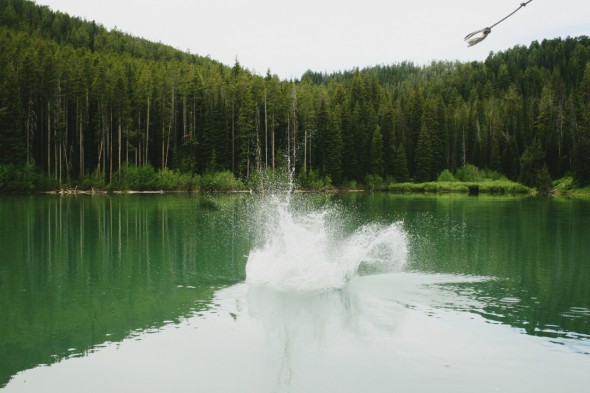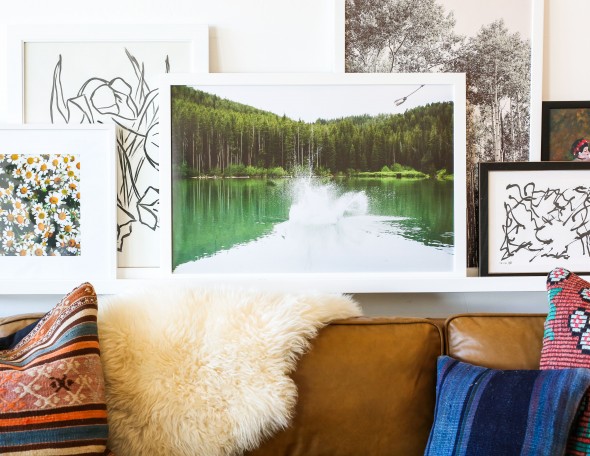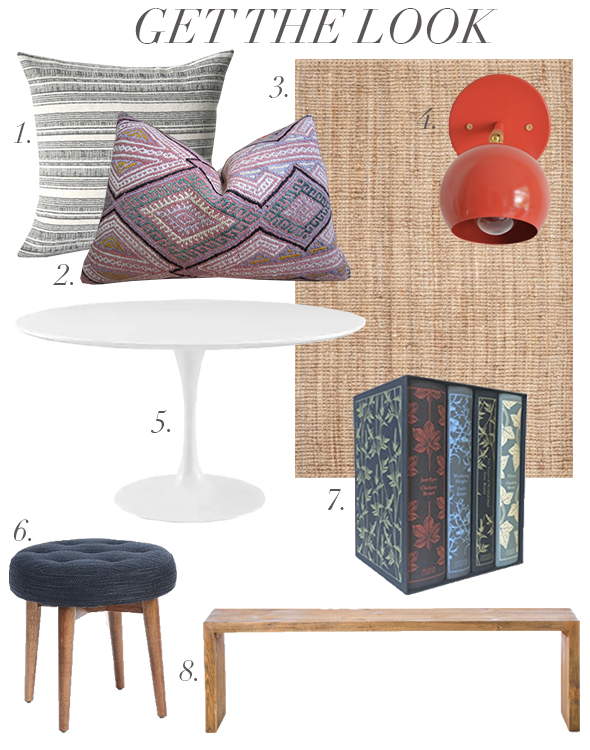 1  //  2  //  3  //  4  //  5  //  6  //  7  //  8