Now that our house is in a more comfortable place, I'm turning my focus back on to the site (redesign almost done! huzzah!) and to my design business. I've picked up a couple new clients this month that I'm excited about. I flew to New York last week to meet with one of them and to help the other style her home after a big move. One of them has about a million framed family photos – and they are beautiful! So homey and personal. None of them are formal portraits, just sweet candid shots, lovingly blown up and framed. I came home inspired to tackle the monumental task of sorting and organizing and printing our favorite family photos. (still working on getting to that one!) :/
You all know I love a good
gallery wall
. I think it's a great way to display a collection of art or photos that are different, but work well together. I've been thinking of other ways to display family photos besides the traditional nail-in-wall method (something like my friend
Emily's picture rails
), and I am finding myself so drawn to picture ledges that look like these below – simple, mostly monochromatic, and really artfully curated.
IKEA sells a simple
4′ ledge
for only about $15. It would be so easy to make your own version too, with a few pieces of glued and pinned together lengths of wood.

I really love India Hick's family photo ledges in her dining room. I'd love to do something similar in our dining nook. It makes me happy to think about seeing all the faces of people we love and have been inspired by every day, at every meal! And what a great conversation starter for dinner guests!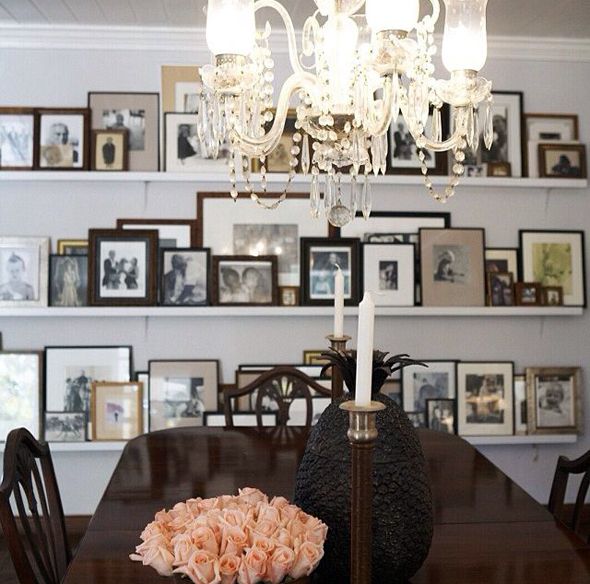 Have you seen any cool/different ways to display family photos lately?