It's been a while since I shared some photos of the decorating progress in our house! I'm still trying to figure out what I want and where, but this set up has been working pretty well in our living room for about a month now.
Michael bought me a giclee print of my favorite painting by Minerva Teichert (an LDS artist who painted a lot in the early and mid 1900s) for my birthday back in October. I really need to get it mounted and framed, but in the meantime it's just tacked up on the wall (ha!) where I think I want it to be. I hope it goes without saying that I know religious art can be a divisive and sensitive subject on design blogs, but I so appreciate how respectful all of you have been in the past when I've shared projects and art in my home that are based on my religion. It's so great that we can all support each other in our different life choices and paths, and find beauty in the differences. This print and Minerva Teichert's work in general has a lot of meaning for me and I love having it hanging in our home. And hopefully sometime soon it will be hanging in a legit frame!
The Serge Mouille style sconces were bought here. The site has really mixed reviews online. Lots of people claim they have never received their orders. It took about two months for these sconces to come (and then a couple more months for me to get around to hanging them), but they came and they were SO affordable at about $160 each. The quality is top notch, too. The brass fittings are absolutely beautiful and the whole thing is easy to install on the wall. So I guess if you have a couple months to sit around and wait, you can really get a great deal at Infurn.
The sofa was a recent Craigslist find from a local seller. Her name is Kirsten and she is opening up an online shop of really beautiful and well-curated finds. The silky blue velvet is in really great vintage condition. And I love that there are four seat cushions. This is where we watch TV so it's nice for all of us to have a seat and plenty of space to stretch out!
I threw the pink lumbar pillows (old, from Target) on the sofa just for the photos for a little color. I am working on an ottoman project that will bring in some color too, so I can leave the sofa bare then. I like it better without extra pillows.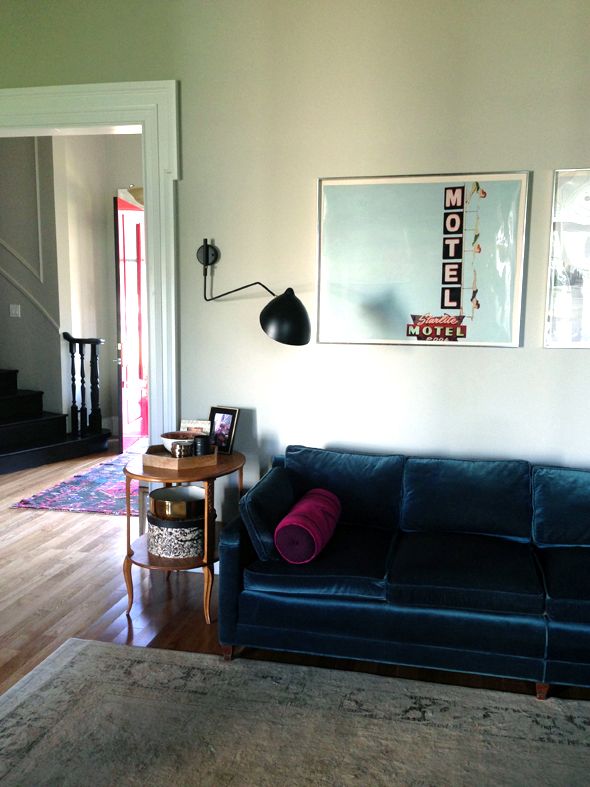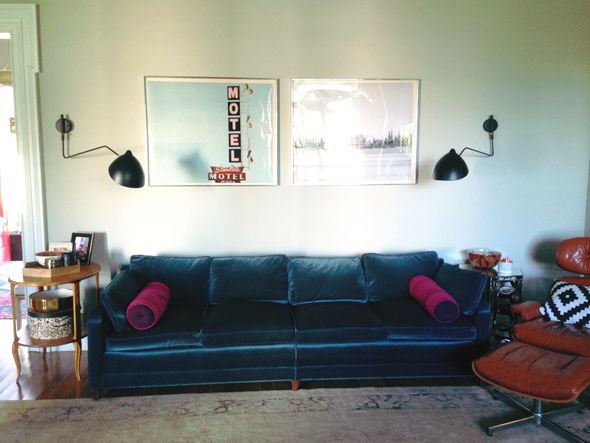 The Eames style Plycraft chair was my Christmas present to Michael. He'd been asking for an Eames lounger for a while (ever since I got rid of his beloved-but-incredibly-bulky leather club chair – whoops) but I wanted a lounger in an interesting color and for a good deal, of course. I ended up finding this one on eBay for a really great price and it was shipped from Florida to Arizona on a Greyhound bus! That was the first time I'd tried that shipping method and I was happy with how fast and inexpensive it was. Have you ever used the Greyhound method? I had to go pick up the huge box at the local bus depot since they don't deliver, but it wasn't an issue at all.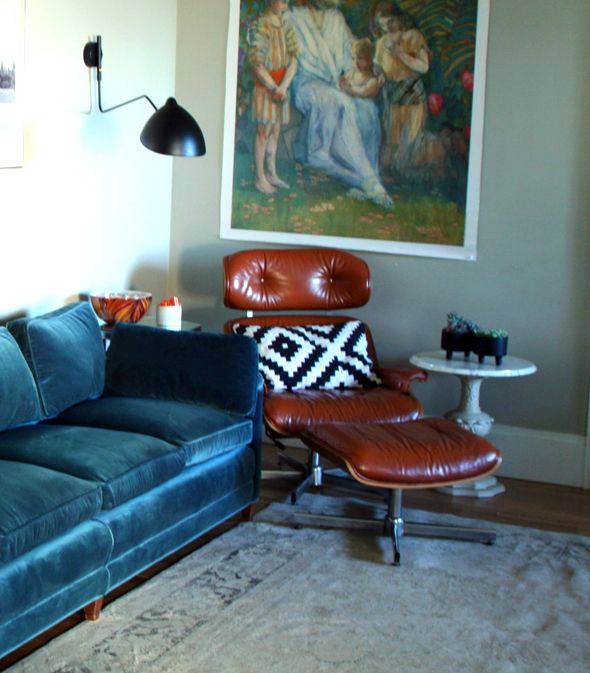 The rug was from Rugs USA (still selling them here) and the side tables are all vintage. The motel sign artwork and the LDS temple photo were hanging in our bedroom, but I decided to put up my Chinese panels in our bedroom instead and the scale of these two photos was perfect between the sconces.
Like I said, lots to figure out here, but we're making some slow and steady progress on getting this home decorated. I'm really excited to get that ottoman finished now!