Remember the giant laundry room give away I did with The Home Depot, Tide and Maytag a while back? I redid my own laundry room on a budget and shared my six best tips here.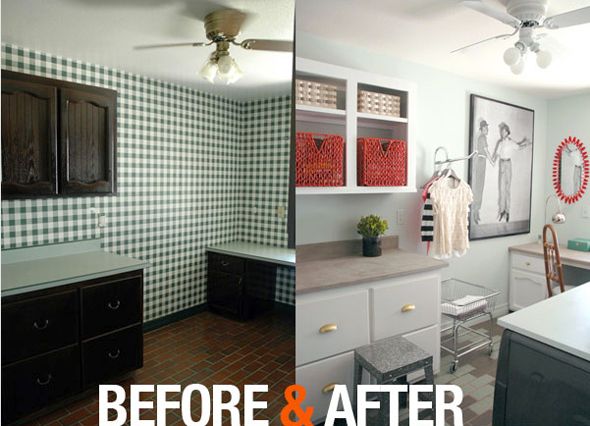 Well a few days ago the winner was chosen and was asked to email me photos of her space. She is a busy mom and food blogger named Jamie. Her laundry room is tucked away in her home and is definitely used as more of a utility space, but that doesn't mean it can be pretty!
In the space there needs to be room for a foldable treadmill, prop and holiday decor storage, and storage for Jamie's cleaning supplies.
The rest of Jamie's home has a cool, eclectic mid-century vibe and I think her laundry room is begging for some of that look.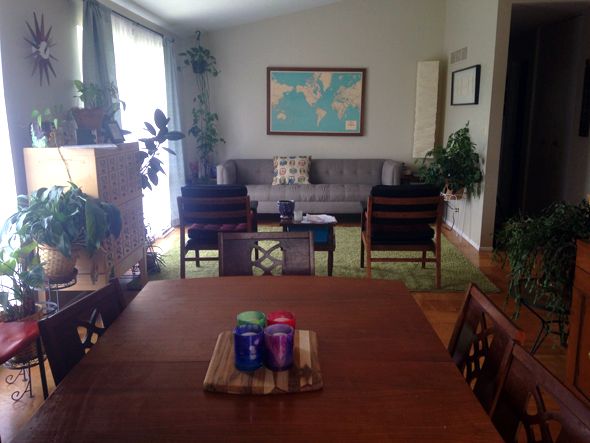 She and I will be working together to come up with a cohesive plan for her space, but here are my initial thoughts:

The room is a good size, so there's definitely space to put everything away once the storage organization is worked out a little better. I think the general layout she has right now works as well. The furnace and water heater and the washer/dryer areas can't be moved obviously, so it makes sense to have her closed storage on the opposite side of the room, near the hallway door. Her folding treadmill can stay next to the washer/dryer units.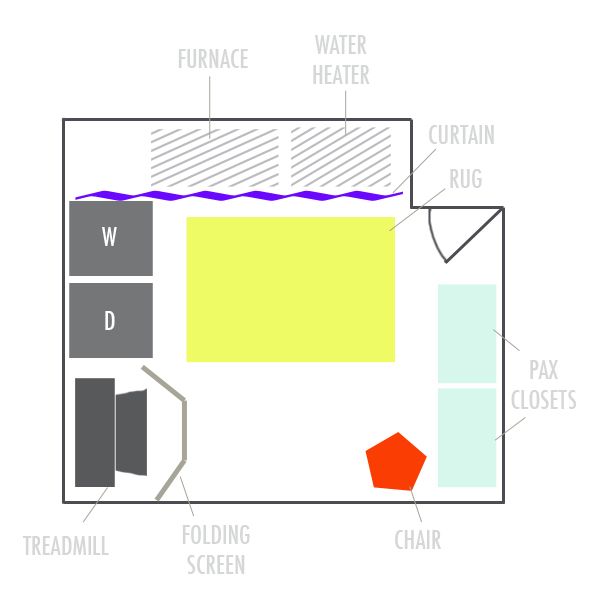 I think it makes sense to hire a framer and a drywall company to come out and finish the walls. I'd have all the walls painted a bright white, which will help with the darkness factor and make it easier to get tasks done in the space. Depending on how much Jamie wants to spend, I'd have at least the washer/dryer wall tiled, if not also the treadmill wall. I'd love to see subway tile in an interesting pattern. Herringbone is always nice, but how about this tumbling block pattern?
design sponge
I'd also have the floors tiled in a
white penny tile
and I'd used dark grout on both the walls and the floors.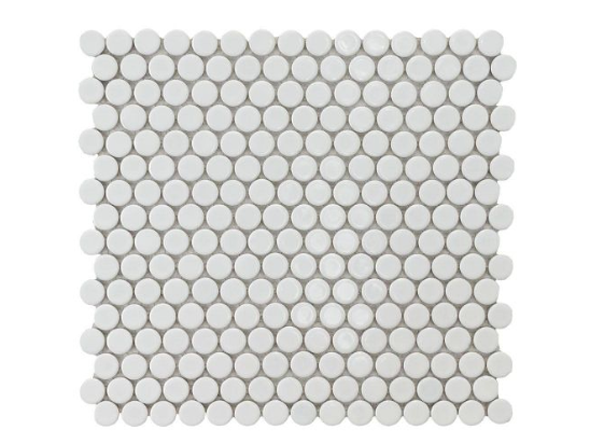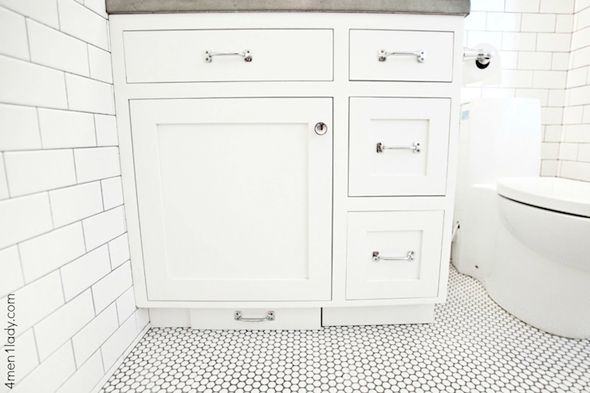 4men1lady.com
On top of the penny tile and in front of the washer/dryer, I'd love to see a bright rug, like this chartreuse one.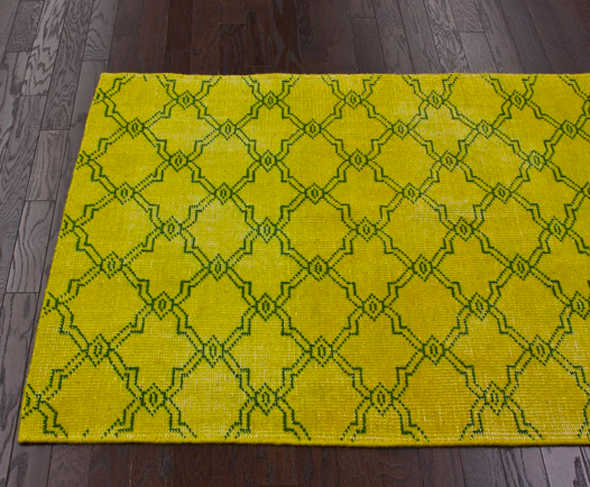 The furnace and water heater need to be easily accessible, so I'd install a simple curtain panel to cover that whole side of the room.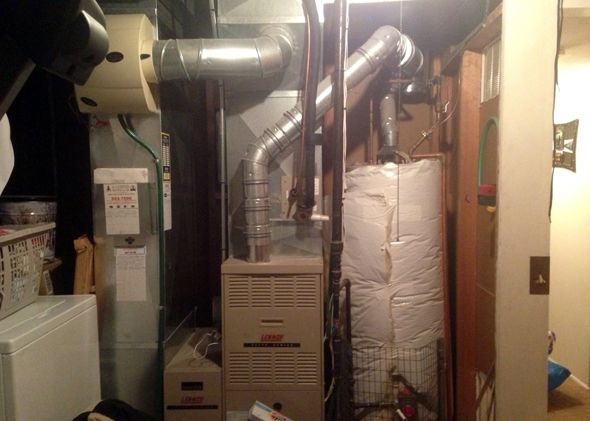 Since the walls and the floors will be a bright white, I think it would be fun to really go for it on the curtain fabric with a bright color like cobalt blue or electric violet. Wouldn't that be pretty with the chartreuse rug? Gray line linens is always my go-to source for beautiful linen in interesting colors at less than $10 a yard. While they also have an upholstery fabric line with less color options, the colorful Barry line is good for drapery and pillows and the Warsa line works well for lighter weight upholstery (like headboards and light use armchairs).
I can't recommend a folding station enough. I had a piece of MDF cut to fit the top of my washer and dryer so that no socks fall behind or between the appliances while I fold. We didn't have this in the brownstone and I found about a dozen little socks behind our dryer when we were packing. :) By the way, the faux bois treatment I did on the MDF is turning out to be one of my favorite things in the laundry room. I love it and think something similar would be really fun for Jamie's laundry room. If she's not feeling creative, she could decoupage some marbled paper and seal it good with polycrylic, like what I did with this waste bin.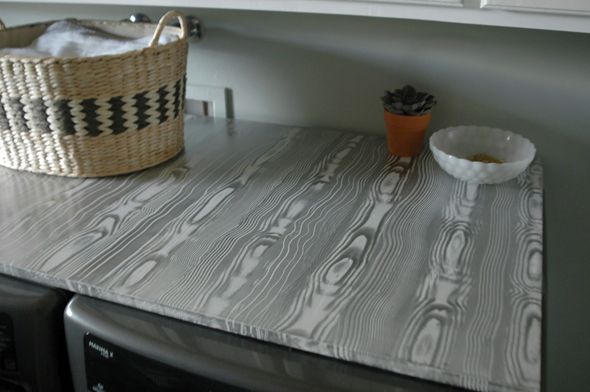 One of my big tips is to hang art in your laundry space, which might seem a little silly. But I always think it's a good idea to put art in every space – even and maybe especially rooms that are usually only seen by homeowners. Putting up something cheap and cheerful, like this bright pink and red print will help to finish the room. When there's art on the walls, it's a room, not a storage closet. And rooms stay tidier than storage closets. :)
Above the art leaning on the folding station, I'd hang a series of 12″ deep shelves for open storage. I like these heavy-duty brackets with their interesting curves, but wouldn't they look better in a bright brass? I'd use my favorite gold spray paint here.
I'd just use primed pine boards (they're perfectly smooth and much lighter than MDF – check them out the next time you're at The Home Depot) for the shelves. 12″ would be plenty deep enough for detergent and dryer balls/sheets, and a row or two of baskets. I like these baskets from Crate and Barrel's great housekeeping line, called Clean Slate:
It's nice that Jamie's treadmill folds up. I'd buy (or make!) an upholstered folding screen to hide the eye sore when it's not in use.
Nick Olsen via Lonny
This one
from World Market is simple and pretty affordable.
Another fab World Market find is this black iron pendant light. I've actually been eying this one for my own home. The gold on the inside is such a great touch! I think two or even four of these pendants would be perfect for Jamie's laundry room.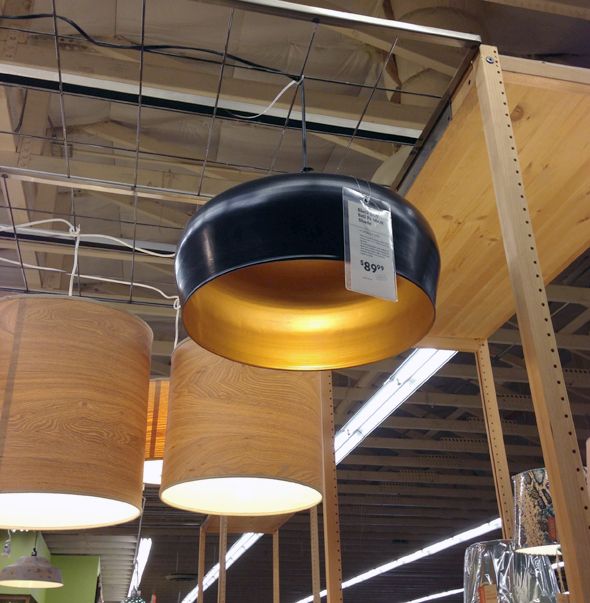 Jamie has a ton of prop and holiday decor to store.
I'm obviously a huge fan of IKEA's Pax units – you just can't beat the price for the amount of closed storage and the tons of organizational options. I'm working on a post right now where I share my tips for painting IKEA's notoriously finicky laminate finish. I'd paint Jamie's two 40″ wide units a glossy, light mint (this is my favorite shade). If she's really wanting to go all-out, I'd add these O'verlays to the door fronts before painting. Then no one would ever guess these were from IKEA.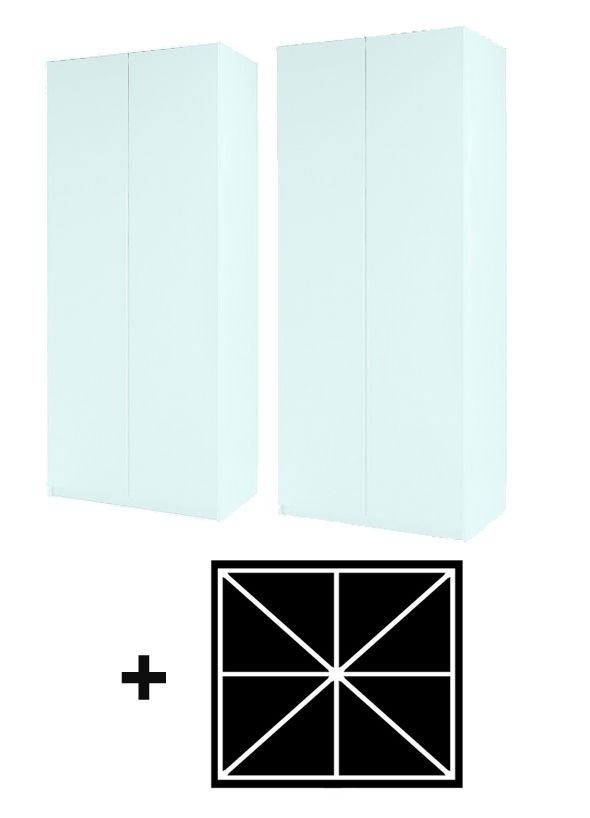 And since mint looks so pretty with orange-red, I'd put this gorgeous
Saarinen style chair
next to the Pax units, seen below in the room board. I'm so excited to keep working with Jamie on this laundry room. I think it's going to turn out to be a fun, fresh space. Peace out, dark storage closet!
This post was a part of a collaborative series brought to you by The Home Depot, Tide HE and Maytag. Check out my laundry room makeover tips here.