Just on the other side of the foyer, through the archway that we're tearing down, is the living room.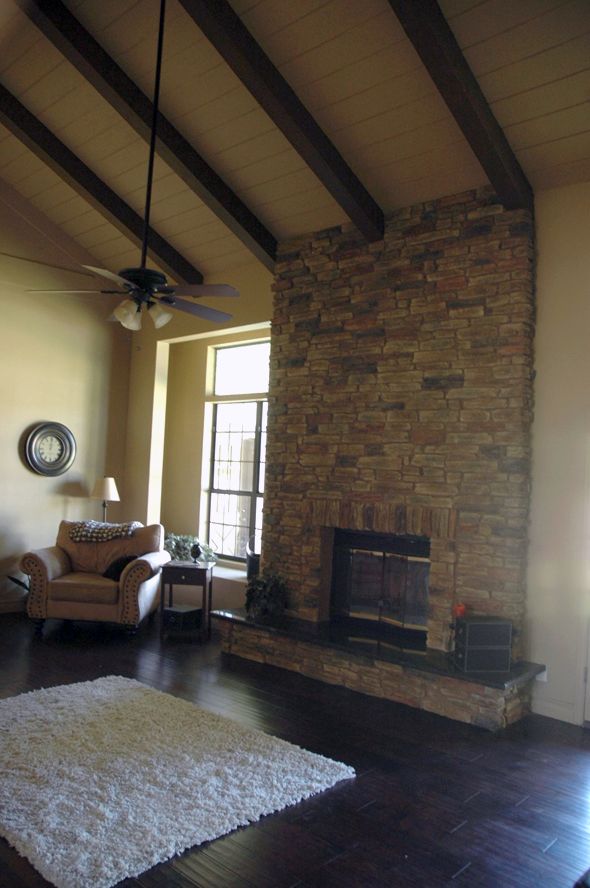 The room is long and sort of makes the furniture placement awkward, especially for TV-watching. But I love the high, beamed ceilings and I think eventually the fireplace will be a really pretty focal point in the room… (more after the jump)

The way the room's currently set up, the tv (and the cables) to go on a console at the east end of the room. I feel like this set up doesn't really work though. Either a sofa would have to sit right in the middle of the traffic flow (the door to the kitchen is smack dab in the middle of the opposite, west wall), or you'd have to put a sofa against the south wall as the previous owners had it here.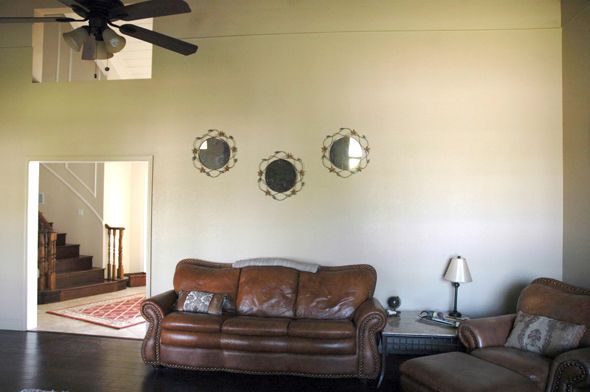 But this way you're sitting about twenty feet away from the tv and having to majorly turn your head to the right and squint to watch a show.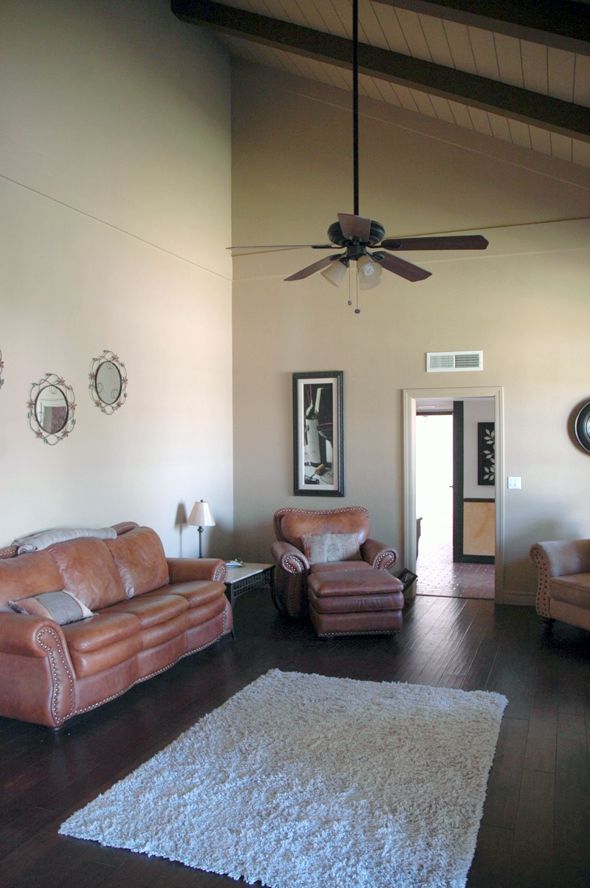 So we're going to mount the tv to the fireplace after framing out the faux rock and tearing out the hearth. We've already starting working on that (since the hearth needs to be gone for the new floors) and I'm getting really excited about how this room is going to look. :)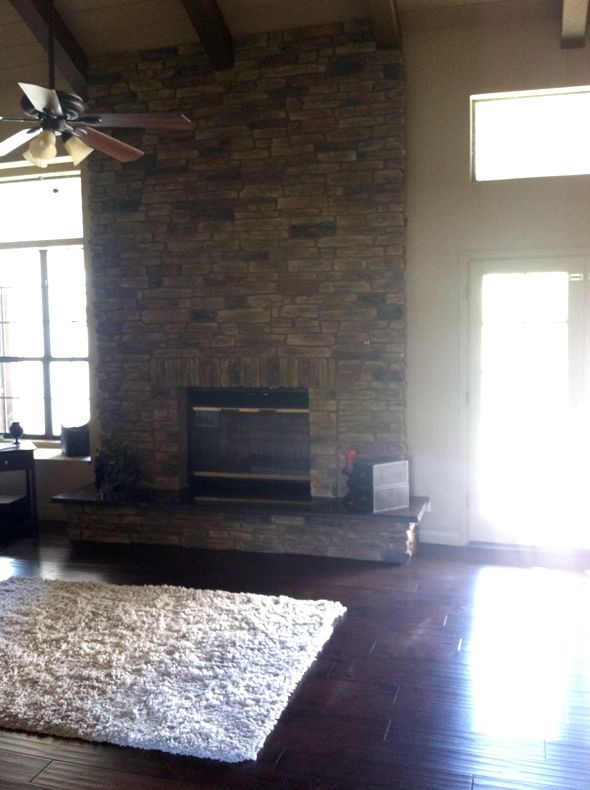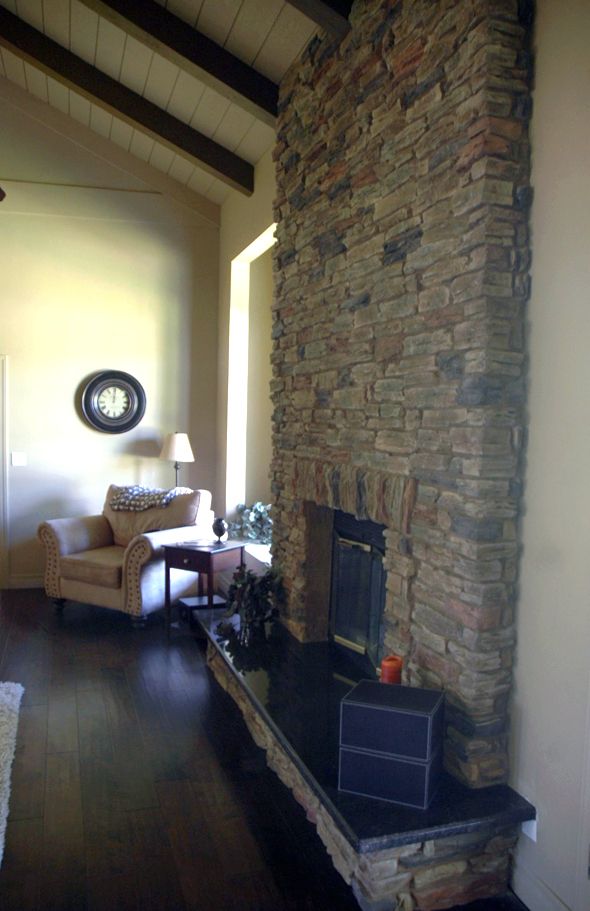 To the right of the fireplace is this sort of funny nook situation.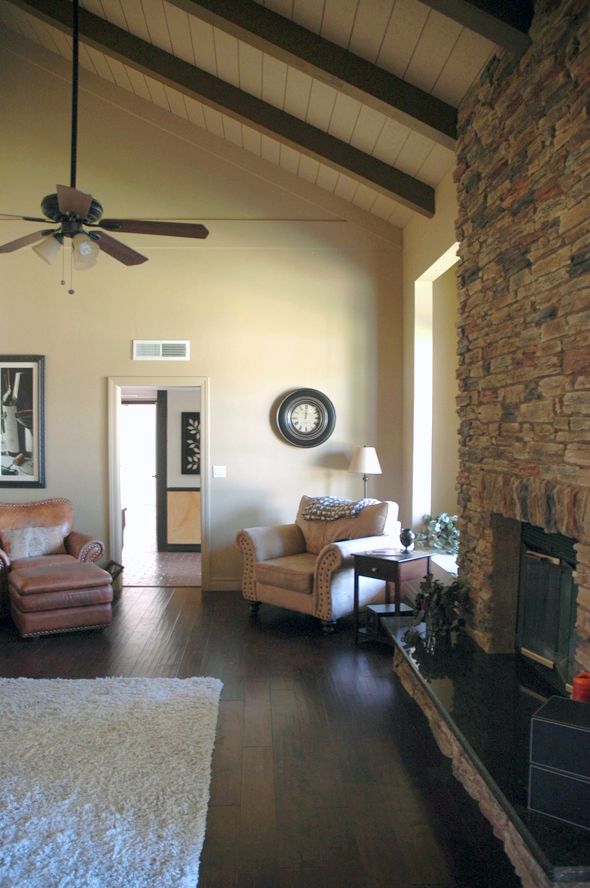 I'm not sure what its purpose was originally, but I like the idea of having a little window seat in the room. We have plans to add shelving in the open space and make it a little reading nook for the girls.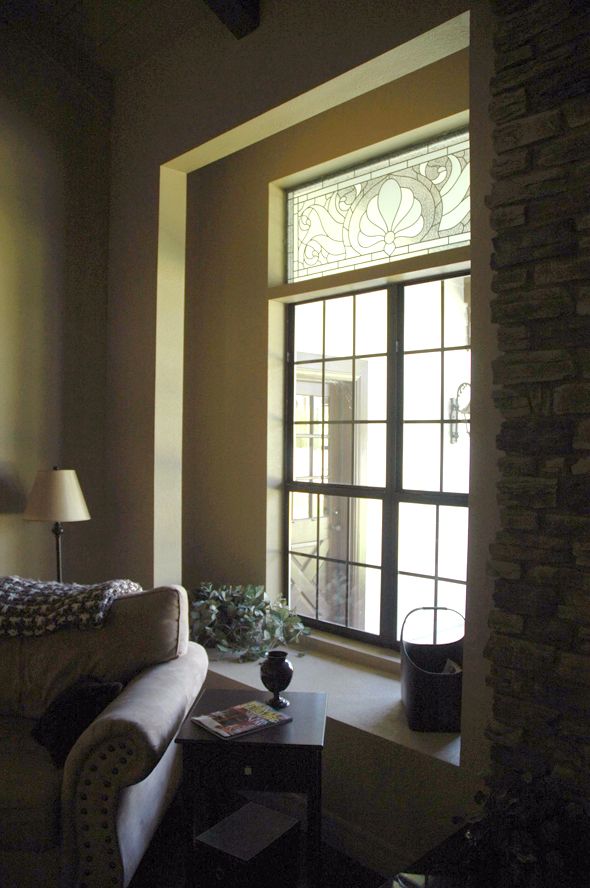 We might also put a small door in on this side of the opening to house all of the tv components. We'll use a sensor to operate the tv remotely, but it will still be nice to have the components handy.
Now I just need to round up fireplace inspiration photos. Have you seen anything really cool? We're going to take the firebox all the way to the floor and I want the surround and the mantel to be relatively simple and modern so I can go crazy with the other elements in the room. I have this vision of a concrete mantel that I *think* I could maybe make myself if I could figure out the right mold to use.
So, planned changes to the living room:
New wood floors (working on those now! what an adventure I have to share with you there!)
Walls, ceiling and beams painted
Close in the high cut out about the entry
Raise the entry – adding an arch with chunky trim
Frame out fireplace with wood paneling or just drywall and reconfigure the firebox
Figure out a really special mantel that will also help protect the tv from heat
Add shelving and a cushion to reading nook in window
Long storage piece along east wall for DVDs and VCR tapes (yup- still have and love them) :)
Eventually skim coat the walls to remove the texture (this is one of only a few rooms that the previous owner didn't skim coat)
New ceiling fan and wall sconces