While I really love the vintage scrolly mirror, I'm feeling the dimensions are not right for above the sofa in our living room (formally the fireplace nook). I was thinking something a tad bit wider, and about a foot taller. And I wanted something with an interesting frame – super modern? or carved and crusty with age? All of that sounded good to me.
The issue is really large antique mirrors cost (often) thousands, so I've had a hard time finding something in the right dimensions that is also reasonably affordable. I found this mirror (supposedly from India?) on Craigslist for only $150. It's huge, at 60″x48″ – much closer to the ideal dimensions.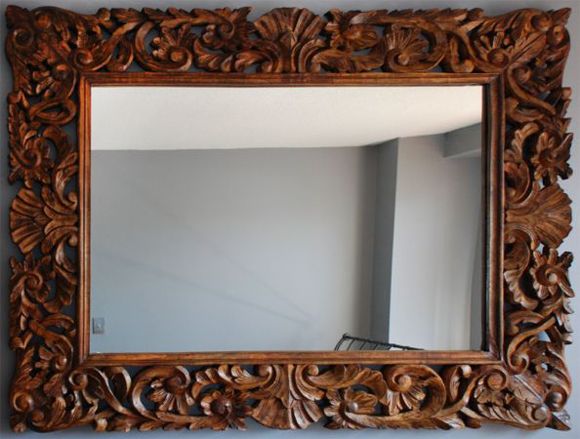 I did end up buying last night and it was so cool to see the seller's apartment – he lived in this amazing old luxury building in Washington Heights. And get this – he had never lived in another apartment his entire life! His parents moved into it rent-controlled and passed the lease on to him and his wife. Can you imagine paying practically nothing for a huge apartment? They had really amazing furniture that had this well-traveled vibe. Loved it all.
So, now I am on the fence about maybe painting or even gilding the mirror. I like the gold element that the scrolly mirror brought to the room, but this frame might be too heavy for an all-gold look. I thought a matte mid-tone gray would be pretty too – like a milk paint? And truthfully, after bringing the mirror inside today, I don't mind the wood finish left as is. I need to switch the wire around so it can be hung vertically and then I'll take a photo to share in the space. (keep an eye out for it on instagram – @jennykomenda)
What's your vote? Paint? Gold leaf? Keep it as is?
PS My heart's set on putting the scrolly mirror in another room, so I'm really hoping I can make this new carved mirror work in the living room. :)