You know how when a room just won't come together and then suddenly all the pieces fall into place? I've been having a bit of a hard time with our dining room – the space is so awkward (see more here). But today was full of some really big wins. I found a dining table and this GIANT brass chandelier for almost nothing.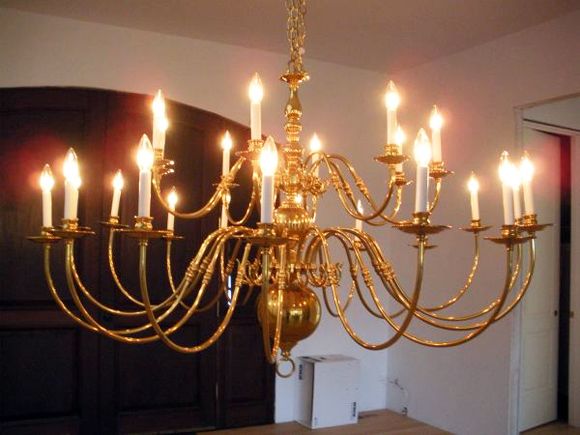 It's hard to tell here, but it's really huge, the same size as the new table – about 60″ wide! I'm going to paint it (probably pale blue), change up the chain and use round bulbs. I was searching around the web for a similar look for inspiration and look what I found from Decor Demon. It looks like the exact same chandelier, painted with round bulbs!
We had some freak snowy weather yesterday, but this weekend looks like it'll be warm enough to spray paint (probably the last chance for the next few months). I'm really hoping I can get this chandelier done so I can get going on the rest of my new ideas for the room. Tonight I chose new art, a pair of mirrors and a china cabinet color. I'm so glad things are finally starting to come together. The dining room is the first space guests see when they walk into our house, so I want it to be really pretty. Getting rid of that weird hanging lampshade will be a good start.
Oh, one more quick thing. Do you have any tips for hanging really heavy lights? The chandelier weighs a TON!