You probably remember I was thinking about reupholstering our Lee Industries sofa. I've never really loved that it was a two-seater sofa and we've had it for a long time, so I felt like it was okay to consider parting ways. Then I fell in love with idea of getting a George Smith sofa. I stopped by the showroom sample sale a couple months ago and I probably would have sold a kidney on the spot for one of those three-seater roll arms. They were so, so pretty. And I just couldn't get over the softness of the down cushions. But seriously, even the floor samples were absurdly expensive, so obviously I was just window shopping. I haunted eBay and craigslist for a couple months, but every time something came available it was still just too expensive to feel right about.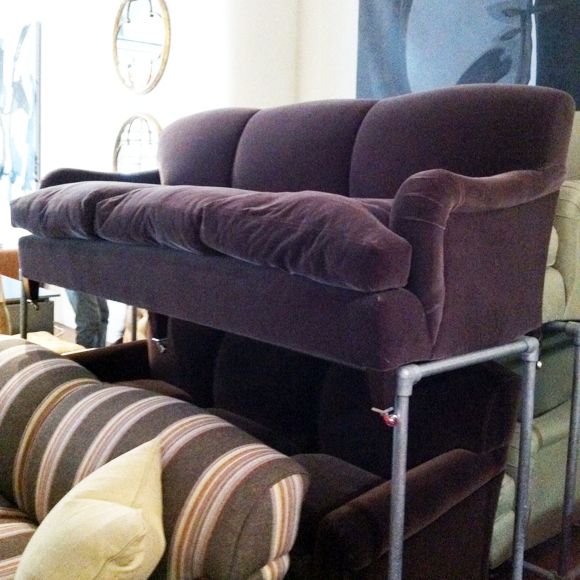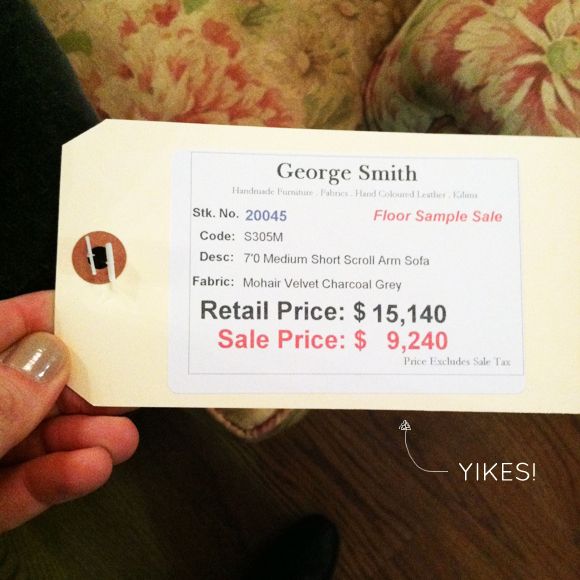 Then one day a couple weeks before our move, a listing came up on Craigslist for a vintage Baker sofa that had been kept under a plastic slip cover by the same owner forever. The thing was pristine.
The all-down cushions were so soft and the dimensions were just right for the long living room in the brownstone. And for only $175, I was super excited! Then the seller emailed me a photo of the legs and I couldn't paypal her the money fast enough!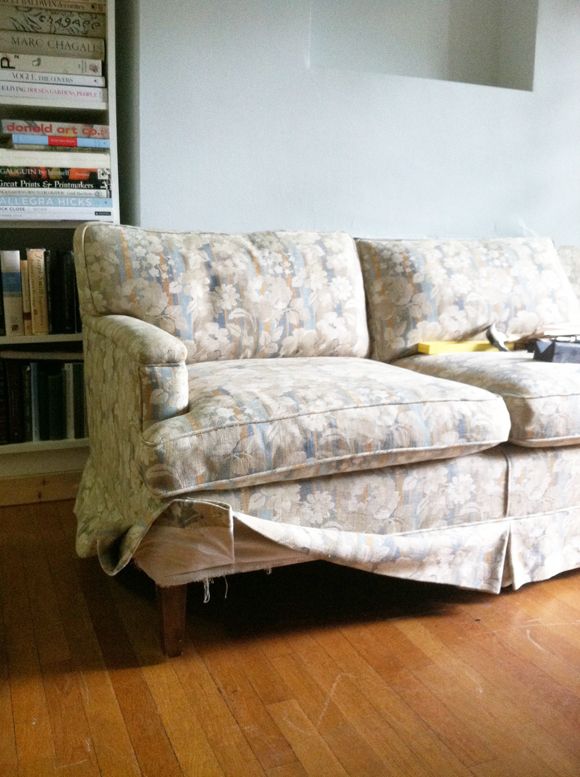 When we got it home, I pulled the skirt right off. I love a good skirted sofa, but this one looks better with exposed legs, I think. There are four legs showing in the front, and I love the look. (more photos coming up!)
I'm so excited to reupholster it, but it will probably take me some time (there are so many things on the house to-do list, the fabric's in good enough condition that I don't mind waiting). I found this velvet at a close-out fabric store and it's a perfect match for a swatch I had of a Perennials outdoor velvet (which I am a huge fan of). I'm thinking the color will be perfect with the new jute rug, the camel chesterfield and the black bookshelves.
I'm so relieved that I didn't splurge on the George Smith! I get sick of furniture easily, so it really doesn't make sense for me to invest in pieces like that. The Baker is a close match in the comfort department, and I think the straight, more modern lines are a better compliment to the chesterfield and to the jute rug. And the exaggerated roll arm look might have been too english countryside for what I'm after in this house. Honestly, I think I was suffering from a case of label obsession. Have you ever been there?