Many of you asked about the pink pelmet boxes in my girls' room and I've been so excited to share the mini-tutorial! It's an easy and inexpensive one!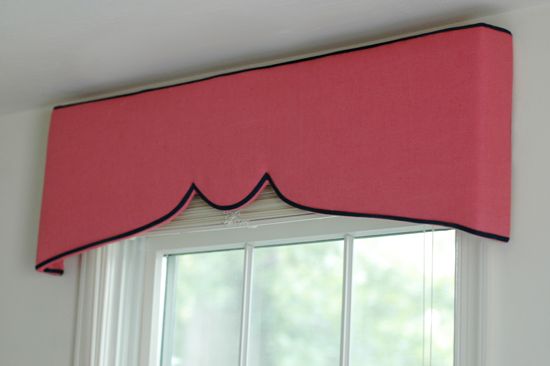 Two of the three windows in the bedroom were obstructed by furniture, so curtain panels (my default window treatment) weren't really an option. I thought about transforming the mini-blinds into fabric shades, but I was really hoping to find a way to make a structured valence or pelmet box.

In the early planning stages, I was going to buy some plywood at Home Depot and use an electrical saw to cut out a fun design. That was intimidating for me though, and the price of the wood and a new saw (or a carpenter) was going to add up. Then I realized that I didn't need anything fancy in this room – just something flat that could be cut easily and that was sturdy enough to hold up some batting and fabric.
Enter: foam core board.
I picked up three sheets at Michael's for $1.99 each. I carefully drew one half of my pelmet shape on to the foam core, cut it out with a box cutter and used that piece as my template. I also cut some short pieces that would be my sides.


I had bought some L-brackets, screws, nuts and washers to assemble the corner pieces, but I ended up just duct taping the whole thing!! This project was SO easy!!
Duct tape holding the two halves together (above) and the side/corner pieces (below)
Then, using ¼" staples and my trusty PowerShot Pro, I upholstered the pelmets with some batting and pink linen left over from a client's project. I ended up using only about a yard of fabric for all three pelmets.
After stapling, I used Fabri-tac to glue on ¼" navy blue bias tape as a top and bottom border.
I don't have a photo of this step, but to hang the pelmets, I simply epoxied some wall hangers to the back of the foam core, and hung the boxes on the walls with nails.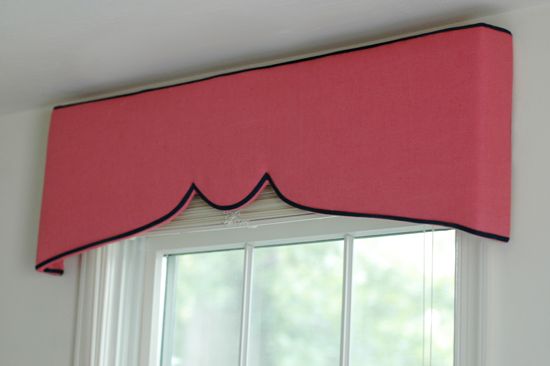 And that's it! It took me about two hours to do this project – from design conception to hanging the three pelmets. So fast and so easy!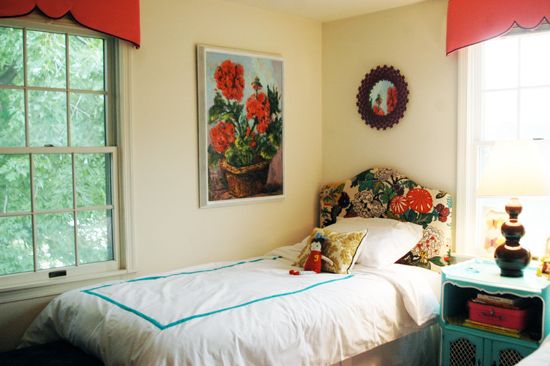 –P.S. Our internet has been down all weekend (I'm posting this from my husband's office), so if I owe you an email I promise to have something to you as soon as possible. We're hoping to have the situation fixed in the next couple days. Thanks!!