One of my favorite things about this IKEA frame, which we suggest using for our oversized Juniper prints, is that it can very easily be spray painted for a whole new look! The simple metal frame comes in black and nickel options at IKEA, in sizes ranging from 22×55 to 55×79, but we've often sprayed the frames white, cream, gold and bronze to mix things up in our spaces. The print shown here in my office is the 40×55″ size with our new print called OTIS from amazing artist Mande Calhoun-Gaffney. I used my new favorite gold-toned spray paint for the frame -Rustoleum's Metallic Satin Bronze. I love that it's a little deeper and warmer than most of the gold spray paints available in recent past!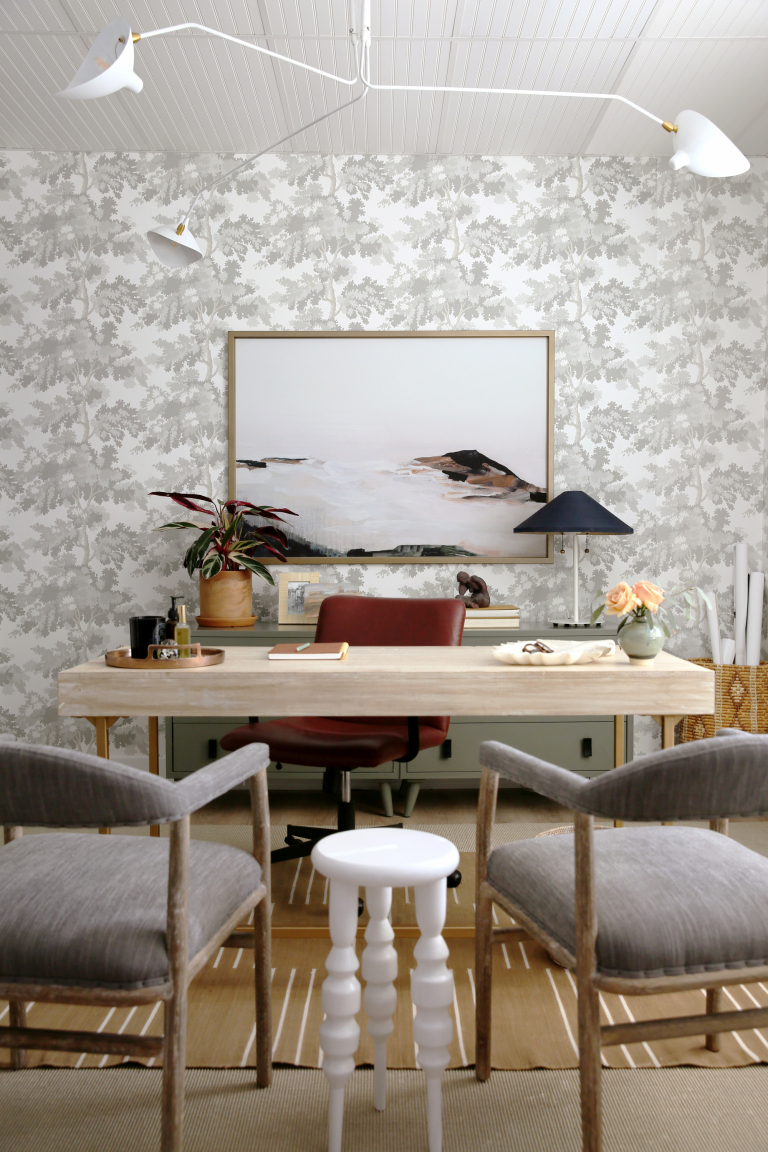 Otis Print  //  Frame  //  Satin Bronze Spray Paint
Desk  //  Desk Chair  //  Sisal Rug (similar)  //  Striped rug (similar)  // Ceiling Light(similar)
Gray Chairs (similar)  //  White Side Table (similar)  //  Green Dressers
To spray paint the IKEA frame, follow these simple instructions:
-Assemble your frame. This step usually eliminates scratches in your final spray paint finish.
-Lay your assembled frame on a drop cloth, face down first. Spray a light layer focusing on the frame sides and let that coat fully dry.
-Flip the frame, wipe down the face with a microfiber cloth and spray multiple thin layers, allowing to dry fully in between.
-Be sure to brush with a microfiber cloth in between coats to remove any bubbles or dust that may have attached to the frame.
-One the paint is FULLY dry (I'd wait several hours for good measure), flip the frame over again on a large flat surface (you might want to use a clean drop cloth if your floors are rough at all) and then just install your print using these steps. Be sure to email or DM our customer service team if you are having any issues and we can help you troubleshoot!
*Tips for touch ups: If you get your freshly painted frame hung on the wall and notice any scratches, don't worry. Spray a small amount of spray paint into the cap of the can or a plastic cup and use a small, soft craft brush to gently dab over the scratch.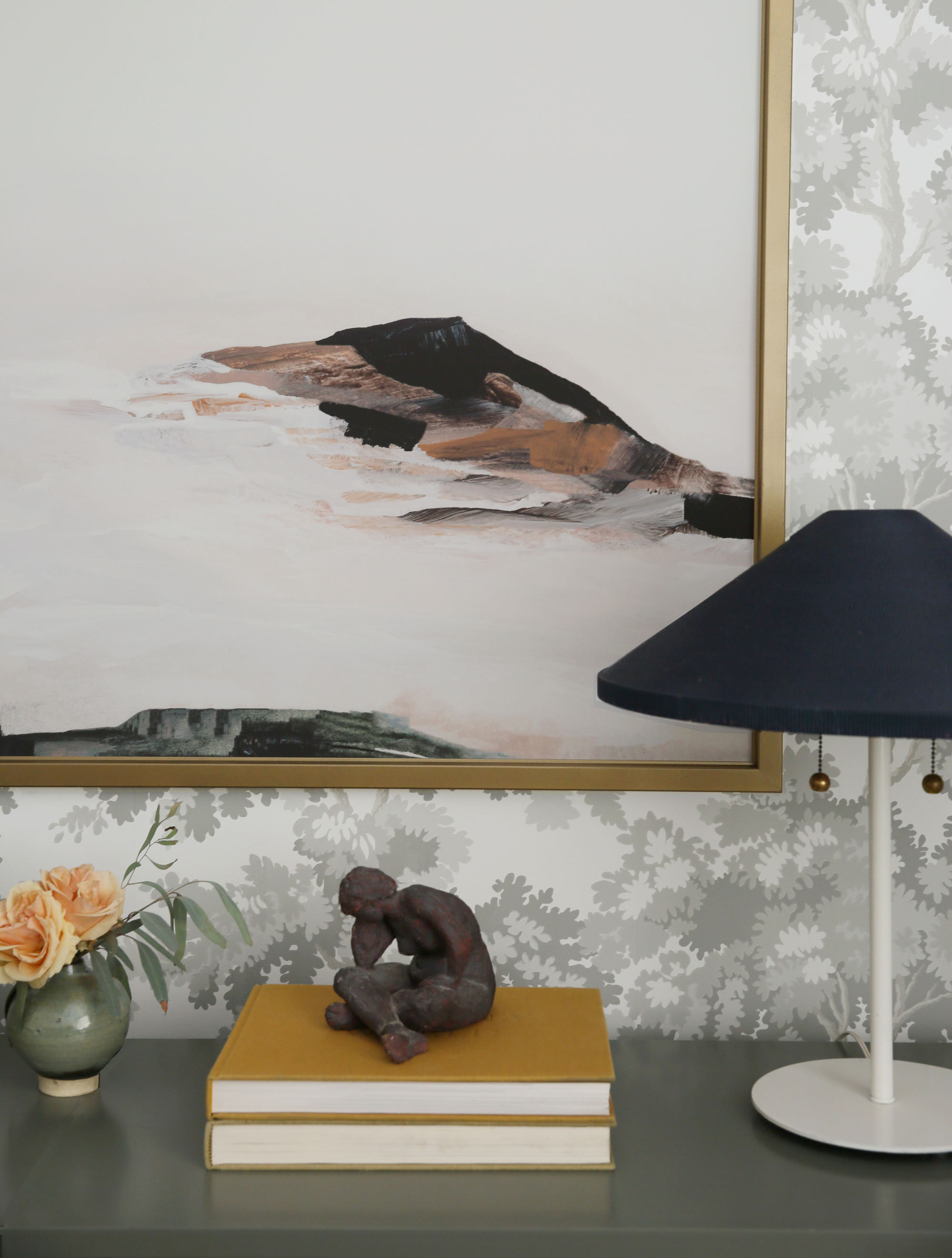 Now that you know HOW we like to spray paint our IKEA frames, we thought it would be helpful to also share our tried and true favorite colors below. Like with any paint selections, it's important to choose a color that's right for your space and the print you are framing, but this guide is a great place to start looking for inspiration.
(PS We cut down an extra IKEA frame we had on hand here at the office and painted each cut piece with our favorite spray paint colors to photograph for this post. We tried to be really careful in the photo editing process so the colors were accurate representations for you. We wanted each color to be very true to life!)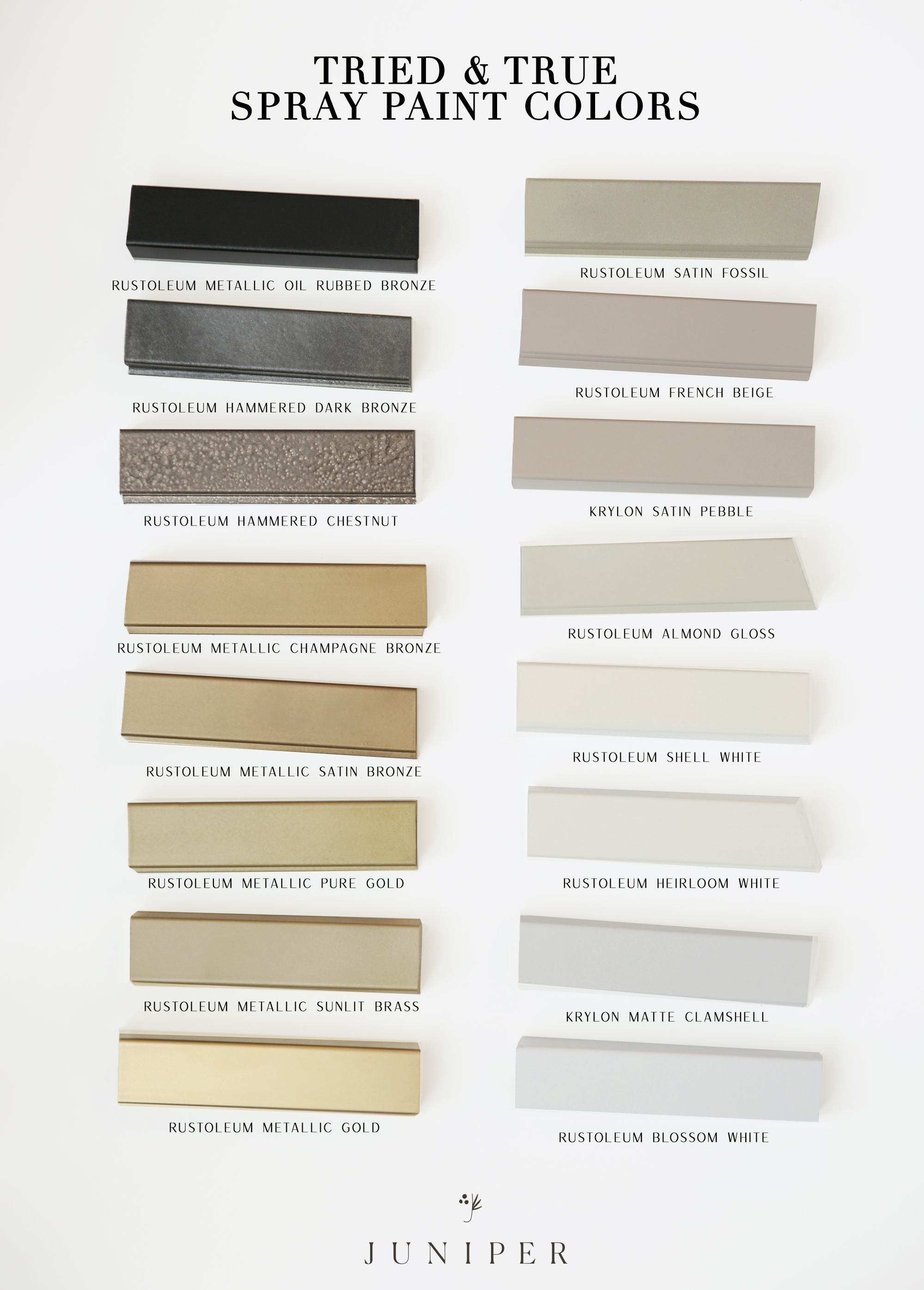 If you've ever tried to spray something in a gold tone, I'm sure you know just how tricky it is to find the right color! There are so many straight-up BAD gold tones out there – and the color on the cap is not always a good indicator of the paint's actual color. These are our favorite options available right now: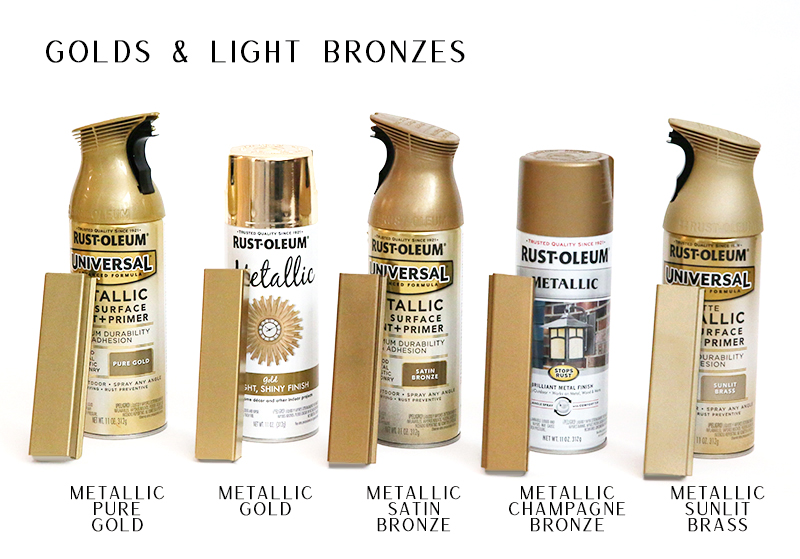 Rustoleum Metallic Pure Gold  //  Rustoleum Metallic Gold  //  Rustoleum Metallic Satin Bronze
Rustoleum Metallic Champagne Bronze  //  Rustoleum Metallic Sunlit Brass
White is another surprisingly tricky one! The colors here are all so important for using in different scenarios, depending on what tones you're hoping to pull out from your print.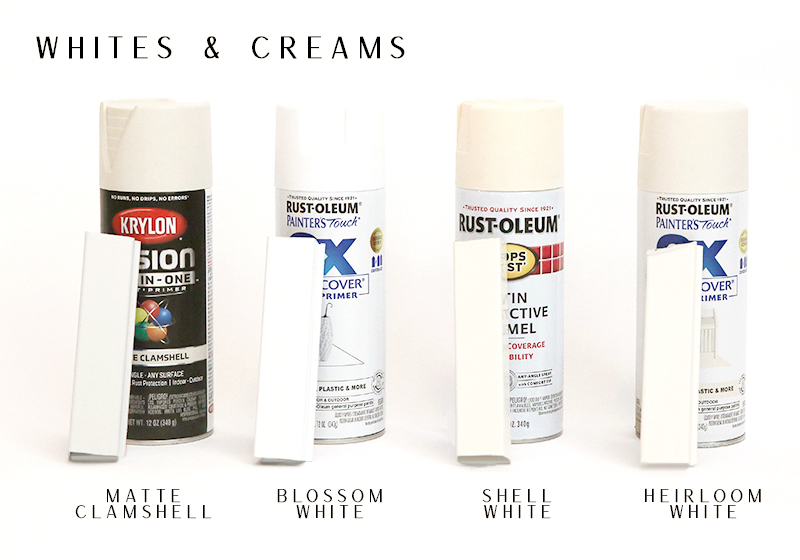 Krylon Matte Clamshell  //  Rustoleum Blossom White
Rustoleum Shell White  //  Rustoleum Heirloom White
A beige color is a great choice for a subtle natural wood look! It's hard to find wood frames large enough to fit our oversized prints (without using a custom framing service), but a warm beige paint color scratches the itch at a way more affordable price point.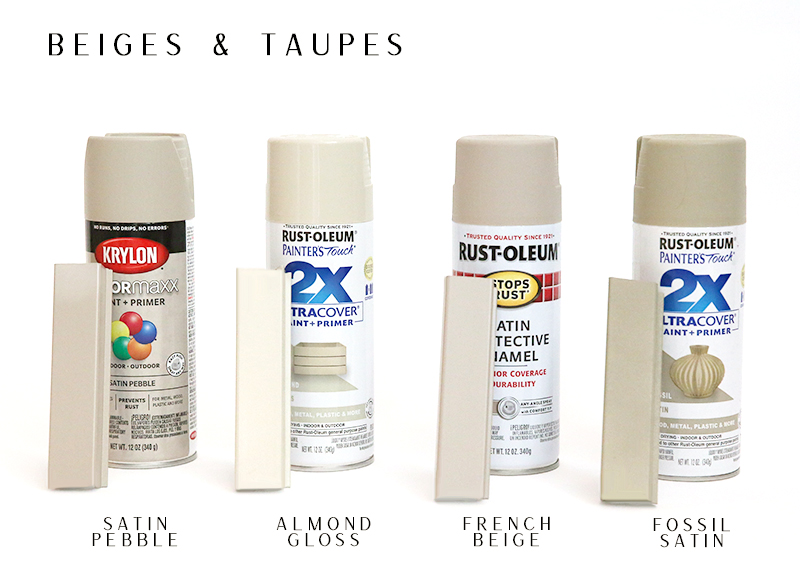 Krylon Satin Pebble  //  Rustoleum Almond Gloss
Rustoleum French Beige  //  Rustoleum Satin Fossil
Bronze is having a resurgence! It's a great alternative to straight black paint if you'd like more warmth and movement. I also never expected to like some of the hammered metallic spray paint options, but I think these could be really cool when paired with the right print!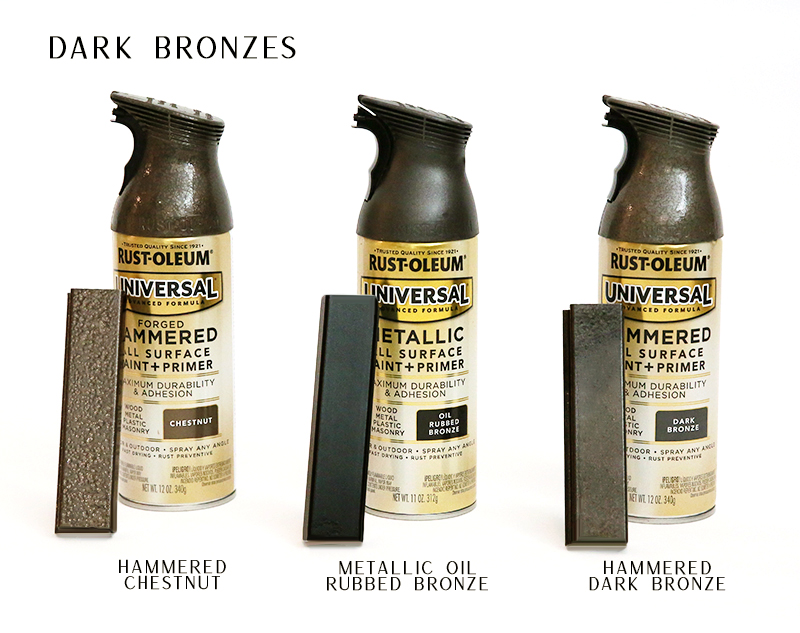 Rustoleum Hammered Chestnut  //  Rustoleum Metallic Oil Rubbed Bronze
Rustoleum Hammered Dark Bronze
What questions can we answer for you about spray paint colors or technique? We're so happy to help. And, as always, thanks for supporting Juniper!