This post is sponsored by The Home Depot.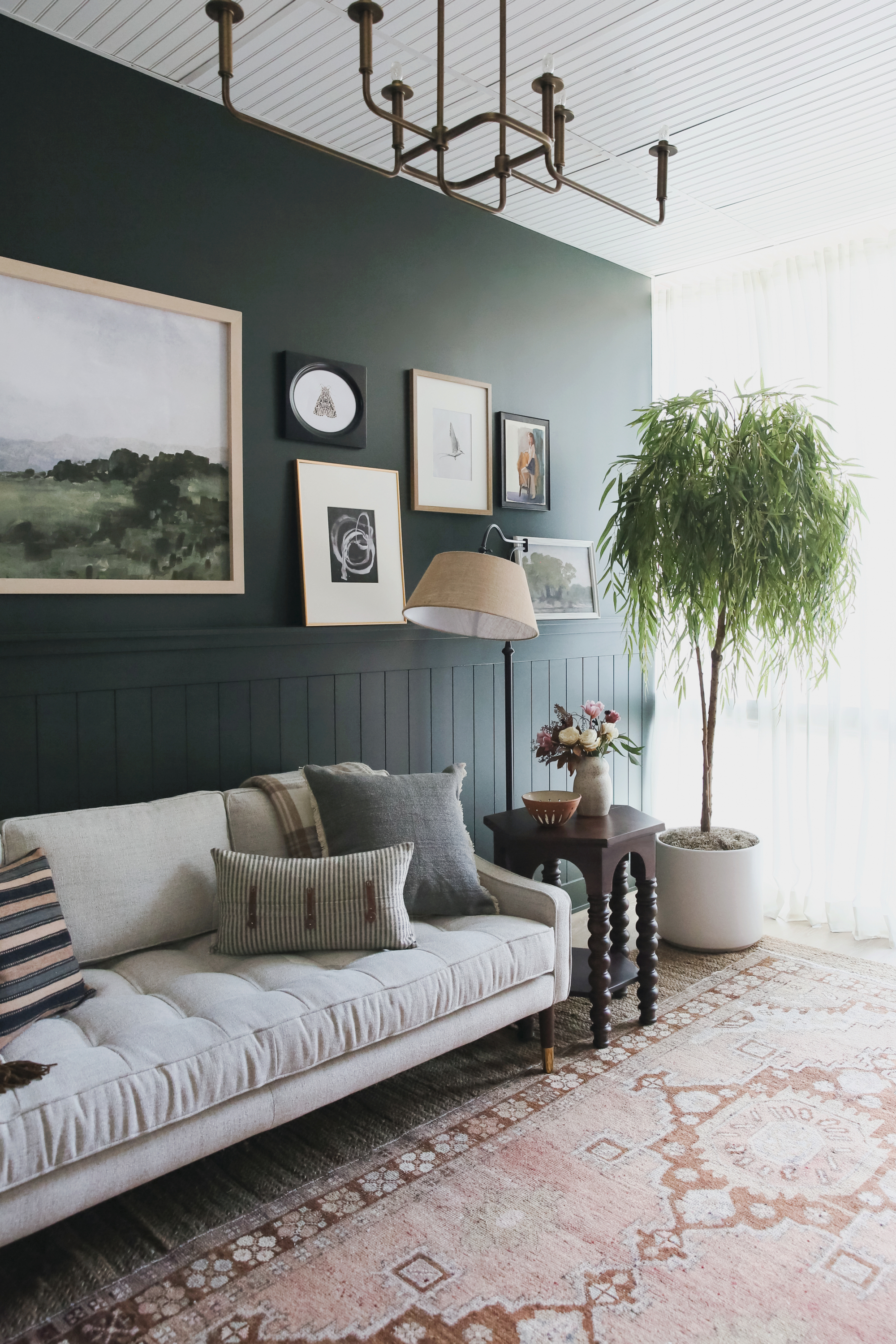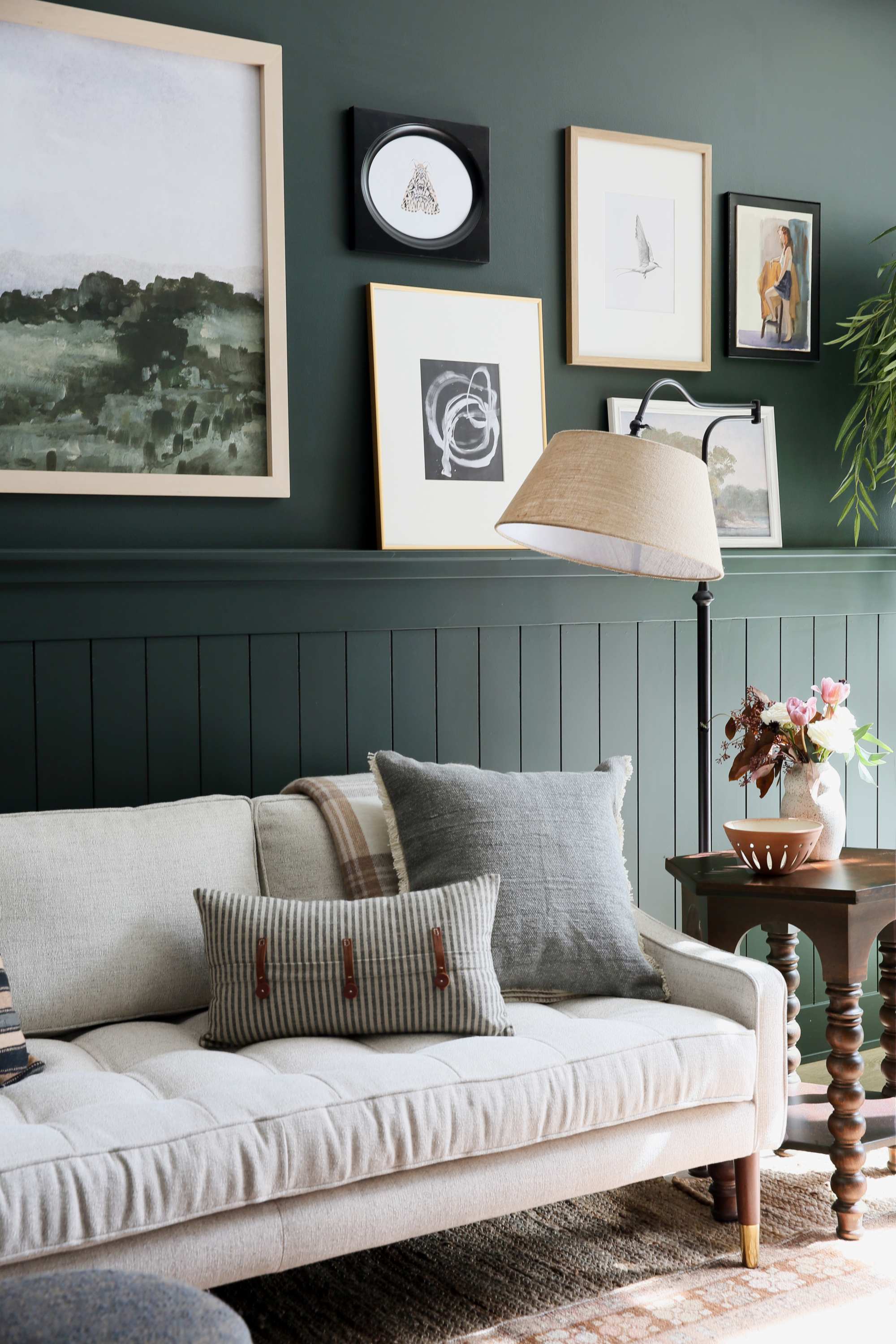 This week we've been working on finishing up our new office foyer. From the start, I've wanted this office to feel homey, layered and comfortable. I'm sure a lot of you are working on your spaces too, getting ready for the holidays, now that fall is upon us. One tip I like to share is put a big tree in every space you host in. It brings such an important organic aspect to every room! Obviously, live trees are preferable if you have great natural light and a green thumb. Live trees help improve air quality and look truly amazing. But sometimes it can be difficult to keep a tree alive indoors and as faux trees increase in popularity, the new offerings continue to look more and more lifelike!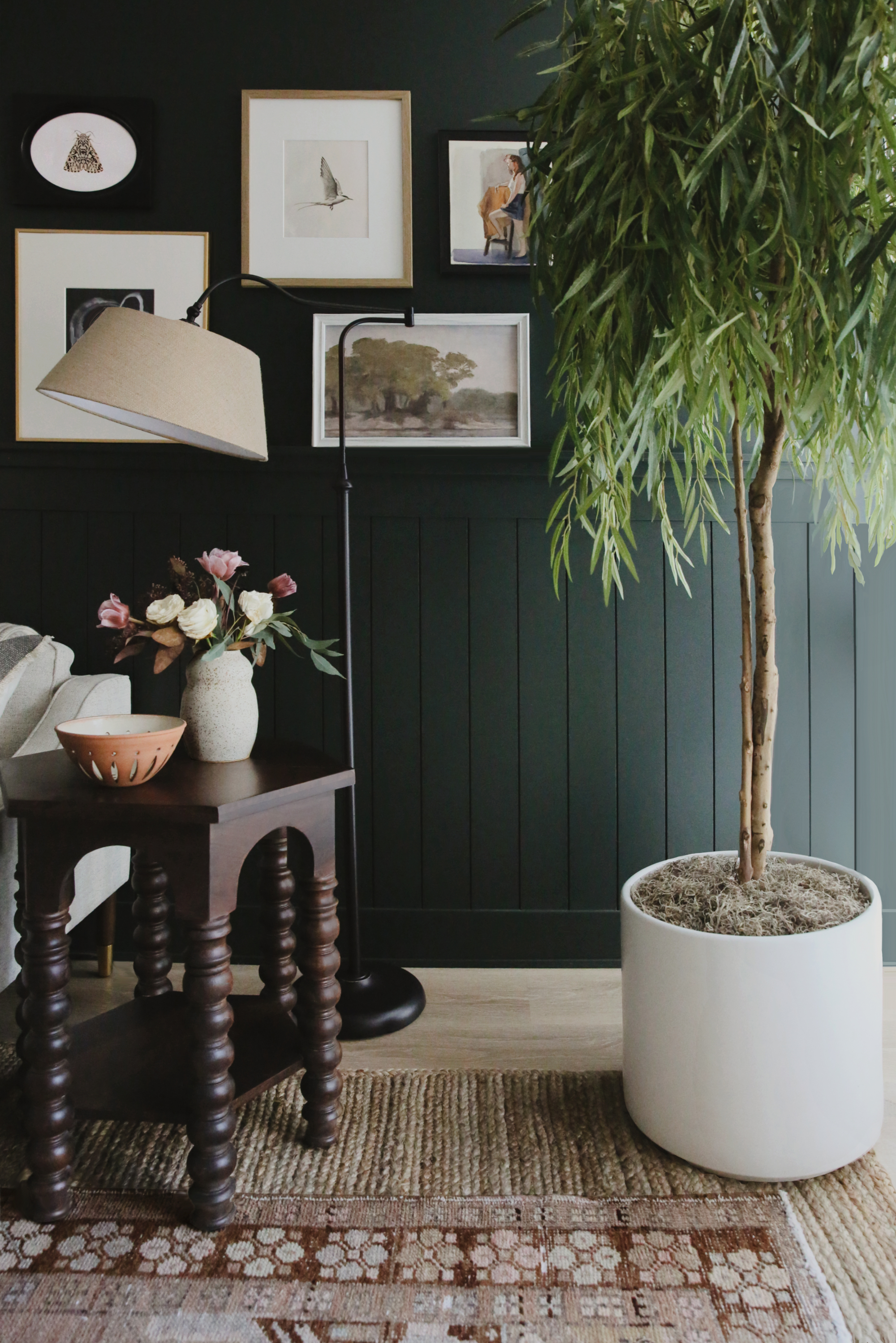 The Home Depot has an impressive collection of really beautiful faux plants and trees (I included a big round up below!). They also carry a TON of home decor from some amazing brands – everything from pillows and frames to furniture and accessories! I found these pillows and throws on The Home Depot site as well as the floor lamp, jute rug and that gorgeous side table, which I'm OBSESSED with. It is made from solid wood (so it's HEAVY!) and it has such a unique shape. It seriously looks like a $800 side table in person.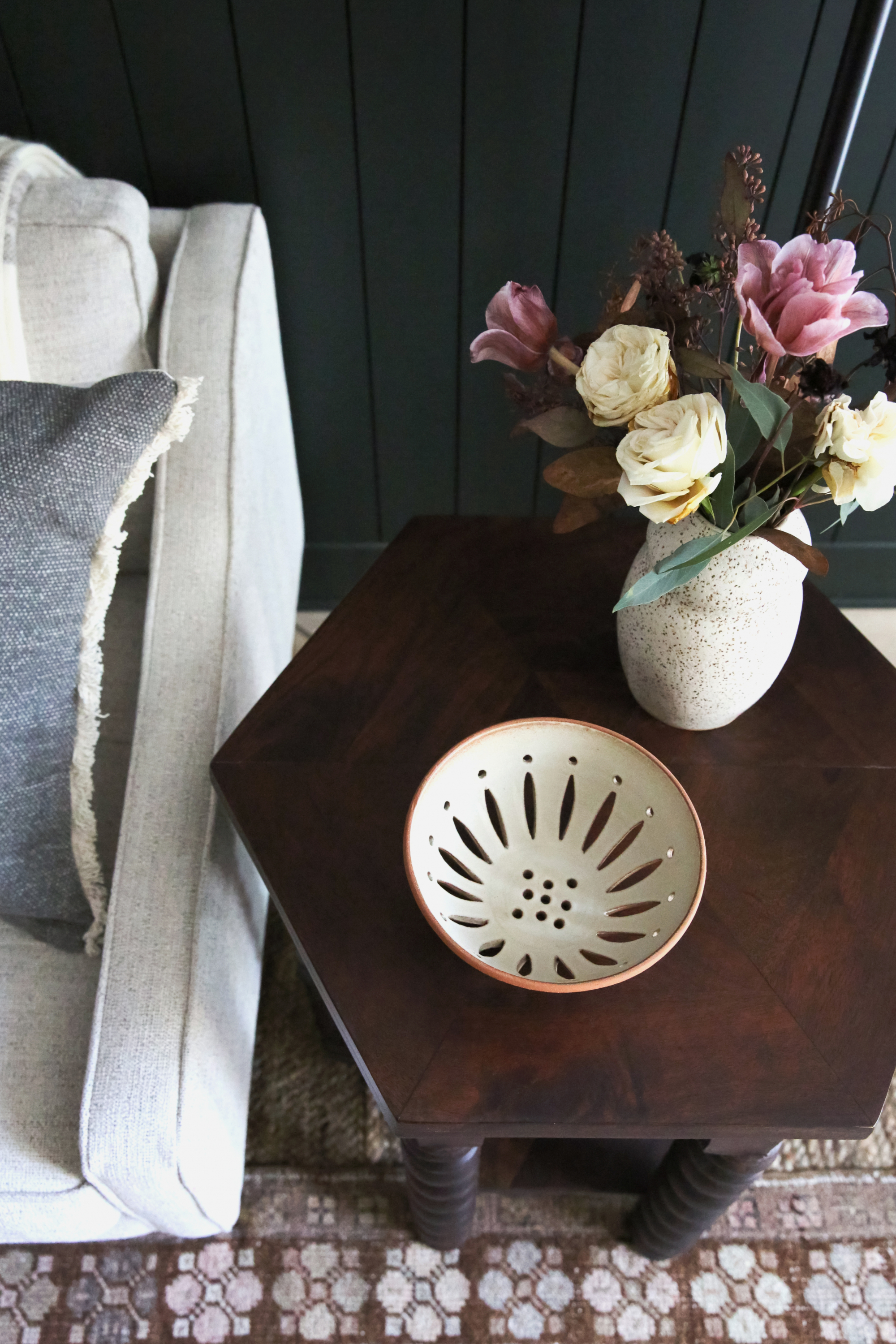 Okay, ready to jump in with my 5 tips for planting a faux tree? Here we go!
STEP 1: SELECT THE RIGHT TREE FOR YOUR SPACE
Bigger is better when it comes to trees, for the most part. We have 9′ ceilings in this space, so I used The Home Depot's helpful search tools to narrow down the results to trees only taller than 7′. Note: most manufacturers round up quite a bit on this measurement. You can expect your actual tree to be 6-12″ shorter than described – so again, consider going bigger!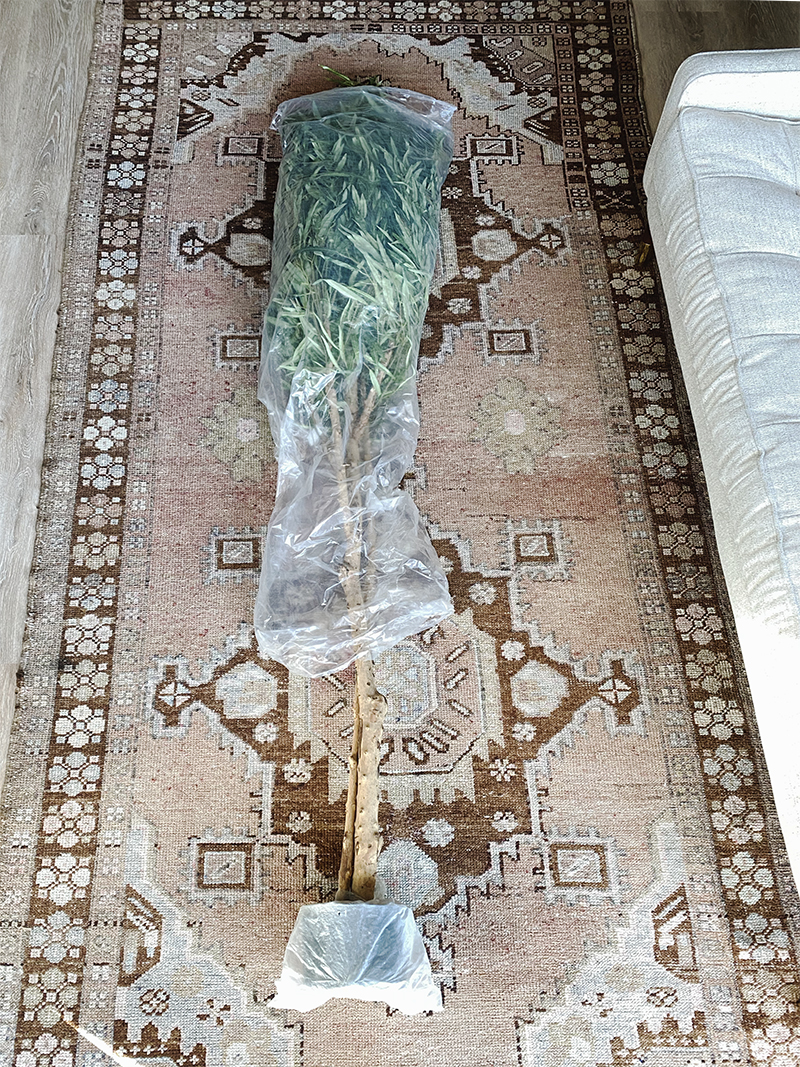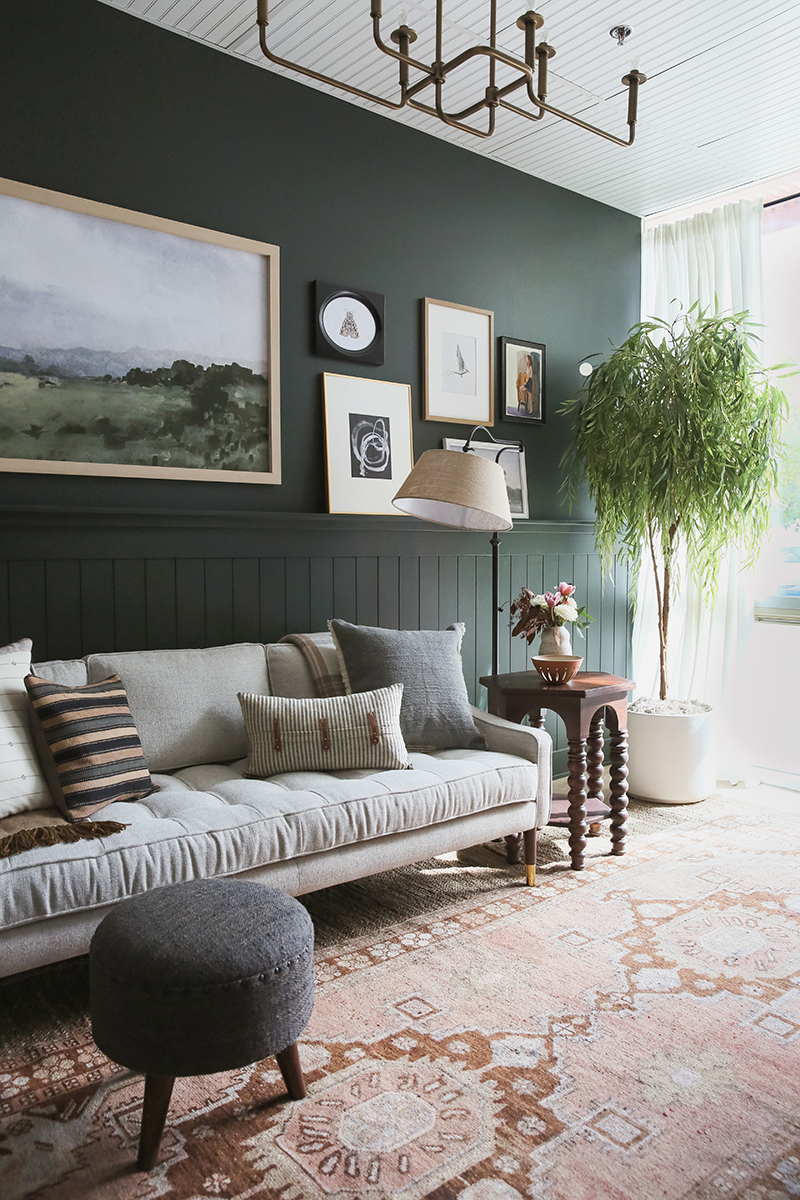 It's also important to consider color and texture of the foliage. We needed something that wasn't in the dark green category, so the tree would pop off the wall color and I wanted something that would look more lifelike, since the leaves would be eye level near the front door. This willow tree was a winner for me, but here are some of my favorite options on The Home Depot site!

STEP 2: SELECT THE RIGHT PLANTER FOR YOUR TREE
This is such an important step that SO many people get wrong. The container holding your faux tree really should be large enough to keep a live tree of the same size alive! That's the only way to pull off the illusion! And I know none of you would ever do this but, PEOPLE OF THE INTERNET, for the love, please don't ever put the tree out with only the dorky little plastic base thing as your planter! Gasp!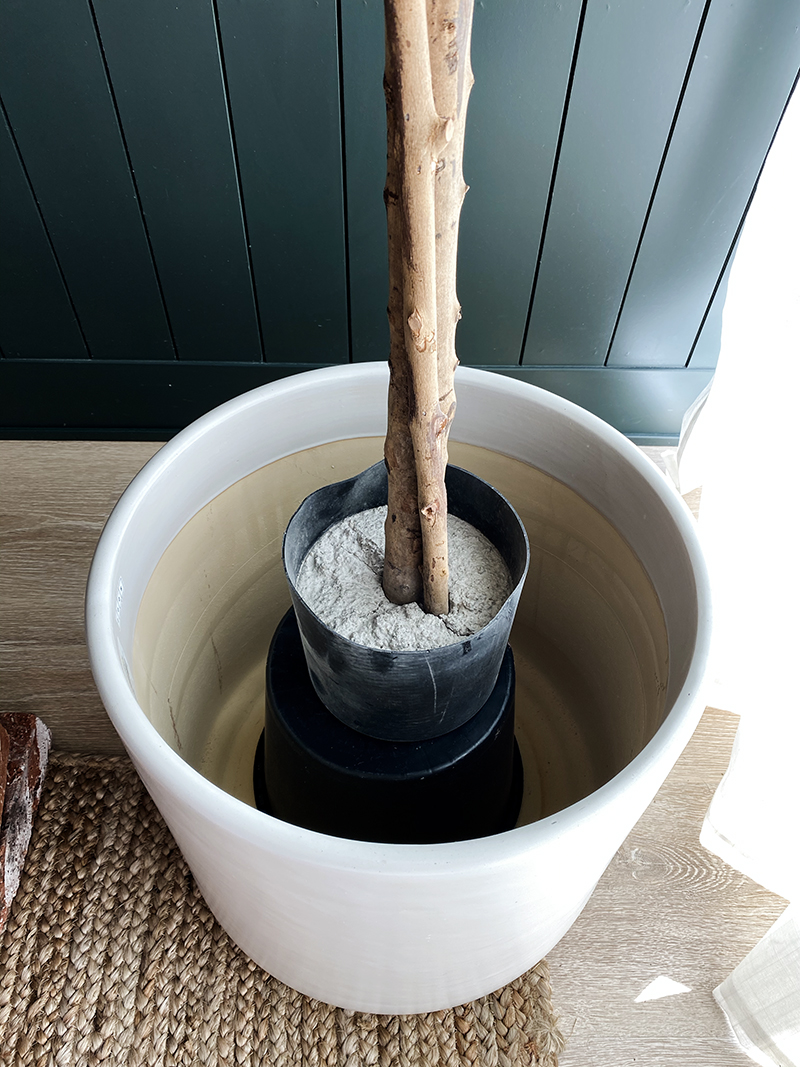 As a general rule of thumb, I usually choose a planter that feels about 2/3 the size of the foliage diameter. My original plan was to buy this amazing terra cotta planter and to plaster the outside, but then I saw this big, beautiful matte white planter at my local Home Depot and I fell in love! It's SO hard to find a matte white planter usually, especially for such a great price – I felt like I hit the jackpot! At 21″ diameter, it was the perfect size for my faux willow tree too, which ends up having about 32″ foliage diameter when all fluffed up. Here are some of my favorite planters on The Home Depot site right now:

STEP 3: CREATE SUPPORT FOR YOUR TREE WITHIN YOUR PLANTER
When you are planting a larger faux tree especially, it can get a little top heavy and may tip over occasionally if you don't support it correctly. I like to use bricks or largish rocks to wedge in between the inner walls of the planter and the tree's plastic base. This step DRAMATICALLY reduces tipping. I also use this step to consider if the proportions of the tree would look better a little higher or set down deeper into the planter. I wanted our willow tree to be a little taller, so I set it on an old bucket before weighing everything down with bricks.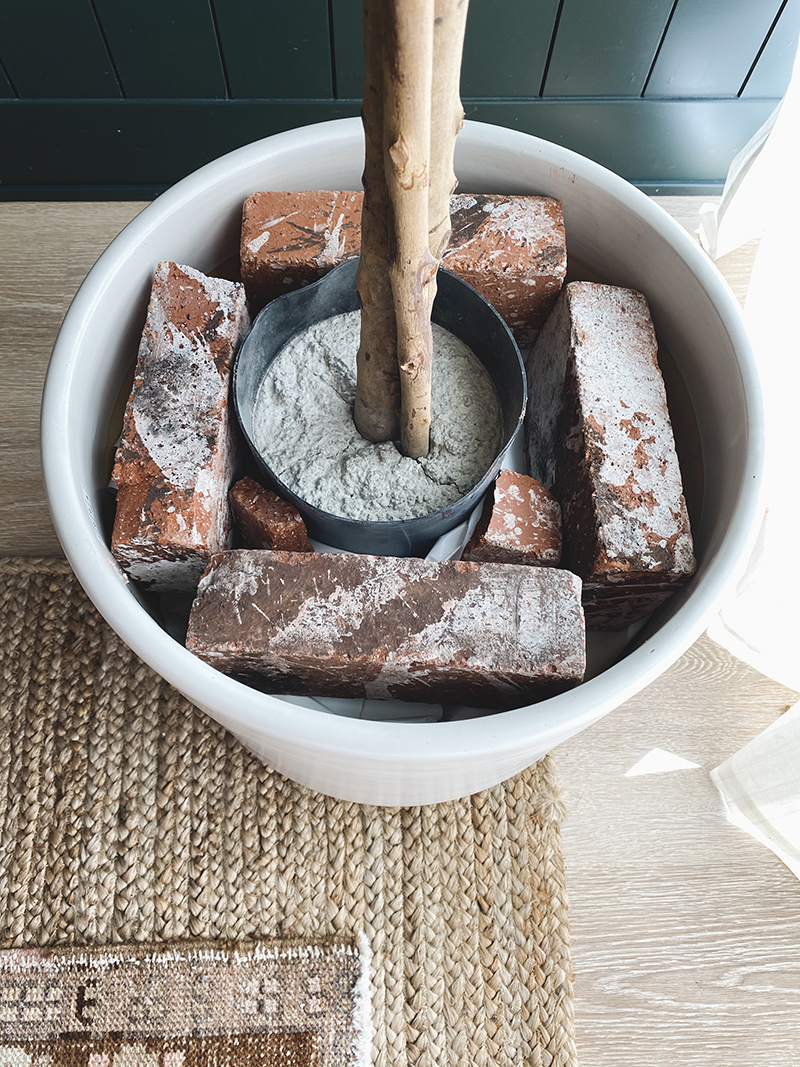 If there is space from the top of the bricks or rocks to the rim of the planter, you can add anything you have on hand as filler – recycling your packaging materials is a great idea! I bunched up the plastic sleeves that the tree came with as well as some packing paper from our move. This gives a flat base for your preserved moss in the next step.
STEP 4: TOP IT OFF USING PRESERVED MOSS OR GRAVEL
Even when I'm planting live trees, I usually add a top layer of preserved moss or pea gravel to cover the soil. I do the same when planting my faux trees! I usually stick with pea gravel, white chipped marble, smaller river rocks, preserved sheet moss, or Spanish moss (which we used here!). Spanish moss is affordable and so easy to add. The brighter green preserved sheet moss needs to be misted in order to make it more workable, and I usually wash the gravel beforehand. No need to do any prep with Spanish moss and I love the color and texture!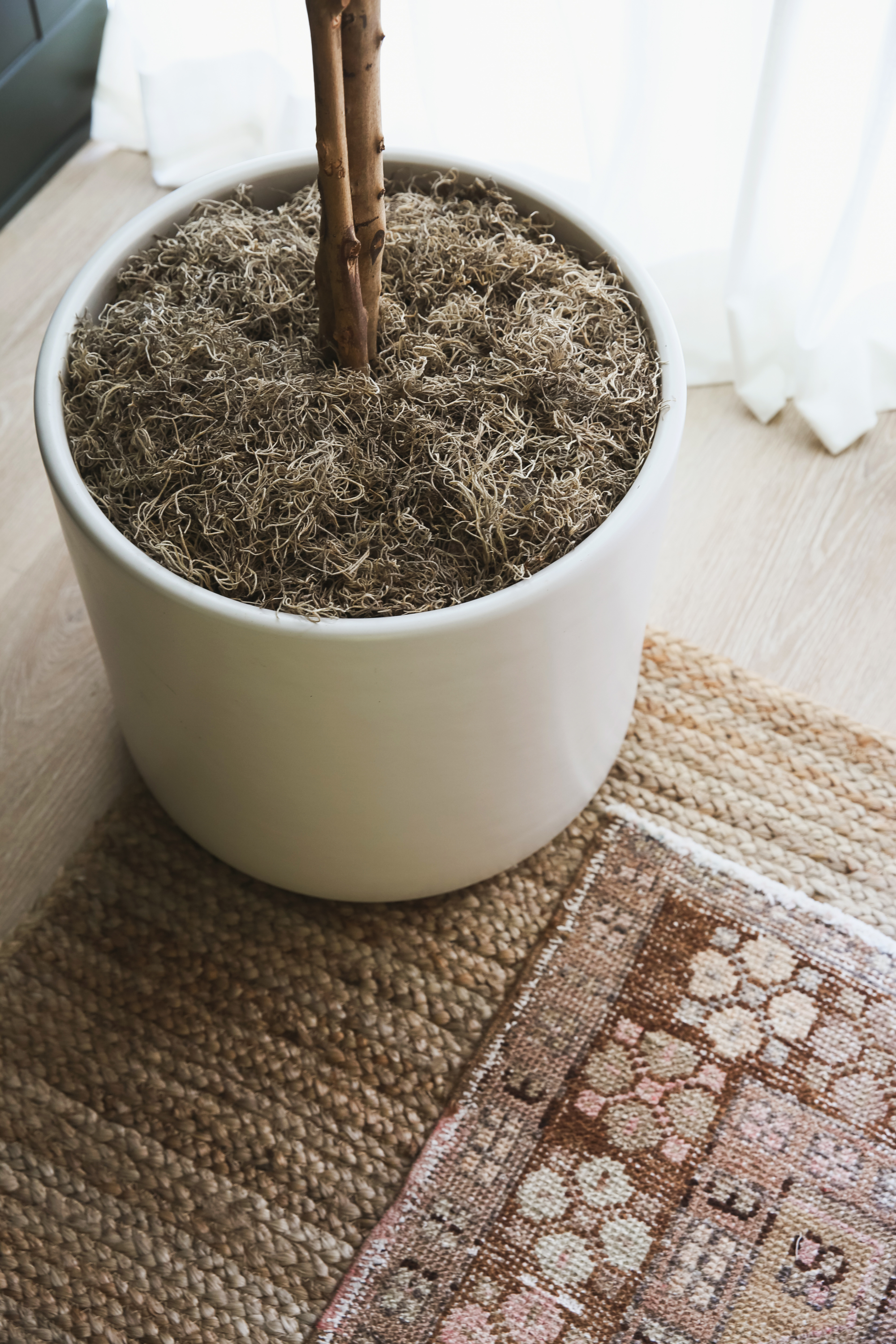 STEP 5: FLUFF THAT TREE!
Arguably the most important step, but an often overlooked one – it is SO IMPORTANT to fluff your faux tree. One of my favorite tips is to do a google image search for examples of what the live version of the tree you purchased actually looks like. And then just bend, twist and adjust the branches and leaves to give the faux tree a leg up. Just remember – no tree has branches that are straight as a rail! Bend and separate the branches. Give the longer lengths some curves and kinks!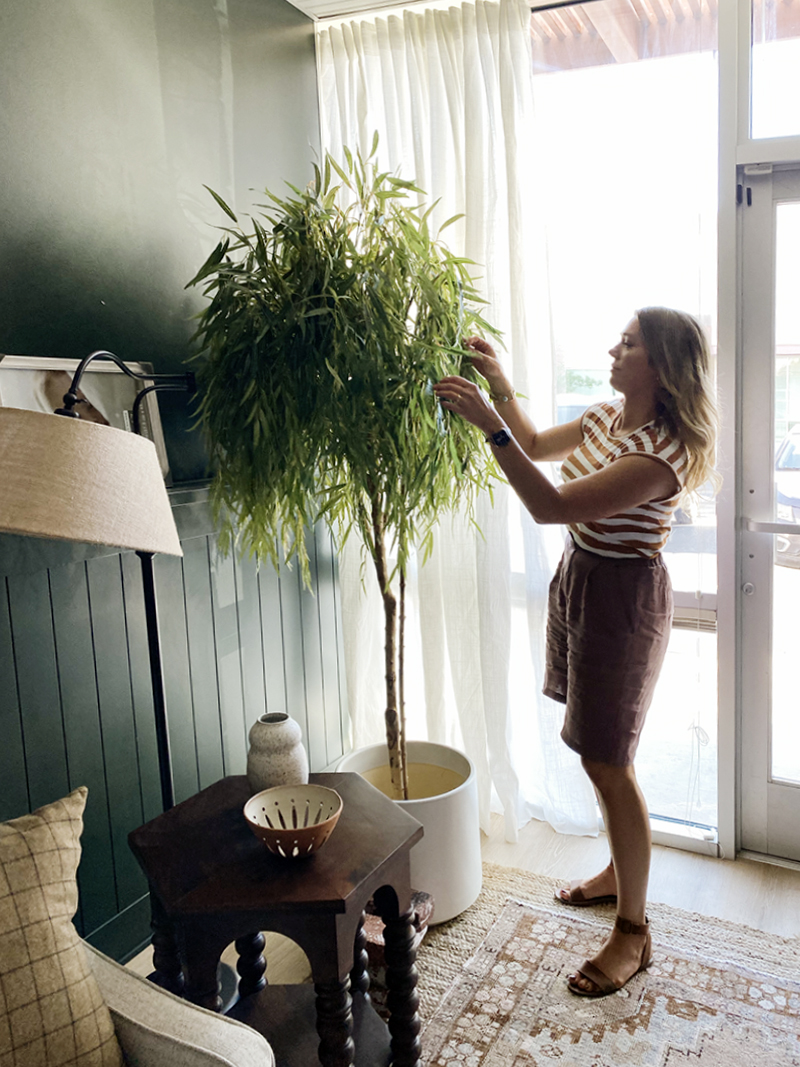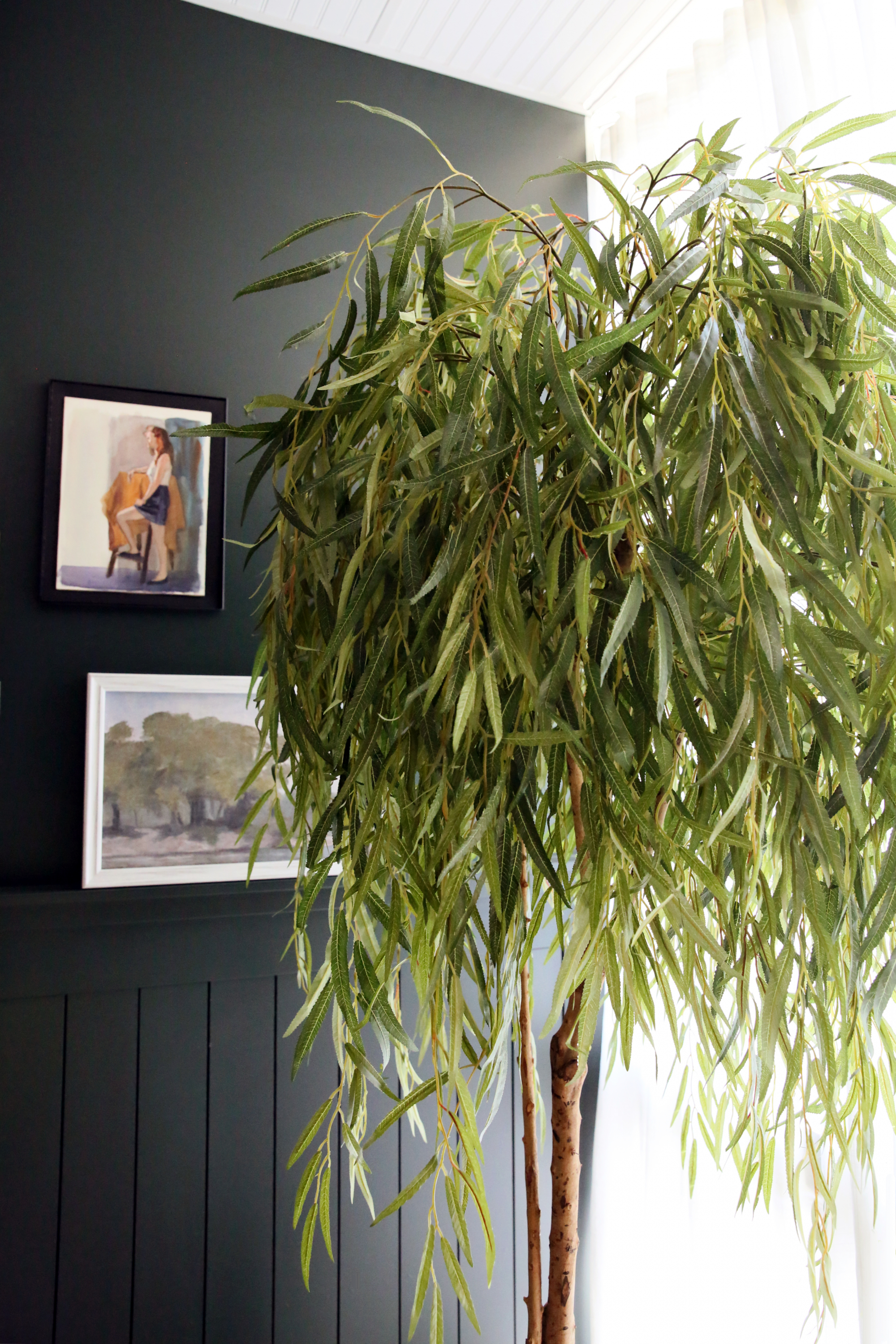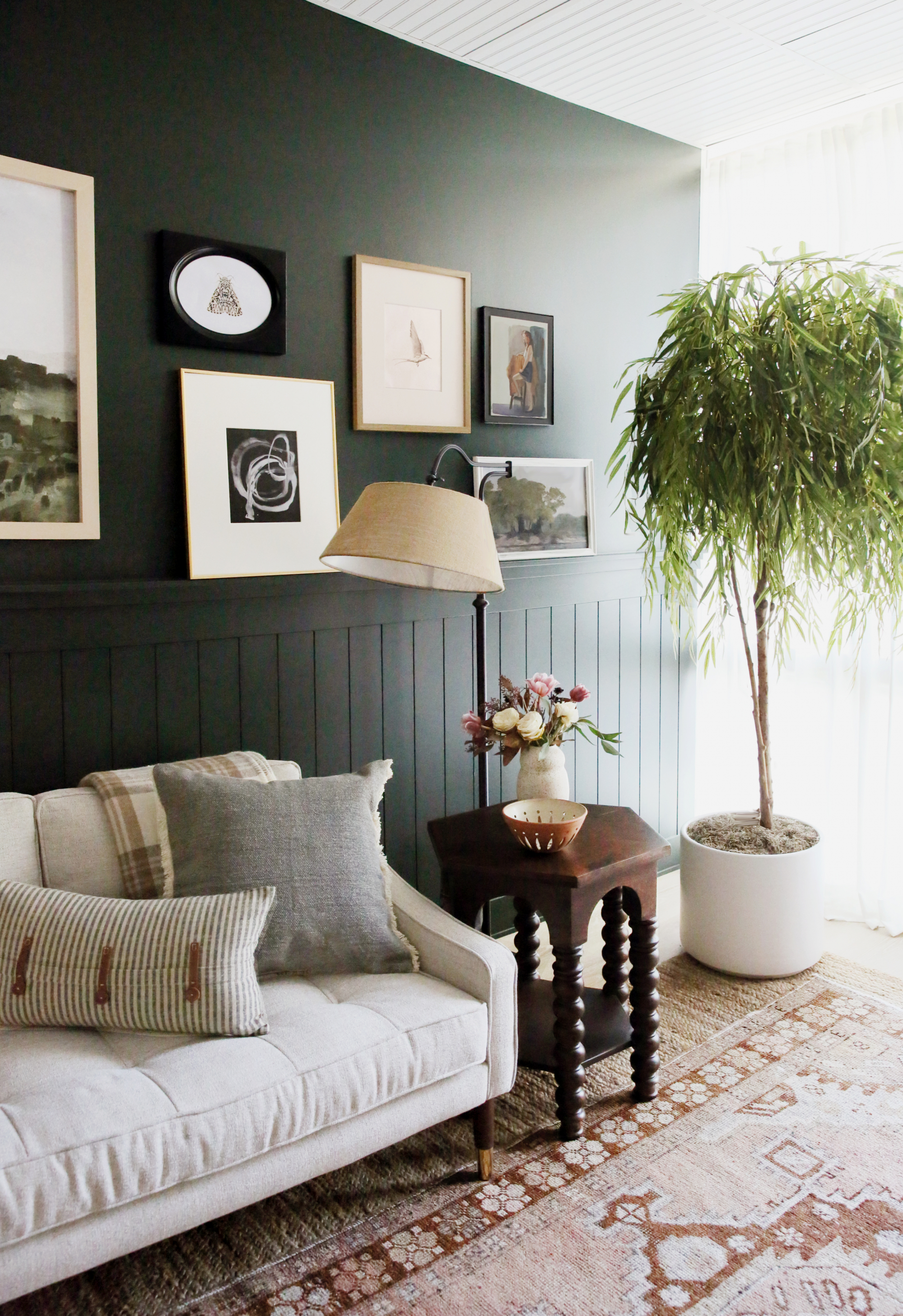 Also I've rarely purchased a faux tree that has perfectly realistic leaf backs, even when the front of the leaves looks incredibly realistic, usually the backs are not as great – or are a dead giveaway of the faux-ness of your tree. That's an easy fix though! Once your branches are separated and bent, twist and bend those leaves so at least 90% of the leaves are forward facing. This usually isn't hard to do but if any specially leaves are staying put, don't hesitate to just remove the difficult ones!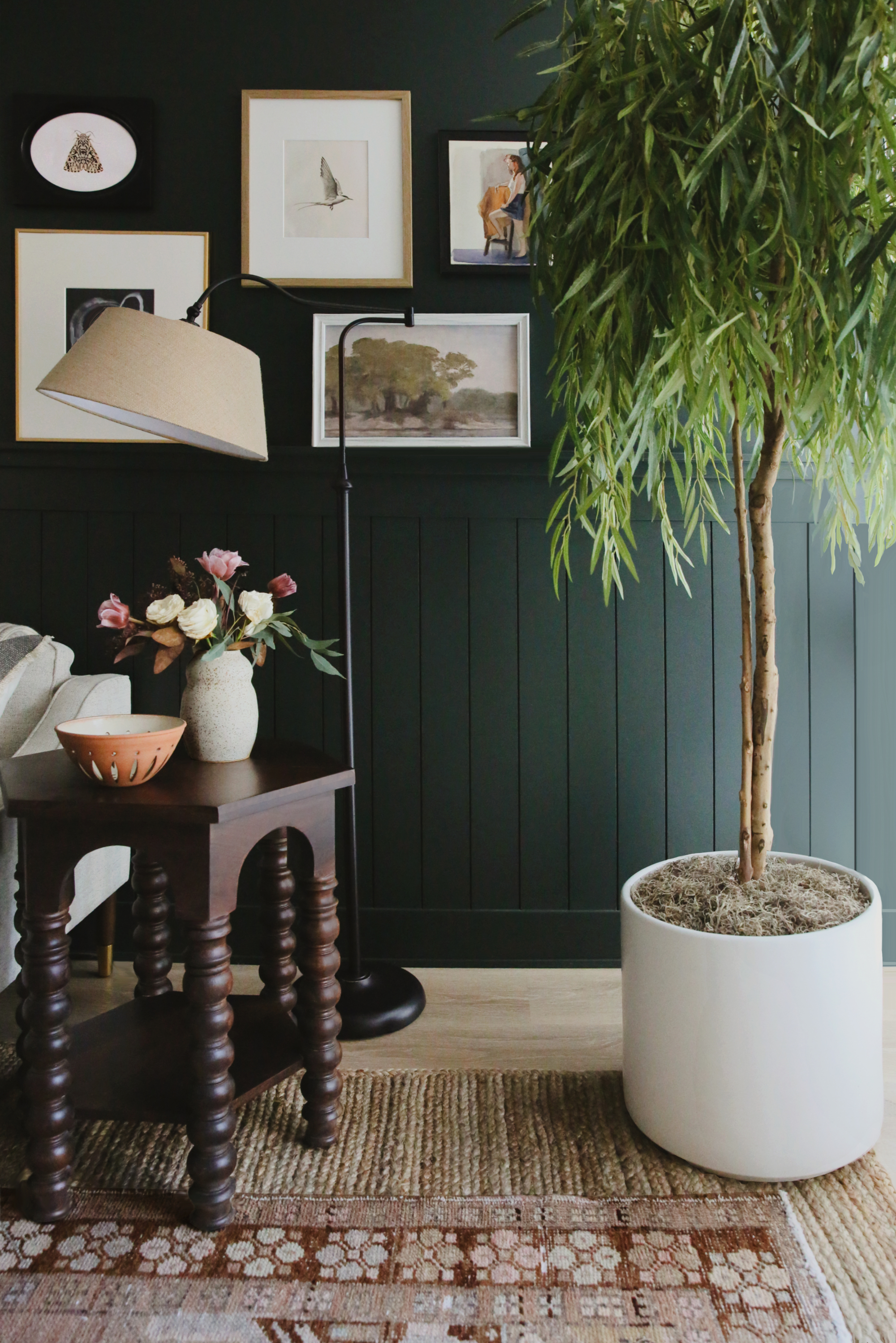 That's it! The final step is just enjoy the organic touch the tree can bring to your space for years to come! Taking these extra measures to make your faux trees look more lifelike to your eye is absolutely worth the effort! I hope you try it and tag us on instagram when you do! @juniper.home and @jennykomenda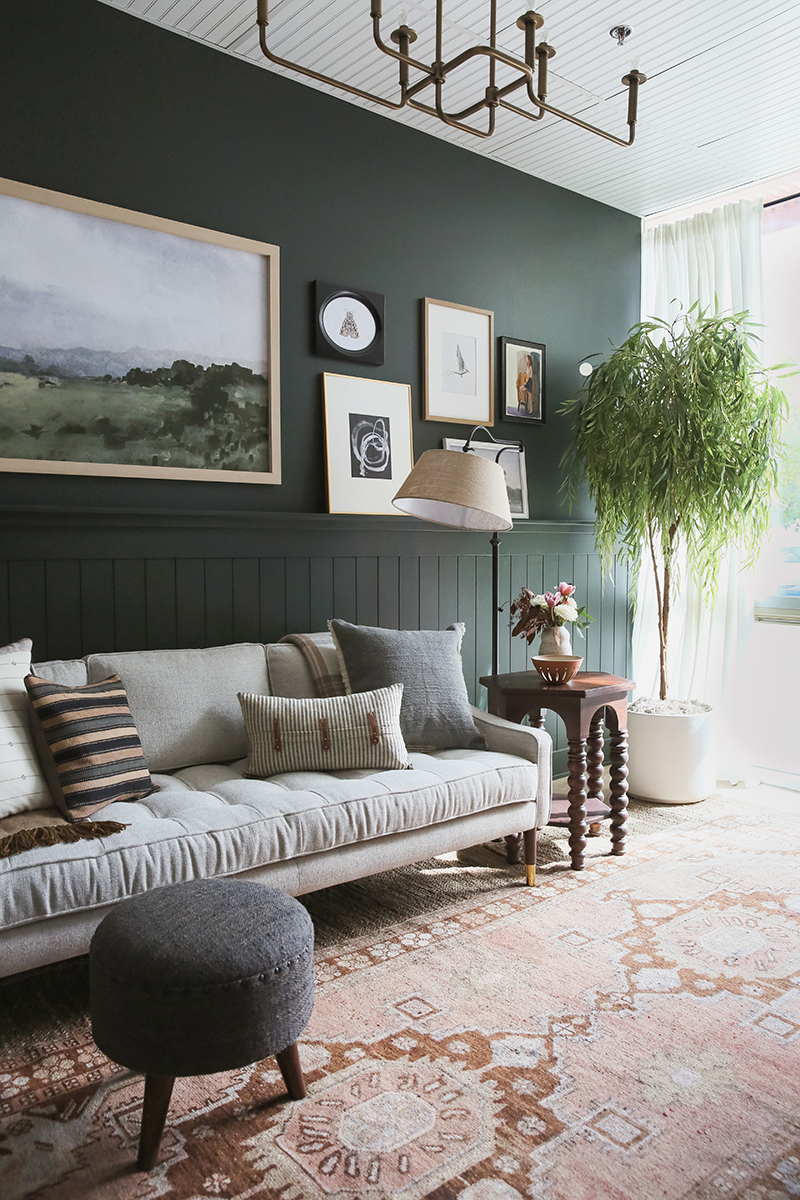 (PS Here's a source list for this space and a few items I added from the home decor section of The Home Depot site. There's too much good stuff to not share it here!)