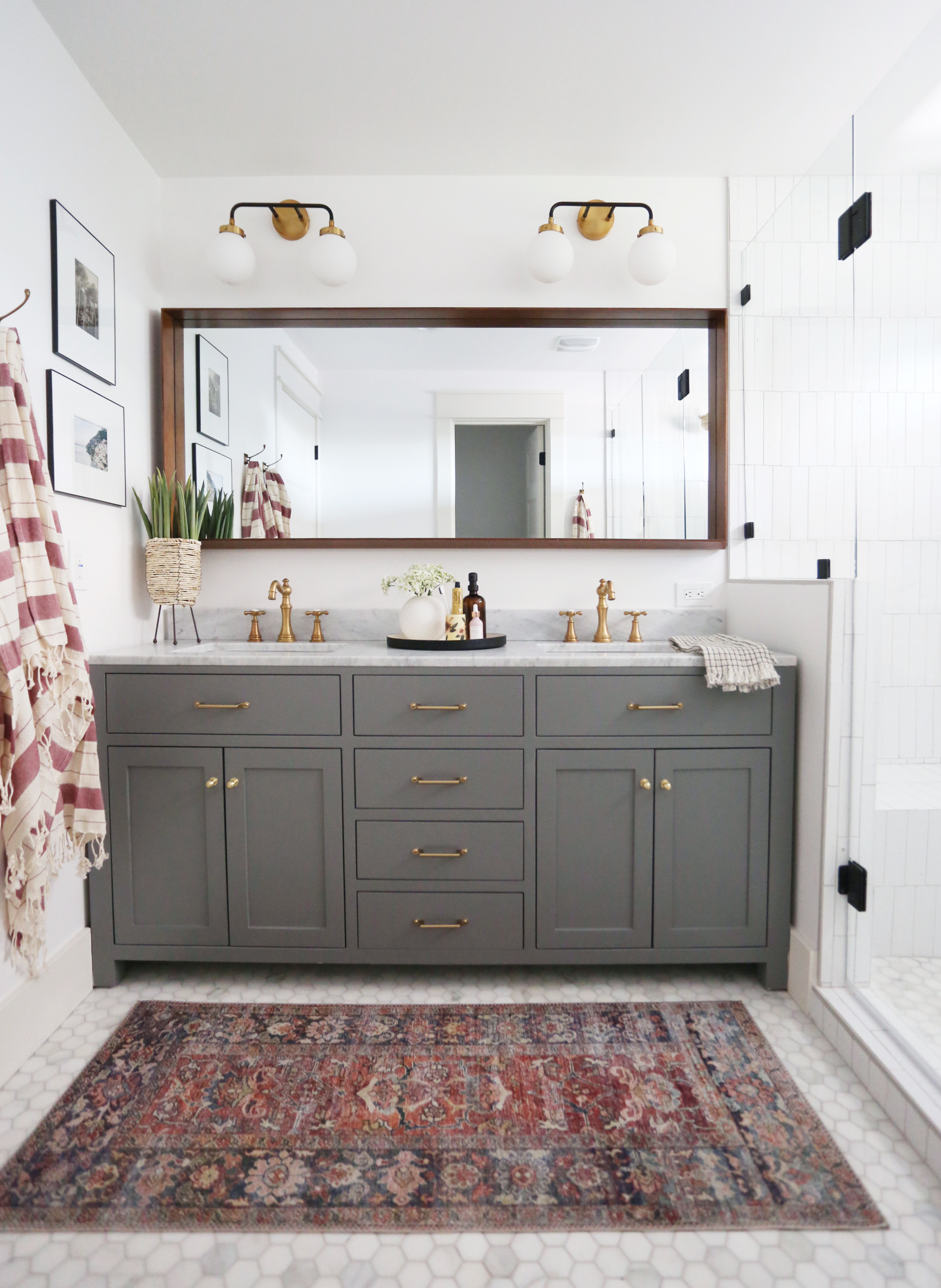 Next up on the Evergreen house reveal tour is the Main Bathroom! Our goal was for this space to feel as big and open as possible – light, bright and clean. I love what we accomplished in here! Wayfair partnered with us on a lot of this product, which was SO appreciated! I love using Wayfair as a resource for furniture and decor as well as renovation items like lighting and hardware and vanities.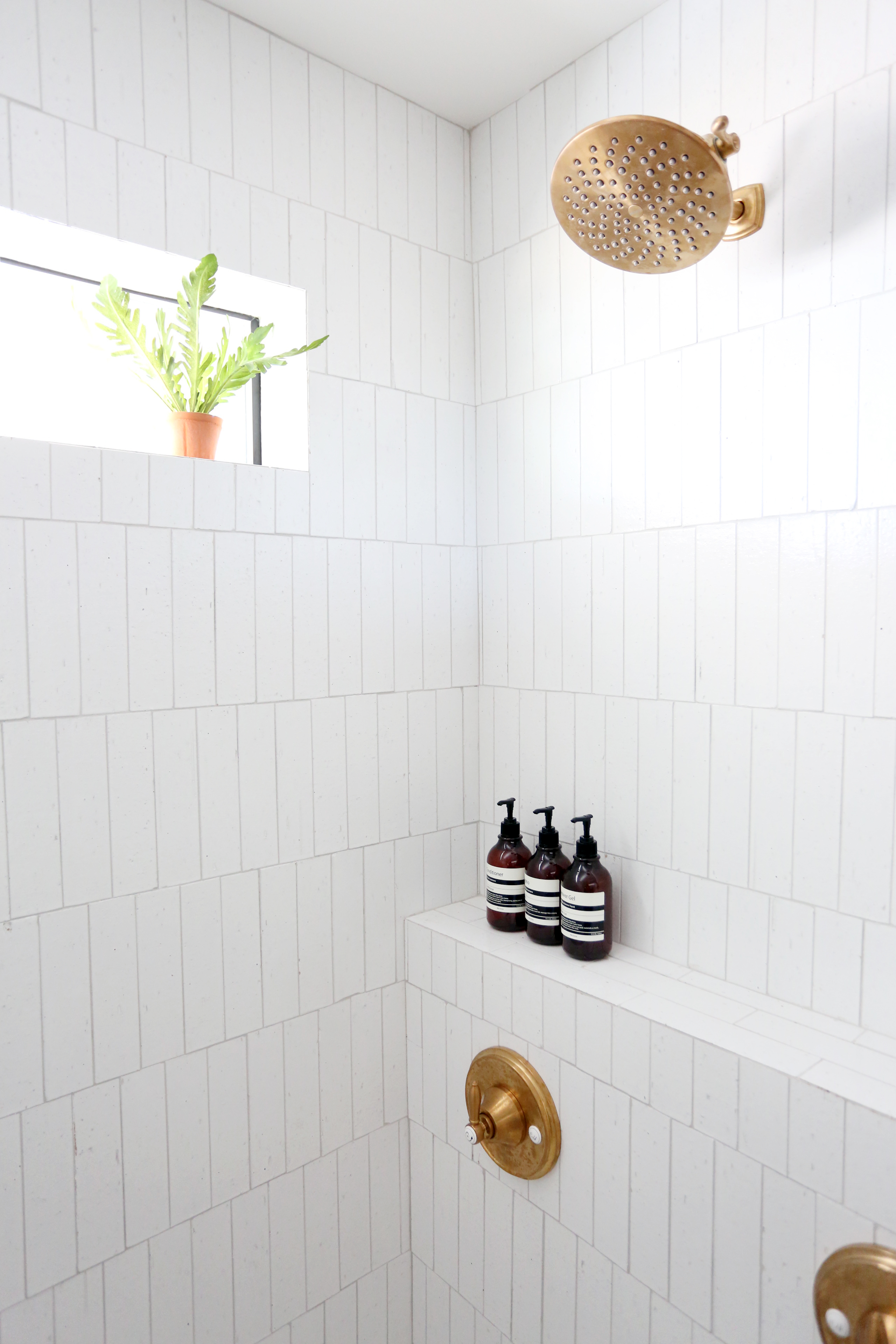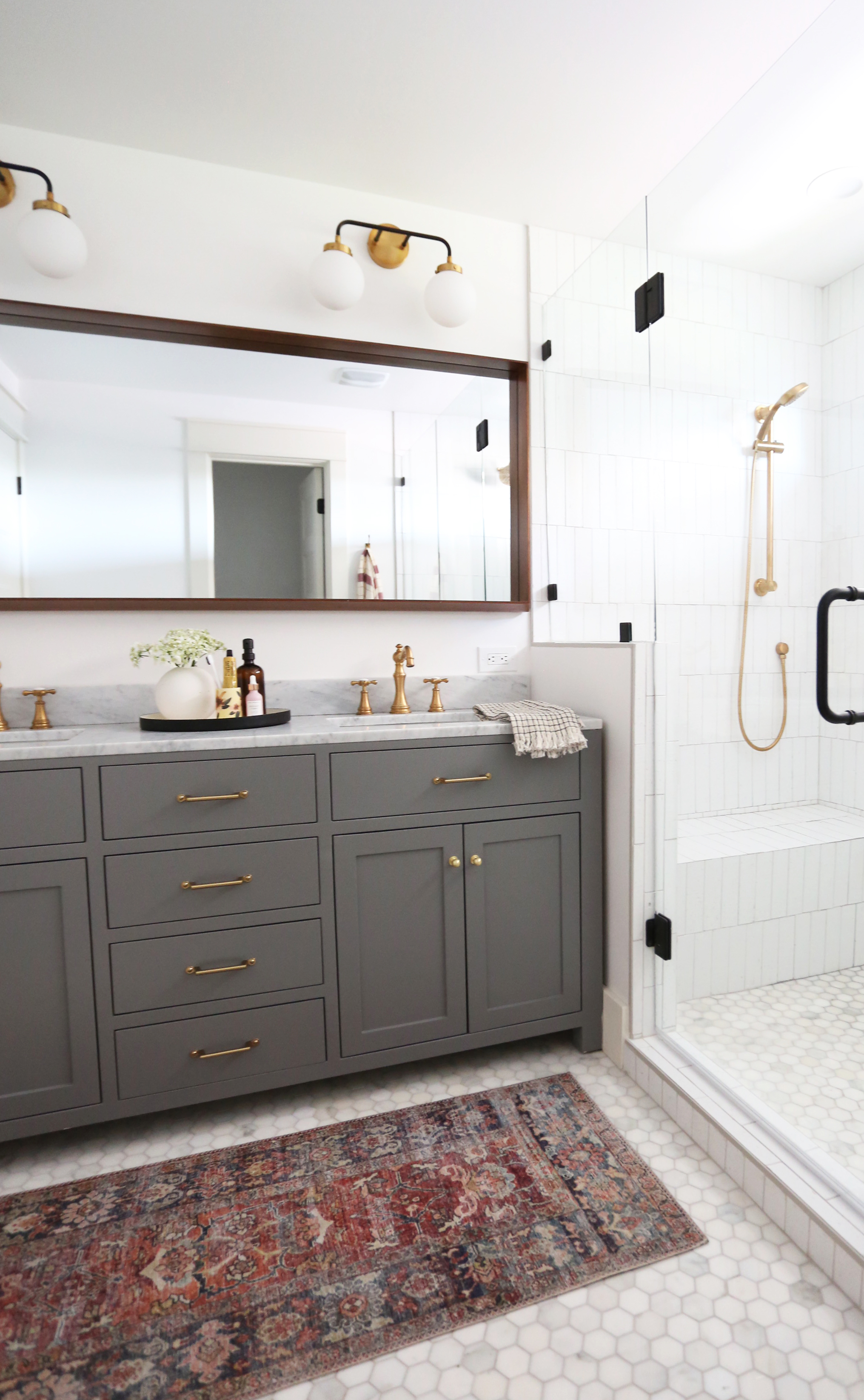 vanity  //  brass handles  //  brass knobs (similar)  //  faucets
marble hex floor tile  //  shower tile (similar)  //  sconces  //  mirror (similar)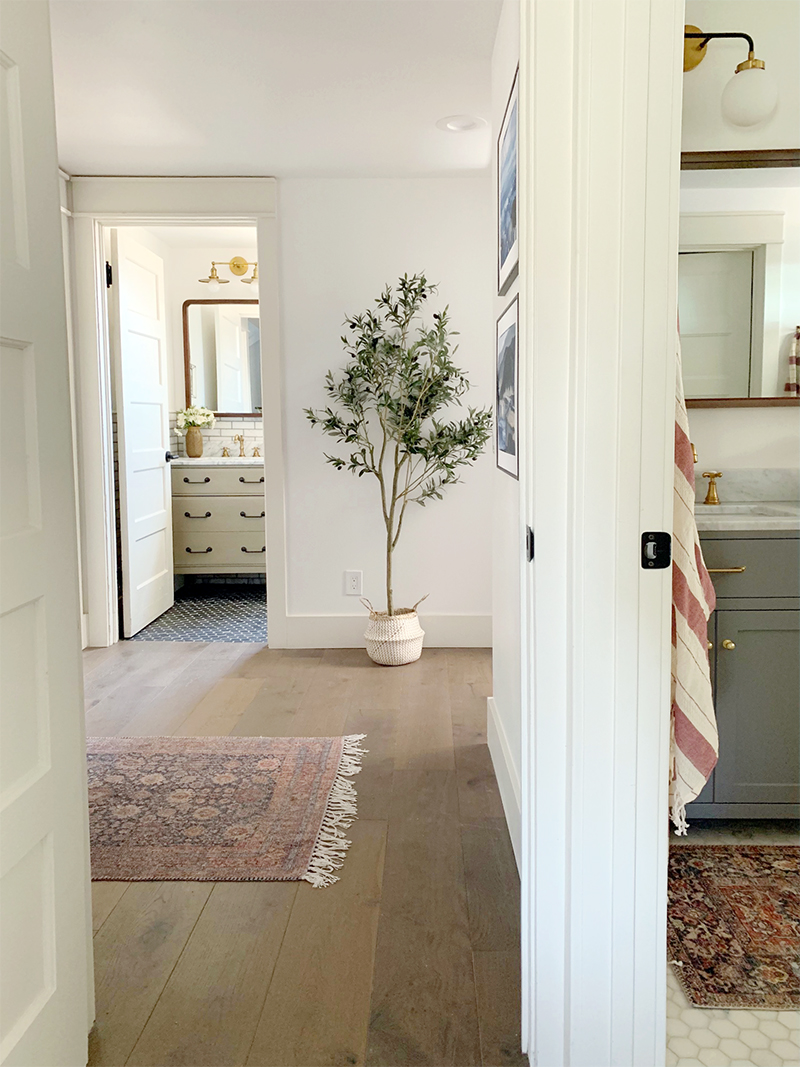 You can see more about this floor plan changes in this post about the main bedroom, but essentially, we gave up a small bedroom at the back of the house for this bathroom and a separate mudroom/laundry room. It was COMPLETELY worth it from a resale stand point to have a better main bathroom with a double vanity, large walk-in shower and a separate water closet.  Here's what the room looked like during framing. I wanted to incorporate ledges, shelves and benches in the shower for more storage and some interesting movement so the shower wouldn't look like a big white box.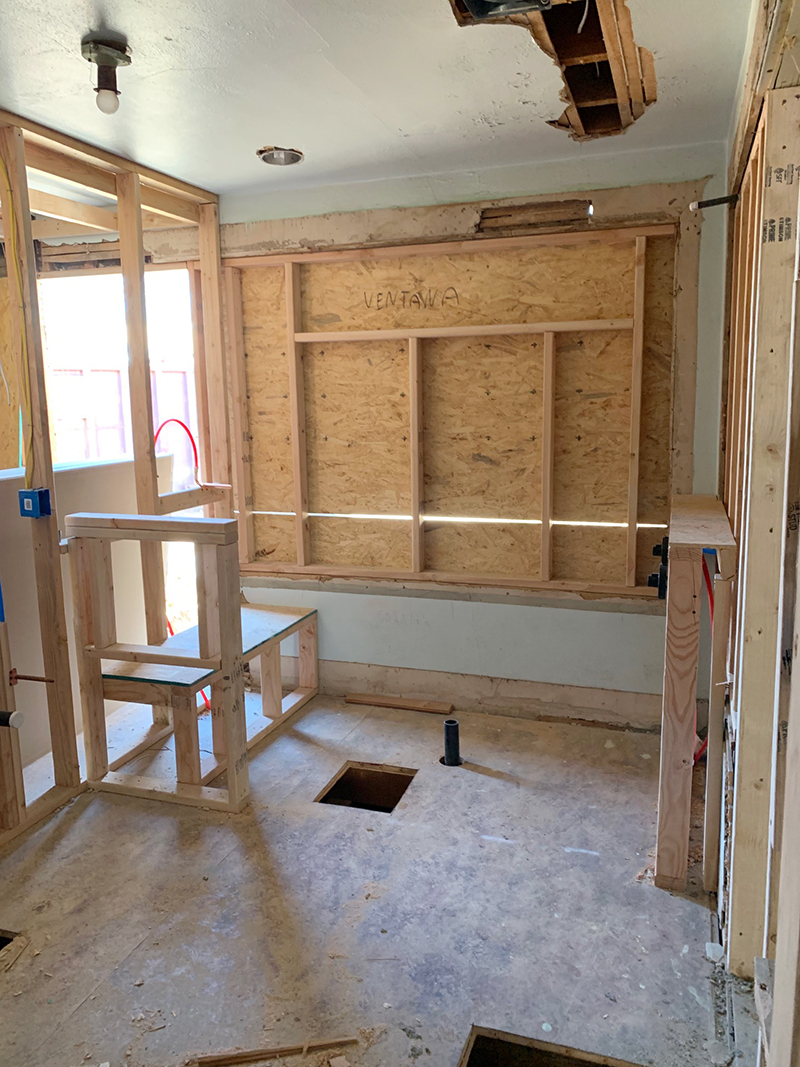 When you're designing a space, you have to think about the details as much as possible. One of the exercises I like to do in my design process is sketch before I put designs into CAD. I have a hard time getting creative in drafting programs, but sketching helps my brain loosen up a bit!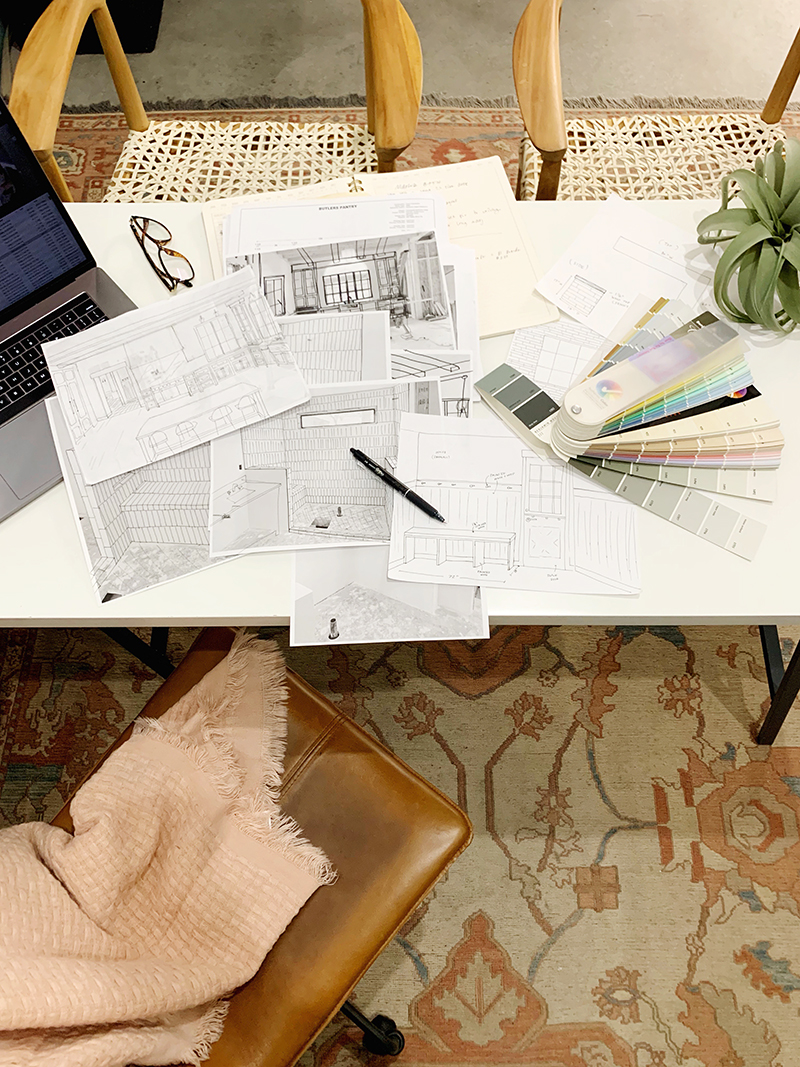 One of my favorite sketching techniques (this works especially well for tile layouts or gallery walls) is after drywall is up, take a photo of the space with your phone, brighten it in your phone or in photoshop so the image itself it really, really light and then print it out in black and white. Here is the photo I took of the shower area with my phone before lightening and printing.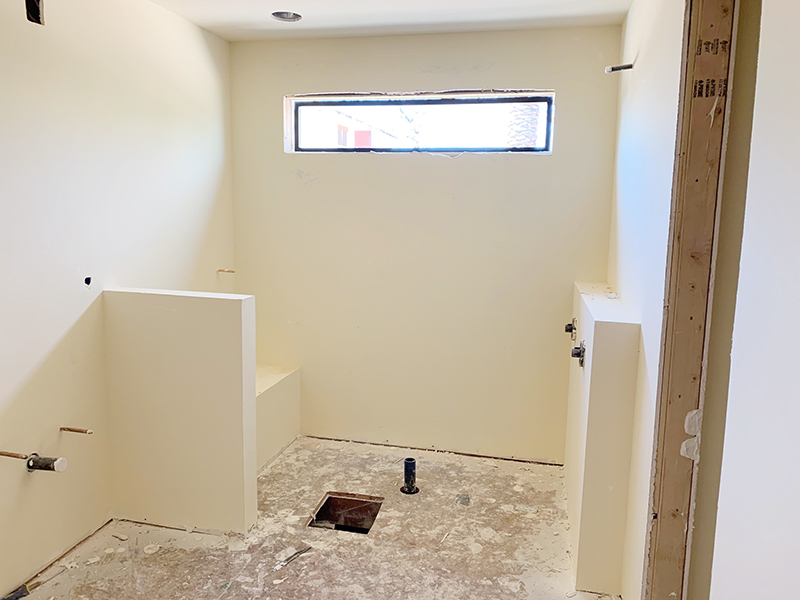 I use my very favorite erasable pens to sketch right on the printed image. This exercise forces me to think through almost every detail of the tile install. Grout color (PolyBlend Warm Gray). Corner edge detail (matte gray schluter). Glass shower door and panels size and swing. Direction of pattern, especially on the top of the pony wall and valve ledge. Etc, etc, etc.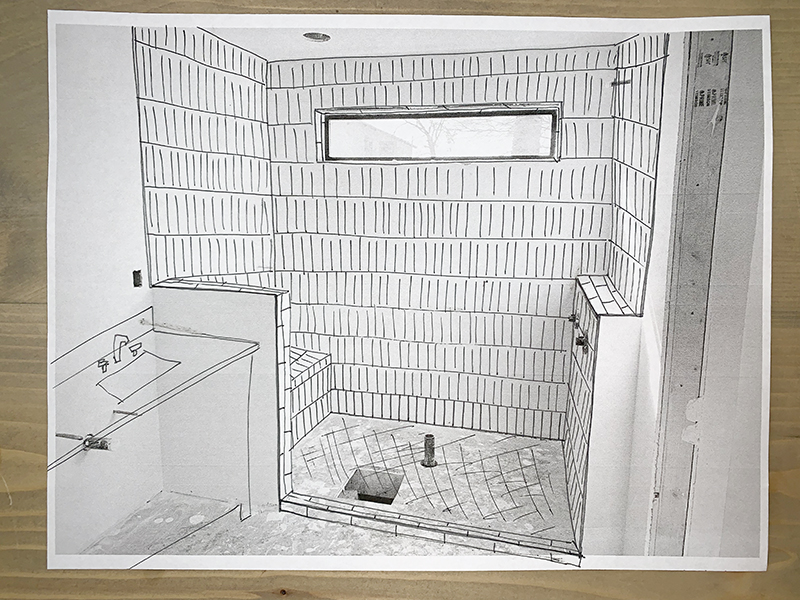 I chose this gorgeous terra cotta brick subway tile (similar) from Wayfair that we had installed in an offset vertical pattern, which is one of my favorite patterns for a large shower.  We chose a marble hex tile for the floors and I think the two are so pretty together!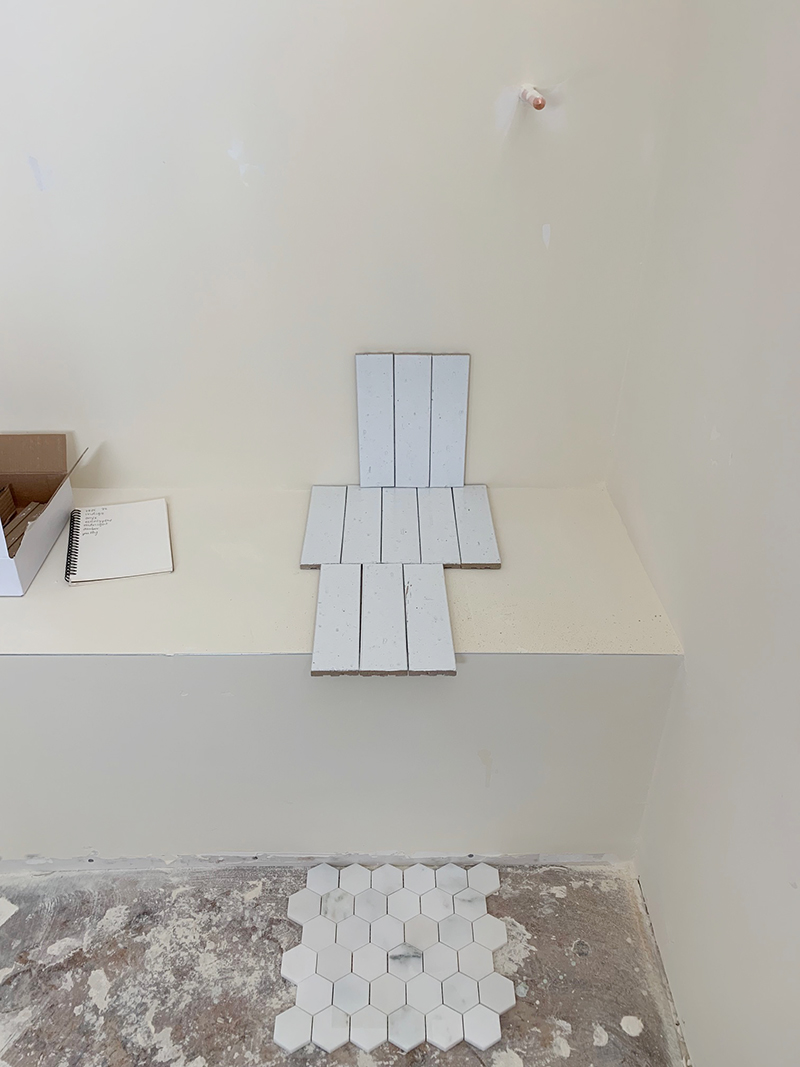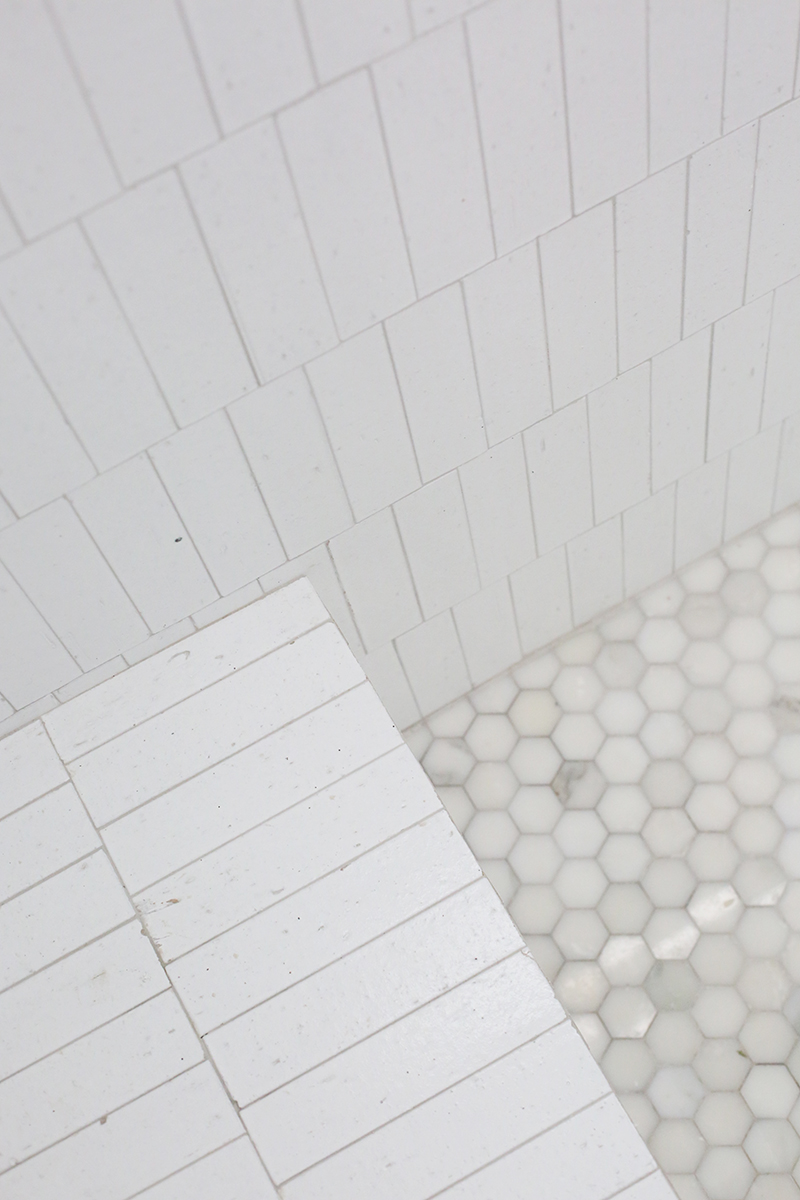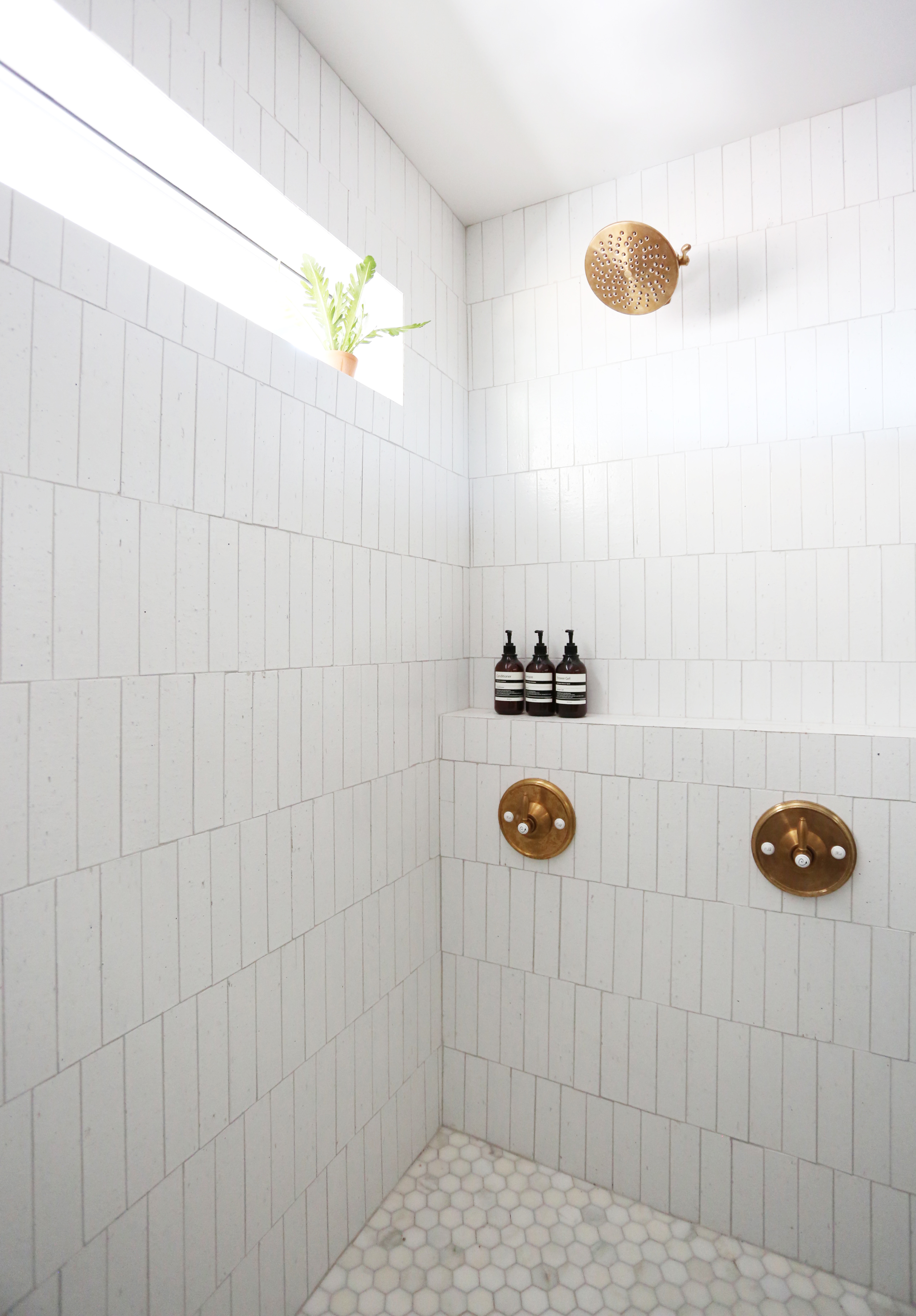 The vanity is also from Wayfair and I'm obsessed with the cabinet color (a beautiful blue-gray) and the flush inset drawers and doors. This cabinet would be $2500+ to have made be a cabinet maker, and this one came WITH the marble countertop and the sinks!! Such an amazing value! (And it's on MAJOR sale right now!)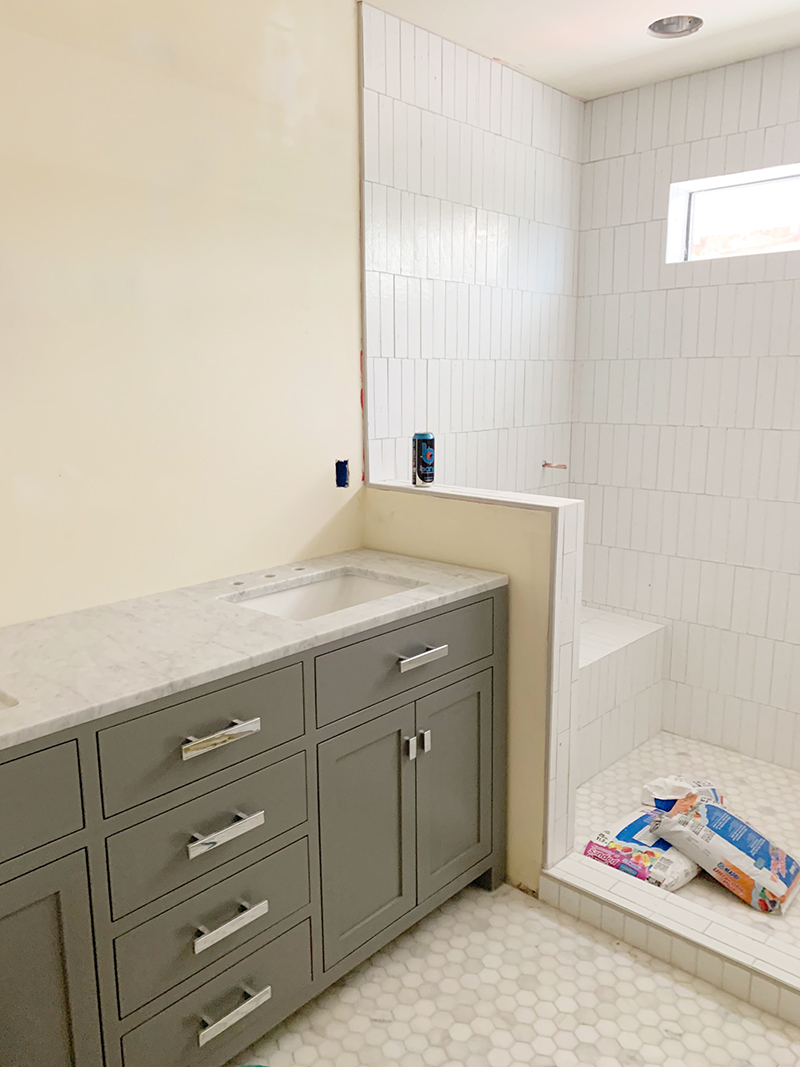 We ended up changing the hardware to these brass pulls and these knobs to better match the brushed gold faucet finish. I like the smaller scale of these a little better too!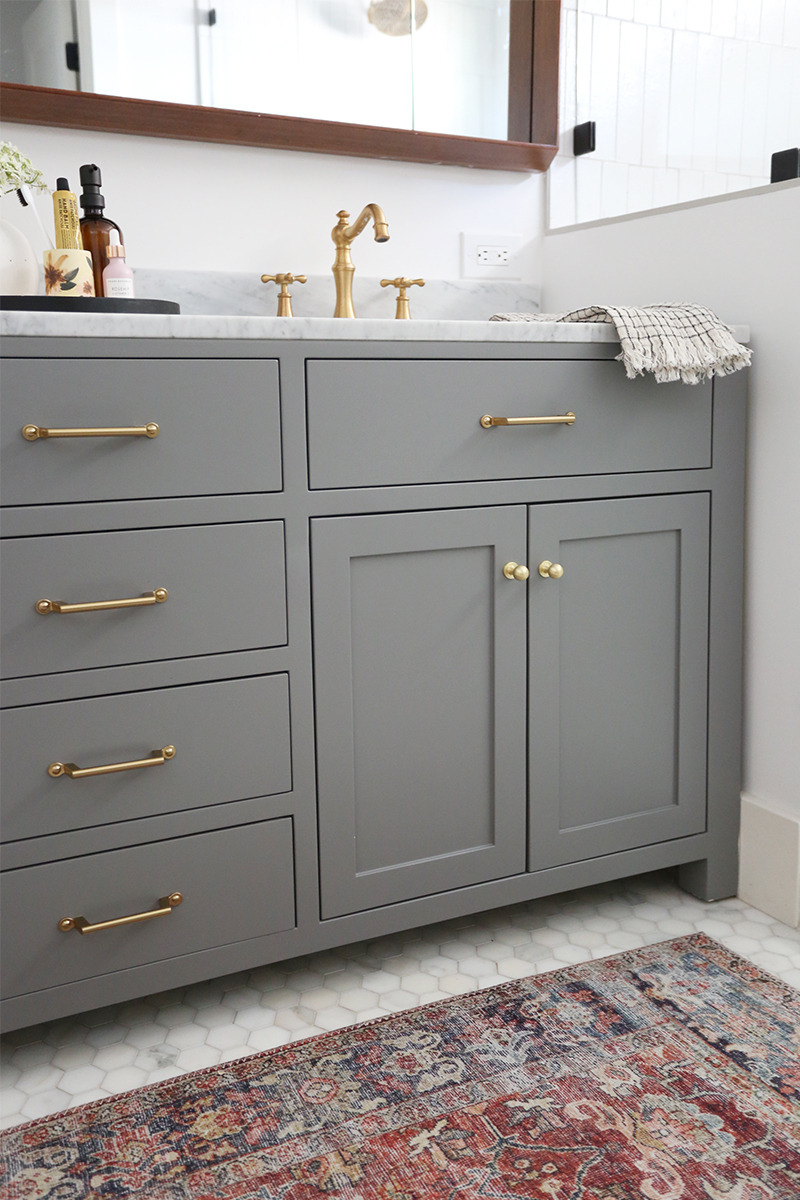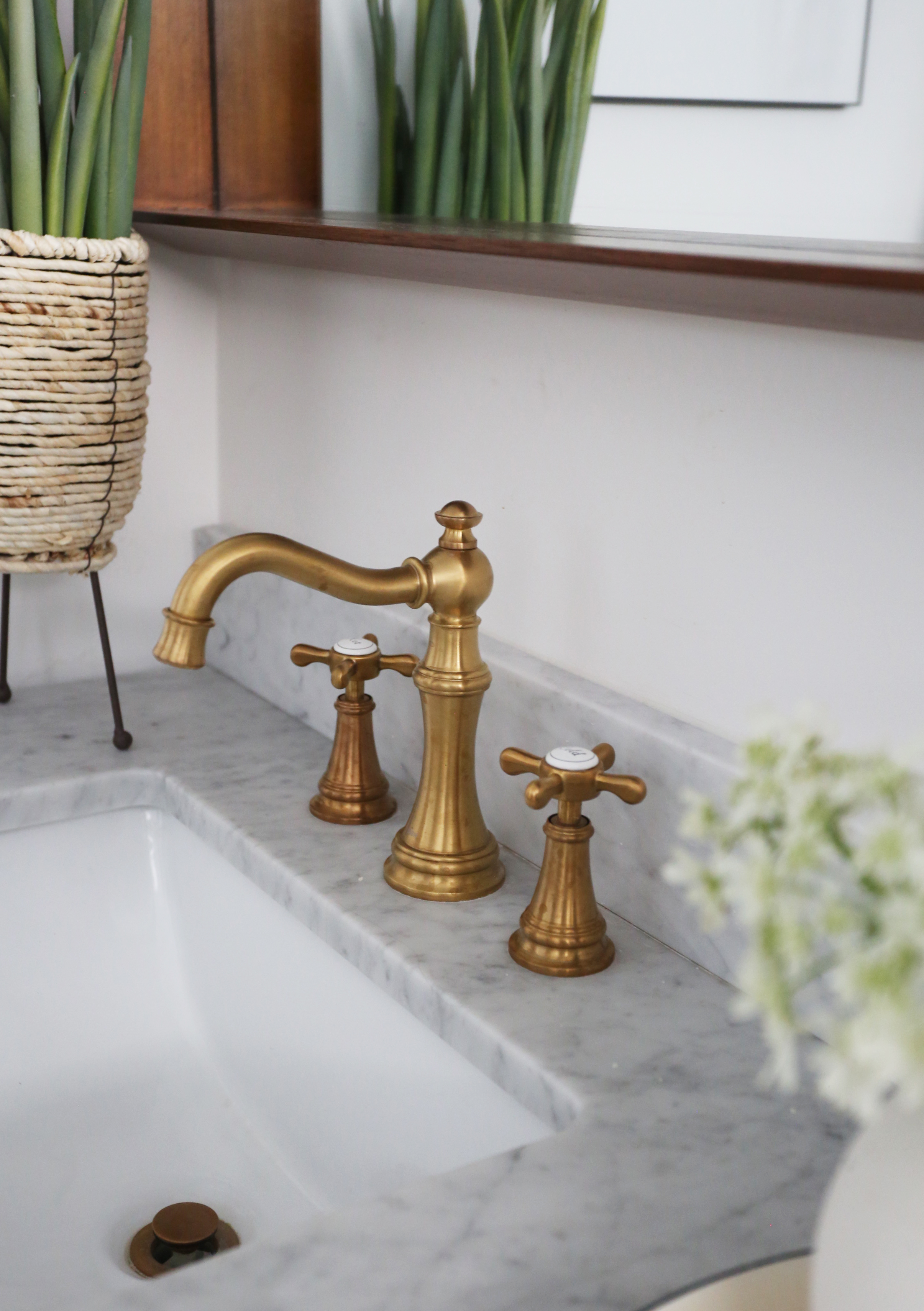 Painter's tape is one of my favorite design tools. I basically have a roll and a tape measure in my bag or car at all times! Before we ordered the mirror, I taped out the ideal size to my eye and then measured the dimensions. I've mentioned this before, but Wayfair has an incredibly accurate search function. I put in a range for my desired dimensions and searched for floor mirrors and found several that worked for us! Sometimes I prefer one long mirror over two smaller if I'm trying the make the room look brighter and bigger! The bigger the mirror, the more light is spread around!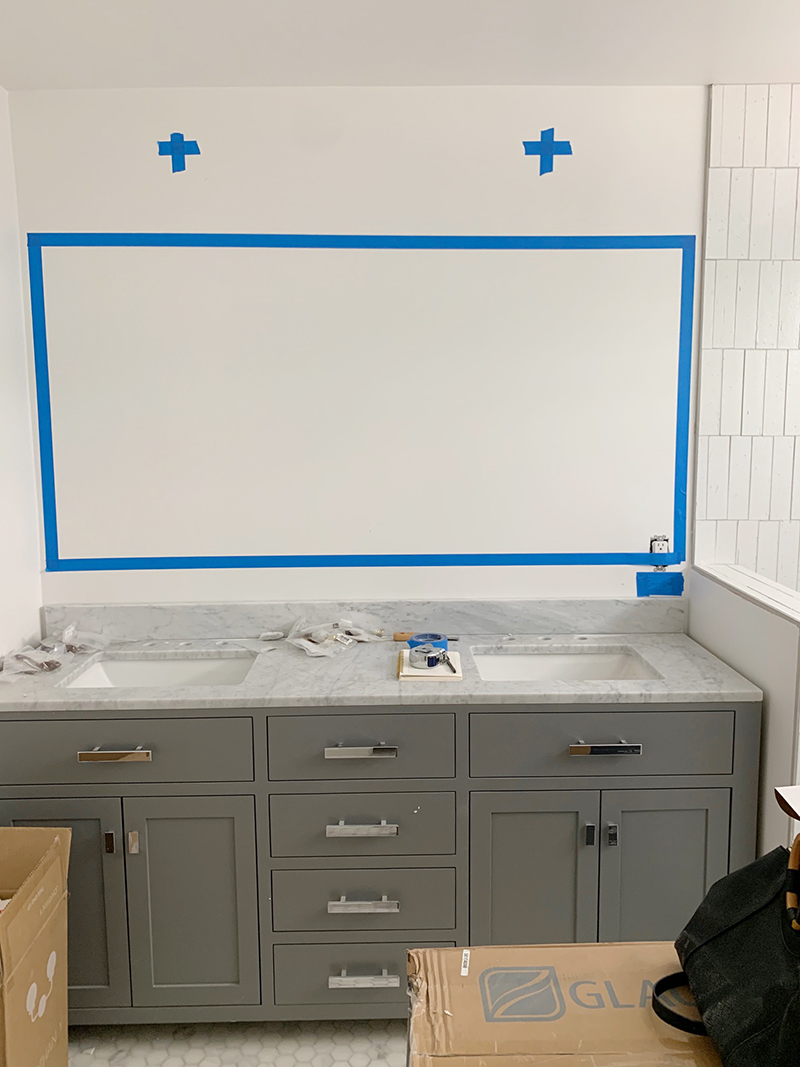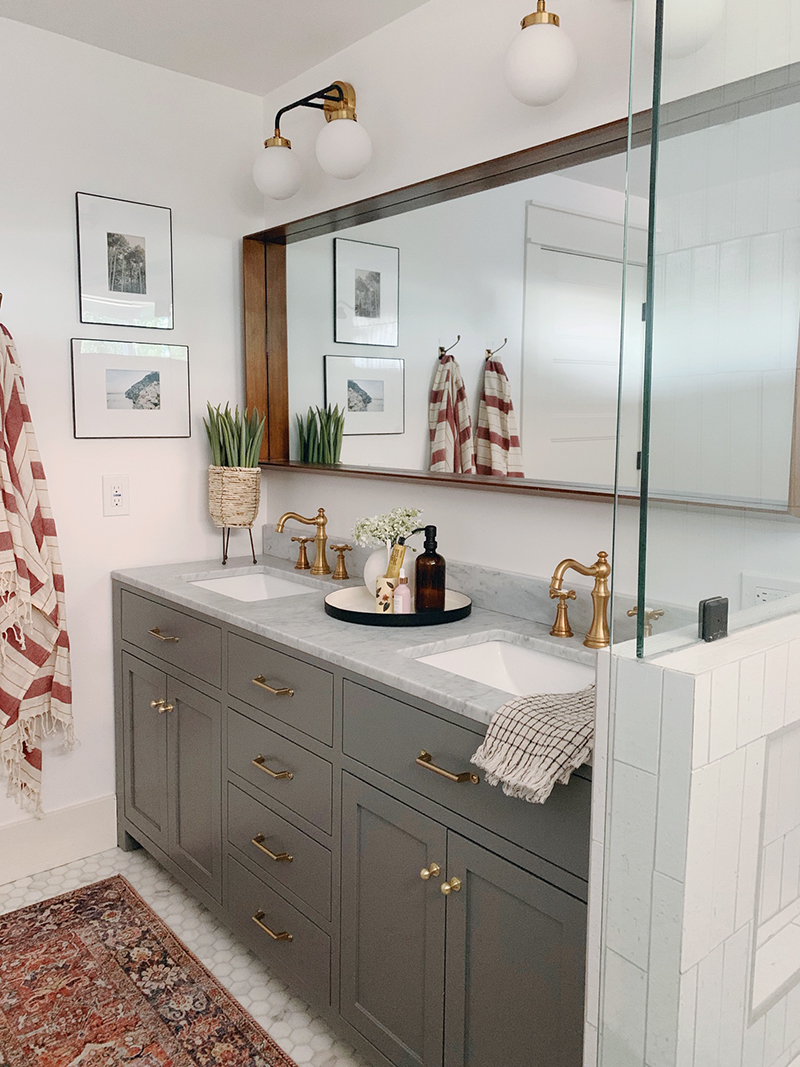 I also used painter's tape to figure out electrical placement for the sconces. Can you believe how affordable these sconces are!? I was PUMPED when I saw they were really beautiful in person too. Such a great buy!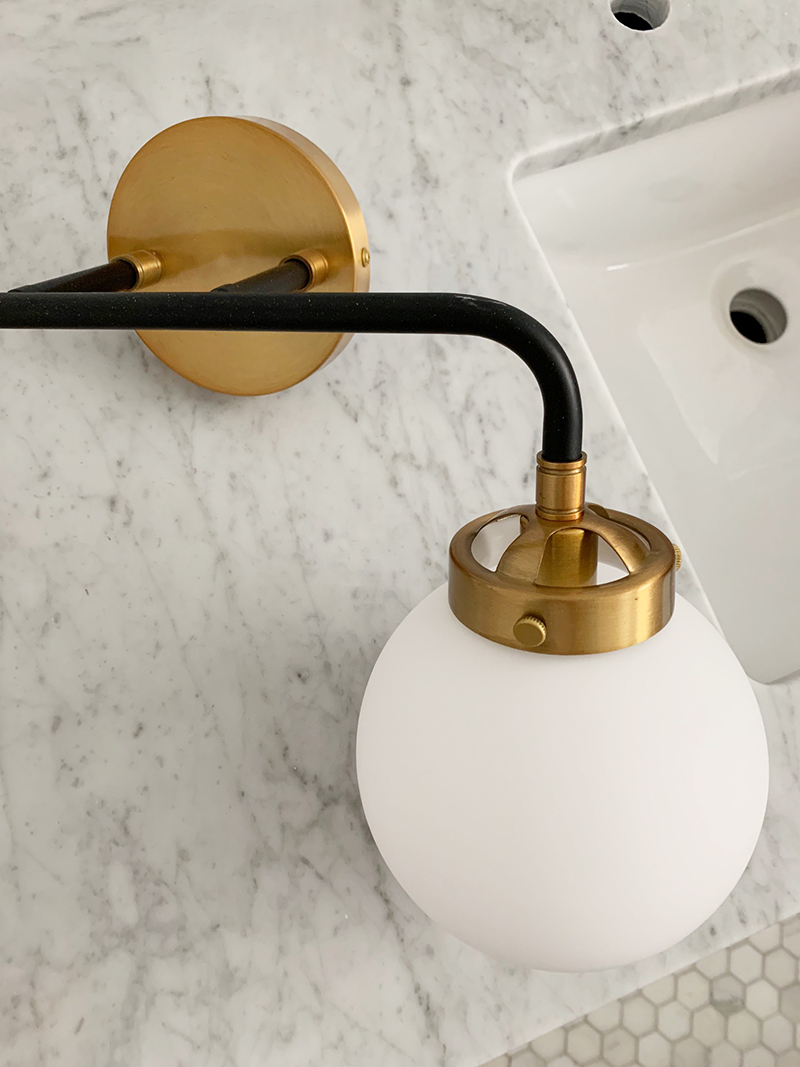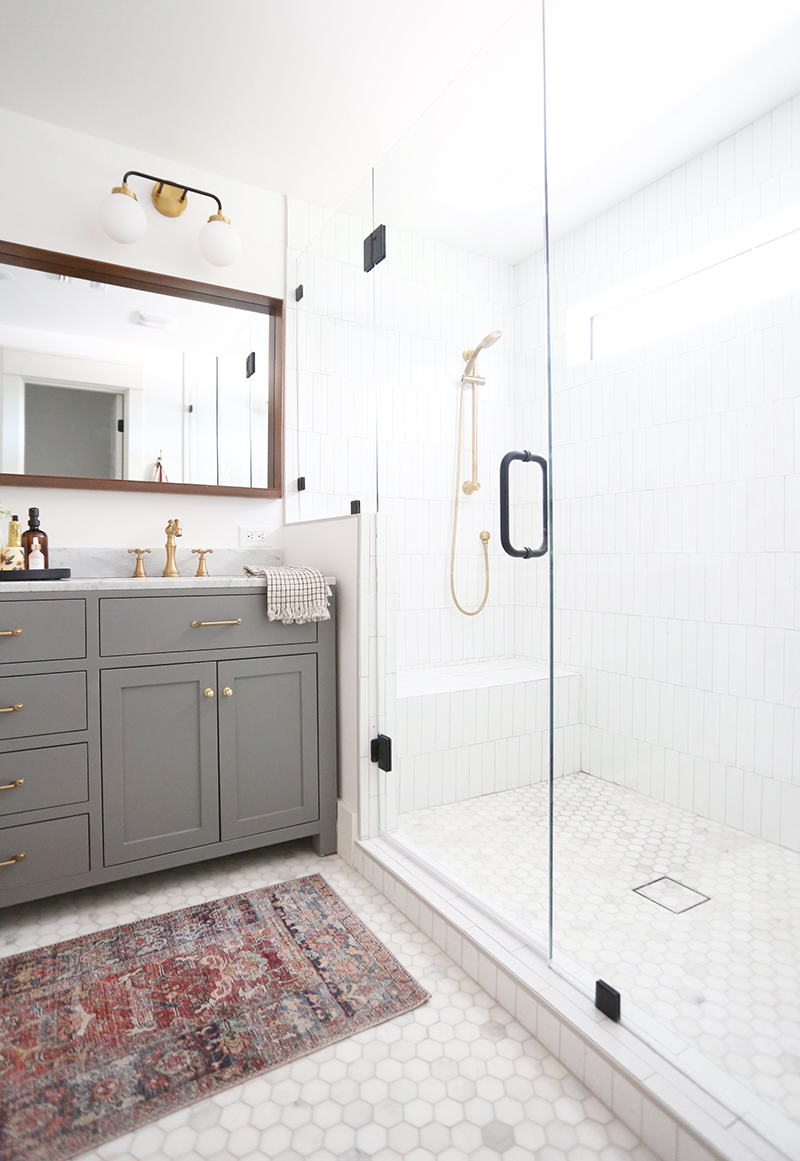 vanity  //  brass handles  //  brass knobs (similar)  //  faucets
marble hex floor tile  //  shower tile (similar)  //  sconces  //  mirror (similar)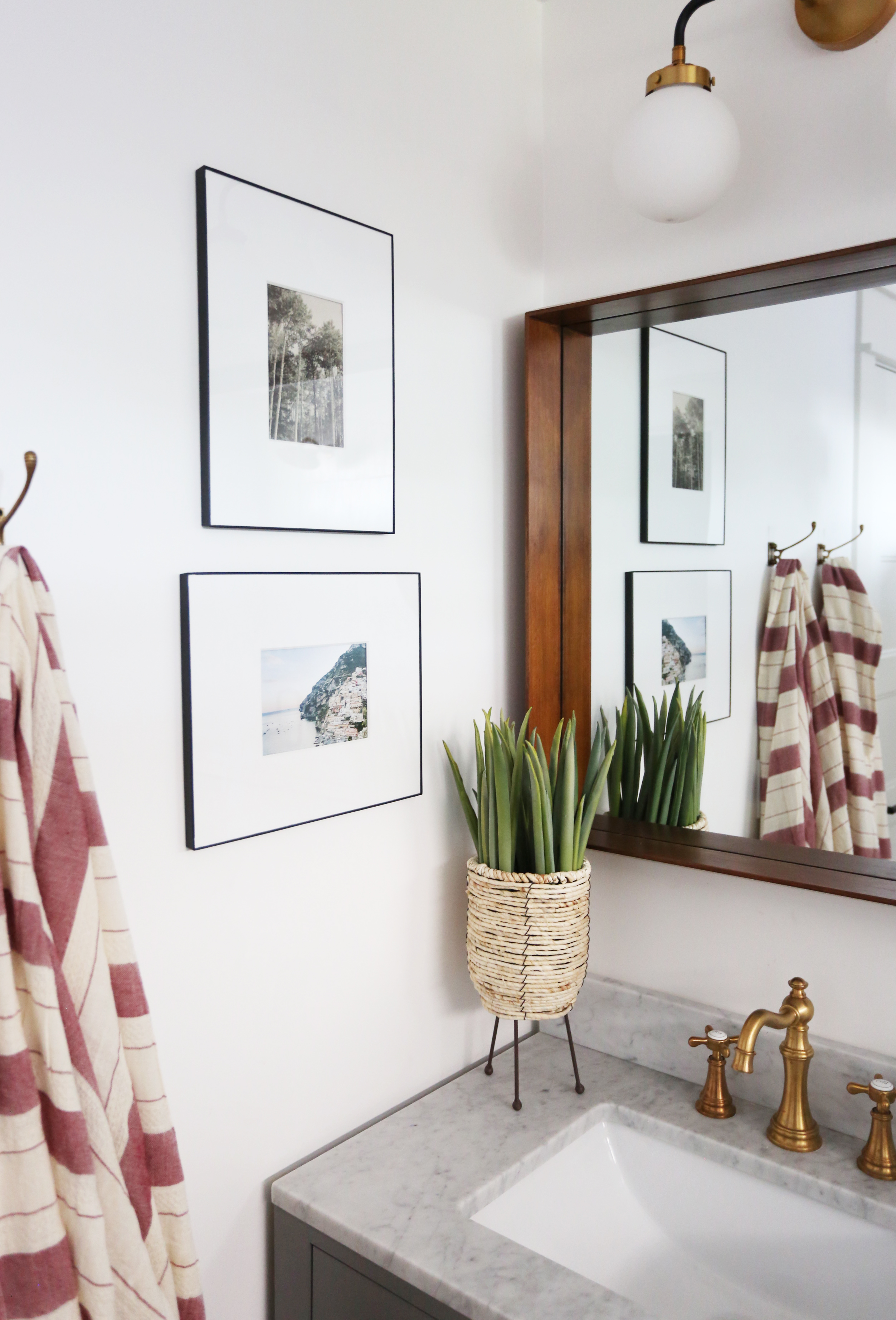 I don't have any photos of the water closet but it's behind the door to the right you can see here! Also check out that cool floor drain that incorporates the tile pattern!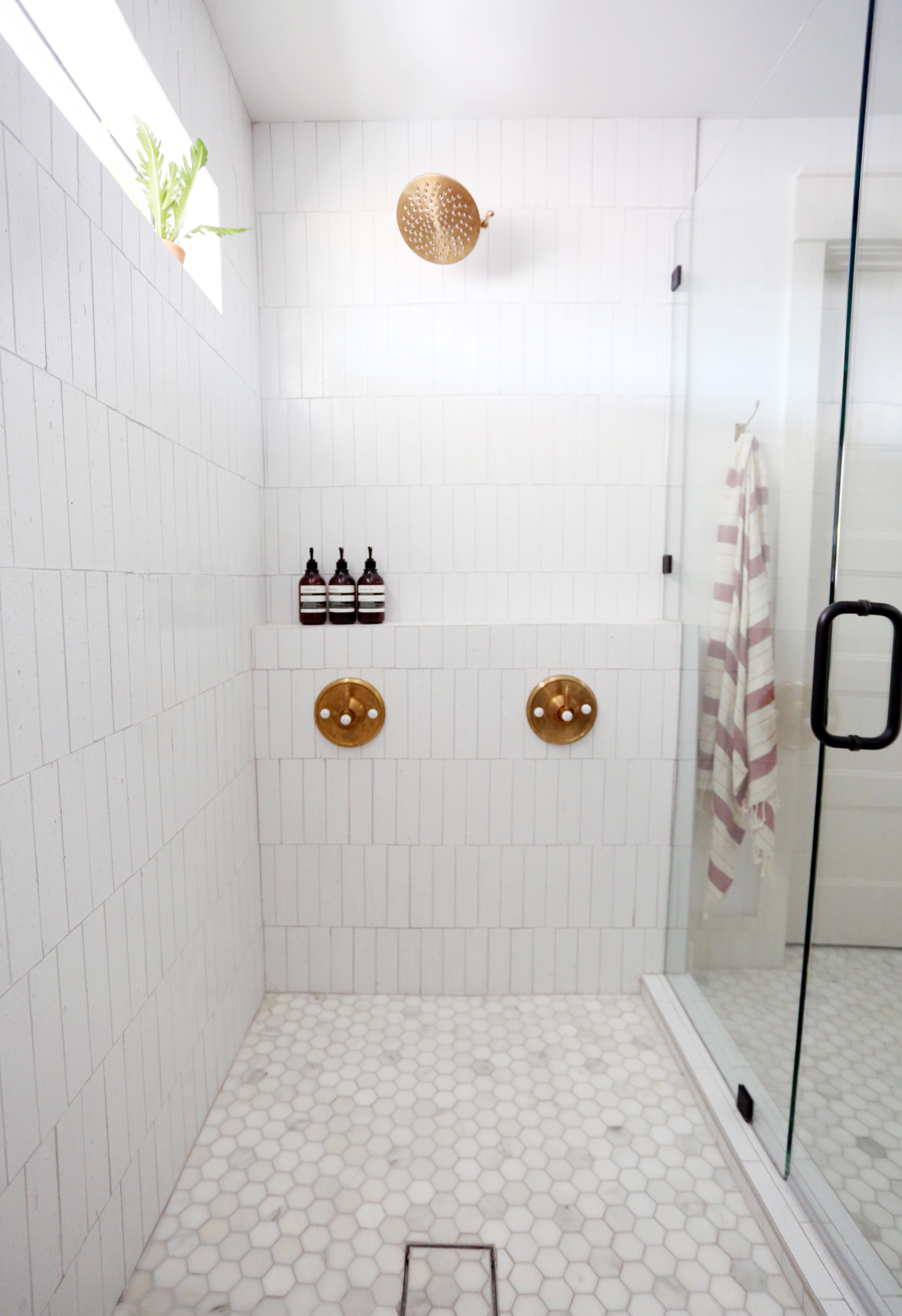 We also got a lot of the accessories in here from Wayfair as well! Like the striped Turkish towels (similar), the brass wall hooks and the rug in front of the vanity (similar).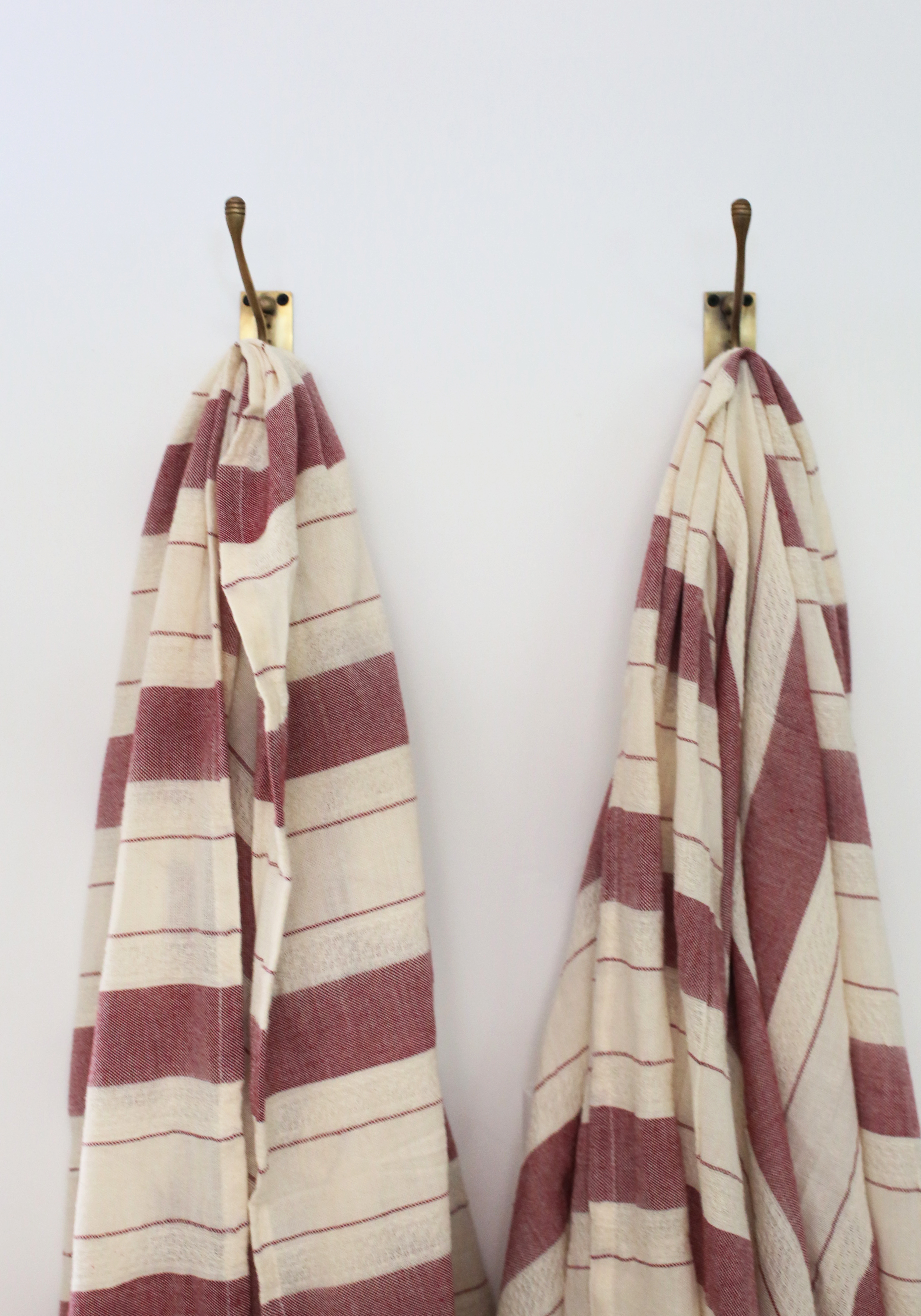 striped Turkish towels (similar)  //  wall hooks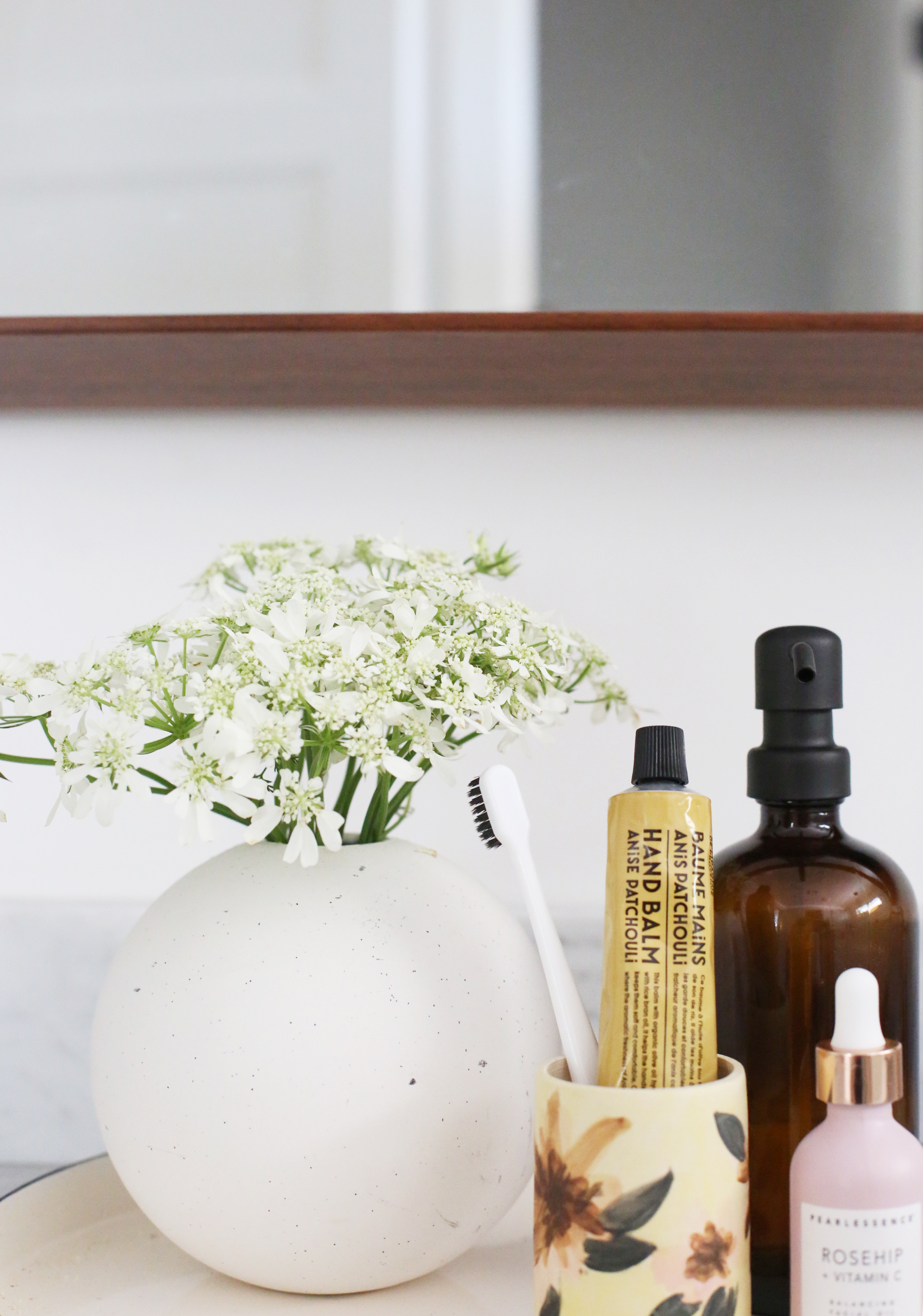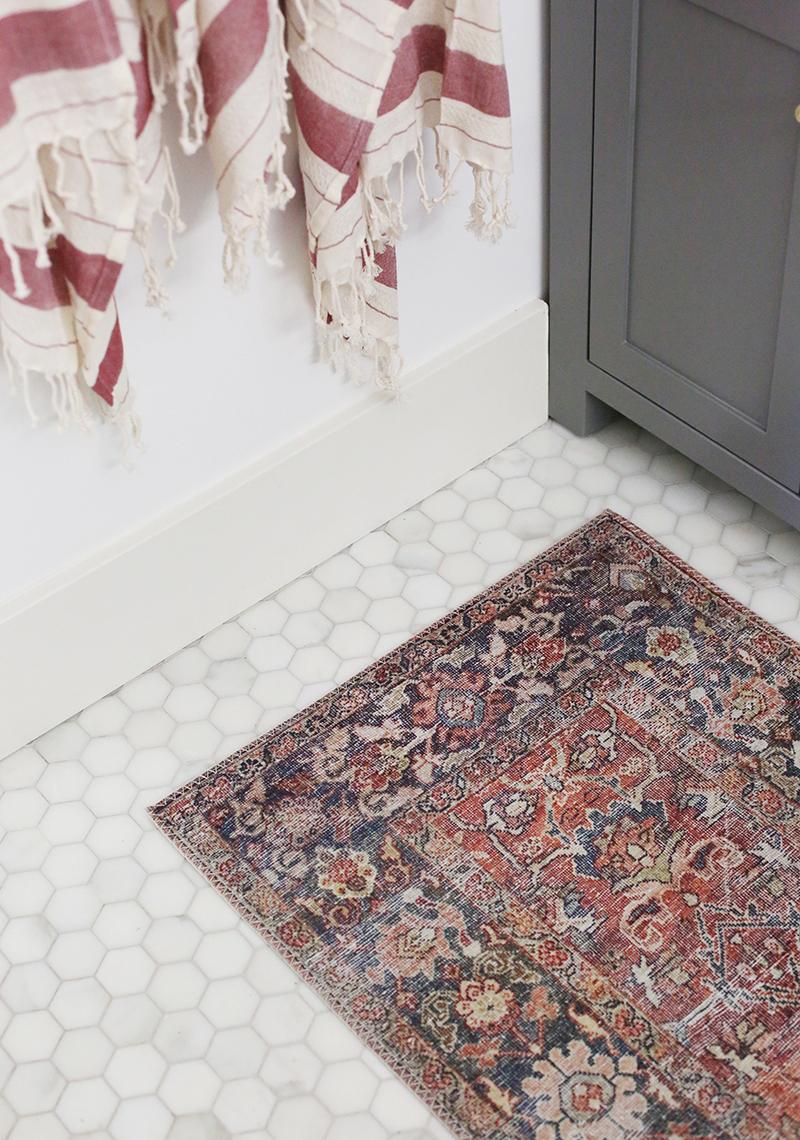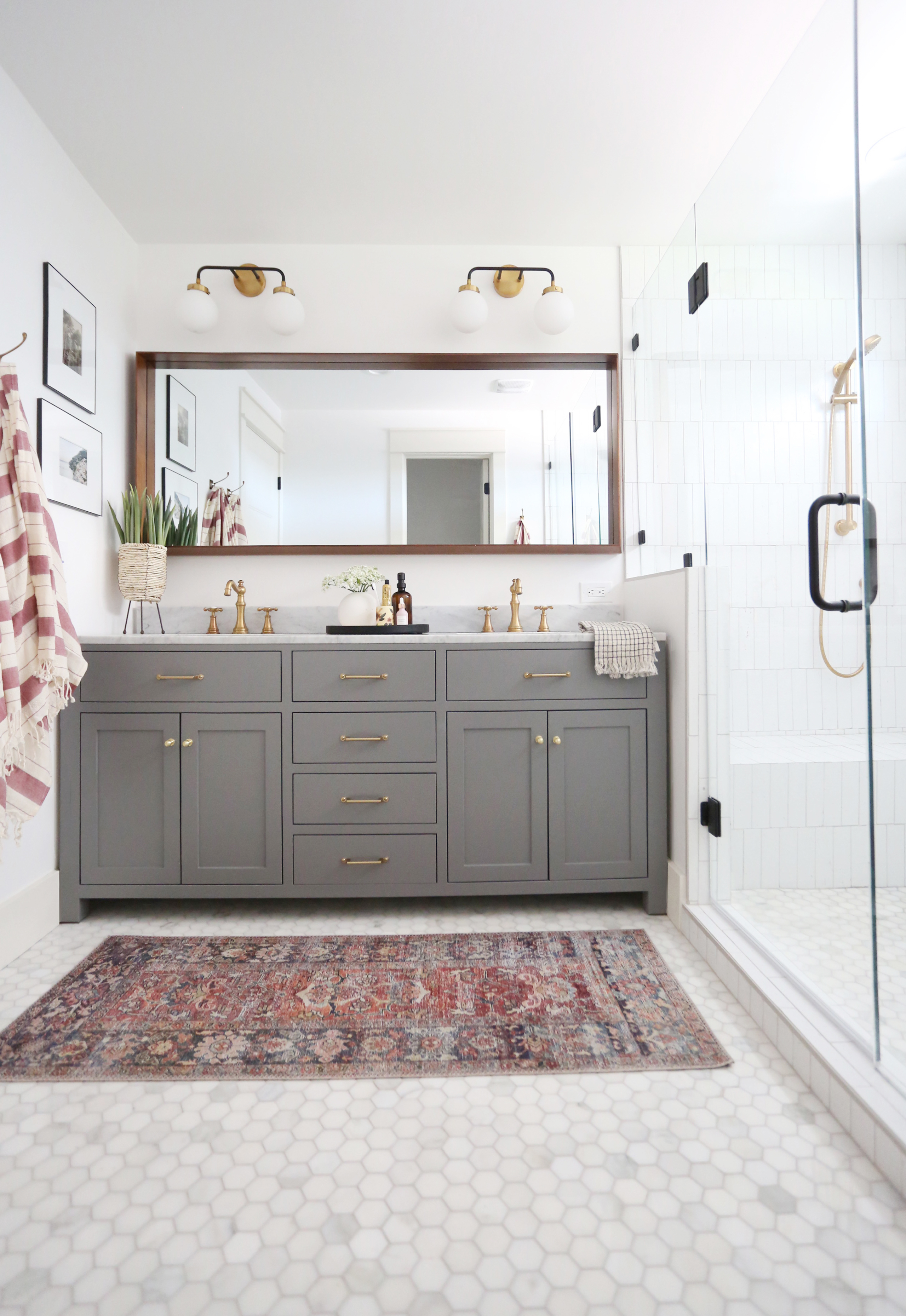 I hope you love the way this space turned out as much as I do! As always, here are the links to the sources for this project, and we'd like to thank Wayfair for partnering with us on this room!
Evergreen Master Bathroom Source List:
Shower Tile (similar)
Brass Shower Trim (similar)
Mirror (similar)
Brass Knobs (similar)
Striped Turkish Towels (similar)
Hand Towels (similar)
Rug (similar)
White Vase (similar)
Wicker plant stand (similar) on vanity (plants are faux from local craft store)