If you're bored with your living room and need a quick and affordable fix, ditch the throw pillows that match your sofa and get a new set of unique pillows that add a TON of personality and texture! We're big believers that design rules were made to be broken, but sometimes, when you're feeling stuck with a space, rules and formulas can be really helpful.
We get asked a lot about how we like to put pillows together on a sofa and while there are always exceptions, I've noticed my go-to arrangement is five pillows per sofa. Three on one side (usually a 24 or 22″ square, then a 22 or 20″ square, and finally a smaller accent lumbar layered in front). And then on the opposite side, I usually use two pillows layered in the square sizes. I leave off the lumbar on one side for some personality and wabi-sabi imbalance. I love symmetry in architecture and furniture arrangements, but I think accessories and pillows should be in odd numbers and feel a little more loose.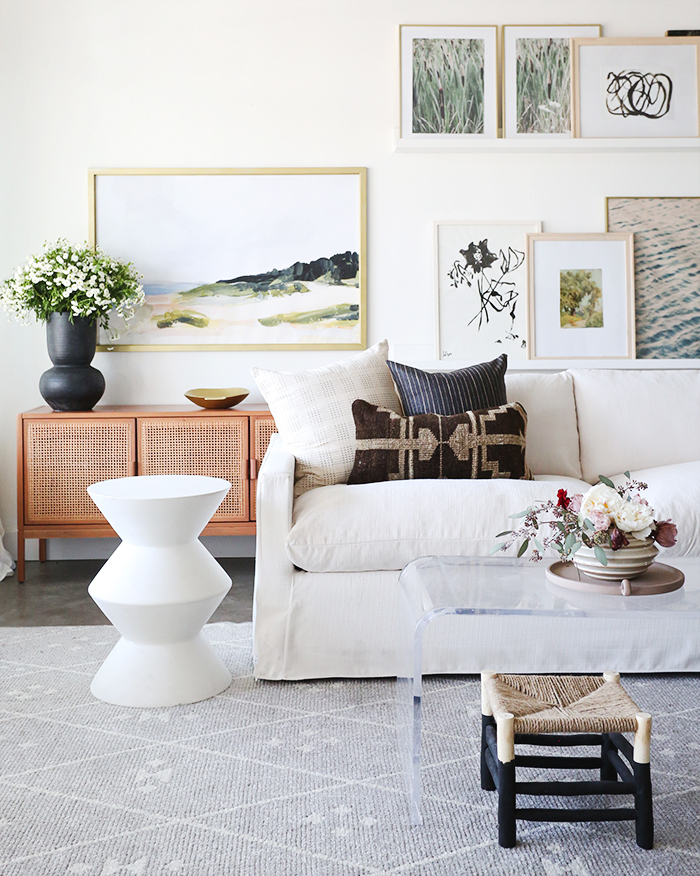 gray rug (similar)  //  cream sofa  //  white side table (similar)
caned sideboard  //  large black vase
We just got this super gorgeous and incredibly affordable sofa with DOWN CUSHIONS for the Evergreen living room and we couldn't wait to style it! :) Here are four different examples of how we do what I call the pillow trifecta!
Recipe for The Juniper Pillow Trifecta:
1. Mostly neutral color and pattern on one of the square pillows (20″, 22″, 24″ square) – This pillow should have little to no pattern and the background should be higher contrast in the black or white family (not gray or mid-tone – you need the contrast!)
2. Patterned pillow that has a lot of movement and this is usually where I use my color. I like vintage kilim pillows or fabric pillows in block prints best! This pattern adds life and color and an artful touch to your grouping. I also like to have at least one of the pillows in my grouping be vintage.
3. Stripes (or similar linear graphic patterns) round out the trifecta and help give some structure and balance. I love ticking stripes and stripes that are usually less than a finger's width for pillow textiles.
*Bonus points for balancing tones in the grouping and lots of varied textures!
**Double bonus points for the occasion tassel!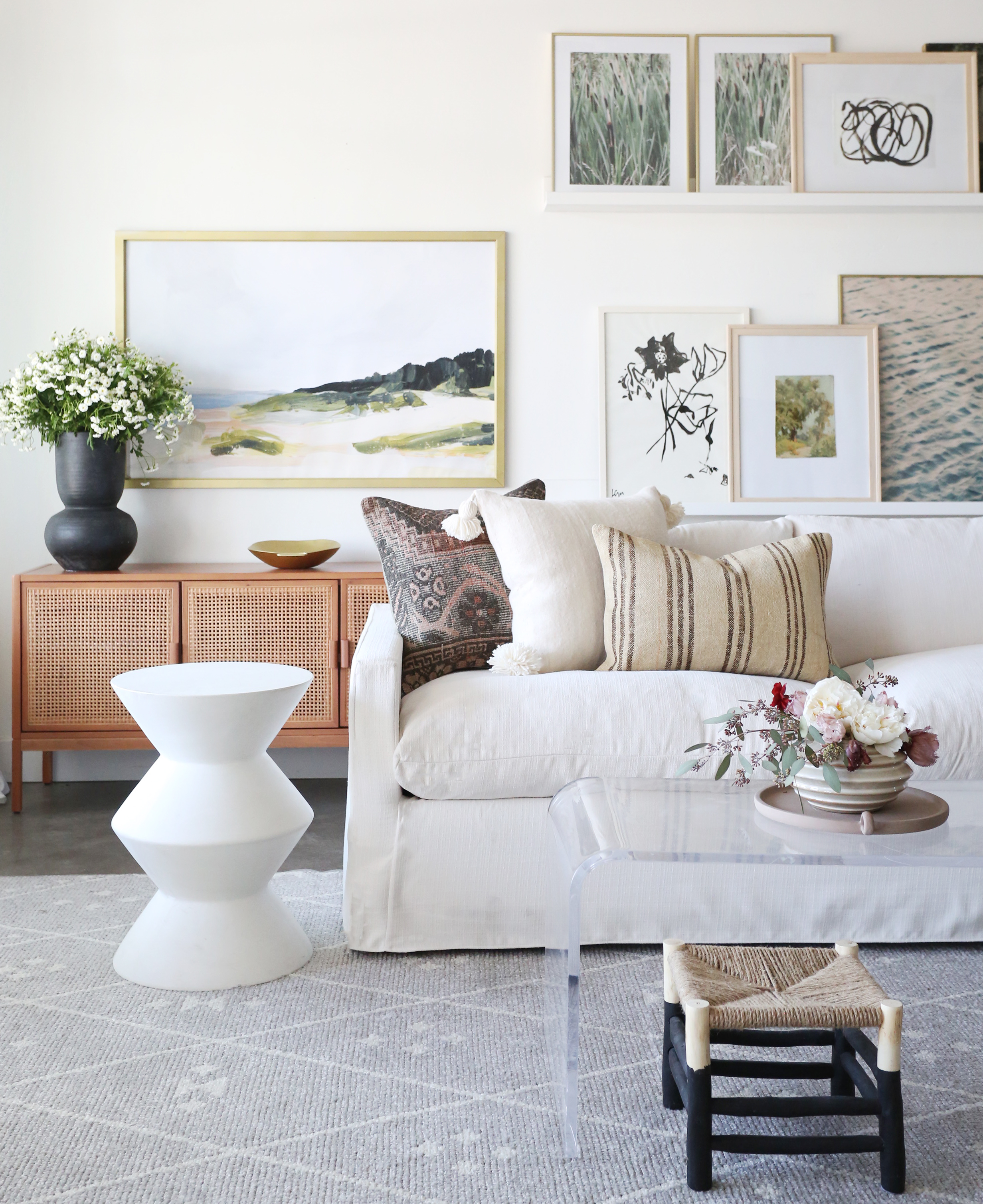 MONTAUK print  //  POPPIES print  //  WATER print  //  CATTAIL print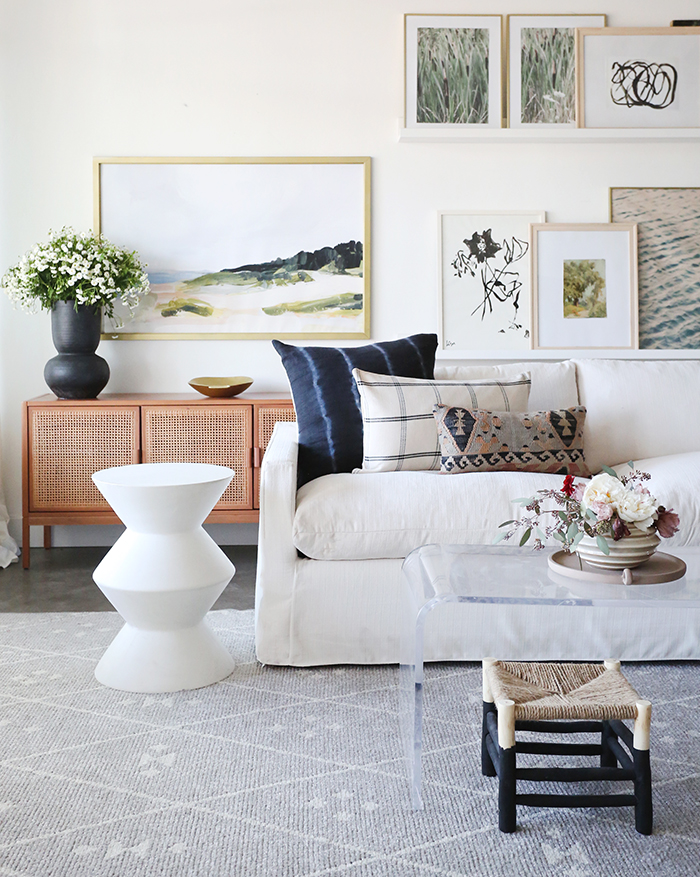 MONTAUK print  //  POPPIES print  //  WATER print  //  CATTAIL print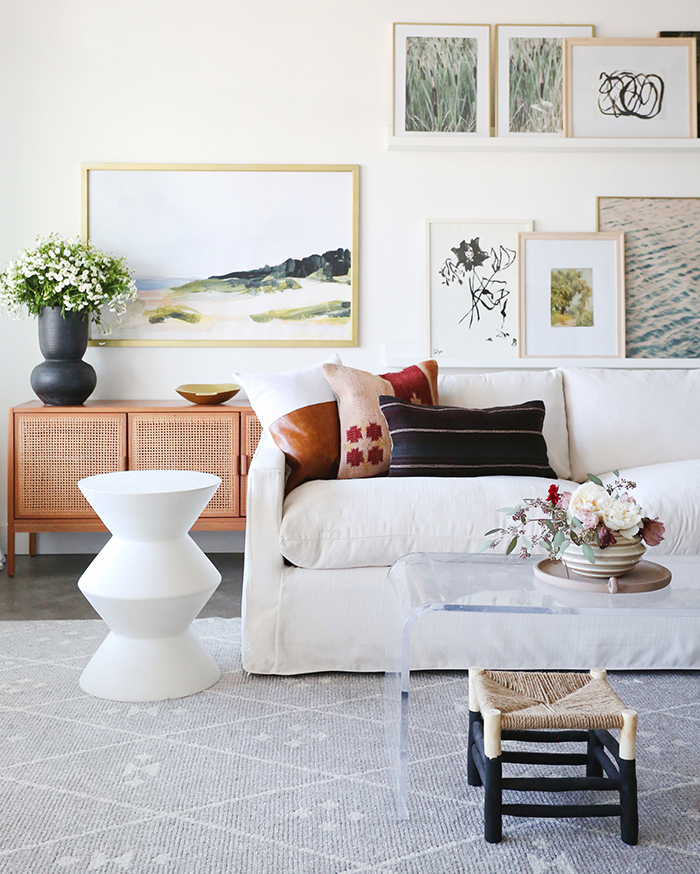 gray rug (similar)  //  cream sofa  //  white side table (similar)
caned sideboard  //  large black vase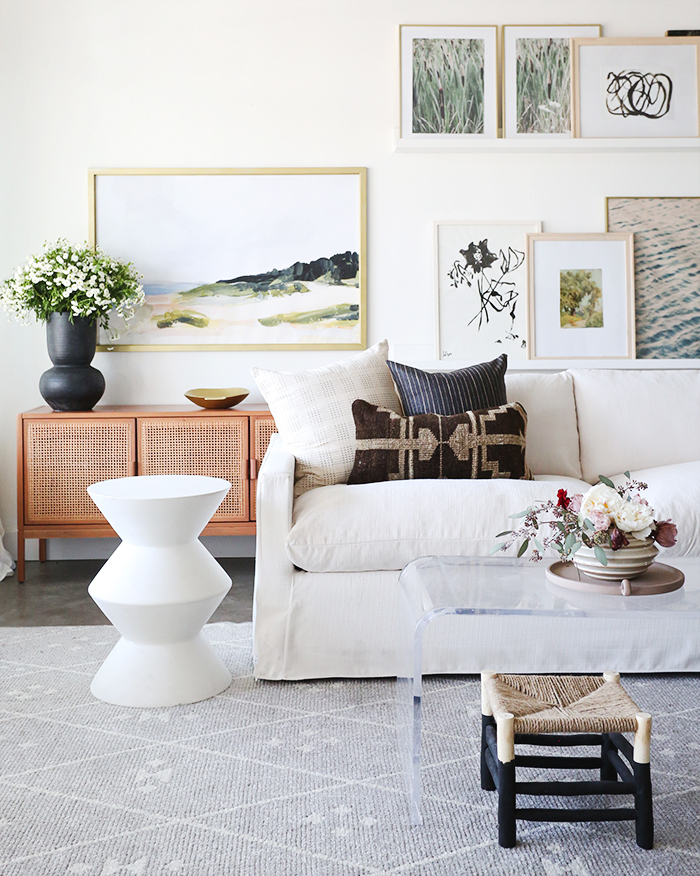 gray rug (similar)  //  cream sofa  //  white side table (similar)
caned sideboard  //  large black vase


1  //  2  //  3  //  4  //  5  //  6  //  7
8  //  9  //  10  //  11  //  12  //  13  //  14  //  15

1  //  2  //  3  //  4  //  5  //  6  //  7  //  8  //  9  //  10