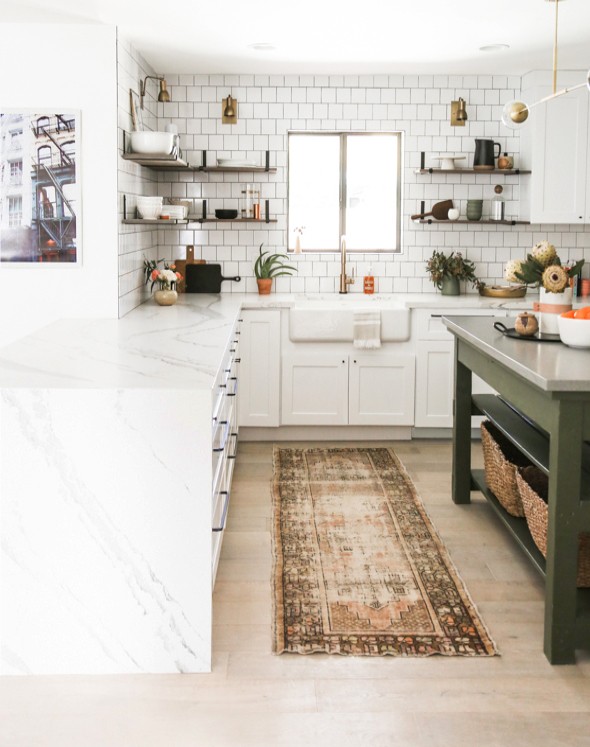 I've got all things kitchen on my brain these days! I shared the plans for our big renovation here in case you missed it. We've been saving for a long time and I really feel the need to find the *perfect* choice for every piece of this design puzzle. It's harder and more stressful than I expected, but still so fun and total dream come true.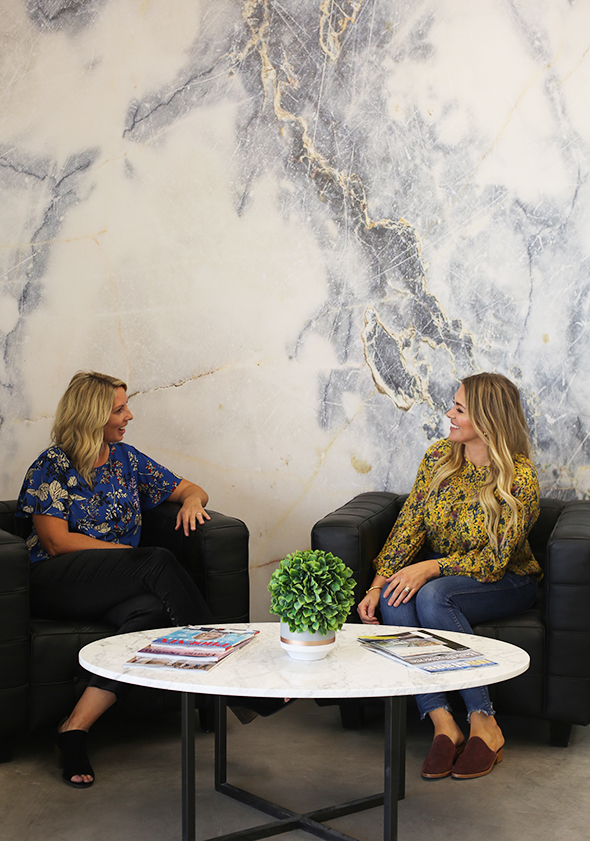 My friend, Tanya Fischbeck is one of the owners of G3 Glass Granite Group (yay for women-owned businesses!). Her gorgeous offices and fabrication facility are just around the corner from the Juniper offices in downtown Mesa. G3 does stone and glass fabrication for some of the most beautiful homes in the valley, and works with trusted builders and contractors for commercial glass as well. Tanya is a wealth of information about trends in home and commercial design and she has been a great resource for me over the years! She also shares a lot on their Instagram account. I thought it would be fun to show you the behind-the-scenes at a stone fabricator (albeit an UNUSUALLY clean and beautiful one! ha!) and give you some of Tanya's tips on working with a stone fabricator and trends she is seeing in stone/countertop design and application.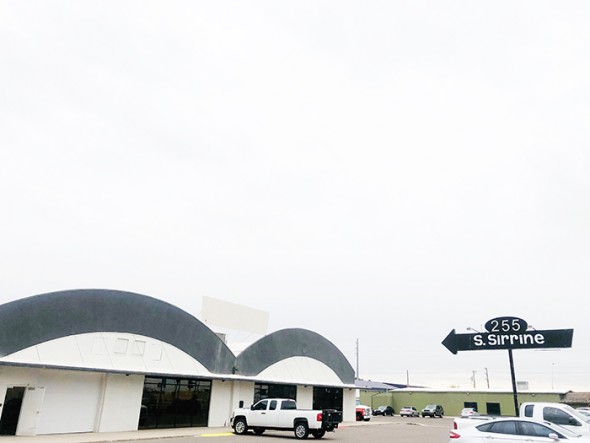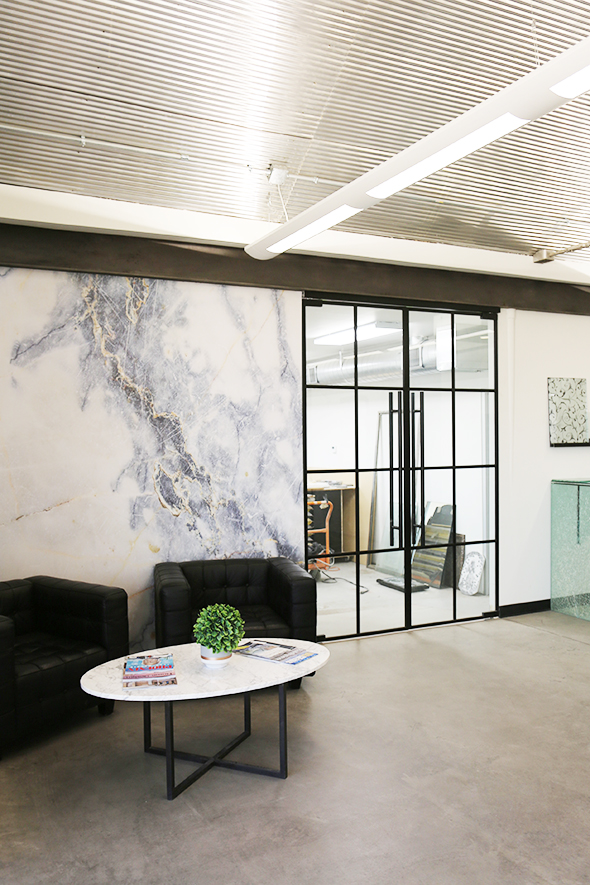 TIP #1 CHOOSE YOUR STONE AT LEAST ONE MONTH BEFORE KITCHEN COMPLETION
A lot of people wait too long before selecting their stone, which can cause delays and even add to the expense of their project. As soon as your kitchen cabinet design is complete, bring your plans to your fabricator along with a general (or specific) idea of what you want for your countertops and backsplash, and they'll let you know how much material you should shop for at a stone yard if it's natural stone. If you're looking for quartz, many fabricators are suppliers for manmade products. G3 carries many lines and has a huge showroom where you can see and touch samples of the product! The final selections of your material should be done AT LEAST one month before you project is scheduled to be completed. I usually suggest about six weeks out at the earliest though, so if there is a situation where you need to buy an additional slab, there's a likelihood the material will still be available.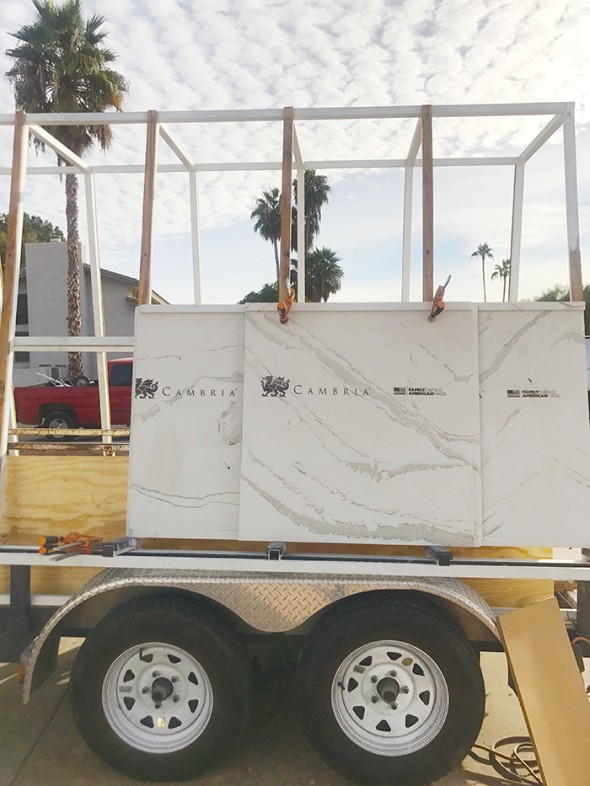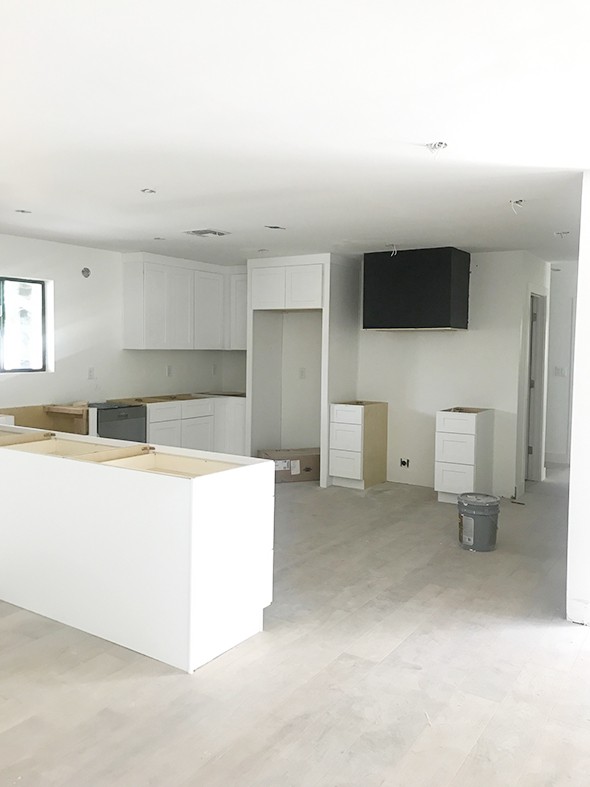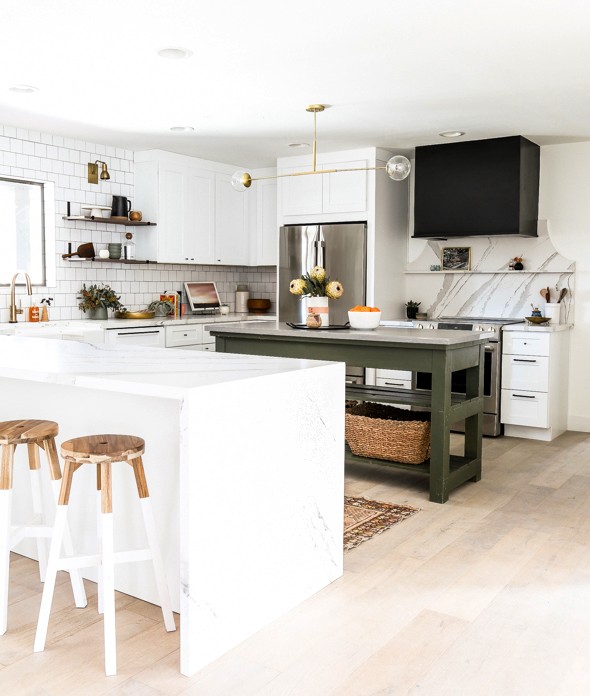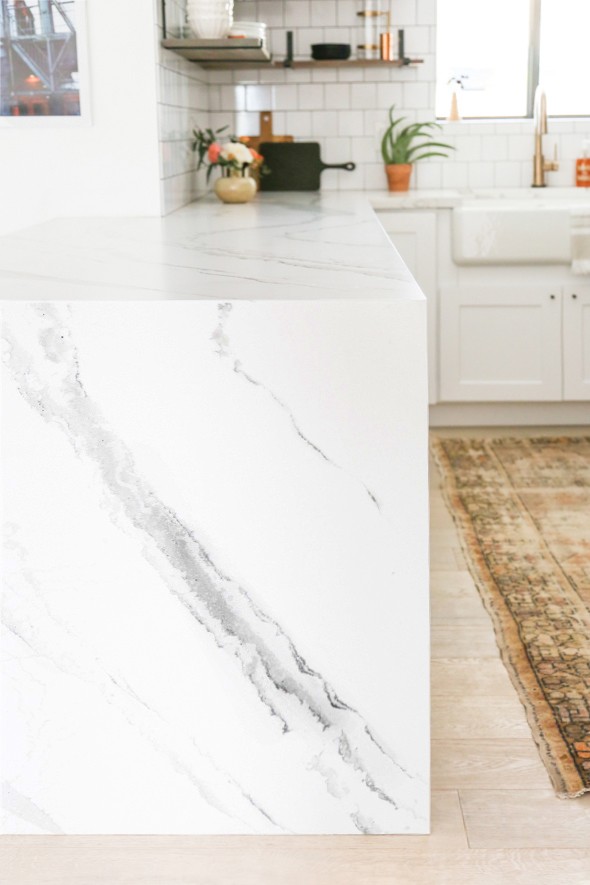 We used G3 to order and fabricate the Cambria Matte Britannica quartz for the Gentry project and they did a killer job with matching the veining on the waterfall and with my favorite detail in the kitchen – the hood backsplash! They nailed it with the cute little integrated spice shelf!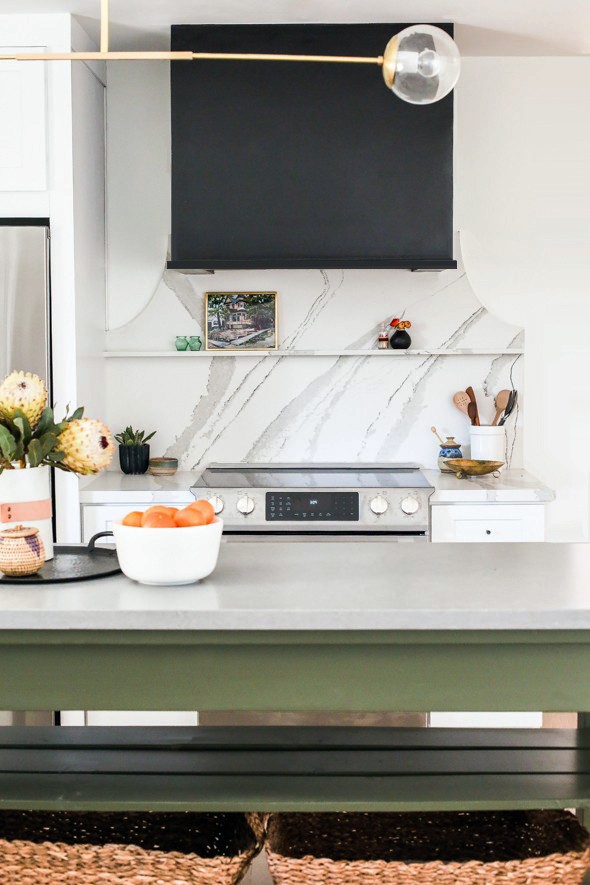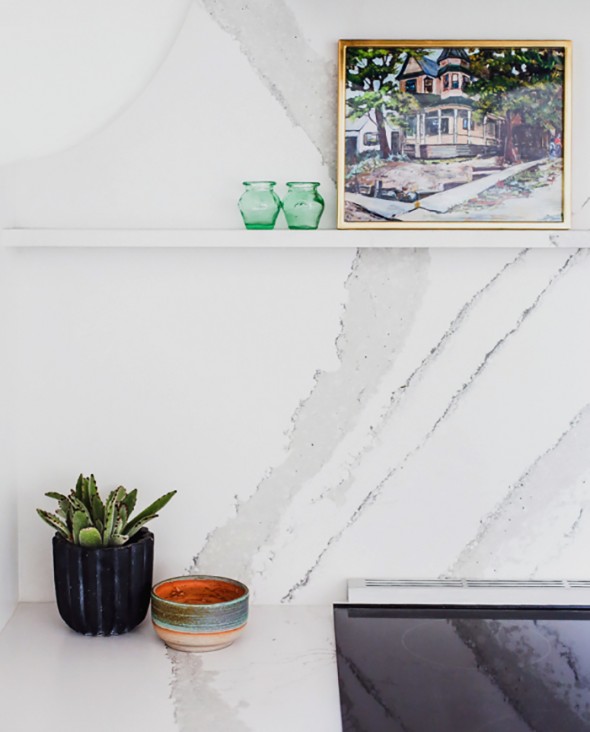 TIP #2 NATURAL STONE IS STUNNING, BUT BE OPEN TO NEW PRODUCTS AND OPTIONS
Quartzite is a natural stone that is absolutely dreamy! It looks quite a bit like the marble that everyone loves and can even be honed or leathered, but it is much harder and durable than marble. There are also a lot of really great manmade surfaces with stone-like qualities. We all loved the matte finish Britannica quartz from Cambria that was installed in the Gentry project kitchen! G3 is a Cambria authorized dealer and we have a lot of experience working with this material so they were able to minimize product waste.
Neolith and Dekton are two ultracompact surfaces that are in a class of their own (some of G3's samples are pictured below!).  They are unique in that they are somewhere between porcelain and glass, insanely durable, and engineered to resist scratches, stains, fire and UV light (so they're a great option for outside!) They can be used for countertops, flooring, tile, and exterior cladding. Because of the nature of the material, special tooling and certification may be required. G3 Glass Granite Group is certified for these surfaces. Super slab sizes are also available (for those mega huge islands!) and a must-see in person.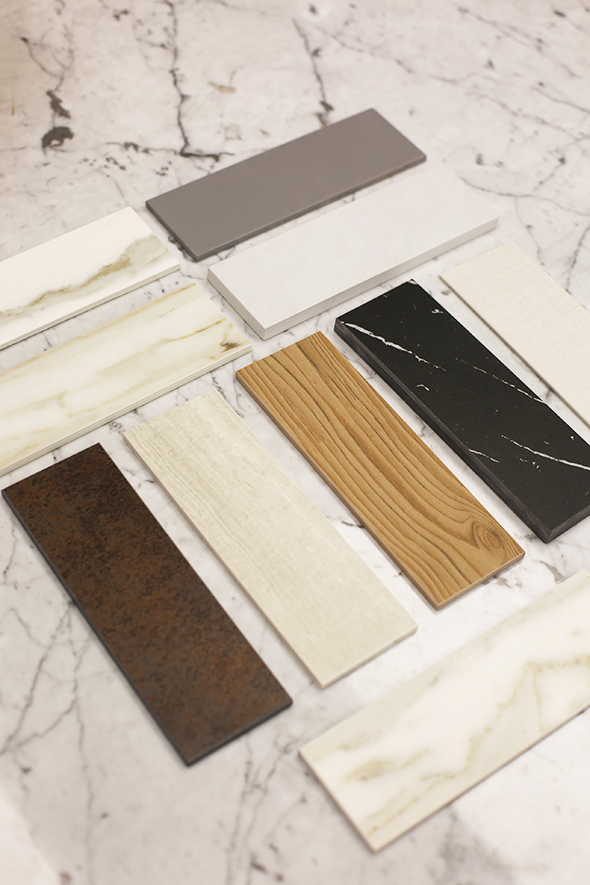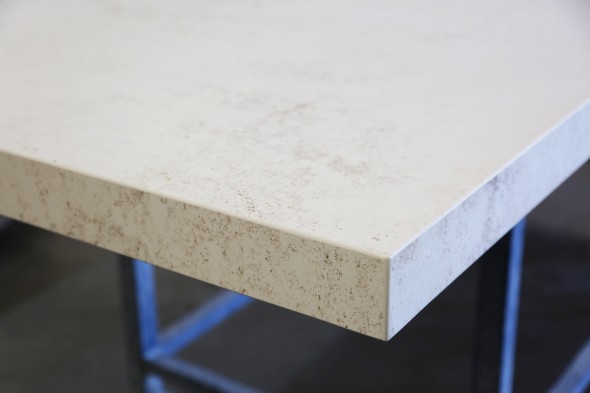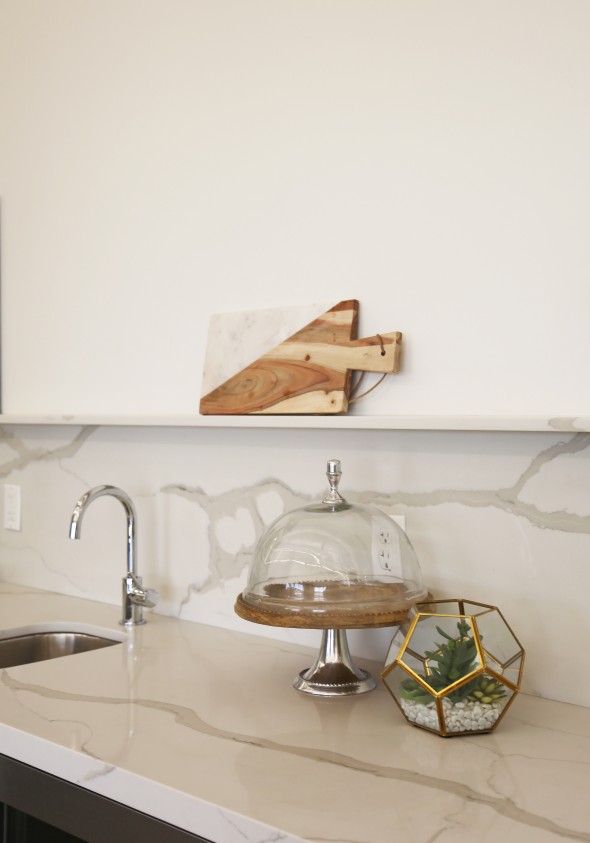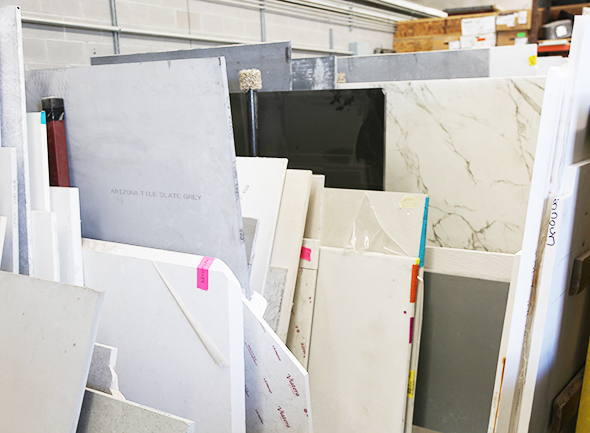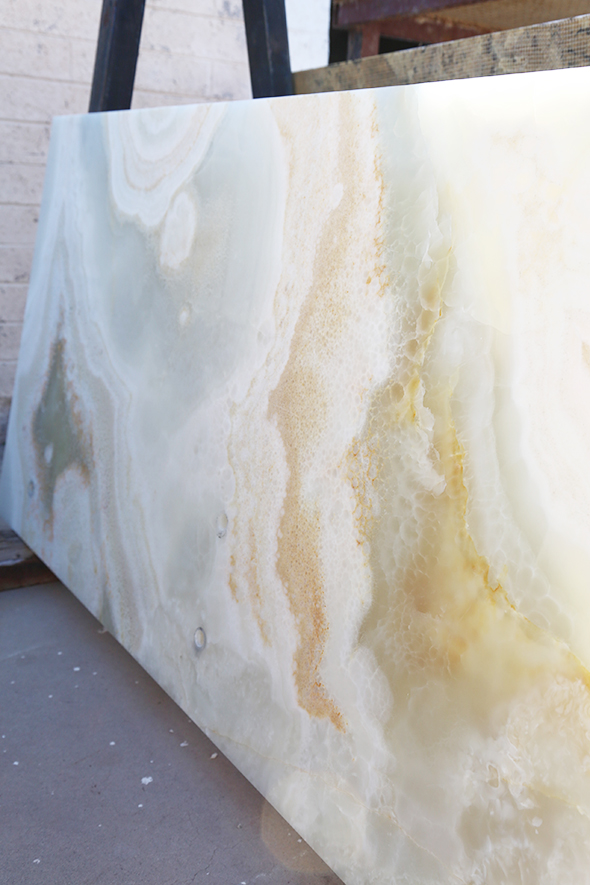 TIP #3 STEP AWAY FROM THE PINTEREST!
Pinterest is a GREAT tool for helping you decide on a general vibe for your kitchen or bath design. If you're leaning toward soapstone or honed black granite, scouring Pinterest for kitchens with dark countertops is a really smart idea and will help you get a sense of how a kitchen with dark countertops actually feels. People often get tunnel vision when designing a kitchen, choosing items based off samples, and what they often don't realize is countertops are a HUGE factor in the feel of kitchen! When you are working in your kitchen, looking down at the food you are prepping, the countertops are most of what you'll see. Do you want dark and moody? Light and bright? Mottled, heavily veined, or no pattern? Polished, honed or leathered? The details REALLY matter.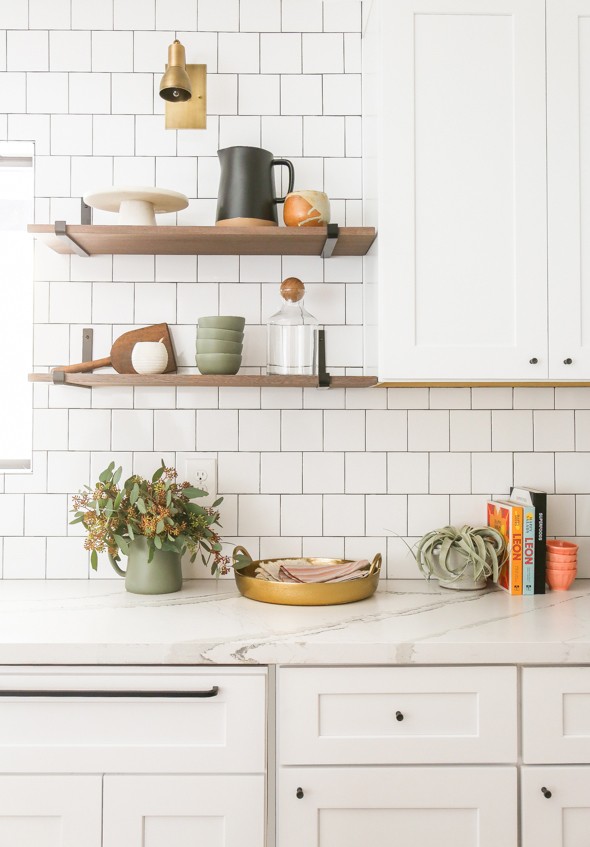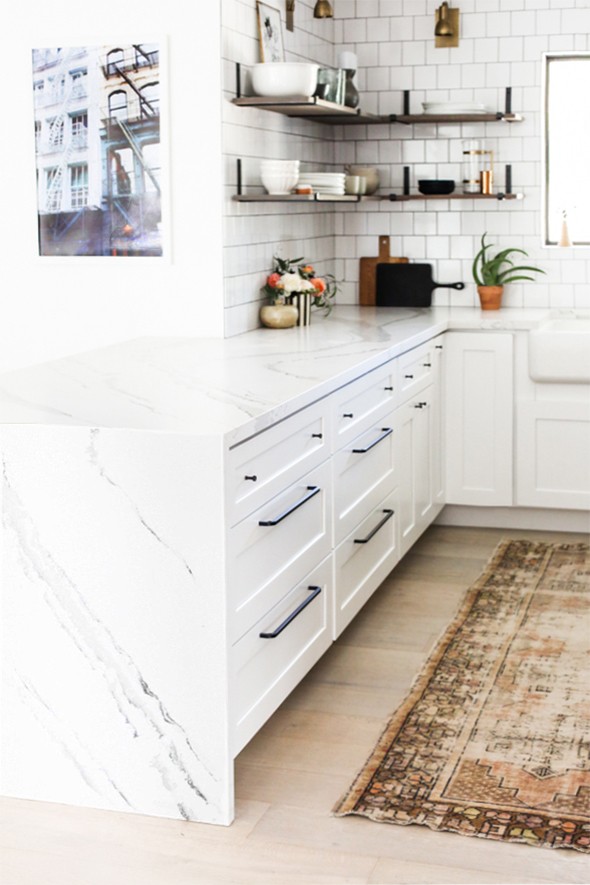 Once you have selected your stone and worked with your fabricator on the finishing details – stop looking at Pinterest! Trust me when I say, there are a million and one gorgeous stone options. Do your research, commit and then stop torturing yourself by continuing to look around!  :)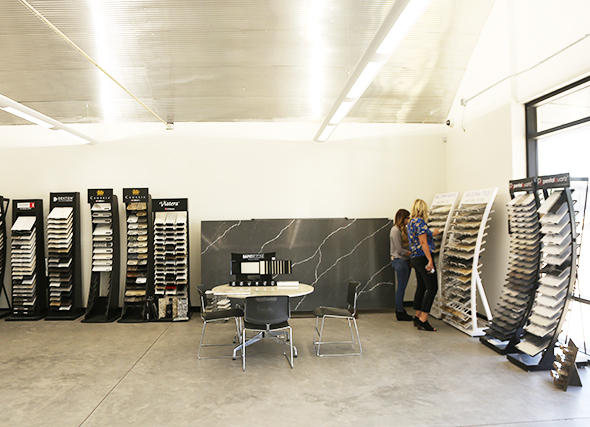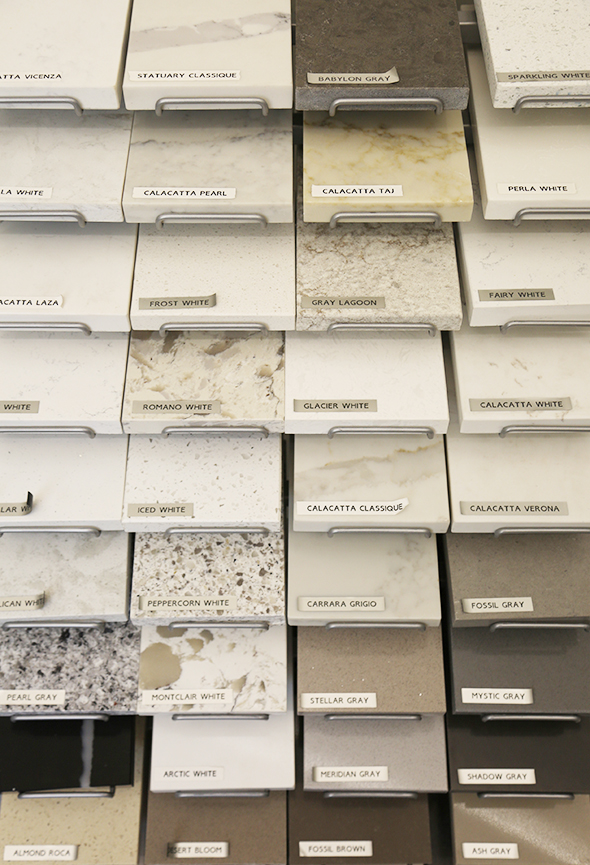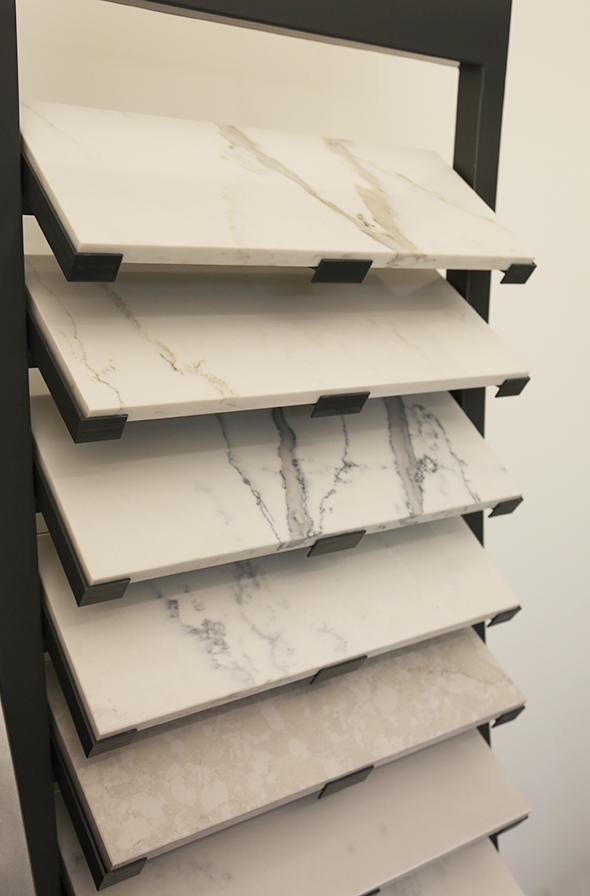 TIP #4 ALL APPLIANCES AND FARMHOUSE SINKS NEED TO BE INSTALLED BEFORE TEMPLATING
A common misconception is that stone fabricators will install sinks and plumbing for a project, but that is something that needs to be coordinated with your contractor and plumber. G3 stocks many standard sinks and installs under-mounted sinks, but custom sinks such as farm-sinks or drop-in sinks will most likely need to be installed prior to or after your countertop installation.  It is imperative that all appliances, sinks, and plumbing hardware be on site for your countertop templating appointment (when the final measure happens before cutting the stone) and fabrication. You can easily avoid additional time delays and unnecessary trip charges for having to reschedule this visit by having all items on site for the appointment. All decisions and change orders must be made prior to measuring, as once it's cut, it cannot be changed.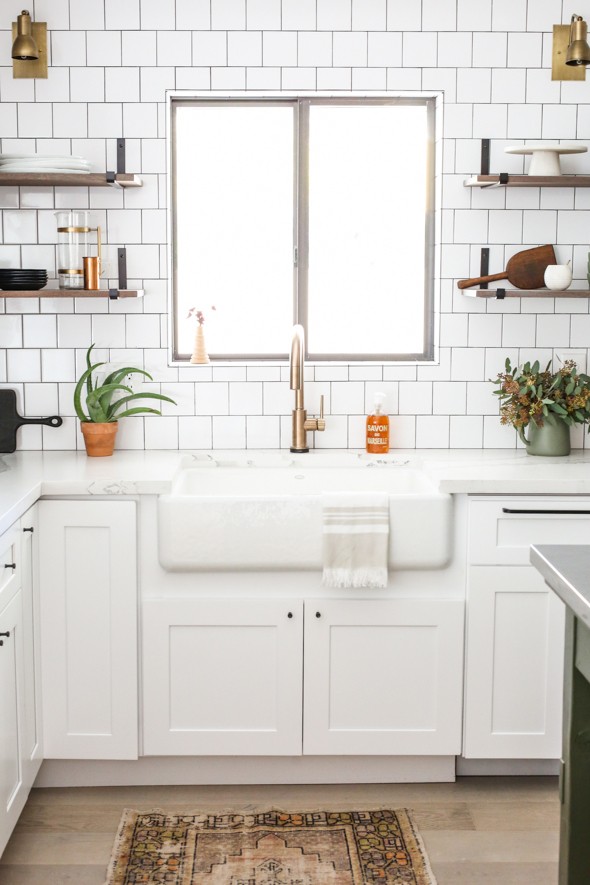 TIP #5 DO NOT BE TEMPTED TO REUSE OLD SINKS AND FAUCETS
Countertop materials and fabrication are not cheap and it can be a disruptive, messy project. I think it's wise to wait to start a big kitchen project until you have the funds to replace everything at once – including cabinets and appliances, but especially sinks and faucets! You'll be much happier in the long run to have a fresh new sink and faucet to go with your new investment, so don't be tempted to keep the old stuff! It's like wearing a pair of old, broken in shoes with a gorgeous new dress – it just doesn't quite work!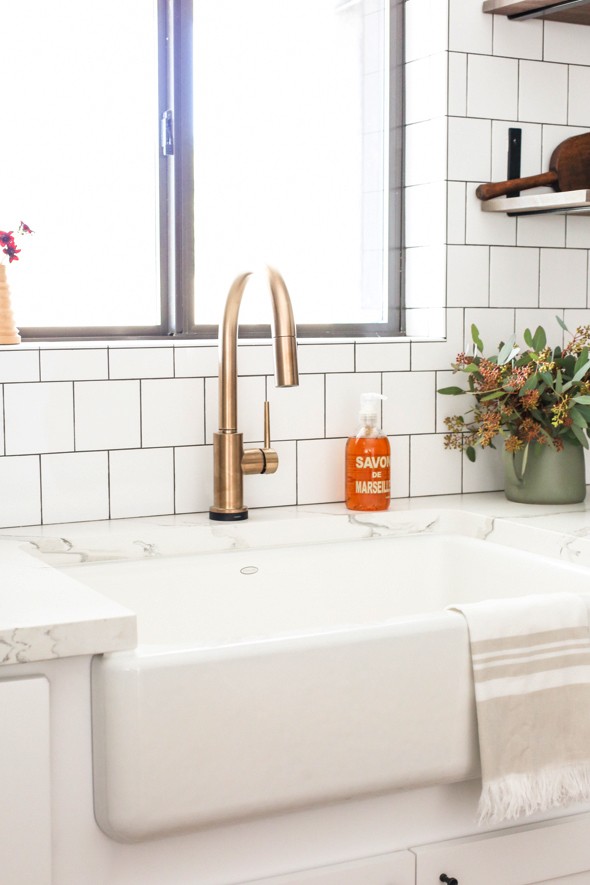 TIP #6 YOU GET WHAT YOU PAY FOR
This is true for everything in life, but we have found it to be especially true with stone and fabrication. It's important to do your research and find a trusted, licensed fabricator that has a nice and clean facility, with loyal and experienced employees. Too many times we have heard about situations where people hire cheap fabricators so they can spend more on their stone and then come to deeply regret that when irreparable mistakes are made to one of a kind stone. G3 Glass Granite Group is licensed, bonded and insured with over 30 years of industry experience and knowledge. They use only state-of-the-art equipment and software for templating and fabricating, but more valuable than any equipment or facility is a shops team and work ethic. Tanya says everyone on their team works hard to build solid relationships with each other and those in the field. Their pattern of clear communication, settling realistic expectations (including refusing some stone because of it's nature), project coordination and industry knowledge are key to executing the many facets of fabrication. Tanya says their goal is to make you giddy when you see your new counters!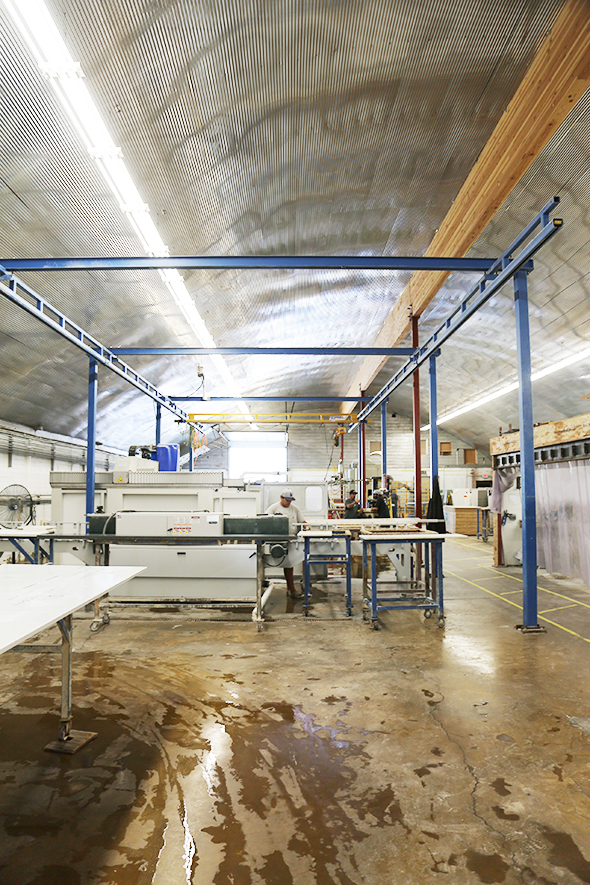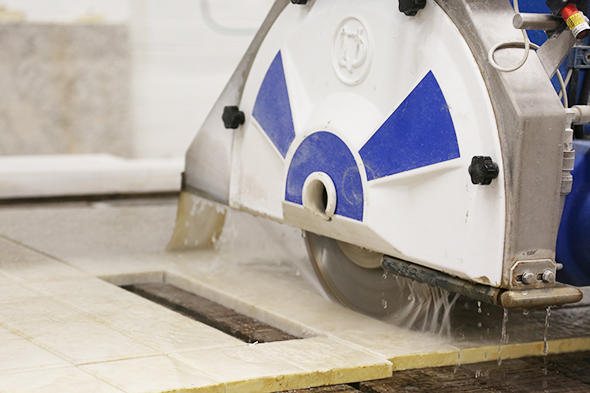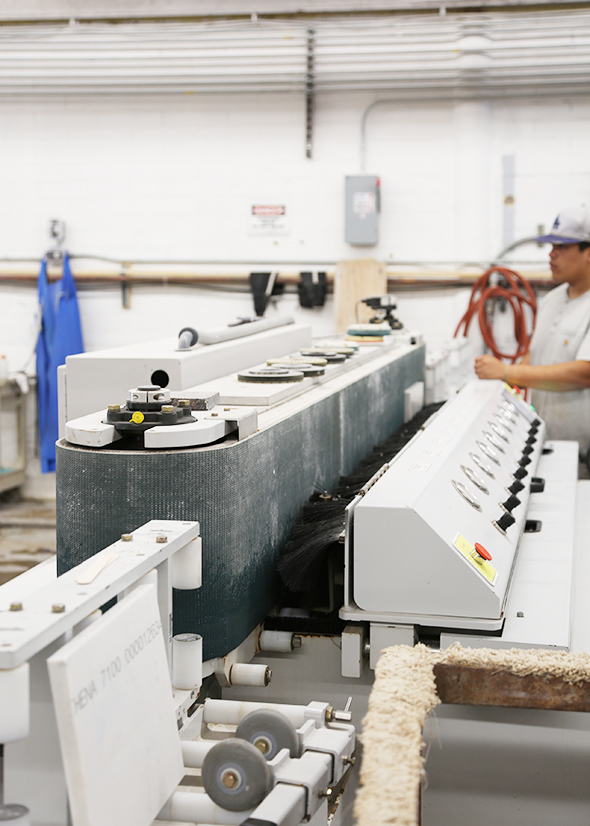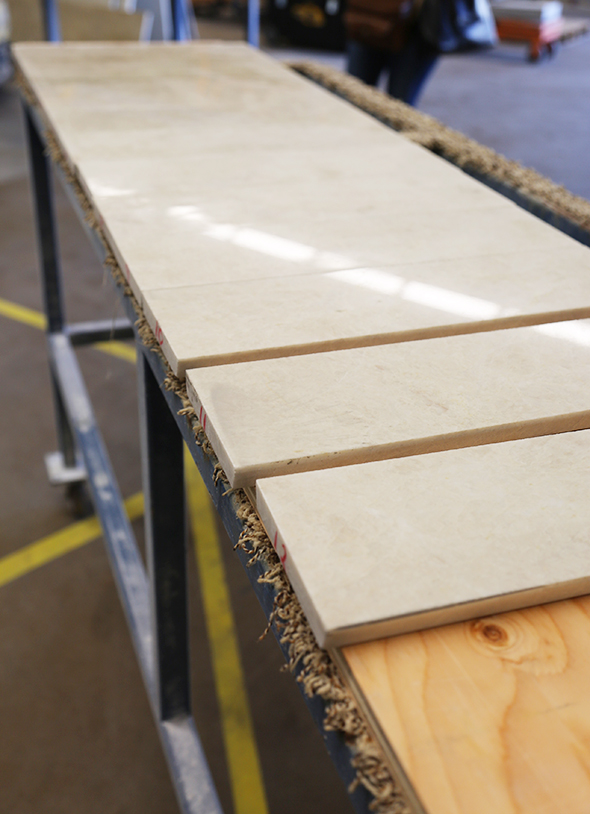 TIP #7 TAKE CARE OF YOUR STONE AND IT WILL STAND THE TEST OF TIME
To seal, or not to seal? G3 GlassGranite Group seals most stones, helping to make the surfaces more stain resistant for up to five years! Whereas sealing does not make the stone stain proof, it does help male it more repellant to stains. The Natural Stone Institute is a valuable resource that Tanya often refers to and cites articles about when sharing information and educating others. For stone maintenance, it's really important to use something non-abrasive with a neutral pH level. A high pH cleaner is really bad for stone, especially for marble, which is the most delicate of stones, but definitely for most beautiful! Simple Green for Stone or StoneTech Revitalizer are two products that work great for day to day cleaning!
Quartz is also not as care free as people make it out to be! Quartz can stain and all quartz can scratch. For this reason, use common sense rules such as using cutting boards and trivets if you want to remain it to remain in perfect condition. Streaking may also appear on a quartz surface, so always use a clean rag and follow up with a dry soft microfiber cloth for best results.  Tanya loves Norwex microfiber cloths, but any clean microfiber towel works!   (Norwex also has an amazing glass cloth that requires nothing but water to clean pantry doors, glass appliances and windows!)
Marble countertops are beautiful, but will inevitably stain, scratch and etch. The biggest cause of scratches is from dragging items such as kitchen pots, pans, or dishes across the surface.  Use cutting boards or trivets, and wipe up spills quickly as acidic foods (tomatoes, lemons, soda, perfume, toothpaste, hairspray, etc) will etch it.  Understanding how marble ages and wears is an important aspect to consider.  If you love the soft luxurious texture and look of marble and understand the aging process that will include etching and scratches, then marble may be the right choice for you! If you're not sure, Tanya recommends visiting a friend who has a marble kitchen and see for yourself before committing!
Also if you get any etching in marble, granite or quartzite we love and recommend this etch removing paste! I am planning on honed marble for my kitchen reno and plan to have an industrial sized tub of this stuff on hand! Ha! We have honed Calacatta Gold marble counters in the studio kitchen and use this cleaner in there too. G3 supplied and fabricated this stone for us as well! The glow of natural honed marble is my favorite!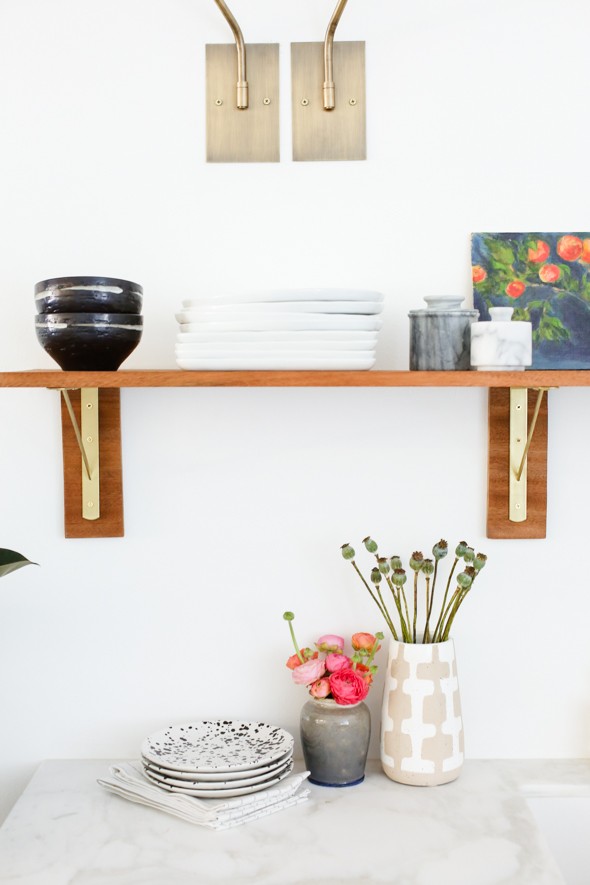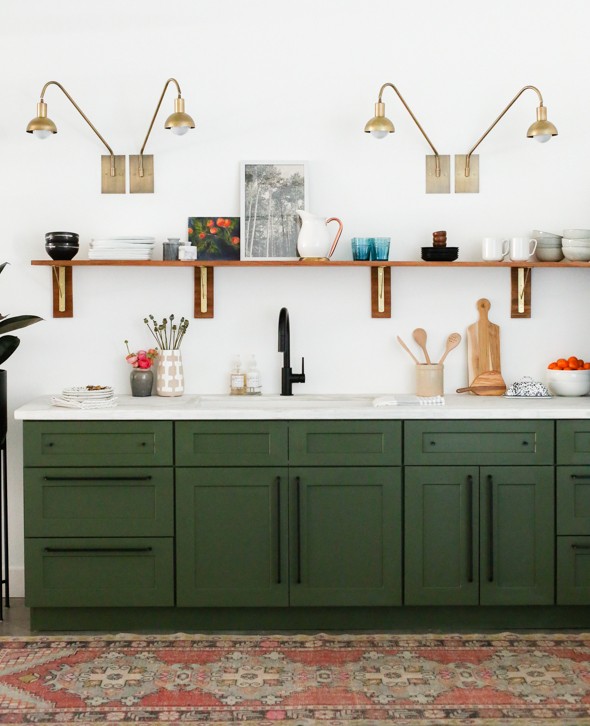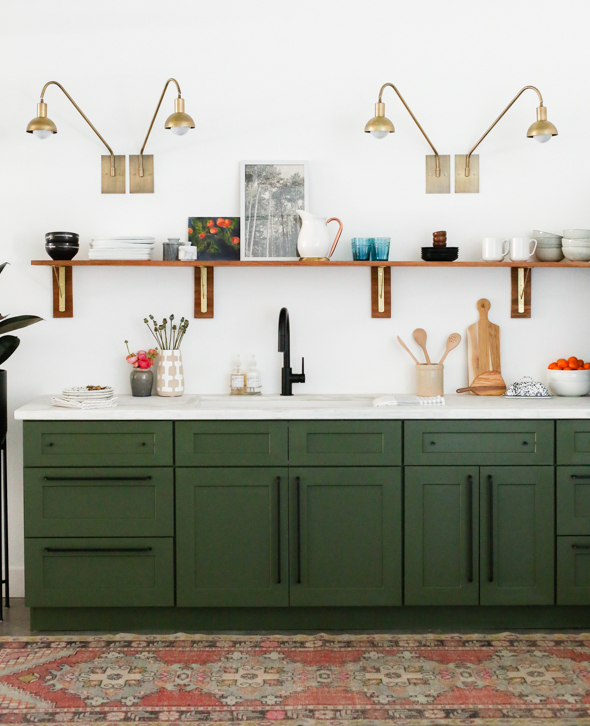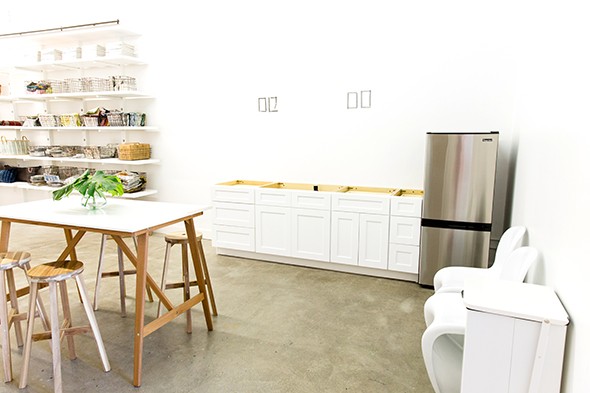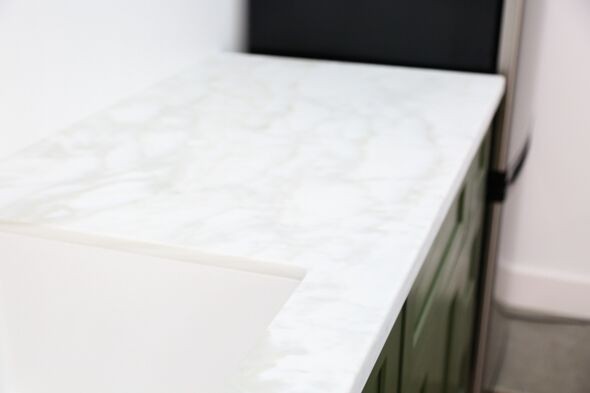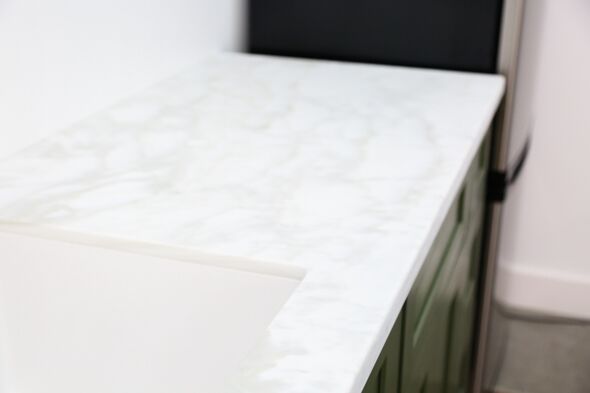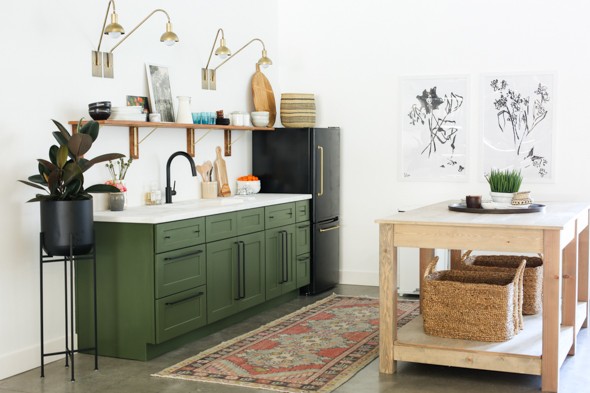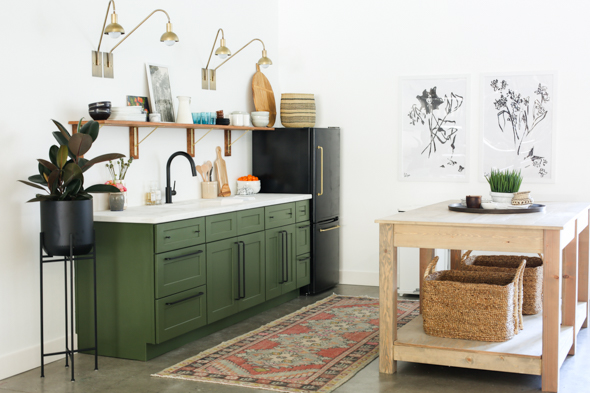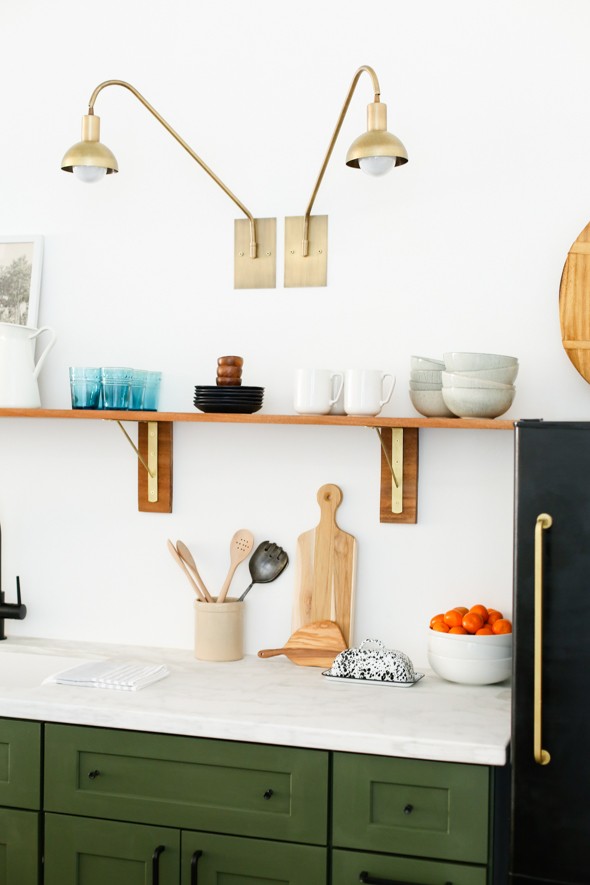 I hope you guys enjoyed this post! A HUGE thanks to Tanya and our friends at G3 Glass Granite Group for helping us put together this post and for being such a great resource to us over the years! If you're local and looking for an amazing stone or glass fabricator, definitely reach out!