This post is sponsored by Lowes.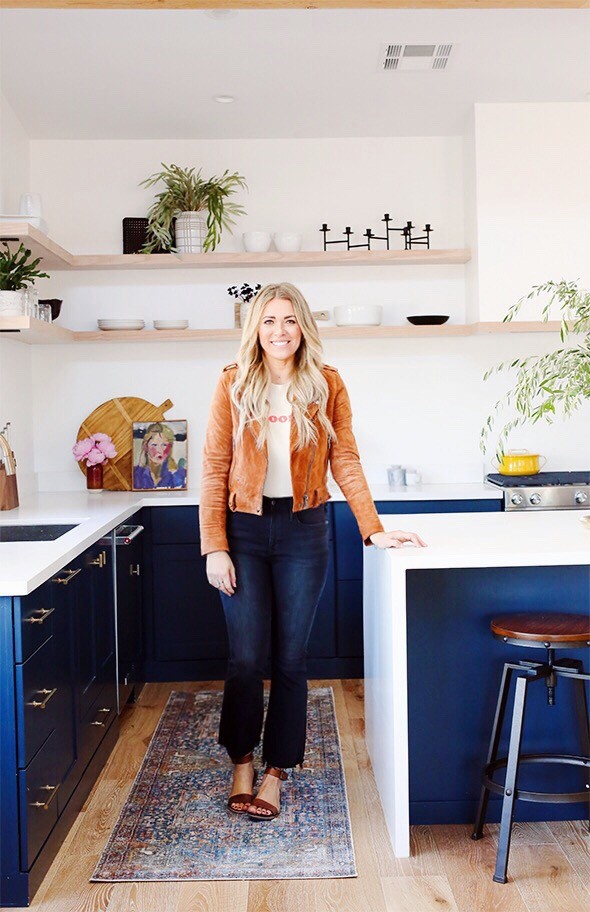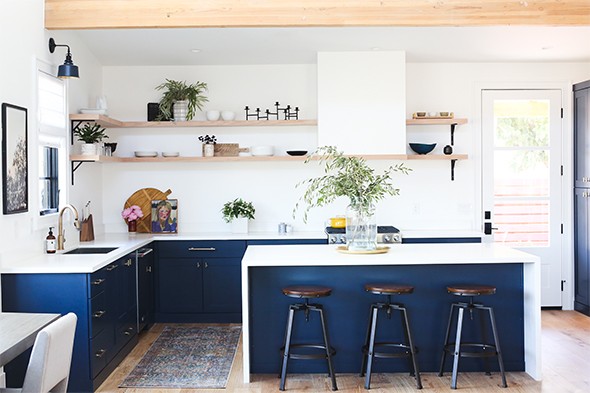 I've got about six kitchen projects at various stages that I'm helping design and finish right now, so I've got kitchens on my brain in a major way! I've partnered with Lowes this year to share practical tips for approaching renovation and design in your own home (see my post on painting here!) and today we're going to tackle a big topic: Trends in kitchen appliances! Here are a couple of the points I'm going to cover today, but please let me know in the comments if there's anything else you'd like me to touch on here!
THOUGHTS ON STAINLESS STEEL
CABINET FRONT/PANEL READY APPLIANCES – HOW THESE WORK
COLOR APPLIANCES: TRENDY OR TIMELESS? ALSO, HOW TO MIX AND MATCH FINISHES
WALL OVENS + COOKTOP VS RANGE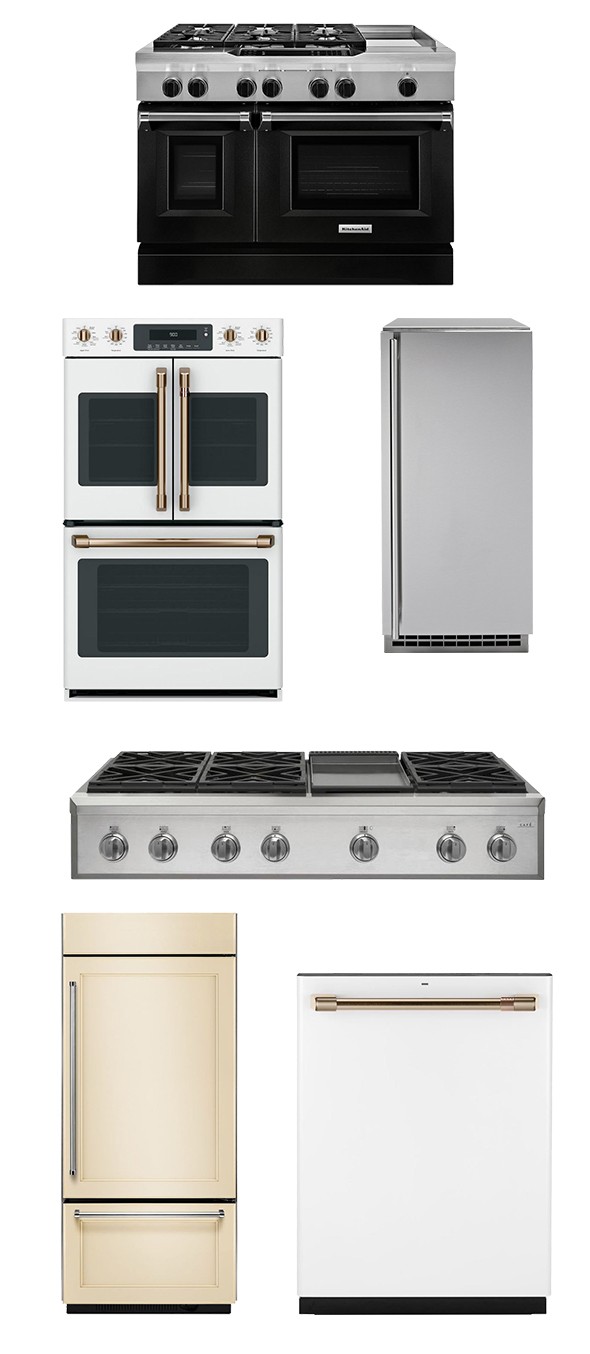 48″ Black KitchenAid Gas Range
Cafe Series French door style wall ovens
Matte White and Brass Cafe Dishwasher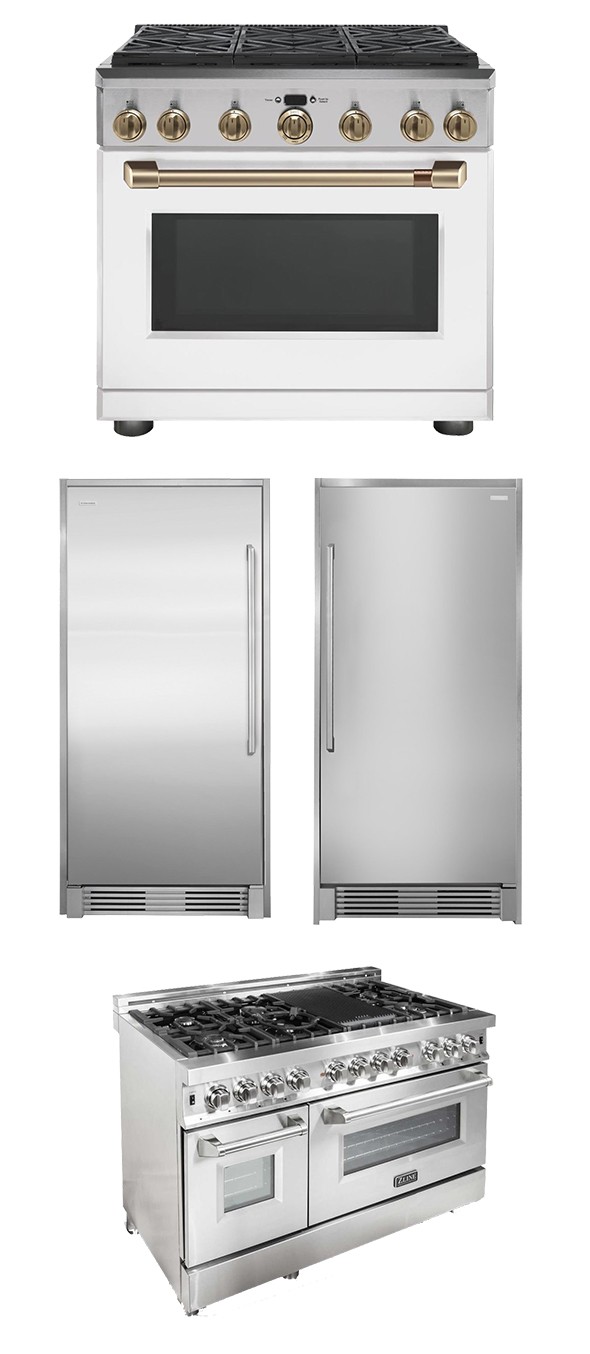 Freestanding Electrolux Fridge and Freezer
While I dive into these topics, I'll be sharing photos from a kitchen we recently styled in downtown Gilbert by Bigelow Built. This home is now available for Airbnb bookings and you can check out the listing here! All of the appliances in this kitchen are available from Lowes as well! I love how this gorgeous space turned out!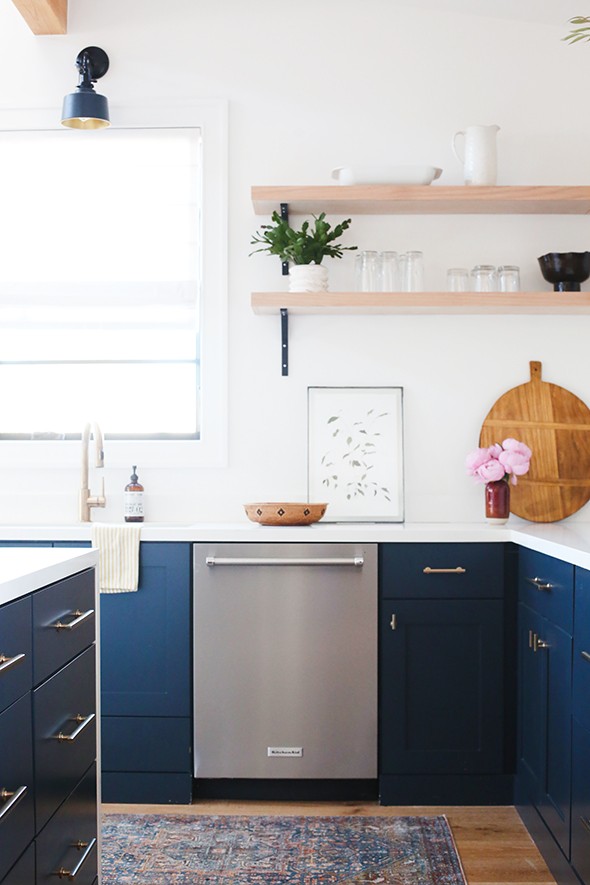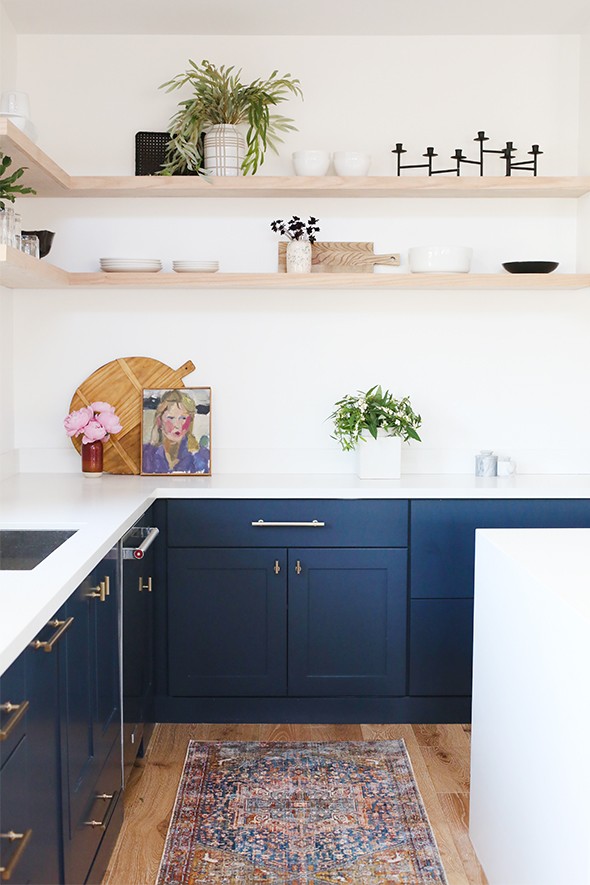 THOUGHTS ON STAINLESS STEEL:
Some of you might disagree with me here, but I'm very much so in the pro stainless steel camp. I think stainless is a great neutral foundation for a kitchen design. My thoughts are that any material used in most commercial applications is going to be a classic and will endure the test of time.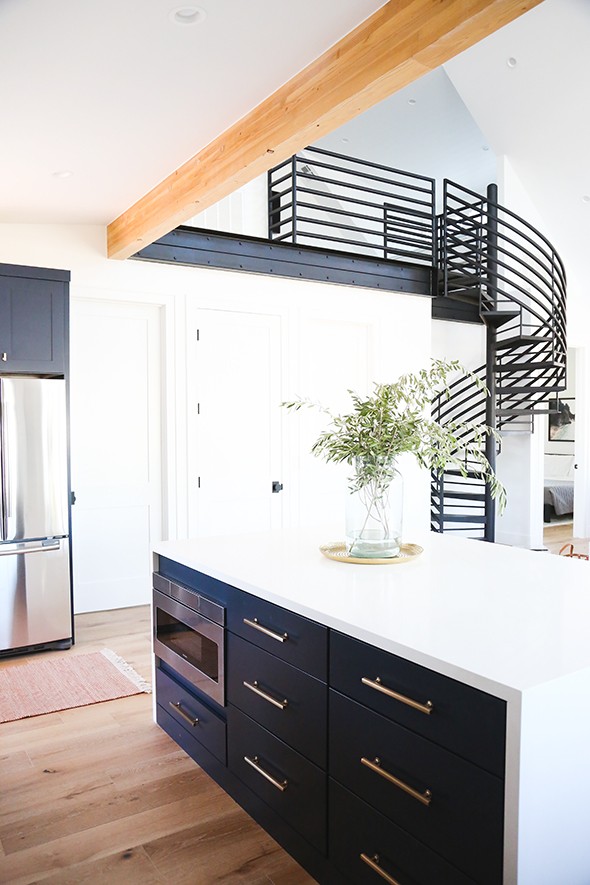 Stainless steel appliances also mix really well with other metals like brass and matte black, but they usually don't mix easily with all other stainless appliances. Every brand has a slightly different sheen and color, so it's best to stick with a consistant suite of appliances in your kitchen, unless you can be sure that the stainless is really similar. In this kitchen here for example – the refrigerator is by Samsung and it works since the color of the stainless steel on the range is really similar and the fridge is far enough away to not be able to directly compare.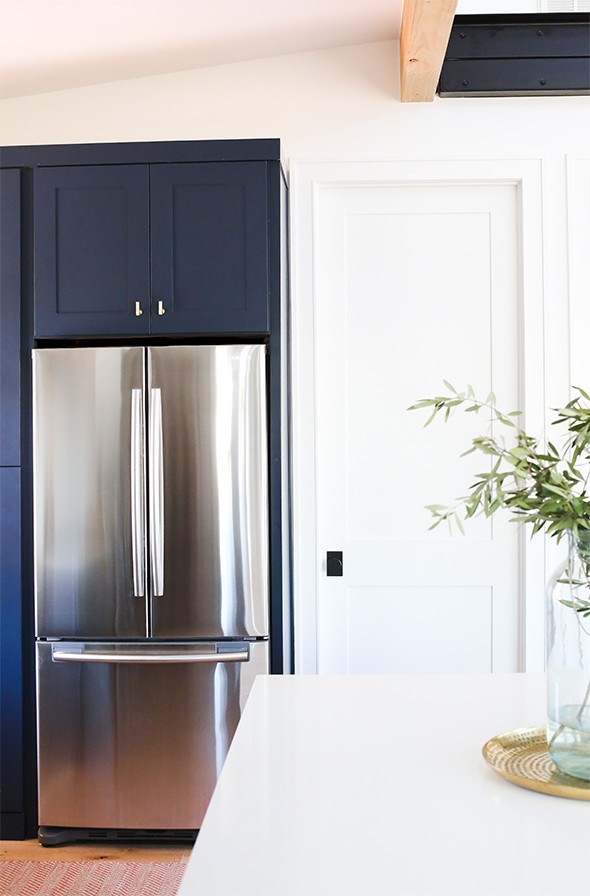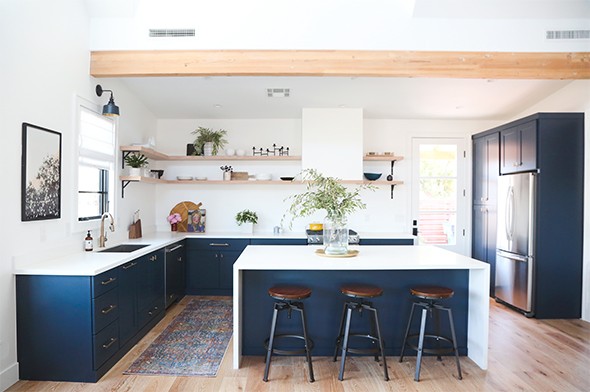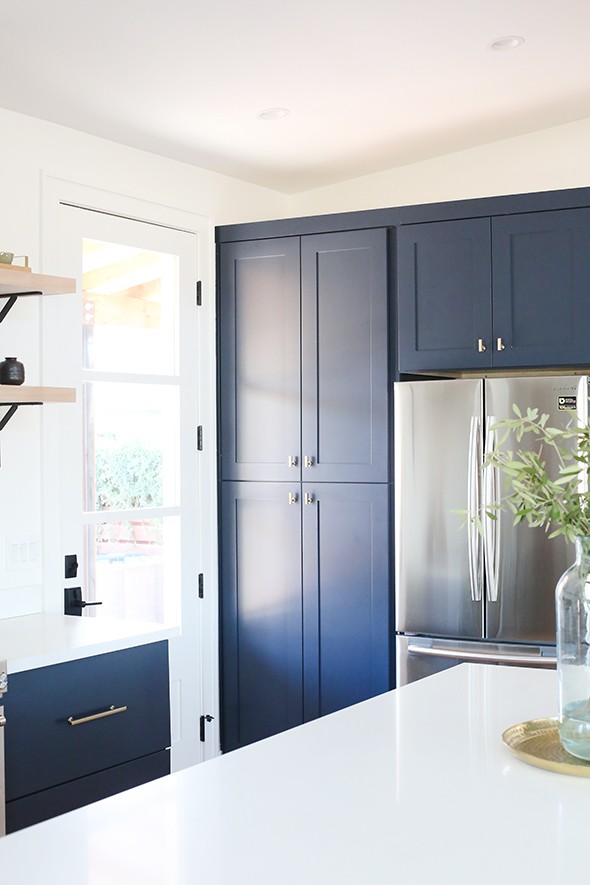 The KitchenAid appliances also in this space are probably my favorite mid-end appliances right now. They are built to last and have the reviews to back that up, and they have the lines and details of much more expensive appliances! I always like to use a slide-in range, where the controls are on top or in front instead of a high back panel. It's so much more of a clean look to see the backsplash instead of the back of the range!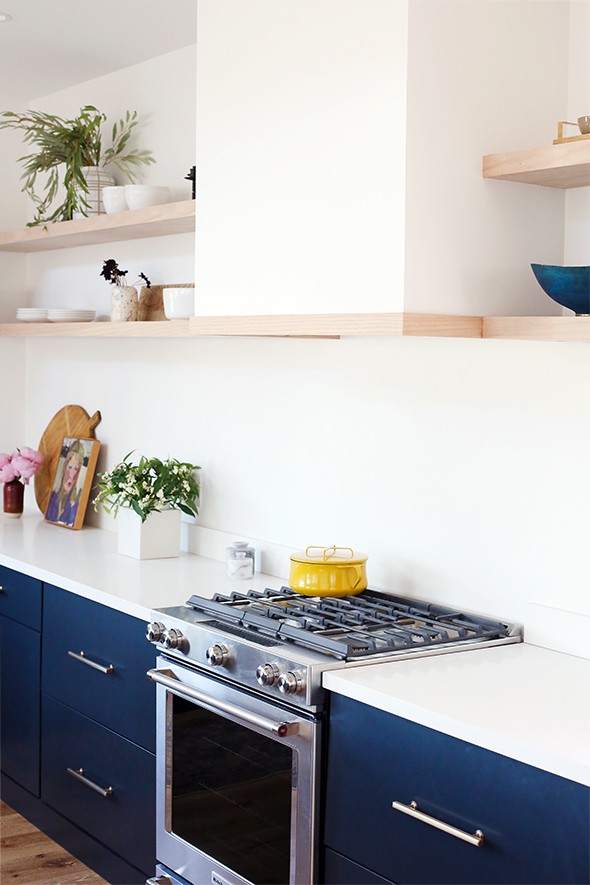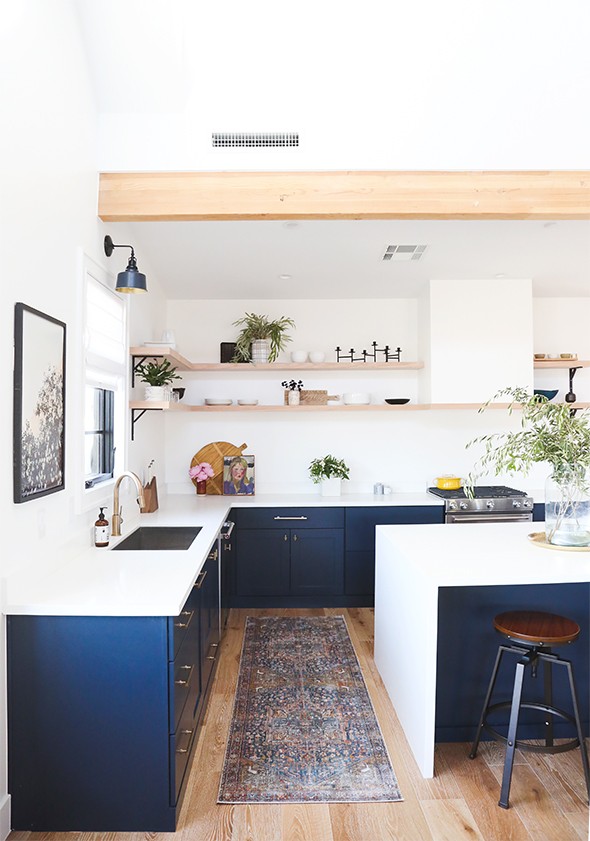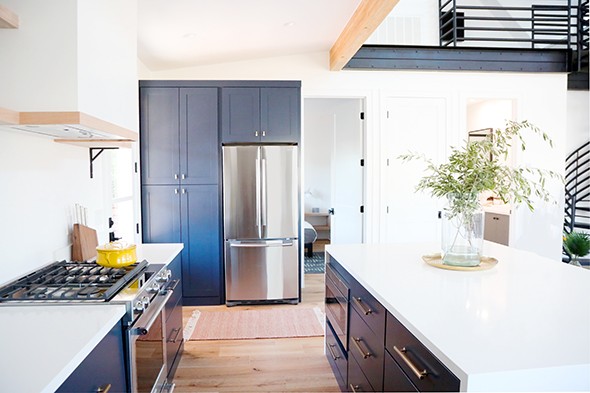 CABINET FRONT/PANEL READY APPLIANCES – HOW THESE WORK
If you have a little more room in your budget, panel-ready appliances are a great way to get a more custom, seamless look in a kitchen. What's not so common knowledge though is that you don't need to have custom cabinetry or super high end appliances to get this look. Every cabinet line available at Lowes and several of their appliances lines have panel ready options. I especially love this look for dishwasher fronts and undercounter ice makers.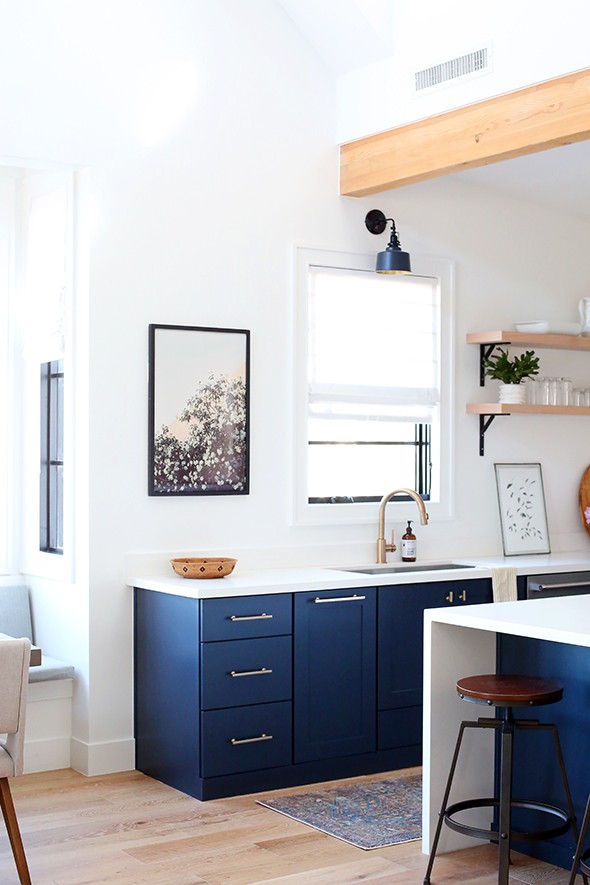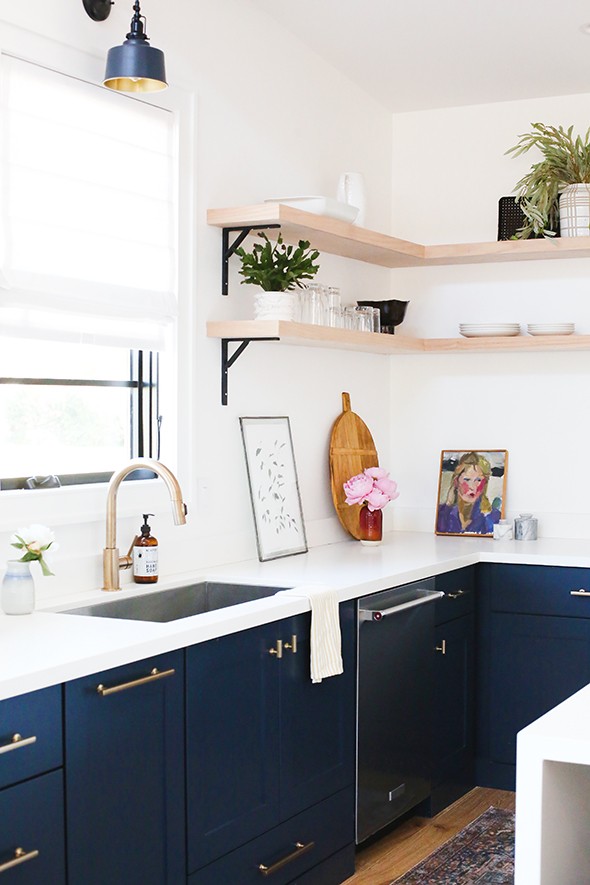 COLOR APPLIANCES: TRENDY OR TIMELESS? ALSO, HOW TO MIX AND MATCH FINISHES
I get asked all. the. time about color appliances and if they're trendy or not. I think color appliances are definitely on the trendy side, but I still love them. It feels safe and smart to go with a more neutral color like black or white though. I am loving the new Cafe line of appliances at Lowes. The brass handles are to die for and I love the perfectly matte black and white finish options!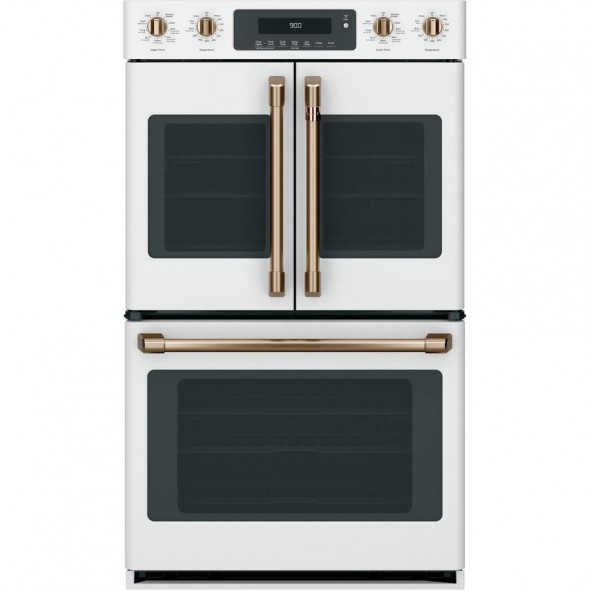 Cafe Series French door style wall ovens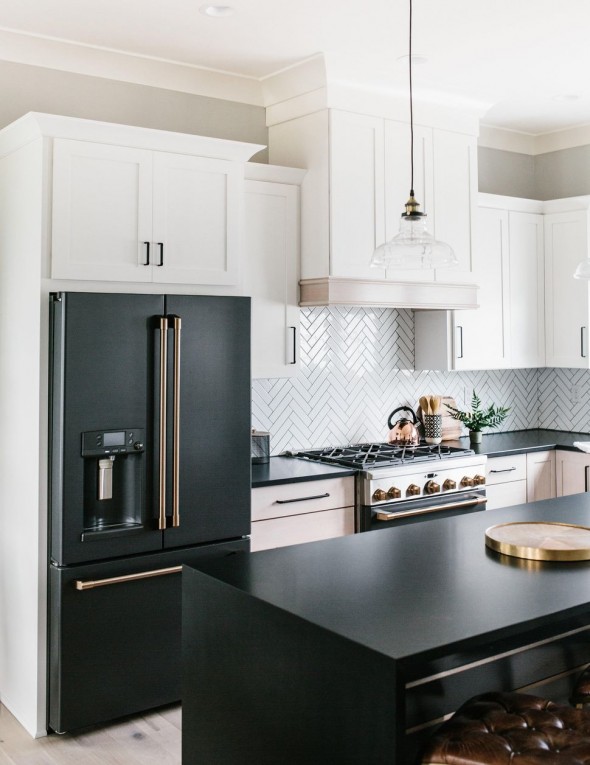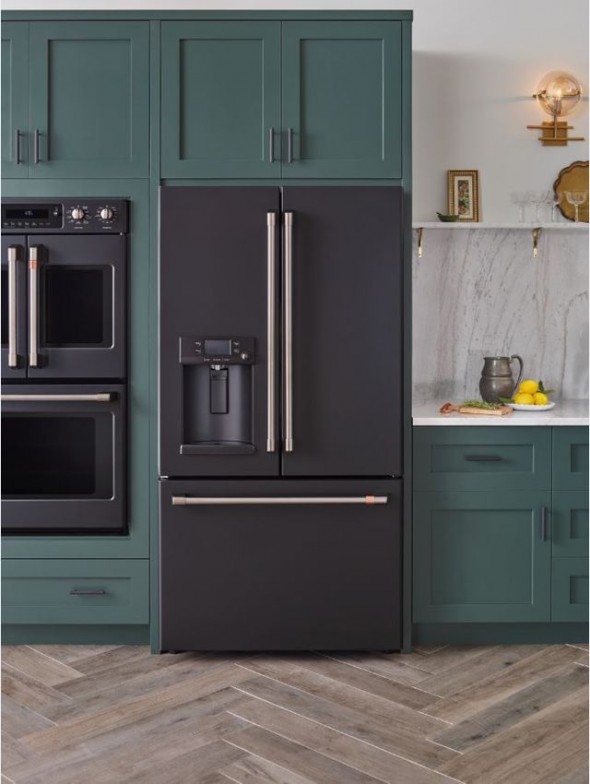 I think if you're choosing white appliances, it's a good idea to have lighter color cabinets. You can pair black appliances with any color cabinets, including white cabinets. I like the idea of the range being the only colorful appliance in the kitchen and the fridge and dishwasher both being panel-ready! Otherwise, I like all the appliances to be matching. I'd gladly take a suite of these Cafe appliances for any of the projects I'm working on right now! We are doing more of an English style kitchen in the Evergreen project and I think these would be perfect!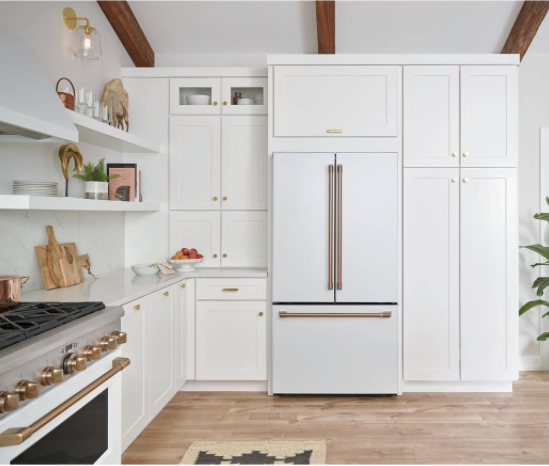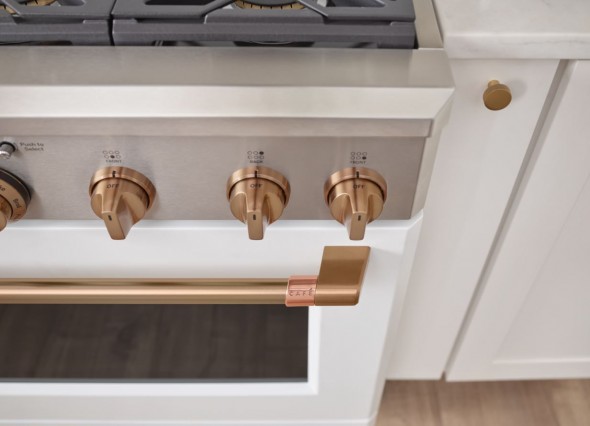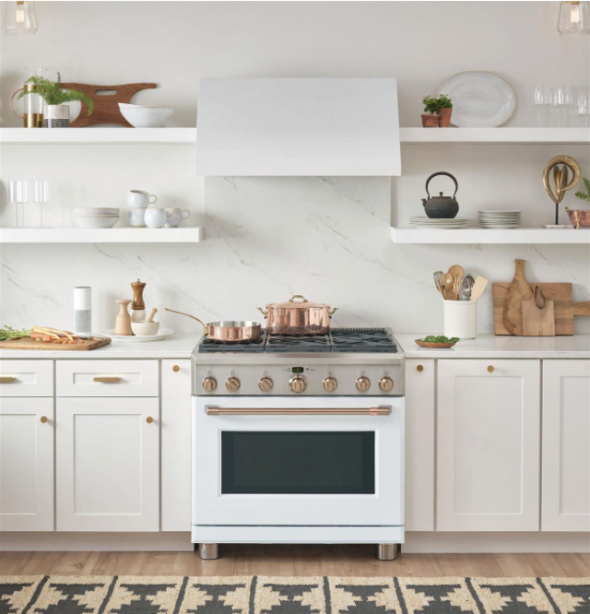 And for the final topic –
WALL OVENS + COOKTOP VS RANGE
This one is top of mind for me right now! It is a HUGE trend in kitchen design to have wall ovens tucked into the pantry and out of the main kitchen prep area. You usually see this with cooktops instead of ranges. We currently have an induction cooktop and double wall ovens, and I'll admit that it is handy to have two ovens and that it's nice to not have to bend over to check on dinner. BUT ranges are so pretty! One thought I've had is to have a 36″ or 48″ range (I love this Z-line one or the 36″ Cafe range above) and a single or double wall oven in our pantry.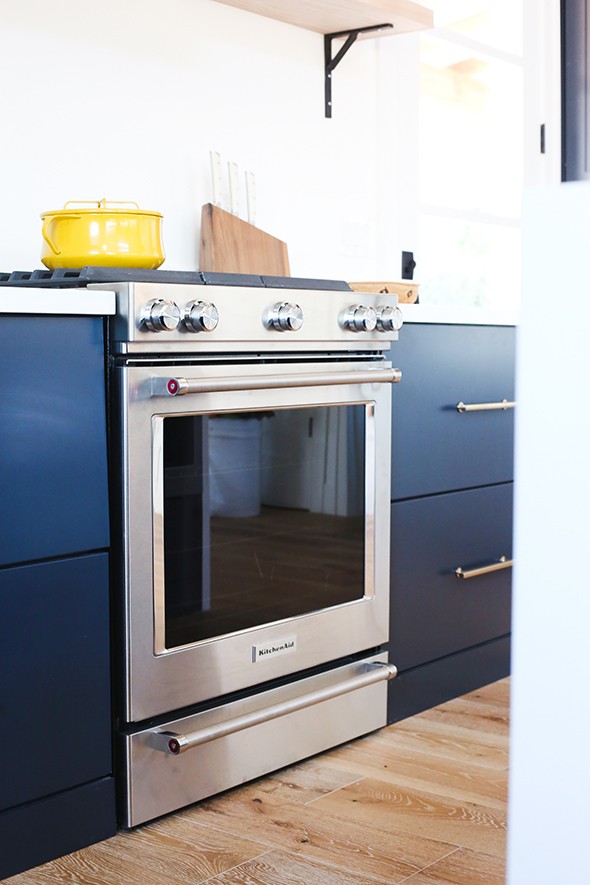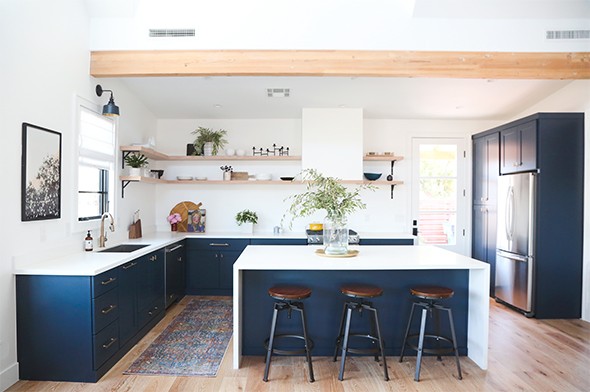 Another great option if you're tight on space is to include a built in microwave or warming drawer in your island or peninsula! This frees up counter space but keeps dinner prep convenient.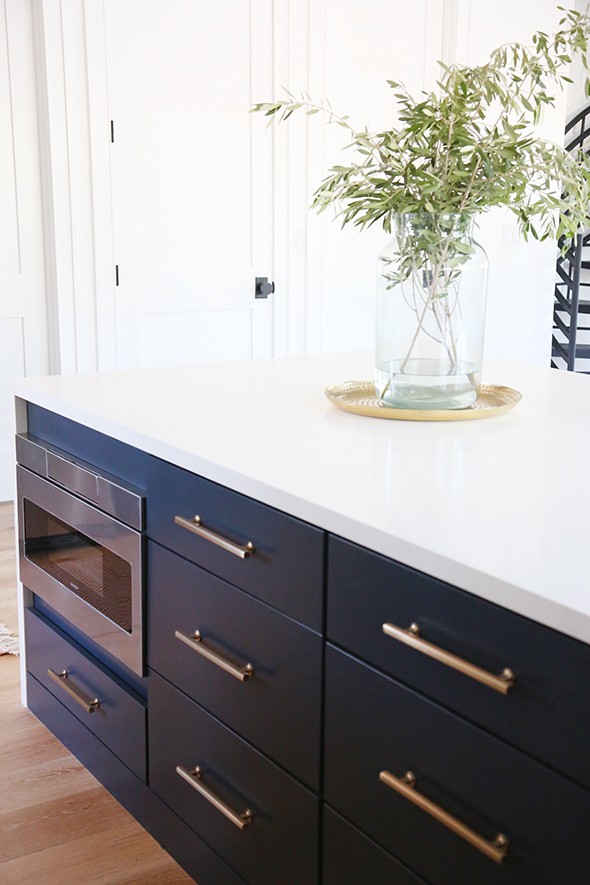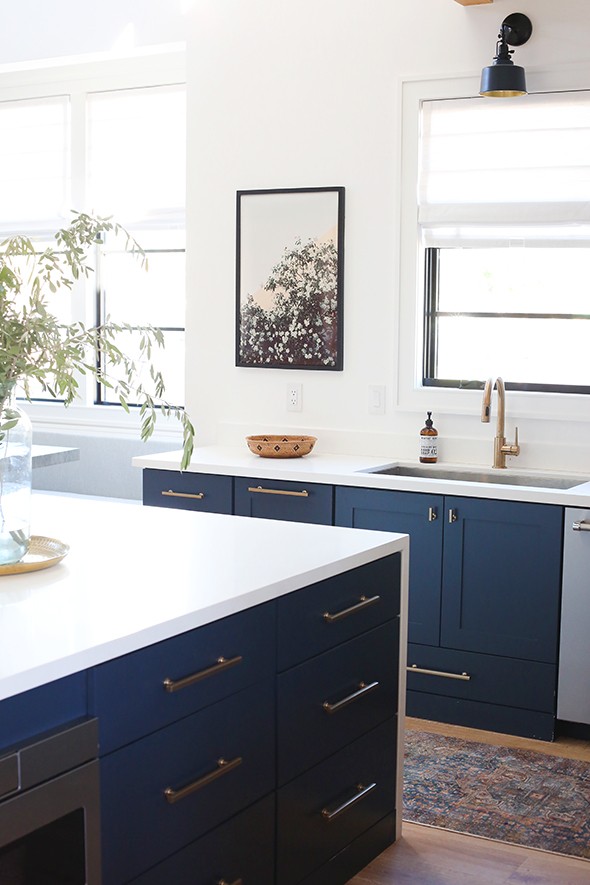 I hope this post was helpful to you guys who are in the trenches of kitchen design with me! I'd love to hear your questions and opinions on kitchen appliances trends in the comments!