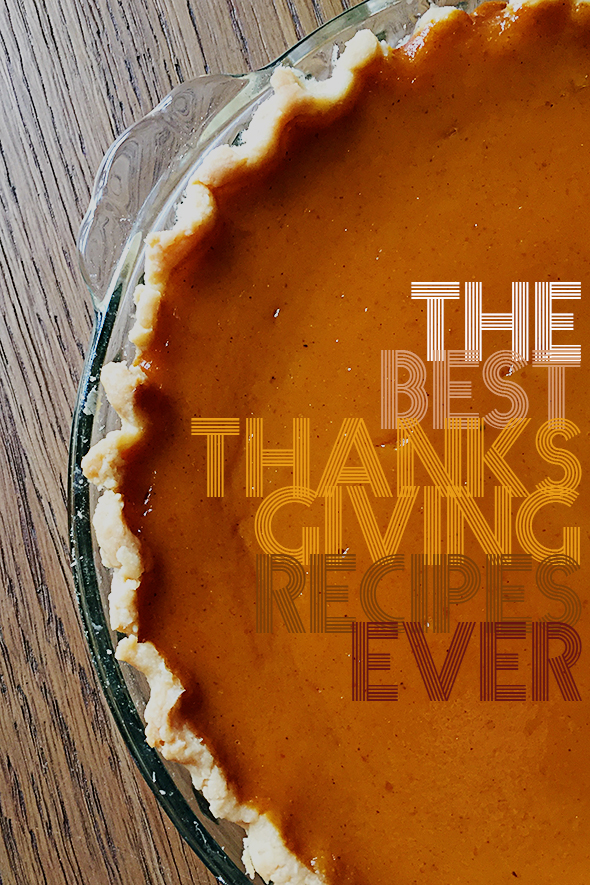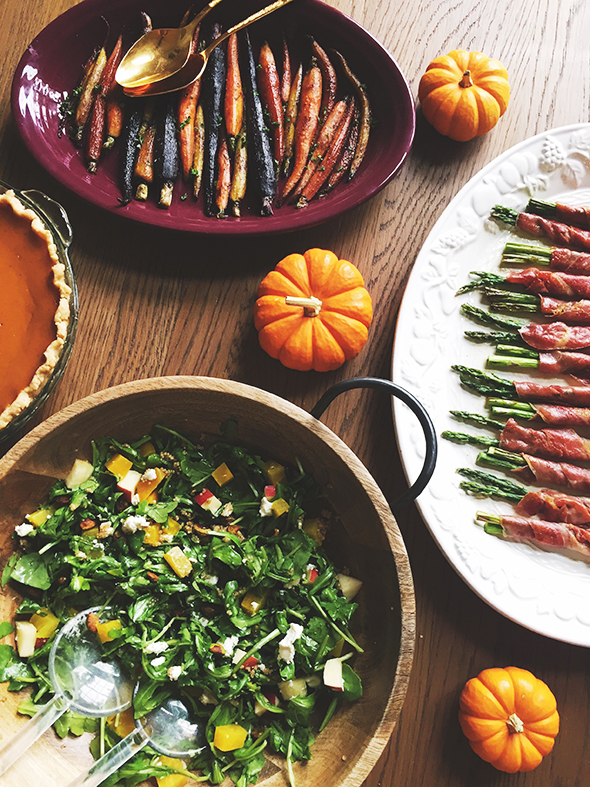 The older I get, the more I LOVE Thanksgiving. Somehow the holiday always sort of expands and stretches the whole length of the week, and other than the food prep and maybe some lightweight decorating, there are absolutely no strings attached. Just a lot of relaxing and sleeping and moving-watching and sweater-wearing. And the eating, of course.
We take our Thanksgiving meals pretty seriously around here and I think we have a pretty perfect menu nailed down. We're heading up to my parents' on Thursday but we got to host Michael's family for Thanksgiving part one last Sunday and here's what we served:
Brined and roasted turkey
Mashed potatoes and gravy
Stuffing
Sweet Potato Pecan Crumble
Beet, apple and pistachio salad
Maple glazed carrots
Prosciutto-wrapped asparagus
Pumpkin pie
It's a ton of food, yes, but the mix is so nice. And the leftovers alone are worth every hour spent in the kitchen for this special meal! I feel like I finally have all my favorite and best recipes gathered up and I'm excited to share them with you below. Feel free to leave comments with any questions or suggestions – I promise to be open-minded, but it's pretty hard to imagine this meal tasting any better! :)
–CLASSIC BRINED AND ROASTED TURKEY–
Okay, so do you ever watch America's Test Kitchen? I've been a here-and-there viewer for about a decade, but I've been getting their Cooks Illustrated magazines for at least as long. I found my recipe for Turkey there and it has never failed me. Actually, I could say the same for just about every recipe I've ever tried from ATK. Michael bought me their MONSTER compilation cookbook for one of my birthday presents this year and I used it all.the.time. Every single recipe they have ever put out is here in this book (including my turkey recipe).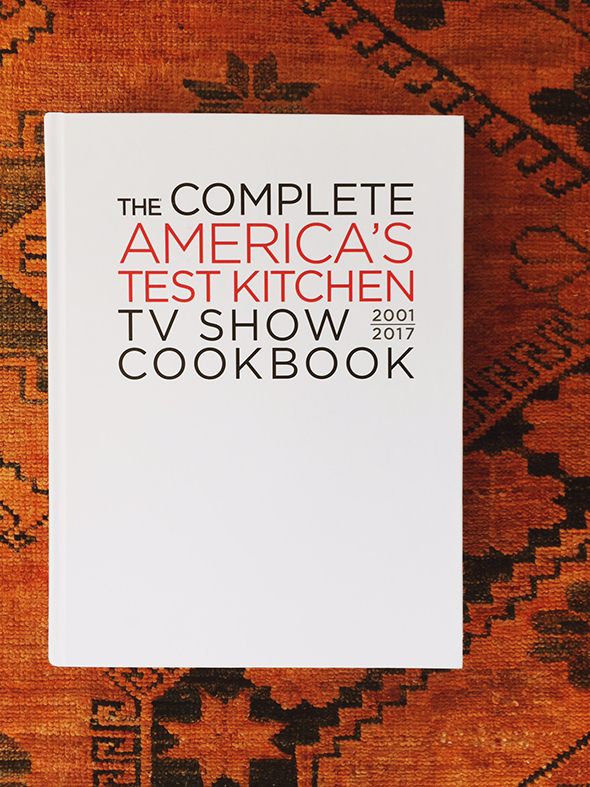 They posted a very similar recipe online here. The basic idea is to brine your fresh (or fully thawed) turkey for 4-6 hours in the fridge with 2 cups of salt in 2 gallons of water. After draining, rinsing and completely drying your turkey, put it back in the fridge to sit uncovered overnight. Three or four hours before you want to serve, rough chop two onions, two carrots and two stalks of celery and 6-10 sprigs of thyme all tossed in melted butter. Stuff the turkey with the veggies and spread the remaining in the bottom of your roasting pan. I use this V-rack and pan combo and it works great!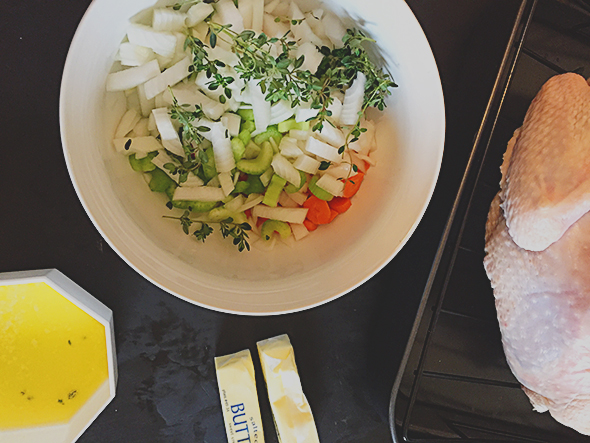 Brush the turkey with 1/4c melted butter and put it in a 400 degree oven, breast down for 45 minutes. Pull it out, baste it with pan juices, flip it using two dish towels and then put it back in the oven for 15 minutes. Then repeat the baste and flip procedure every 15 minutes until the breast meat is 160 degree and the thigh meat is 175 degrees. You might need to occasionally add some water to the bottom of your roasting pan to loosen up the veggies and to have enough stock for basting. Then let the turkey rest for AT LEAST 30 minutes before carving! I promise you will love this juicy, savory turkey! YUM.
–MASHED POTATOES AND GRAVY–
Here's my favorite way to make exceptionally great mashed potatoes, except I prefer white russet potatoes to Yukon gold. As far as the gravy goes, I feel like there's only one real way to get delicious turkey gravy. Unfortunately it involves messing with the neck and giblets (yuck), but promise it's worth it!
Just sauté the neck and giblets in a couple tablespoons of olive oil with one rough chopped onion until the onion is soft and golden. Add an entire box (I think that's 4 cups?) of low sodium chicken broth and 8 or so sprigs of fresh thyme. Let that simmer for at least 20 minutes (the longer you let it sit, the better the flavor) and then strain out everything and set aside the broth. Make a roux with 3 T of butter and 1/4c flour and then add a cup of dry white wine (or more chicken broth) and stir until thickened. Then slowly add in the broth you just made with the giblets being careful to whisk out any flour lumps if there are any! Salt and pepper to taste! It's soooo good.
–STUFFING–
This recipe is my VERY favorite homemade version. Not going to lie, we also put out a pot of Stovetop due to popular demand around here. It feels like a trashy move, but it is pretty tasty stuffing if I'm being honest! :)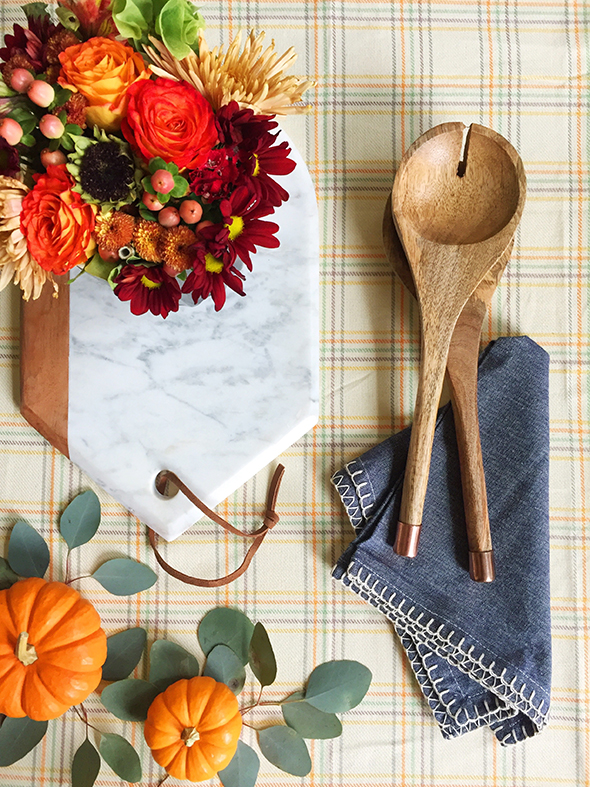 –SWEET POTATO PECAN CRUMBLE–
You have not lived until you have eaten these Thanksgiving sweet potatoes! They are sweet, but not sugary, and if I had my way these would take up half my plate!
Cut three or four large sweet potatoes in half the long way and place them face down on a baking sheet. Bake them at 400 degree for 40-60 minutes until soft. Let them completely cool on the baking sheet and then simply pull the skins off! Mash the sweet potatoes in a bowl and add 1/2 c melted butter, 1/3 c milk, 1 c sugar, 1 tsp vanilla and two beaten eggs. Spread this mixture into the bottom of a 9×13 pan and then mix the crumble topping. Toss together 1 cup brown sugar, 1/4 tsp cinnamon, 1/2 c flour, 1 c pecans and cut in 1/3 c melted butter until the mixture is crumbly. Spread the mixture over the top of your sweet potatoes and bake it in the oven for 30 minutes at 350 degrees. Sometimes I like to sprinkle a handful or two of mini marshmallows over the top for the last few minutes until those get toasty. YUM!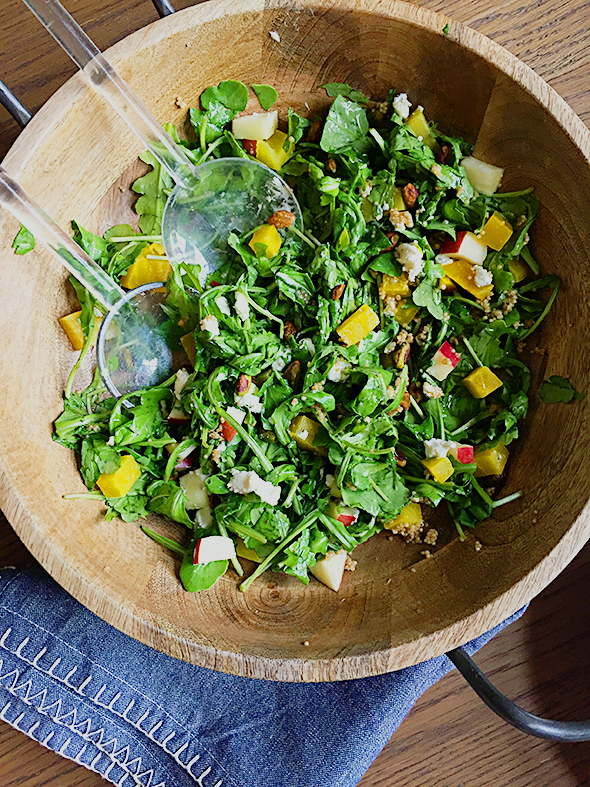 –BEET, APPLE, and PISTACHIO SALAD–
This is my favorite fall salad. It's hearty but still light. It makes a great lunch! Over a bed of arugula, add the following ingredients to taste: cooked and seasoned quinoa, diced Fuji apples, golden (or red) beets, pistachios, fresh goat cheese. Dress with red wine vinaigrette and enjoy! (note – the arugula tends to wilt after a bit, so don't put the dressing on until the last minute!)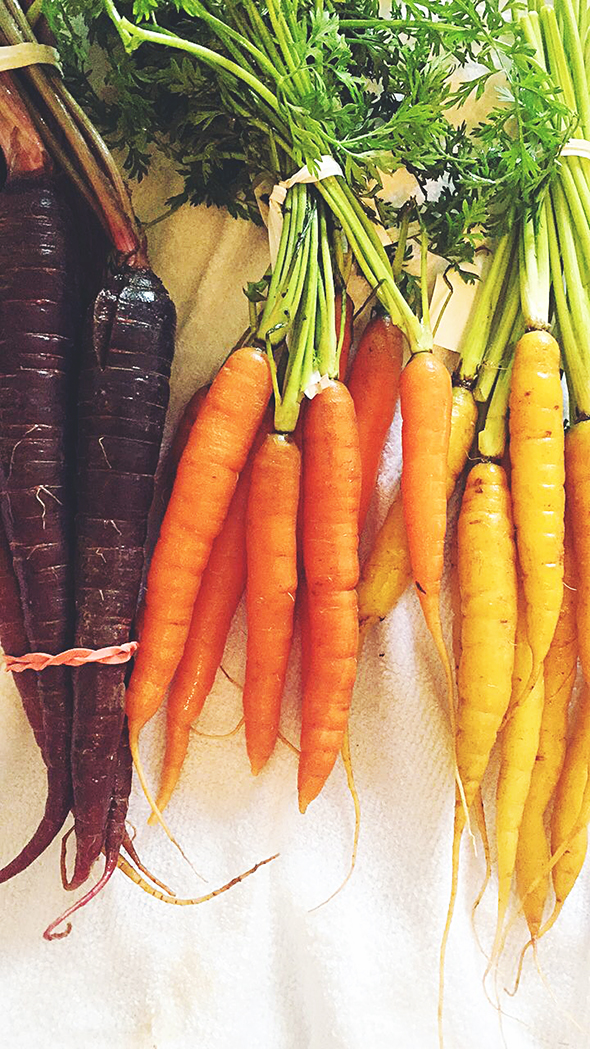 –MAPLE GLAZED CARROTS–
These carrots are super tasty! If you can find smaller carrots in different colors with the stems on, it makes for a prettier presentation! Just peel and trim about a pound of carrots, sauté the carrots in a tablespoon or so of olive oil until they start to brown up. Then add a tablespoon of maple sugar and salt and pepper. Then finish the carrots in a 400 degree oven for about 15/20 minutes, until they are cooked though and caramelized!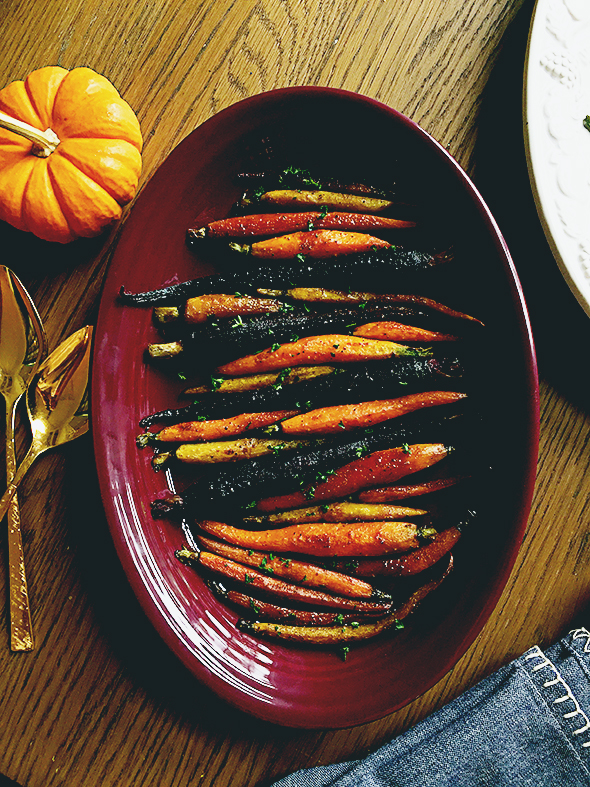 –PROSCIUTTO-WRAPPED ASPARAGUS–
If you wrap your veggies in bacon, does it still count as healthy? Probably not, but #worthit. Simply wrap one thick or two thin asparagus spears in a slice of good prosciutto and sear in a skillet on medium high heat until crispy. Serve warm!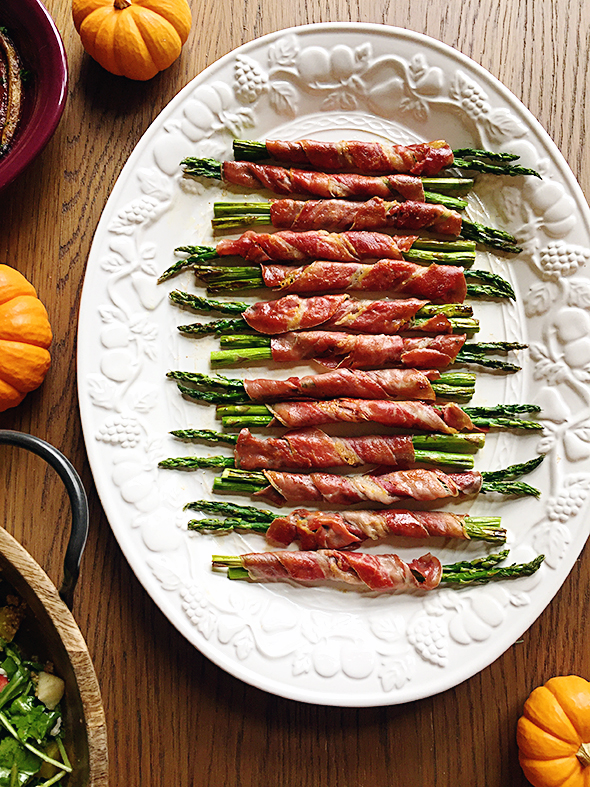 –PUMPKIN PIE–
My mom is the queen of Thanksgiving pies. She makes five or six different kinds every year and they are all amazing. Her crust is my favorite and it's super simple: 1/2c shortening pulsed in the food processor with 2 1/2 c flour, 2 T sugar, and 1 tsp salt. Once that mixture looks like sand, pulse in 1 1/2 c of cubed and chilled unsalted butter until the mixture looks like crumbs. In a mixing bowl, cut in three tablespoons of ice cold water and add additional tablespoons as needed until the dough starts to stick together. Be careful not to over mix though! Form a ball and cut into two halves. Flatten in a disc and wrap in seran wrap to refrigerate for at least an hour.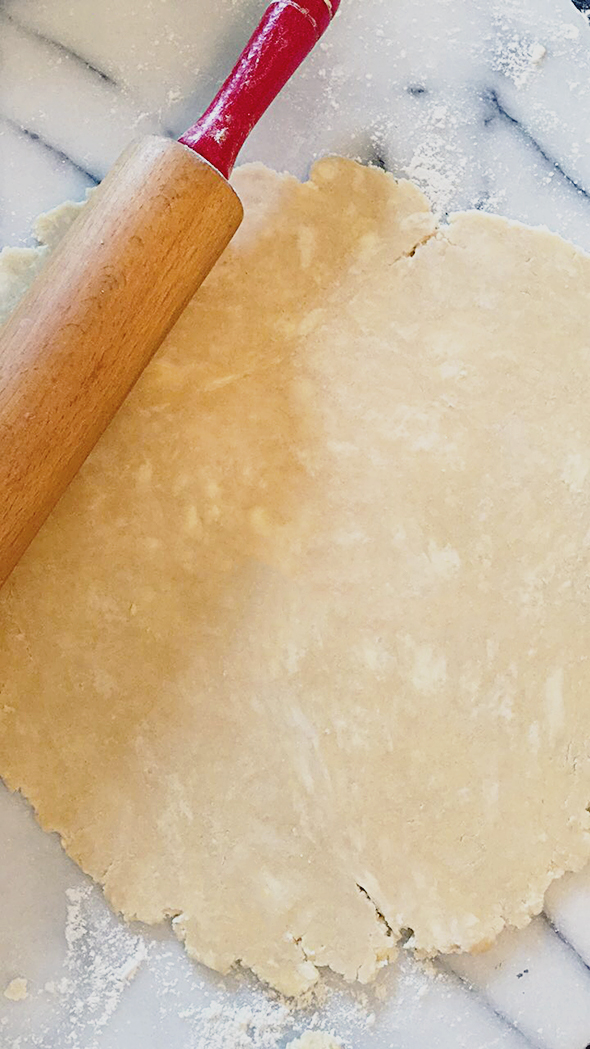 This recipe makes a double crust – just roll out and fill however you like! Chicken pot pie, sour cherry pie and pistachio nutella are my favorites, but this recipe for pumpkin pie filling is pretty amazing! The maple syrup and fresh ginger really make it special. It tastes best after a day or so, so make two and keep enjoying it for the rest of the weekend.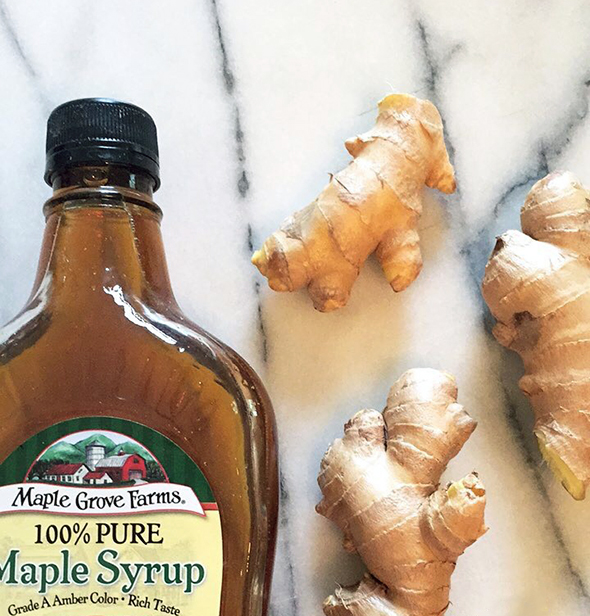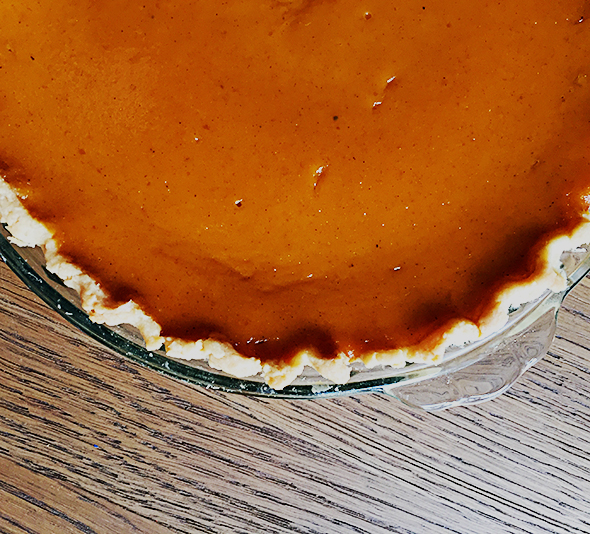 What are your favorite Thanksgiving recipes? My brother-in-law has Celiac so if you have any great gluten-free recipes, I'm all ears! I'm thinking about a creamed corn dish…