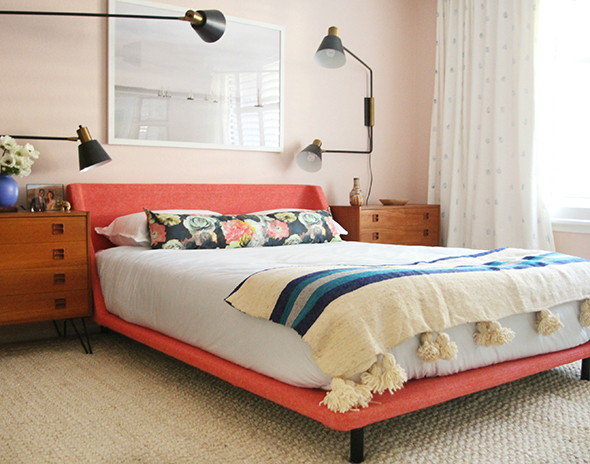 One of our goals when working on Lucy's bedroom redesign was to make it feel different from before, even drastically so. She was ready for this change. But most of all, we wanted her to feel relaxed and comfortable in her room. We wanted the look to be feminine and grown up and serene. Joanna originally suggested the blush color (a color we both love for bedroom walls!) and Lucy was totally on board.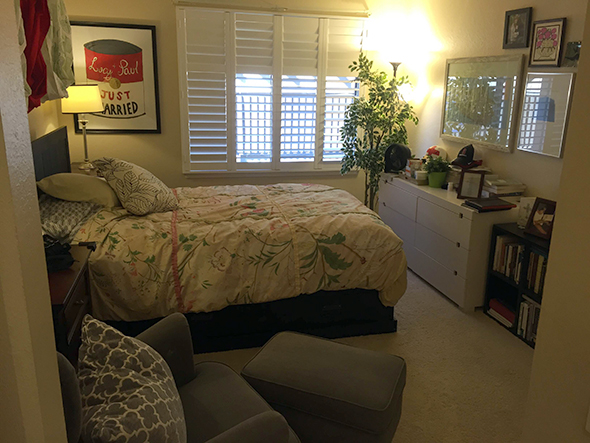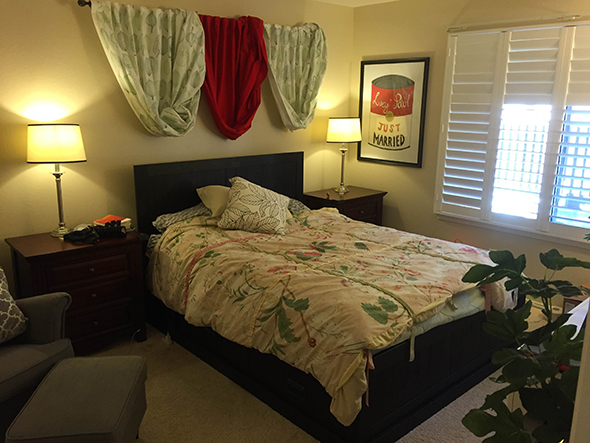 We chose Benjamin Moore's Love and Happiness in an eggshell finish. I love the coral-y blush color! It's not too intense – it just feels soft and cozy!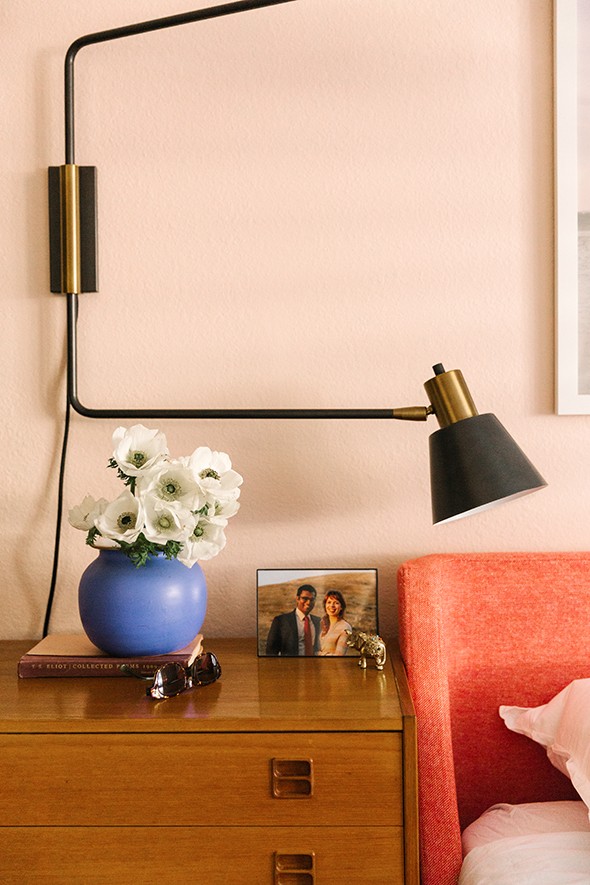 We knew most of the linens and textiles in the room would be white or neutral, so we thought the bed could be a really fun pop of color in here. We chose Blu Dot's Nook bed in Poppy, which is a bright pinky-red in person. The quality of that bed is TOP NOTCH. I'd love to get one for myself in the blue color.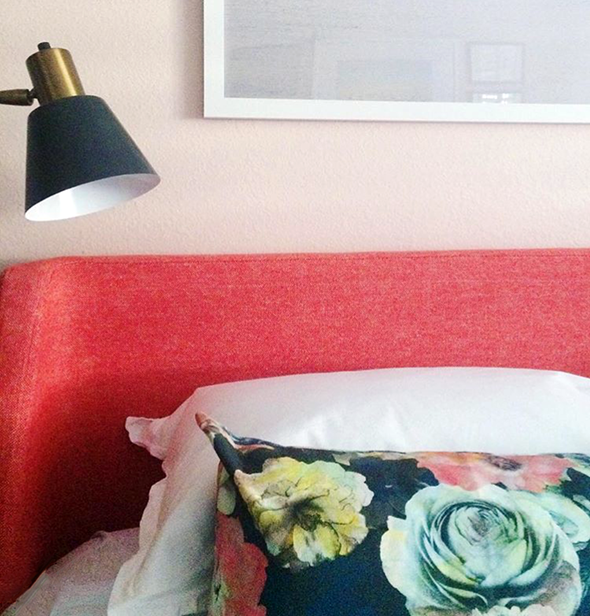 Once we had the bed picked out, we looked around locally for nightstands to bring to California with us. We found these Danish beauties at Mathematica Modern at Zinneas (the same vendor who sold us the secretary weeks before) and we asked him if he had a mate to the version with the drawers. He did! And we LOVE them!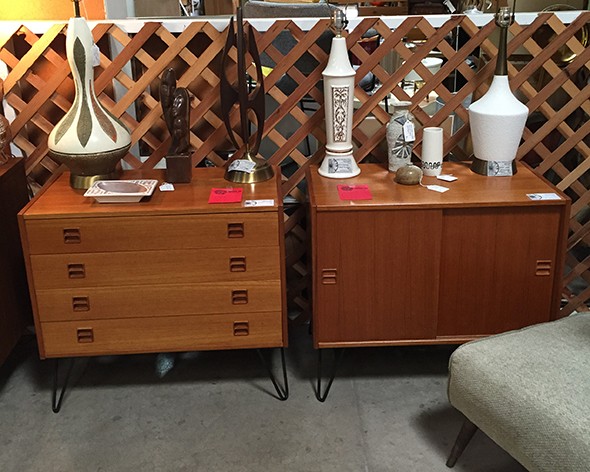 They're petite, but I love all the drawer storage. And the hairpin legs the seller added makes the height of the drawers a little easier to access. Somehow Mathematica always has a pair or two of these in their booth, so if you're looking for something similar, it's worth a call to Zinnea's or an Instagram stalking session.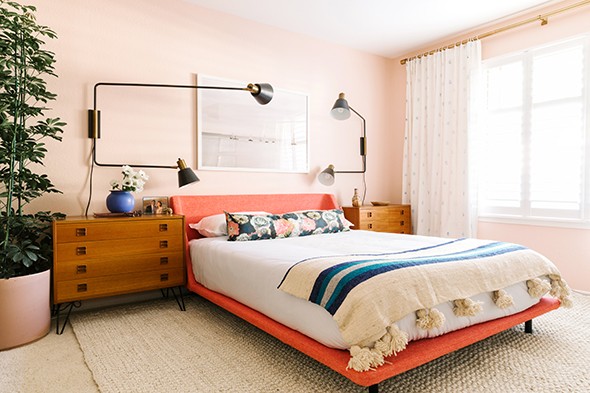 We wanted statement-making sconces that would help to brighten up Lucy's room (remember, there was essentially no overhead lighting anywhere in the apartment) and I think these steel and brass sconces from Rejuvenation totally fit the bill! I love the masculine/industrial element they bring to the space.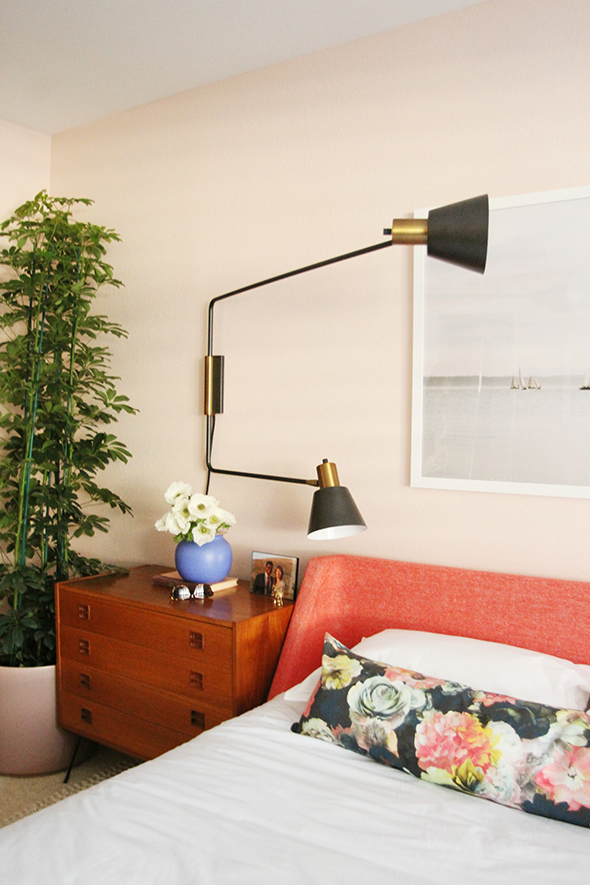 I think every room, especially a pink one, needs a little (or big) dose of black. I found this sweet little black leather slipper chair at a local shop here called Modern on Melrose. It is one of my favorite places to search for amazing mid-century treasures. The chair was designed by Milo Baughman. Did you know it's pronounced My-low Boff-man not Mee-low Bow-man? I only learned that a year or two ago and have been feeling sheepish about it since. :)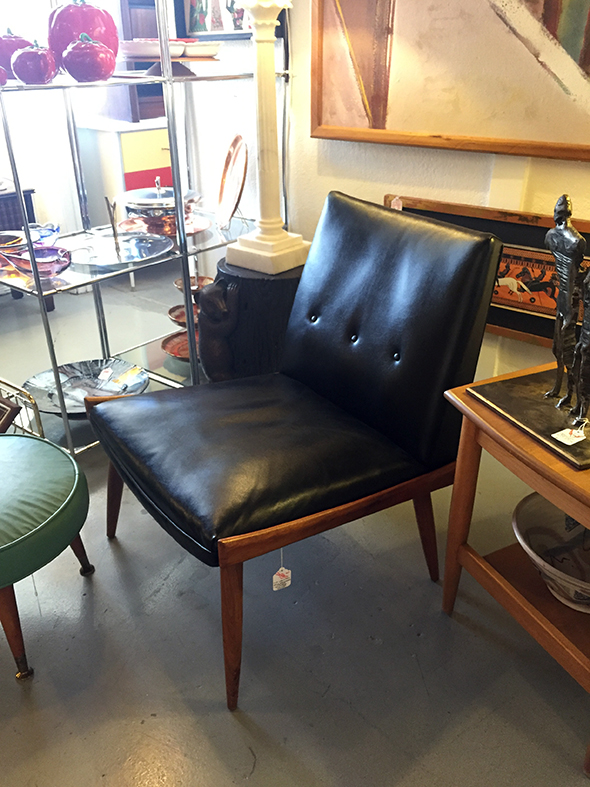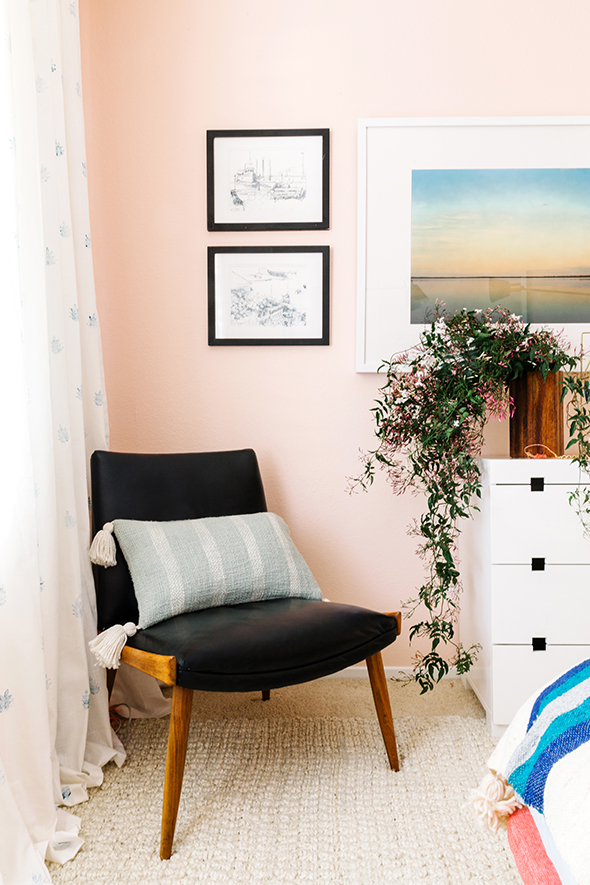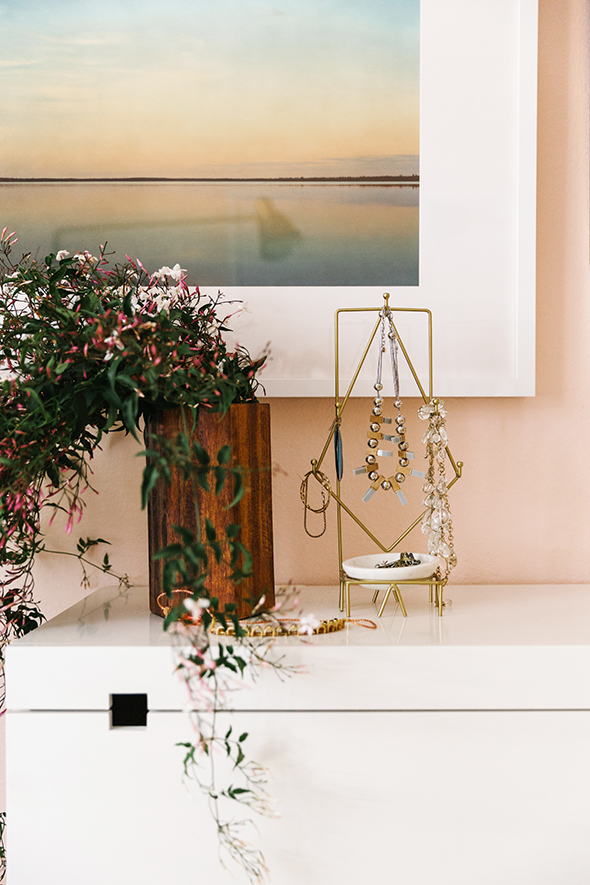 We wanted the art on Lucy's walls to be on the softer side too. We found this sailboat photo print from Eventide Collective  that we all loved and felt like was such a peaceful image. The extra dose of white/soft colors is lovely in here, I think.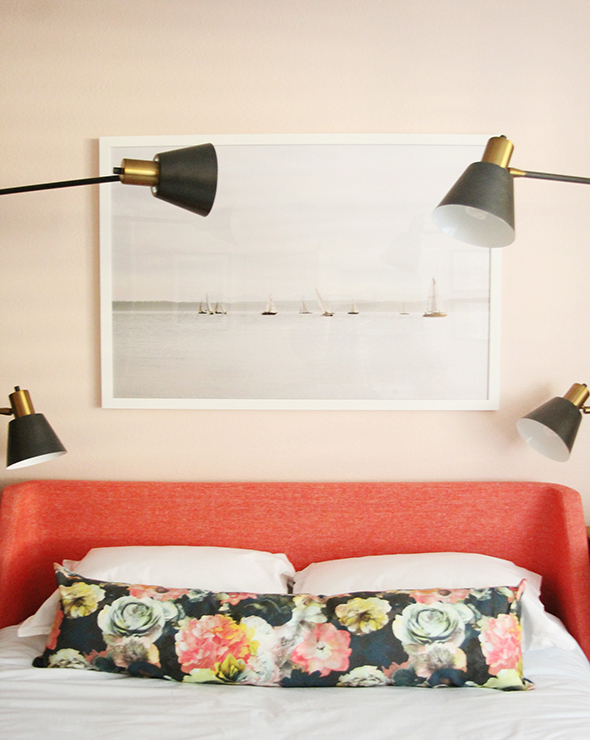 The bleached jut rug was a steal from World Market and the color was perfect for layering on Lucy's carpet. I love the sophisticated texture of a natural woven rug!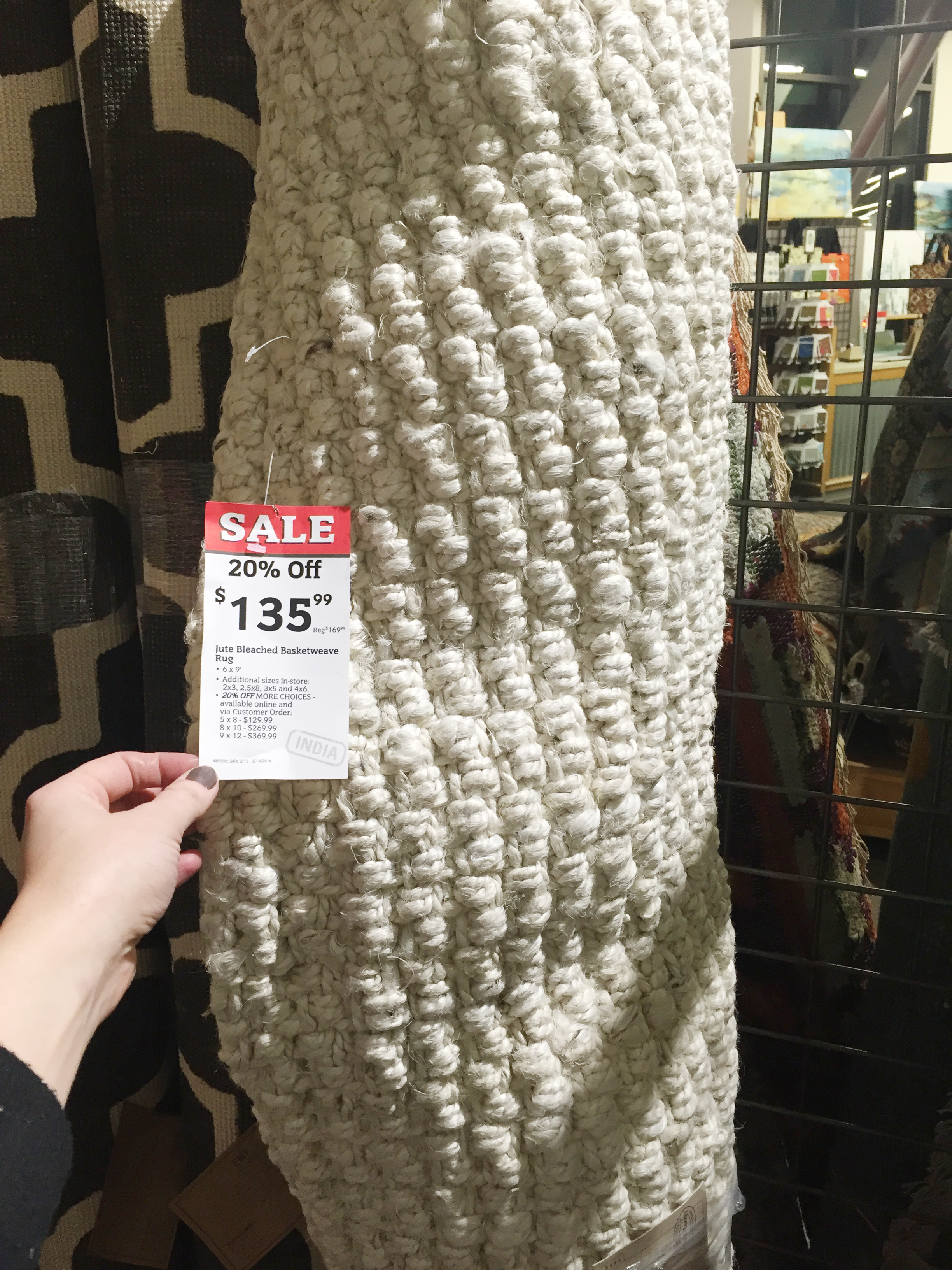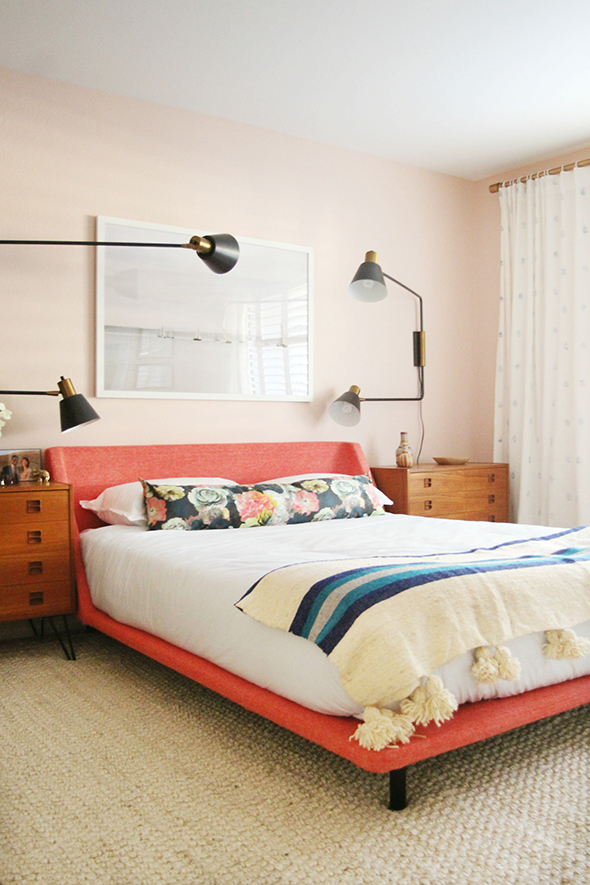 We chose super simple bedding from Parachute Home in the softest ice blue. It is SO lovely in person and super high-quality. I love, love, love how it pairs with the floral lumbar pillow we had custom made from Stuck on Hue. I bought the Moroccan pom-pom throw from Etsy.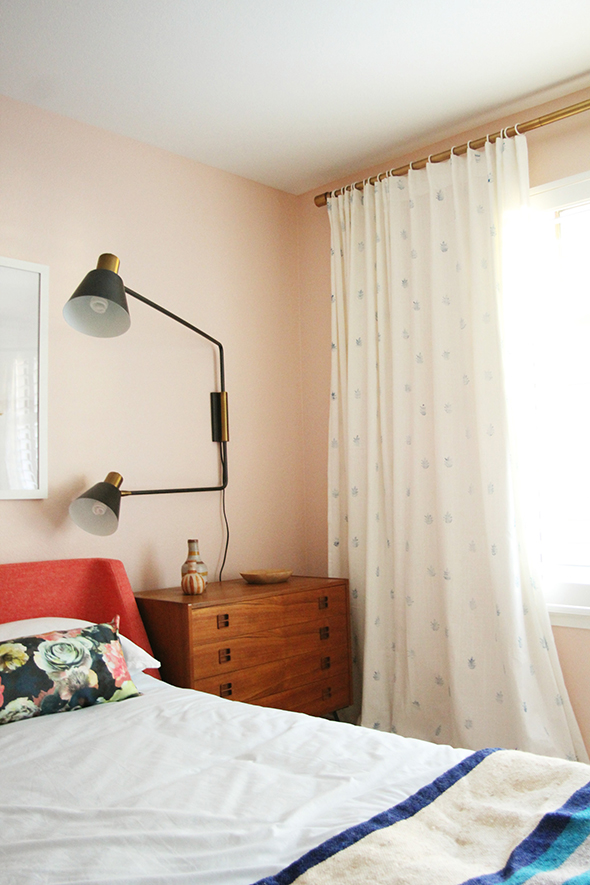 The block-printed curtain panels are a DIY (tutorial post coming up!) using IKEA's Ritva curtain line – the very best curtains at IKEA! The price can't be beat for the size of the panels, and the white color is bright and pretty and has a nice linen-look texture. I also really love that they come lined and with a drapery hook tape already sewn in the back! IKEA sells these three-prong hooks that slide right into pockets of the drapery tape and easily make a three-finger pleat that is ready to hang right on drapery hooks. Our curtain hardware is from West Elm. I love the touch of warmth from the brass in that rod!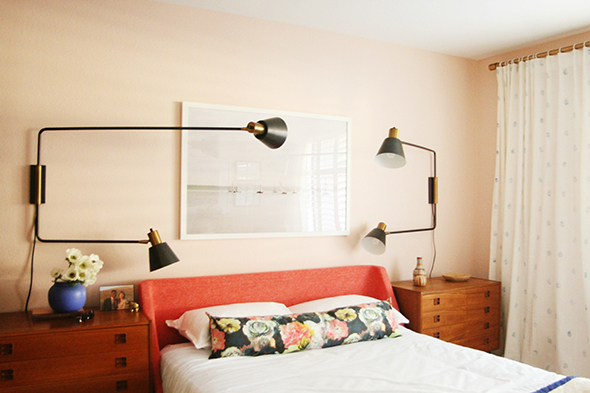 In the end, I think we were able to give Lucy a feminine, sophisticated new bedroom that feels comfortable and happy! She has texted me a few times to say that she is sleeping SO well in her new room, which is pretty much the most heart-warming thing I could imagine. :)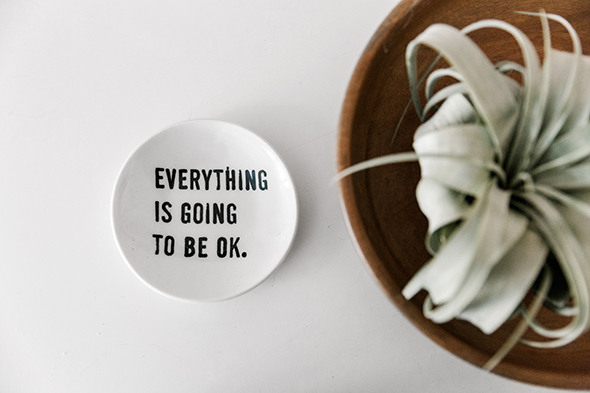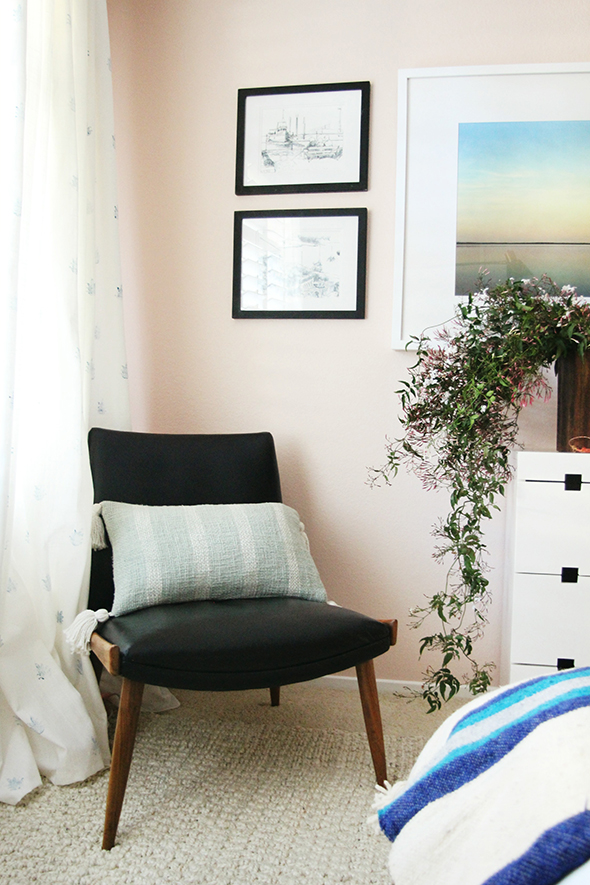 BEDROOM SOURCES AT A GLANCE: