It's party season!! I love having a few easy-to-pull off party decorating tricks up my sleeve and this new chalkboard paper + garland idea is one of my favorites yet! (Here's another, more summery idea)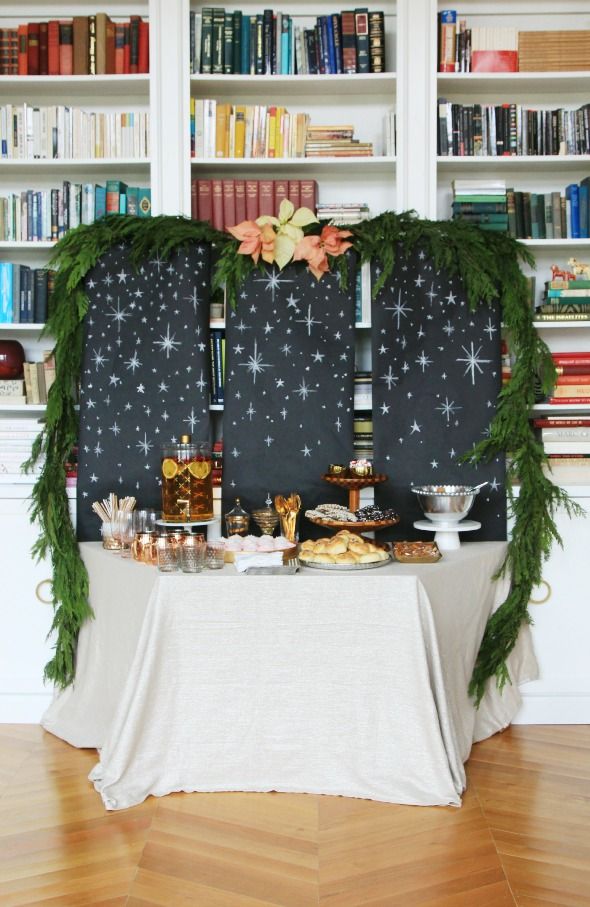 I've loved partnering with Target this year for their holiday campaign, so of course I went there first to buy some supplies for my buffet table and the backdrop.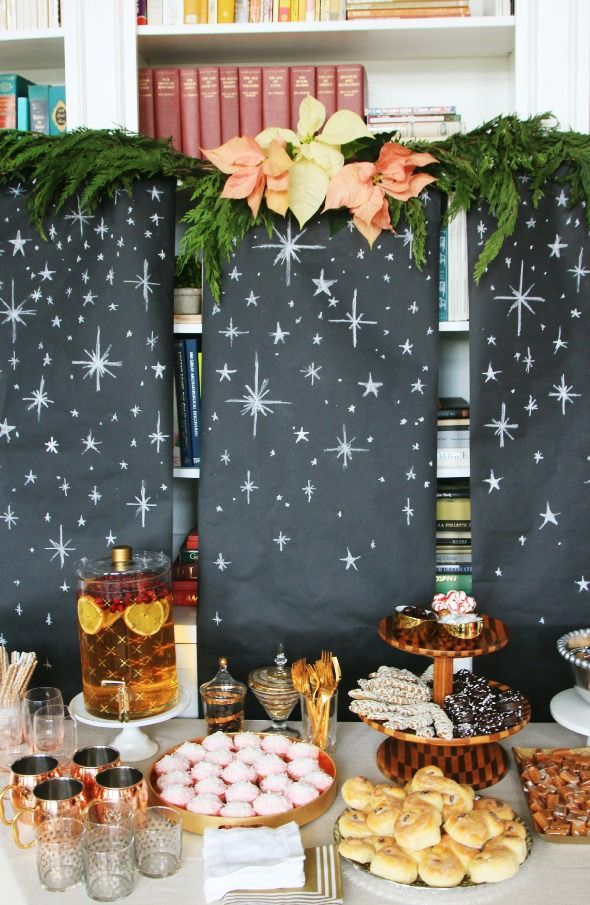 Some of our law school friends used to have a Christmas wassail party each year when we lived in Boston and I love keeping the tradition alive! Wassail is delicious and easy to make. I use a version of this recipe when we serve it hot, but the general idea is apple cider, cranberries, oranges, cinnamon and clove. Yum!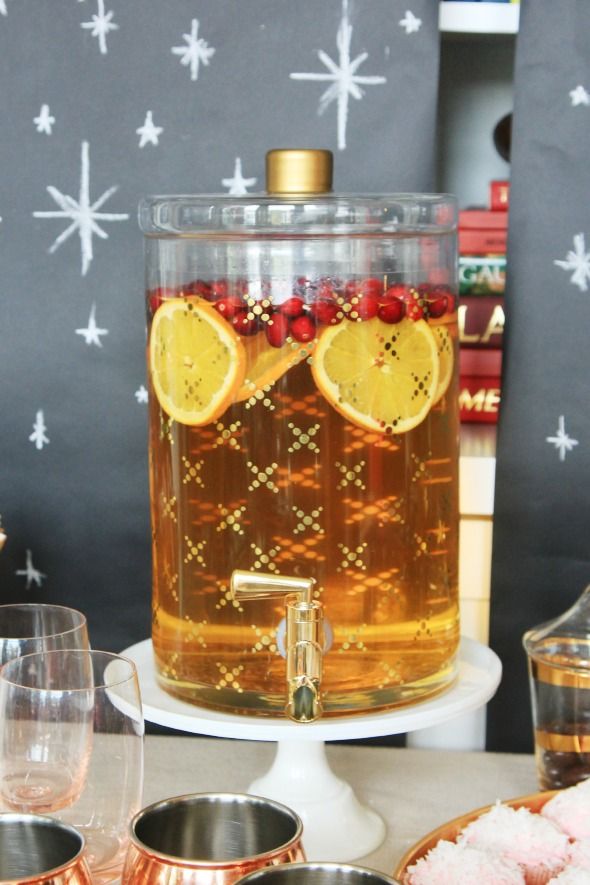 The pretty drink dispenser can be found
here
(and it actually works well, unlike so many drink dispensers I've had in the past!). The
snowflake tumblers
and
the copper mugs
are also from Target. The blush goblets are vintage.
Swedish saffron buns (or St. Lucia buns) are a holiday staple in our house and they pair so well with a cup of hot wassail or hot chocolate. I served them on this pretty mercury
glass tumbling block platter
, and coconut cupcakes on
the round gold platter
.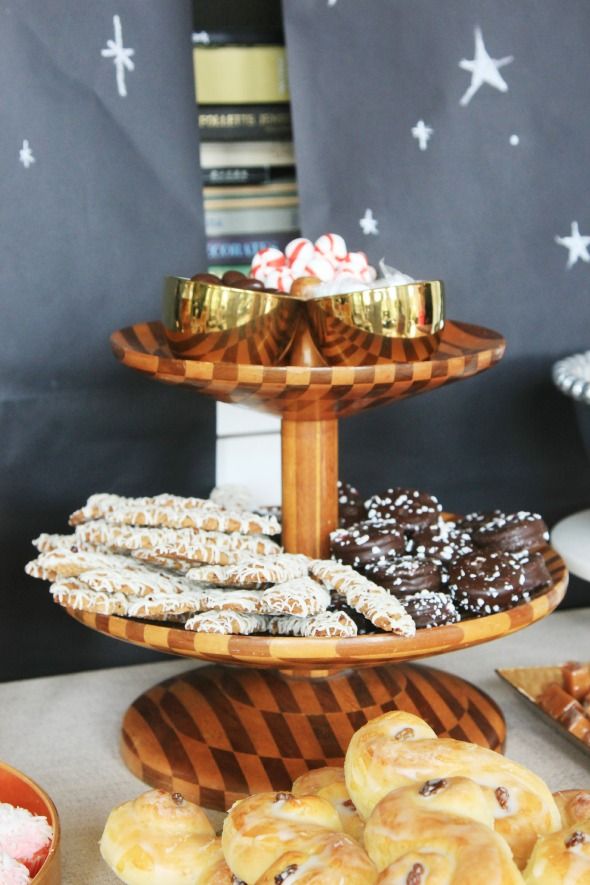 I threw some candies and cookies (peppermint chocolate-covered Joe Joe's!) on a few serving trays and
little gold bowls
too, and that was it! Easy and pretty! I love how Target is mixing metals in their holiday line – gold, silver and copper all mix together so well.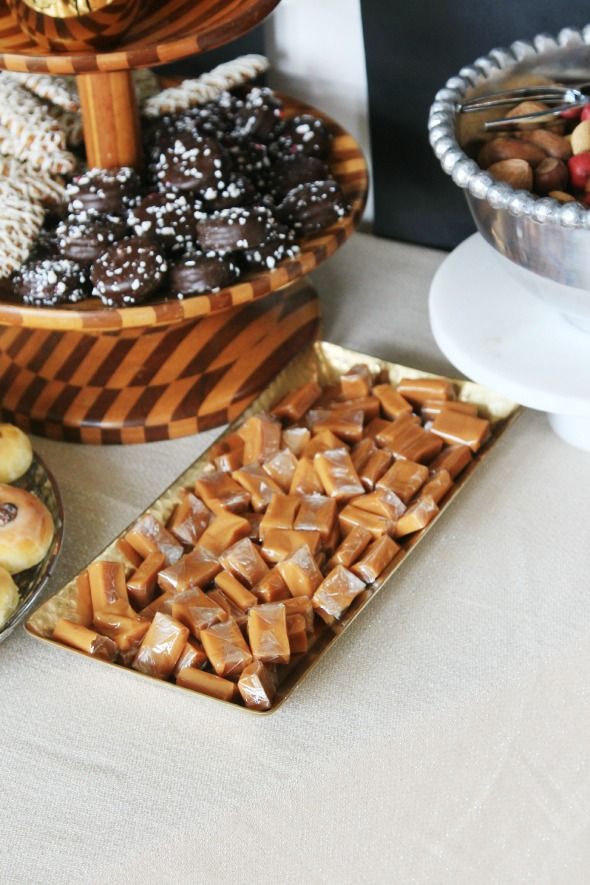 This
hammered gold tray
is a new favorite and
the pewter bowl
is the perfect size for holiday nuts. My girls think that it can't be Christmas time without a big bowl of nuts out on the coffee table. :)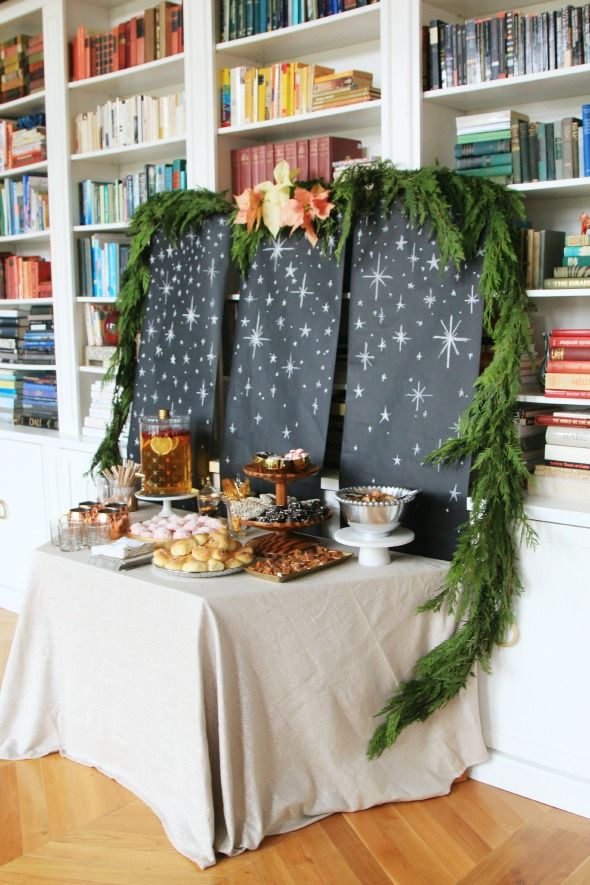 I'll have another post about our holiday decor this year I'm sure, but we did lots of white and cream and just a hint of barely there blush. And then a punch-in-the-face dose of neon pink every now and then, just to keep things exciting. :)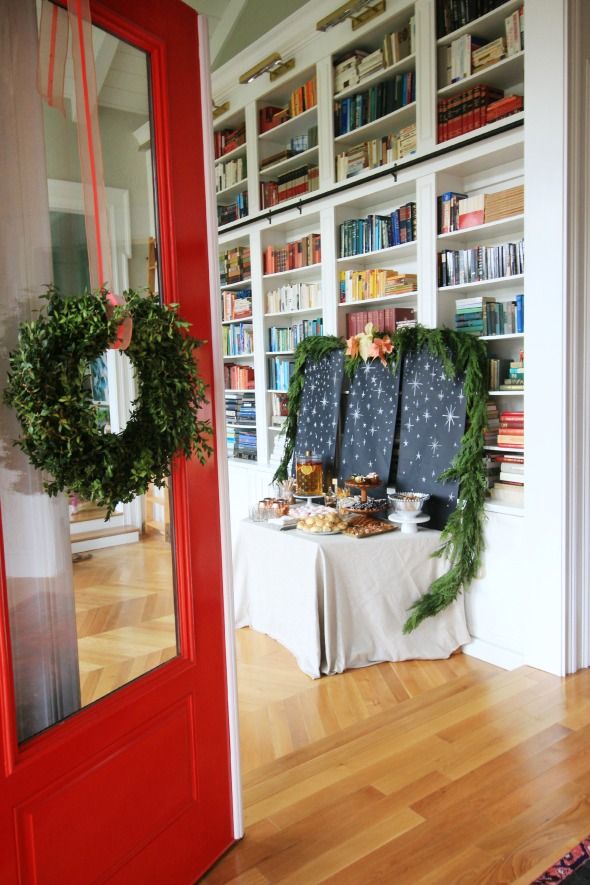 The pink and cream poinsettias are really helping with my color scheme.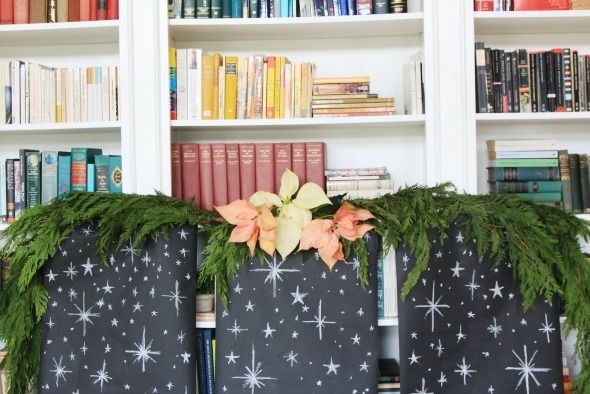 I always like to have a food table in a common room, or at least out of the kitchen, so that the kitchen can be a place for prep (read: messy). This is the first time we've used the bookshelves as a backdrop for our food table and I'm LOVING the look! It's so nice to have a pretty place to put the food that is also convenient to both seating areas.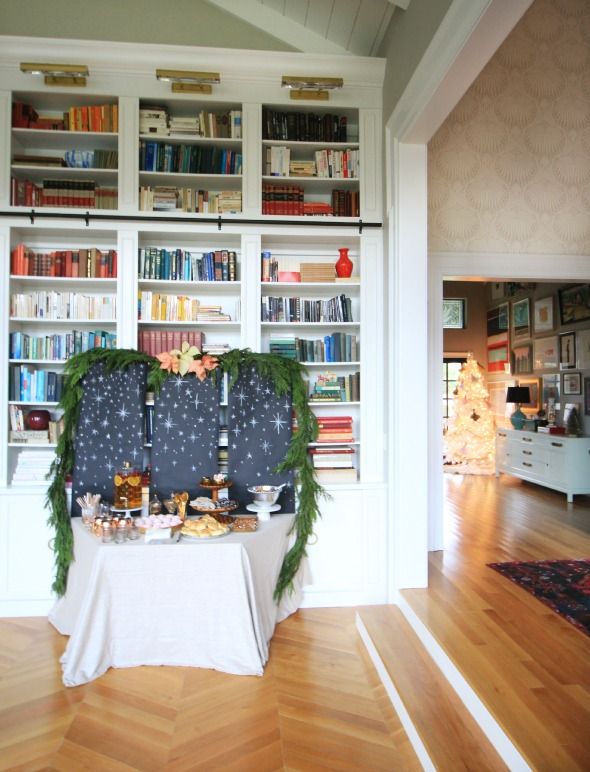 I picked up two $6 fresh cedar garlands at Trader Joe's and a cream and a pink poinsettia plant. I used a bit of floral wire and a few small pieces of duct tape to secure the garland to the shelves first.
And then I added a bit more floral wire to attach the three poinsettia blooms to the garland.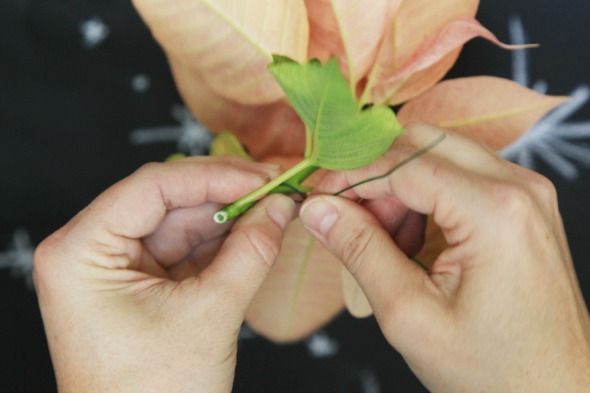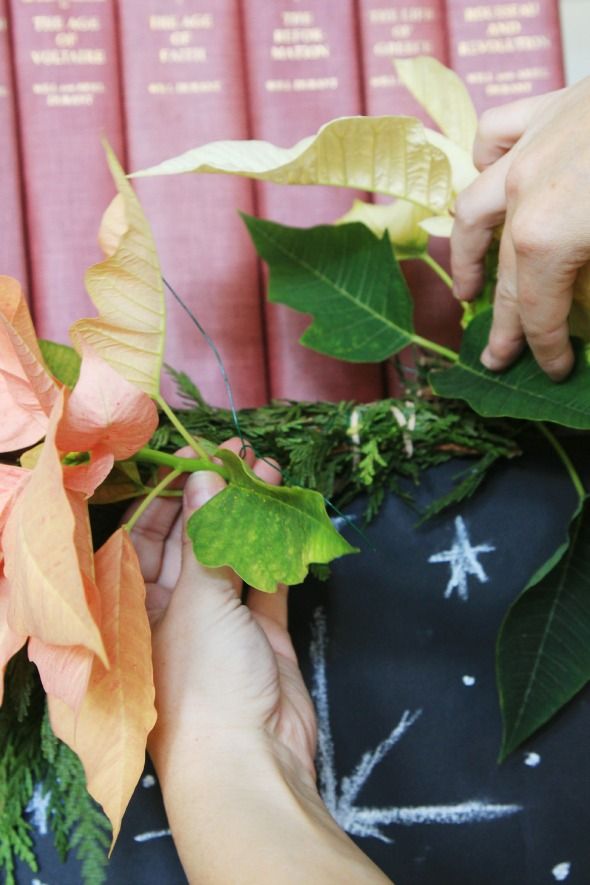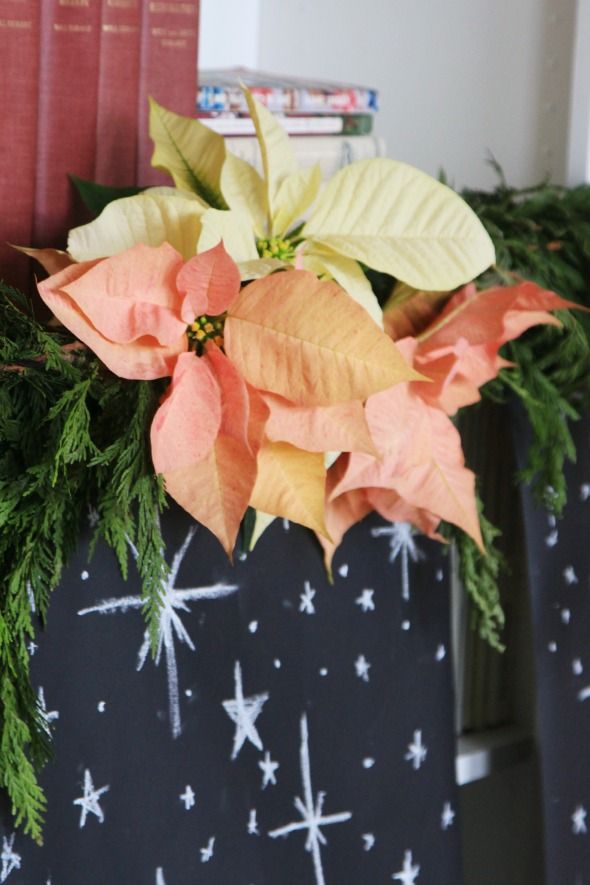 We hung the garland on top of three strips of this chalkboard paper runner. Can I just say that I am OBSESSED with this paper?! The finish is so matte and deep – it's gorgeous and it really works like a chalkboard. I think there are a million ways to use this genius product!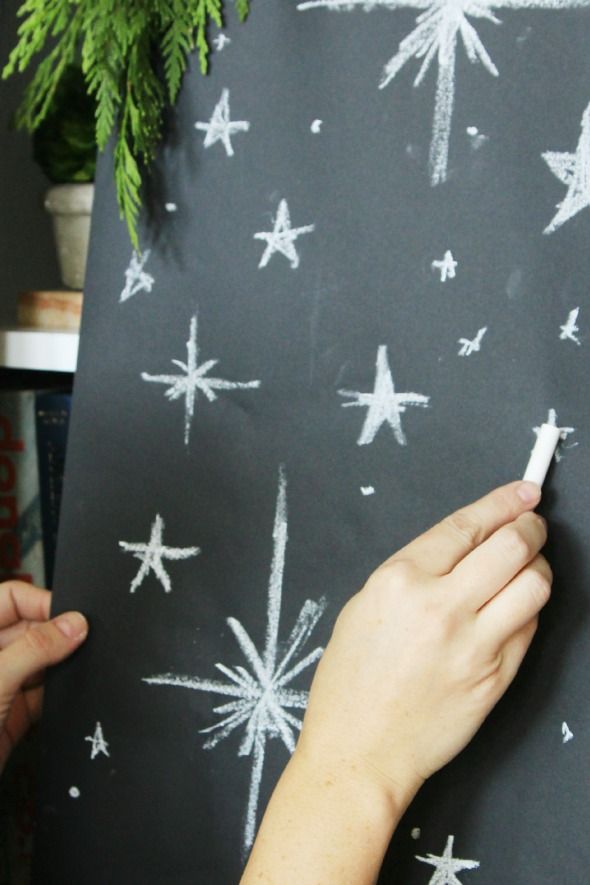 I drew a star pattern on our paper with white chalk. It's a super quick, very easy, and just the right amount of festive, I think.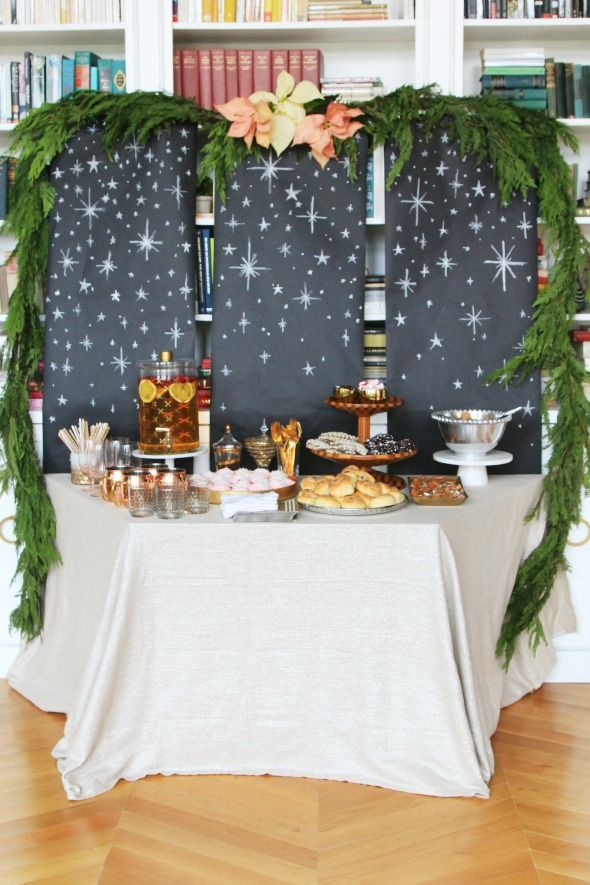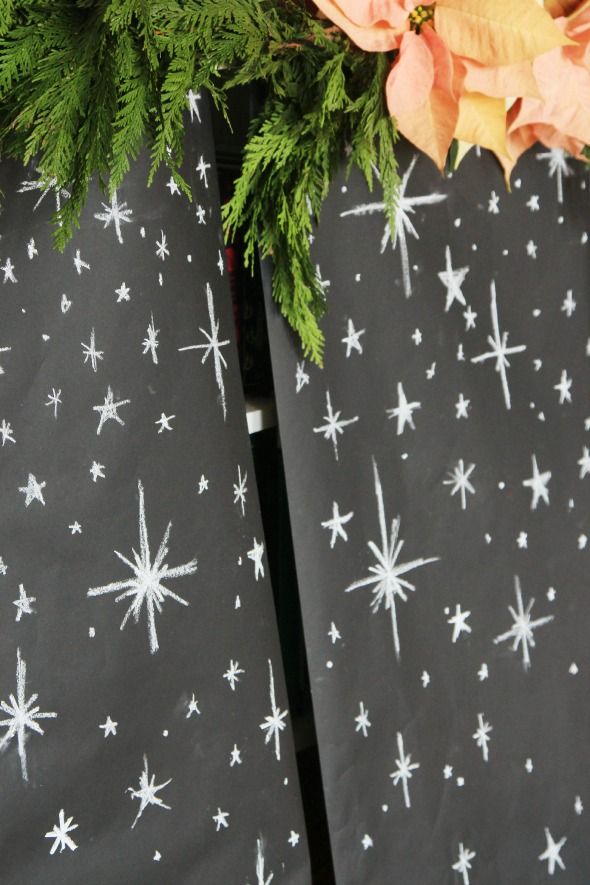 I'm so happy with how this party buffet turned out! It was super inexpensive, but it looked really nice I think and felt special for our guests. I'm excited to play with variations on this theme! :)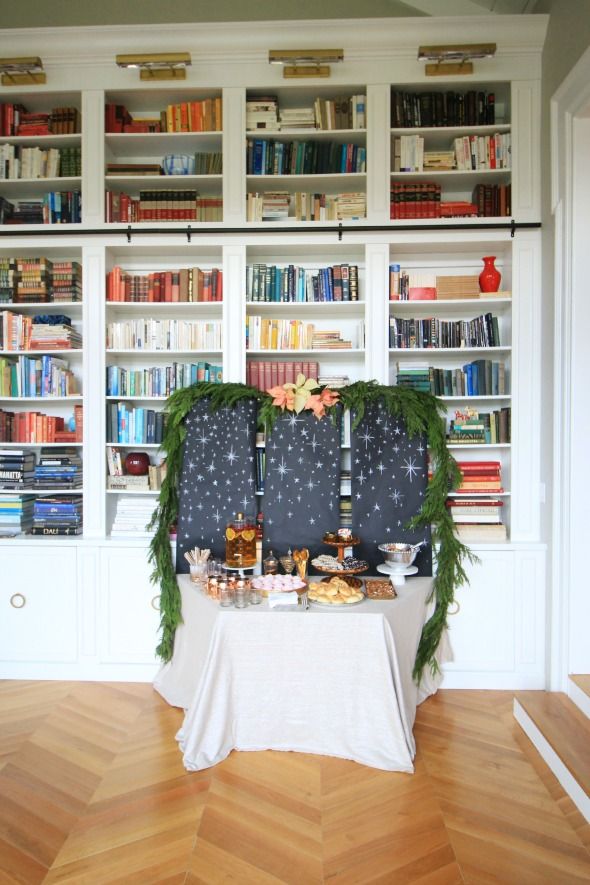 This post is sponsored by Target. Shop Home Décor for modern luxury made easy.