Sometimes I like to jump right in to three or four big projects all at once. I figure that the house is going to be a mess and all covered in construction dust anyway, so why not knock out a few things at the same time? If you follow me on Instagram, you've probably seen my kitchen cabinet upgrade, our new sink and soon-to-be-stripped faucet, and some of our bathroom demo. And hopefully you took a minute to vote on our exterior house color choices. I need to share photos of the front of the house too, which we hired Jason again to help us rework. All the projects are moving at break-neck speed, so we're all feeling a little tired, but excited by the amazing progress on the house in a very short period of time.
We also hired the same guy who took out our well to help with removing the giant bathtub (his company is called Kyle's Moonlighting and Kyle is pretty much the nicest man in the world – totally recommend him for exterior/interior removal services!).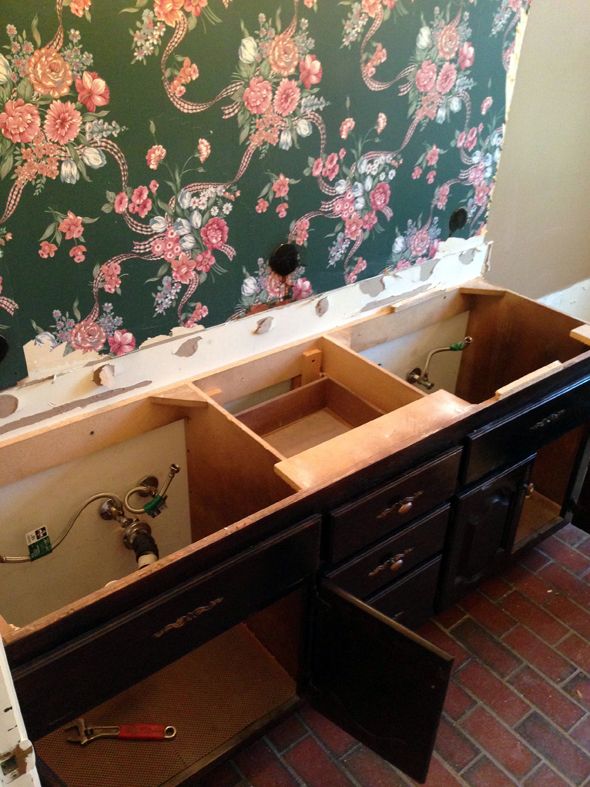 Once we got the tub and the vanity out, we called in some plumbers to get the pipes ready for the new tub and for a single sink vanity.
Next, we're tackling tiles. I'm going with one of the tumbling block patterns
I posted before
I think. Of the two I posted, I'm leaning toward the lighter version peeking out up above and here below:
I picked a stone
for the sink and I think it will go together beautifully! Can't wait to get going on this install. The floors need to be floated a little though to prep for the tile and to make the bathroom level with the wood floors. (The blue walls are getting a big change this week hopefully too!)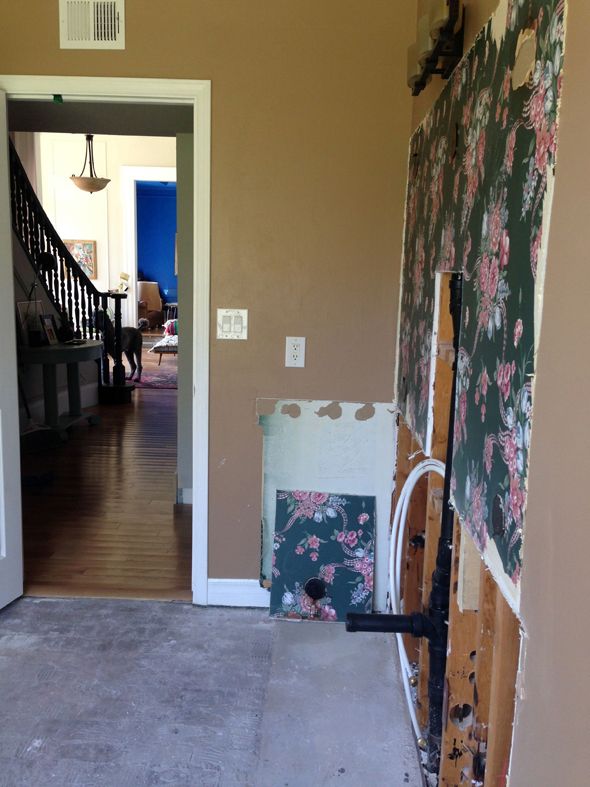 Oh, I also wanted to share that I found an amazing vintage sputnik a few weeks back at Modern on Melrose, which is a really fun vintage consignment shop on 7th Ave. It's becoming one of my favorite stores to pop in to – their selection is always well curated and the prices range from very fair to amazingly inexpensive. One of my favorite lamps in the studio (the one on my desk) was only $20 there. If you stop by, be sure to check out the salvage yard area in the back!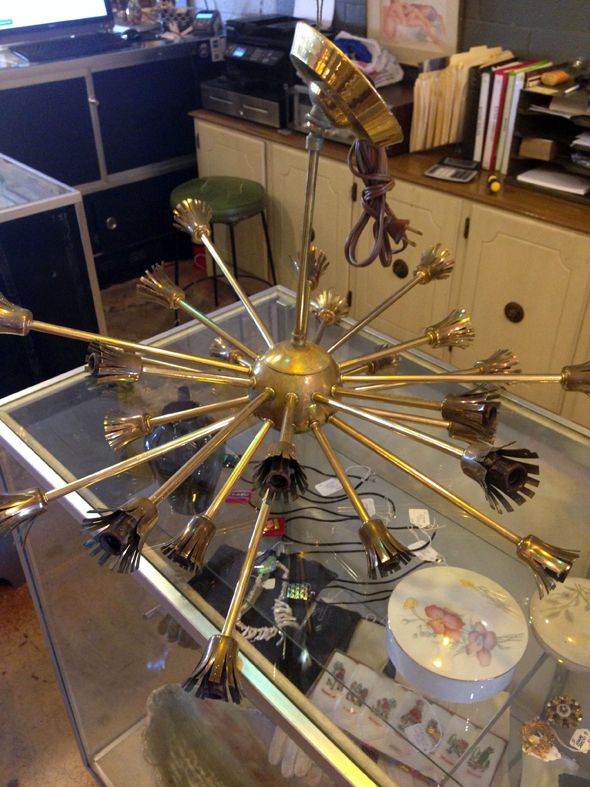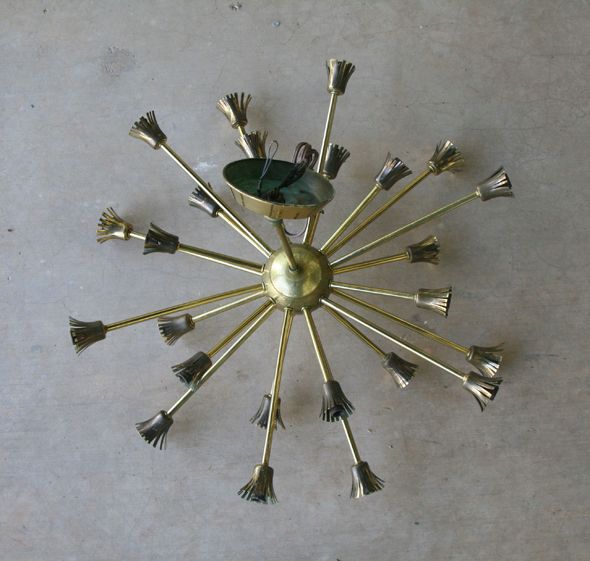 The brass on the sputnik was not in the best shape, but just a little scrubbing with some soapy water cleaned up the grime and not-so-great-patina.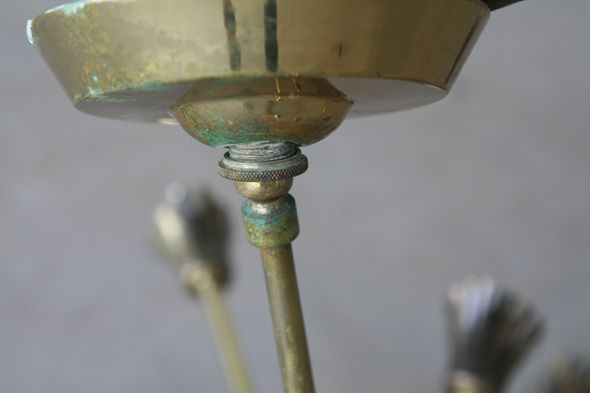 Aren't those "petals" amazing?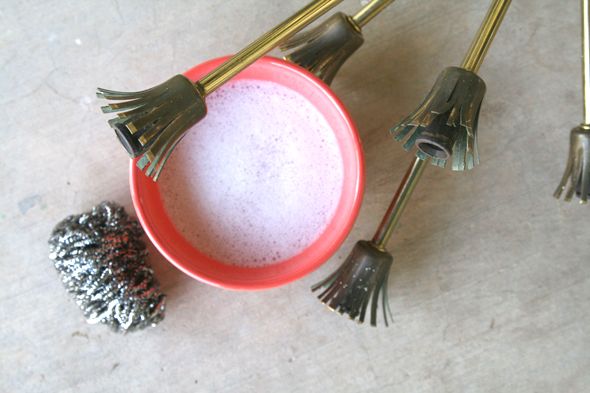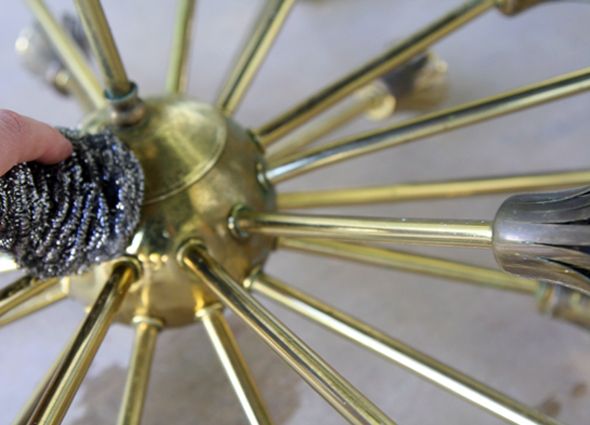 We're going to take down that pendant and move the electrical box to be centered over the tub and the window for the sputnik. Won't it be so pretty with the wall of subway tile and
the pretty clawfoot tub
?!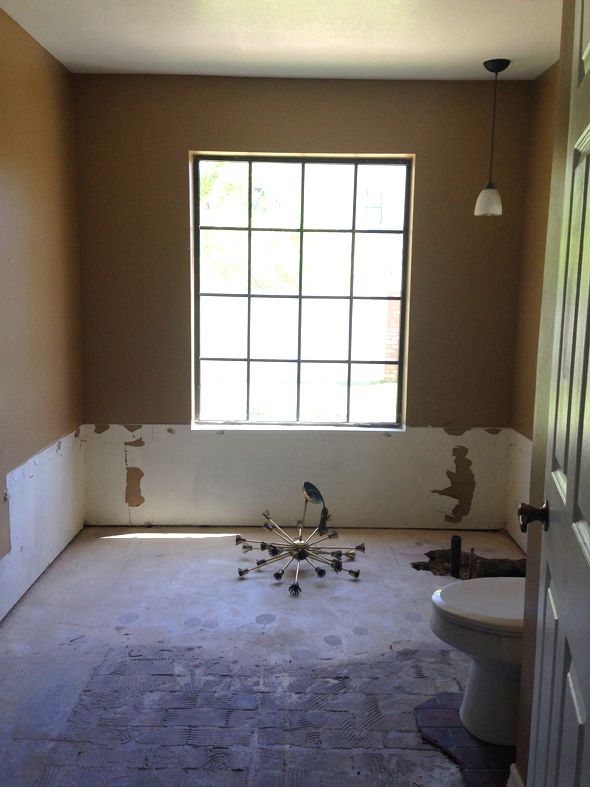 Sometimes fun decorating purchases help me get through the projects phase a little more efficiently! I'm getting anxious to see how it all comes together. :)