Originally we planned on putting in unfinished white oak floors so I could customize the stain color and finish. We were going to have a company come in and lay the floors for us since we were in a time crunch and there's a lot of floor to be laid. To save money we were just going to do the demo ourselves. It's a long story with not a lot of interesting take-aways, but the short version is that the floors weren't going to be able to go down before the moving truck arrived with our stuff, so there was no reason to pay the extra money to have the flooring company lay them for us. We are saving about $25,000 by laying the floors ourselves and by going with a pre-finished wood. $25k is a pretty insane amount of money to me. I don't mind putting in the work myself at all so that I can save that cash for other projects and especially for the kitchen reno we're planning down the road.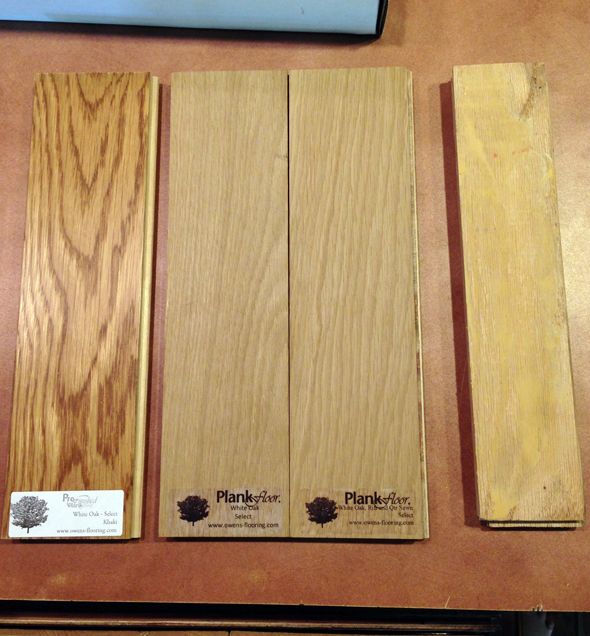 At first I was a little sad about not getting to customize the stain and finish on the floors, but I actually don't think the custom stain would end up being so different from the pre-finished wood I ultimately selected. When I was trying to figure out a stain formula, I kept thinking I wanted a more gray look. Then I would look at my favorite inspiration images and those floors were definitely more golden-natural than gray.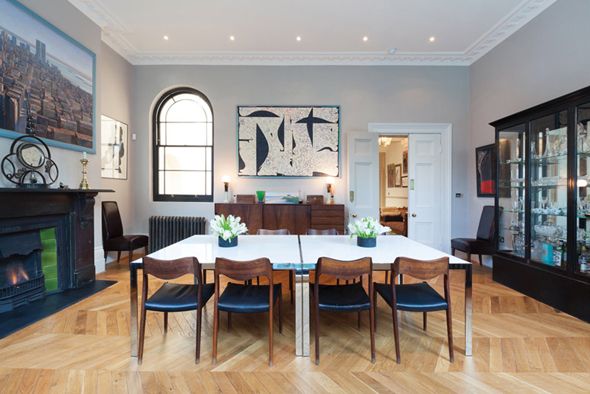 (more after the jump…)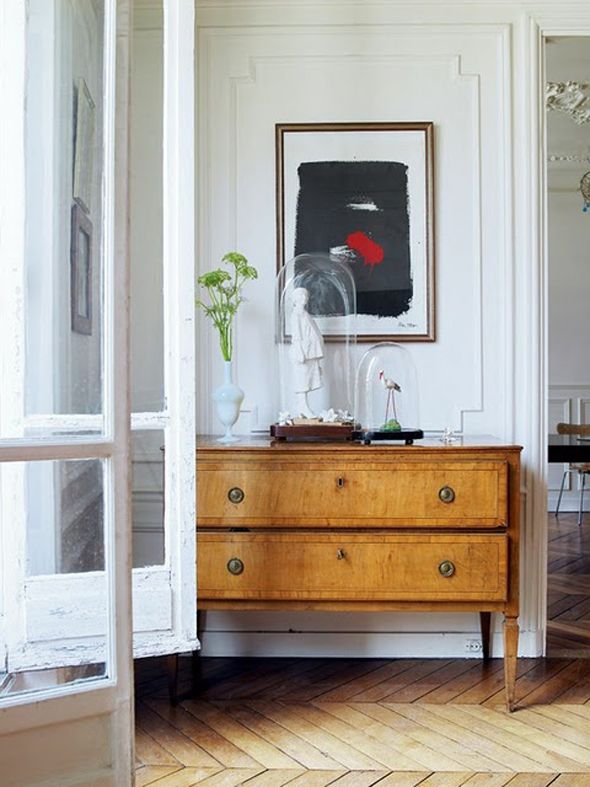 So I figured I should take my own advice about finding color balance in my home. I usually pick very cool-tones for my wall colors (grays, blues, white), and if I went gray on my floors too, the overall look wouldn't be quite right for me.
So I went shopping and picked up samples of pre-finished hardwoods. Just like with paint, I think it's always a good idea to see how the samples look in different lighting throughout the day.

The top three samples are from Lowes. I liked the color on the right (#3), but that stain and species (white oak in natural) only came in 2.5″ planks. Also the Lowe's wood was more pricey than the Lumber Liquidators options here on the bottom row.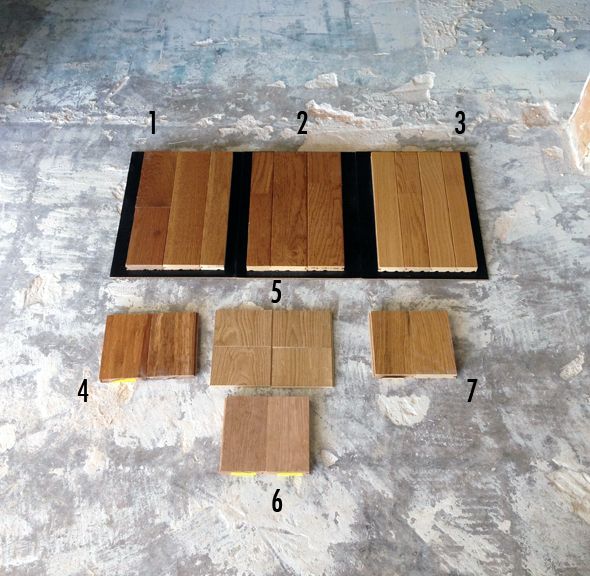 Number 4 is actually a bamboo that looked really nice in the LL showroom, but wasn't right for me. Number 5 is a cheap-o laminate from Home Depot. I picked up a couple of samples because I really liked the golden gray color and thought I would try to match the stain on my unfinished wood (which is #6). Number 7 is a
3 1/4″ select grade white oak from Lumber Liquidators
, made by a company called Builder's Pride. The select grade just means there aren't any hardcore knots. It's a nice and clean look, but still has the character I want to see in wood floors.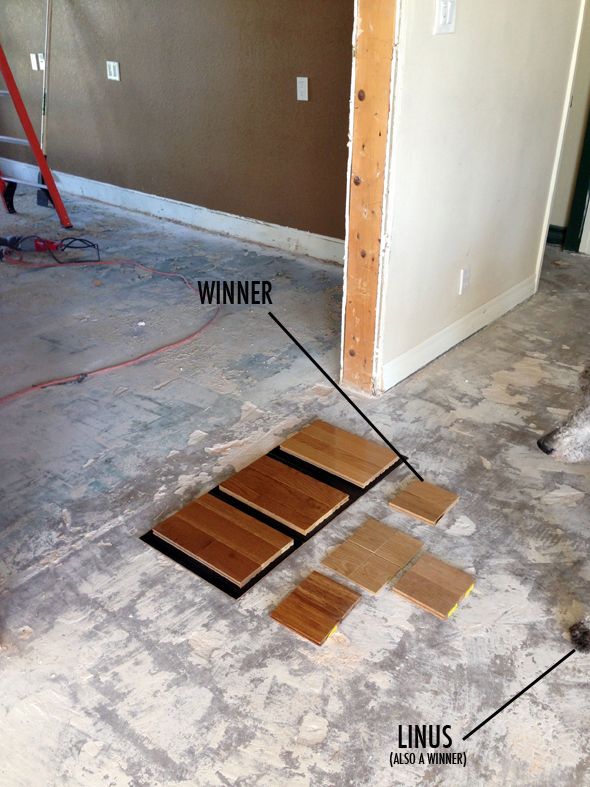 Lumber Liquidators was so nice and seriously wonderful to work with. They aren't sponsoring my blog in any way – I'm just genuinely impressed with their customer service level and the way they run their business. None of their salespeople work on commission so everything is low pressure and very friendly. I didn't even have to ask about sales or promotions – they automatically knocked 30 cents per square foot off the price because I was ordering 2500 sq feet of wood. And tonight they are delivering my wood free of charge (which normally is a paid-for service) just because there was going to be a truck in my area. So, so cool of them.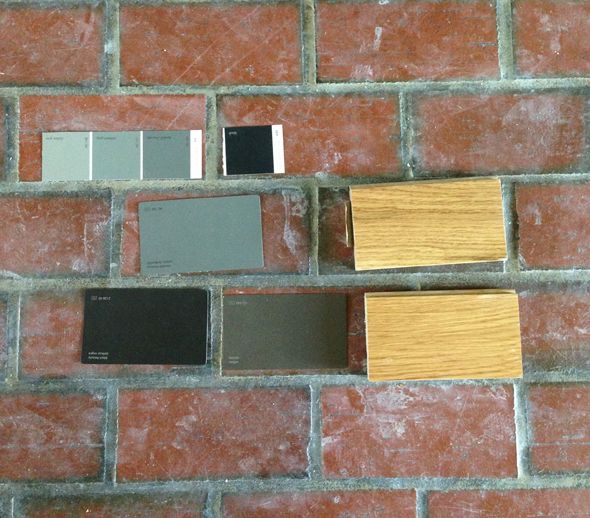 Soon my freshly painted dining area floors will be stacked high with boxes of wood. The wood will need to acclimate to the house for at least seven days before we can start laying it. But there's plenty to do in the meantime. We need to lay a plywood subfloor on all the concrete on the ground floor and we're going to start all the miter cuts for the chevron floor in the library now. My handy man Jason (who is amazing – email me if you need a guy in the east valley Phoenix area) framed out all our demo work earlier today. It was CRAZY to see how fast he got that wood up! He's going to install my front door early next week too. And we'll have some drywall guys come in this week as well so that I'll be all ready to put down the floors the second the seven days of the acclimation period is up! In the meantime I'll be practicing my mallet-swinging form for working the floor nailer and stretching out my hamstrings, which are apparently what will ail me the most while hunching over the nail gun. :)