I never got around to posting about this before, but I painted the faux saltillo tiles in our tiny kitchen in Brooklyn and it held up so well for the year that we were there. (You can see the checkerboard pattern I did peeking out here). As we started to demo the ceramic tile and the wood in the Valley house I was so tempted to take out all the brick at the same time and just live with raw concrete until we tackle the kitchens and the bathrooms over the next year or two.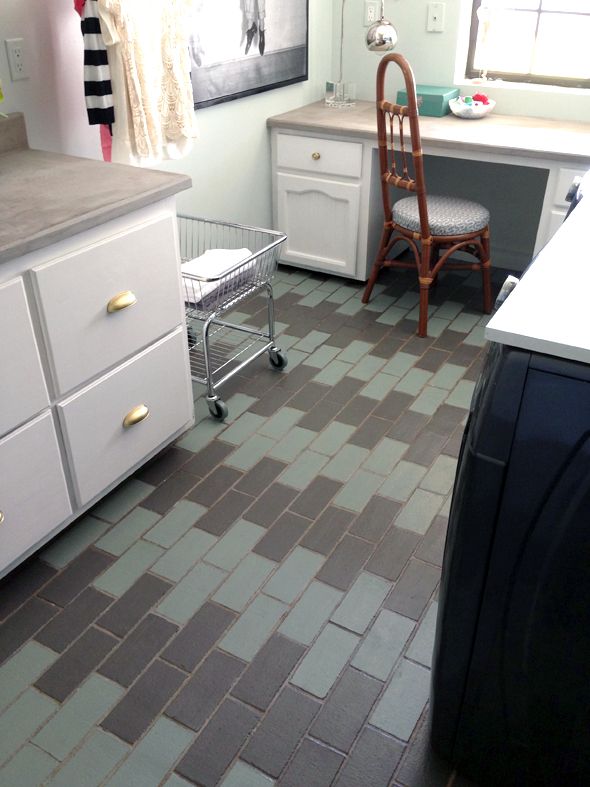 But then I decided to paint the floors in the laundry room on a whim and I actually liked the look. The pavers take paint so well!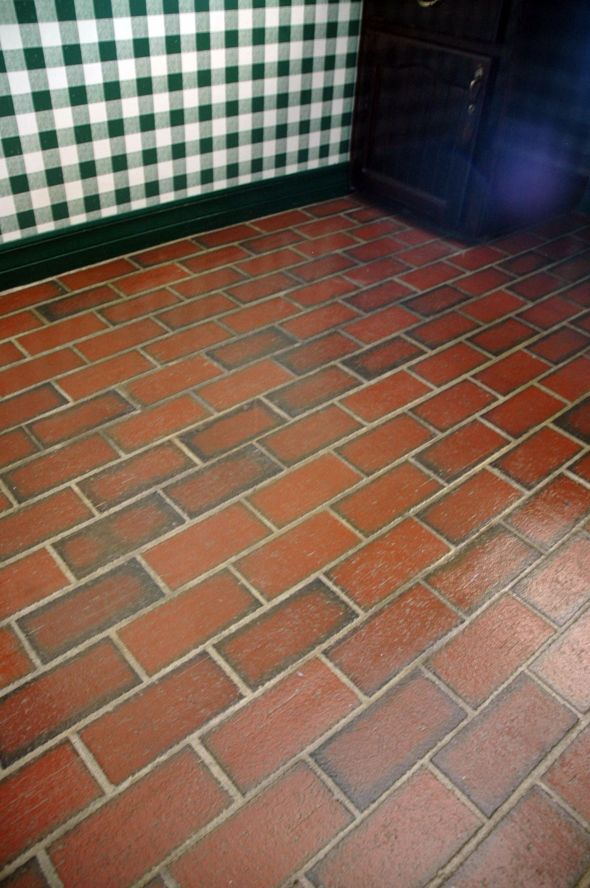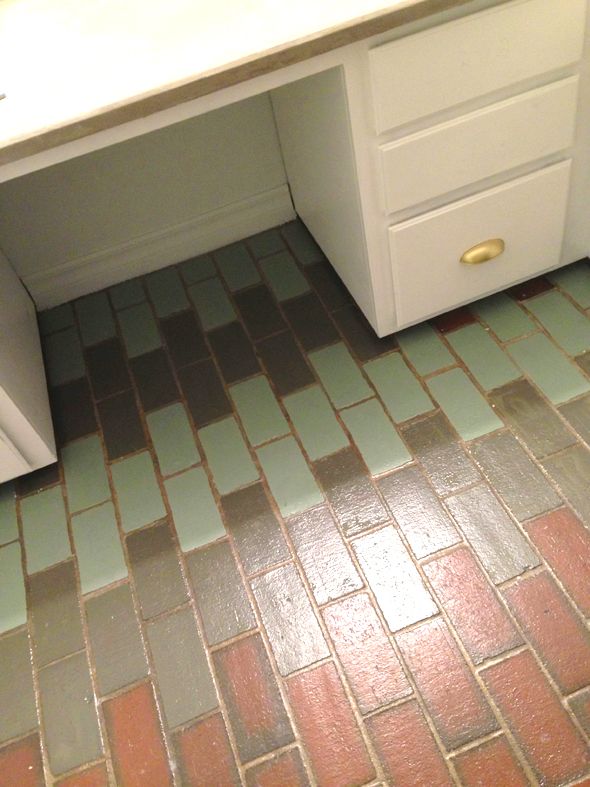 This time though I painted the grout lines so it would look like the tiles were enameled or something and not just like the brick tile floor got a coat of paint.
I used Benjamin Moore's Advanced line in the laundry room. It's a water-based alkyd paint that wears so much like oil-based does. I love it. In the brownstone kitchen, I used an oil-based porch and floor paint and decided to go that route again in our kitchen here at the Valley house. It's fumey and it takes forever to dry, but I know that it will wear the very best of all my paint options. My kids are up at my parents house for the week so I'm taking advantage of their absence to do the floors.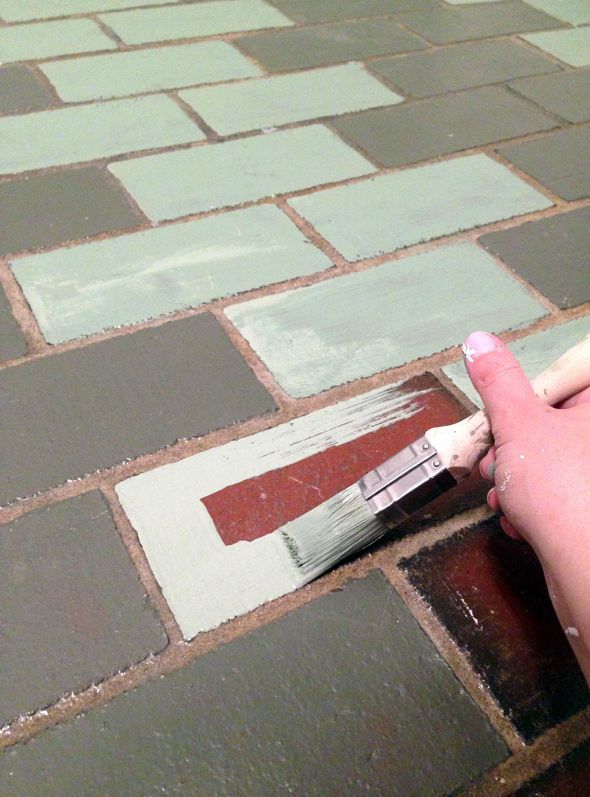 I think depending on your floor surface, it's always a good idea to sand and possibly to also prime, especially if you're drastically changing colors. I used a strong cleaner called TSP to sort of do a mini strip on the sealer on the brick. I did the same thing in the brownstone and it worked like a charm – no need to prime. If you clean the floors really well and use the right type of paint, it's hard to mess the rest of it up! Pretty simple.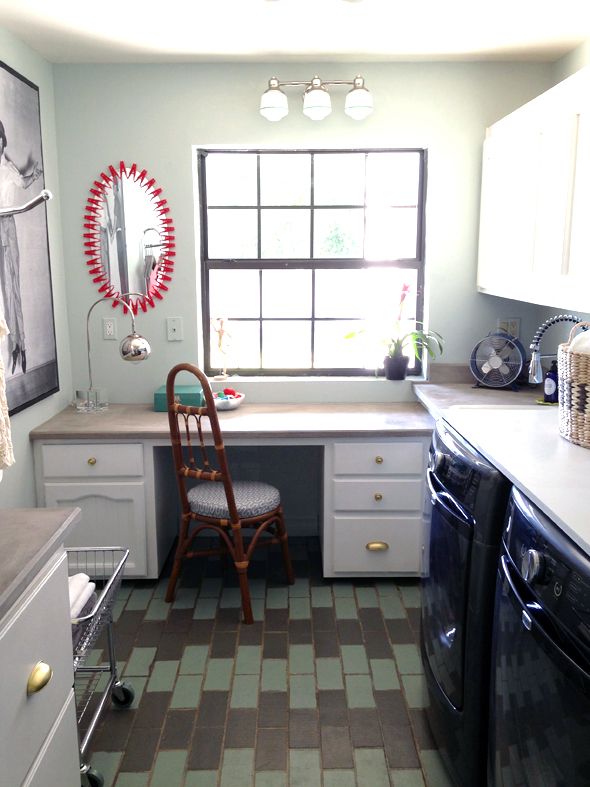 I purchased this this little square brush by Zibra (I guess it's meant for painting mouldings?), thinking that the shape would help with getting the rectangles filled in accurately and quickly. I usually just buy those $5 stubby two-inch angled brushes, but woah, there's a new kid on the block! I am in love. This thing is amazingly easy to control and there's a hollow-ish center, so it holds an awesome amount of paint. It is making the floors an absolute pleasure to paint. Seriously! It's like coloring  – so relaxing. :) I haven't used it on furniture yet, but I have a feeling this brush will become a staple in my DIY arsenal.
I've got a first coat down on a good 3/4 of the brick pavers in the kitchen and mudroom. I'm hoping to finish up today and give everything a light touch up coat early tomorrow morning so the paint will be fully cured by the time our movers come on Saturday. Can I tell you how excited I am to have my stuff again!? Granted, a lot of it will be in the garage for another two weeks until the wood floors are getting installed, but at least our things will be somewhat accessible. So, so excited!